This creamy fontina cheese pasta is delightfully simple, made with only three ingredients and ready to serve in less than 15 minutes. Serve it all by itself, or as a fabulous side dish with some chicken and veggies for a delicious weeknight meal.
This creamy fontina pasta is so easy and complements almost any chicken dish.
It requires minimal effort and just a few ingredients.It has a mild enough flavor that kids will love, yet has a unique enough profile that adults will recognize a specialty cheese in the mix.
Many recipes that are creamy use heavy cream or a flour based sauce, but cream and flour are totally unnecessary when you're using fresh fontina. It's so creamy on its own that it doesn't need anything else.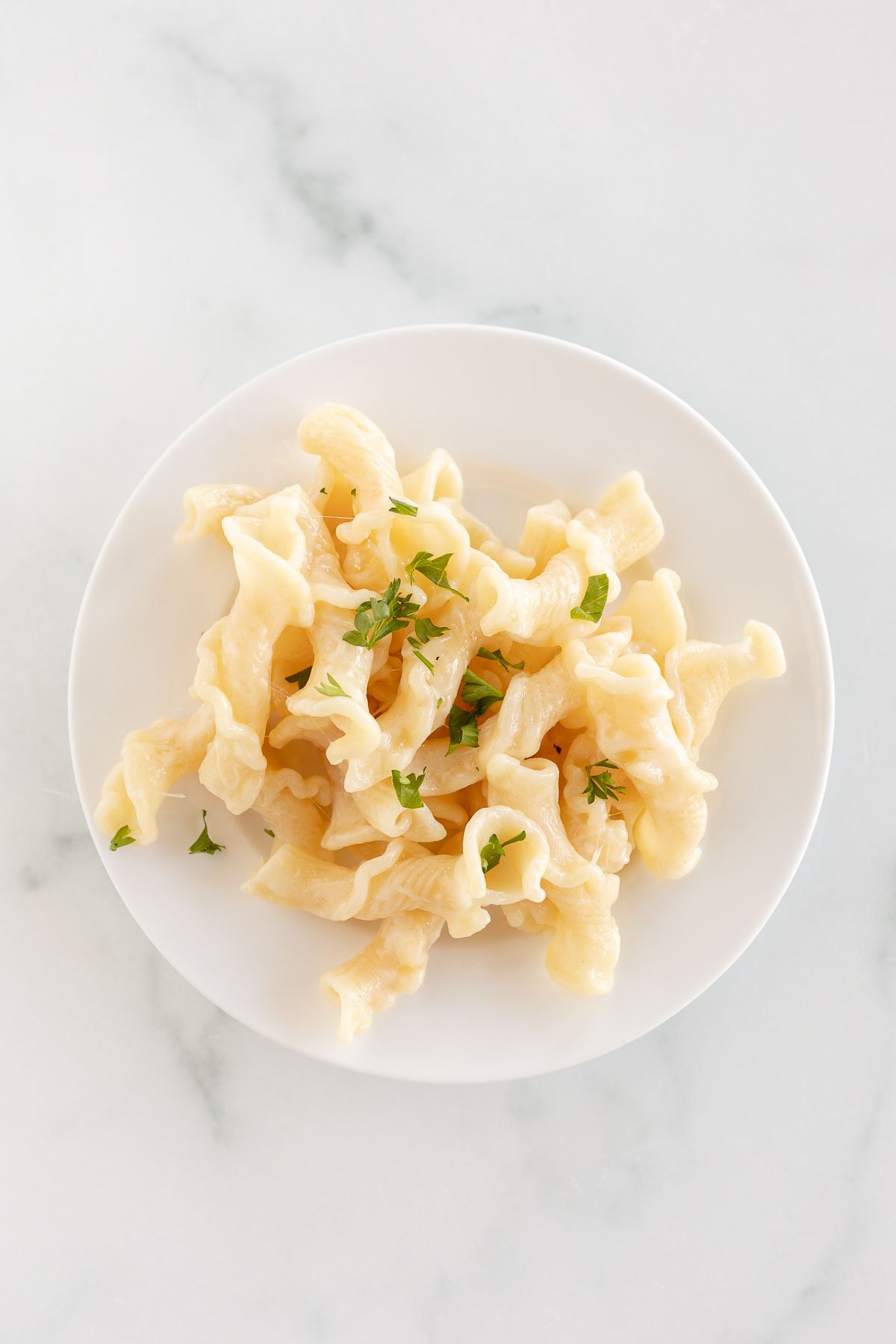 This pasta really couldn't be any easier. I just toss the hot pasta in a little melted butter until it's coated, then quickly stir in shredded fontina. Simple, right? Sure, every now and then you'll get a clump of un-melted cheese, but since it's delicious fontina cheese, I just call it a bonus bite!
Creamy fontina pasta is so smooth and mellow that it pairs with numerous main dishes. It is especially delicious alongside my prosciutto stuffed chicken and peas.
Pasta with fontina is also an amazing pasta dish on its own. You can stir in guanciale, pancetta or bacon to make it hearty. Likewise, toss in vegetables like peas or asparagus for a tasty and satisfying vegetarian meal.
You can also make a batch of my favorite homemade egg noodles if you really want to up your weeknight dinner game! Yum.
No matter how you serve it, it's the ultimate cheesy pasta that's not your typical mac and cheese!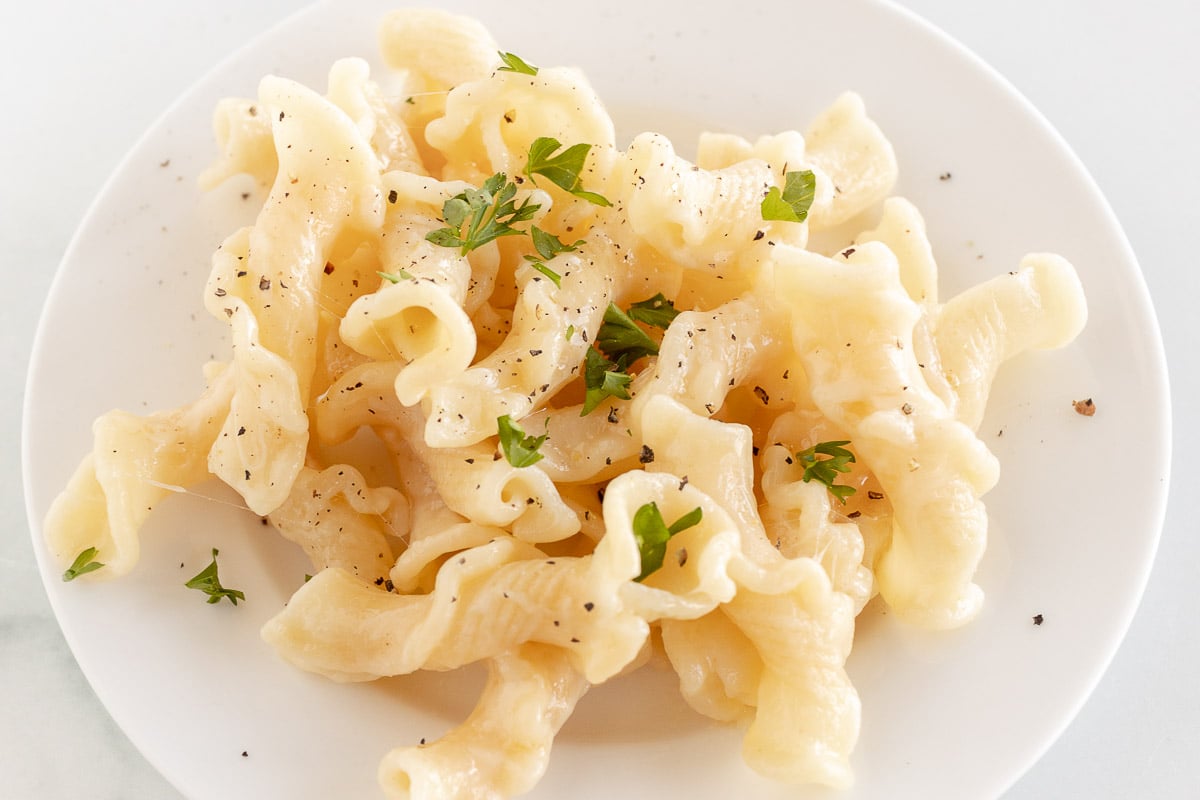 Why You'll Love this Pasta
Creamy
So easy
Family friendly
On the table in under 15 minutes
Fontina Cheese Pasta Ingredients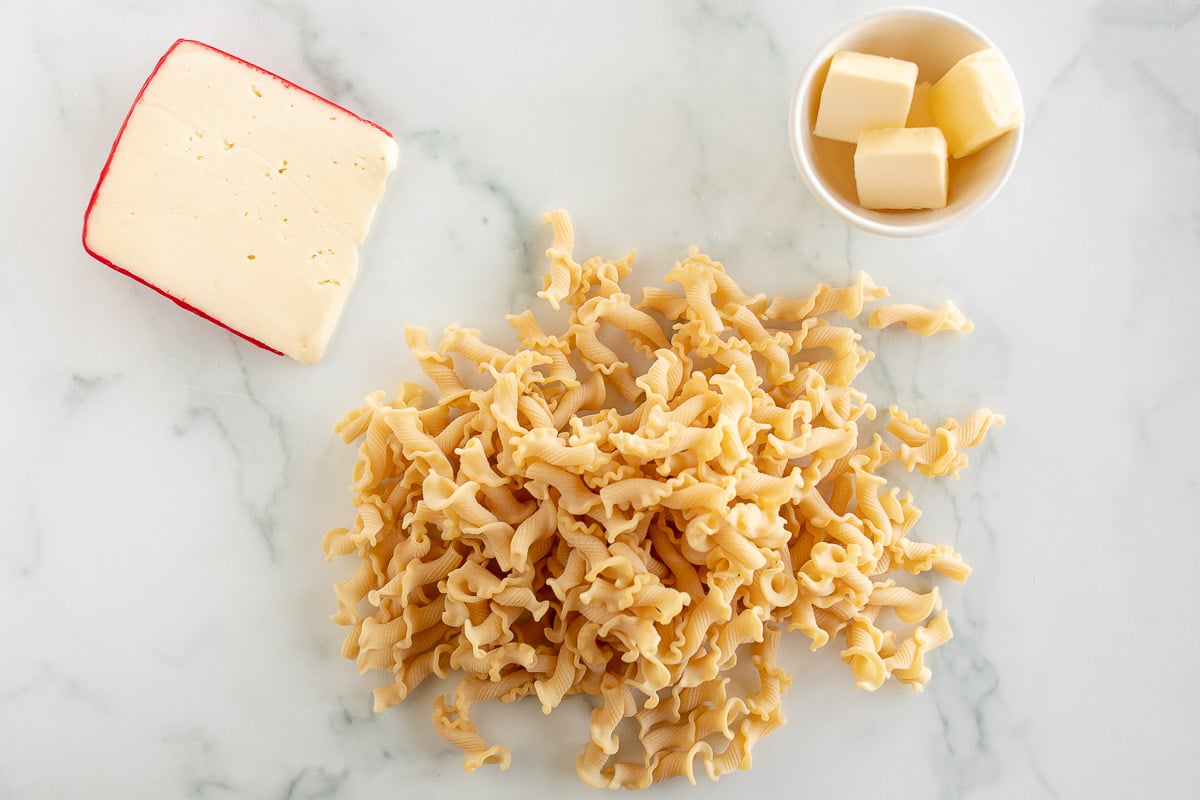 Pasta – I like to use my easy egg noodles for this pasta dish. I prefer a long pasta that gets coated by the delicious fontina cheese sauce. You can use spaghetti, bucatini or linguini.
Fontina Cheese – Grate your fontina cheese using a box grater so it incorporates easily with the pasta and butter. If you can't find fontina, you can use gruyere, provolone or gouda.
Butter – I like to use salted butter to toss the pasta in, but you can use unsalted if that's what you have – just add a little salt for seasoning. The butter helps to thicken the sauce and cling to the pasta.
Variations
Herbs – Sprinkle in your favorite herb, like oregano, parsley, or basil.
Vegetables – Add steamed vegetables like peas, asparagus, or fresh green beans.
Meat – Add pieces of bacon, guanciale, pancetta, chicken, or steak to turn it into a main dish.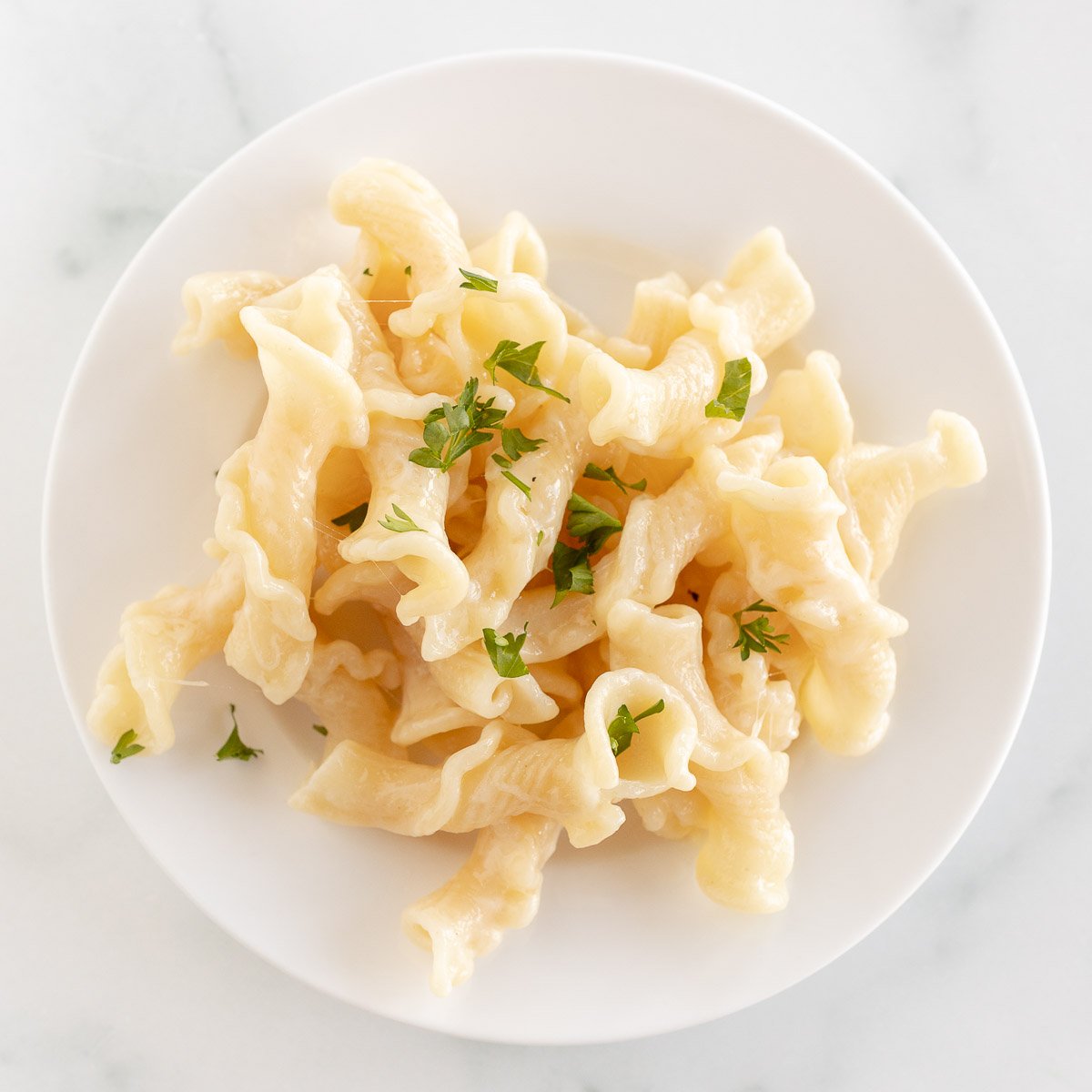 How To Make Fontina Cheese Pasta
Learn How to Cook Pasta right here, with all my favorite tips and tricks.
Prep – Boil a large pot of water and cook your pasta, then drain.
Combine – Add the butter and fontina to the pasta and toss.
Serve – Serve immediately.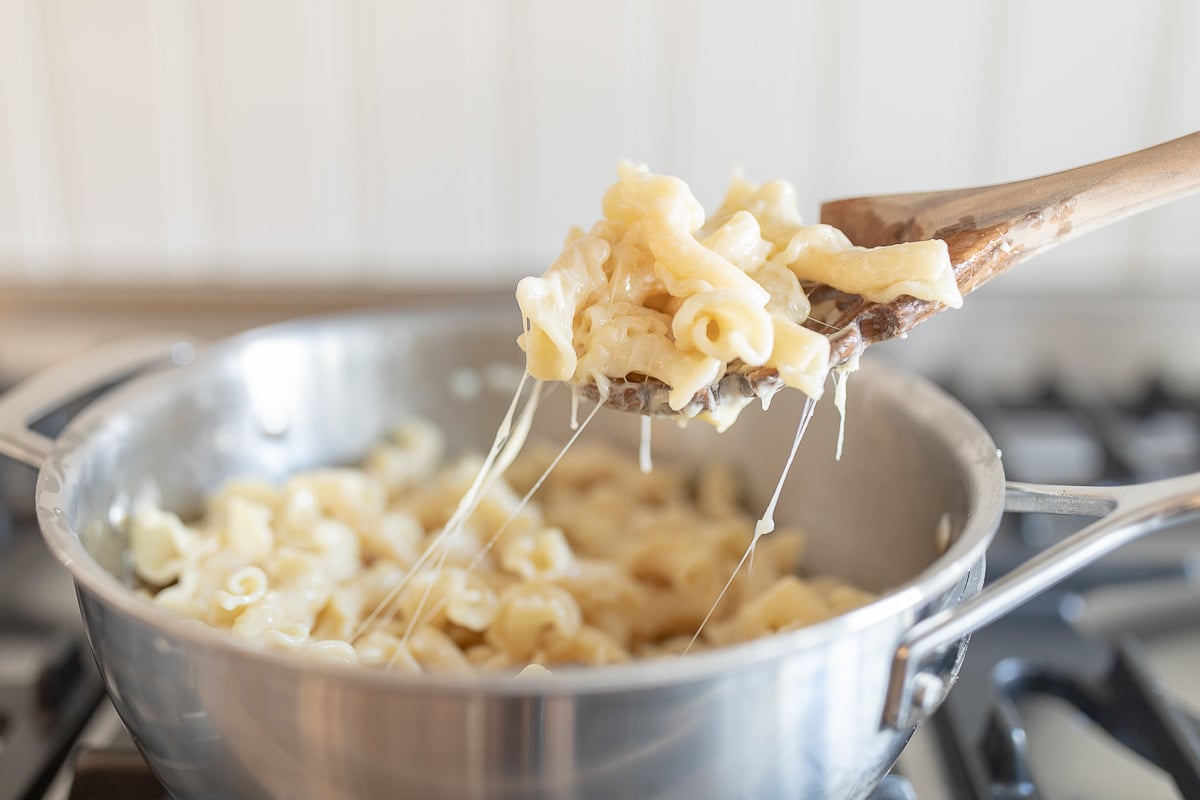 Best Way To Cook Pasta
Pasta, whether you are using fresh or dried, should always be cooked in a large pot of boiling, slightly salted water. Cook it in lots of water so that the pasta has room to move so that it doesn't stick together.
Cook the pasta al dente, because it will continue cooking once it has drained.
What Is Fontina?
Fontina is a traditional Italian cheese made with cow's milk. It is semi-soft and has a mild buttery and nutty flavor, making it a favorite around the world. It melts smoothly and easily, so it is perfect in sauces.
To achieve its flavor and texture, fontina cheese is made as soon as the milk is acquired. After the cheese is shaped and brined, it is aged for about three months.
It requires frequent care – turning, brushing, and salting – for three months. The result is an ivory colored cheese with small holes surrounded by a waxy rind.
It has a sweet, nutty, buttery, and mildly pungent flavor. The longer it is stored the more pungent and strong its flavor will become.
Where to Buy Fontina
Fontina cheese is now widely available in the specialty deli section at supermarkets. Buy the original Italian fontina if it is available because it is slightly more pungent. However, American, Danish and Swedish are also delicious.
You can buy pre-shredded fontina, but I would advise against it. Freshly grated melts much better and has a fresher and stronger flavor. It does take a little extra effort to grate your own cheese, but if you want to experience fontina to its full potential, the extra effort pays off!
Fontina Uses
Sauce – Melt in a sauce for pasta and meat.
Soup – Incorporate a handful of grated fontina into a cheese soup for a unique flavor.
Pizza – Sprinkle some fontina alongside your mozzarella cheese.
Fondue – Use fontina with other cheeses to create a sweet and nutty cheese fondue.
Cheese Similar to Fontina
Gruyère
Provolone
Havarti
Gouda
Emmental
Taleggio
Edam
How to Store Fontina Cheese
Wrap unused cheese in plastic wrap or aluminum foil. Store in your refrigerator for up to 10 days.
Store wrapped cheese in freezer for up to 2 months. The texture will change when it is used after being frozen, so it is better to use in baking after being thawed.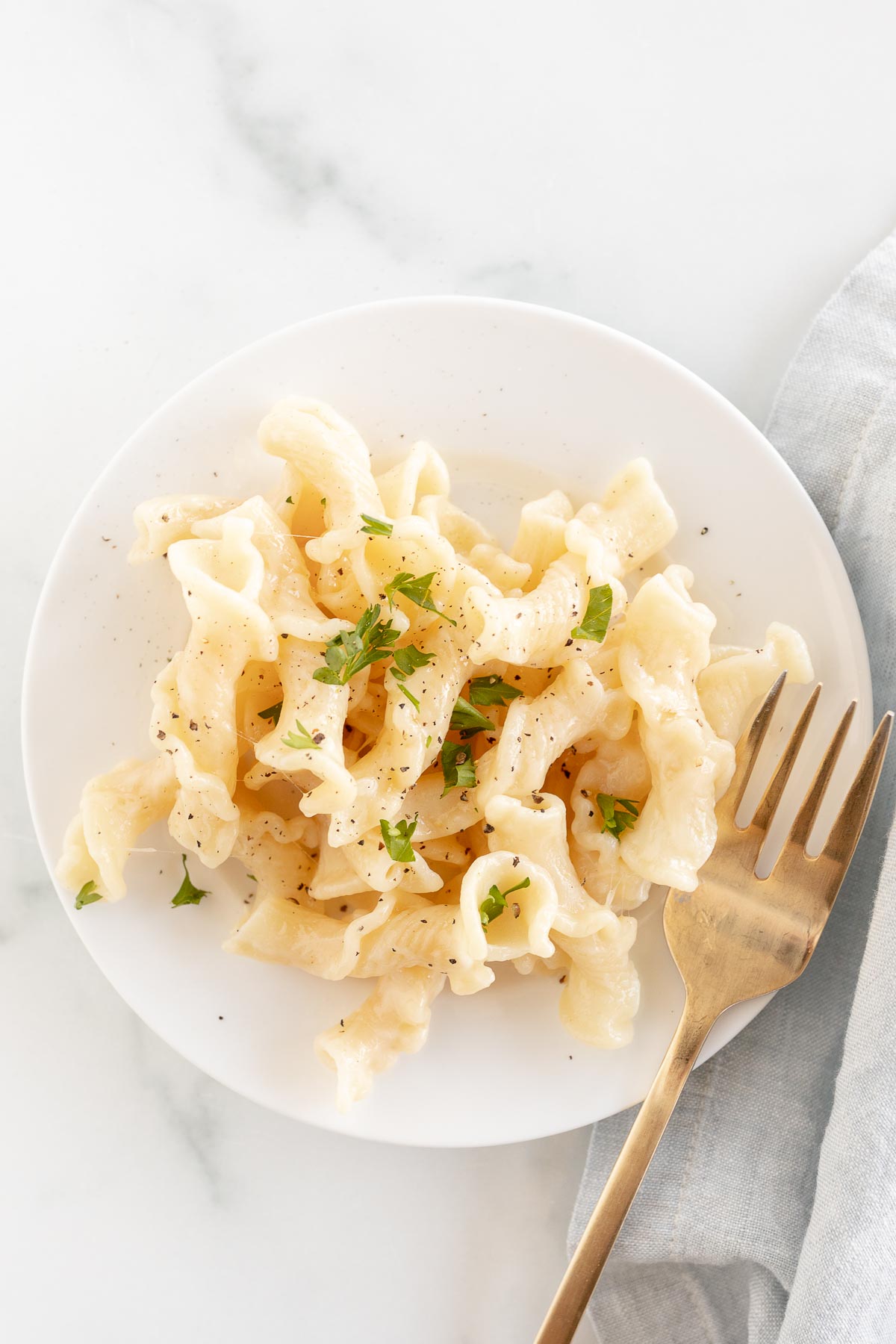 Tips
Toss pasta in the pan you made the chicken in to give it even more flavor. The pasta will absorb the flavors and taste so good! You won't regret it.
Remove the pasta from the heat when it is al dente, so it doesn't get soggy.
Stir softened butter into the pasta rather than cold, hard butter so it will melt quicker without cooling the pasta.
How To Store Fontina Pasta
Room Temperature – Fontina cheese pasta is best served as soon as you have made it. You can make homemade past ahead of time and keep it in the fridge or even cook it right from frozen.
Refrigerator – If you do have leftovers, cover and store in the refrigerator for up to three days. When you're ready to eat, cook in a small sauce pan and add a little milk. Stir until warm and creamy. Learn more about How to Reheat Pasta here.
Freezer – you can also freeze this pasta for up to three months.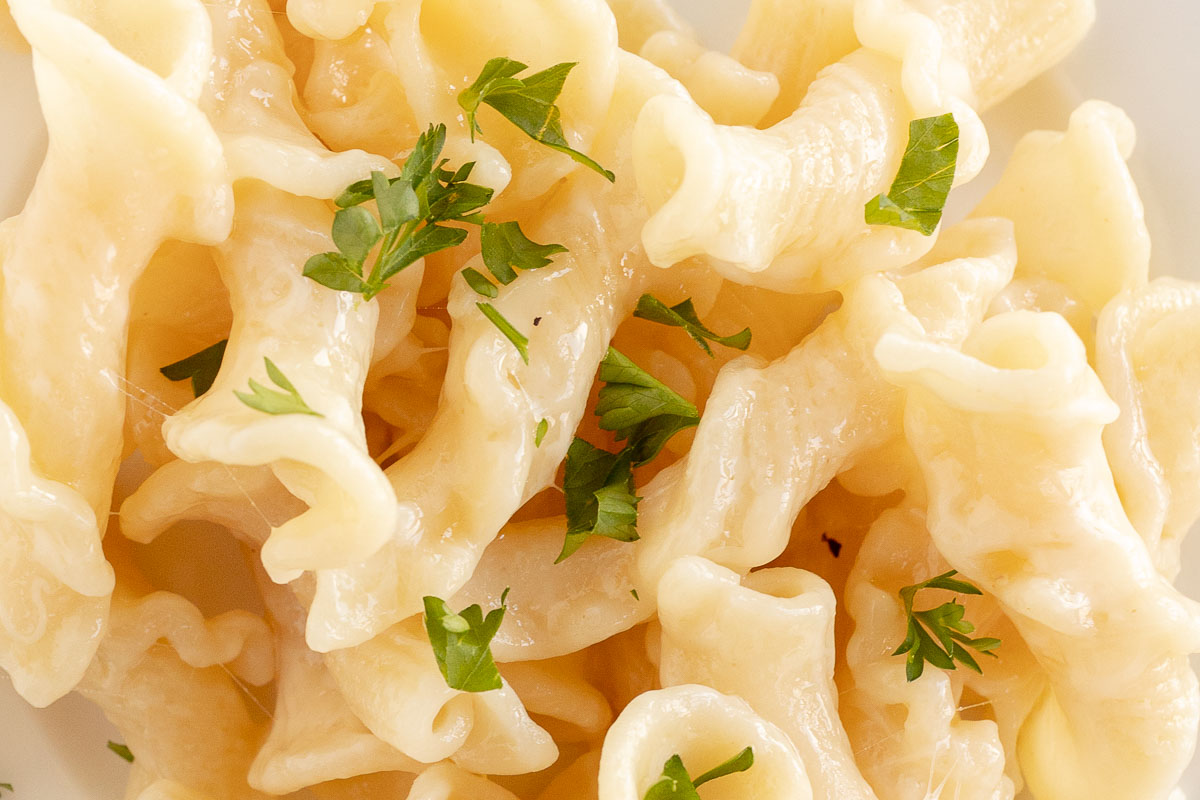 Hungry for more easy recipes? Sign up for my free recipe club and have amazing recipes delivered directly to your inbox each week!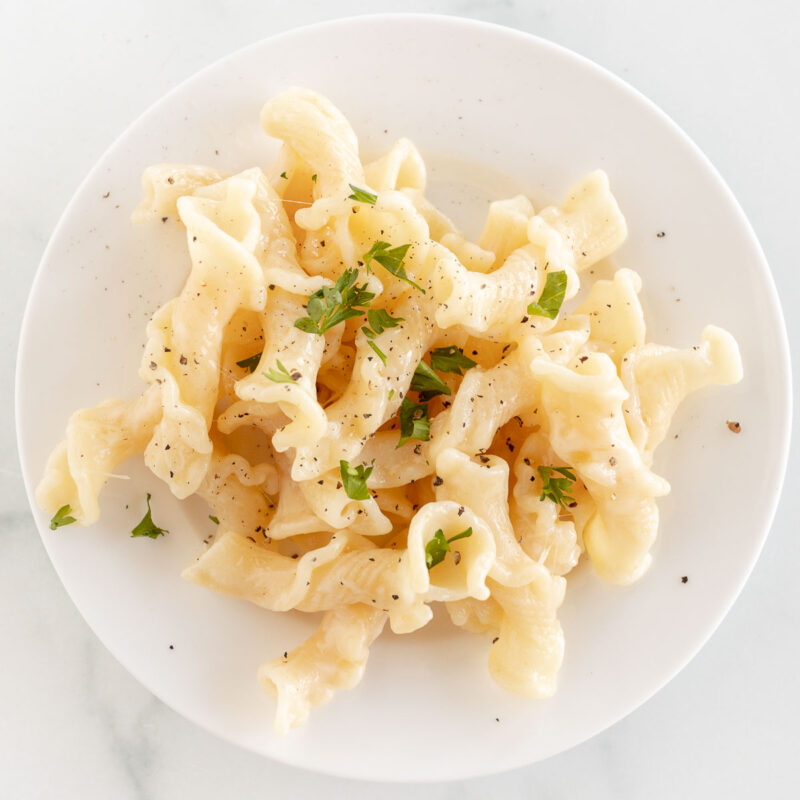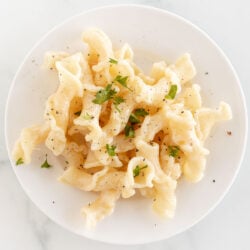 Creamy Fontina Cheese Pasta
Luxuriously creamy fontina pasta is the perfect alternative to mac and cheese. It's quick and easy to make with a few ingredients and so versatile, too!
Ingredients
1

pound

pasta

2

cups

fontina

freshly shredded

4

tablespoons

unsalted butter

salt

to taste

black pepper

to taste
Instructions
Bring a pot of salted water to boil and prepare pasta al dente.

Strain pasta and return to pot.

Toss with butter and cheese and season to taste. Serve immediately.
Tips
Optional Add Ins
Sauté Shallots
Sauté Shallots
Steamed Broccoli
Serving Suggestions
Serve this pasta alone or with protein and veggies.
Optional: Garnish with fresh herbs
Calories:
519
kcal
|
Carbohydrates:
57
g
|
Protein:
21
g
|
Fat:
22
g
|
Saturated Fat:
13
g
|
Polyunsaturated Fat:
1
g
|
Monounsaturated Fat:
6
g
|
Trans Fat:
1
g
|
Cholesterol:
71
mg
|
Sodium:
358
mg
|
Potassium:
199
mg
|
Fiber:
2
g
|
Sugar:
3
g
|
Vitamin A:
635
IU
|
Calcium:
260
mg
|
Iron:
1
mg
Estimated nutrition information is provided as a courtesy and is not guaranteed.
Explore More