Pasta con Broccoli is an incredible Italian dish with broccoli and mushrooms in a tomato cream sauce. This one pot dinner is made from start to finish in less than 20 minutes!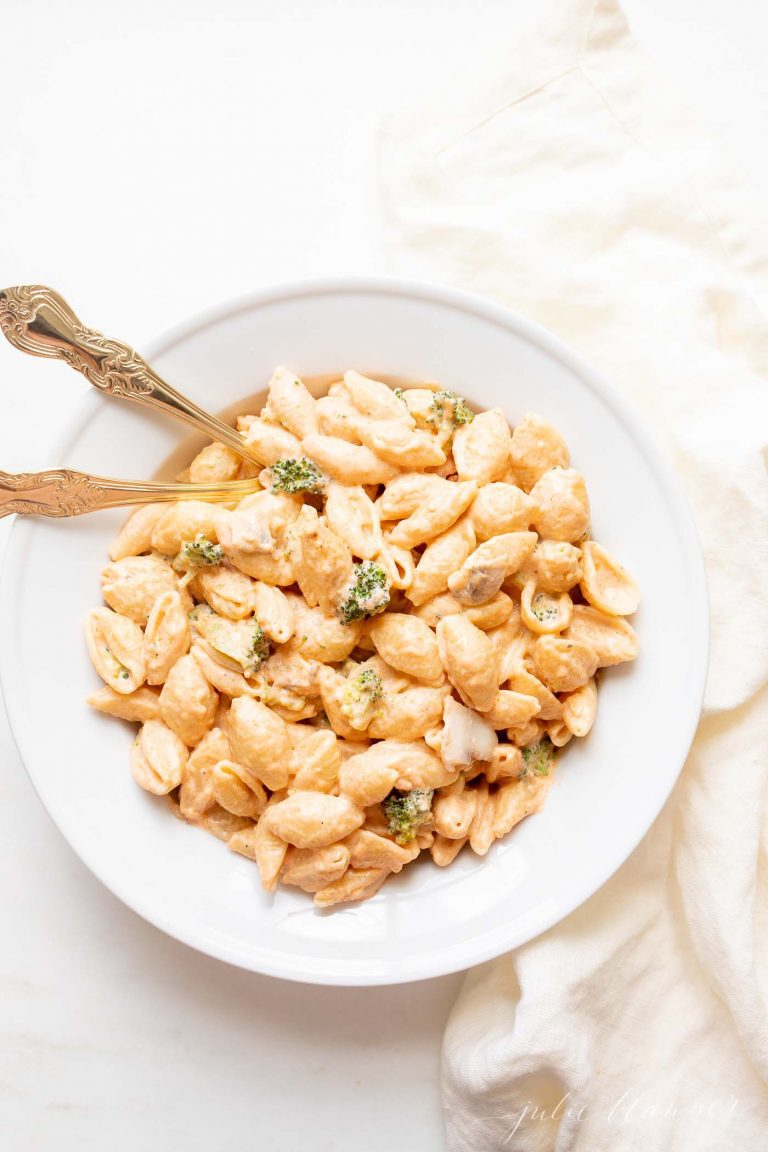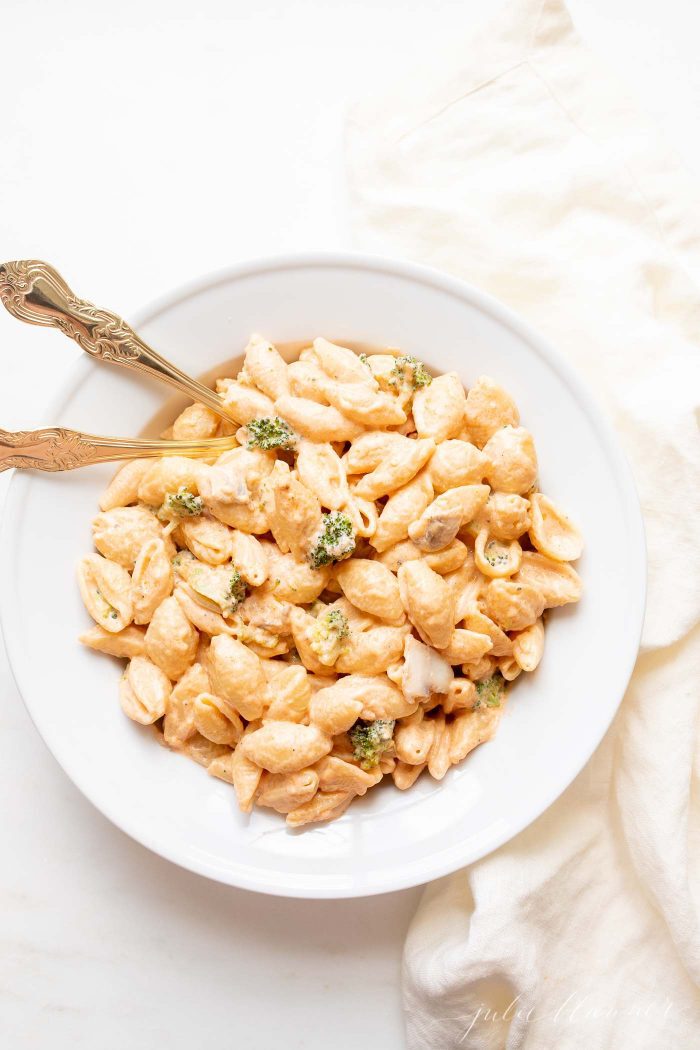 Pasta con Broccoli has always been a favorite in our family. Growing up my family and I frequented a St. Louis chain, The Pasta House. We gravitated toward Pasta con Broccoli because of it's rich cream sauce with a hint of tomato paired with tender mushrooms and broccoli. It was irresistible!
My cravings for that dish didn't die with our move to Kansas City, so I started making it at home. It's a quick and easy dinner recipe that can be made start to finish in about 20 minutes!
Love quick and easy pasta dinners as much as we do? You've got to try my homemade fettuccine alfredo recipe – it's a rich and creamy way to your family's heart! You also can't miss this light and flavorful broccoli pasta – it's a fresh and tasty filling meal.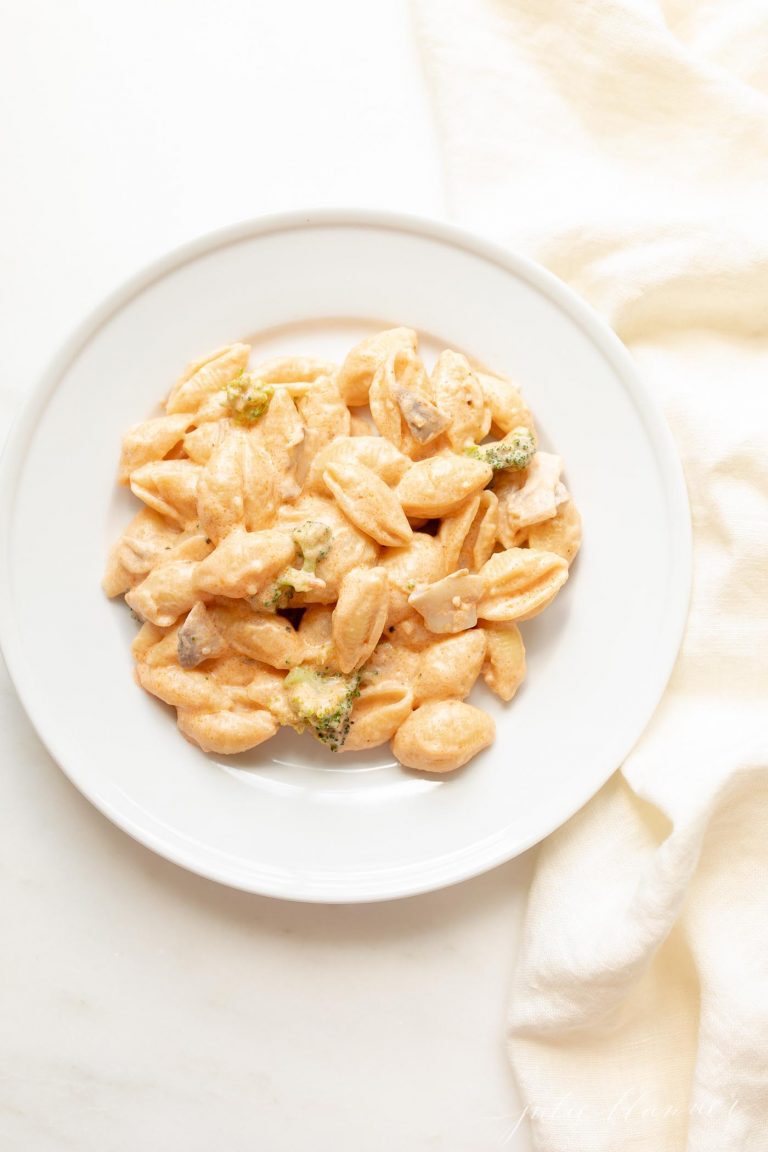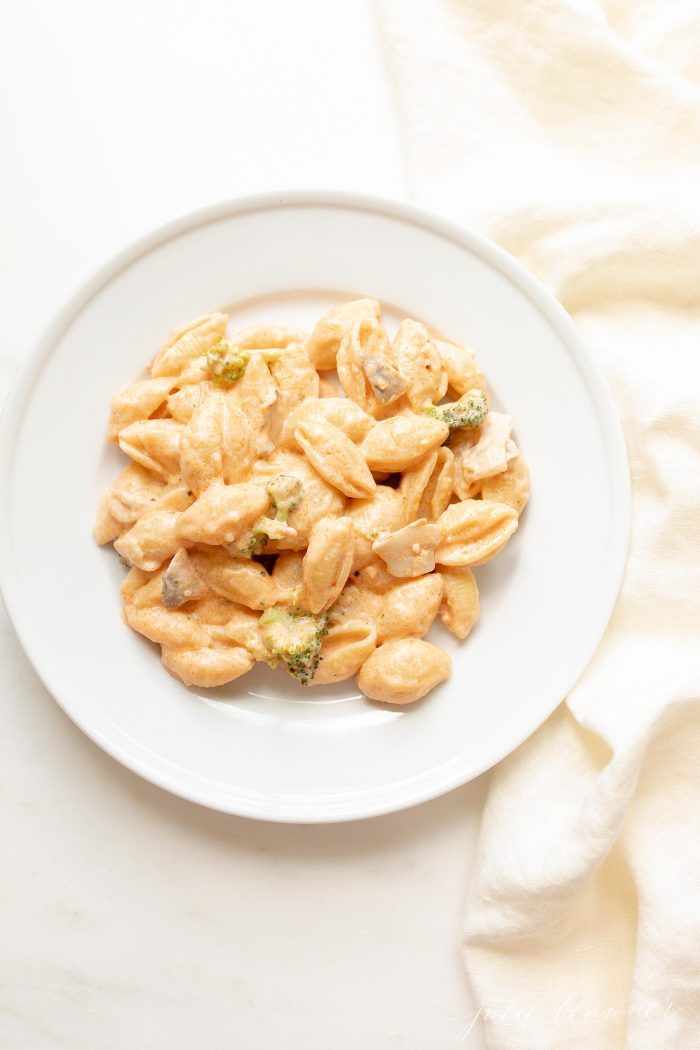 It's one of the easiest pasta recipes because it's a one-pot pasta! One-pot pastas are amazing. All the ingredients for an incredible, well-rounded dish in a single pot. It's the perfect weeknight dinner requiring minimal prep, cook time, and a single dish to clean.
Let's be honest, eating pasta with broccoli is the only way I can sneak it in. Even the girls love it and have no idea I add mushrooms.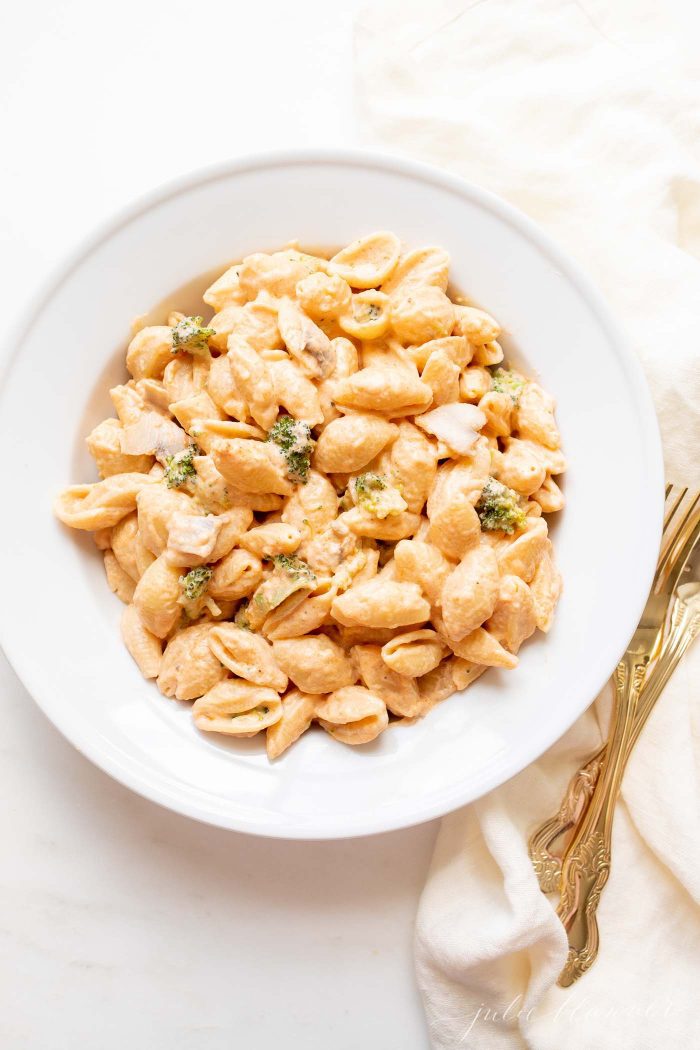 Pasta Con Broccoli Ingredients
Pasta – You can use a box/bag of pasta, or as I often do, make homemade pasta! Learn how to make How to Make Homemade Pasta here – it's easier than you think! You can use any noodle, but I like to use medium shells to capture mushrooms and broccoli in every bite.
Butter – Salted or unsalted, your preference. I use salted for all cooking and baking.
Half and Half – This results in a light cream sauce, however, if you prefer a richer cream sauce, you can substitute with heavy cream.
Pepper – both red pepper and black pepper add flavor to this easy recipe. I like to use my pepper grinder set for thick flakes for maximum texture and flavor.
Garlic – I use minced garlic. It's an easy shortcut and adds just as much flavor as mincing fresh garlic. You can find jars of it in the produce section of your grocery store.
Mushrooms – This recipe is the easiest way to sneak veggies in! The mushrooms are coated in cream sauce, who can resist that?
Broccoli – The broccoli is so tender it becomes one with the noodle and often gets trapped inside with delicious sauce.
Parmesan – Normally I'd suggest to use fresh grated parmesan, but in this recipe, store bought grated parmesan works just as well!
How to Make Pasta Con Broccoli
This one-pot pasta is easy and fun to make! It's so effortless. To make Pasta Con Broccoli simply…
Boil noodles in salty water until 3/4 cooked.
Strain water (I do this using a wooden spoon to avoid a strainer).
Reduce heat to medium low and add the broccoli, mushrooms, butter, half and half, tomato sauce, garlic, red pepper.
Sauce will thicken. Remove from heat when noodles are fully cooked and vegetables are tender (about 4 minutes).
Toss with parmesan. Pepper to taste.
Variations
As with any dish, you can tweak to your preference. The options are endless! These are a few of my favorite ideas to tweak this delicious dish!
Add more veggies – my mom always enjoyed it with cauliflower as well. You can mix in your favorite veggies!
Add protein – this pairs really well with my juicy baked chicken breast which is equally quick and easy to make.
Substitute with rice or gnocchi – not a fan of egg noodle? These flavors also work well with rice and gnocchi.
This pairs incredibly well with Italian Salad! It's a match made in heaven. One of the other things I love about this one-pot Pasta Con Broccoli is that you don't need a side dish. Of course, there's always dessert. For that may I suggest Cream Cheese Ice Cream?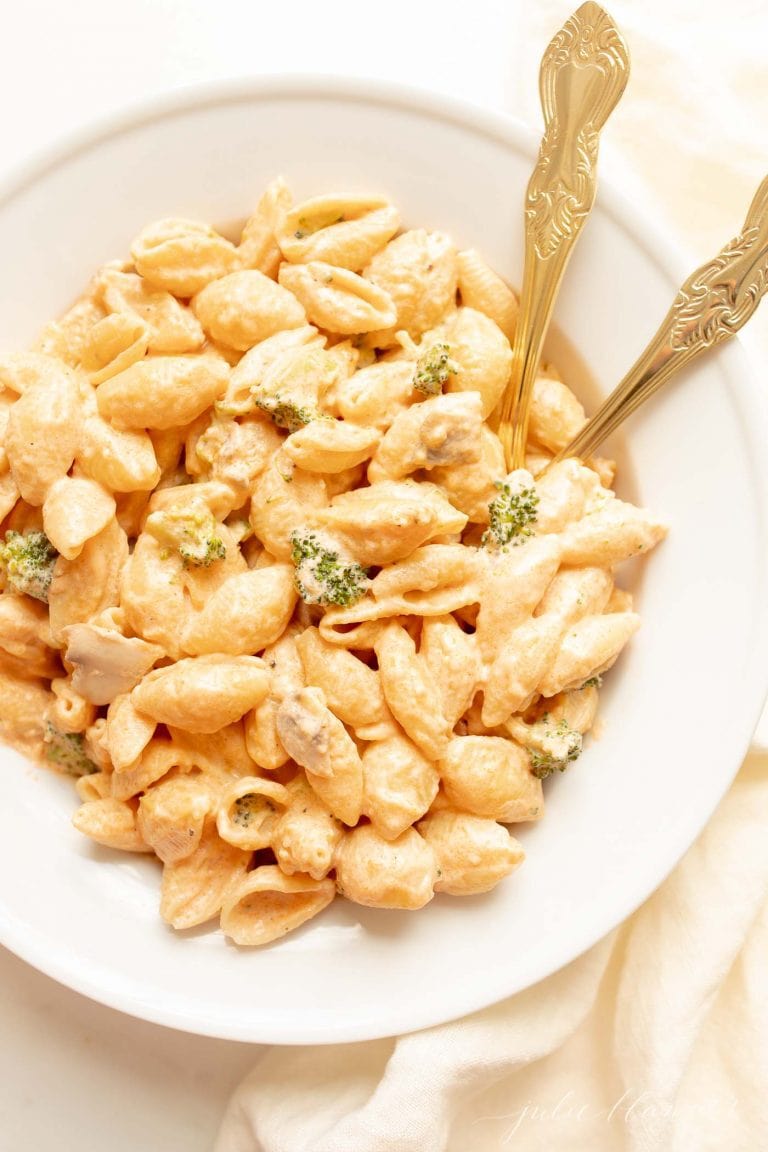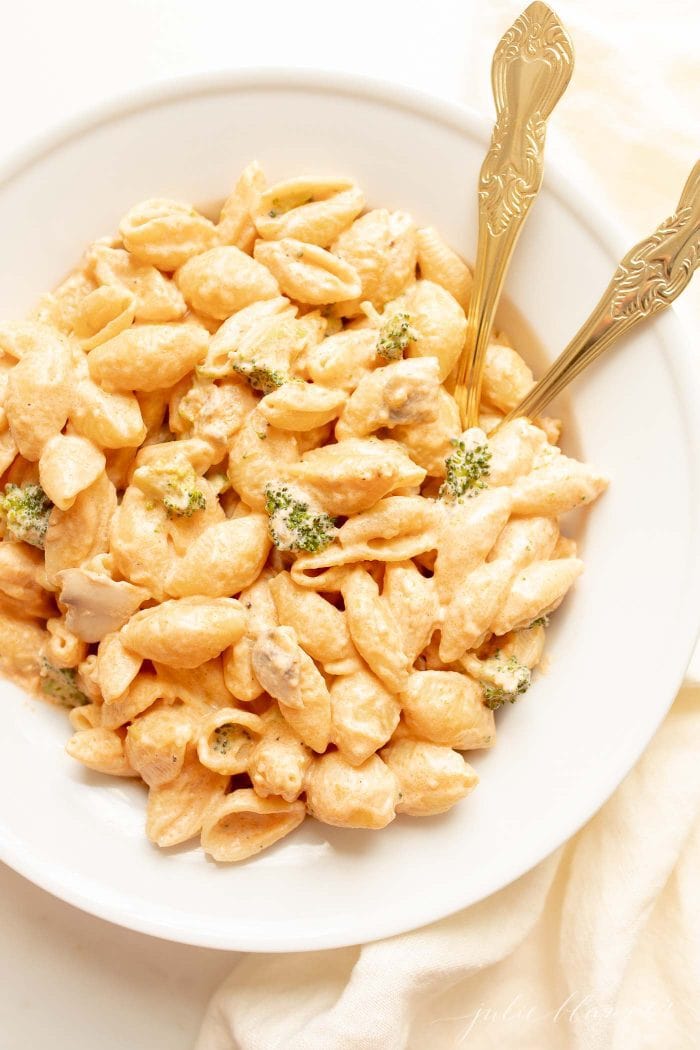 If you love this One-Pot Pasta Con Broccoli, You'll Also Love: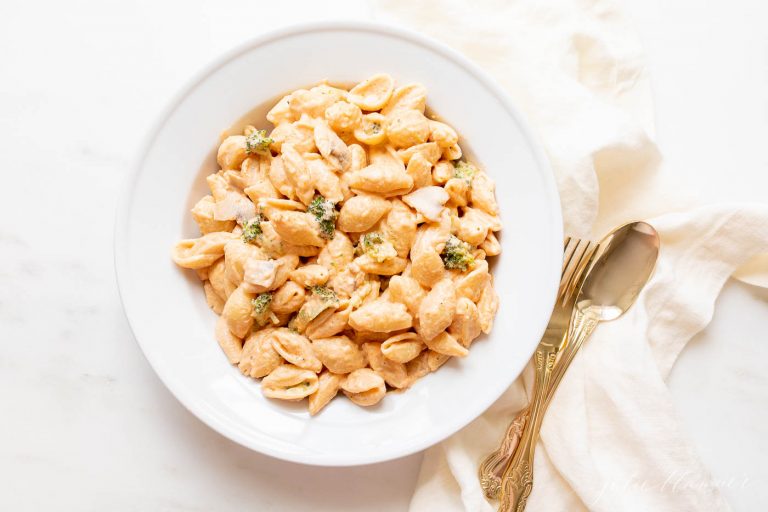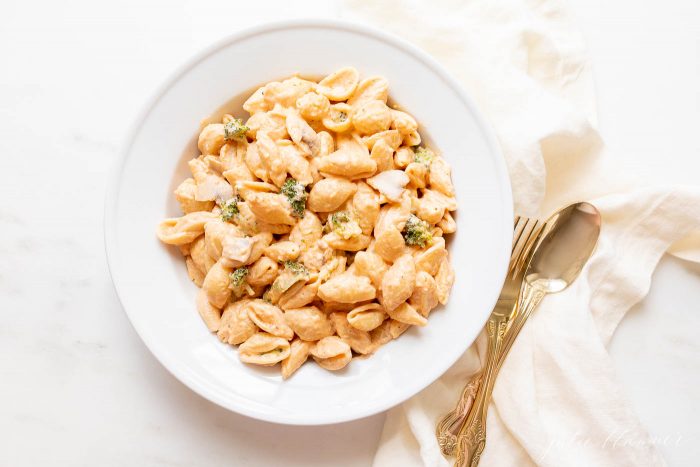 You can print the recipe below. If you try this dish, don't forget to share along with a five star review! I love hearing from you!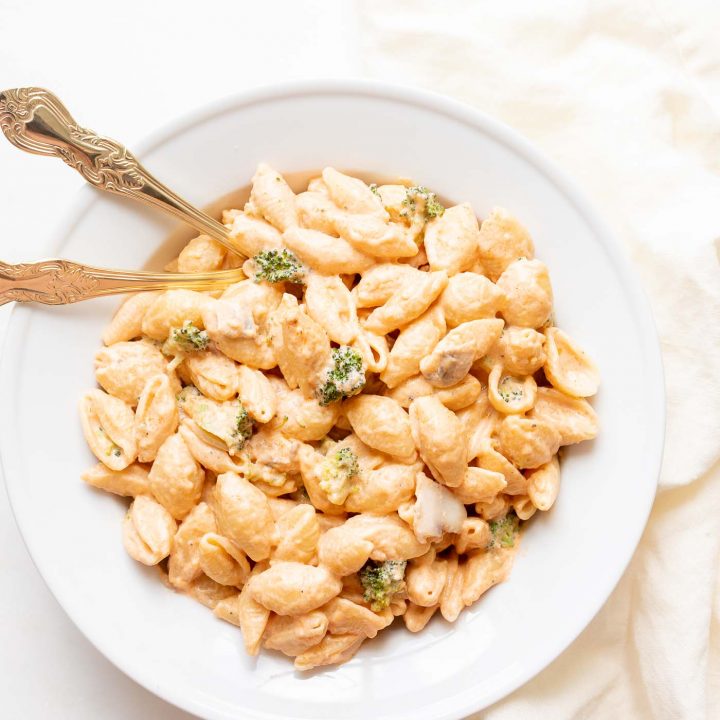 Pasta Con Broccoli
Pasta con Broccoli is an incredible Italian dish with broccoliand mushrooms in a tomato cream sauce. This one pot dinner is made from start to finish in less than 20 minutes!
Ingredients
16

oz

pasta

1/4

c

butter

1 1/2

c

half and half

1/3

c

tomato sauce

1

tbsp

minced garlic

1/8

tsp

red pepper

1

c

broccoli

chopped

1

c

mushrooms

sliced

3/4

c

parmesan cheese

pepper

to taste
Instructions
Bring a large pot of water to a boil.

Add pasta. Prepare until 3/4 done and strain.

Reduce heat to medium low and add butter, half and half, tomato sauce, minced garlic, red pepper, broccoli, and mushrooms.

Boil until noodles and vegetables are tender and sauce thickens (about 4 minutes).

Remove from heat and toss with parmesan.

Salt and pepper to taste.
Notes
Optional:
add cauliflower or vegetables of your choice
Substitute with gluten free pasta, rice or gnocchi
Nutrition
Calories:
490
kcal
Carbohydrates:
62
g
Protein:
17
g
Fat:
19
g
Saturated Fat:
11
g
Cholesterol:
51
mg
Sodium:
374
mg
Potassium:
403
mg
Fiber:
3
g
Sugar:
3
g
Vitamin A:
700
IU
Vitamin C:
15.8
mg
Calcium:
241
mg
Iron:
1.5
mg
Did you Make This Recipe?
Mention @JulieBlanner
Originally posted May 2014