This is best Vodka Sauce recipe you are going to make at home! It's authentic and packed full of delicious flavor. Serve with penne or your pasta of choice for a tasty weeknight meal.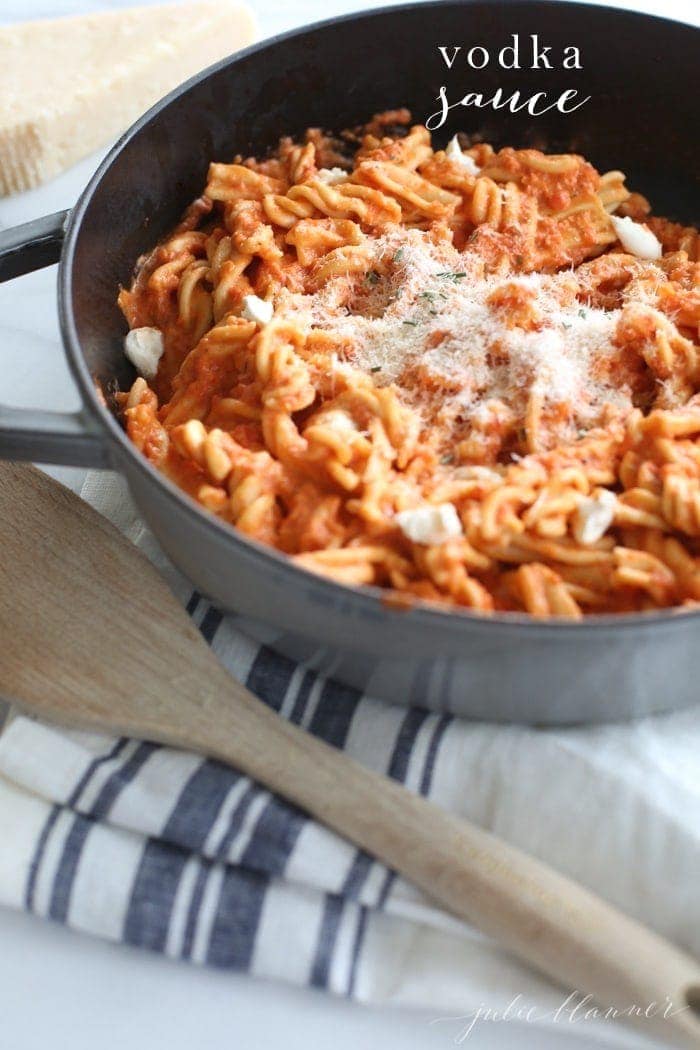 It's been a while since I've posted any pasta recipes, but you know it's always in our weekly rotation. I've been making this vodka sauce for years – it's an adaptation of Ina Garten's, aka The Barefoot Contessa, Penne Alla Vecchia Bettola recipe. Let's face it, though I dream of living a day in the life of Ina, we don't all have that kind of time.
Sometimes I want pasta with a kick and this sauce is it. I know you'll enjoy it, too. If you want to tone it down a touch, just add a little mascarpone cheese for a creamier flavor.
To Make This Vodka Sauce Recipe, You Will Need:
Onions and garlic: The onion and garlic make the base of this pasta sauce. They should be as fresh as possible for the best flavor.
Vodka: You don't need to use an expensive vodka in this recipe.
Canned plum tomatoes: Chose a good quality brand for maximum flavor.
Heavy cream: Cream makes this sauce so silky, it's best not to replace it with a low fat version.
Seasonings: Oregano, red pepper flakes and salt and pepper bring this sauce alive!
Pasta: Make your own or used your favorite boxed variety.
How To Make This Vodka Sauce Recipe – Step By Step
My favorite vodka sauce recipe couldn't be easier to make!
In a skillet over medium high and oil, onion and garlic and sauté until translucent. Add the red pepper and oregano and cook for an additional minute.
Pour in the vodka and reduce to half. Add the drained tomatoes to skillet and crush. Add salt and fresh cracked pepper.
Cover with a lid and allow to cook for 10 minutes.
Puree tomato mixture in a food processor until smooth and return to heat, then add the oregano and heavy cream and simmer for 10 minutes.

Stir in noodles, parmesan and add mascarpone.

What's The Best Pasta To Serve With Vodka Sauce?
One thing I do always have time for is homemade pasta. I finally received the replacement part for my pasta maker attachment and immediately put it to good use. Making homemade pasta is much quicker and more simple than you'd think, I make a batch from start to finish in the amount of time you can boil a box of noodles.
However if you don't want to make your own pasta, no worries! You can purchase a good boxed pasta and cook al dente or better yet, pick up your noodles in the refrigerated section of your local grocery store for that homemade flavor.
The classic Italian dish, Penne Alla Vodka uses penne pasta, but you can use your favorite shape.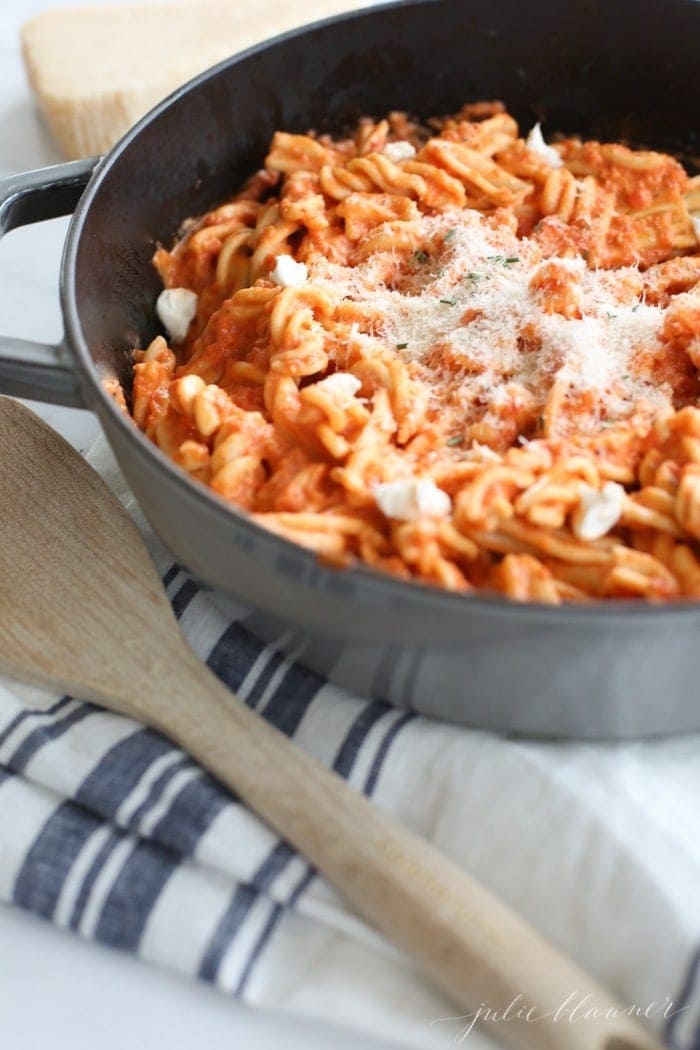 What Does Vodka Sauce Taste Like?
Vodka sauce is a tomato based pasta sauce. It tastes peppery and also has herbal flavors. The vodka helps to release the flavor from the tomatoes, resulting in a rich and creamy sauce. The flavor of the vodka adds a little heat and a sharp bite that balances out the sweetness of the cream and tomatoes.
How Long does Homemade Vodka Sauce Last?
If you have leftover sauce, you can store it in the fridge in an air tight container for about three to four days. Because there is cream in the sauce, it is best not to freeze it as it will separate.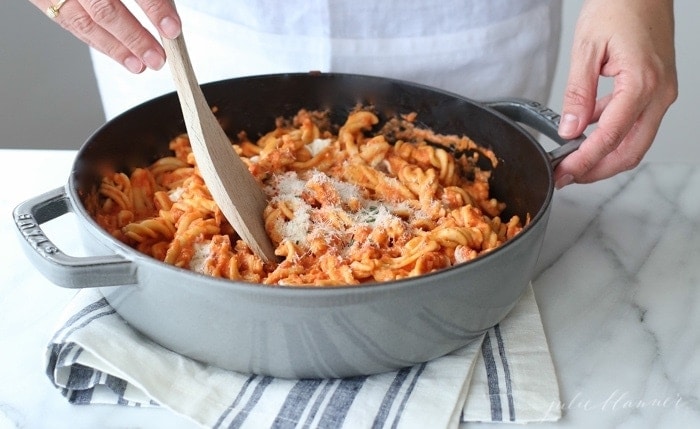 How Much Alcohol Is In This Pasta Sauce?
In my vodka sauce recipe, there's a cup of vodka which is equal to 8 ounces. Contrary to popular belief, not all of the alcohol will evaporate during cooking, anywhere between 15 and 40 percent of it will cook off. Each serving of sauce will have an ounce or less of alcohol in it.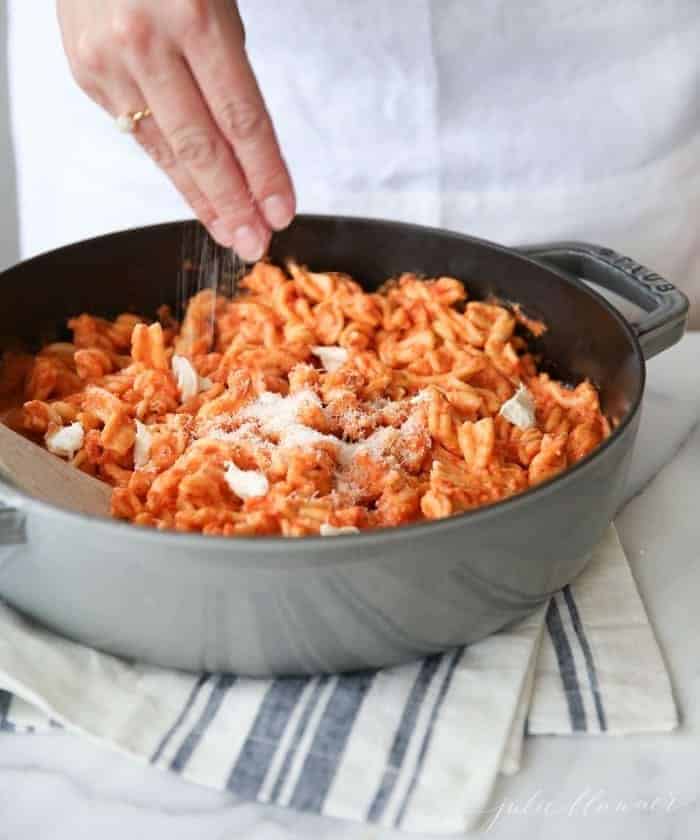 Top Tips to Make This Vodka Sauce Recipe
Be sure to check that your seasonings aren't stale for the best flavor.
Use good quality canned tomatoes.
It's best to use heavy cream in this recipe, not low fat or milk.
Use freshly grated parmesan rather than ready grated.

Be Sure to Check Out These Other Tasty Homemade Pasta Recipes!
If you try this recipe, please come back to share using my 5 star rating in the comments below! Not only do I appreciate it, but I know readers do, too! For more easy recipes and simple living ideas, subscribe to my newsletter!
LET'S CONNECT! instagram | newsletter | facebook | pinterest
WP Recipe Maker #57595

remove

Vodka Sauce

I've been making this vodka sauce for years – it's an adaptation of Ina Garten's, aka The Barefoot Contessa, Penne Alla Vecchia Bettola recipe.

Course: Entree

Cuisine: Italian

Keyword: pasta with vodka sauce, the best vodka sauce recipe, vodka sauce recipe

Prep Time: 5m

Cook Time: 30m

Total Time: 35m

Servings: 5

Author: <a href="https://julieblanner.com/aboutjulie/" target="_self">Julie Blanner</a>

– 1/4 c olive oil

– 1 onion

chopped

– 1 Tbsp minced garlic

– 1/2 tsp red pepper flakes

crushed

– 1 1/2 tsp oregano

dried

– 1 c vodka

– 28 oz plum tomatoes

can, peeled

– 2 tsp salt

– pepper

– 1 pound pasta

– 1/2 c heavy cream

– parmesan

fresh grated

– 1 Tbsp mascarpone

optional

1) In a skillet over medium high and oil, onion and garlic and sauté until translucent. Add red pepper and oregano and cook for an additional minute.

2) Add vodka and reduce to half.

3) Add drained tomatoes to skillet and crush. Add salt and fresh cracked pepper. Cover with a lid and allow to cook for 10 minutes.

4) Puree tomato mixture in a food processor until smooth and return to heat. Add oregano and heavy cream, simmer for 10 minutes.

5) Stir in parmesan and and add mascarpone.

I like to make my own pasta. If you don't want to make your pasta, you can purchase a good boxed pasta and cook al dente or pick up noodles in the refrigerated section of your grocery store.

calories 680

carbohydrates 78

protein 14

fat 23

saturated_fat 8

cholesterol 36

sodium 959

potassium 629

fiber 5

sugar 8

vitamin_a 1775

vitamin_c 23.8

calcium 67

iron 1.8