The best Breakfast Pasta Carbonara recipe is a simple, easy and fresh take on brunch! It's an irresistible combination of pancetta, eggs and cream tossed alla spaghetti (with a few secrets along the way). This heavenly dish is the perfect brunch option that no one will be able to resist!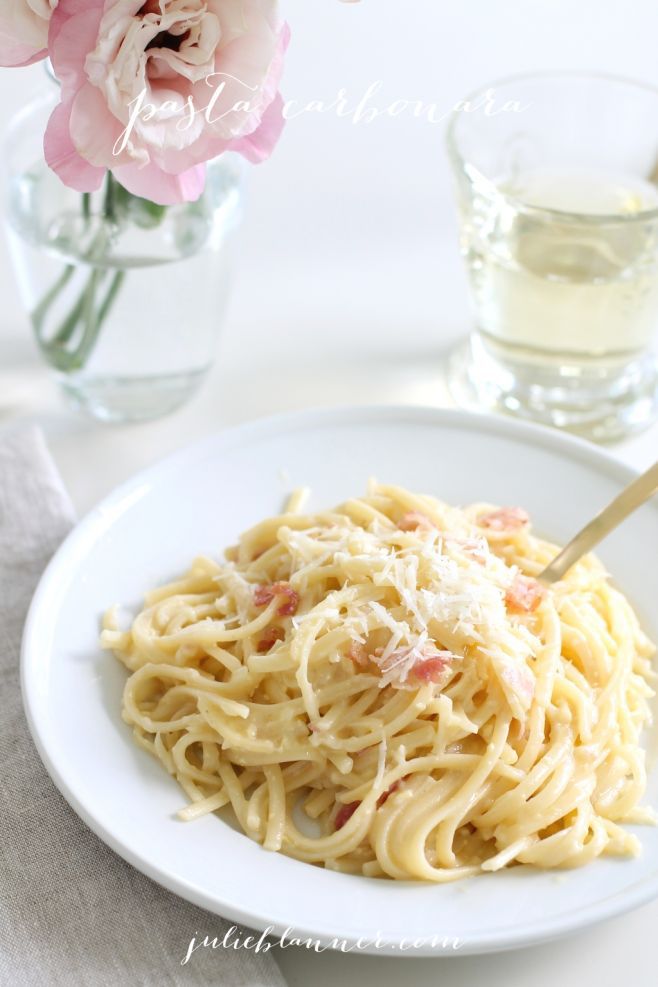 Have you noticed? Pasta is my specialty. They say do what you love and you'll do it well. So taking a cue from philosophy, I make pasta once a week. We spent last Sunday hosting out of town company. My college roommate, Danielle, spent the morning with us and I served my easy last minute meltaway muffins. I look for any excuse to make them, because they're so incredible, but sharing them with friends is even better.
I feel so lucky to have "lifelong" friends. As I realize how many years have passed since we lived together, I think it's safe to call her that. This year I was named Better Homes & Gardens Entertaining Blogger of the Year. I'm not only honored to receive the award, but to have friends and family that make the effort to keep in touch.
So to celebrate, I had to create an indulgent pasta recipe. I made a quick run to the grocery store for ingredients to prepare my easy pasta carbonara. I adapted my traditional carbonara recipe with pecorino romano and pancetta for an even more flavorful dish. Carbonara is a great dish for brunch, lunch or dinner. I never really thought about how well it lent itself to brunch until we hosted a shower at one of my favorite brunch spots. The combination of bacon and eggs includes all those rich breakfast ingredients, alla spaghetti!

Do You Use Cream In Carbonara?
Traditionally, no. An authentic pasta carbonara recipe is simply an emulsion of eggs and cheese. But because I like to guild the lily and add an extra bit of richness, I incorporate some cream into the mix.
Pasta Carbonara Recipe Ingredients
Pasta – Spaghetti alla carbonara is the traditional Italian way, but use any of your favorite pasta shape. Tagliatelle or fettuccine would be divine!
Pancetta – Pancetta, like bacon, is pork. However, it differs in the way that it is cured. Pancetta is cured with spices, which really shine in this pasta carbonara recipe.
Garlic – A small amount of garlic goes a long way. If you're in a pinch, use 1 tsp garlic powder instead.
Eggs – Use the freshest eggs you can find. Preferably organic, free range eggs for the best flavor.
Cream – A traditional pasta carbonara recipe does not include cream, however I like the extra rich, sweet flavor it provides (as noted above)!
Butter – A little extra richness never hurt. Butter helps create a glossier finish.
Pecorino Romano – Pecorino romano is one of my favorite cheeses to use in pasta. It is similar in style to parmesan, but slightly saltier and made from sheep's milk. Purchase a whole block from the cheese counter and grate at home.
Pepper – Use freshly cracked black pepper from a small pepper mill you can purchase at the grocery store.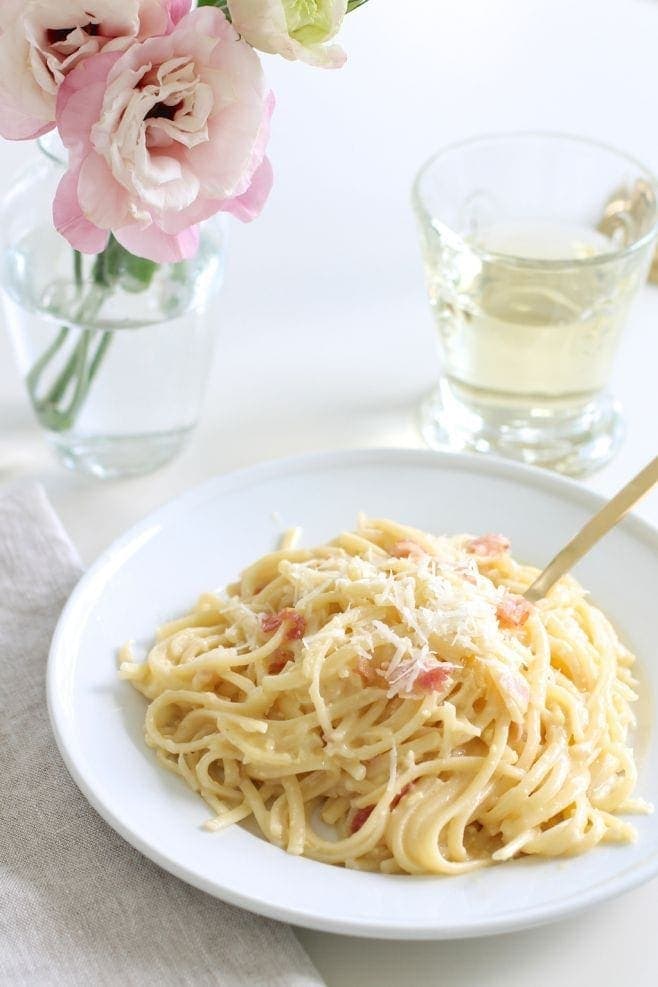 How To Make Pasta Alla Carbonara
Bring a large pot of water to a boil. Preheat the oven to 200 degrees and place a large, empty, oven-safe bowl in it for future tossing of the pasta carbonara recipe.
In a saucepan over medium heat, cook the pancetta and garlic.
In a small bowl, whisk the eggs and cream.
Add pasta to the boiling water and cook according to the package directions. Drain and add to warm bowl with butter. Toss to combine.
Gradually stir in the egg and cream mixture until fully emulsified. Toss in pancetta and pecorino, reserving some for garnish. Add pepper to taste. Garnish with the remaining pancetta and cheese. Enjoy!
A Few Tips For The Best Breakfast Pasta Carbonara
If you can't find pancetta, use thick-cut bacon for a smokier pasta carbonara recipe.
Tossing the pasta and carbonara sauce in a warm bowl ensures an even distribution of heat, creating a creamy, luscious sauce. Make sure to use potholders when working with the bowl, as it will be hot!
Slowly add the cream and egg mixture to avoid scrambling the eggs. For a bit more insurance, you can also add a few tablespoons of the pasta cooking water to the egg mixture prior to tossing with the pasta. This will help bring up the temperature of the eggs.
More Pasta Recipes You'll Love:
If you try this Breakfast Pasta Carbonara recipe, please come back to share using my 5 star rating in the comments below! Not only do I appreciate it, but I know readers do, too! For more easy recipes and simple living ideas, subscribe to my newsletter!
LET'S CONNECT! instagram | newsletter | facebook | pinterest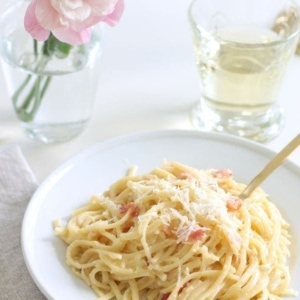 Breakfast Pasta Carbonara Recipe
The best breakfast Pasta Carbonara recipe is a fresh take on brunch. It's an irresistible combination of pancetta, eggs and cream tossed alla spaghetti!
Ingredients
1

lb

pasta

1

pkg

pancetta

chopped

1

tsp

minced garlic

4

eggs

1/4

c

heavy cream

1/4

c

butter

1/3

lb

pecorino romano

pepper to taste
Instructions
Bring a large pot of water to boil. Preheat oven to 200 degrees (or lowest setting) and place a large empty bowl in it for future tossing.

Meanwhile in a saucepan on medium heat, cook the pancetta and garlic. Set aside.

In a small bowl, whisk eggs and cream. Set aside.

Cook pasta according to package directions. Drain and add to the warm bowl with butter. Toss well.

GRADUALLY stir in egg and cream mixture. Toss in pancetta and pecorino, reserving a little to garnish. Pepper to taste.
Notes
Use 1 lb thick-cut bacon, chopped, if you are unable to find pancetta.
Nutrition
Calories:
1257
kcal
Carbohydrates:
88
g
Protein:
47
g
Fat:
78
g
Saturated Fat:
34
g
Cholesterol:
329
mg
Sodium:
1381
mg
Potassium:
582
mg
Fiber:
4
g
Sugar:
3
g
Vitamin A:
1010
IU
Vitamin C:
1
mg
Calcium:
469
mg
Iron:
3
mg
Did you Make This Recipe?
Mention @JulieBlanner