This is the ultimate, classic Creamy Pasta Carbonara recipe. It is a simple, easy and fresh take on pasta that is easy to customize and the perfect pasta for dinner, lunch or even brunch! This spaghetti carbonara sauce is the best comfort food indulgence.
It's an irresistible combination of bacon or pancetta, cheese, eggs and heavy cream tossed with classic spaghetti (and a few secrets along the way).
Learn how to make a classic spaghetti carbonara with cream…pretty soon, it will be the only pasta dish you ever want!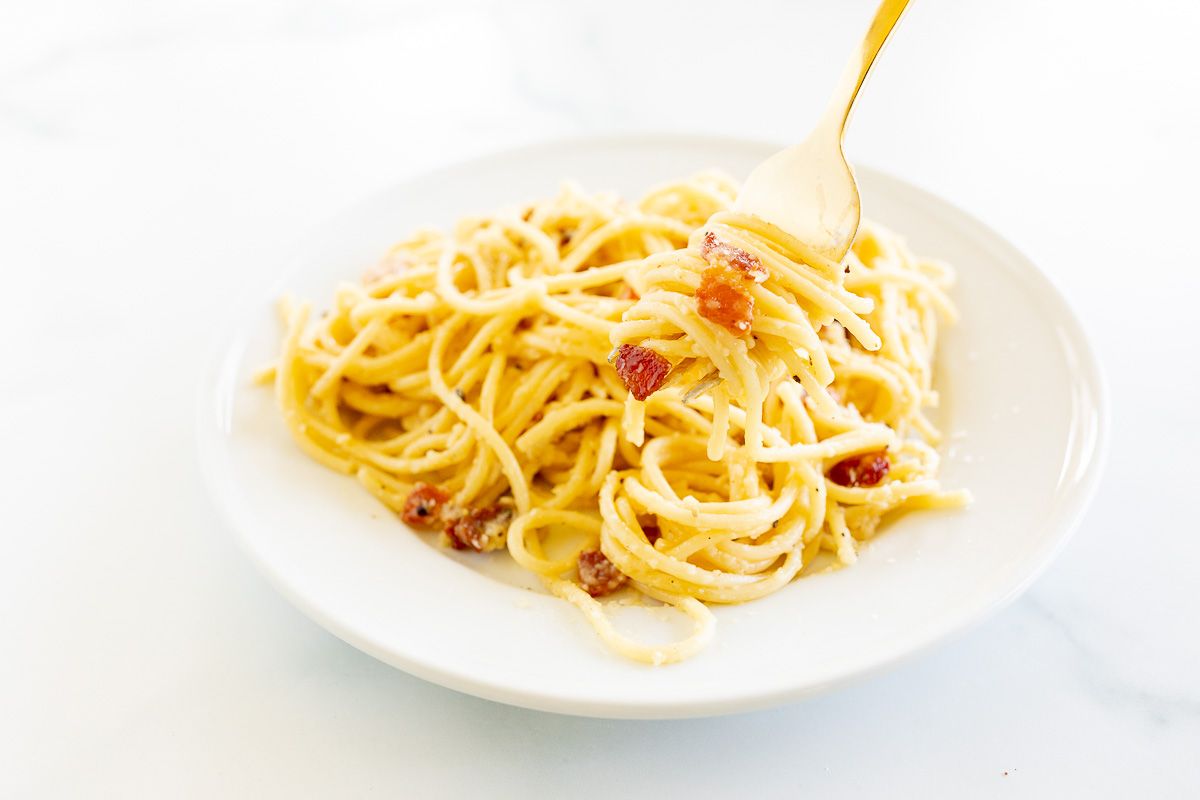 Pasta is my specialty. They say do what you love and you'll do it well. So taking a cue from that philosophy, we make homemade pasta frequently, often once a week.
We recently hosted out of town company. My college roommate, Danielle, spent the morning with us and to celebrate, I had to create an indulgent pasta recipe. Yes… pasta for breakfast. It's a thing, I promise!
I made a quick run to the grocery store for ingredients to prepare this fabulously easy creamy carbonara recipe.
Carbonara is a great dish for brunch, lunch or dinner. I never really thought about how well it lent itself to brunch until we hosted a baby shower at one of my favorite brunch spots.
The combination of bacon and eggs includes all those rich breakfast ingredients, alla spaghetti! What could be better? It's even special enough for your Christmas brunch!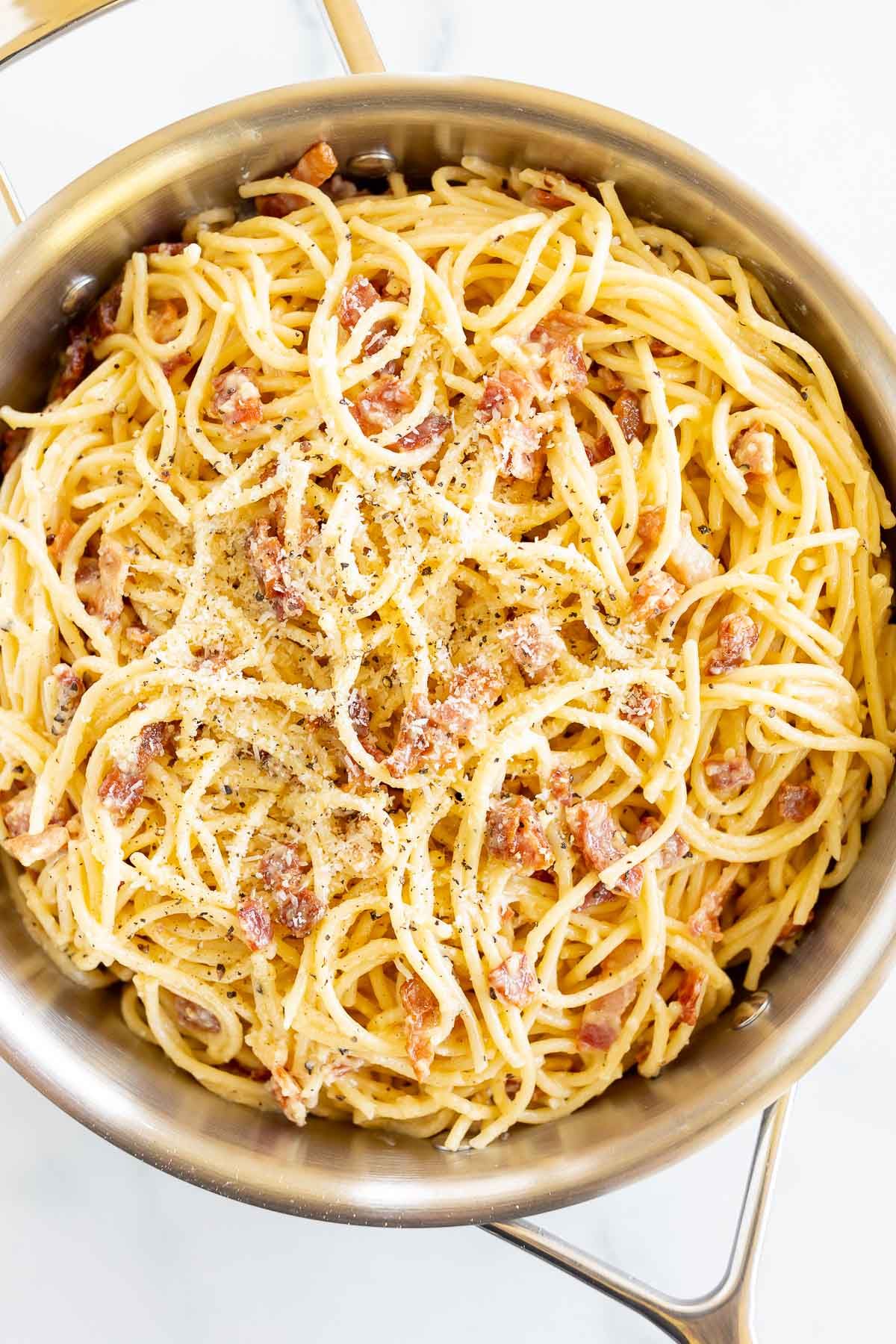 Why You'll Love this Spaghetti Carbonara
So Easy to Make
Rich and Filling
Great for Brunch, Lunch or Dinner
Easy to Customize
Carbonara Recipe Ingredients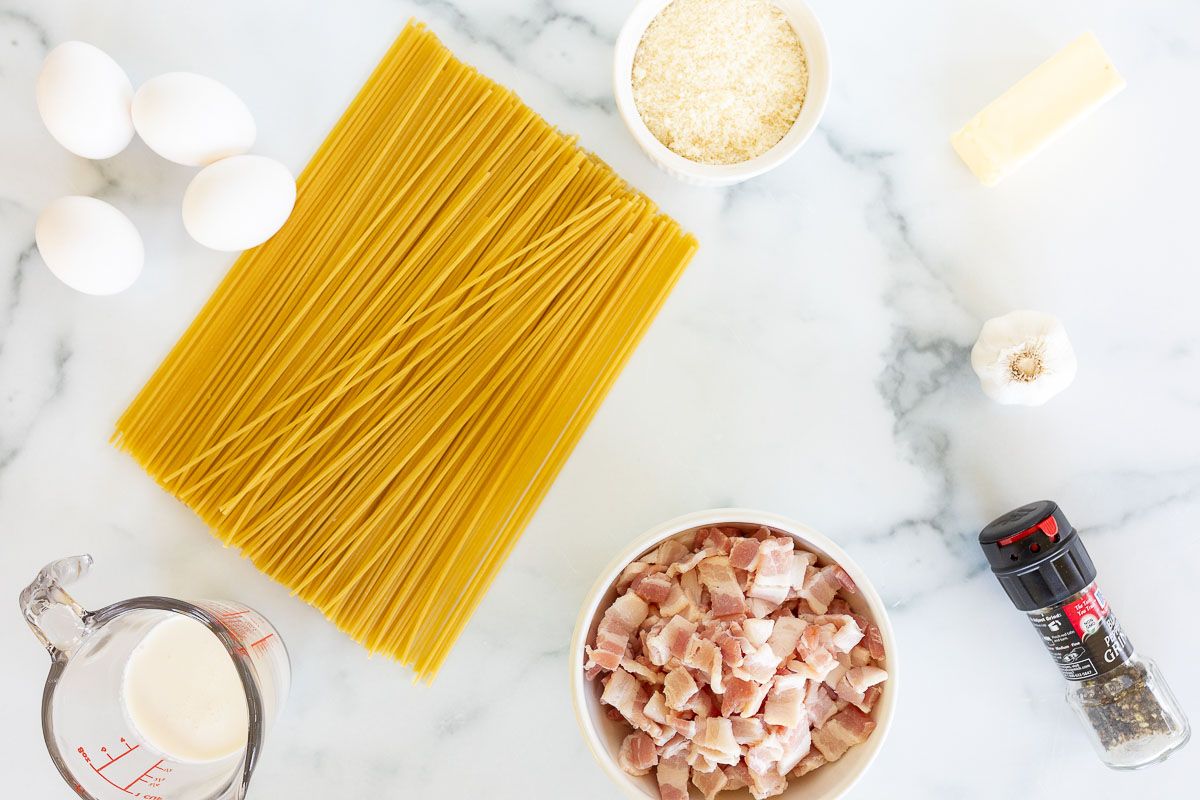 Pasta – Spaghetti alla carbonara is the traditional Italian way, but use any of your favorite pasta shape. Tagliatelle or fettuccine are also divine!
Pork – Pancetta, Bacon, Prosciutto or Guanicale. The difference is in how it is cured. Pancetta is cured with spices, which really shine in this pasta carbonara recipe, however bacon, prosciutto and guanciale are also incredible options for this simple dish.
Garlic – A small amount of garlic goes a long way. I like to take a shortcut and buy the minced garlic from the produce section of the store, but fresh minced garlic is always best!
Eggs – Use the freshest eggs you can find.
Heavy Whipping Cream – A traditional pasta carbonara recipe does not include cream, however I like the extra rich, sweet flavor it provides. Learn about the best Heavy Whipping Cream Substitutes here.
Butter – A little extra richness never hurt. Butter helps create a glossier finish. I always use salted butter because it balances the other flavors so beautifully, but unsalted works if that's what you have on hand.
Parmesan or Pecorino Romano – Pecorino Romano is one of my favorite cheeses to use in pasta. It is similar in style to Parmesan, but slightly saltier and made from sheep's milk. Purchase a whole block from the cheese counter and grate at home. You can also use classic Parmesan if that's what you have on hand.
Pepper – Use freshly cracked black pepper.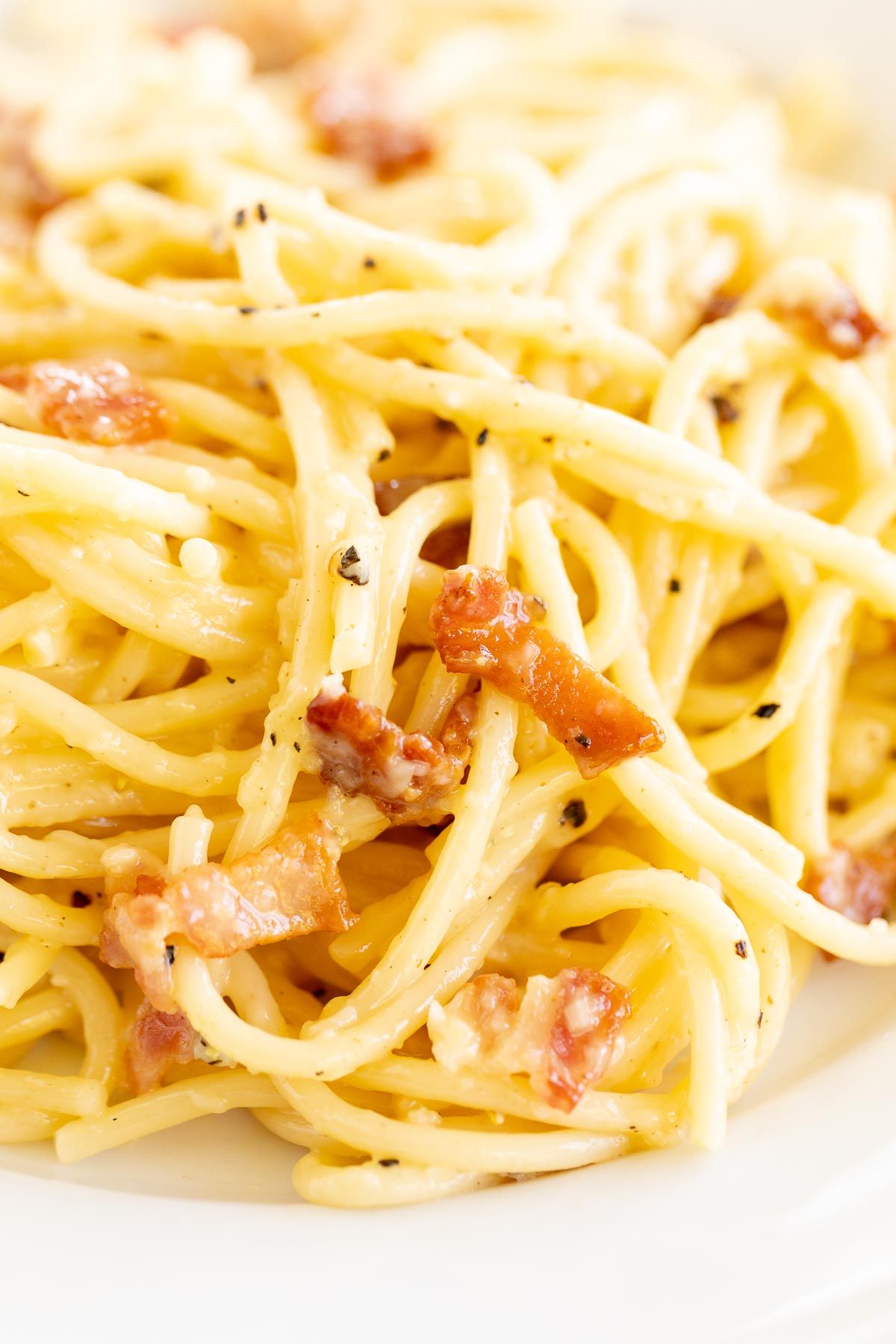 Variations
Use a different meat – for a change in your protein, try pancetta instead of classic bacon. You can also add a little of this easy baked chicken for a more protein-heavy dish!
Cheeses – while Parmesan is a classic cheese for spaghetti carbonara, pecorino is a little saltier and made from sheep's milk. Give it a try!
Pasta – try a different pasta shape! While spaghetti is always a classic pasta for a creamy carbonara recipe, try fettucine, linguine, or even a penne. This creamy carbonara sauce works for everything!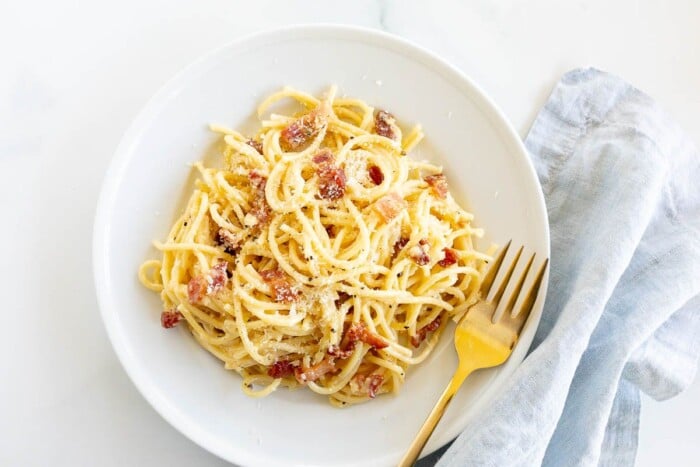 How to Make Creamy Pasta Carbonara
Prep – Bring a large pot of salted water to a boil. Preheat the oven to 200 degrees and place a large, empty, oven-safe bowl in it for future tossing of the pasta carbonara recipe.
Sauté Pork – In a saucepan over medium heat, cook the pancetta and garlic.
Combine Eggs and Cream – In a small bowl, whisk the eggs and cream.
Prepare Pasta – Add pasta to the boiling water and cook according to the package directions. Drain and add to warm bowl with butter. Toss to combine.
Toss – Gradually stir in the egg and cream mixture until fully emulsified. Toss in pancetta and parmesan, reserving some for garnish.
Season – Add pepper to taste. Garnish with the remaining pancetta and cheese. Enjoy!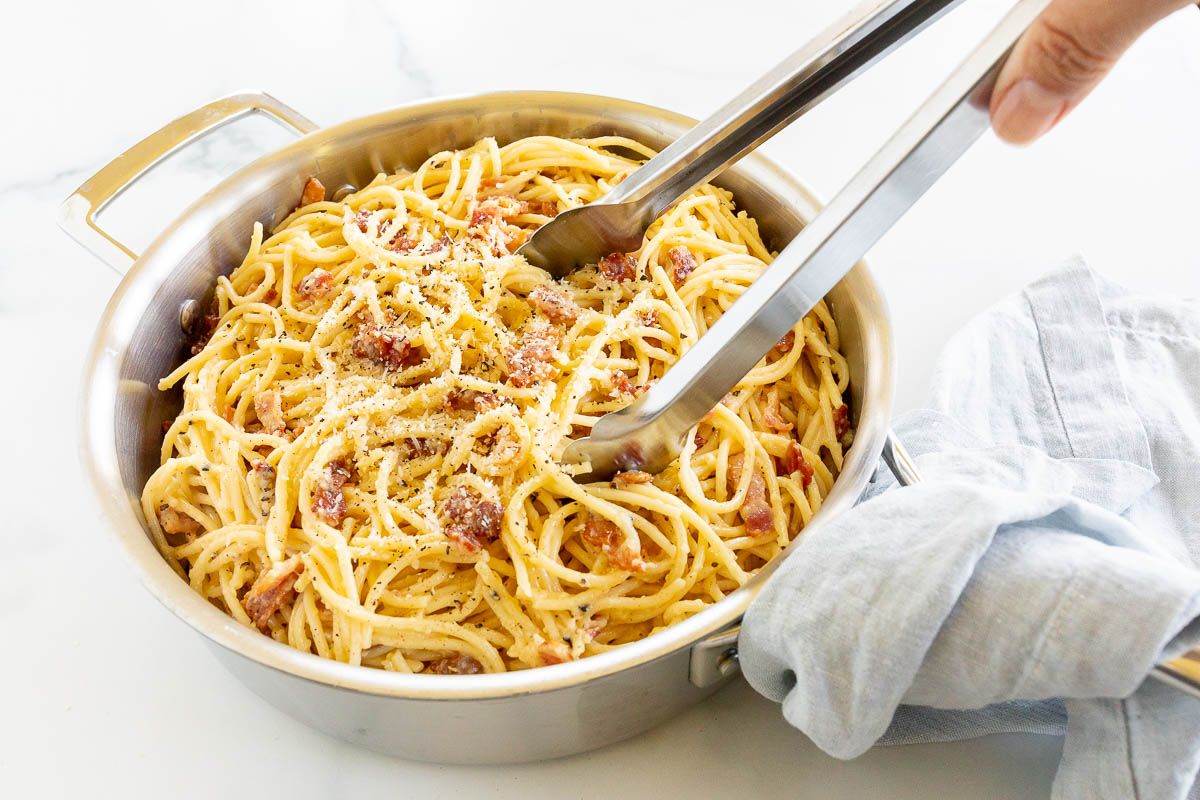 How to Store Pasta Carbonara
Room Temperature – You can leave this pasta dish out at room temp for up to two hours while serving.
Refrigerate – This creamy carbonara sauce keeps incredibly well in an airtight container, refrigerated for up to three days. Allow the spaghetti carbonara to cool, covered, at room temperature for 30 minutes after cooking.
Freezer – While the texture won't be quite the same, you can freeze pasta carbonara for up to three months. Be sure to package in an airtight container to prevent freezer burn, and defrost before attempting to reheat.
How to Reheat Carbonara
Ideally, you should reheat your spaghetti carbonara on the stove instead of the microwave.
From refrigerator: Toss your pasta in a skillet over medium heat for approximately five minutes, or until heated all the way through.
From freezer: It's best to leave it in the fridge for 24 hours prior to reheating. Follow steps as above.
Serving Suggestions
Top with fresh herbs like parsley, rosemary or even basil for a pretty pop of color.
Add a big crack of pepper and more freshly shredded Parmesan or Pecorino.
Serve alongside these Fruit Skewers for brunch or lunch, and with a gorgeous Italian Salad for dinner.
Garlic Cheese Bread – Don't forget the garlic bread with this delicious pasta!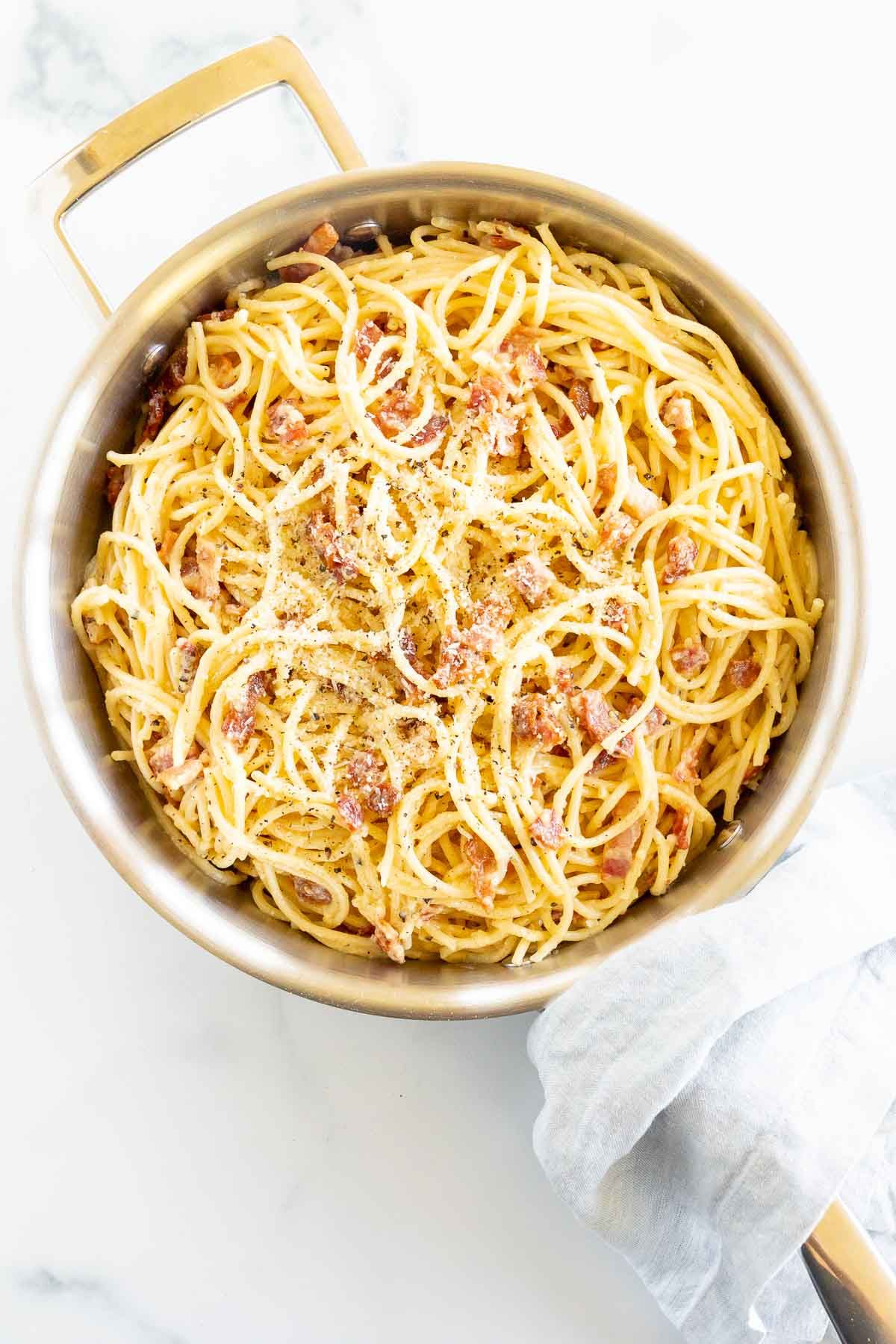 Frequently Asked Questions
Do you use cream in carbonara?
Traditionally, no. An authentic pasta carbonara recipe is simply an emulsion of eggs and cheese. But because I like to guild the lily and add an extra bit of richness, I incorporate some cream into the mix.
Can you substitute milk for cream in Carbonara?
It's not recommended because the sauce won't be quite as rich and creamy. However, you can use milk or half and half instead of heavy whipping cream in this carbonara with cream.
Why is my carbonara not creamy?
If your pasta (and the pot) is too hot, your eggs will curdle and scramble as they are added. However, if your pasta and pot are not warm enough, you risk the eggs not being cooked all the way through.

Solve this problem by using a warm pot to toss your creamy carbonara sauce, but not too hot!
Dietary Considerations
Gluten Free – Use a gluten free pasta to make this creamy carbonara recipe gluten free.
Vegetarian – leave the pancetta or bacon out for a vegetarian carbonara.
Nut Free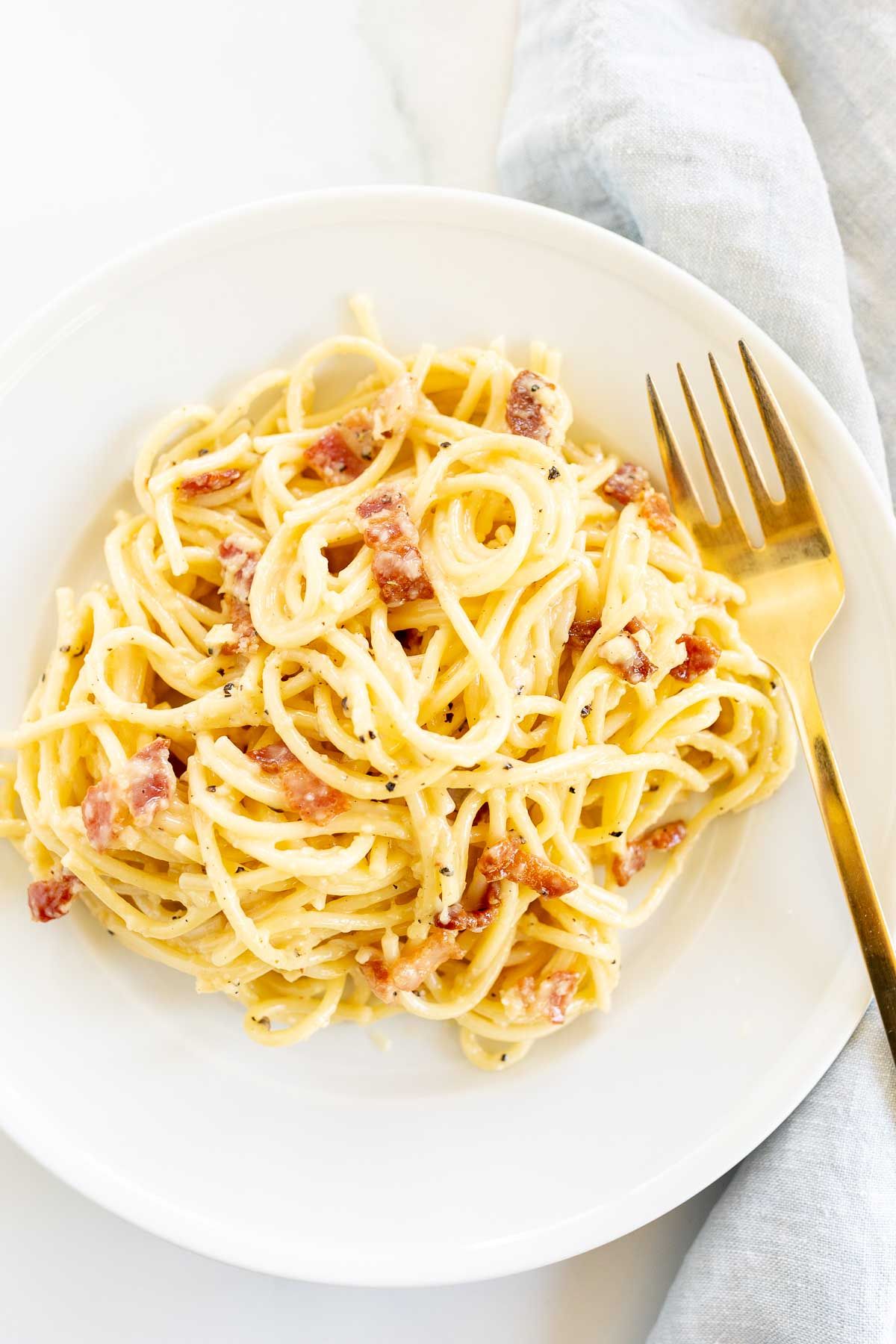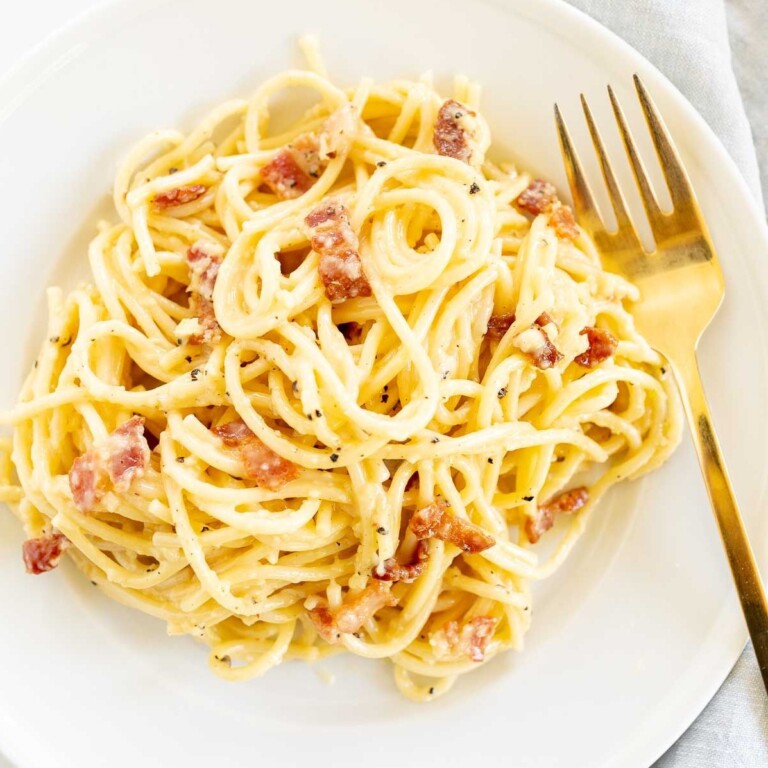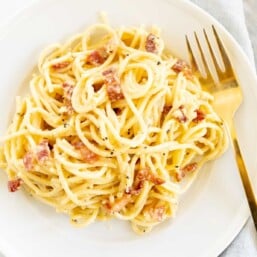 Pasta Carbonara
This recipe is incredibly easy, consists mostly of staple ingredients and requires very little effort.
Ingredients
1

pound

pasta

any shape, spaghetti is traditional

8

ounces

bacon

cooked and cut into pieces

¼

cup

butter

salted

4

large eggs

whisked

¼

cup

whipping cream

1

cup

fresh grated parmesan

1

teaspoon

minced garlic

fresh cracked pepper to taste
Instructions
Bring a large pot of water to a boil. Prepare pasta al dente.

Preheat the oven to 200 degrees and place a large, empty, oven-safe bowl in it for future tossing of the pasta carbonara recipe.

In a saucepan over medium heat, cook the pancetta and garlic.

In a small bowl, whisk the eggs and cream.

Drain pasta and add to warm bowl with butter. Toss to combine. Gradually stir in the egg and cream mixture until fully emulsified.

Toss in pancetta and parmesan, reserving some for garnish.

Serve with fresh cracked pepper.
Tips
Al Dente – always cook your pasta al dente. It helps it keep a "bite" that creates the most delicious texture in the sauce.
Reserve Pasta Water – Hold a little of the pasta water back when you drain it. You can add this starchy warm water back into your sauce if it needs to be thinned out a little.
Tossing the pasta and carbonara with cream in a warm pan ensures an even distribution of heat, creating a creamy, luscious sauce. Make sure to use potholders when working with the bowl, as it will be hot!
Slowly add the cream and egg mixture to avoid scrambling the eggs.
For a bit more insurance, you can also add a few tablespoons of the pasta cooking water to the egg mixture prior to tossing with the pasta. This will help bring up the temperature of the eggs.
Calories:
655
kcal
|
Carbohydrates:
58
g
|
Protein:
25
g
|
Fat:
35
g
|
Saturated Fat:
16
g
|
Cholesterol:
183
mg
|
Sodium:
623
mg
|
Potassium:
312
mg
|
Fiber:
2
g
|
Sugar:
2
g
|
Vitamin A:
699
IU
|
Vitamin C:
1
mg
|
Calcium:
228
mg
|
Iron:
2
mg
Estimated nutrition information is provided as a courtesy and is not guaranteed.
Explore More