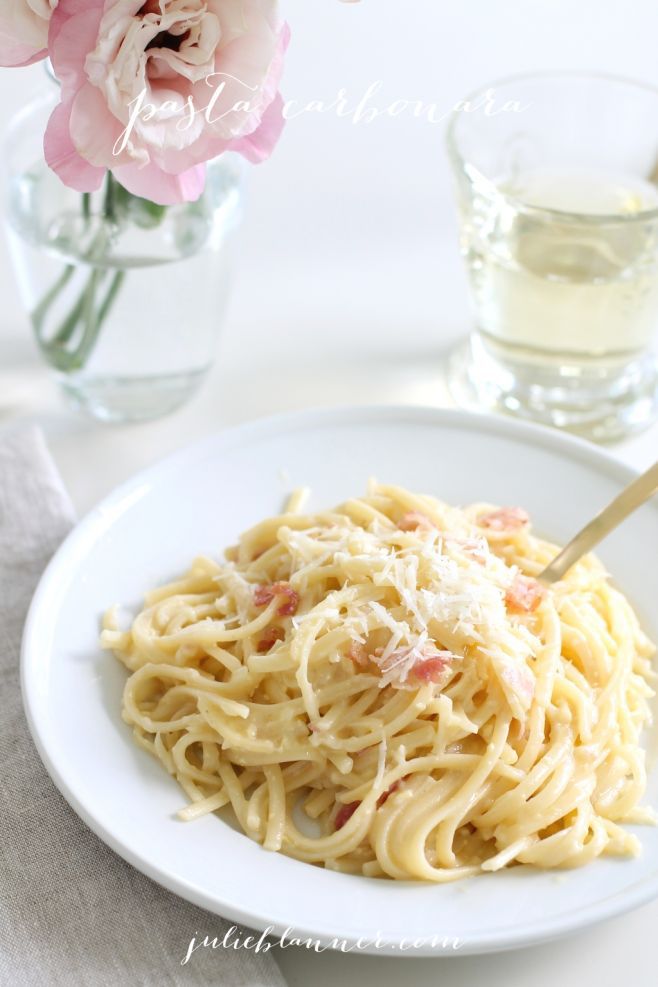 Have you noticed? Pasta is my specialty. They say do what you love & you'll do it well. So taking a cue from philosophy, I make pasta once a week. We spent last Sunday hosting out of town company. My college roommate, Danielle, spent the morning with us & I served my easy last minute meltaway muffins. I look for any excuse to make them, because they're so incredible, but sharing them with friends is even better. I feel so lucky to have "lifelong" friends. As I realize how many years have passed since we lived together, I think it's safe to call her that. This year I was named Better Homes & Gardens Entertaining Blogger of the Year. I'm not only honored to receive the award, but to have friends & family that make the effort to keep in touch. I think what makes a great entertainer, or entertaining expert, is someone who enjoys opening their home to guests, regardless of time to prepare & the cleanliness of their home. A great entertainer always makes their guests feel at home & at ease. That's made even easier with great friends & family, those who forgive you for your imperfections, the toys strewn across the floor or the unmade beds. None of that truly matters, it's the company that's important.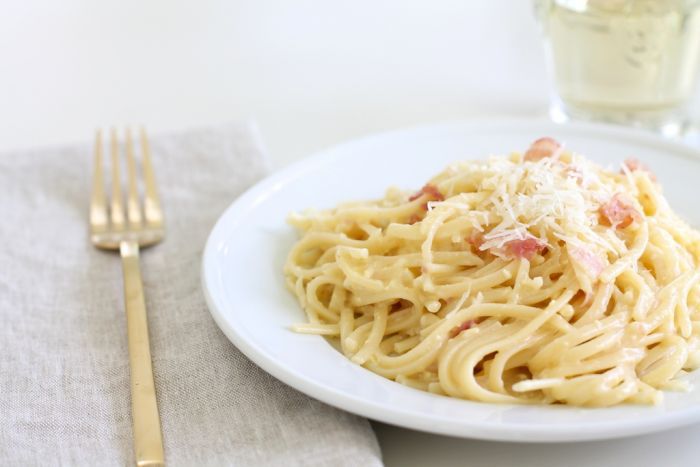 When I heard that we were expecting not one, but two sets of guests on Sunday, I didn't panic, I relished. I'm elated that they would take time out of their busy schedules to spend time with my family & I. So early Sunday morning, I made a quick run to the grocery store for ingredients to prepare my easy pasta carbonara. Carbonara is a great dish for brunch, lunch or dinner. I never really thought about how well it lent itself to brunch until we hosted a shower at one of my favorite brunch spots, Story. Made with mostly eggs & bacon, it's a fresh take on breakfast. I adapted my traditional carbonara recipe with pecorino romano & pancetta for an even more flavorful dish. Pancetta, like bacon, is pork, however, it differs in the way that it is cured. Pancetta is cured with spices, which really shine in this pasta dish. Pecorino romano is one of my favorite cheeses to use in pasta. It is similar in style to parmesan, but slightly saltier & made from sheep's milk.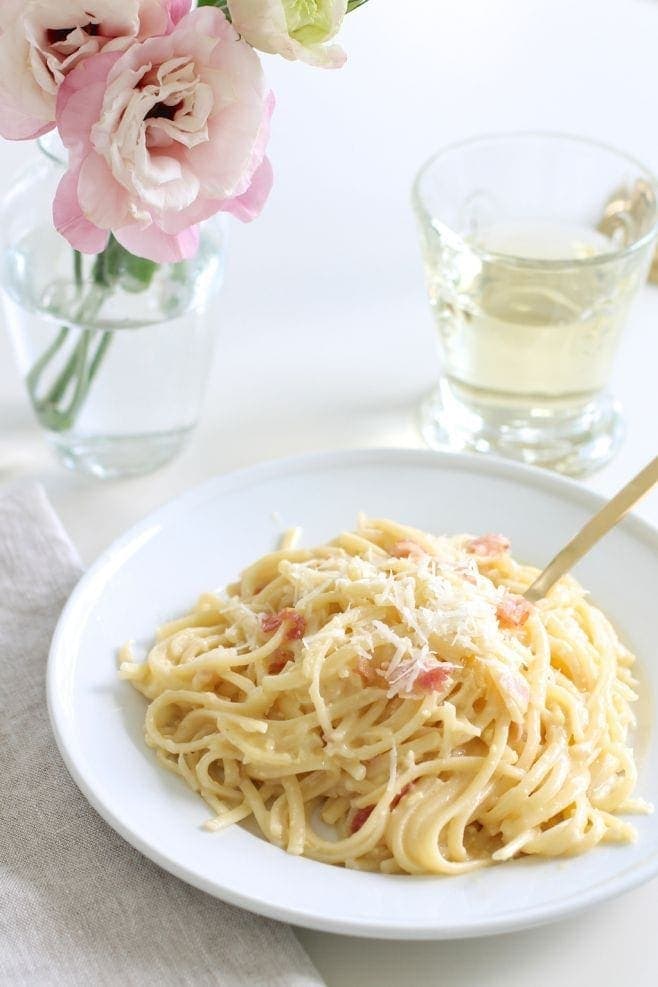 Knowing my niece loves pasta as much as I do & not having a lot of time between company, I opted for this new favorite brunch recipe, which is made in less than 15 minutes. I hope you enjoy this as much as I do!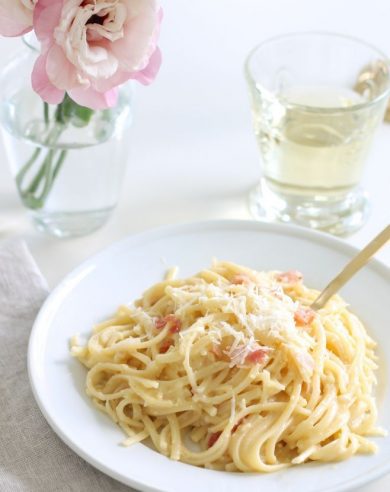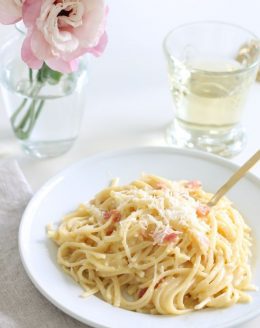 Pasta Carbonara
Ingredients
1

lb

pasta

1

pkg pancetta

chopped

1

tsp

garlic

4

eggs

1/4

c

heavy cream

1/4

c

butter

1/3

lb

pecorino romano

pepper to taste
Instructions
Bring noodles to a boil. Preheat oven & place a large empty bowl in it for future tossing.

Meanwhile in a saucepan on medium heat, cook the pancetta & garlic. Set aside.

In a small bowl, whisk eggs & cream. Set aside.

Drain noodles & add to the warm bowl with butter. Toss well.

GRADUALLY stir in egg & cream mixture. Toss in pancetta & pecorino, reserving a little to garnish with. Pepper to taste.