It's officially spring & while many may be thinking about cleaning, I'm always trying to find ways to avoid it. I naturally give our home a little refresh in spring due to my newfound motivation that comes with the cool breeze & sunlight, but with 3 little ones & a busy schedule, I'd rather spend my time enjoying our home than cleaning it. I believe an organized home leads to a cleaner home, with minimal effort. I like to blend organizing & decorating together for a home that is both functional & beautiful. Step inside for organization ideas infused into decor…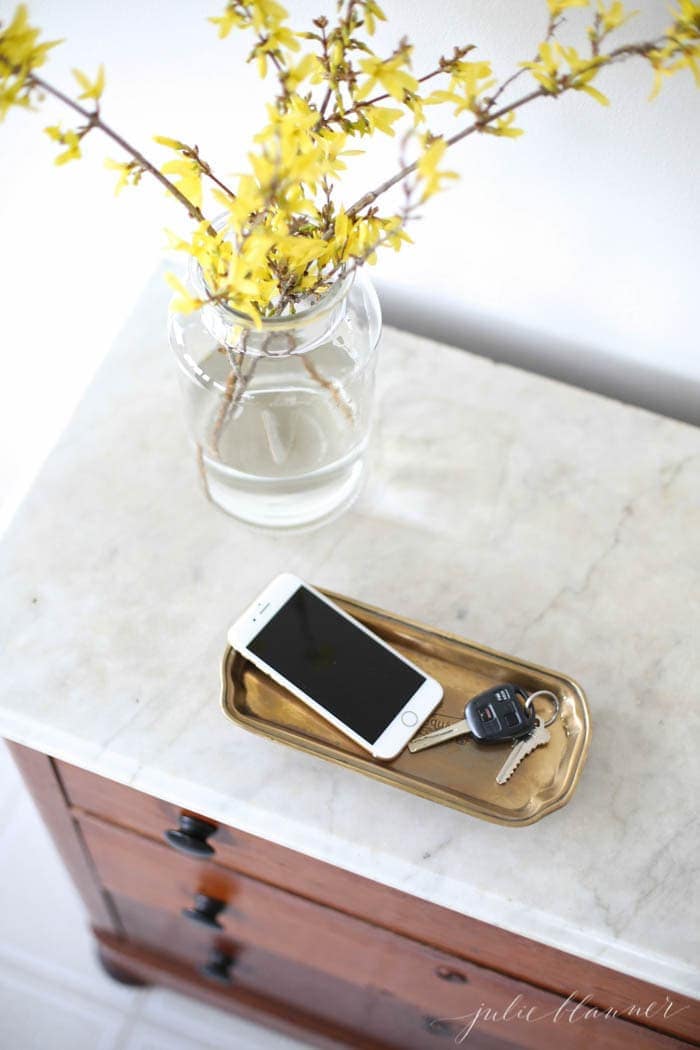 Living clutter free starts with organization. Having an organized mudroom helps us keep up with a fast pace, being able to grab what we need, when we need it & having a place to put it when we return home so that it's not abandoned in various rooms throughout our home. Over time, needs change. Rather than create built-ins for our mudroom, I purchased a beautiful marble top antique chest. It serves as a landing spot for our keys, cell phones, etc & offers plenty of storage. As our lifestyle changes, we can adapt what we store in it or the piece itself.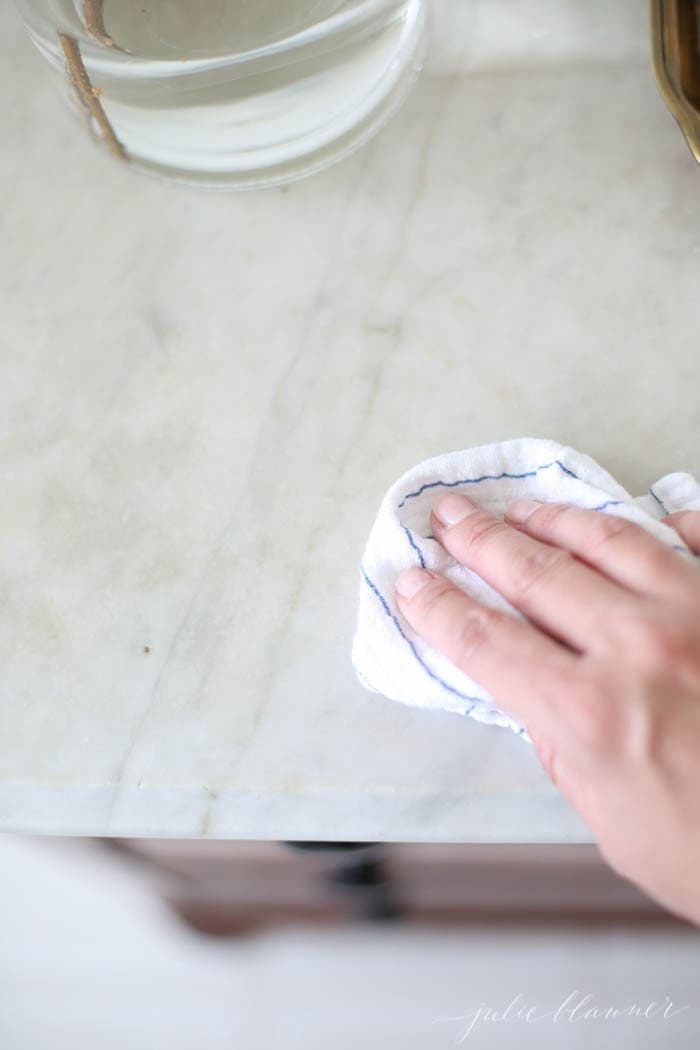 As you'll see, I can't resist a tray. They're a great catch all & you can easily move them along with the contents, to wipe the surface clean.
I also have a tray in our living room – it's been a staple for several years now because it has proven to be functional. It collects our magazines until we have time to peruse through them & is a safe haven for our remote controls. In addition, it becomes a decorative element, while freeing the living room from clutter.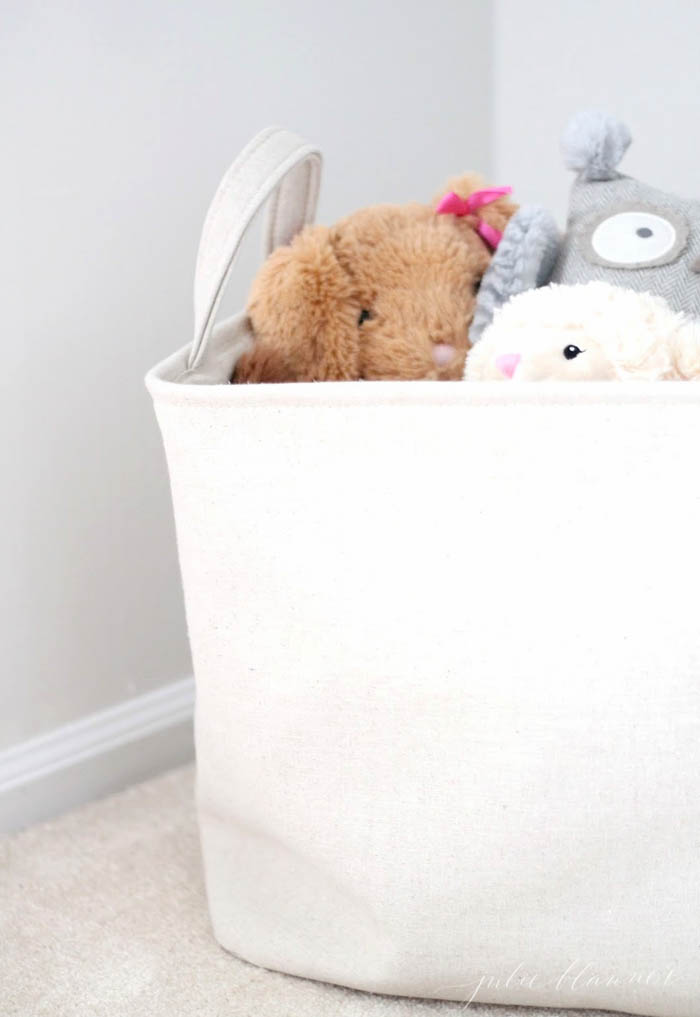 To promote picking up toys, we have baskets placed throughout our home that double as accents. In our family room, we have a coffee table that offers plenty of storage for their books. The girls call it their library! It's a library without a filing system, which makes it easy for them to access, enjoy & clean up. Bonus? There are no bookcases to dust!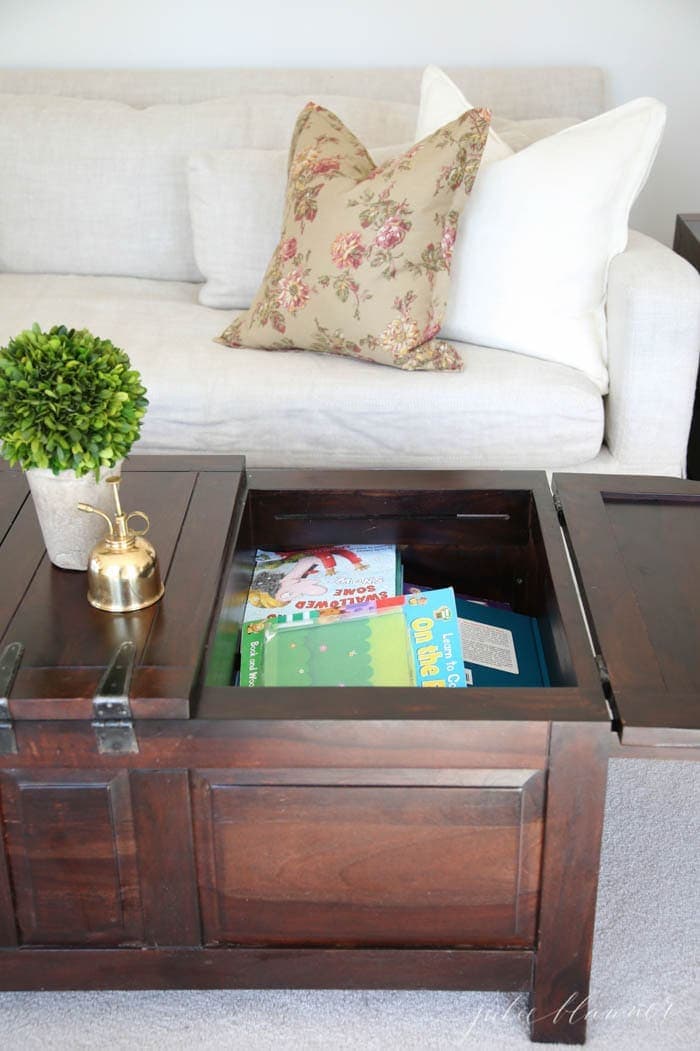 Instead of creating a beautiful collection of accents to display in our china cabinet, I displayed our china in an artful way by thoughtfully stacking & arranging pieces. Doing so reduces clutter & allows me to "use" my china beyond the holidays.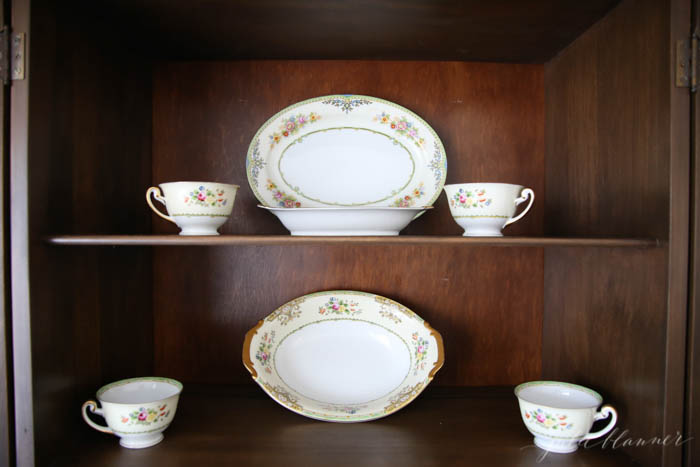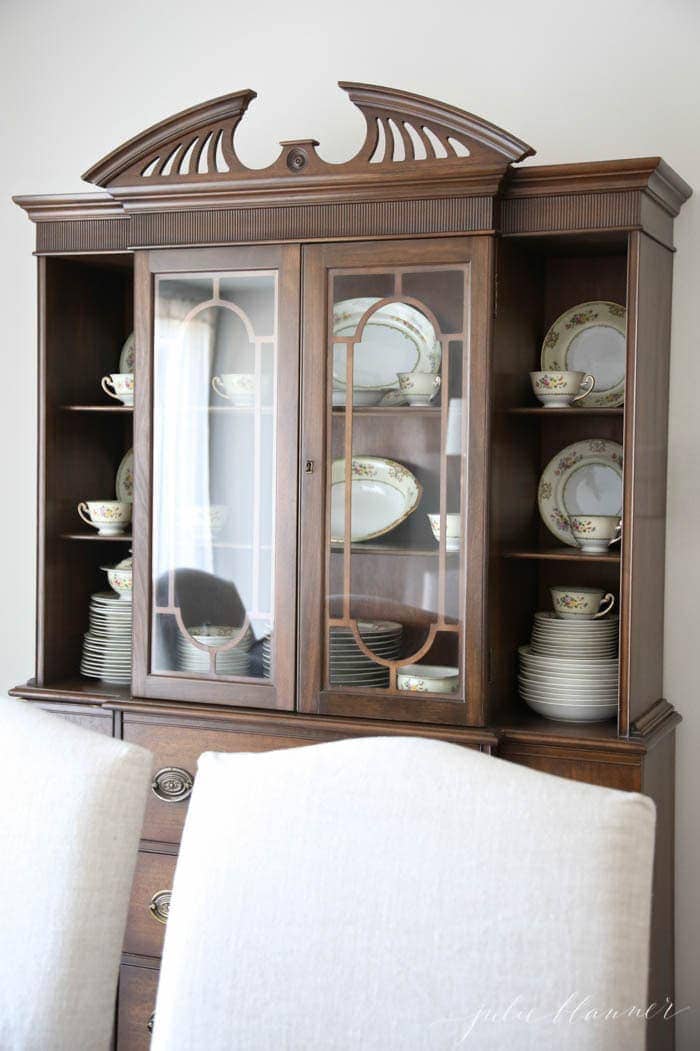 Even the laundry room has been accessorized with functional decor! It's limited to cleaning caddies for convenience, a boxwood topiary & pretty glass accent. I leave the surface of the washer & dryer open to use as a work surface when checking for stains or folding. It's also the only surface that needs to be wiped down!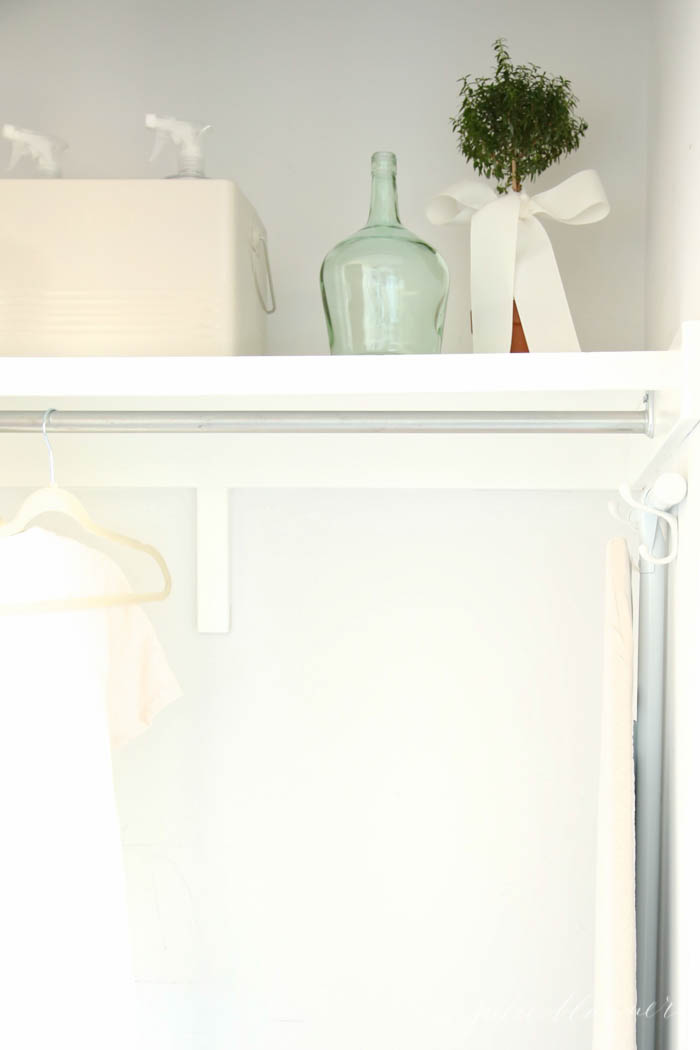 Our guest bathroom isn't frequently used, which makes it susceptible to dust. To keep it tidy I've limited the decor to another little brass tray, a natural sponge & brush in addition to a jar filled with my favorite soaps for guests. Storing them in a jar makes them easily accessible to guests, keeps them dust free & allows me to dedicate the cabinet to towel storage. Plus, soaps in a jar are just gorgeous, aren't they?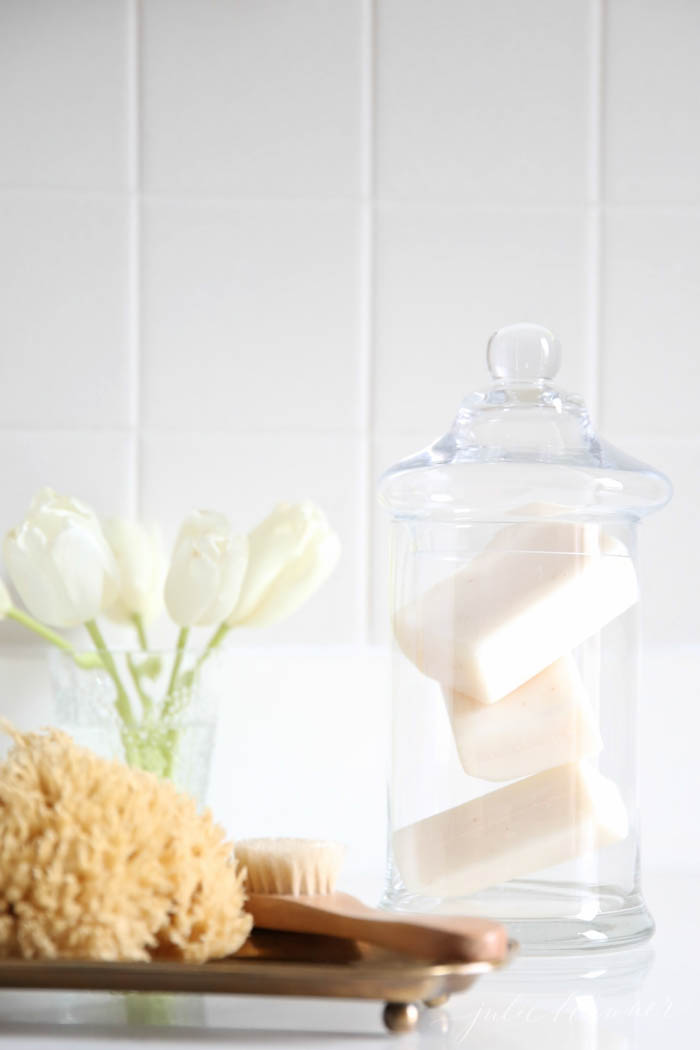 Are you ready to declutter? Here's a list of great decluttering ideas that take 5 minutes or less! If you incorporate any of these organization ideas into your home, take a photo & share on Instagram with the hashtag #julieblanner – I'd love to see!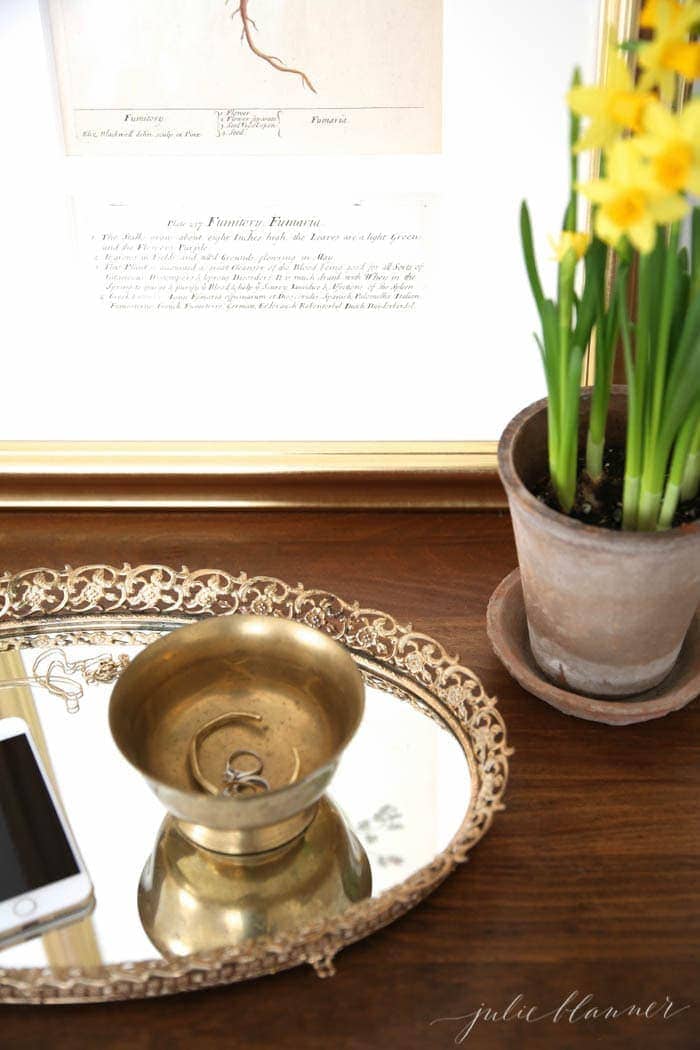 I partnered with The Maids to bring you easy spring cleaning ideas. Thank you for supporting the brands that help make this site possible! As always, all ideas & opinions are my own.
LET'S CONNECT!
instagram | newsletter | facebook | pinterest