Experience the joy of spring inside your house by using cherry blossom branches. They're the perfect living decoration to transition from the last dreary days of winter to the sublime days of spring.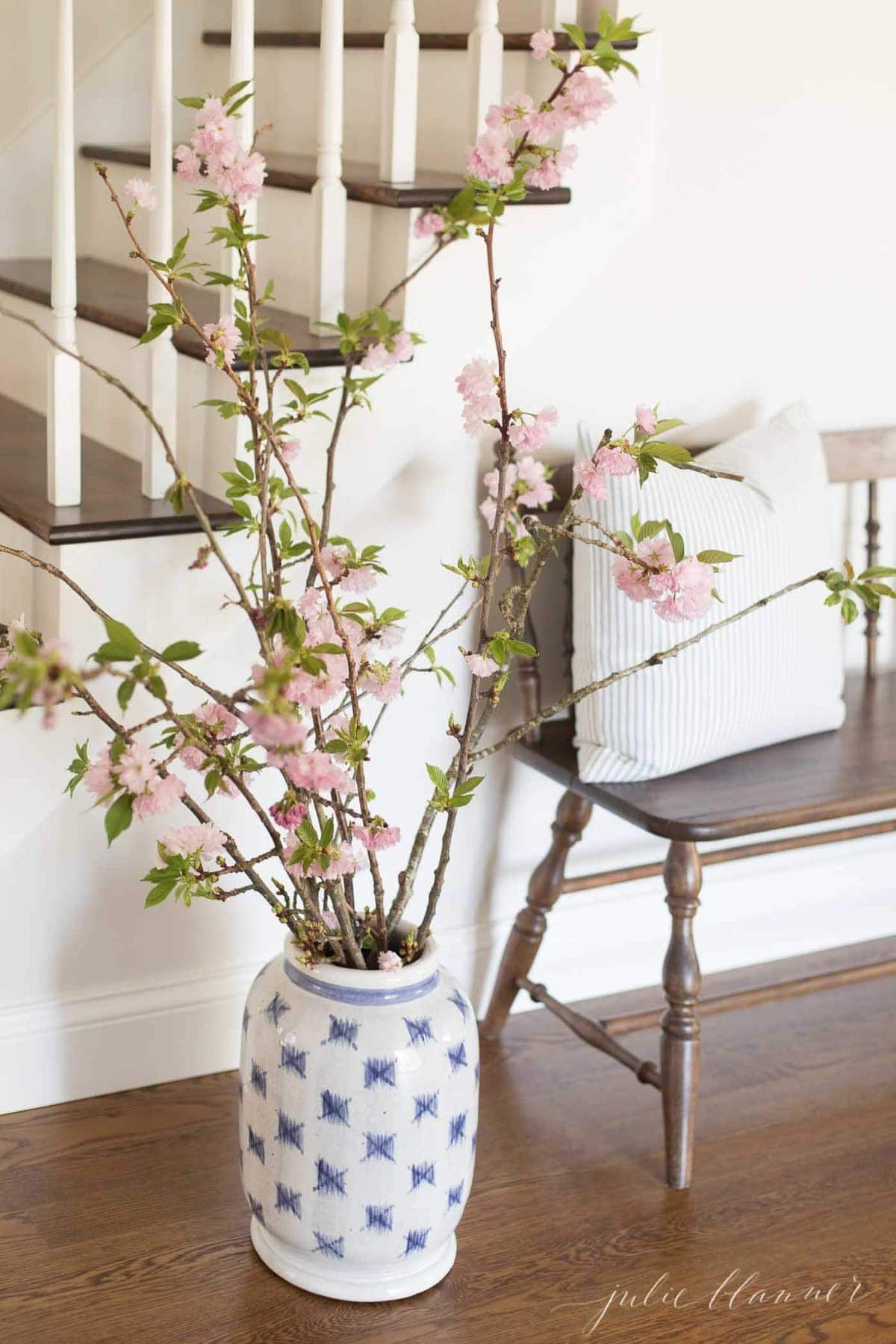 Winters in Missouri offer very little sunshine. The bare trees, grey skies, and brown grass of winter can feel depressing after a few months.
I am, of course, thankful for all of the seasons because they all have unique beauty to offer. But the end of winter really makes me grateful for the warmth and color of spring, summer, and autumn.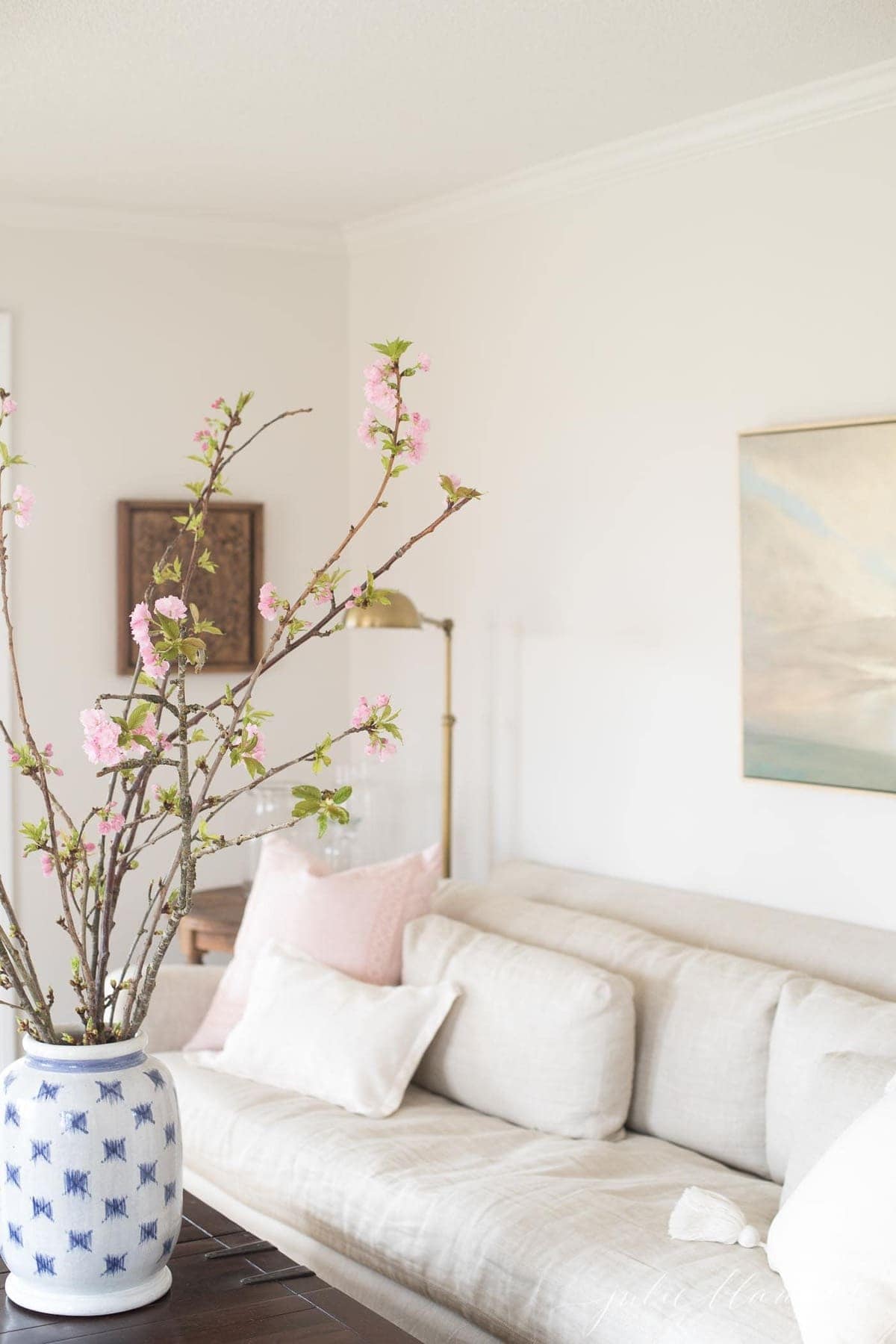 This post was first published April 12, 2018 and updated with fresh content and links June 16, 2021.
After a lot of spring rain, we get to experience the joy of seeing tiny buds on branches. New life, new hope, new beginnings.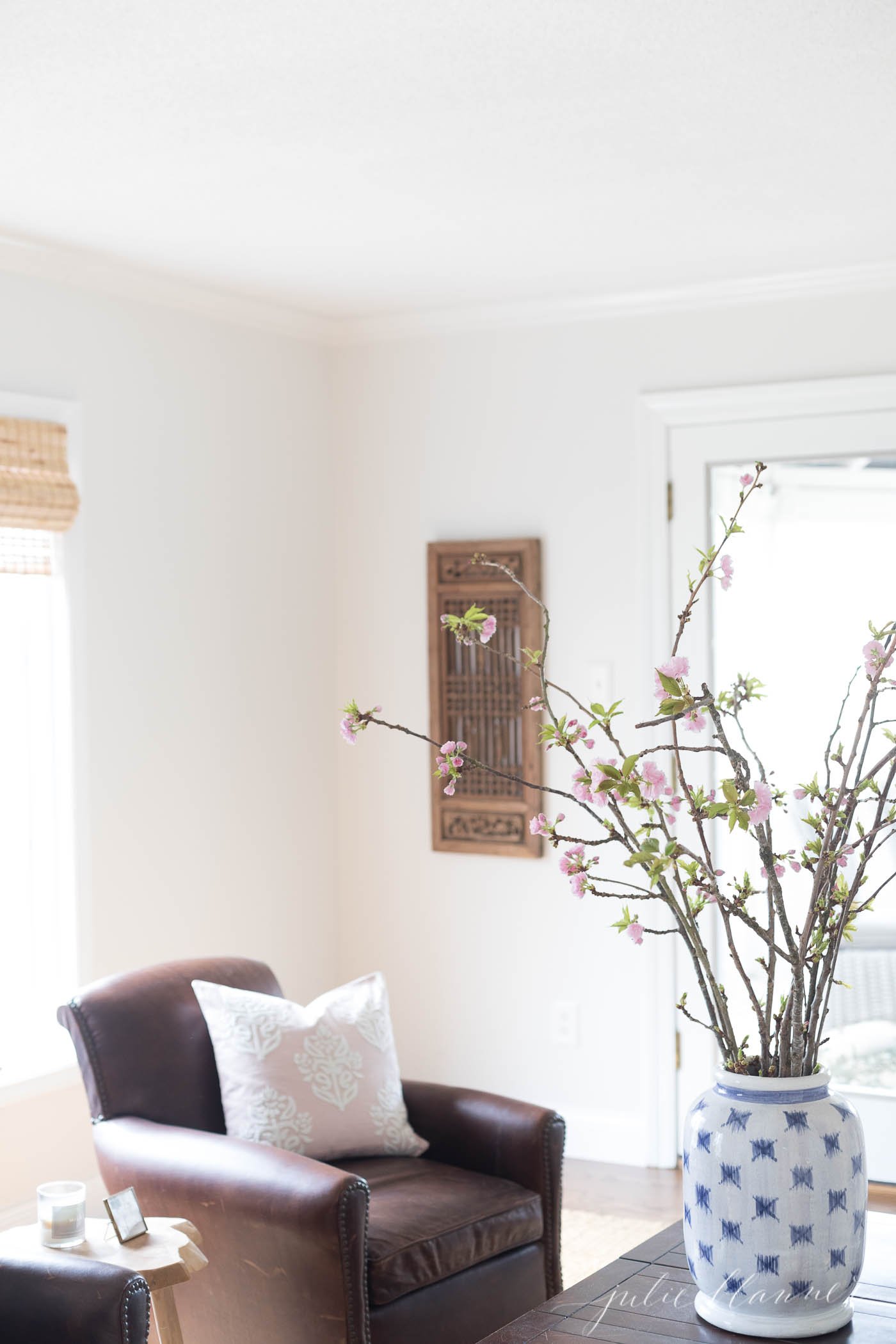 Trees blossom for such a short time, and it truly is glorious to see them come to life. For that reason we planted several blooming trees to offer the first pops of color, as well as other beautiful flowers in our garden.
Incorporating some of those blossom branches in my home brings the cheery colors and scent inside for us to enjoy!
I love chatting with you about flowers and plants – it's one of the many ways I create a Warm and Cozy Home. Another way to bring trees indoors is to grow a potted tree, like a Fiddle Leaf Fig Tree, an Olive Tree, or a Meyer Lemon Tree.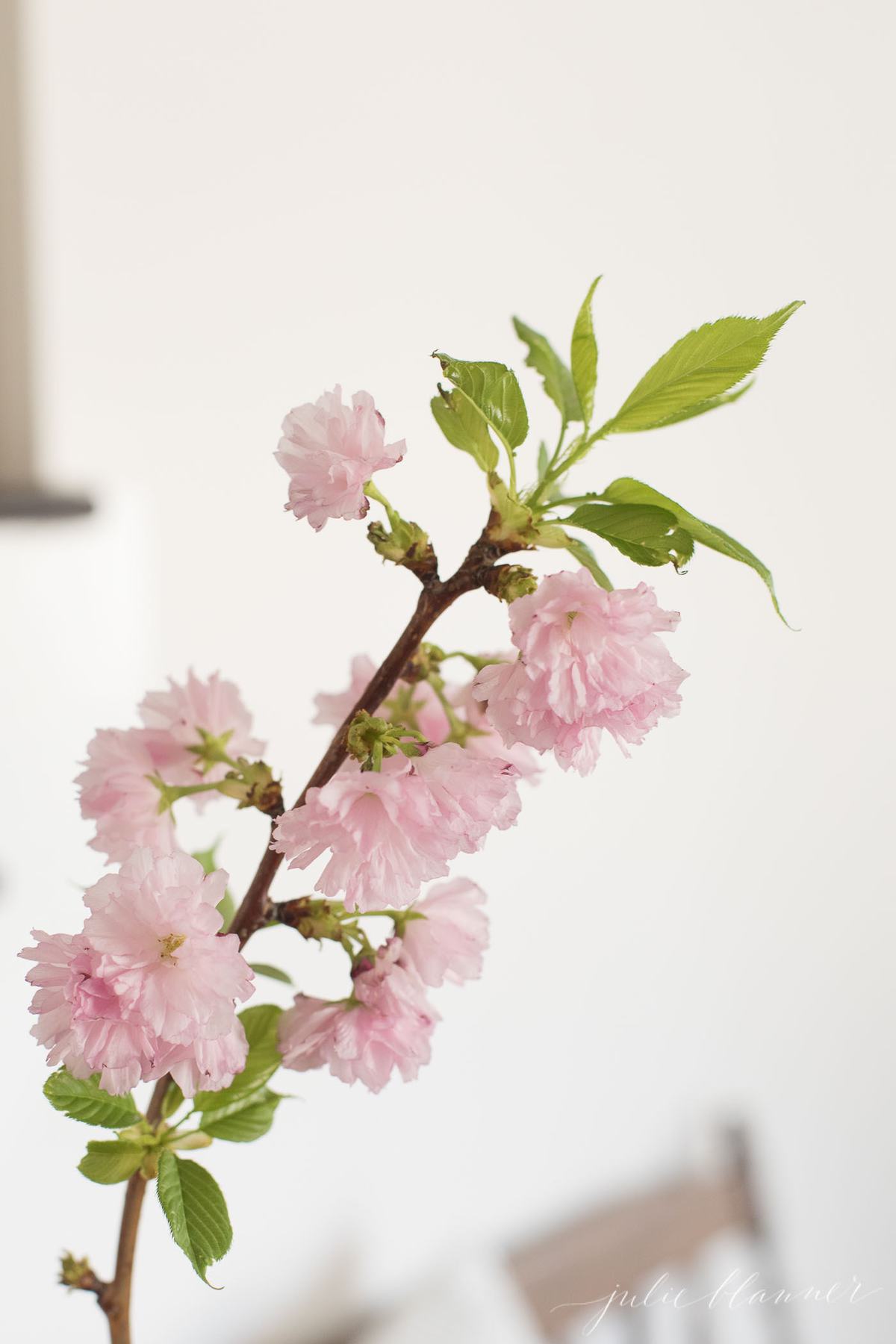 Where to Get Cherry Blossom Branches
Most years I can go outside when the blossoms are first opening and cut a few branches off of my own tree. Trees have plenty of small branches to spare.
Occasionally, though, spring is late, so I do what any desperate Missouri girl would do – purchase fresh cherry blossom branches. Check with stores like Trader Joe's, Whole Foods, or your local florist.
How to Prepare Branches
If you're cutting from your own tree, use a pair of sharp, clean shears. Cut the length of branch you want at a diagonal.
If purchasing branches, trim to the length you desire with sharp, clean pruning shears.
Once the branches are trimmed to the correct height, you can cut 1″ slits in the bottom of the branches. This will help the branches absorb water and last longer.
Place the branches in warm water inside a vase. And let their beauty transform your home.
How to Use Cherry Blossom Branches in Your Home
The moment cherry blossom branches are placed in a vase, they will bring your room to life!
Choose a vase that is sturdy enough to support the weight and height of branches. Glass, ceramic, an antique brass bucket, all work well. Check out my post on choosing vases for floral arrangements.
If you want to use a container that shouldn't hold water, you can get a vase ready with water and the branches and then set that inside your desired container!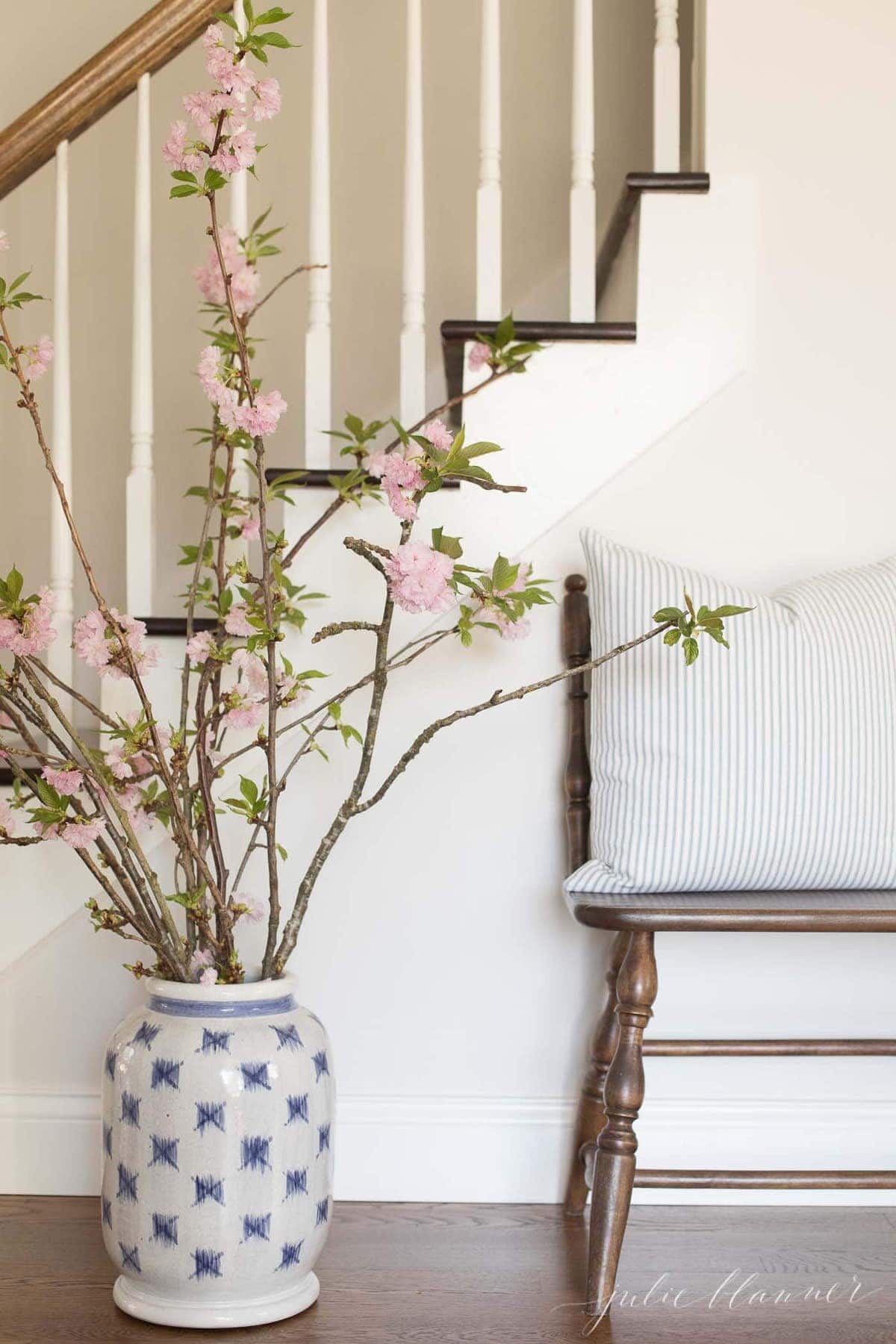 Pink cherry blossom branches add color to a room, while white blossoms will be more subtle, but still fresh and charming.
I love the twists and turns of the branches. They become a natural focal point by adding interest and organic lines to spaces.
An entry way is a great place for branches with blossoms because visitors can enjoy the flowers. It also keeps the branches away from high-traffic areas where the vase or branches could get bumped.
I've also used them on the coffee table in the family room. It's so stunning to have the movement and beauty of cherry blossom branches for us to see every day.
When designing with cherry blossom branches, you don't need a lot of them to make a statement. They're absolutely effortless, no arranging required! Just place the branches in and let them work their own springtime magic.
They look beautiful in a vase on the floor, cut in 5-foot or longer lengths. And they work on table tops or sideboards, perhaps cut a little shorter. I guarantee you'll love them anywhere you put them!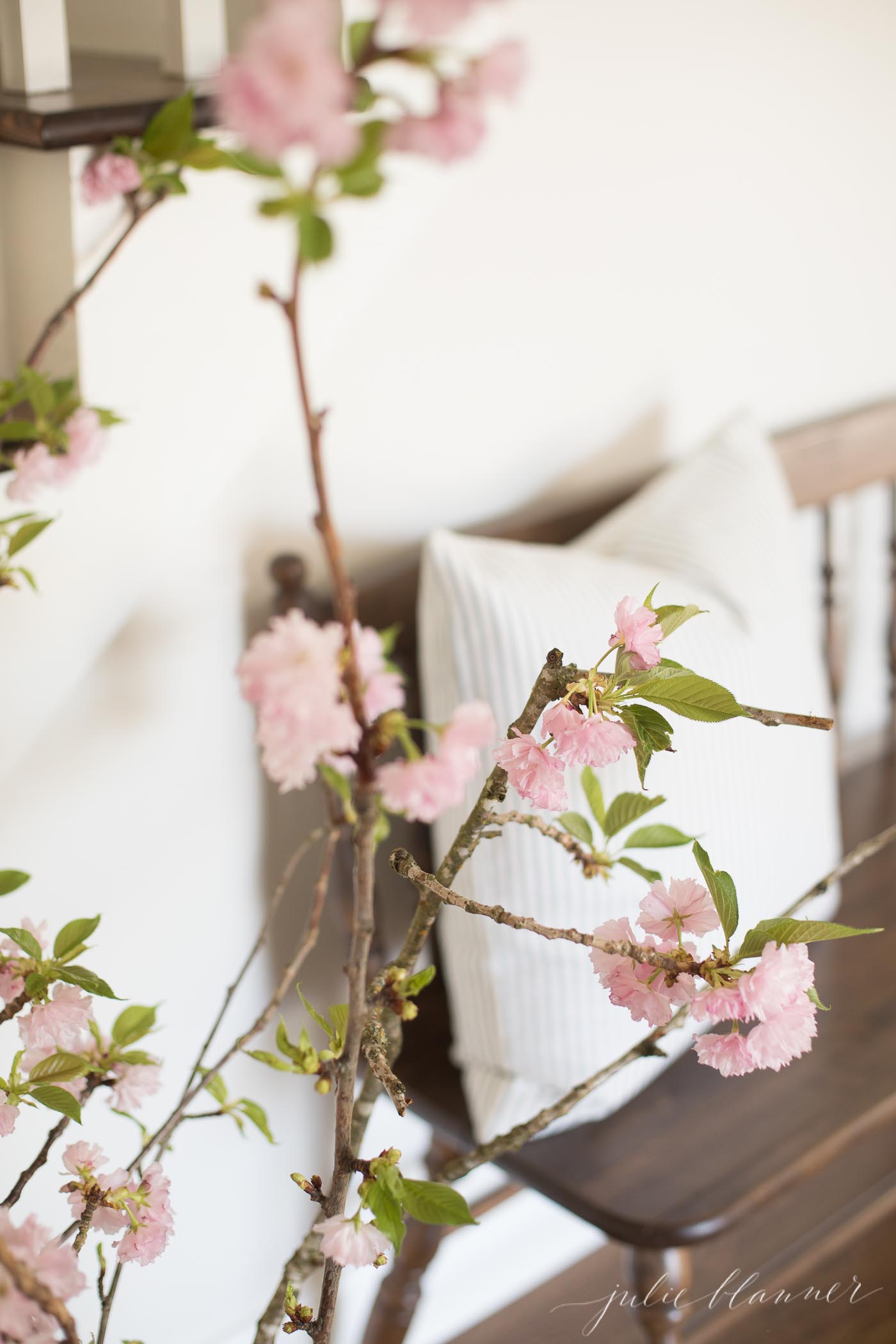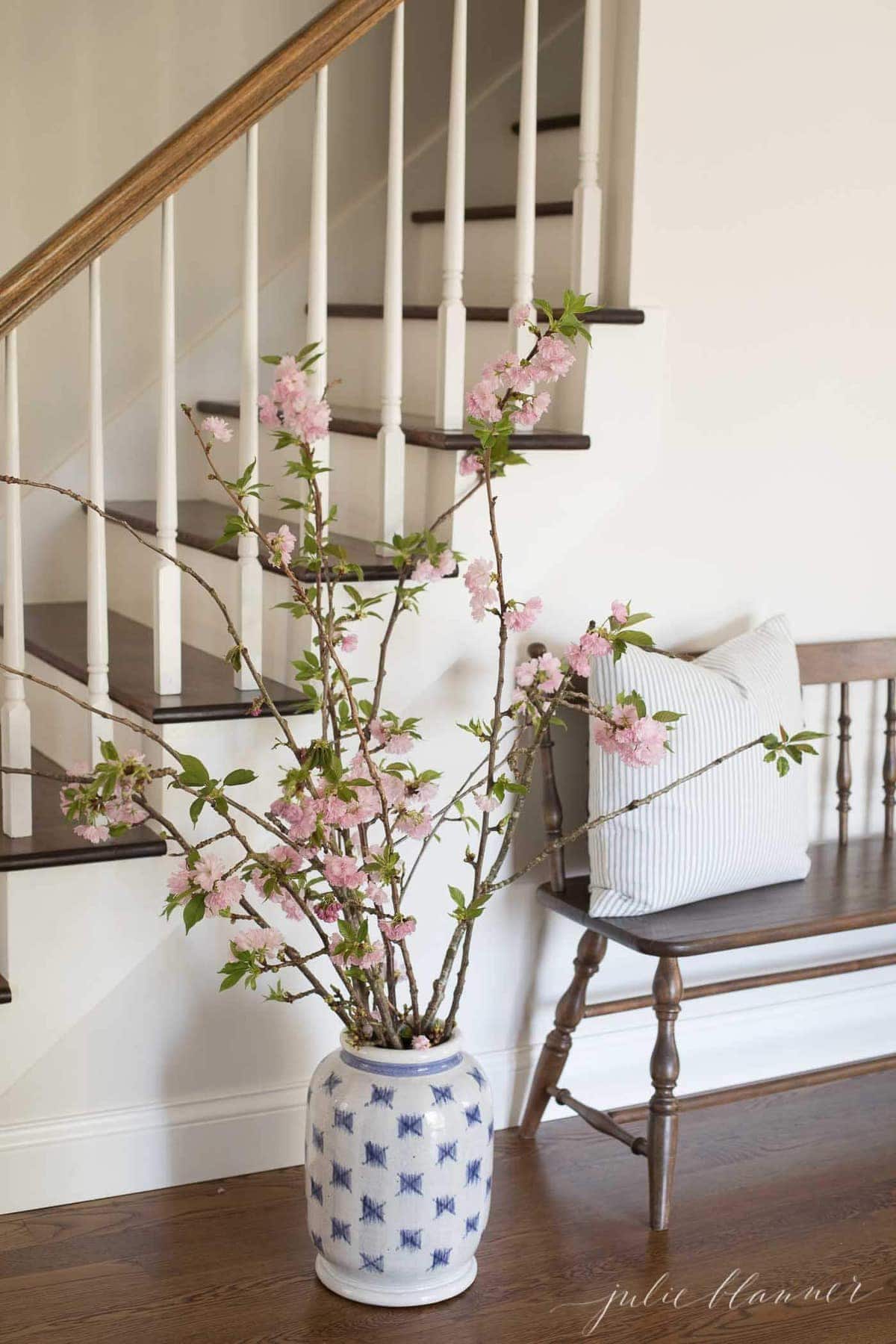 Faux Cherry Blossom Branches
If fresh blossoms are not an option for you, you can find beautiful silk cherry blossom branches in stores. You can also do your own online or local search for blossoms that you like.
You can also make your own cherry blossom branch with this tutorial.
Other branches that have beautiful blossoms are quince, crab apple, forsythia, lilac, and plum. Avoid the pear trees because they don't have a pleasant fragrance.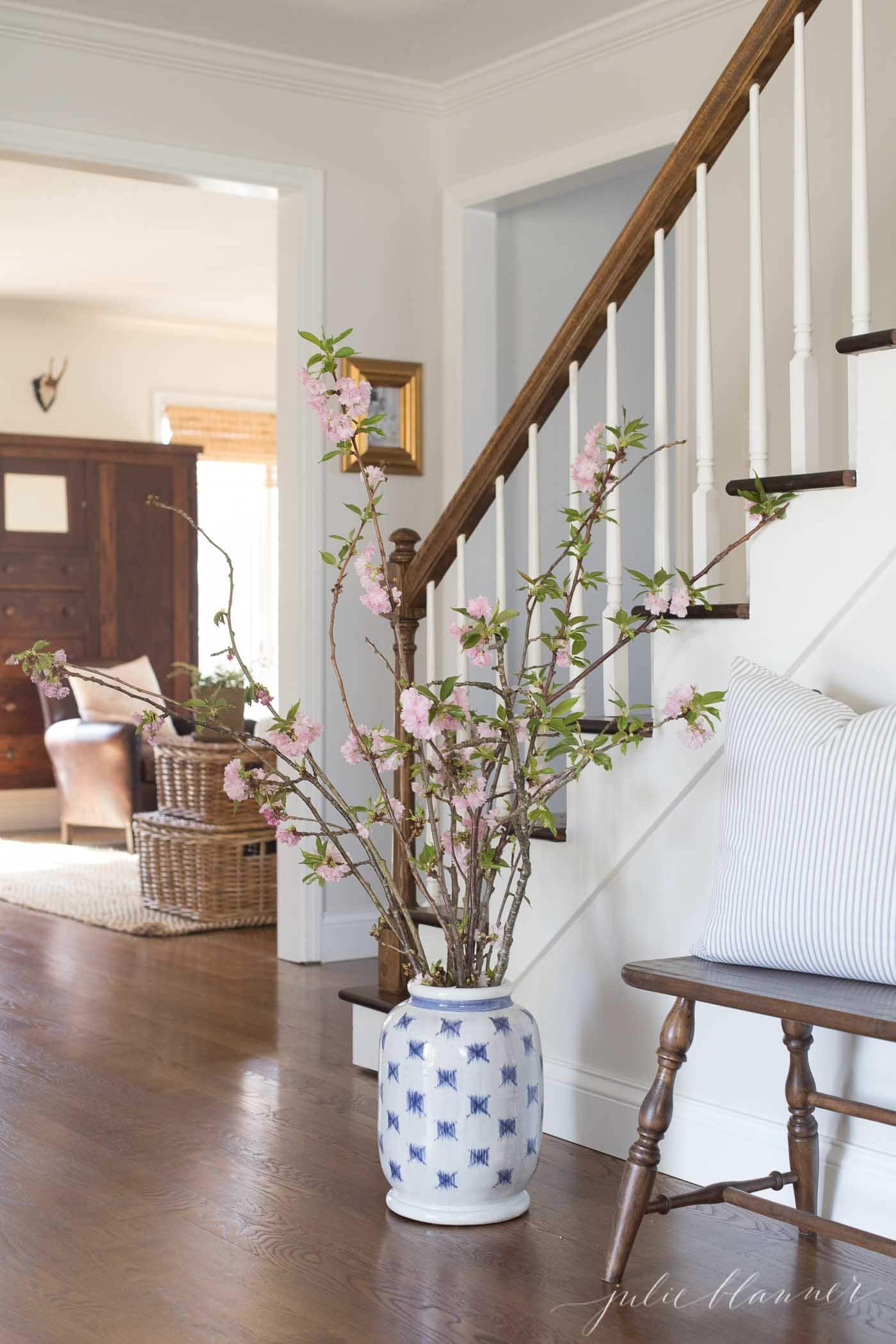 Tips
You can plant a cherry blossom branch! Yes, you can propagate them to grow more cherry blossom trees. Learn how to propagate a cherry blossom tree here.
Use a vase that is at least 1/3 the height of your branches for support of the branches and visual appeal.
Cut or buy branches while still in the bud stage and then you can watch the blossoms unfold.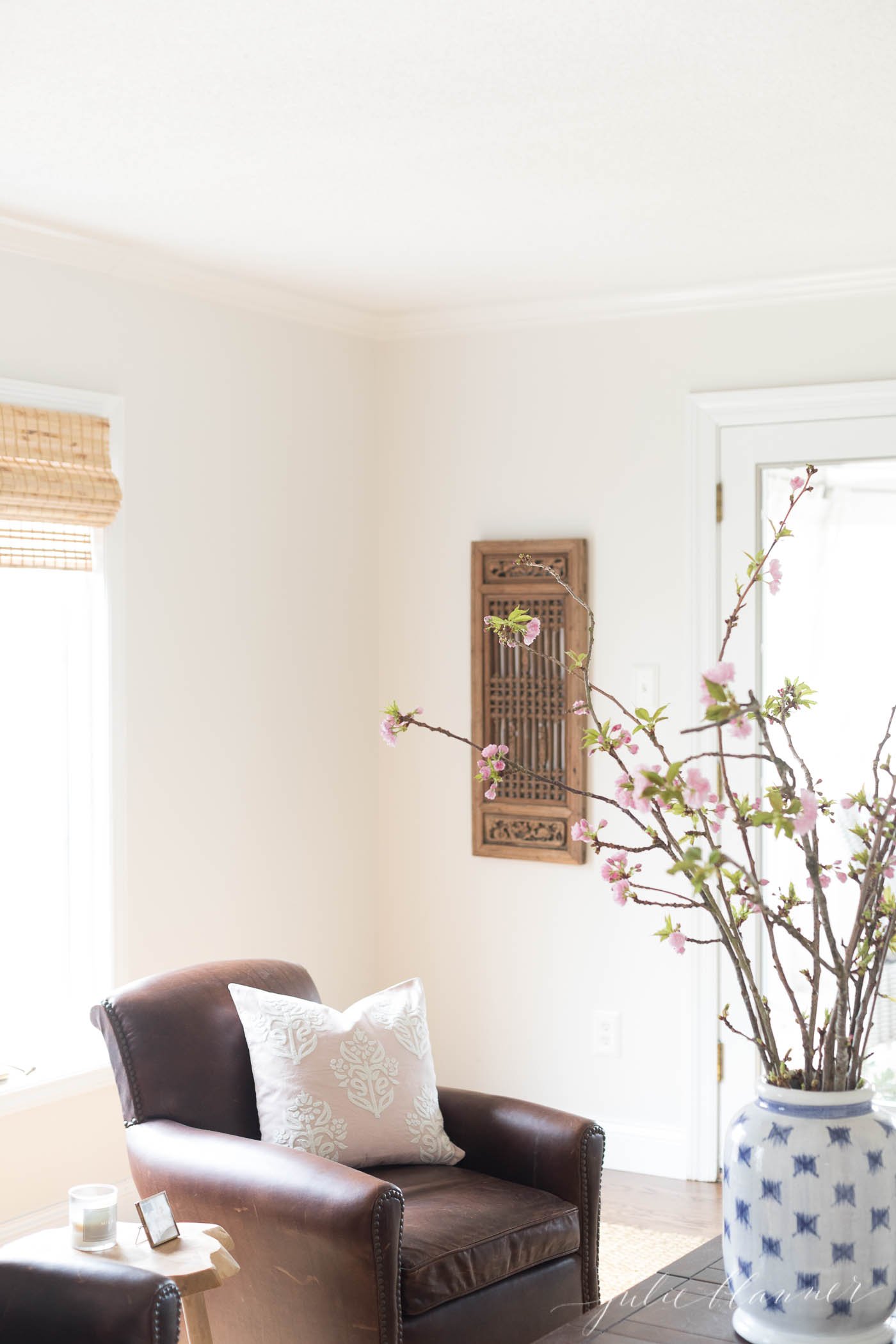 Are cherry trees blooming in your area yet? I'd love to hear from you!
More Floral Tutorials