Affordable modern living room ideas and tips including how to decorate a modern living room, affordably!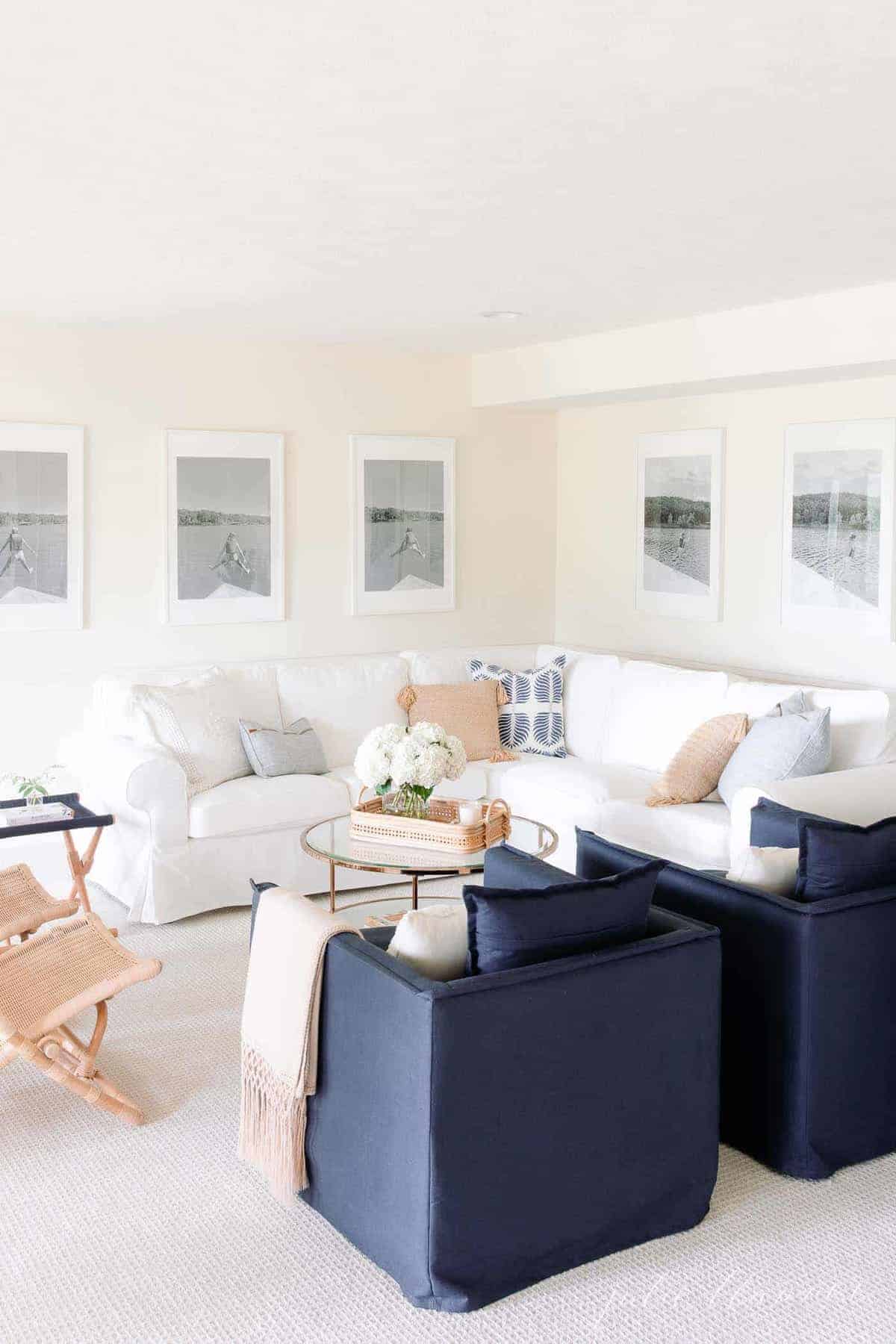 Aside from all the fun we have at the lake cottage, one of the most exciting things about having a second home for me was to be able to decorate in a different style.
While our primary residence is more traditional, the lake cottage gives me an opportunity to indulge in a slightly more modern style.
If you are looking for more living room decorating ideas, check out our Neutral Living Room and Outdoor Living Room posts! See the upstairs Coastal Modern Living Room too.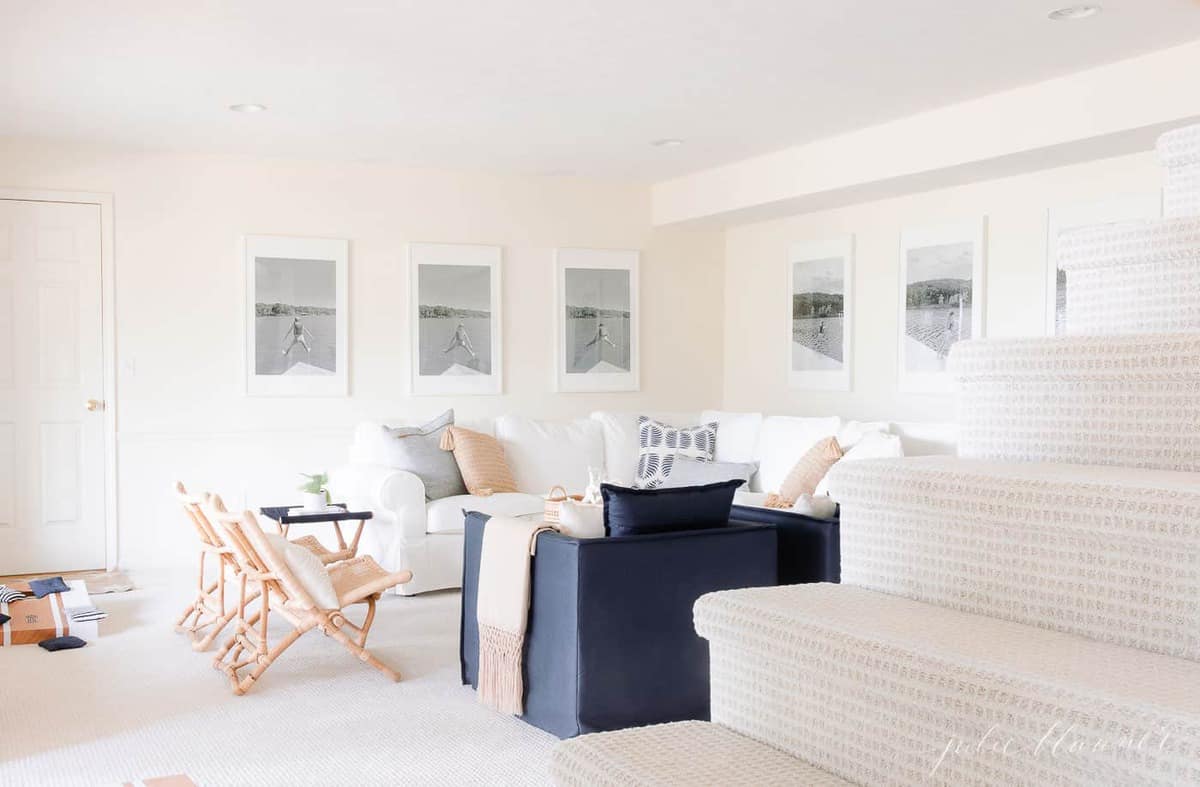 Of course I feel like I need a mountain home, Southern home, beach house and while we're at it, country house as well – at least to decorate!
I love chatting home design details with you! Don't skip these popular posts about choosing a sofa: Pottery Barn Sofa, Ikea Ektorp, and Sectional Sofas.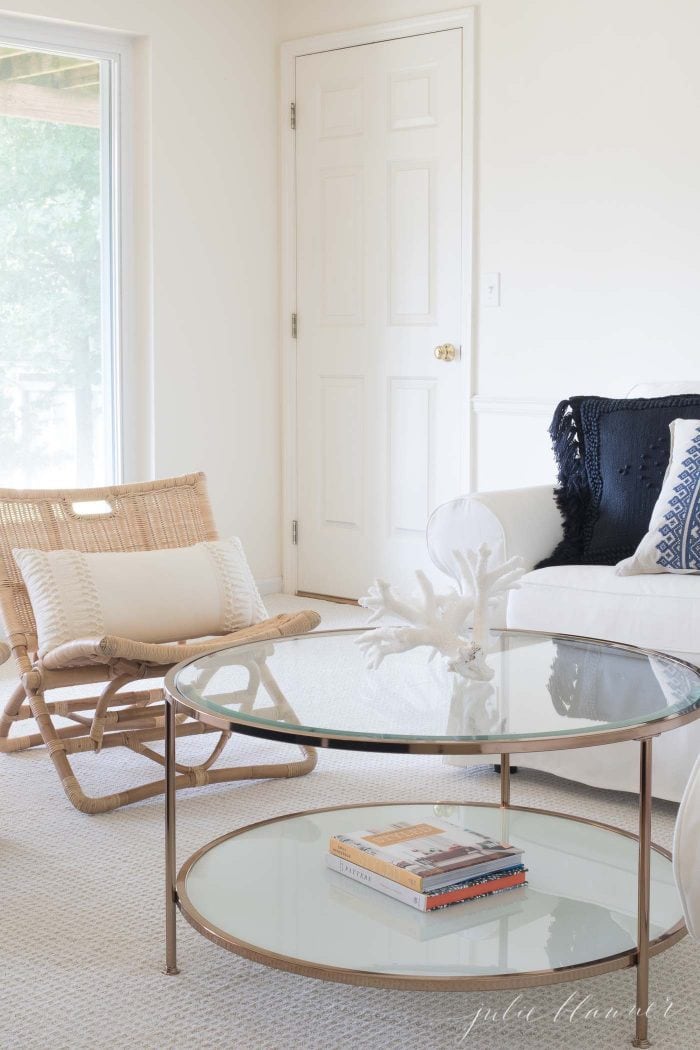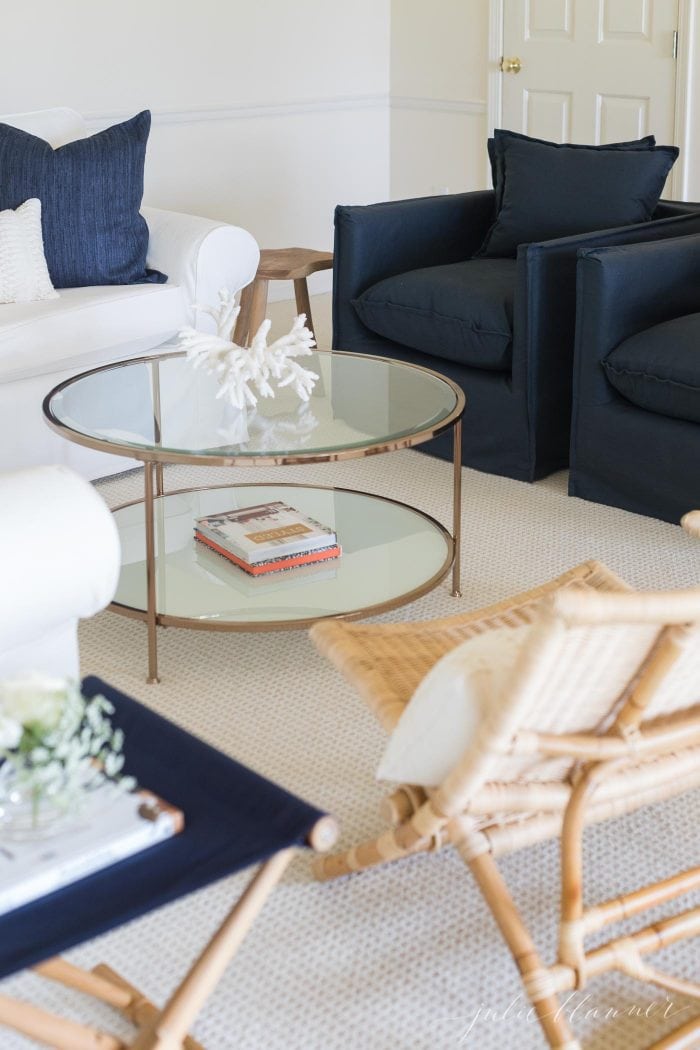 I'm so excited to share modern living room ideas with you today and even more excited about how practical and affordable they are! A modern living room can be warm, cozy and inviting with these simple decorating ideas.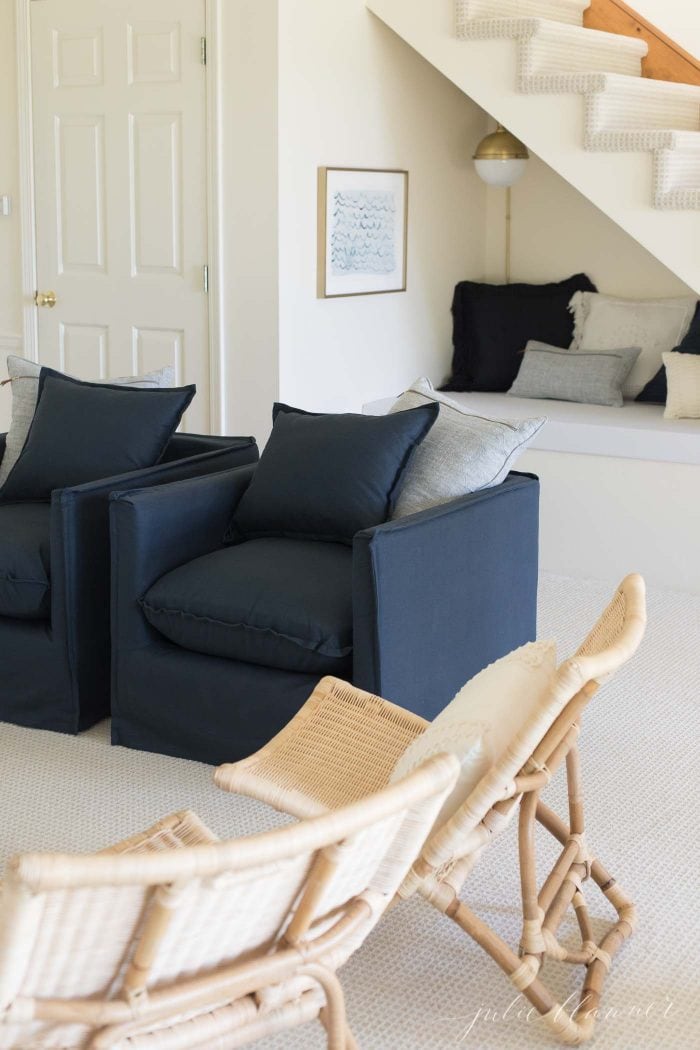 But first, let's take a look at the before! As a lower level living space, it is not a formal living room and we didn't want it to feel as such. Just a cozy, comfortable living space we could relax and enjoy.
It was dark and dated and lacked high ceilings and identity.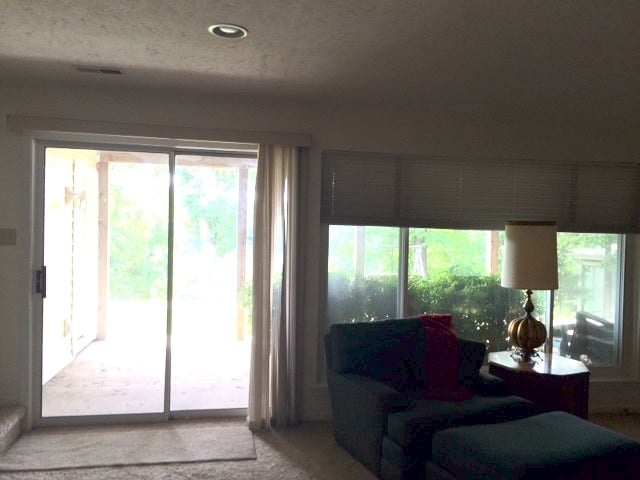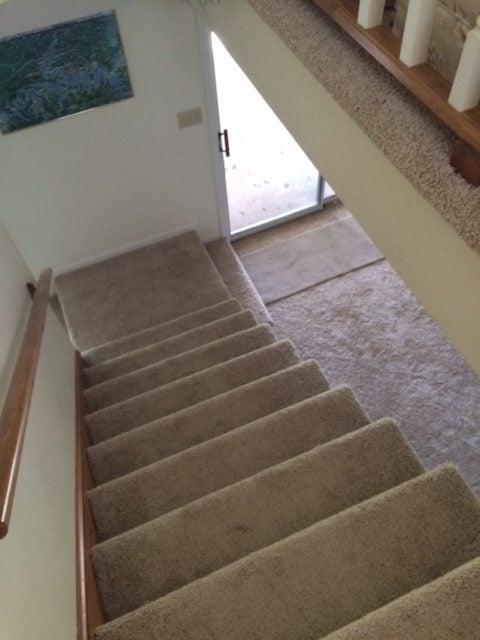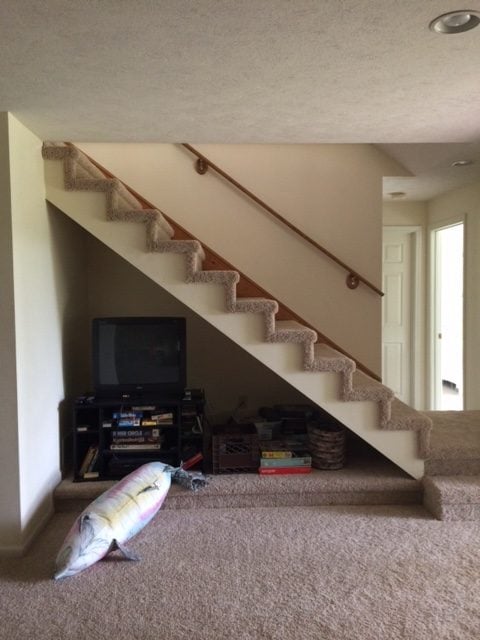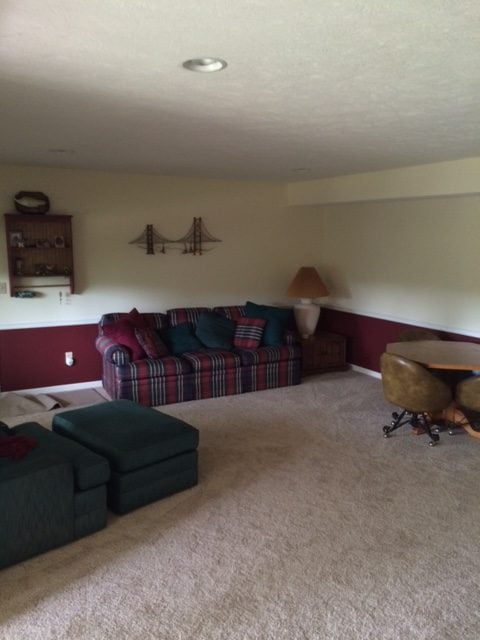 Living Room Decorating Ideas
Paint
We started by painting the room from floor to ceiling in a single paint color. Not only did it brighten the space by reflecting light, but it gave the illusion of space.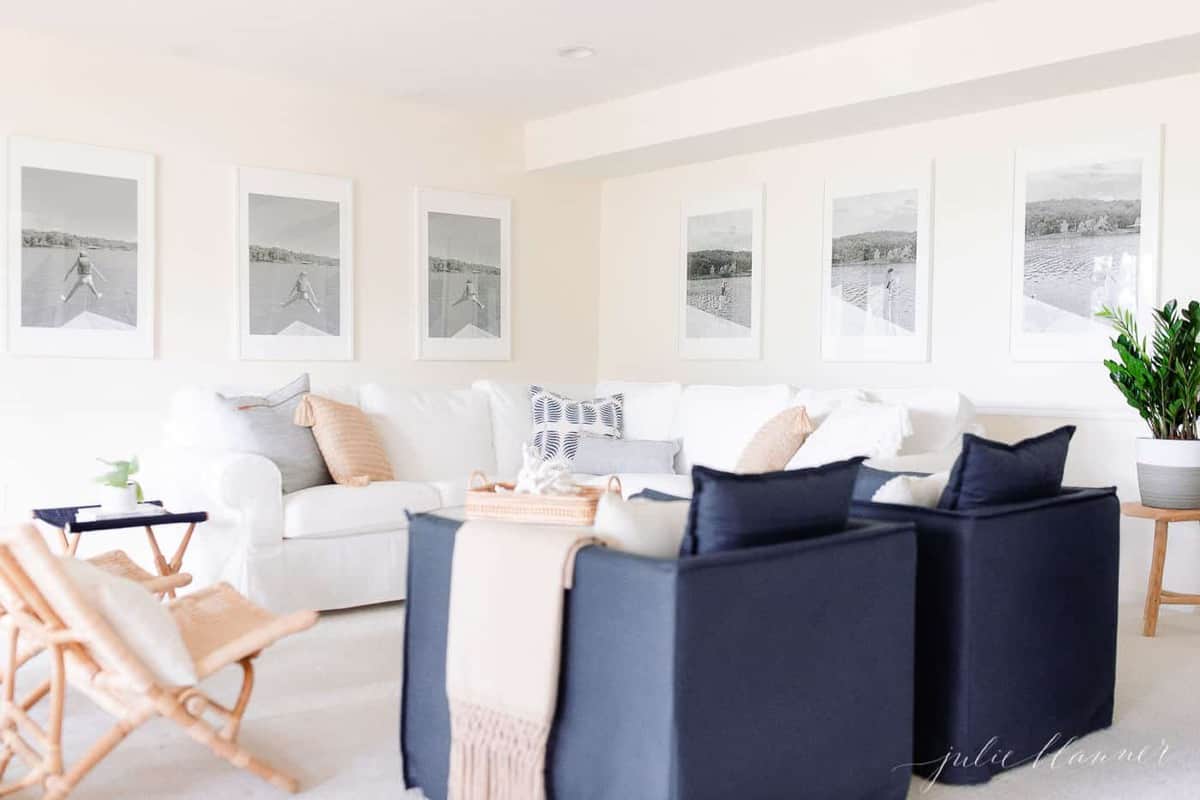 Carpet
The next step to modernizing our lake cottage was replacing the existing carpet with low profile patterned carpet. It completely transformed the space making it feel fresh and up to date while adding warmth. The pattern added a modern element and more textural interest.
It's so soft on foot you'd never realize it's a basement with concrete floors! I chose a cream to add warmth while making it feel light and airy. The pattern helps hide inevitable dirt and of course you can count on Stainmaster because it is so forgiving, and backed by a lifetime warranty.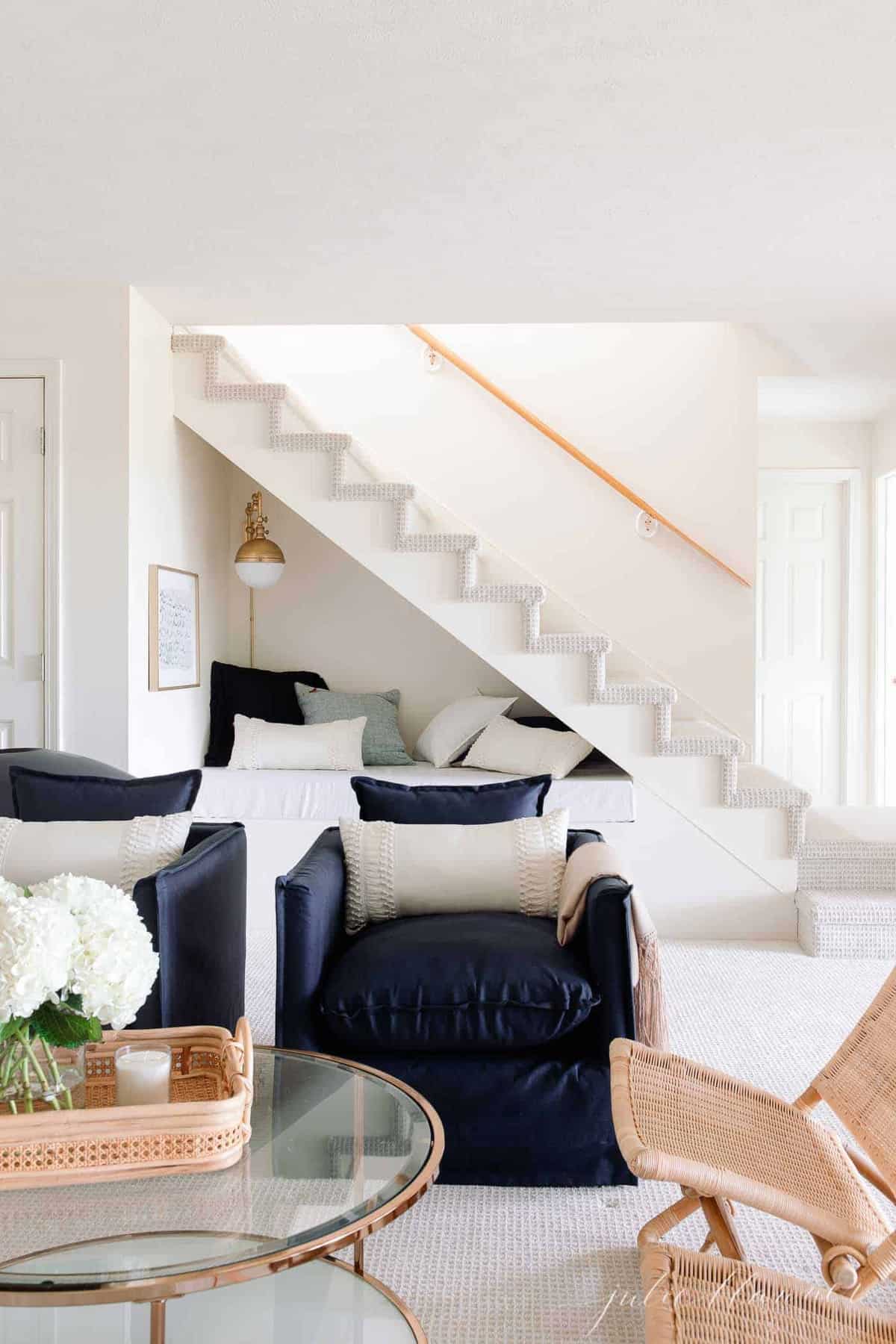 Furniture
With the foundation laid (carpet), it was time to layer – with more contemporary furniture!
I was pleasantly surprised to find beautiful modern living room furniture options that were so reasonable. These cozy navy blue chairs with clean lines are so inexpensive and so comfortable!
Seriously. Don't tell the girls, but they even roll, offering a flexible floor plan! These little rollers are perfect for this modern living room, as we're sometimes overflowing with guests and need to utilize an air mattress in the space.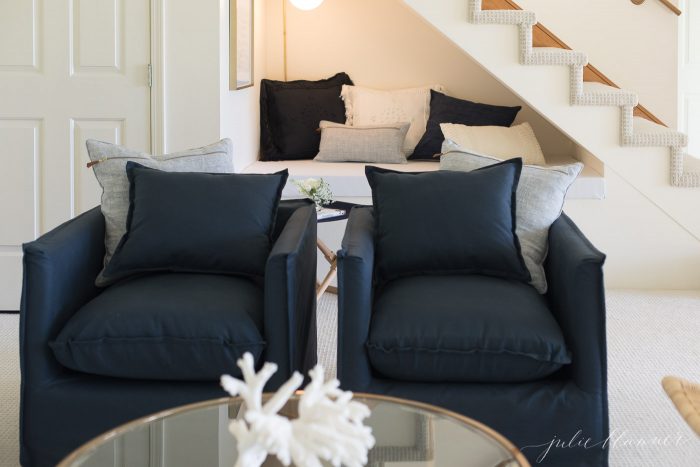 This gorgeous coffee table is less than $200. The glass top not only feels modern, but allows the eye to see beyond the table, creating the illusion of more space. Metal adds a touch of modern into the living room.
We also included a sectional IKEA Ektorp Sofa and some folding chairs for a little texture! (Read more about our Ektorp at the link above, there's a full review!)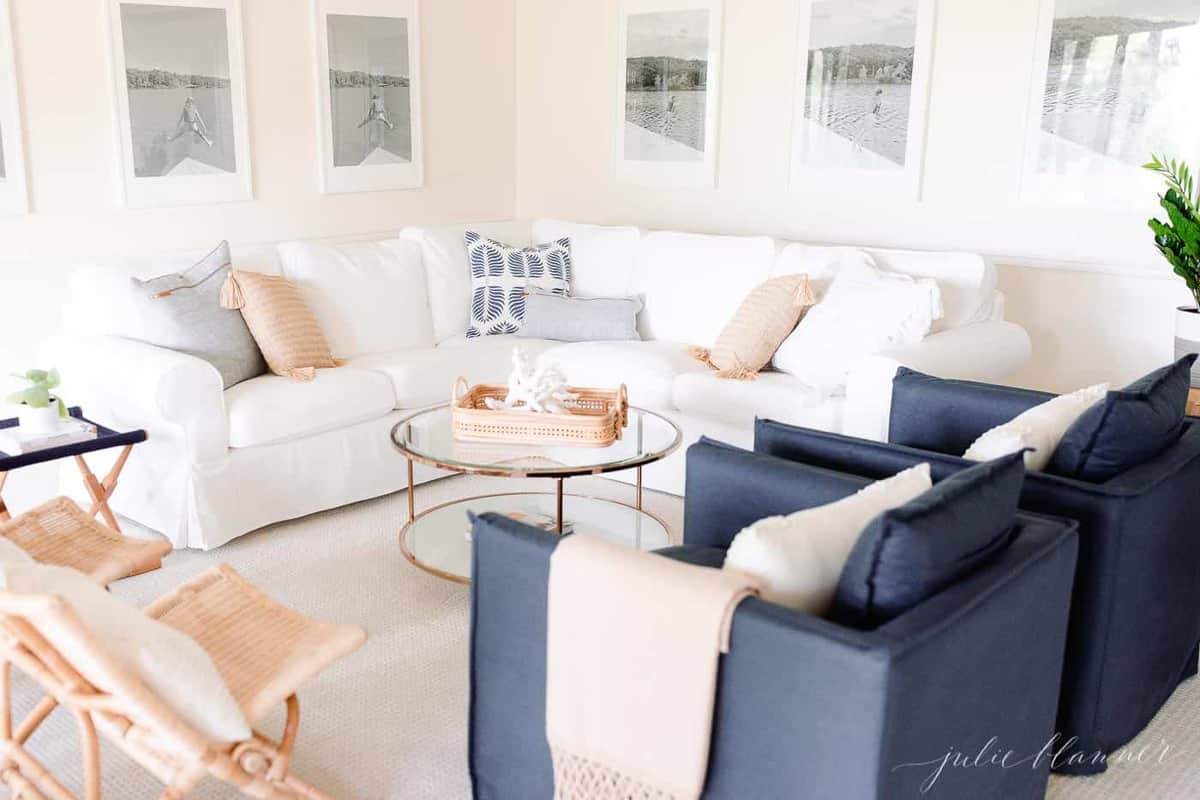 Decor
The room is large, but somewhat awkward with venting, the area under the stairs we recently completed, a bump out for the water closet, doors, stairs and windows, so I first chose a single large painting as a focal point, centered on the wall to complete the space.
Later we added iphone photos of the girls jumping off the dock and framed them in inexpensive oversized IKEA frames. Which do you prefer? For me, it's always the personalized DIY art!
Window Treatments
We eliminated window treatments to allow the light to pour in. Luckily, we back to trees and a lake view, so privacy isn't much of an issue here.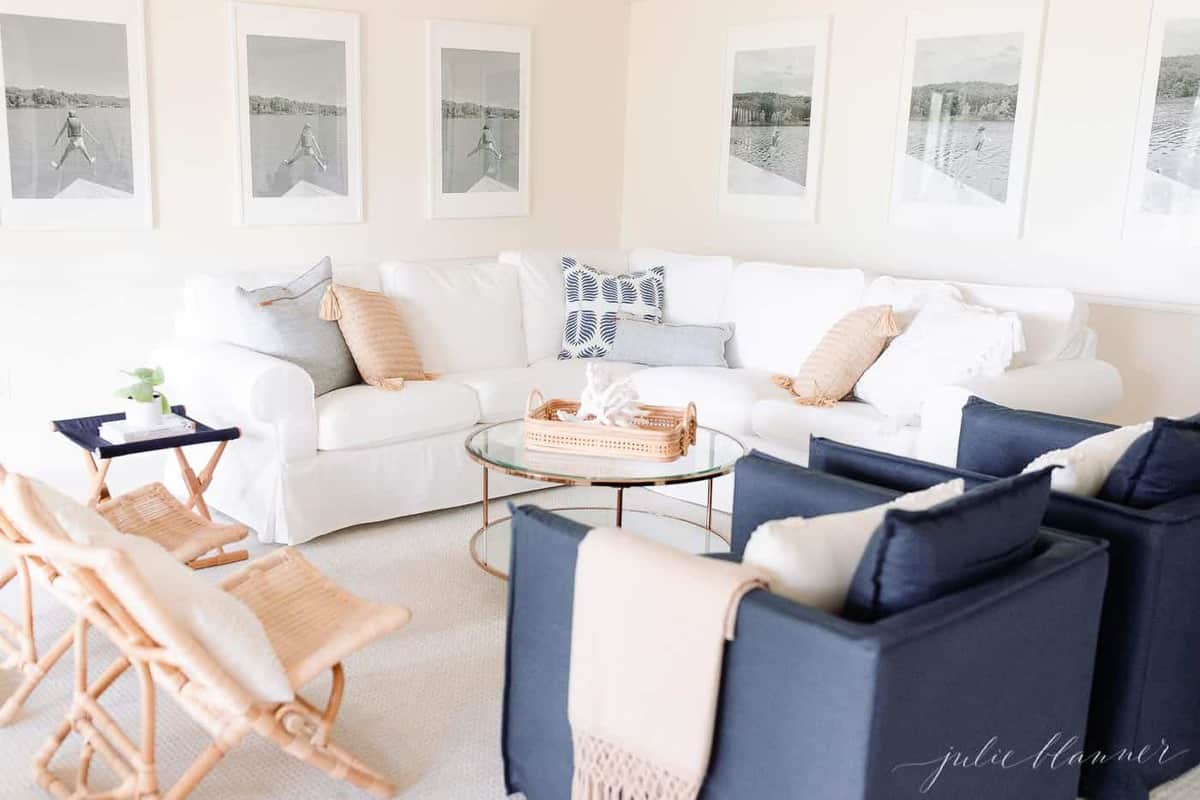 Throw Pillows
The final layer in a modern living room is a mix of throw pillows. They add detail and comfort and are interchangeable. I love mixing them up to suit my mood.
You can find links to shop these modern living room ideas below! Get tips to mix and match pillow covers here.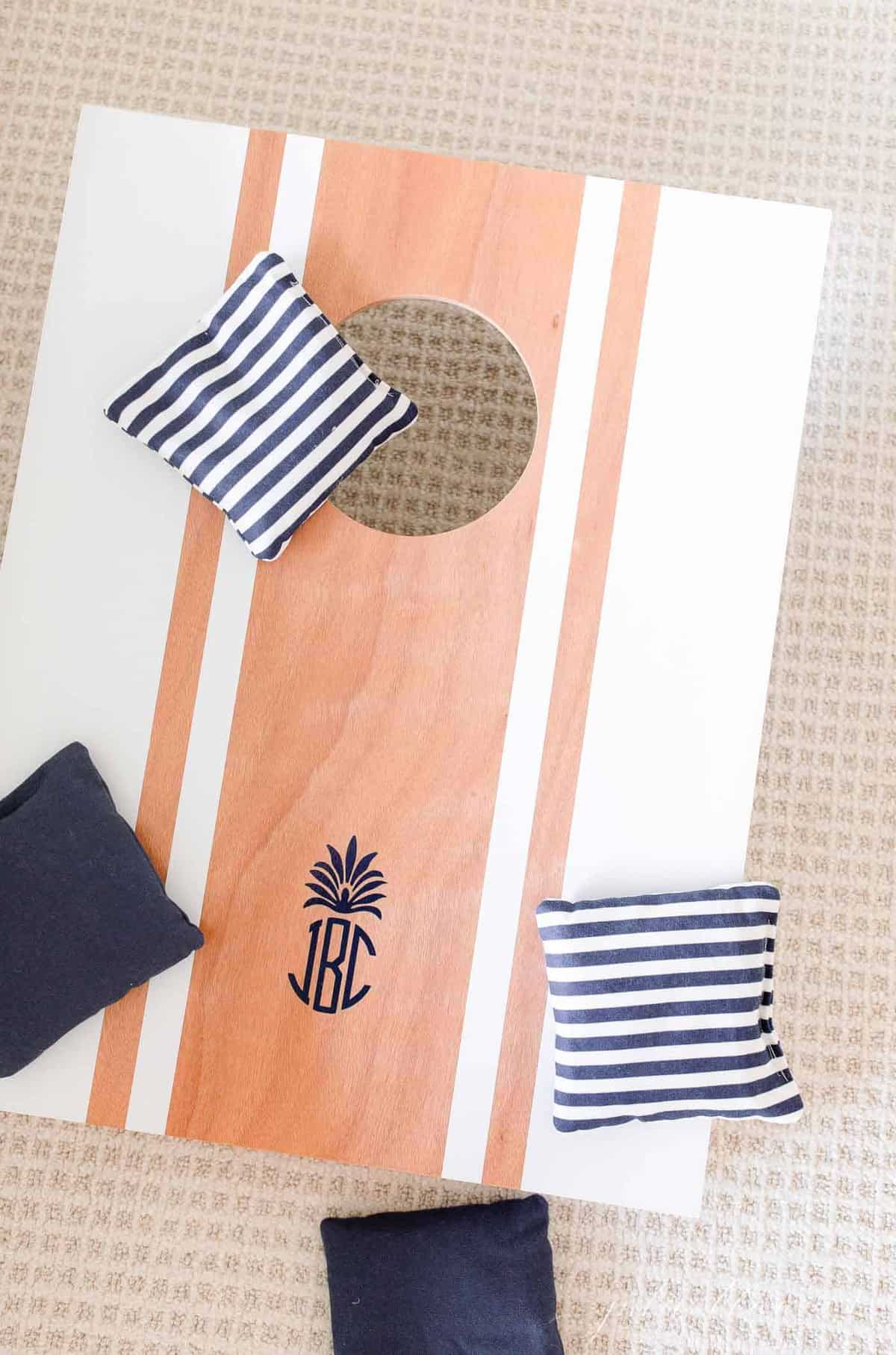 Products Used to Create this Modern Living Room
Patterned Carpet
Canvas Painting
Soft White Macrame Detail Pillows
How to Design a Modern Living Room
Commit to the style. Since it's minimal, rustic or traditional pieces will tend to stand out.
Create a strict color palette.
Look for clean lines as seen in the chairs and coffee table above.
Less is more. Simplicity is key for modern design.
Incorporate polished metal.
Use abstract wall art.
Play with pattern as showcased in the carpet and pillows.
Use a dark/bold color to accent.
You can see more of this living room and learn the details of the full design by watching the video in this post. Subscribe on YouTube so you never miss a video! Go behind-the-scenes and get tips to mix and match and get the look for less!
For reference, a few before and after photos of the space: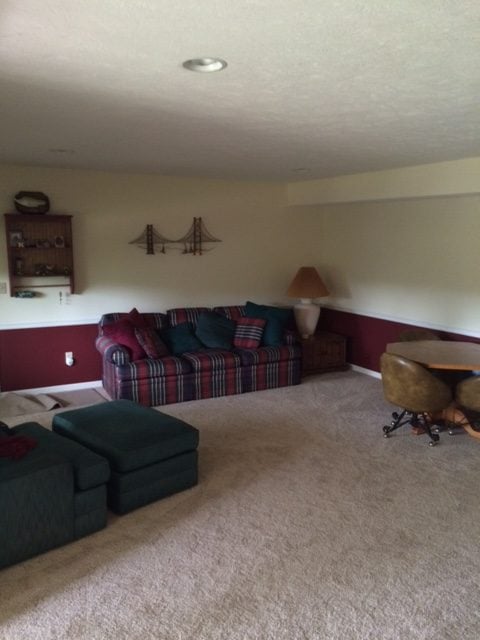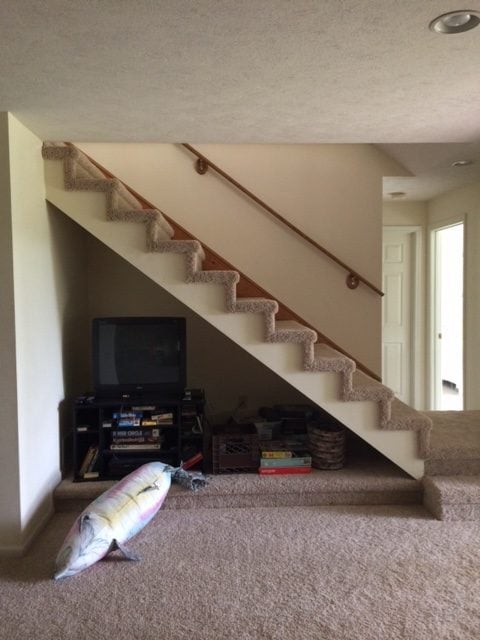 The under the stairs nook was previously a small space that was underutilized. Now it's one of our favorite spaces in the lake cottage!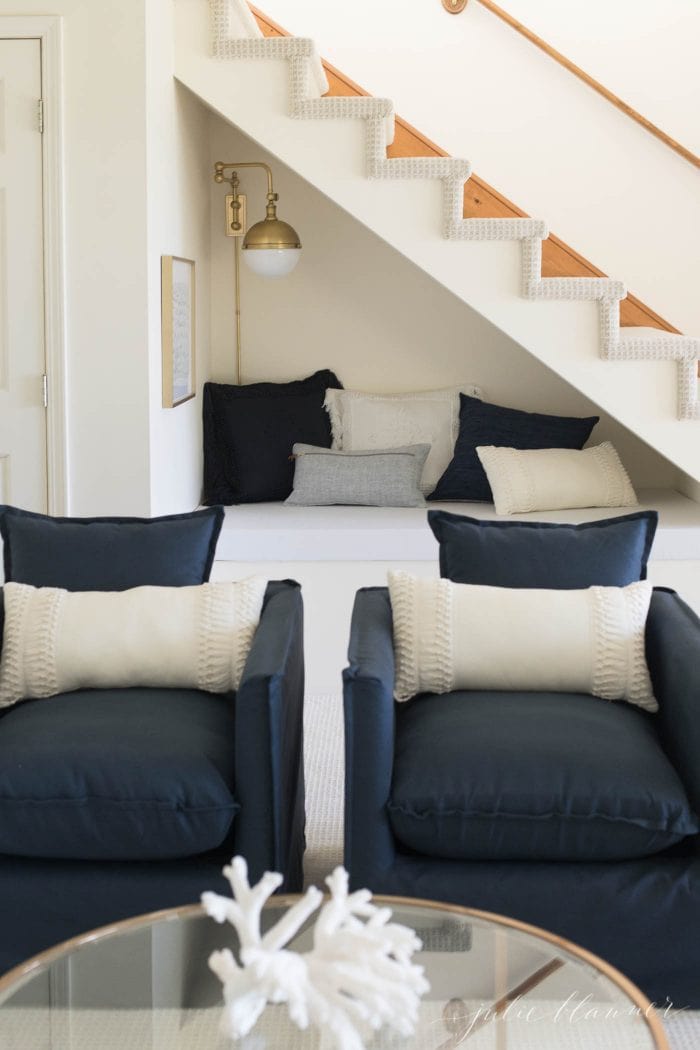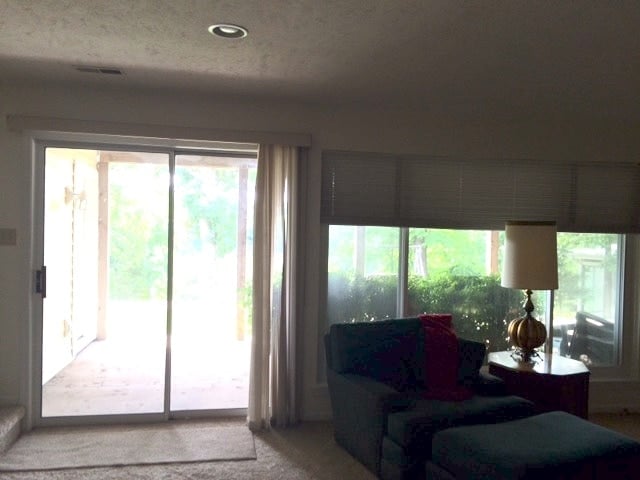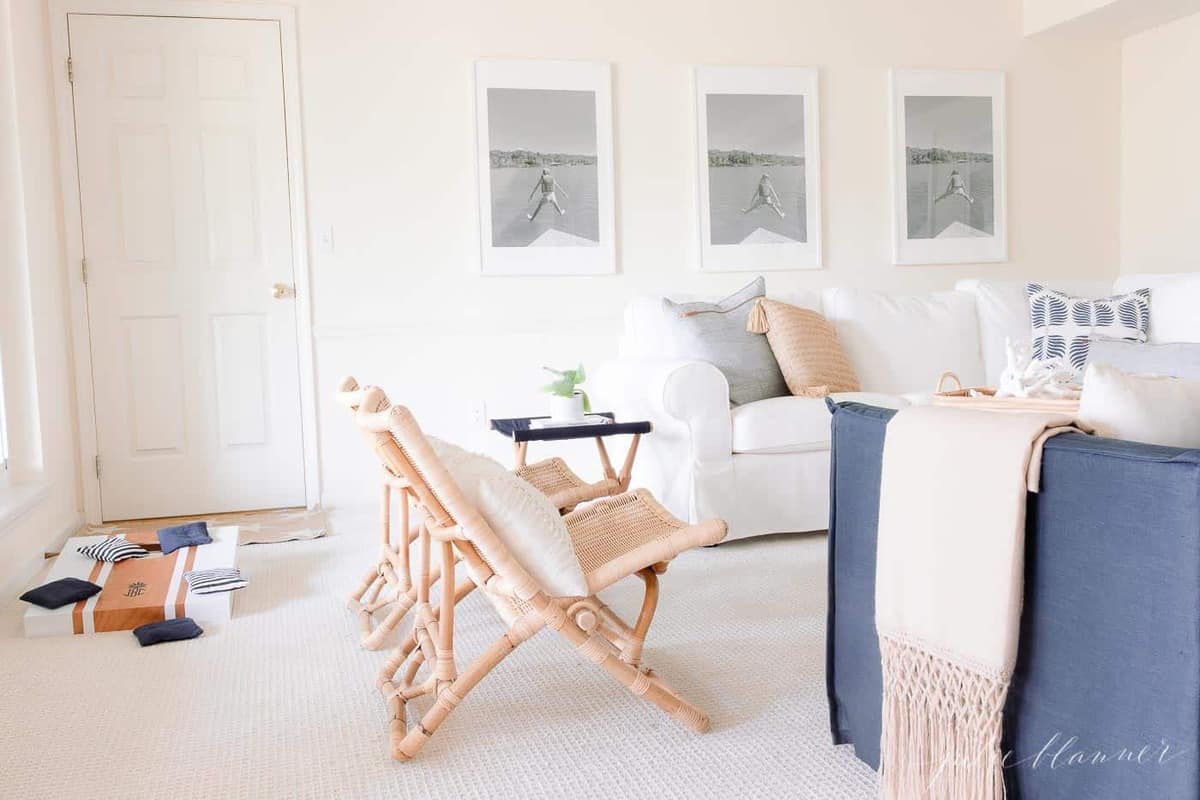 Let's keep in touch! Receive exclusive content, including never-seen-before photos, our favorite home decor DIYs and more!
More Home Decor Inspiration
Design Guides, Decor & Tips