Get the ins and outs of shopping for an Ikea Sofa. Learn why we chose an Ikea Ektorp Sofa, where to buy Ikea slipcovers, and so much more!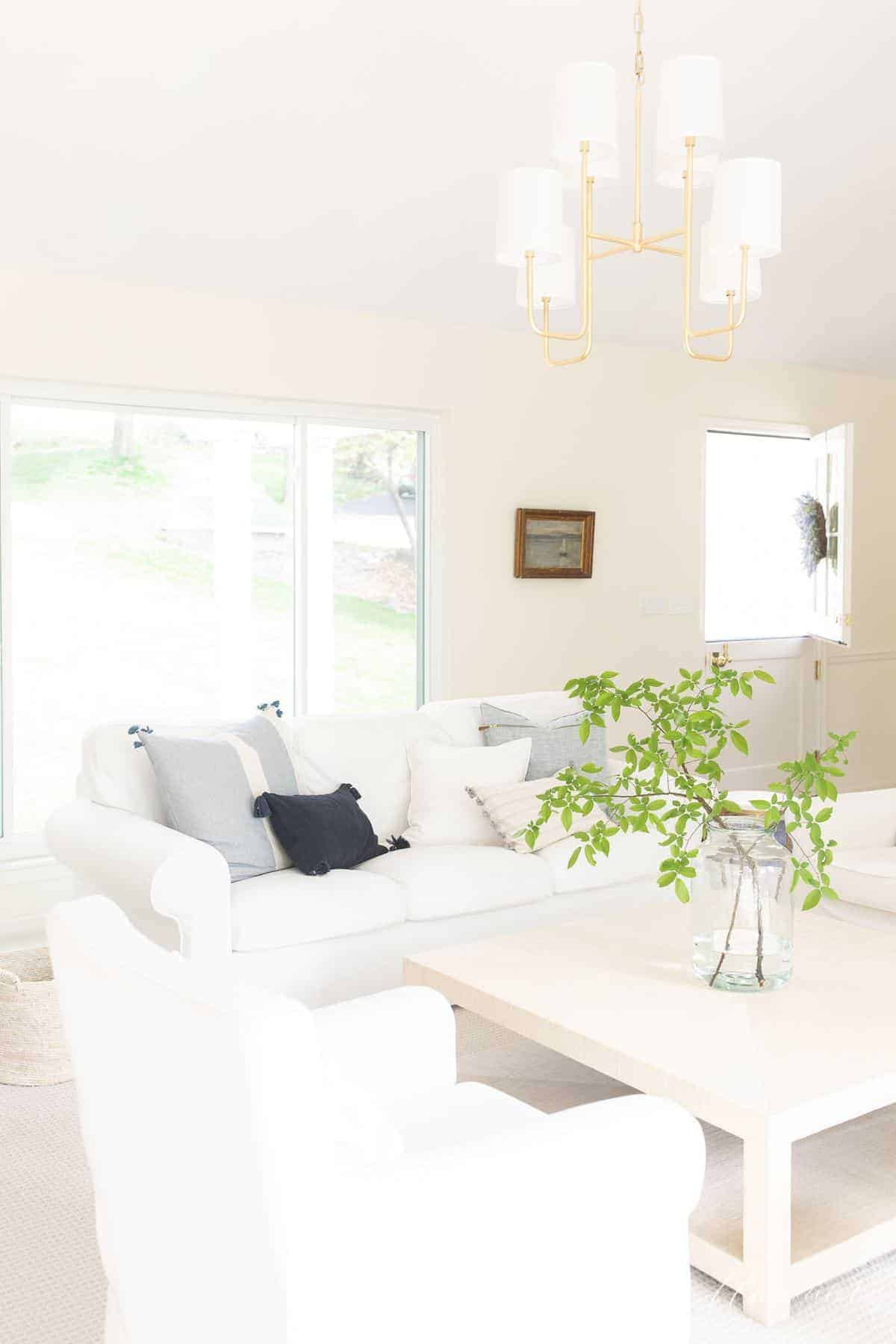 Purchasing an Ikea Sofa
After receiving great feedback and insight when I wrote about our Pottery Barn slipcovered sofa and our Sectional Sofa in the basement, I thought it might be helpful to go into further detail about our Ikea Ektorp sofas that we are enjoying at Calm Water Cottage.
As we all know, choosing a sofa is hard. When I was searching and making a decision about our sofa purchases, I would have found this kind of information so valuable!
This post will dive deep into the details of our Ektorp sofas, with a look at Ikea sofa covers as well. If you're considering an Ikea sofa purchase, there might be some insight that you'll find valuable.
Even if you're not in the market for a new sofa, it's always fun to take a little photo tour around the lake cottage! I even made a video comparing both of our slipcovered sofas- I think it helps so much to compare the two styles visually.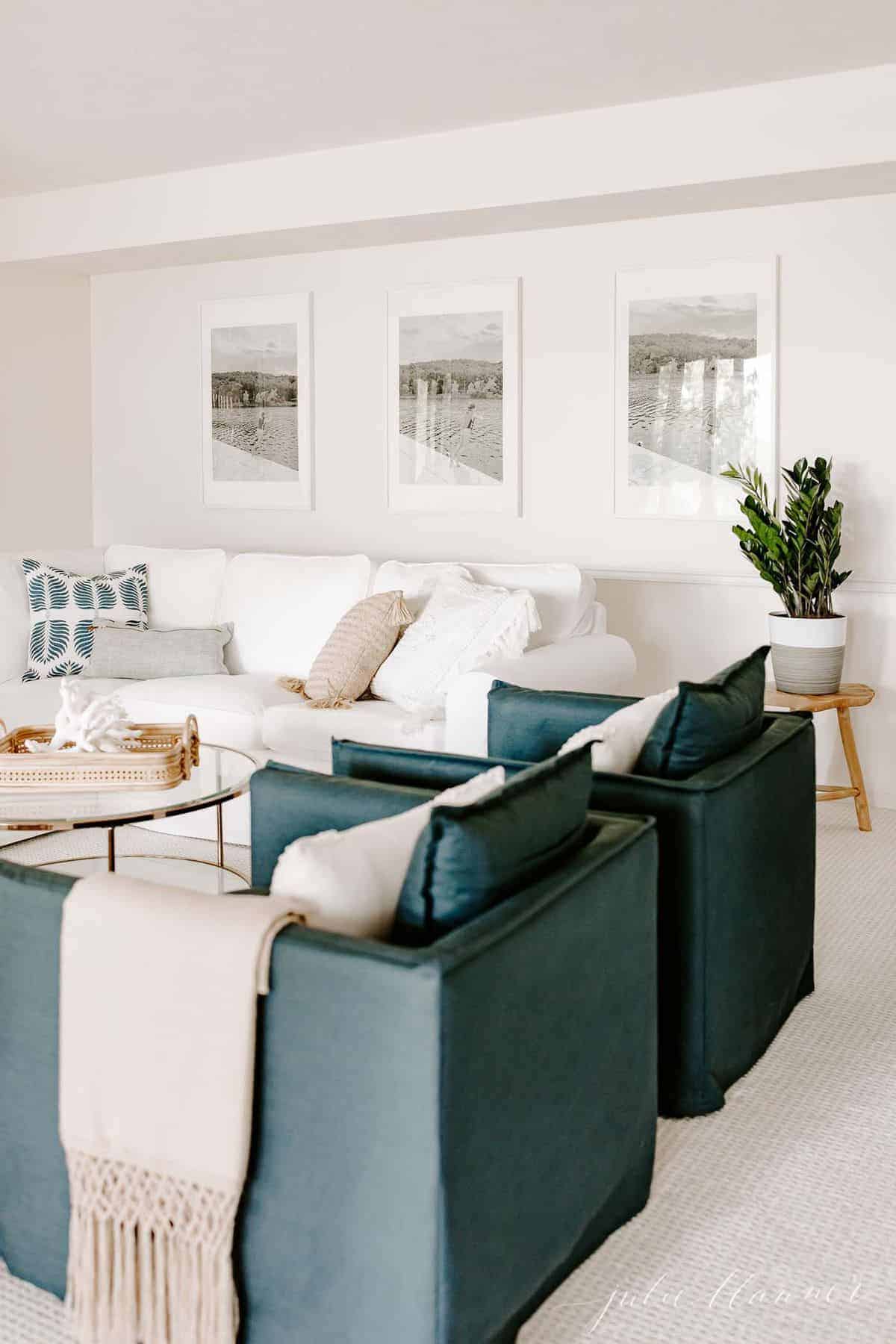 Ektorp Sofa Specifics
We have a traditional Ektorp sofa in our upstairs living room along with an Ektorp sectional in the basement. They are both slipcovered in the traditional white fabric Ikea sofa covers, called Vittaryd White.
Ektorp Sofa Details
Sofa, Vittaryd White
Width: 85 7/8 "
Depth: 34 5/8 "
Height: 34 5/8 "
Seat depth: 19 1/4 "
Seat height: 17 3/4 "
Price: $499
Replacement cover price: $149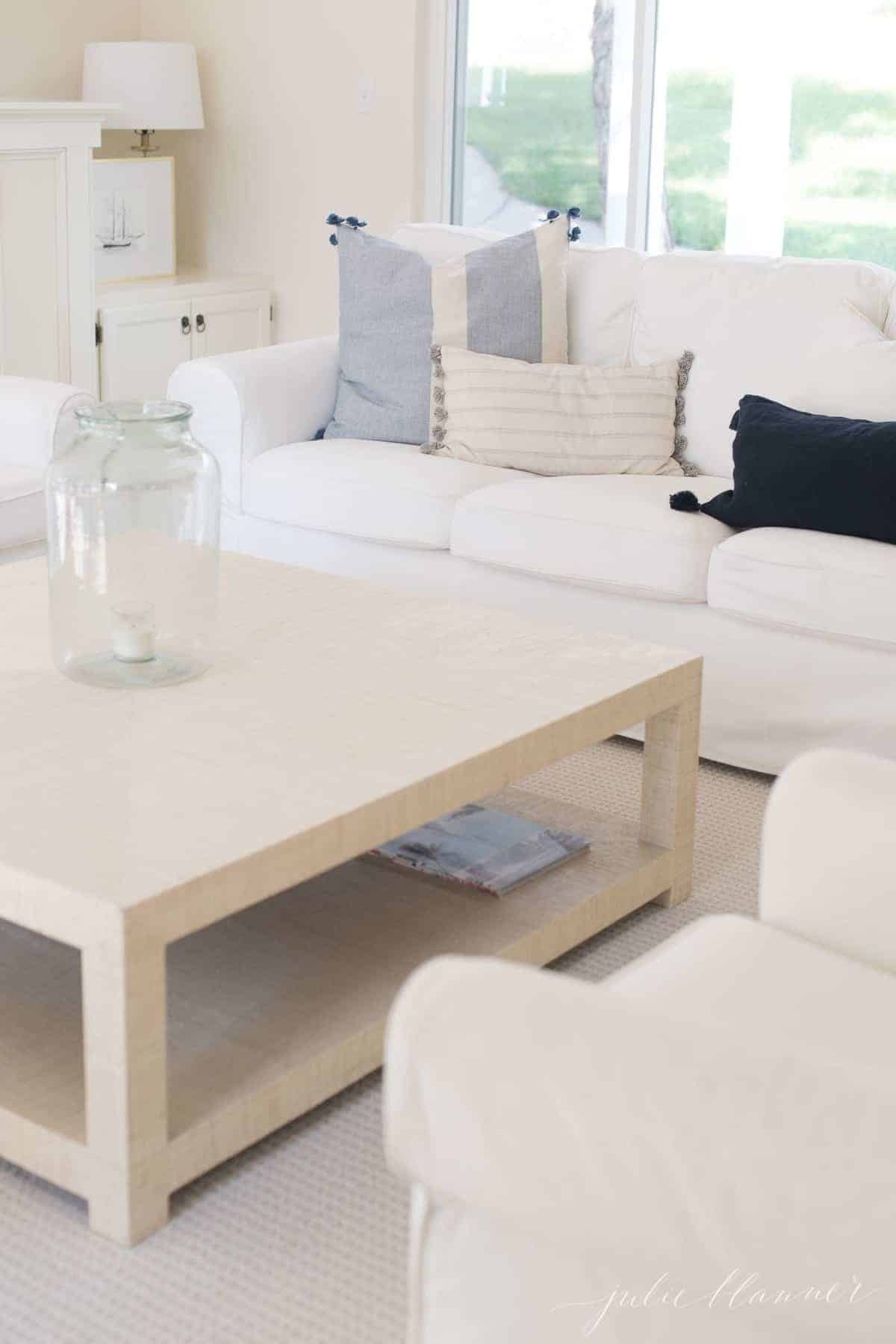 Ektorp Sectional Details
Sectional, 4-seat corner, Vittaryd White
Min. width: 95 5/8 "
Max. width: 95 5/8 "
Depth: 34 5/8 "
Height: 34 5/8 "
Seat depth: 19 1/4 "
Seat height: 17 3/4 "
Price: $899
Replacement cover price: $199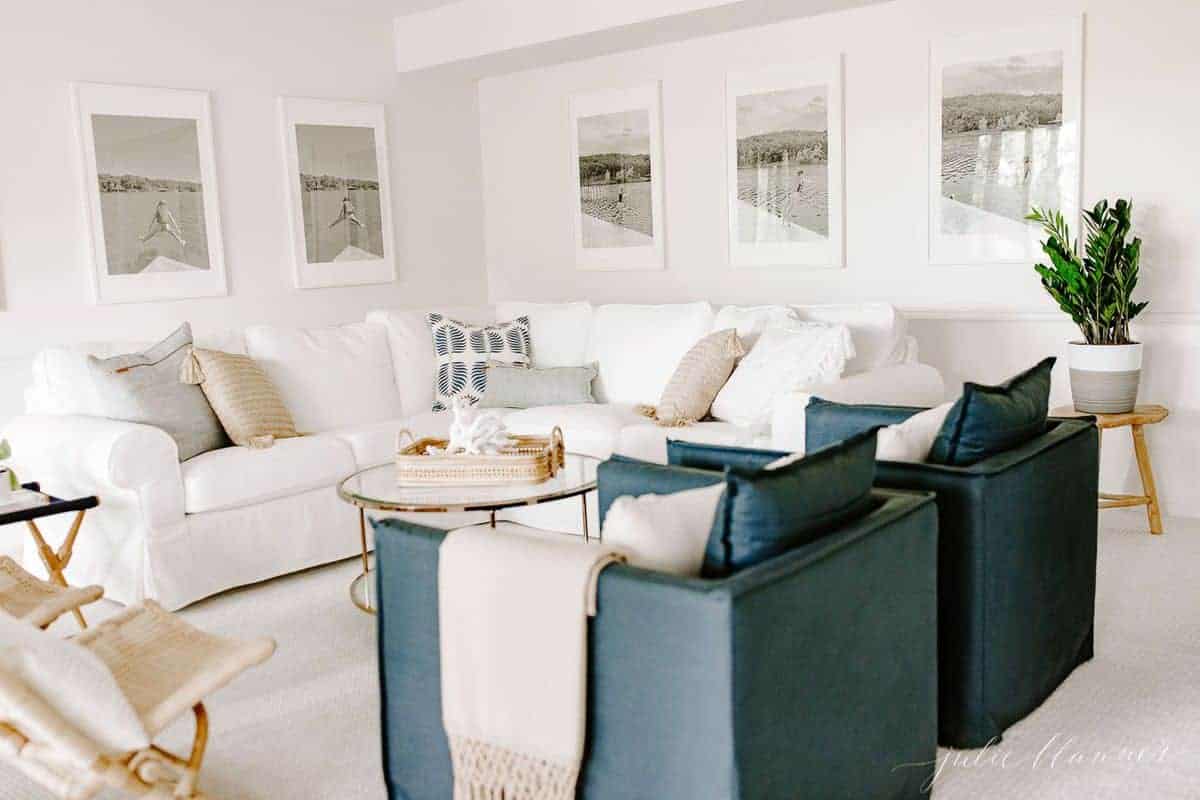 Purchasing an Ikea Ektorp: What to Consider
First of all, we are very happy with these sofas, especially when we consider the price and our limited use. These are not used in our main house- they are in our lake house where we spend weekends on the water.
Admittedly, we rarely park on these sofas for hours of Netflix binges (we don't have a TV at the lake), but they have held up very well to our family of five.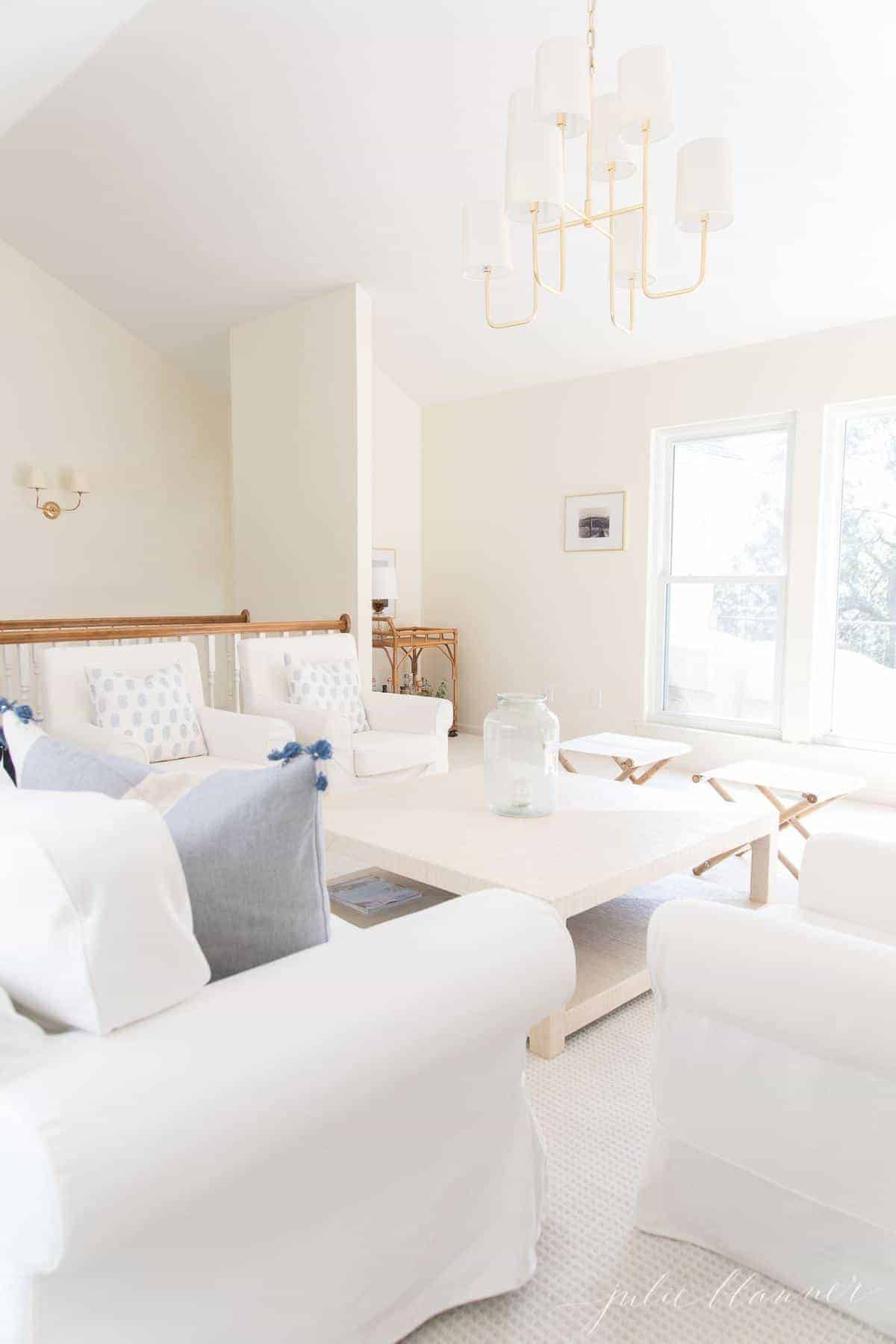 Do I recommend these sofas? Absolutely. With some serious considerations in mind. Are they the most comfortable sofas ever? No. In fact, I would say the longest we sit on these is probably about an hour at a time.
While the cushions are thick and reversible, they are not the most supportive. But for the price… they have held up well, and they still look remarkably fresh, fluffy and clean (note the washable slipcover details below).
Do I recommend these sofas? Absolutely. With some serious considerations in mind.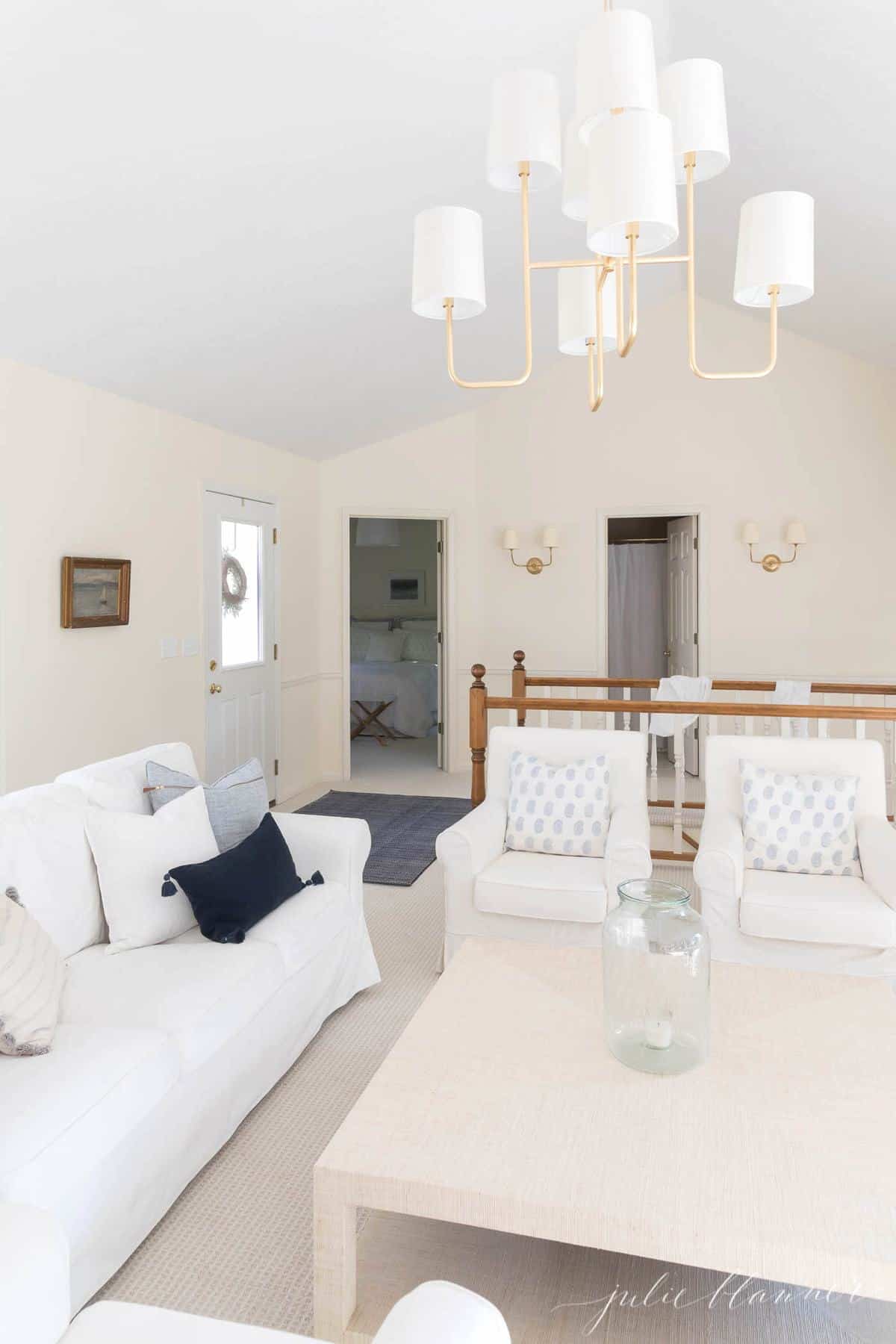 Ikea Sofa Positives and Negatives
Let's be honest here… the price is right. I think that as long as you recognize that you're getting what you pay for, this Ikea couch might work well for your family.
If you're looking for a little higher level craftsmanship and comfort, head over to read about our Pottery Barn York slope arm slipcovered sofas.
Ektorp Sofa Positives:
Easy to clean
Reversible cushions
Price point is amazing
Inexpensive replacement covers
Holds shape with moderate usage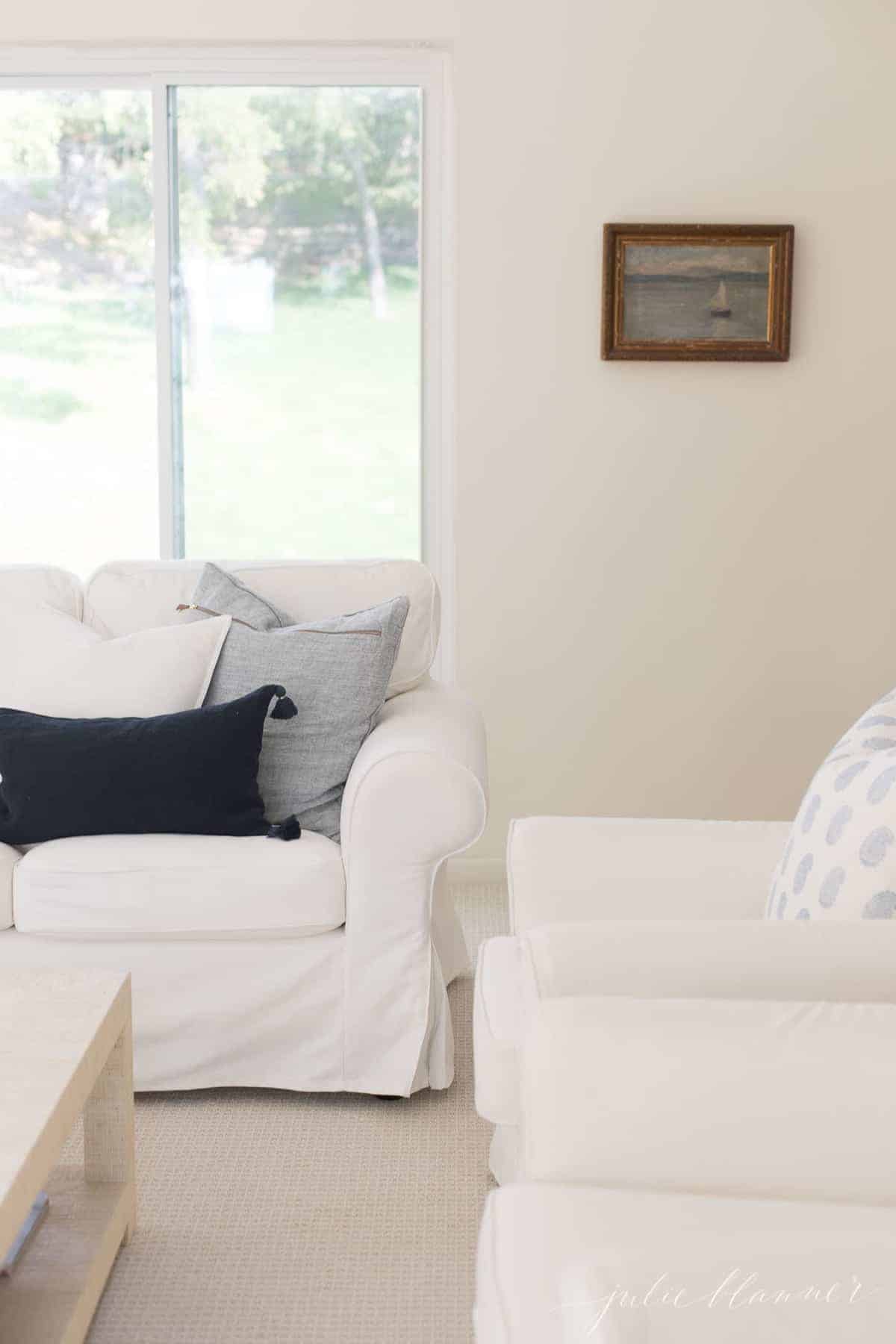 Ektorp Sofa Negatives:
Limited cover fabric options
Not as comfortable for long stretches of sitting
Sits a little low to the ground
Cushions need frequent fluffing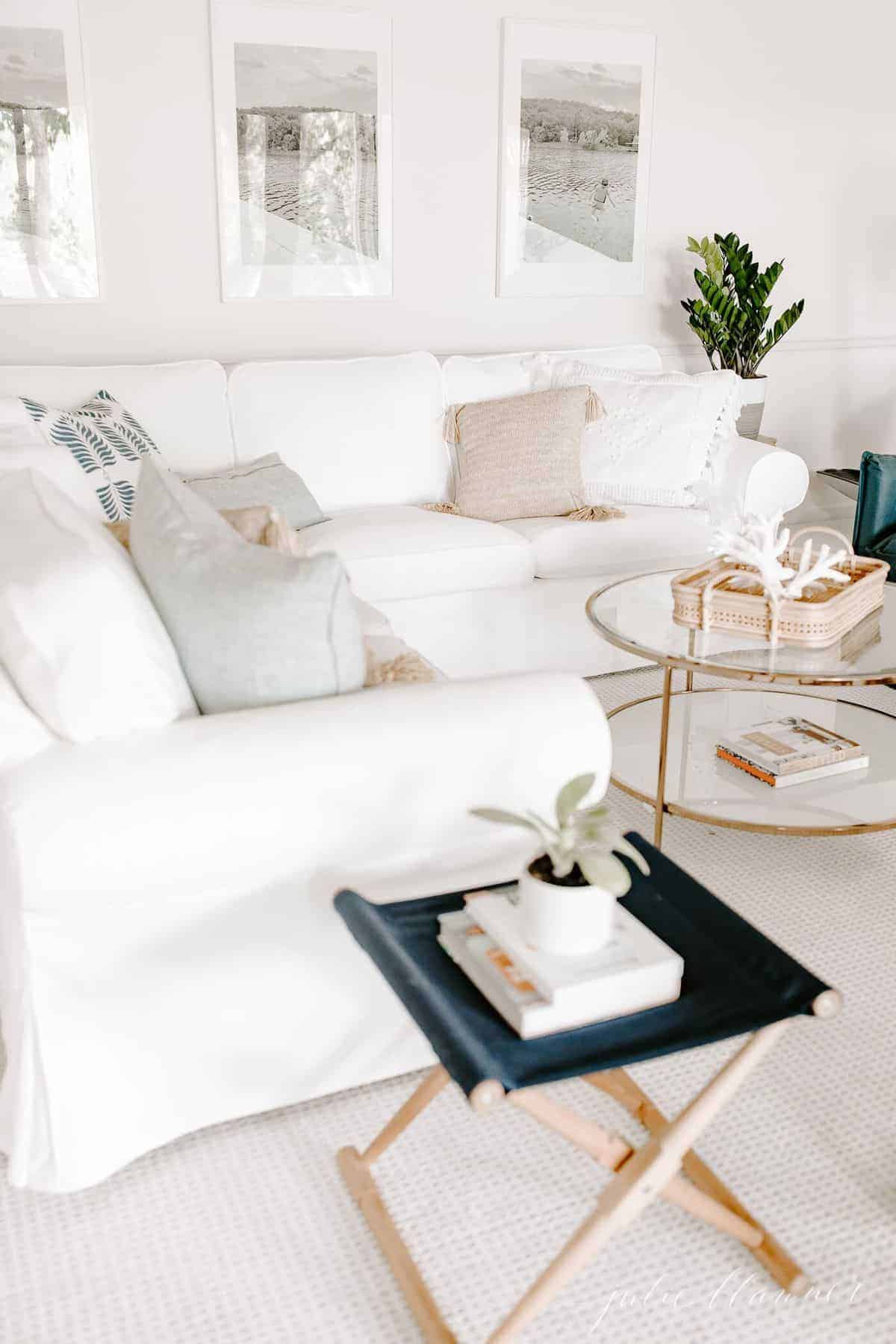 Where to Buy Ikea Sofa Covers
While the Ikea slipcovers that are sold in store can be a little limiting, there are still plenty of options to fit a variety of styles and tastes. You can order many of the options online and you can also pick up in store at the last minute with a more limited selection.
However, one of the best parts of shopping for Ikea couch covers is that they are also available on Amazon, many of them with a Prime shipping option! Check out the options here.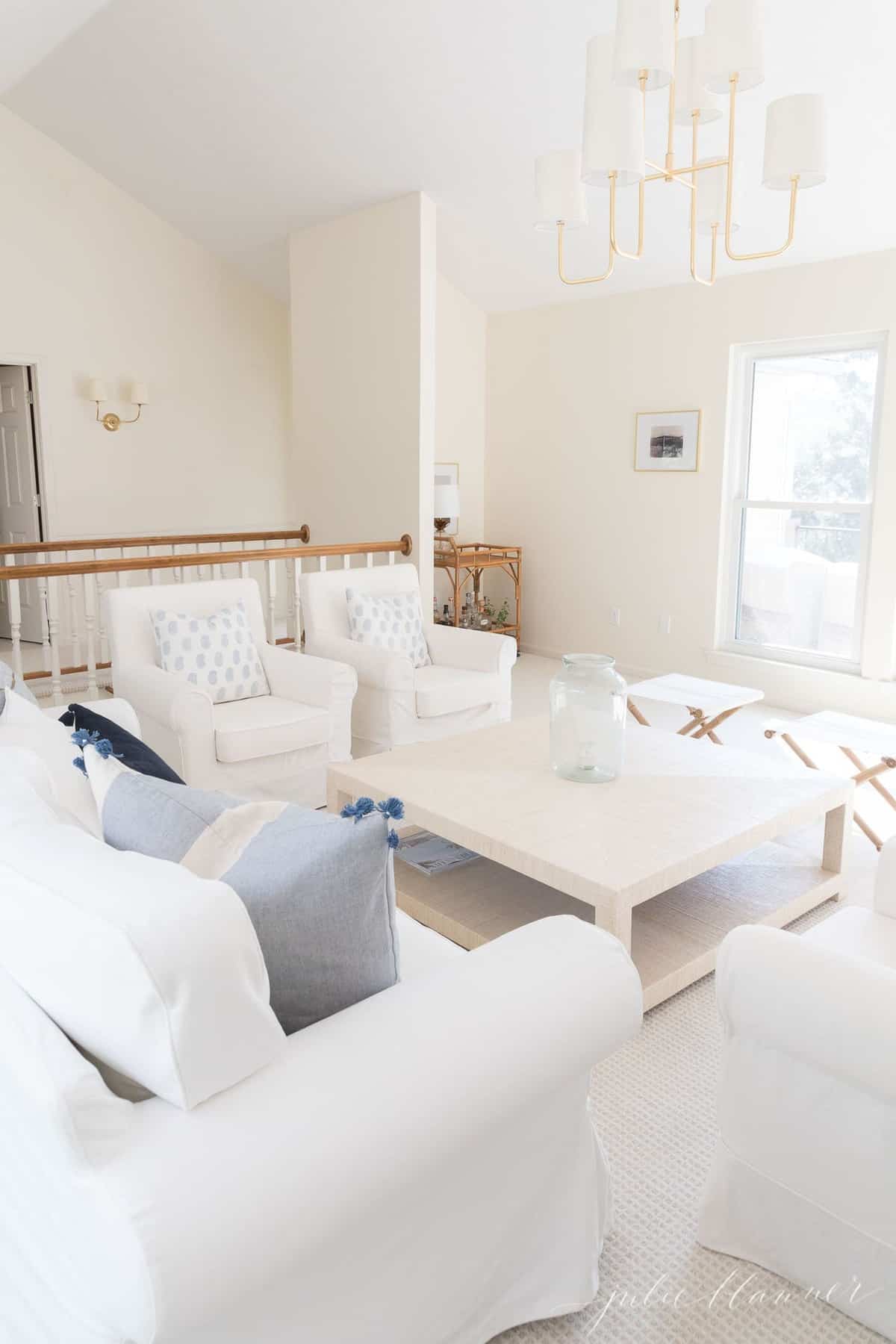 How to Clean Ikea Slipcovers
The most amazing thing about our Ikea couch covers is that I have rarely even had to wash them. Washing Ikea Couch Covers is quick and painless. It's good to do a basic cleaning every now and then just to ensure that dust isn't settling into your slipcovers.
According to the Ikea website, this is how to care for your Ikea couch covers
Machine wash warm, normal cycle.
To be washed separately.
Do not bleach.
Do not tumble dry.
Iron high.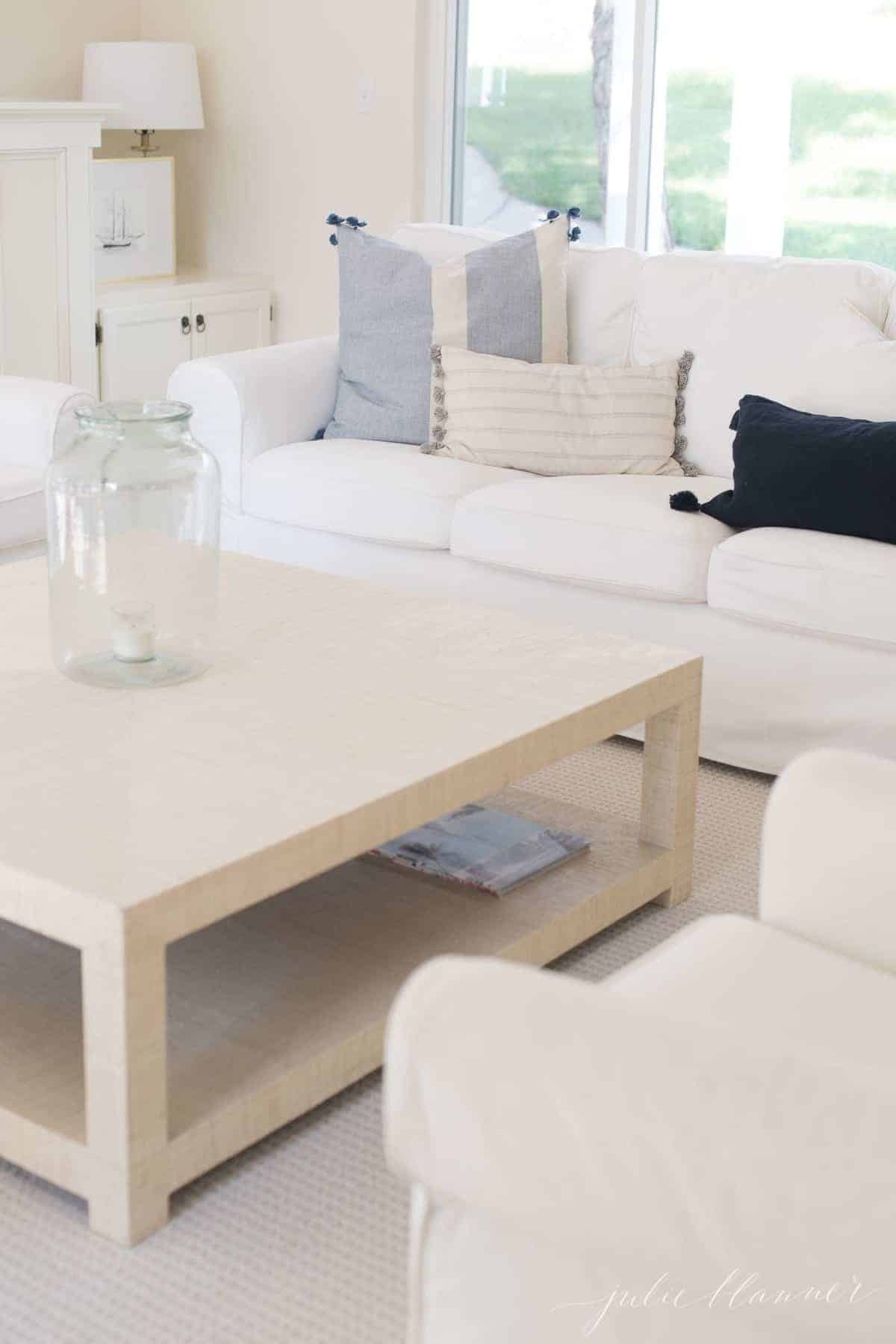 While it specifically states not to use bleach (and I have not ever needed to) I do know that many owners of the white slipcovers do use a little bleach.
Furthermore, I like to throw our slipcovers into the dryer for just a couple of minutes to help release a few of the wrinkles. We will often put the covers back onto the sofa when they are still a little damp, to help the wrinkles pull out of the fabric as well.
I also make sure to spot treat stains and handle them immediately whenever possible- I think this is the key to keeping your slipcovers clean!
Would I Purchase An Ikea Ektorp Again
The short answer? Absolutely! I hope this review has been helpful, and please don't hesitate to reach out if you have questions.
What do you think? Do you own an Ikea Ektorp, or are you considering the purchase of one? I'd love to hear any insight or opinions about these sofas in the comments- I think it's so helpful to readers that are shopping for a new sofa. Enjoy this video comparing our Pottery Barn slipcovered sofa to our Ikea Ektorp.
Please join me over on YouTube, where I love sharing videos with my followers!
You may also like to read How to Clean Restoration Hardware Linen Furniture. We love those sofas as well and have had one for nearly 10 years!