No built in linen closet in your home? No problem! You can buy, build or repurpose a piece of furniture to create a linen cabinet to stow away pillows, throws, blankets, towels and more.
Protect your items from dust and damage by stashing them into a piece of furniture that's as beautiful as it is useful.
A linen cabinet can hold so much more than linens! Learn how to incorporate this incredibly functional piece of furniture into any room of your home.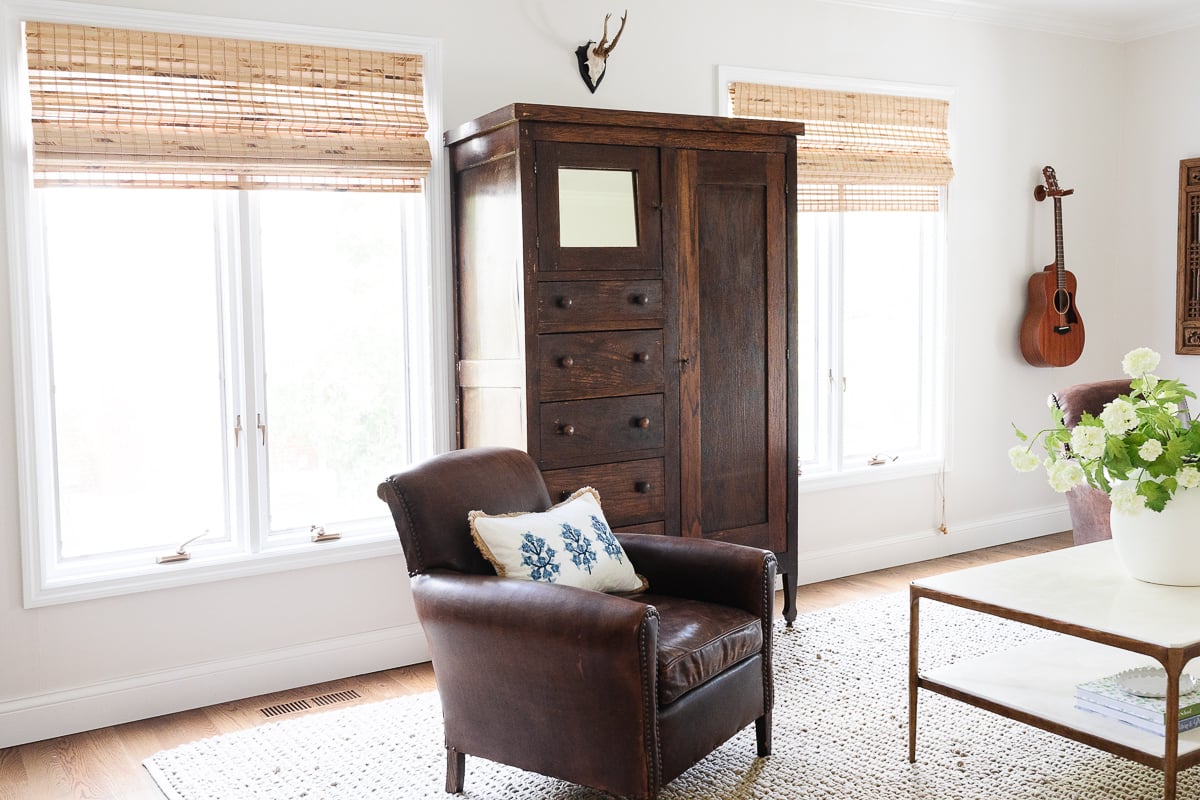 This wooden cabinet is one of the most treasured family antiques in our home. It's also incredibly functional! Why? Because we've used it in so many different spaces, and for so many different items.
Originally used as a wardrobe meant for clothing, it's now a beautiful way to store blankets, pillows, and more. We even keep some of our favorite family board games and out of season decor elements in this beautiful piece, because why not?
Because I just love that worn wood patina, this piece has a star location in our family room. It's the perfect place to tuck away things we don't use every day, and it blends perfectly into my warm and cozy minimalist style.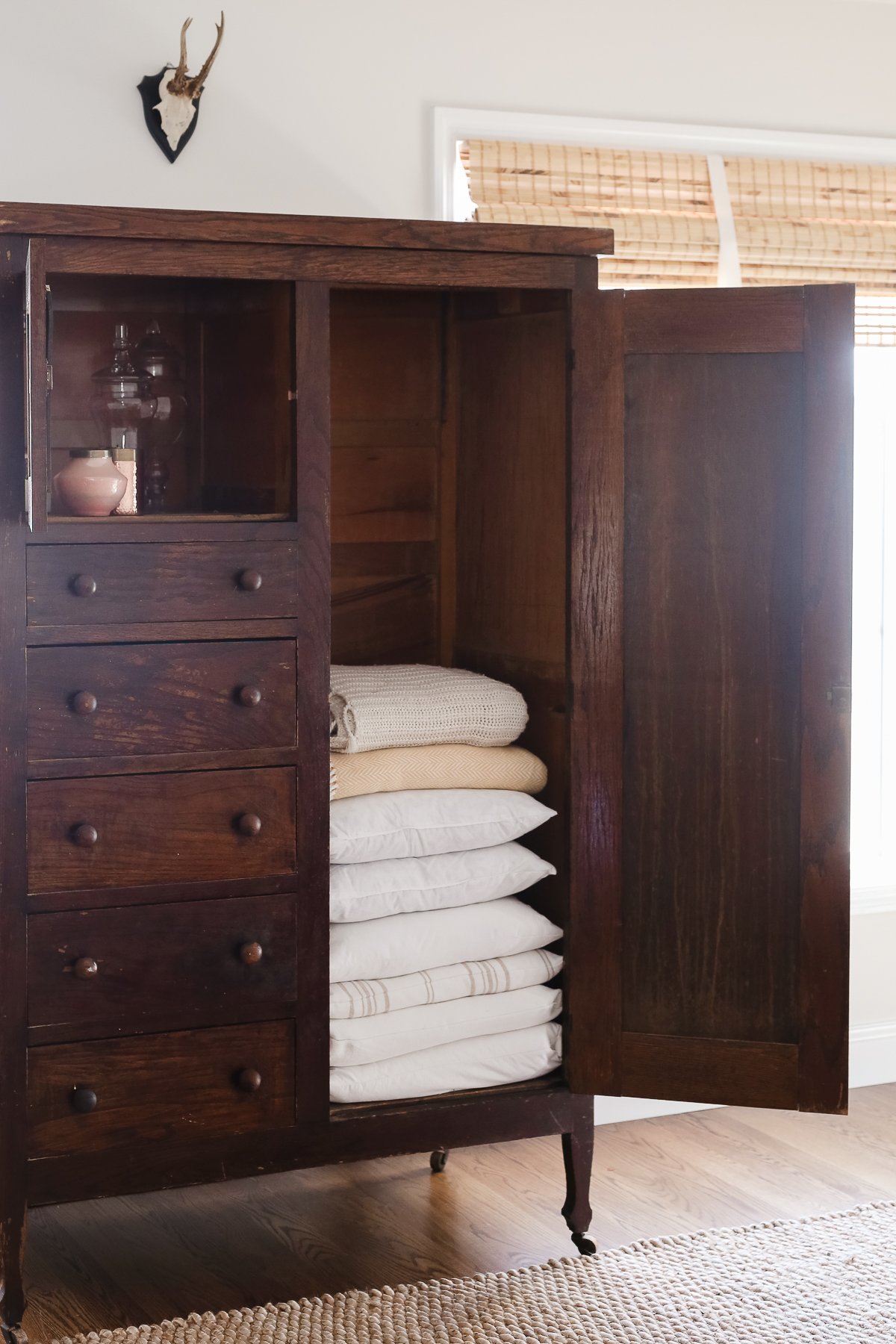 What is a Linen Cabinet?
It is a storage cabinet place to store pillow covers, throws, pillows, blankets, sheets and or towels to protect them from dust. It's the perfect way to store linens without a closet.
They can also be used to store toiletries, candles, pillow covers, excess bedding and more.
They are primarily utilized in bathrooms, but the options are endless. You can use them in a hallway, laundry or family room – anywhere you need storage.
Linen cabinets typically are not very deep. Most are just 14″-24″ deep and 30-36″ wide. This depth accommodates most blankets, throws and sheets.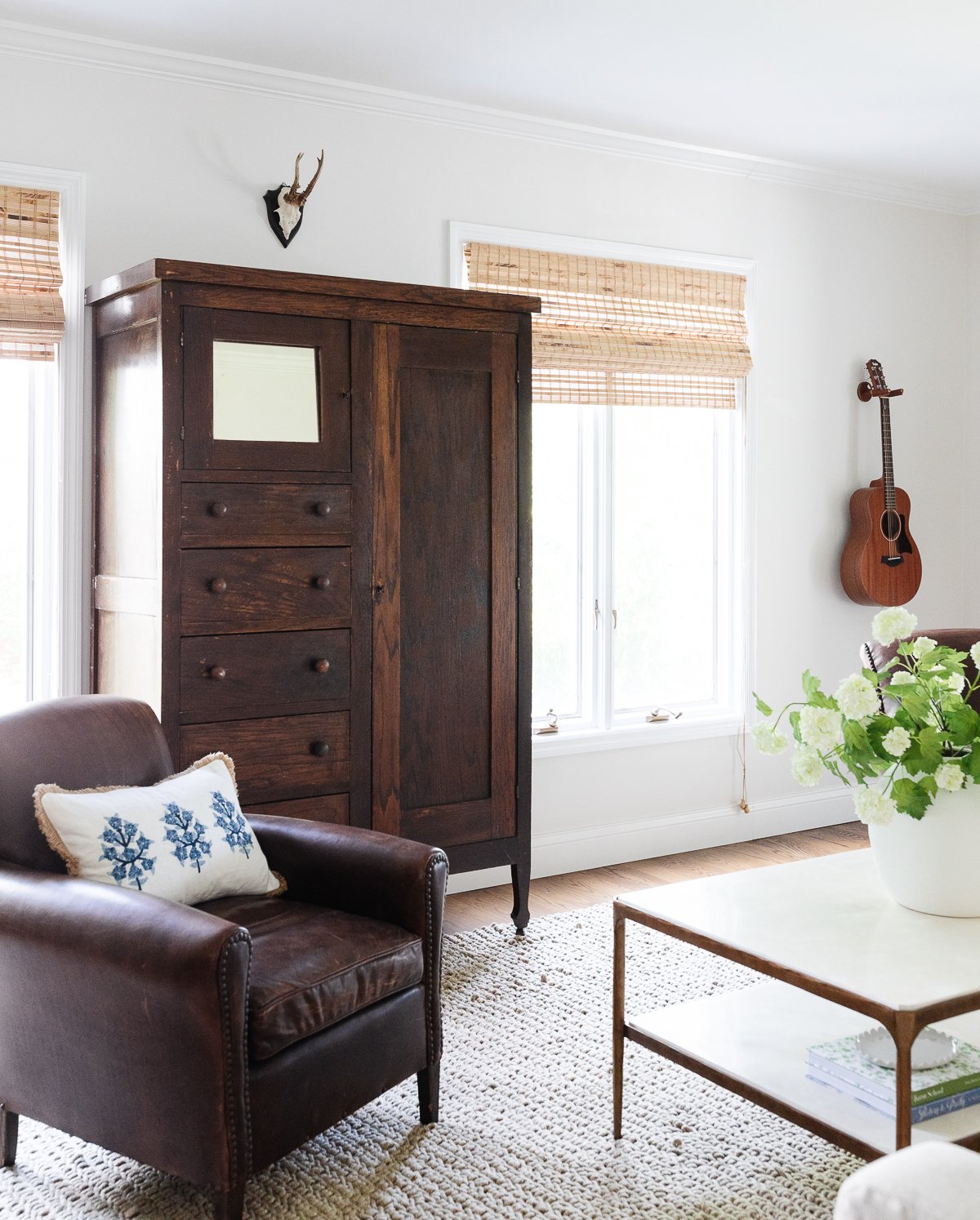 You can purchase, repurpose or make a linen cabinet to suit your needs. A combination of shelves and drawers offers versatile storage for items big and small.
Thoughtful organization goes a long way for maintaining a clean, clutter free home.
Our Antique
As a minimalist, I start an organization process by rethinking pieces we already have and love whenever possible. Utilizing a family heirloom, blending old and new, adds interest – and function, to the space.
When we moved into our St. Louis tudor style home, we removed a few walls that included two closets and cabinetry to create a better flow for our home, but it then posed a storage problem.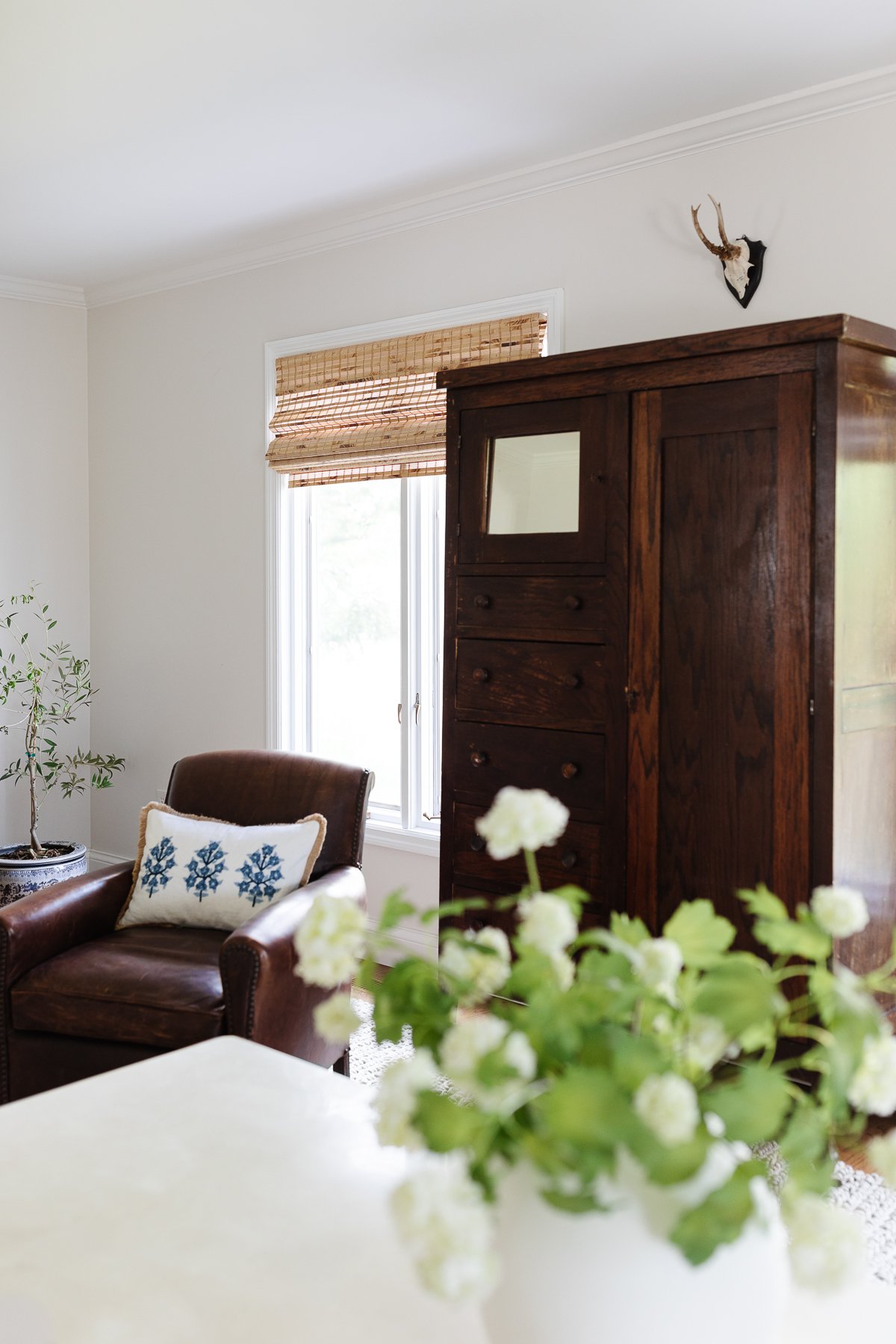 We repurposed this antique wardrobe, which is a family heirloom. It previously served as a dresser and closet for one of our children. It nestles perfectly between two windows and is one of the first things you see when you enter our home, making a statement and giving the space a little warmth.
You can rethink an old dresser, sideboard, or wardrobe that you own or find or turn a cluttered closet into linen cabinet with very little effort. I love that ours is fits into our decor and serves a purpose.Most importantly, this piece adds function to our home.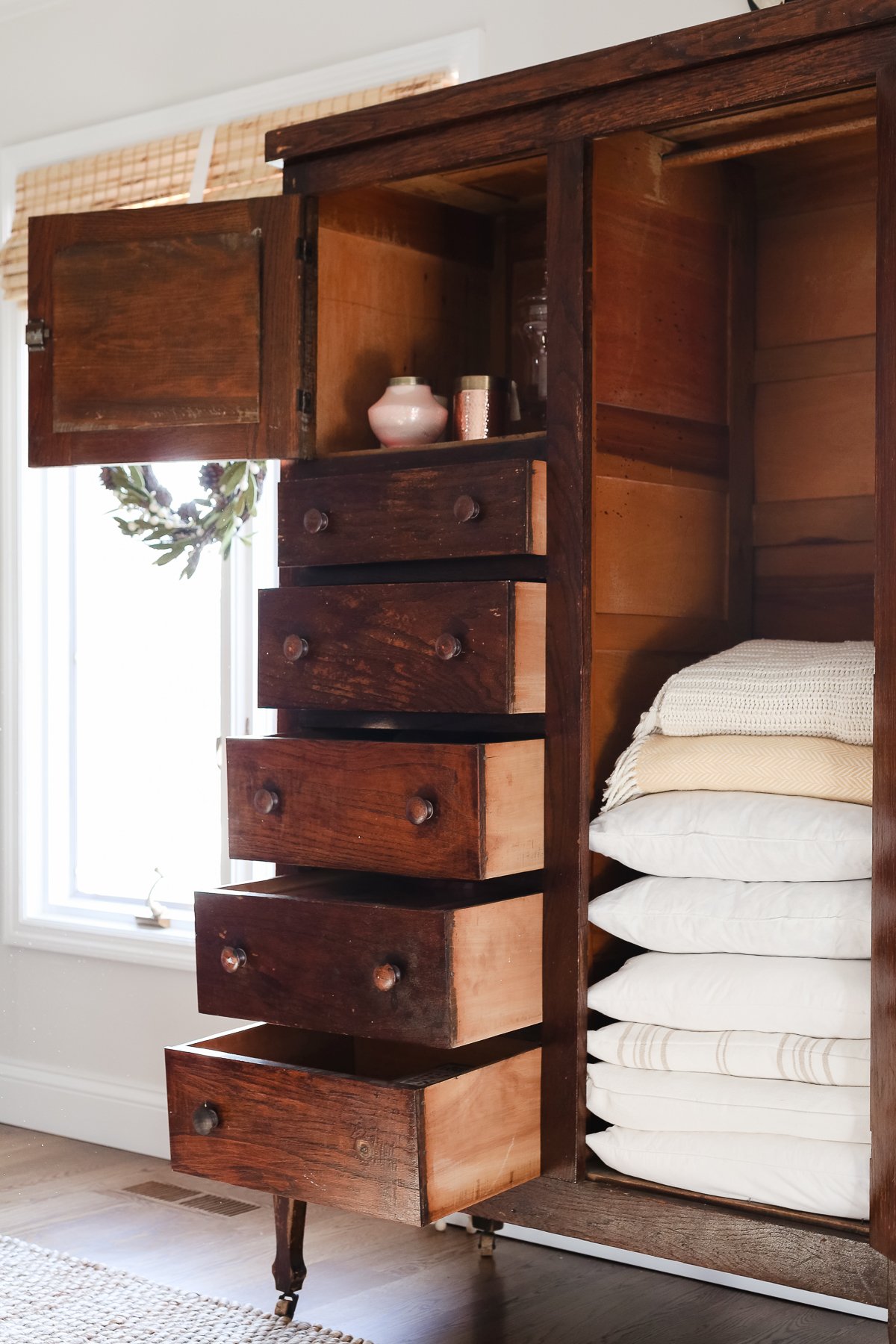 What do you Store in a Linen Cabinet?
One of my guilty pleasures in life is transitioning pillow covers, throws and candles with the seasons, updating the color palette, textures and scents throughout our home.
Rather than store them in bins in the basement, I like to keep them accessible. This linen cabinet serves that purpose, without any alterations.
There's plenty of room to store excess pillows and if needed, a few guest coats.
I've organized pillow covers by season and size so that when I'm in the mood to update them, it just takes a moment. I also use the linen cabinet to store a few of our favorite board games, utilizing every last inch.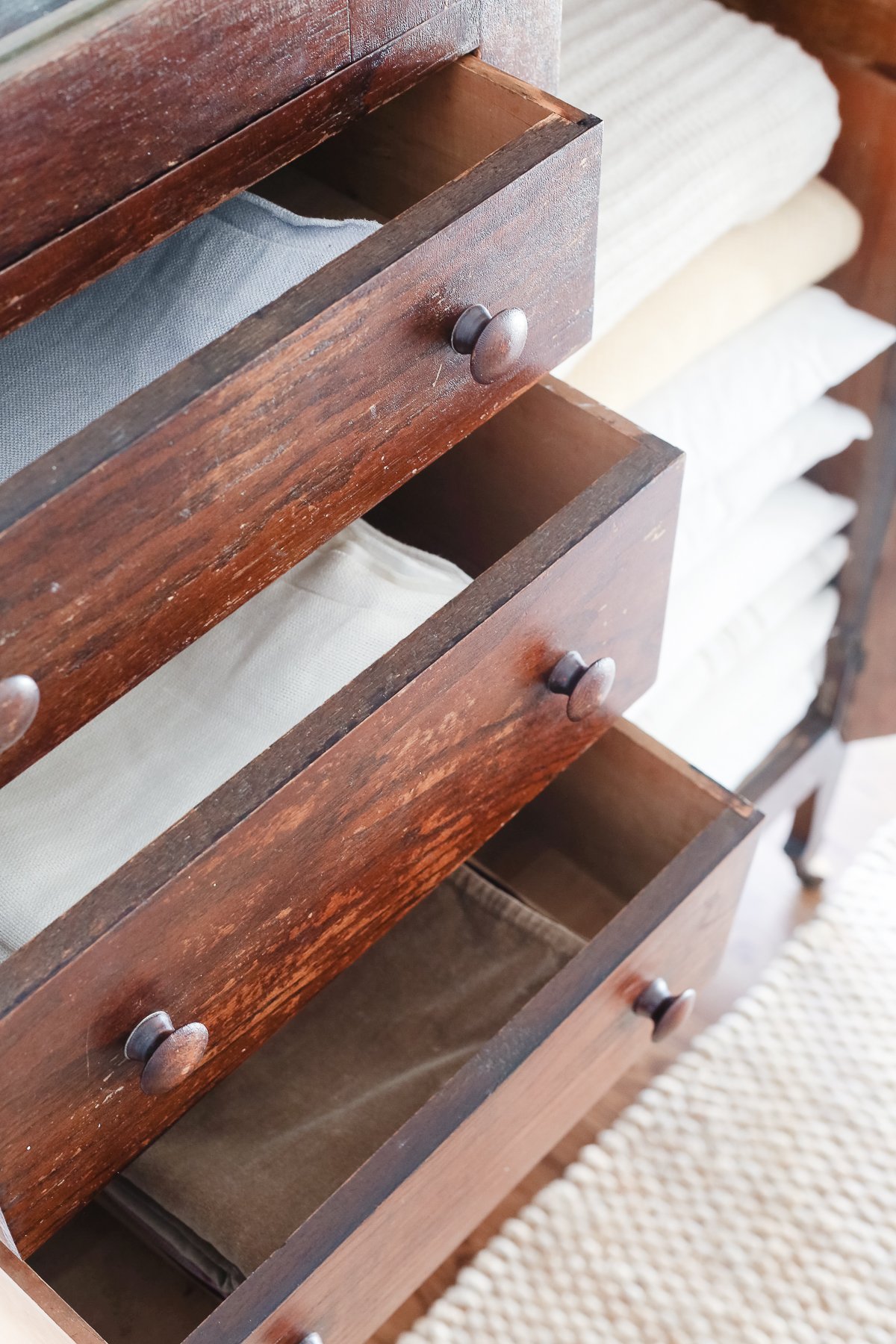 Think of the organization possibilities!
Board games
Toys
Books
Glassware
Serving Items
Bedding
Towels
Extra Blankets
Bath Supplies
Pillows and Pillow Covers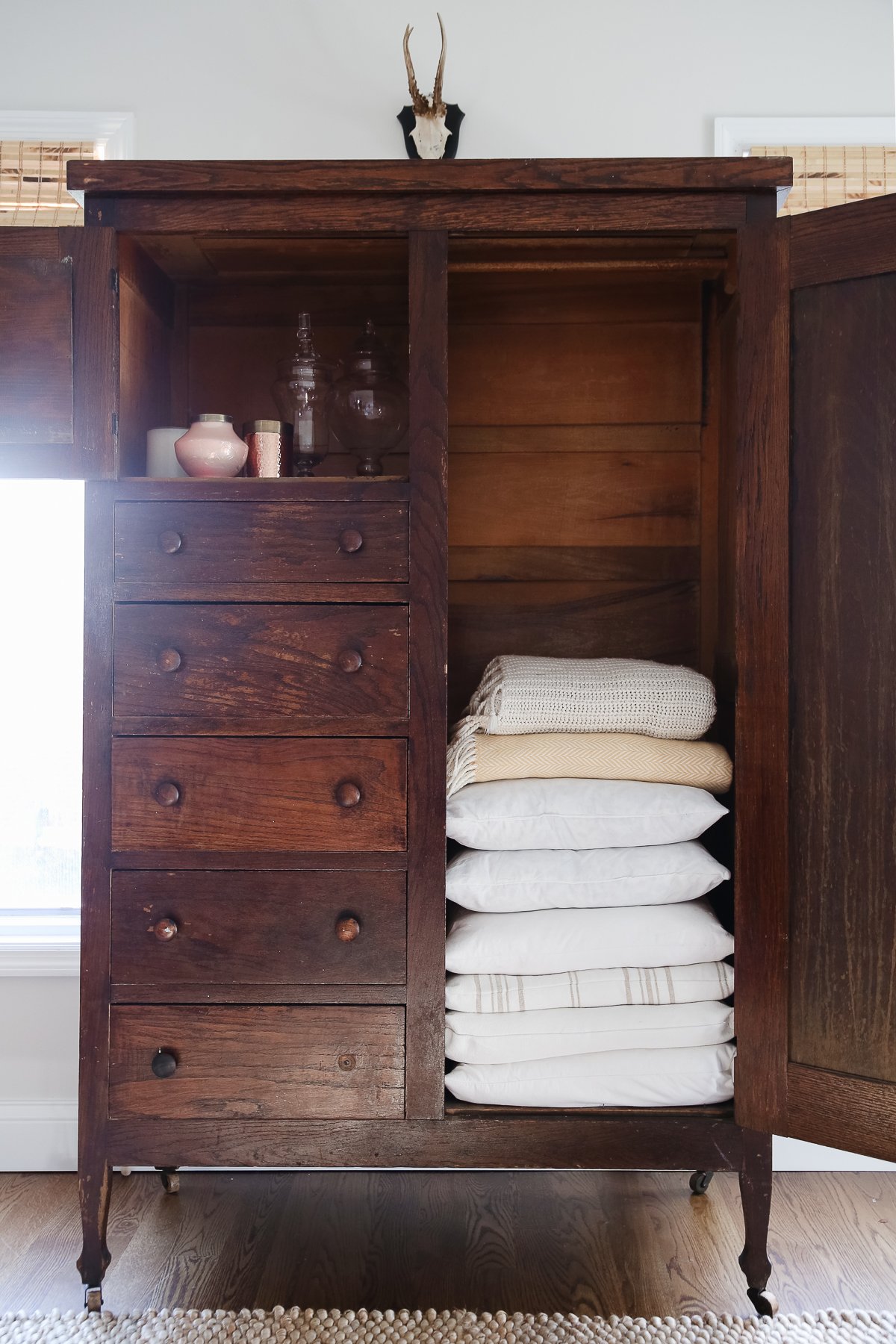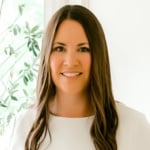 Tips
Re-use – You can turn any piece of existing furniture into a cabinet to store your linens. Some ideas include media cabinet, storage cabinet, or a small buffet.
Buy New – You can also purchase a new cabinet to suit your needs. Some include a hamper, have glass doors so you can see inside, a mix of shelves and drawers and so much more!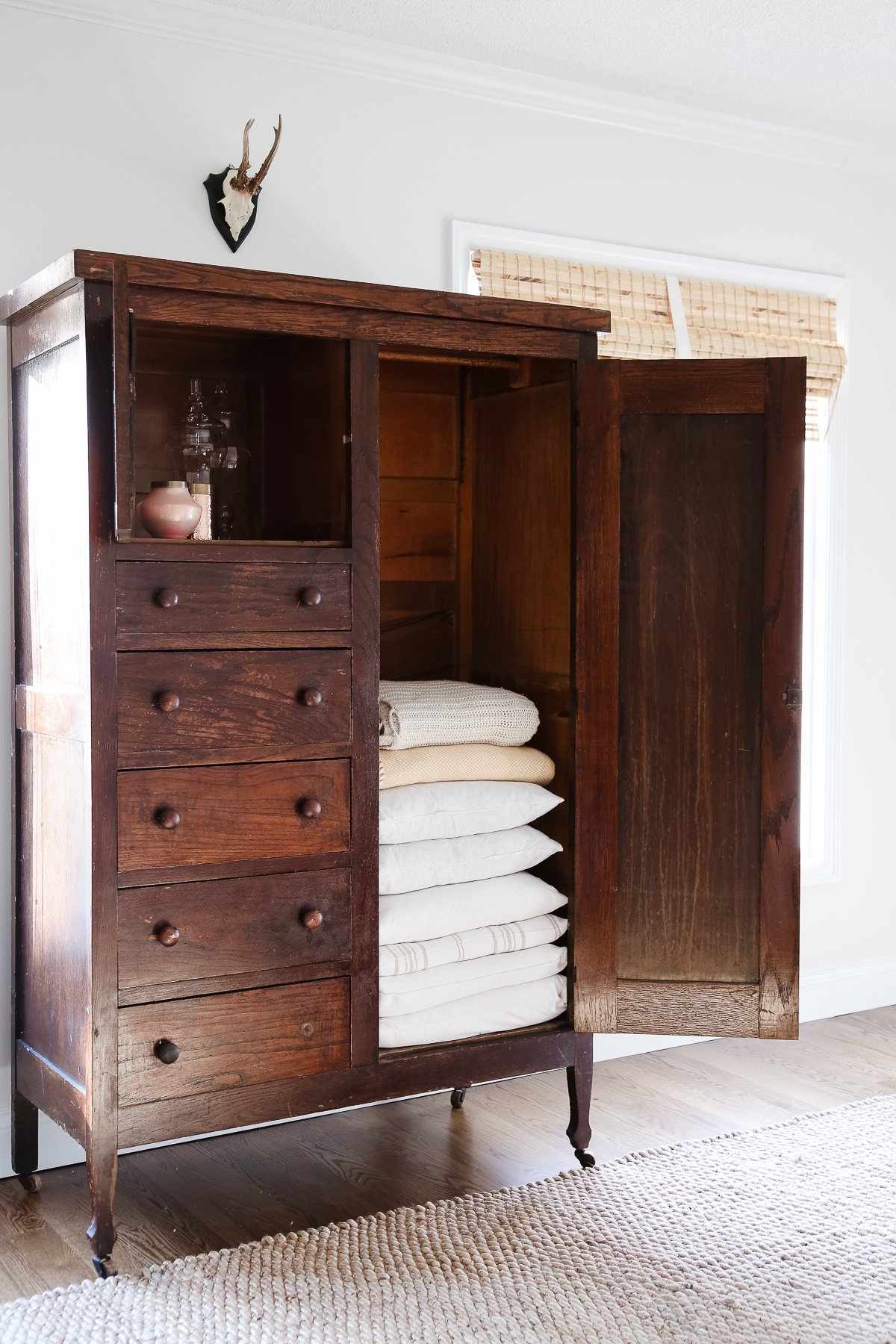 Frequently Asked Questions
How wide is a linen cabinet?
A traditional linen closet is likely anywhere around 36 inches wide. You'll want it to be wide enough for towels, bed sheets, blankets and anything else you'd like to store on the shelves.
How do you store linens without a closet?
The answer is simple – a linen cabinet is the best solution! This flexible piece of furniture can store towels, sheets, blankets, pillows and so much more.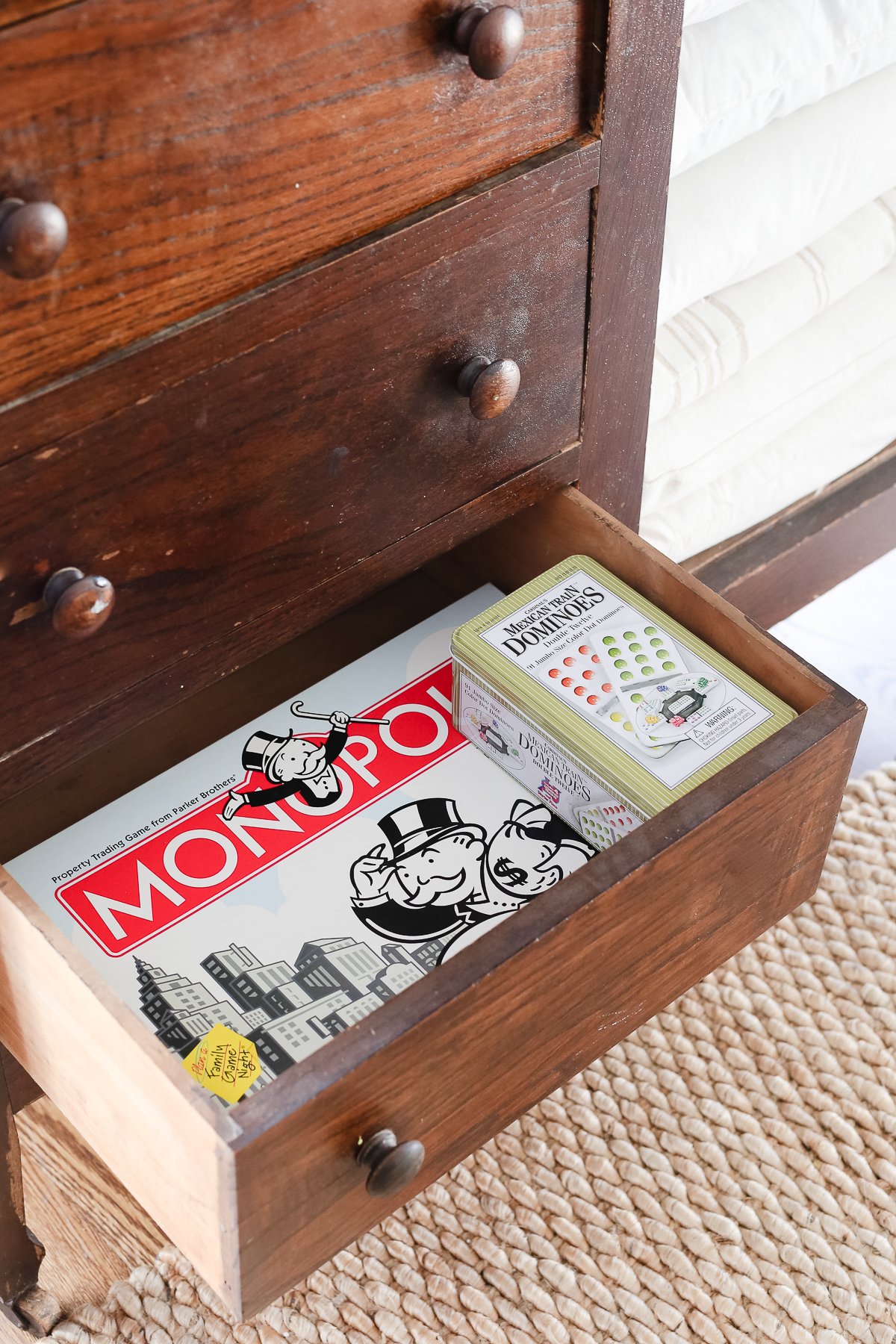 Sources
Feeling inspired? We've curated a few linen cabinets to achieve this look in your own home!
From soft wood options to painted finishes and my favorite textural rattans, there's something for everyone (and every budget, too).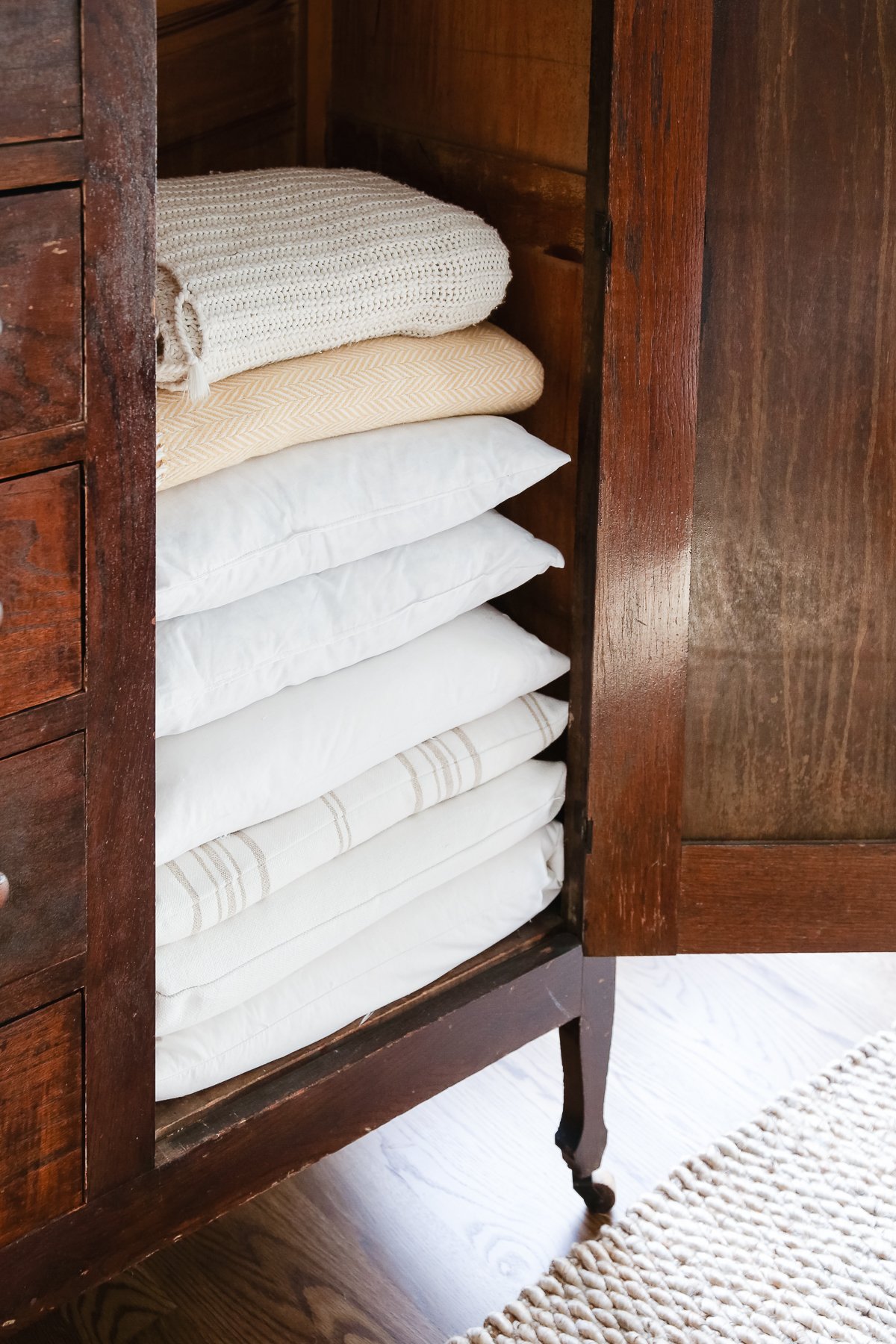 Design Guides, Decor & Tips