A lavender tree provides natural beauty and an intoxicating aroma. You can easily introduce one into your home or garden to add an element of nature and a pop of color! Continue reading to learn how to grow and care for a lavender tree – both indoors and outdoors!
English lavender plants are a go-to in my gardens, and potted inside my home. I love their muted gray green foliage and soft purple blooms. Beyond their beautiful blooms, the aroma they give off is heavenly.
They are so easy to maintain, that I really think every garden should have a little lavender.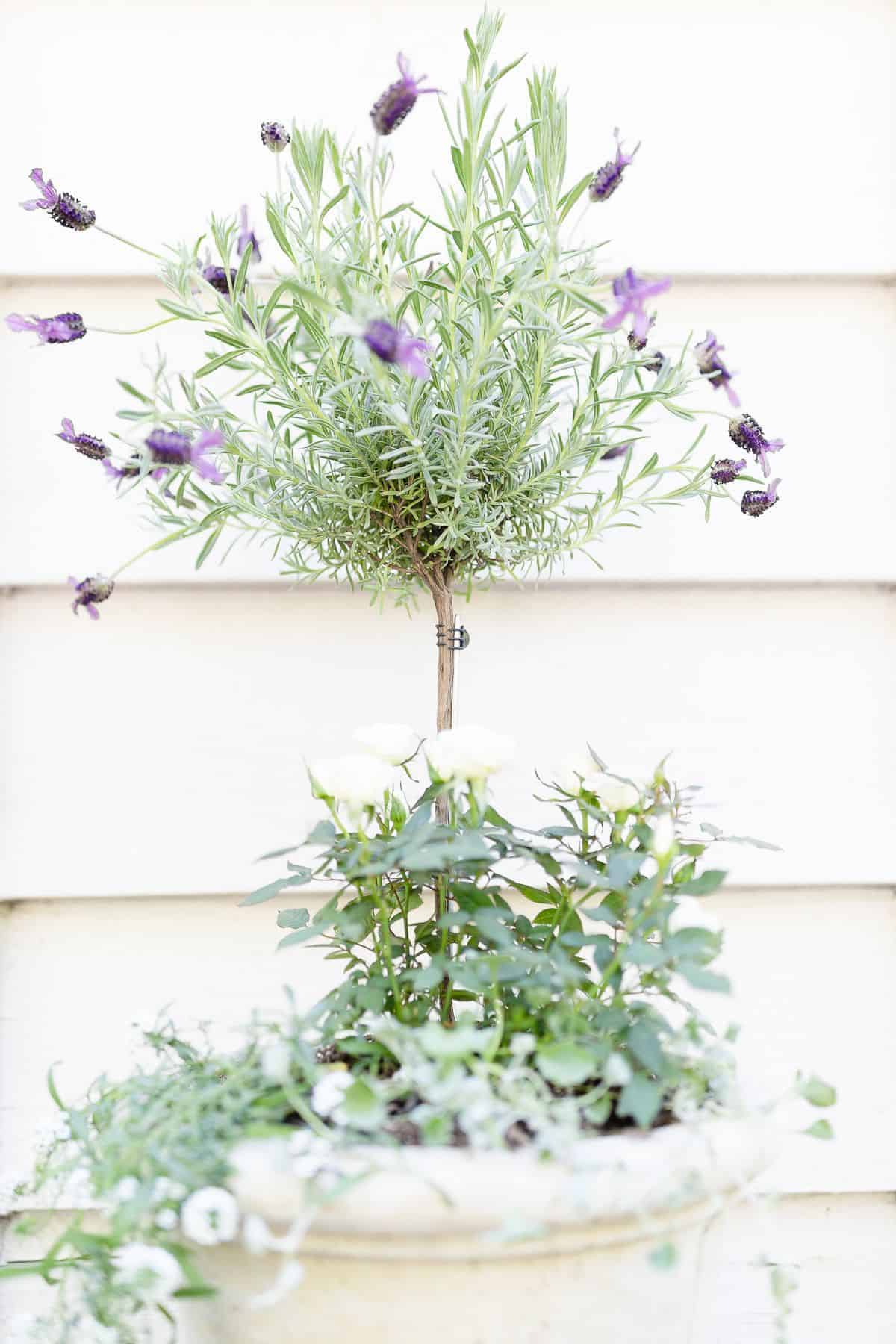 I've long been inspired by topiaries of all kinds. There's just something so special about the slightly formal, graceful look and shape about them!
I love having a little herbal topiary in my kitchen near the sink, or in our summer planters. You can find rosemary, lavender and more, shaped into beautiful traditional trees.
A striking variation of a traditional English lavender or French Lavender plant is a lavender tree. It also goes by the names of lavender topiary and lavender standard topiary. With its beautiful, structured form, it adds a classic style in any home or garden.
Check out my maintenance free garden ideas to see how I incorporate lavender into my garden. These DIY galvanized planters are a fun and simple way to bring lavender to your porch. Don't forget that others would love to receive lavender pots for gifts!
What Is Lavender?
Lavender is an herb that originated in the Mediterranean and surrounding areas. However, it grows so easily that it can thrive all over the world. It has a distinct, aromatic scent that is light and fresh. Lavender's colors are typically a muted green and purple.
Not only is lavender beautiful and easy to grow, it is good for you, too. The scent is calming and luxurious, and is often used in bath products. I make my own lavender and lemon sugar scrub and lavender mint bath salts to highlight the fragrance and therapeutic qualities of lavender.
Dried flowers can be used in potpourri and soaps for its aroma and texture. Lavender oil has a strong scent and is used in many bath products for aromatherapy and skin benefits.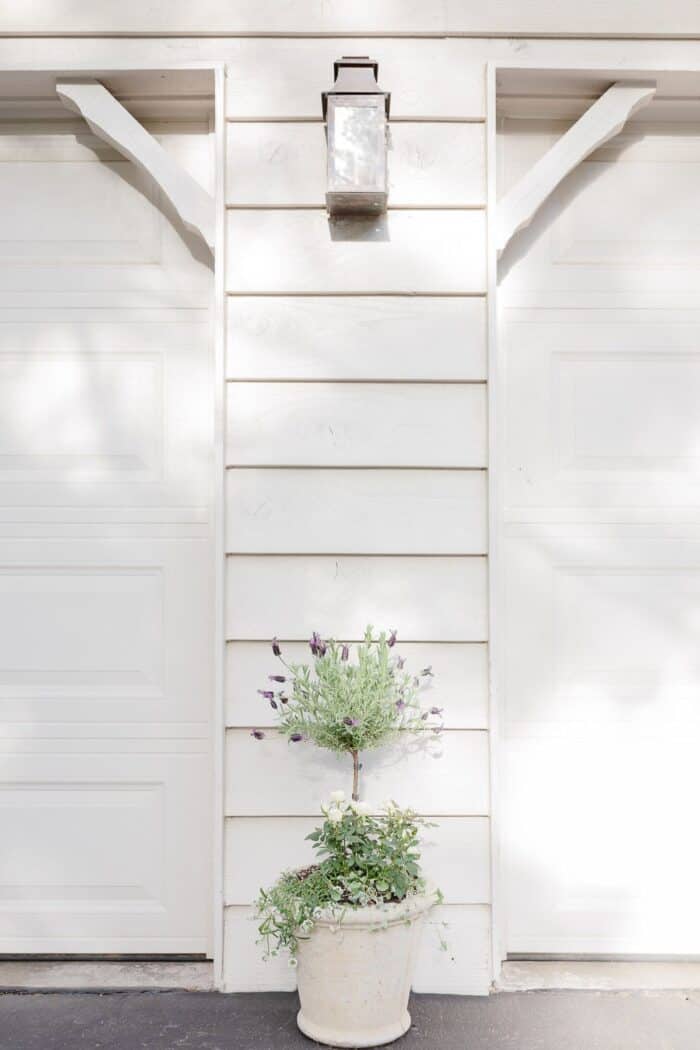 English Lavender and More Varieties
There are a lot of varieties of lavender, including English lavender, French, Spanish, and more. These varieties differ in flower color and shape, leaf color and shape, and even the scent.
English lavender varieties tend to be the most popular here in the Midwest, as they are hardy through zone five.
The most popular lavender varieties grown in the US are as follows:
Betty's Blue, English Lavender (Lavandula Angustifolia)
French Lavender (Lavandula Dentata)
Spanish Lavender (Lavandula stoechas)
Lavenite Petite, English Lavender (Lavandula Angustifolia)
Impress Purple, Hybrid (Lavandula x Intermedia)
Portuguese Lavender (Lavandula Latifola)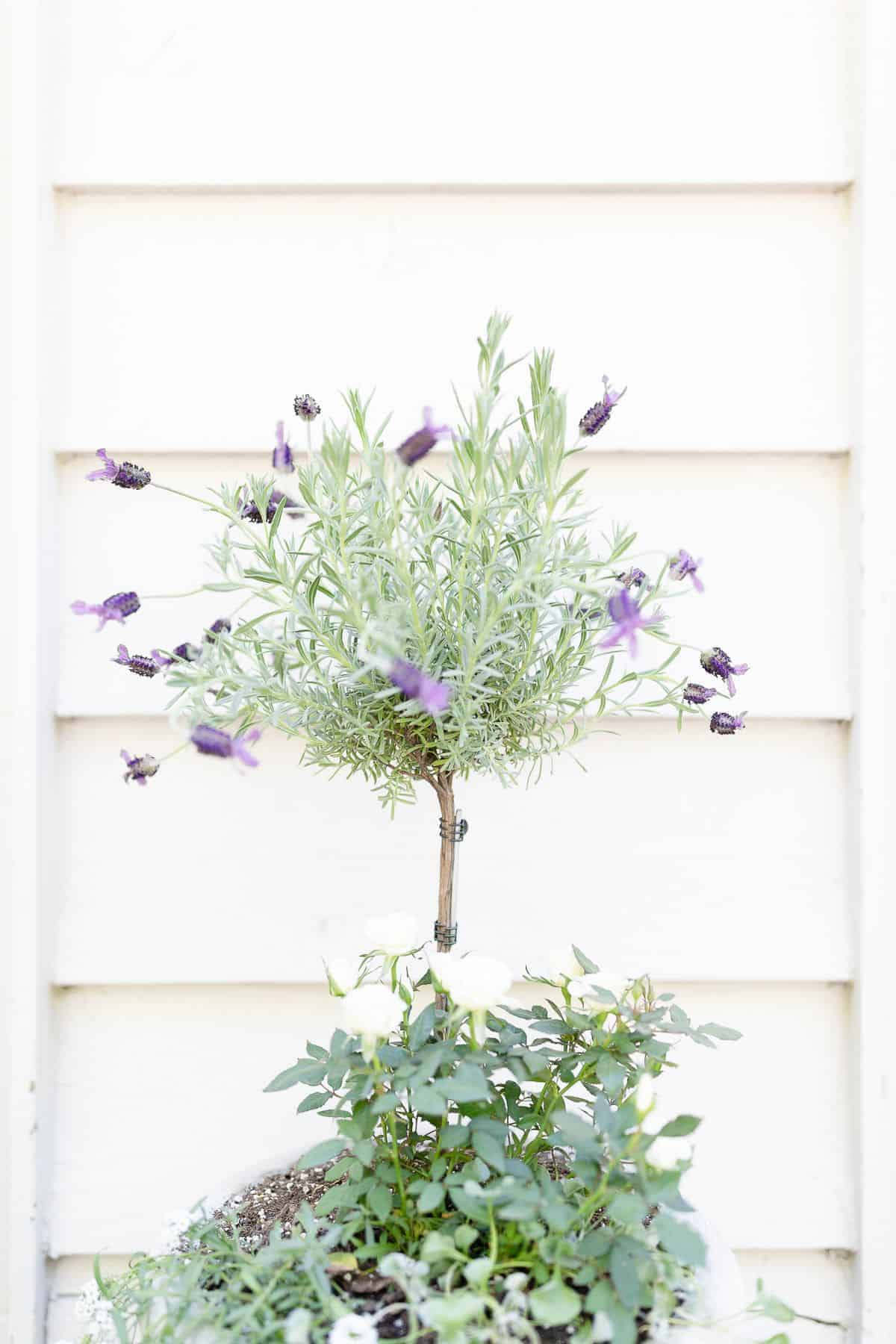 What Is a Lavender Tree?
You're probably familiar with the classic English lavender plants that are often grown in gardens and pots, both indoors and out. Well, I'd like to introduce you to a lavender tree!
It still has the same qualities as lavender, with the lovely leaves and flowers. Yet, it takes on a whole new look with the foliage portion sitting on top of a thin trunk in topiary form.
A lavender tree is made from a plant that was trimmed and trained to grow from the top. You can buy them already formed into a tree, or patiently trim your own. The branches can grow up and rounded, or they can grow out and be more spikey. Choose the look that you love!
It stays quite petite with a height of 2-3 feet. However, if it is housed in a pot, it can appear a bit taller than that. The width can be up to 2 feet, or you can cut it back to keep it more in proportion with the height.
Lavender trees look really nice in pots that are placed indoors or on a patio. Choose a pot or basket that suits your style and place the basic pot the tree came in inside of your preferred pot or basket.
They can also be planted in raised beds and right into a garden. They have such a cute and simple look!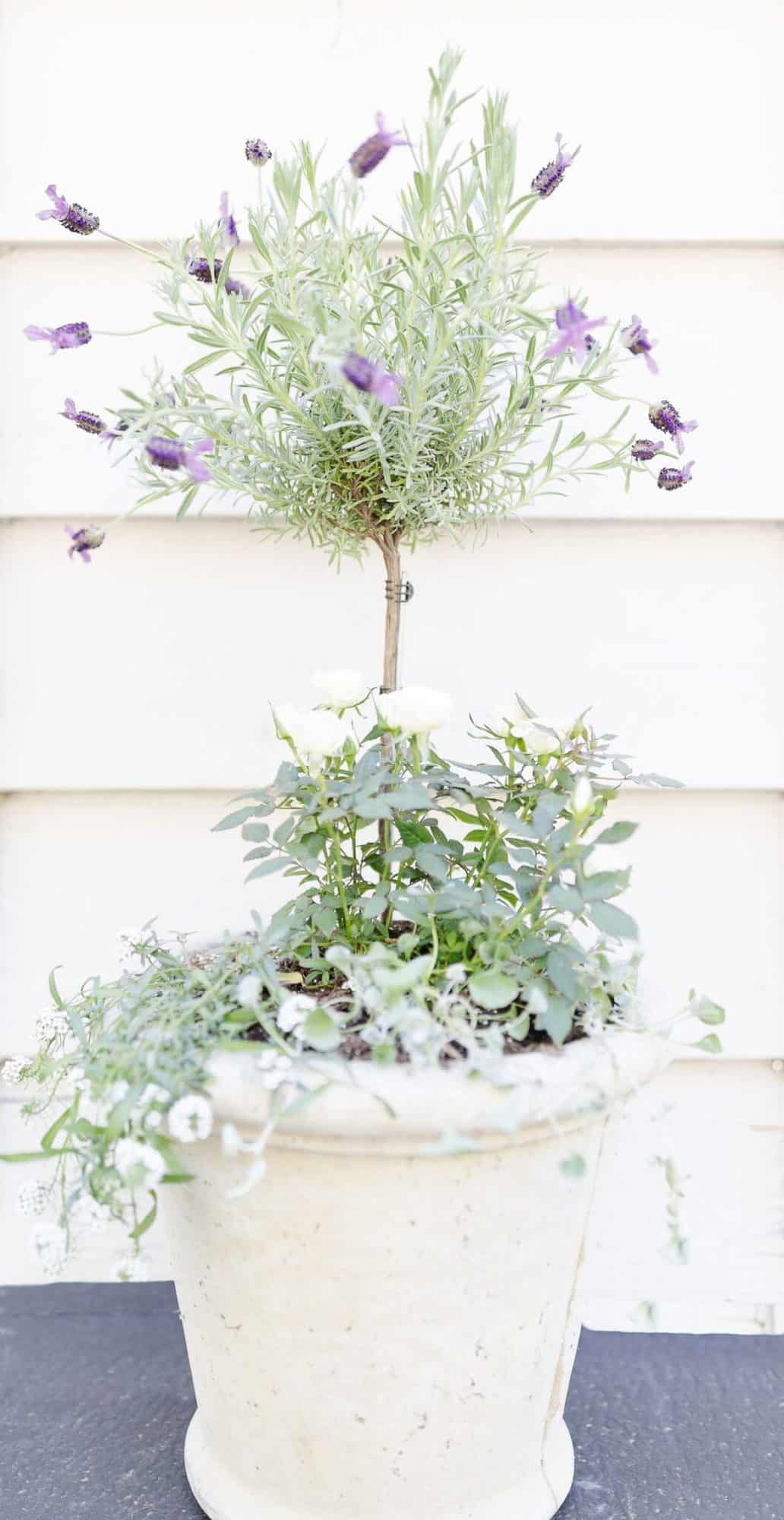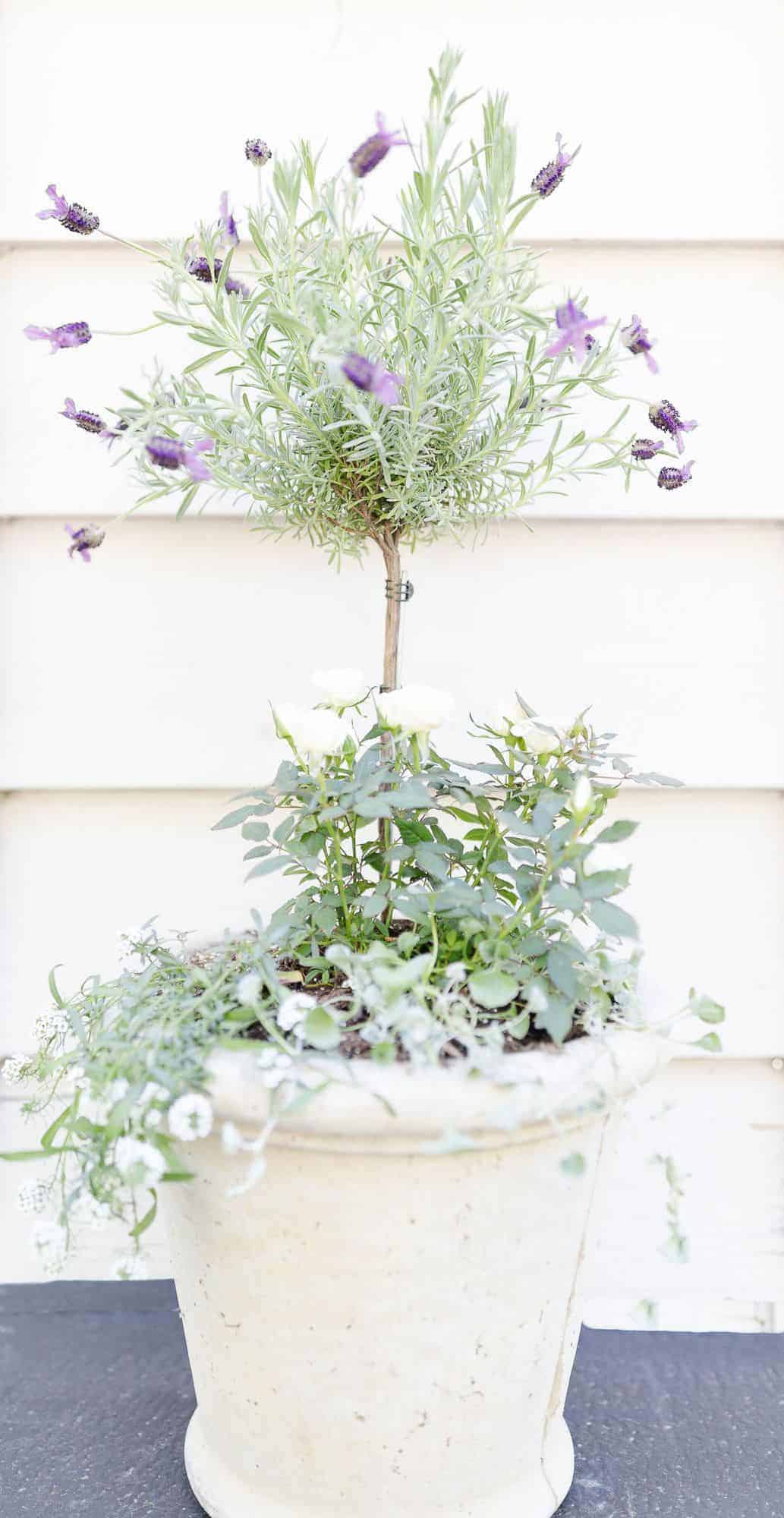 How to Care for a Lavender Tree
Since this plant is native to a rugged climate, it tends to be quite hardy. Most lavender is grown outside, but can also be grown inside. It will perform well for you if you follow a few steps.
Growing Lavender Indoors
Choose a pot that is no more than 2 inches wider than the root ball. This keeps the soil from staying too wet and potentially causing root rot. Add some rocks at the bottom of the pot to help with drainage. Water whenever the top 1-2 inches of the soil are dry.
Place pot on a removable tray or plate so that the pot won't sit in excess water. If you want a larger pot, place your smaller pot inside a larger container. This is nice because you can choose a larger pot that matches your decor.
Use a nice fertilized soil when you plant your lavender tree. Add a little agricultural lime to the soil for lavender to grow.
Place your lavender tree on the floor, on a table, or any other place that allows it to receive plenty of sunshine during the day. Avoid placing it near a cold or warm air draft, though.
Lavender trees will be especially happy if you allow them to live outside during the summer. They can absorb the sun and nutrients they need to grow correctly before you bring them in for the winter.
Outdoor Lavender Trees
Lavender trees like a lot of sun, around 6 hours each day. They also need soil that drains well. Dig a hole that is twice as big as the root ball. Place the plant inside the hole and fill with dirt to cover the roots.
Allow the soil to dry out between waterings. You can tell if it is dry enough by feeling into the soil 1-2 inches. If the soil is dry, then it is time to water.
Lavender thrives outside when it can get all the sunlight it needs. Bees are attracted to the flowers and naturally pollinate the plant.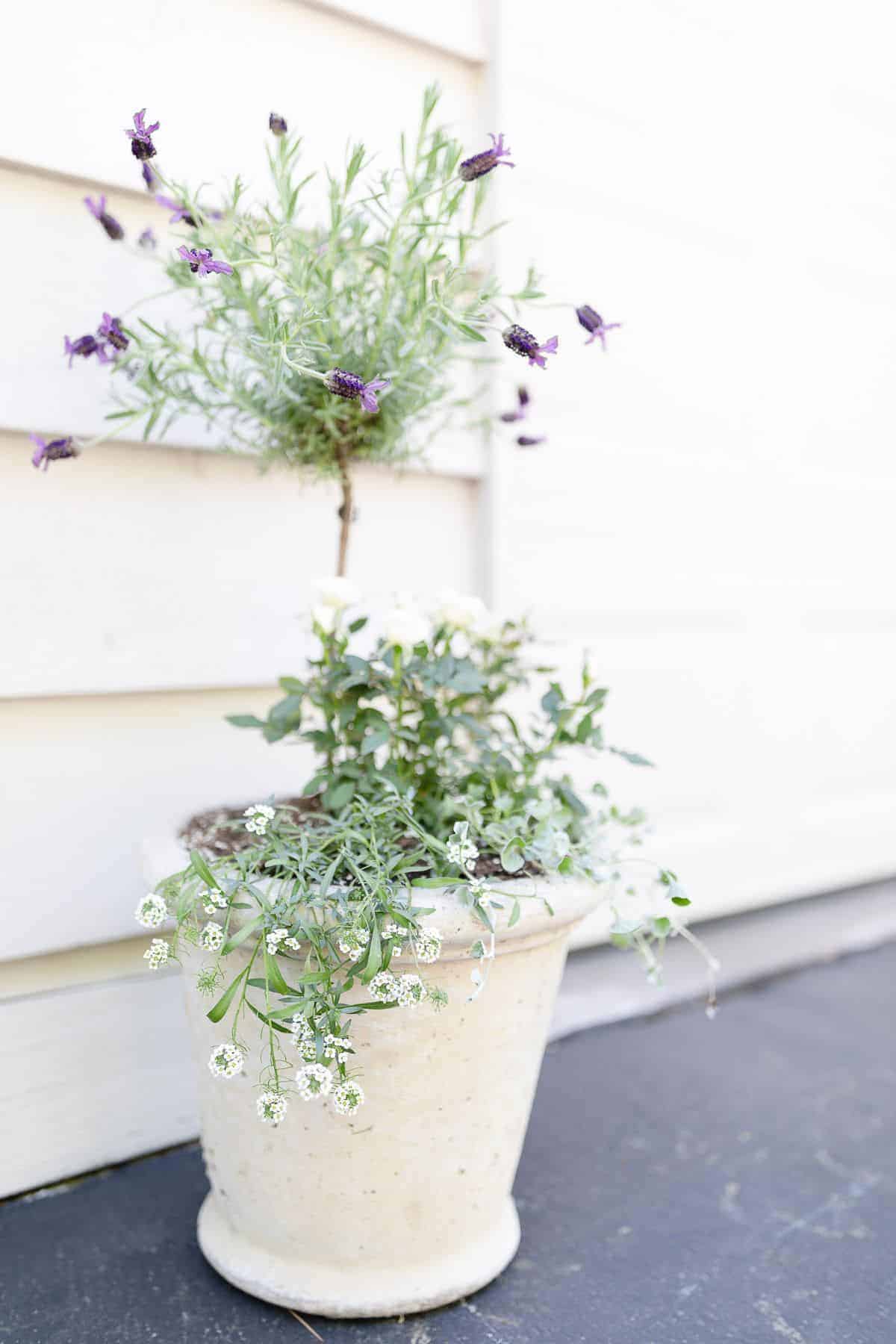 Frequently Asked Questions
Does a lavender tree come back every year?
In zones 7-10, lavender trees can stay outdoors, planted in the ground. However, in colder climates, they need to be brought indoors over the winter.

Other types of lavender, like English lavender, are generally more cold hardy and can come back every year when planted in your garden.
How big does a lavender tree get?
A lavender tree will generally remain quite petite in growth, with a height of 2-3 feet. However, if it is housed in a pot, it can appear a bit taller than that. The width can be up to 2 feet at the top depending on trimming and training.
Can lavender trees be kept indoors?
Yes! With a few simple care steps and the right lighting and temperature conditions, it's very possible to grow lavender indoors.
How long does a lavender tree last?
At best, you'll likely be able to keep your lavender tree alive for 4-5 years. They tend to become leggy and more difficult to shape by that time, with their woody stems becoming hardened and tired.
What happens if you don't prune lavender?
Regular pruning is important for lavender plants. Without regular pruning the woody stems can get leggy and the plants will stop blooming.
Where is the best place to plant a lavender tree?
Lavender likes full sun with well drained, sandy soil with a bit of an alkaline blend that you can add with a touch of lime.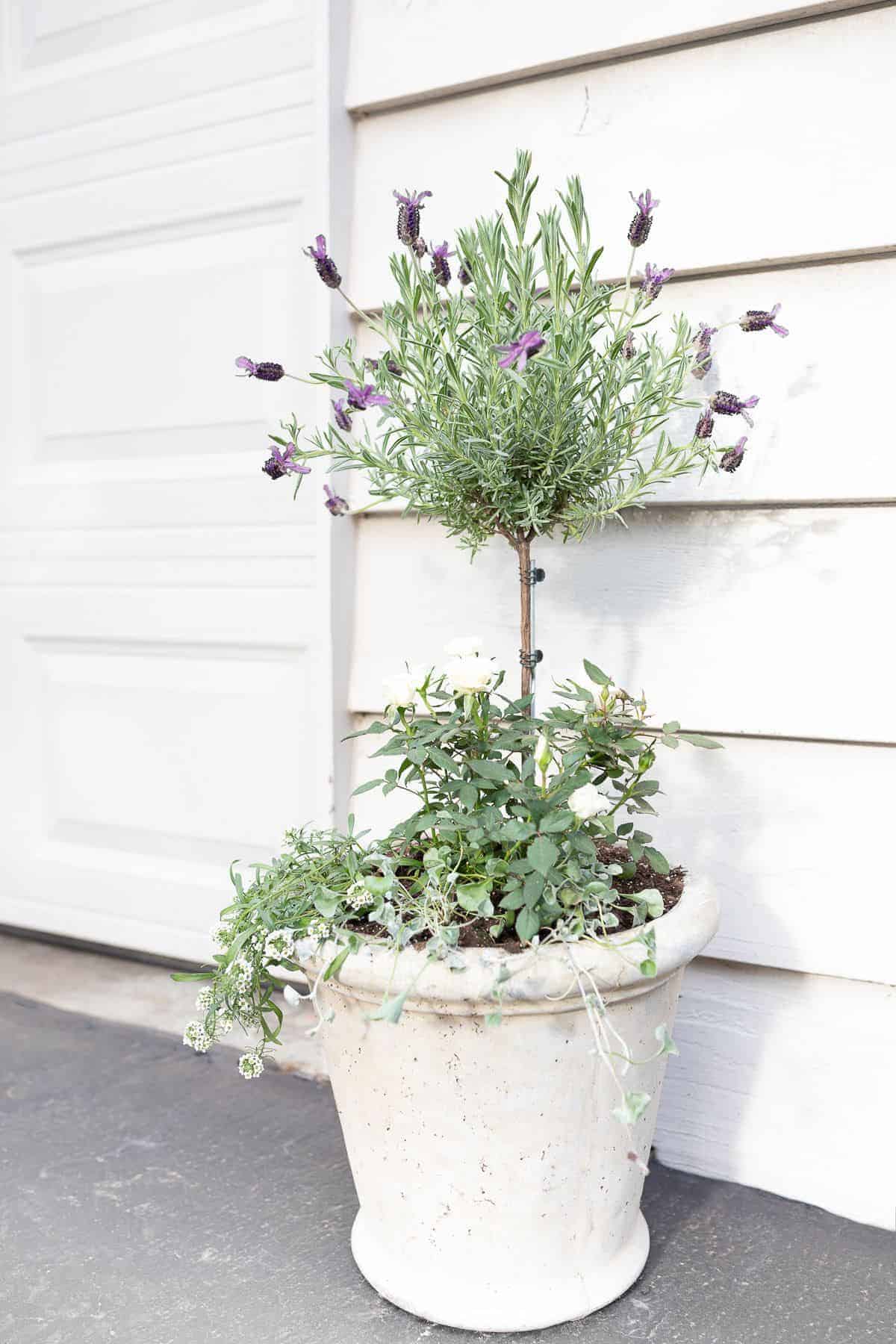 I'm pretty sure that you'll be successful if you decide to grow a lavender tree! I hope you love it as much as I do!
Sources
Because it's a common question I receive, these planters were filled with miniature white roses, white sweet Alyssum and Silver Falls Dichondra at the base of the lavender topiary.
Let's keep in touch! Receive exclusive content, including never-seen-before photos, our favorite home decor DIYs and more!
More Gardening Inspiration