Adding an attached pergola to your home makes an incredible statement, creating instant charm and curb appeal. A front porch pergola attached to the front of a house can create a warm welcome and add interest to any era or style of home.
While an attached pergola can be beautiful on any side of your home, a front porch pergola or even a front door pergola is so welcoming! Learn all about pergolas and find out it one might be a good fit for your home.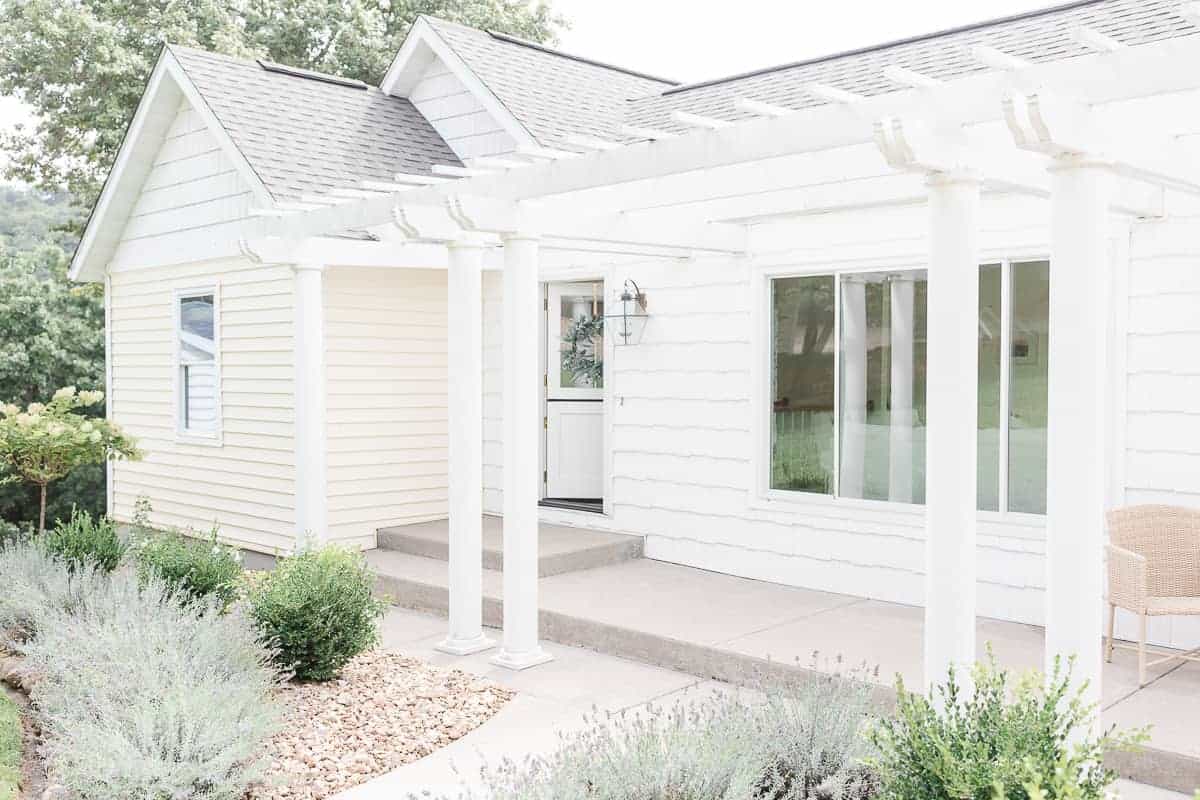 When we first began our search for a lake cottage getaway, we realized quickly that curb appeal wasn't often a consideration for homes in our price range. We knew that we'd need to find the right house for us, and work on adding curb appeal over time.
We felt so lucky to eventually find a home that checked all of our boxes, and it had a little curb appeal, to boot! At first glance, we loved the big front porch, the aged brass lanterns, and especially the attached pergola.
See the full before and after of this lake home!
Front Door Pergola for Curb Appeal
A pergola can give an otherwise plain home exterior some instant curb appeal. They are a classic addition to homes of all eras and styles: cottages, ranch homes, traditional two stories, and even modern and contemporary homes.
Luckily, there are affordable freestanding and attached pre-built pergolas to add to your patios and porches, giving you options for shade, adding garden style charm, and even helping you define a space for an outdoor living room. I'll share a few shopping resources to create this look in your own home.
This post isn't meant to be a DIY pergola tutorial – instead, I'm walking you through a little history about pergolas, what they can and can't do for your home, and the pros and cons of a pergola attached to a house.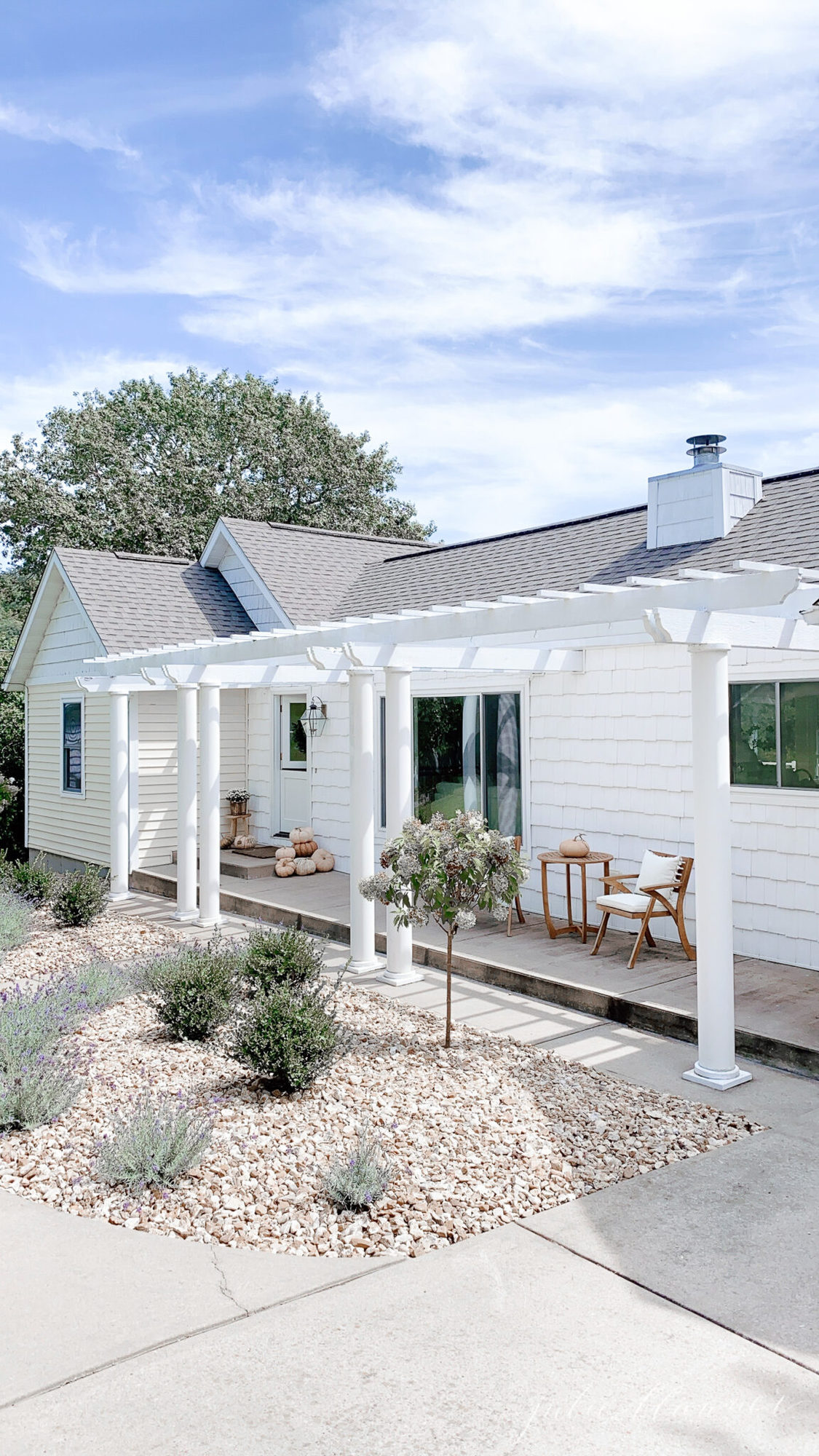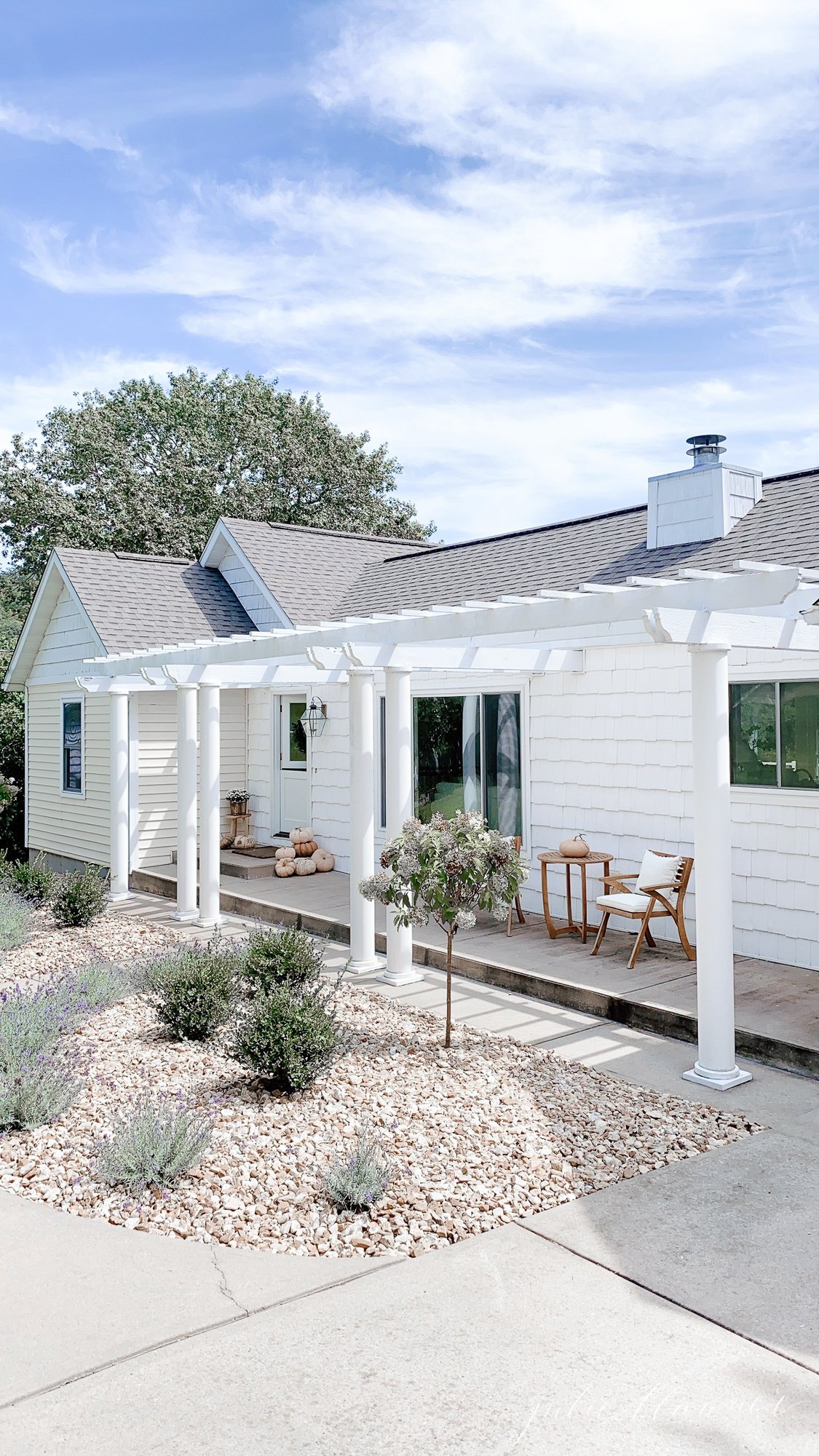 What is a Pergola?
First, you might be wondering what exactly a pergola is. While an arbor is generally a smaller, often arched freestanding structure, a pergola carries more weight in any area outside your home. They often help to extend the living space within a house, creating a structured environment.
They differ from a gazebo, too. Gazebos traditionally have an enclosed roof, keeping the space underneath dry during inclement weather. Gazebos are often round in shape, whereas pergolas feature more square or rectangular shapes.
A pergola a type of outdoor structure that is comprised of rafters and beams, supported by columns or posts. A pergola can be attached directly to a home, or used as a freestanding structure in any outdoor setting.
The grid of a pergola can be covered with an awning for more of a shelter from the sun and elements, or left open as more of a decorative element.
Often, gardeners can train vines to grow up the columns for added charm! They can also help create a focal point, drawing attention to a designated area of your yard. Pergolas can cover a fire pit or conversation area, a bench or swing, or even something like a hot tub.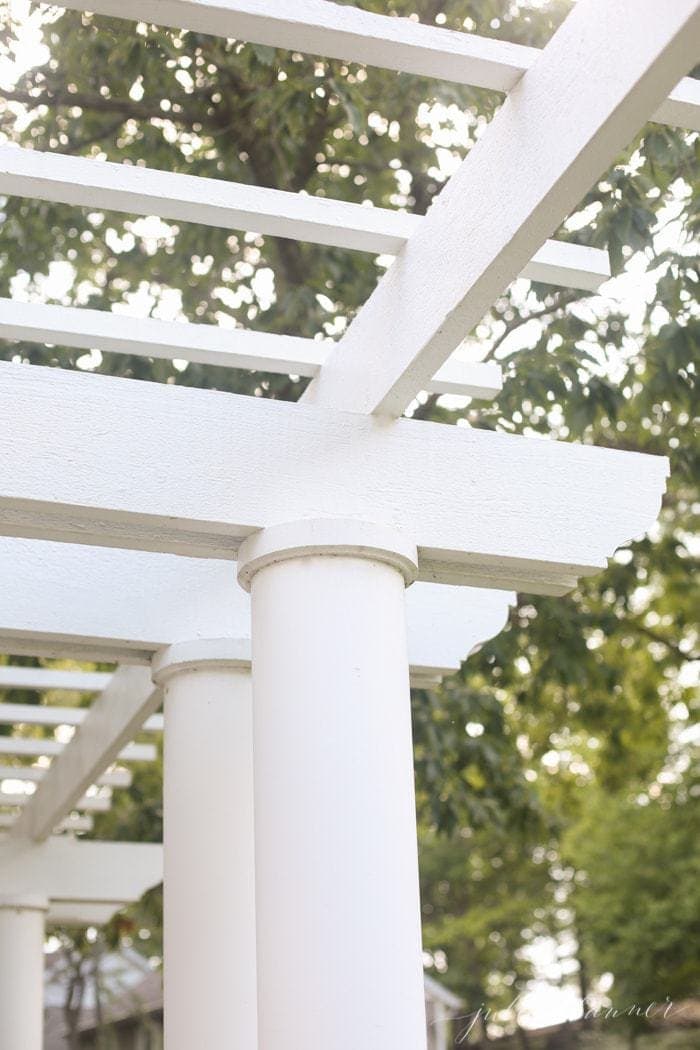 Front Porch Pergola
While many pergolas are featured on the side or back of homes, they can add so much curb appeal to the front of a home too!
In our situation at the lake house, the attached front porch pergola adds a lot of charm and interest to a space that would otherwise be quite plain.
You'll often find front porch pergolas on one story homes like a ranch or cottage. You can even add a pergola over a garage on the front or your home for extra interest and an exciting entrance!
Pros and Cons of a Pergola Attached to a House
Pros:
Easier to build than gazebos and more formal structures and outdoor rooms
Adds curb appeal to the front of your home, or garden charm to the back with trailing vines, etc
Relatively low maintenance
Easy to add outdoor lighting for an extra magical glow, and safety too
Cons:
No shelter from rain, sun or other elements
Can generally not be moved once installed – whether attached or freestanding, they are heavy structures
Expense – the cost of materials has risen, and a custom pergola can be expensive
Weight – if you're attaching a pergola to your home, you need to be cautious about the mechanics and structures of the attachment.
Might need a permit – depending on your city, county or HOA restrictions, a pergola is considered a structural addition to your home.
Even if it costs more than you might expect, a pergola attached to the front of a house is a great investment! It pays you back with incredible charm, whimsy and function.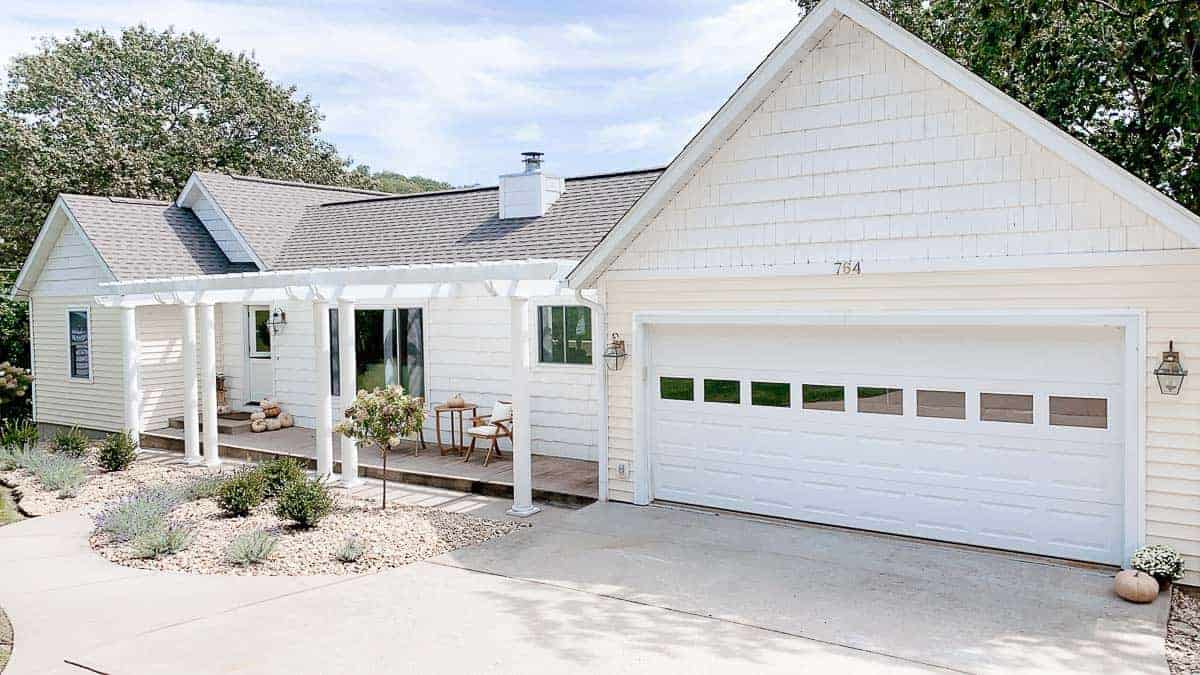 Frequently Asked Questions
How much does a DIY pergola cost?
This will depend entirely on your area, the square footage of your pergola, the labor expenses and materials. While you can DIY it for much less than a custom built pergola from a local carpenter, you can also buy a prebuilt pergola for anywhere from $600 up to $6,000.
Is it cheaper to build or buy a pergola?
The cost to DIY a pergola is generally less expensive than purchasing a pre-fabricated version, and certainly less than hiring a professional to build and install from scratch.
Keep in mind that a DIY pergola build requires a lot of tools, knowledge, and skill, so the cost is relevant to your expertise in this area.
Do pergolas add home value?
Yes, pergolas can add home value. Outdoor living is more popular than ever with homeowners. However, it's important that your pergola is well-maintained and designed.
Pergola Sources
While I can't help you source a local carpenter to add an attached custom pergola, I can help you find the look for less! Here's a few options for pre-fabricated attached pergola kits.
You'll also find a few freestanding pergolas to add a little of this charm to your own home!
New England Arbors Freemont 12′ x 12′ Attached Vinyl Pergola | Regency 12′ x 12′ Vinyl Pergola | Aluminum Pergola with Natural Wood Looking Finish 10x13ft | Camelot 12′ x 12′ Adjustable Louvered Vinyl Pergola | Yardistry 10 x 12 Cedar Pergola | Backyard Discovery 10 ft. x 14 ft. Cedar Pergola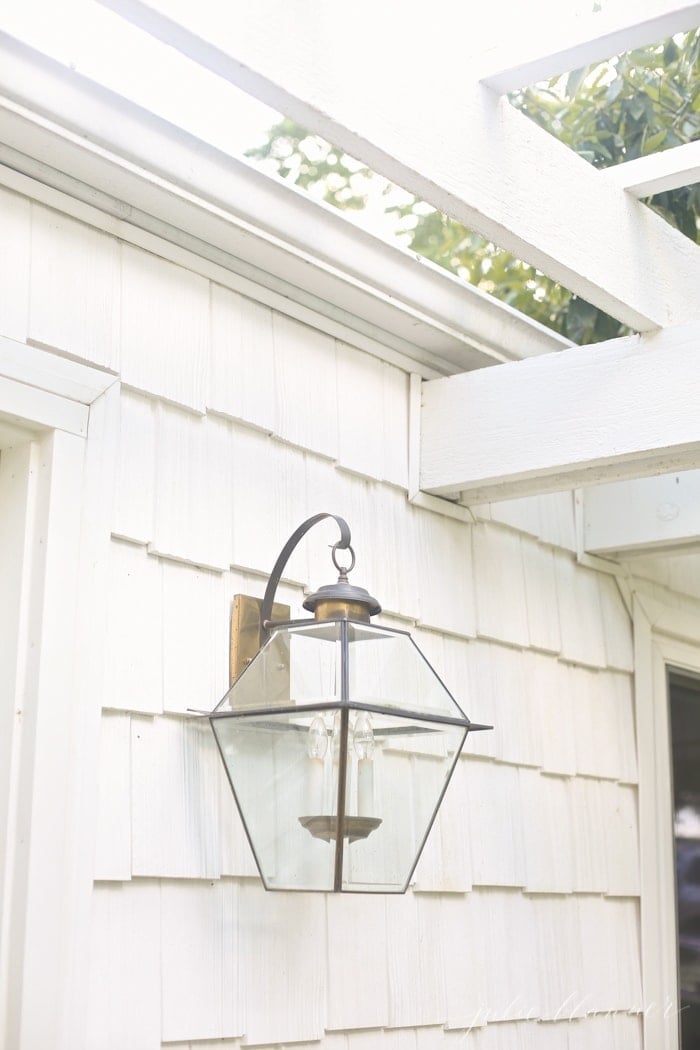 Let's keep in touch! Receive exclusive content, including never-seen-before photos, our favorite home decor DIYs and more!
More Inspiration for Outdoor Living