Homemade bath salts or bath soak is an easy and beautiful holiday gift for yourself, friends, neighbors and teachers! They're perfect for all ages and a hit among kids and teens!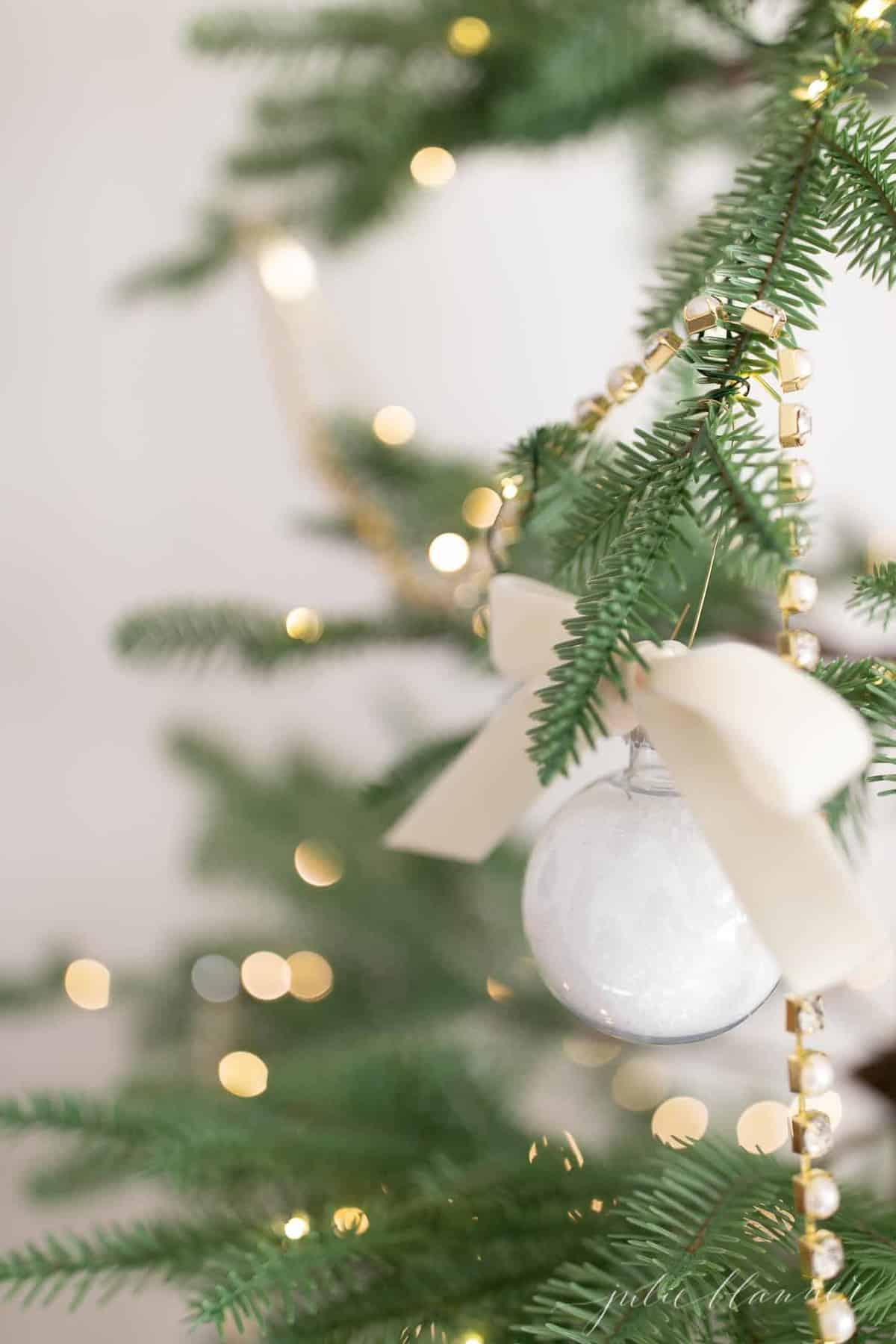 This Bath Soak recipe makes an easy homemade Christmas gift in a jar or ornament! It takes just 5 minutes hands on time to make. It's easily scalable so you can make a single use to enjoy or a large batch to gift!
Homemade bath salts are so much easier than bath bombs. In fact, when I attempted to make bath bombs, it was my kitchen that looked like an explosion!
It's a no fuss, no mess recipe that is great for all ages. My girls absolutely love adding them to their baths. They just make it feel more special! If you're looking for great gift ideas, don't skip these amazing Experience Gift Ideas, too.
Today I'm joining my friend Laura of Our Oily House to share videos of our new homemade Christmas gifts with you! After you watch my video, be sure to check out her homemade potpourri!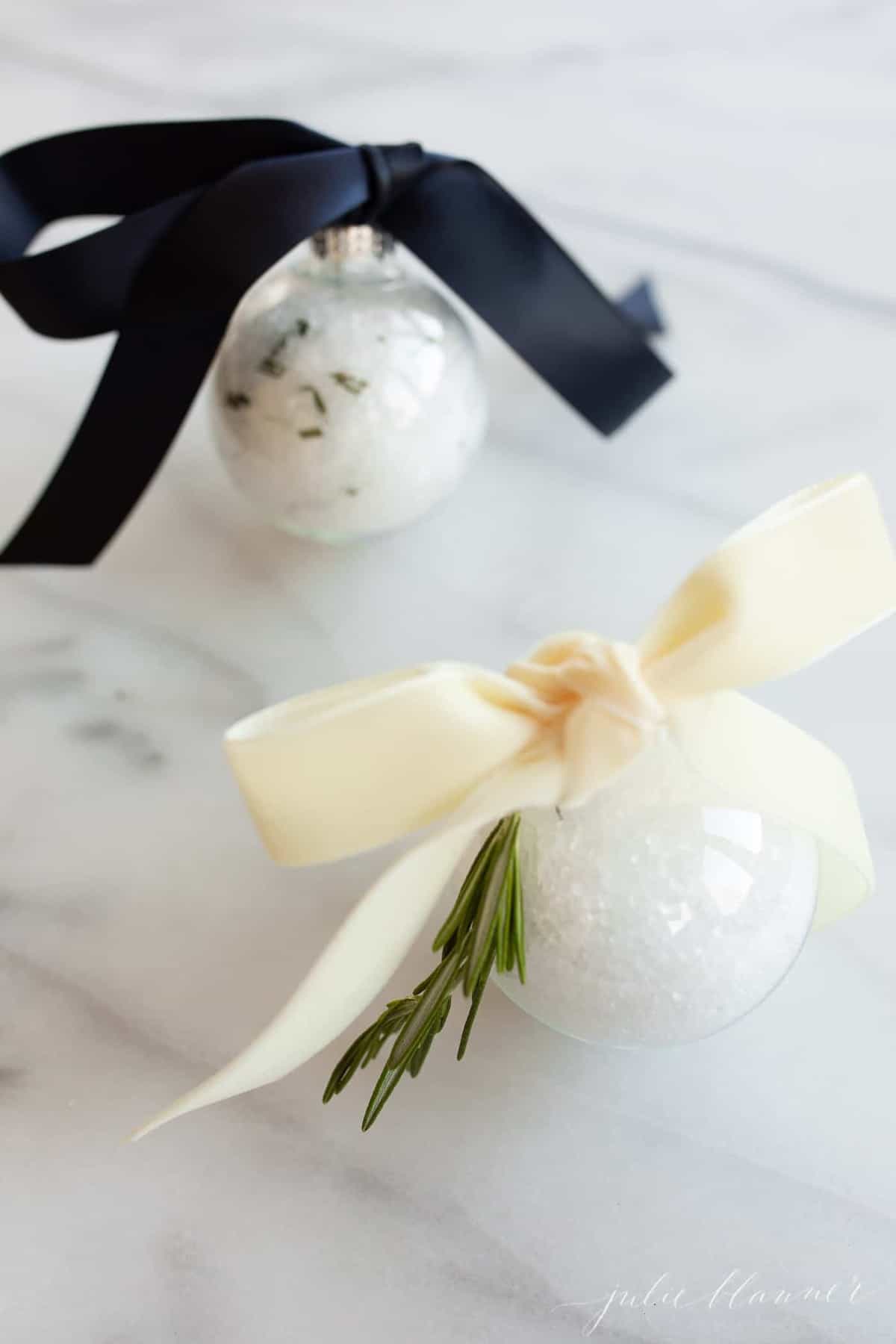 The Best Bath Salts
are homemade! They're quick, easy and most important, natural! In fact, it's far less expensive to make your own bath soak.
The best bath salts are made with just 2 ingredients you can find online and in most grocery or health food stores. You can use your favorite essential oils and epsom salts.
Epsom salts is a mineral compound of magnesium, sulfur and oxygen also known as magnesium sulfate. They're thick flakes that dissolve in bath water. They're often used in skin care as a soak or scrub.
Salt soaks often used to relieve muscle aches. Homemade bath salts are the perfect addition to a warm bath. They're said to promote a calming effect, relieve aches and pains and detoxify the skin. No matter what, they're amazing in hot baths!
You can customize them in so many ways, adding sea salt and dried herbs like rosemary or lavender.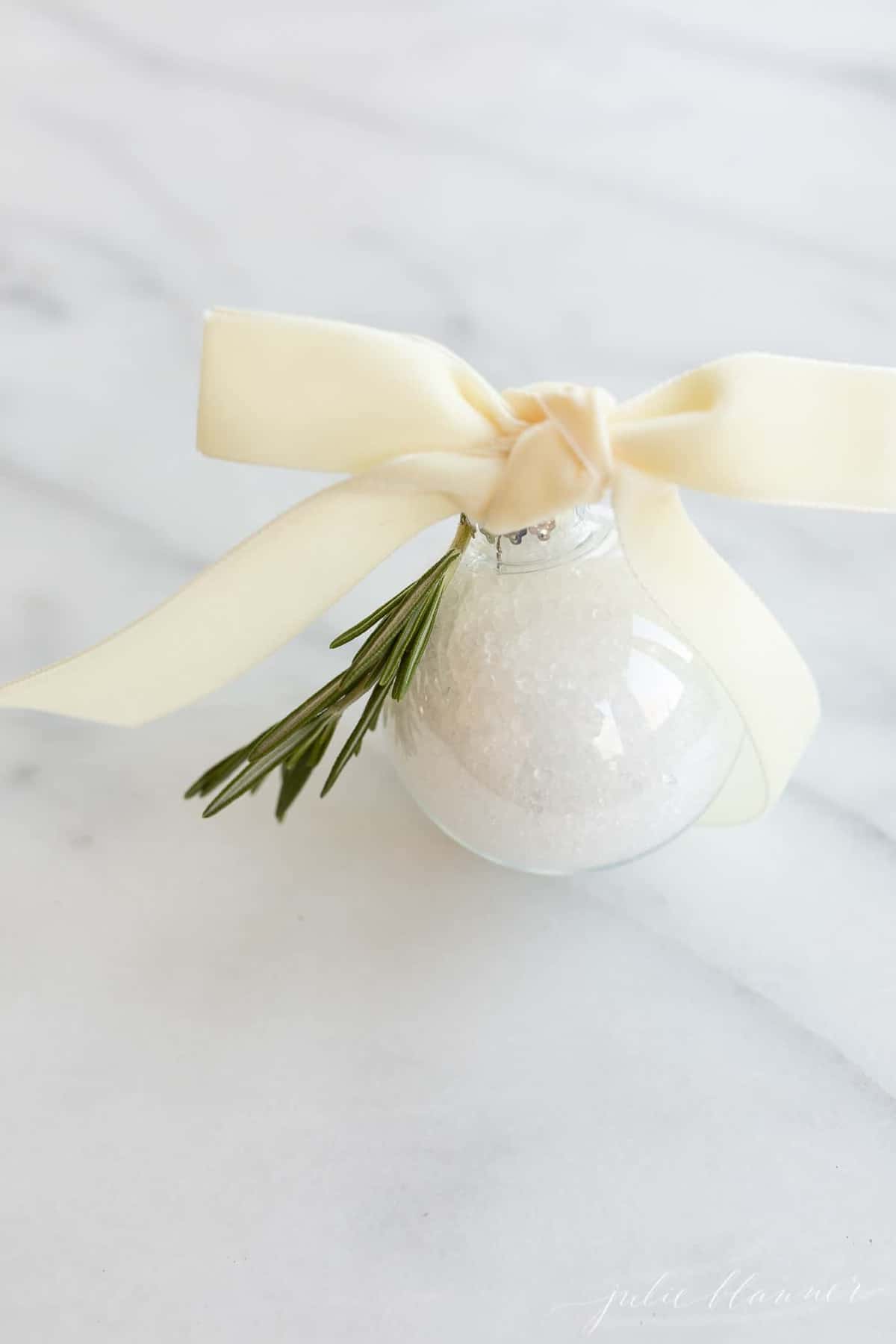 Essential Oil Bath Salts
Blended with your favorite essential oils, homemade bath salts promote relaxation and reduce stress. They offer an aromatic experience. However, you don't have to use essential oil in your bath soak if you prefer to make them without.
You can customize essential oil bath salts to fit your mood. Eucalyptus and mint can help you breathe easier while lavender essential oil is known to induce relaxation. Use a citrus essential oil to spark a little cheer.
When making a large batch, you can individually scent each ornament or jar.
When you use essential oil bath salts, they leave your skin feeling so soft! They nourish the skin – and the soul!
Some of my favorite essential oil bath salt combinations are:
Rosemary Mint
Orange Clove
Lavender Mint – For this combination, simply add spearmint oil and if you have them, 5-6 dried heads of your favorite English Lavender or French Lavender.
Eucalyptus Peppermint
Rosemary Lemon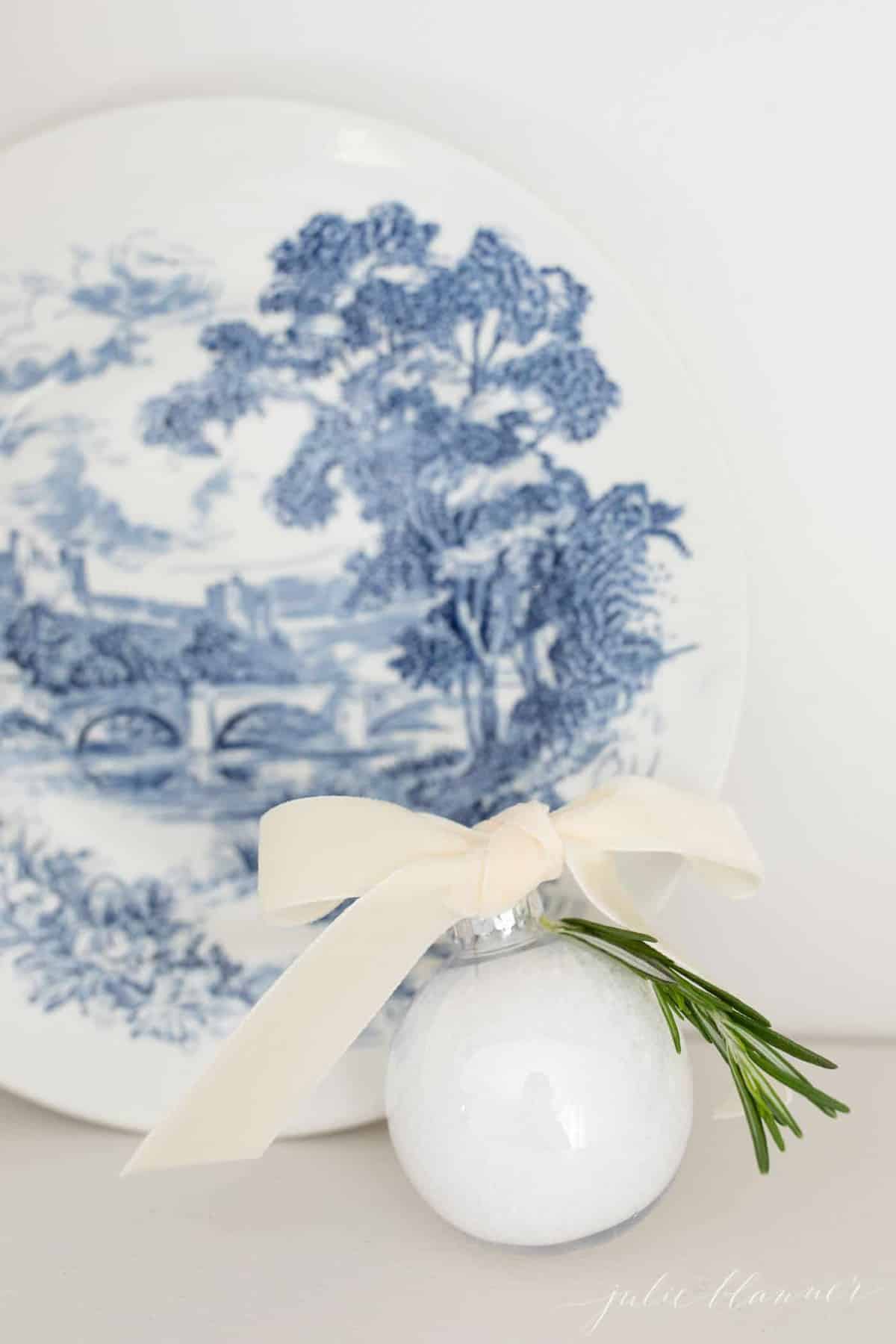 Bath Soak Ingredients
As I previously mentioned, I just use two simple ingredients to make homemade bath soak, but you can customize it in so many ways!
Variations
dead sea salt
baking soda – softens the water
dried herb (chopped fine so they easily go down the drain) – adds natural color
citric acid – makes it fizz (must use with baking soda)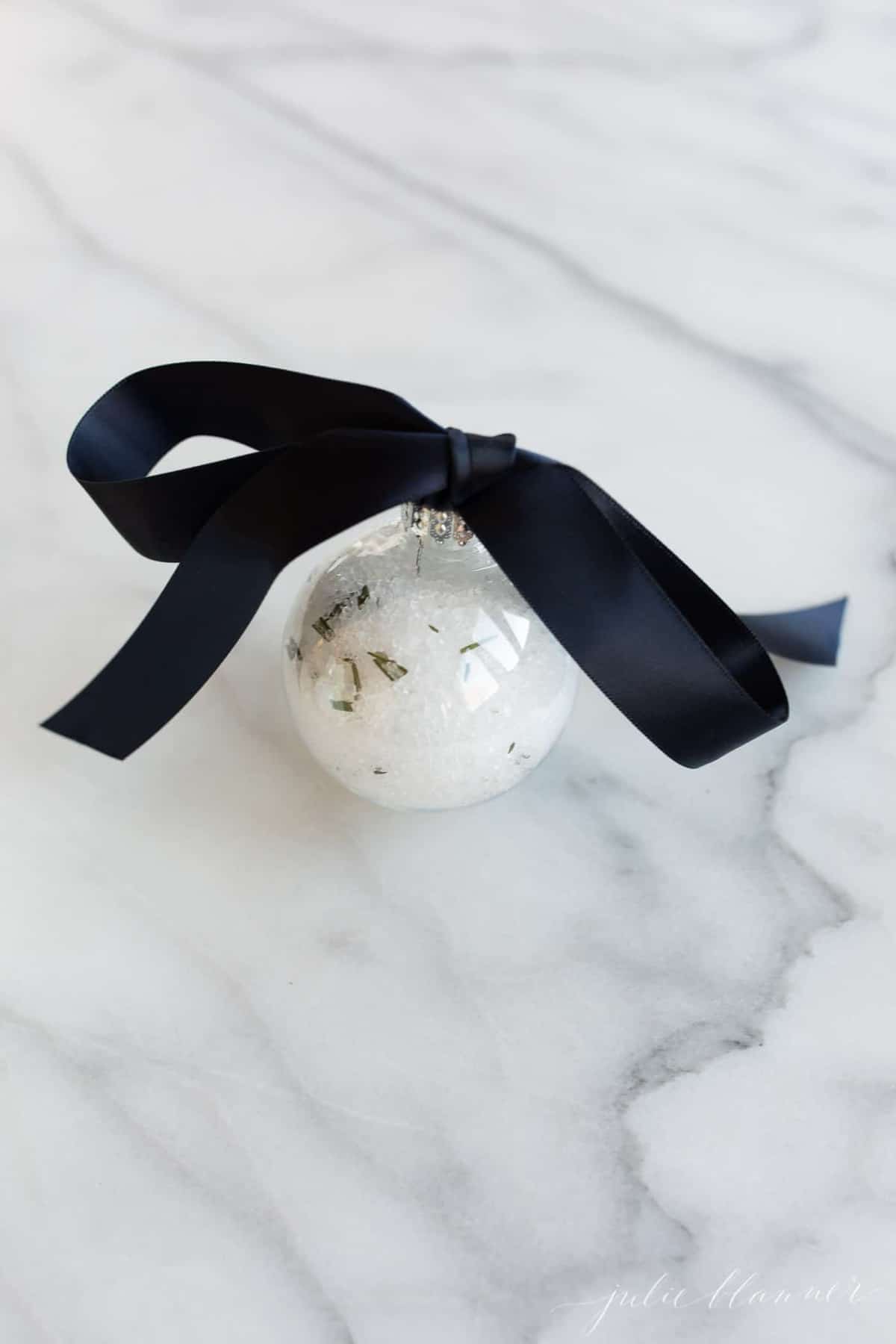 How To Make Homemade Bath Salts
In 20 minutes, start to finish you can have an abundance of homemade gifts!
Combine epsom salts and essential oil.
Stir in optional sea salt or rosemary and stir to remove any clumps.
Keep in an airtight container (glass jars or plastic ornaments) until use.
The general rule of thumb is 1 cup epsom salts to 8-10 drops of essential oil. It may seem very fragrant, but is diluted when blended with warm water.
How to Gift in a Clear Plastic Ornament
Select an ornament that has a removable top rather than an ornament that opens from the side.
Remove the top of the ornament and insert a funnel.
Spoon bath soak mixture into the ornament until full. Replace cap.
Tie with a ribbon and if desired, garnish with rosemary.
You can tie it off with one of my printable gift tags to gift! These make a wonderful Advent gift – check out our charming Wooden Advent Calendar.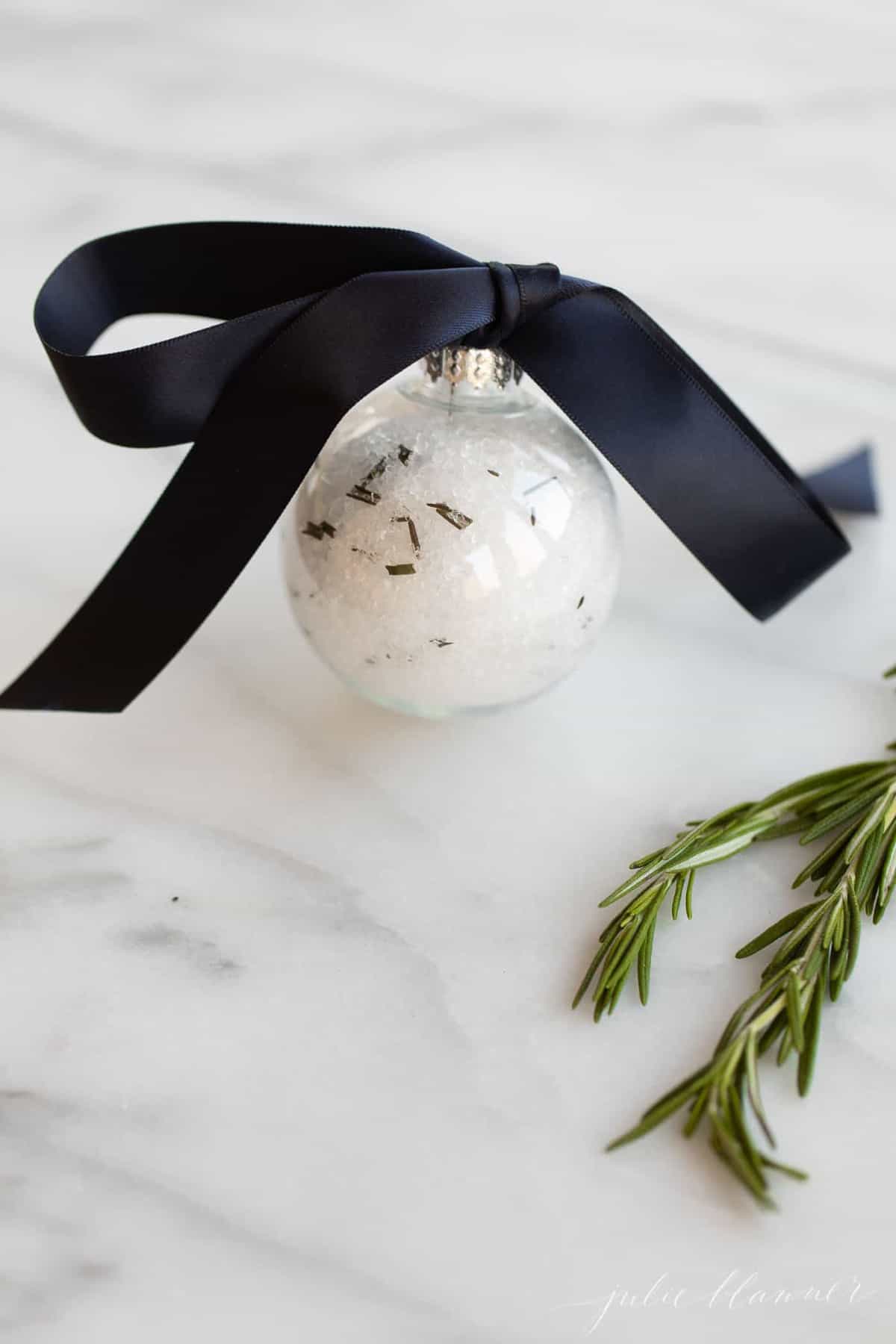 Love a fragrant homemade gift as much as I do? Don't skip this Homemade Potpourri!
Tips
For best results, store in an airtight jar (or plastic ornament) for up to a month.
You can find plastic ornaments at most craft stores.
You can also use it as an exfoliator. Simply place your homemade bath salts in your hand, dampen and scrub.
In the need of hostess gifts for the holiday season, check out my favorite Thoughtful Hostess Gifts. You can also find inspiration for stocking stuffers in this Teenage Stocking Stuffers post!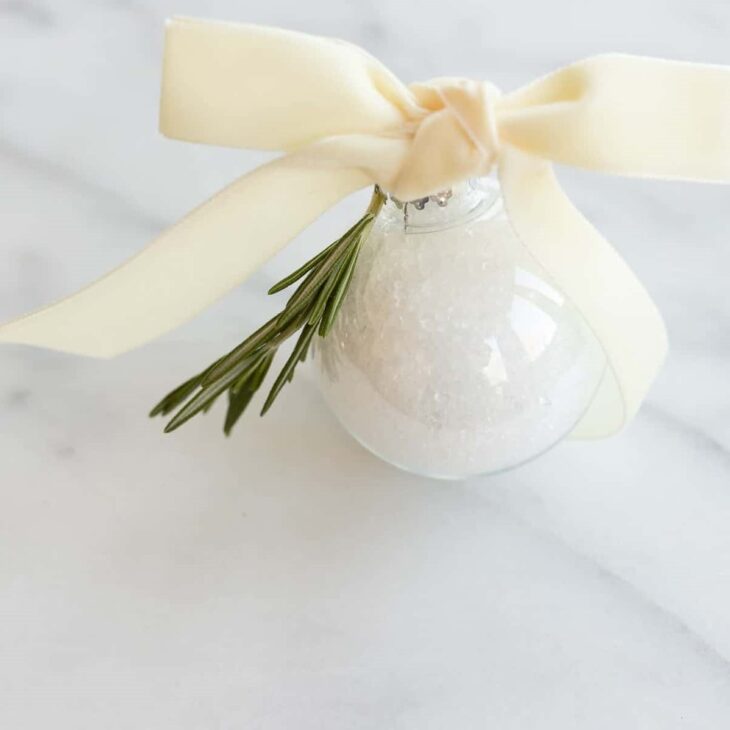 Bath Soak
Homemade bath salts or bath soak is an easy and beautiful holiday gift for yourself, friends, neighbors and teachers! They're perfect for all ages and a hit among kids and teens!
Supplies
1

cup

epsom salts

8

drops

essential oil

to preference
Instructions
Combine salt and essential oil.

Stir or shake until clumps are removed.

Store in an airtight container or add to a warm bath.
Tips
Store in an airtight container up to 1 month.
Variations:
Customize with your favorite essential oils.
Add dried herbs.
Add sea salt.
Add 1 Tablespoon baking soda.
Add citrus acid and baking soda to make your bath salts fizz.