DIY Galvanized Planters are an easy and inexpensive way to add charm to your outdoor space. In just an afternoon you can create this eye-catching planter, fill it with soil and colorful plants, and instantly improve the style of your yard.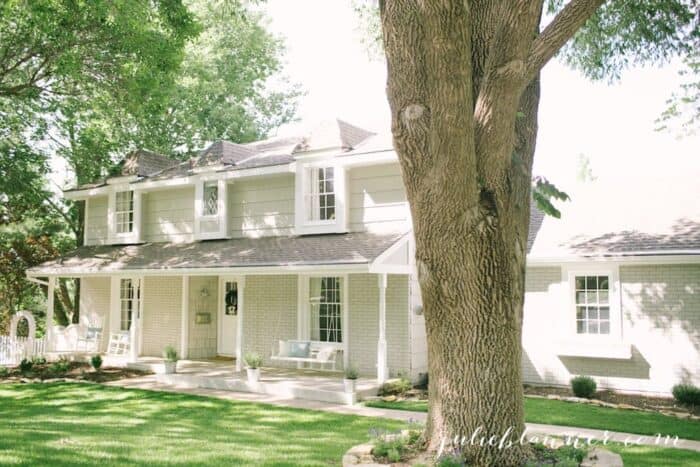 After a couple months of searching for the perfect planter, I decided to create my own. Our mailbox has an aluminum / galvanized look and I wanted to continue that texture on our front porch.
Fortunately, it was even easier than I had anticipated it being and looks even more adorable than I had hoped! That's what I call the perfect project!
We filled our planters with French Lavender, which you can read all about, too!
Galvanized planters filled with soothing plants make a porch so welcoming. It's a place where you can slow down for a while and enjoy marshmallow ice cream drizzled with raspberry sauce or lime sorbet.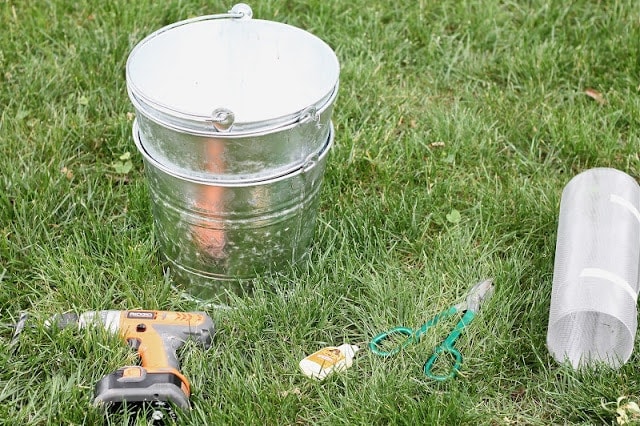 What You'll Need to Make Galvanized Planters
Galvanized Buckets – any size or shape will work
Drill
Drill Bits – 3 sizes, such as 1/4″, 3/8″, and 1/2″
Screen – metal
Wire Cutters – to cut the metal screen
Gorilla Glue, optional
*Galvanized metal has been coated with a layer of zinc to prevent rust. Since these pots will be outside housing plants, that layer of rust prevention will keep your galvanized planters looking clean and bright.
Choose the size of pot that will look aesthetically pleasing with your plant's height, keeping in mind that it will grow. The rule of thirds is a great way to choose a pot size. Either the pot or the plant should be 1/3 of the total height of your pot and plant together. And vice versa with the remaining 2/3 of the total height. Even though it is a calculated decision, the visual results always look very natural and organic.
How to Make DIY Planters
Get the full printable tutorial in the how to card below.
Make Drainage Holes – Holes allow for excess water to drain away from the roots of your plant. Too much water at the bottom of a pot can cause rotting and fungus to develop in your plants.
Add a Filter – A filter will reduce the amount of soil that comes through the holes and eliminate the need for a saucer.
Add Weight – A thin layer of gravel to weigh down the screen and further reduce any loss of soil. It just makes a mess on your patio! I had some leftover from my potted lavender gifts.
Fill with Soil – Fill with soil leaving space at the top of your planter.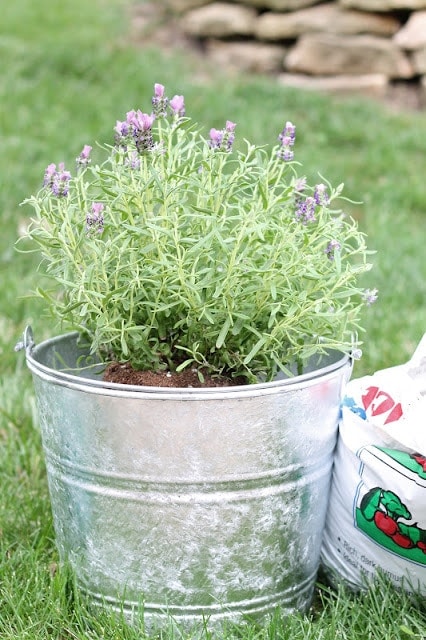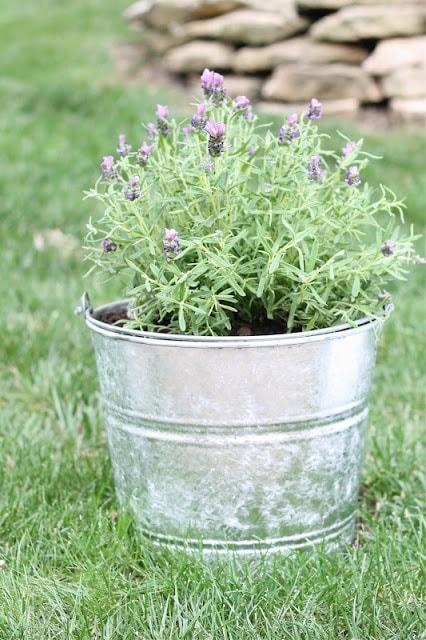 I created my galvanized planters to line our front porch. They add character along with beautiful fragrance. The metal creates a unique visual layer without overpowering the simple beauty of the plants.
Metal planters work so well as permanent features on a porch, patio, flower garden, or between garage stalls.
They are so easy to make that you could quickly assemble some for an event you were decorating for. Can you imagine lining the aisle of an outdoor wedding with them? Breathtaking!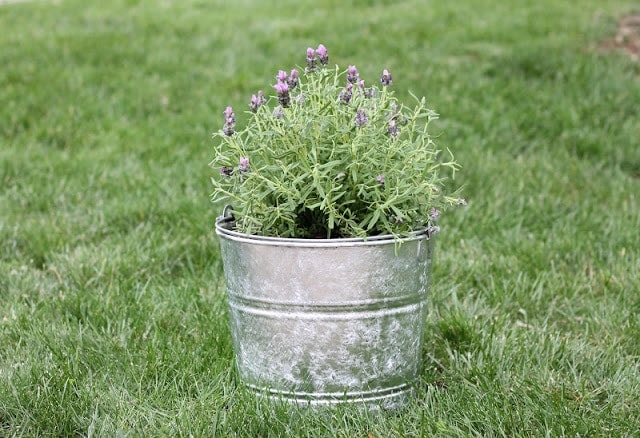 These inexpensive and easy galvanized planters add a little cottage or farmhouse charm to your home.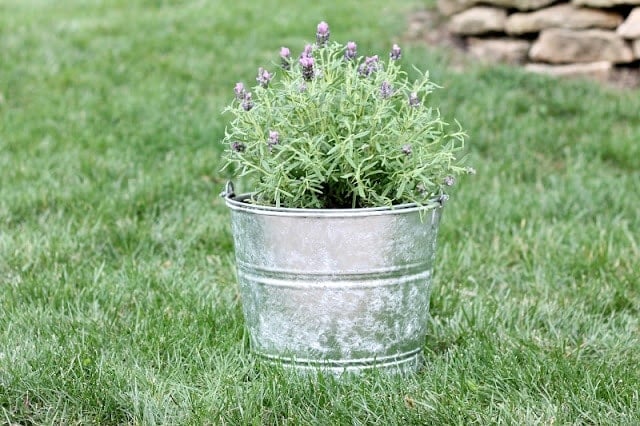 DIY Planters
Hands on time: 10 minutes per planter
Cost: $10 + plant
Will a metal pot be too hot for my plants?
Metal does absorb heat from the sun. To avoid cooking your plant's roots, make sure the pot will be in shade for some of the day.
What kind of drill bit do I need?
The metal you're drilling through isn't very thick, so a multi-purpose drill bit works just fine. You can use a metal drill bit as well. Using 3 different sized drill bits make this easy. Use the small bit first to easily break through the metal. Then use the next 2 sizes to make the hole bigger.
Is it safe to grow plants in pots coated with zinc?
Zinc can be toxic if eaten or breathed, but growing plants in galvanized planters is very safe.
More Gardening Ideas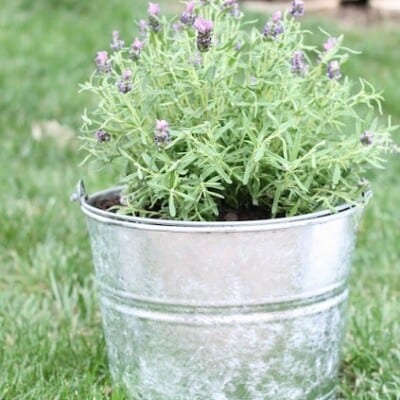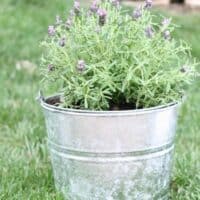 Galvanized Planters
How to make a galvanized planter.
Ingredients
Galvanized Bucket

Screen

Soil
Instructions
Drill holes in the bottle of the bucket using a series of 3 drill bits, going from smallest to largest.

Using the bottom of the bucket as your size guide, cut the screen to fit inside your bucket.

Place the screen inside your bucket. This will reduce the amount of soil that comes through the holes and eliminate the need for a saucer. You can a few drops of gorilla glue here to keep the screen from moving around, but that is totally optional.

Add a thin layer of gravel to weigh down the screen and reduce loss of soil.

Fill with dirt to proper height, using your plant as your guide.
Tips
Use any size galvanized bucket or container.