The kitchen is the heart of the home, and the right cabinetry sets the tone for the entire kitchen. Full overlay cabinet doors offer a beautiful, custom feel that blends well with any design style.
Learn all there is to know about full overlay cabinetry, and see if it is the right choice for your home!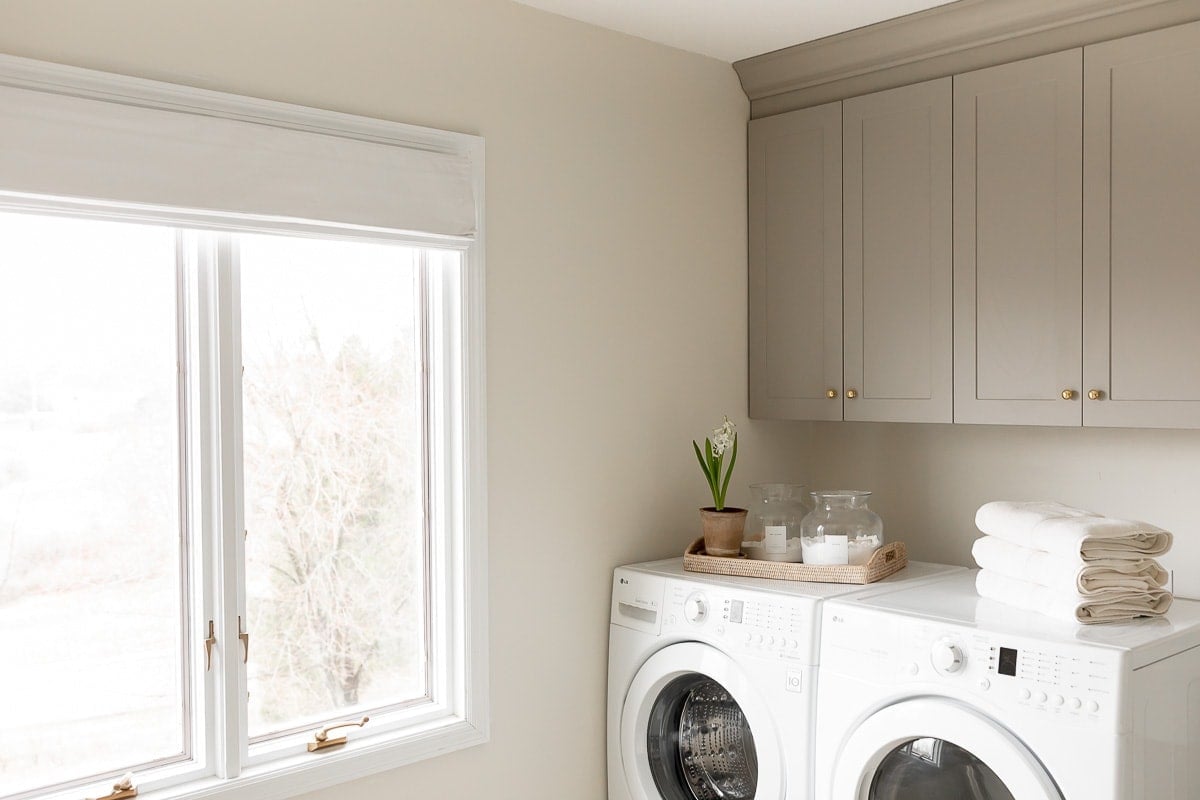 Designing your dream kitchen can be a dream come true, but making so many design decisions can also be nerve wracking! There are so many decisions to be made when planning a kitchen or bath, like cabinet knob placement or to how to hang island lights.
Full overlay cabinetry has clean lines and smooth, flush surface will make any kitchen feel less cluttered and more put together. It is built to maximize space, making it easier to store bulky items.
Best of all, they can be purchased or custom built to work with whatever design style you prefer. Your kitchen should be a reflection of you!
Years ago as we were delving into planning our kitchen remodel, there were so many decisions to make. One of the biggest was kitchen cabinet door styles – inset cabinets, partial overlay, or full overlay.
If you want a quick and easy kitchen update, learn how to update oak cabinets (without painting them) or check out this budget kitchen remodel.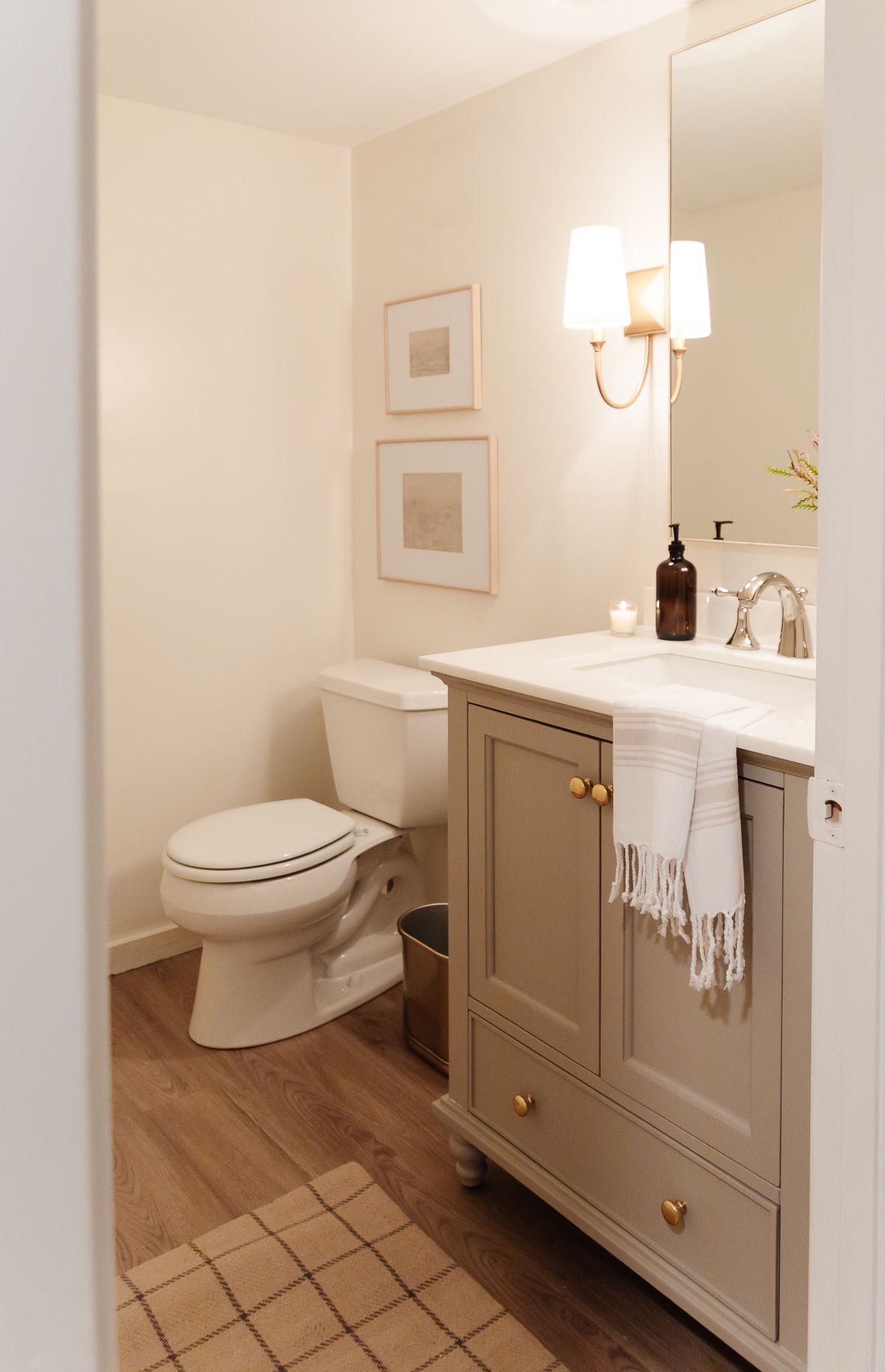 What Are the Types of Cabinet Doors?
It's important to know the basics! Here is a quick rundown on the different types of cabinet doors. Remember, the names refer to how much of the cabinet frame is visible with each type of door.
Partial Overlay, aka Standard Overlay
The doors and drawers cover only the opening, with just a little (or partial) overhang. There is a 1 1/4-inch space of cabinet face showing in between door and drawer. They rest on the front of the cabinet frame, so they don't sit flush with it. You can see an example below in our old kitchen with Oak Cabinets.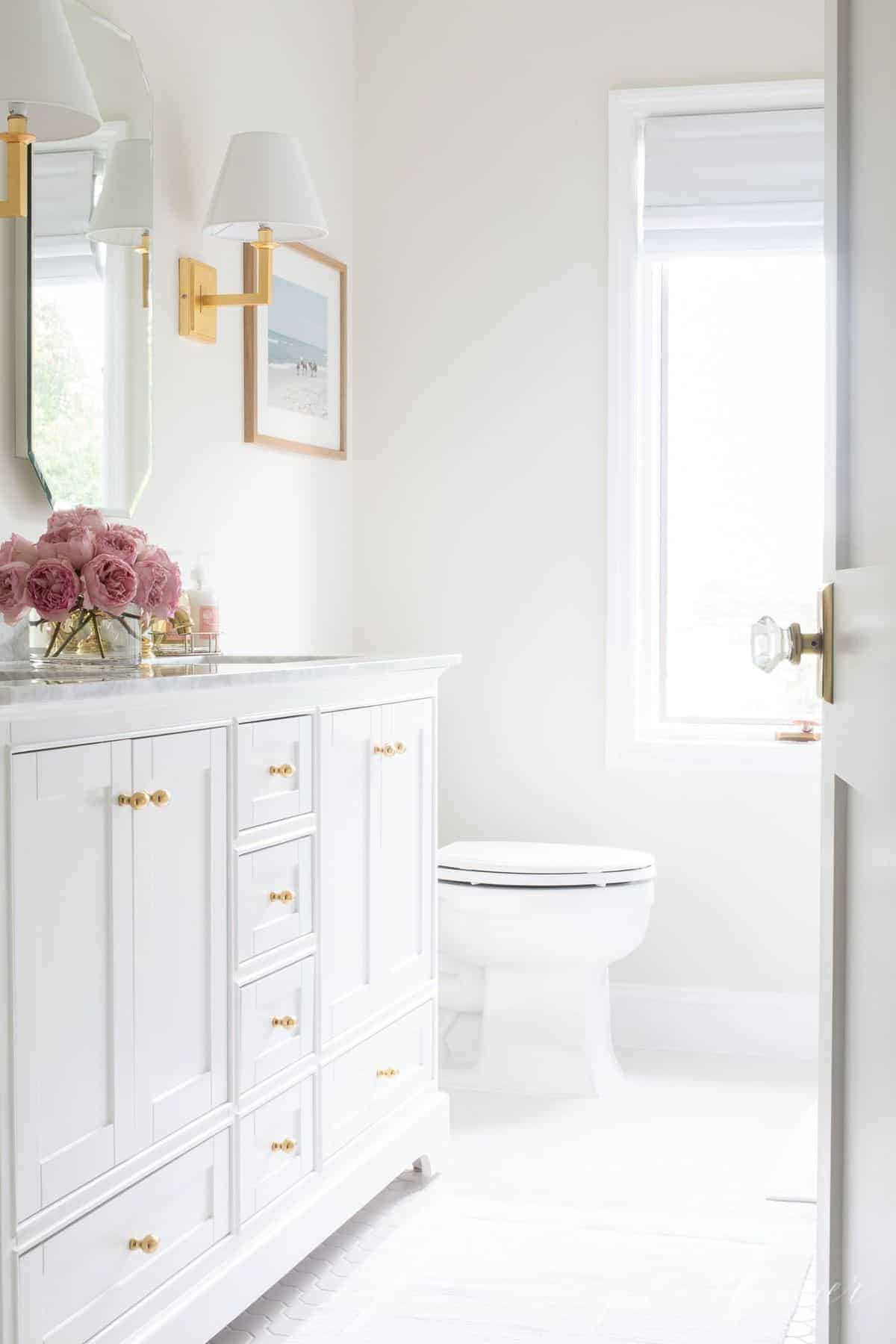 Full Overlay
With full overlay cabinetry, the doors and drawers completely cover the cabinet face, leaving only about 1/4-inch spacing between. This type of cabinets has the most potential for a modern look, but it can go with any design style.
With inset cabinetry, the cabinet doors and drawers fit inside the openings. Any detail on them is inset from the cabinet face, so they really do rest completely flush with the frame.
As a result, they have a simple, clean aesthetic. Inset kitchen cabinet doors are the most traditional. This is what I ultimately chose for our kitchen renovation.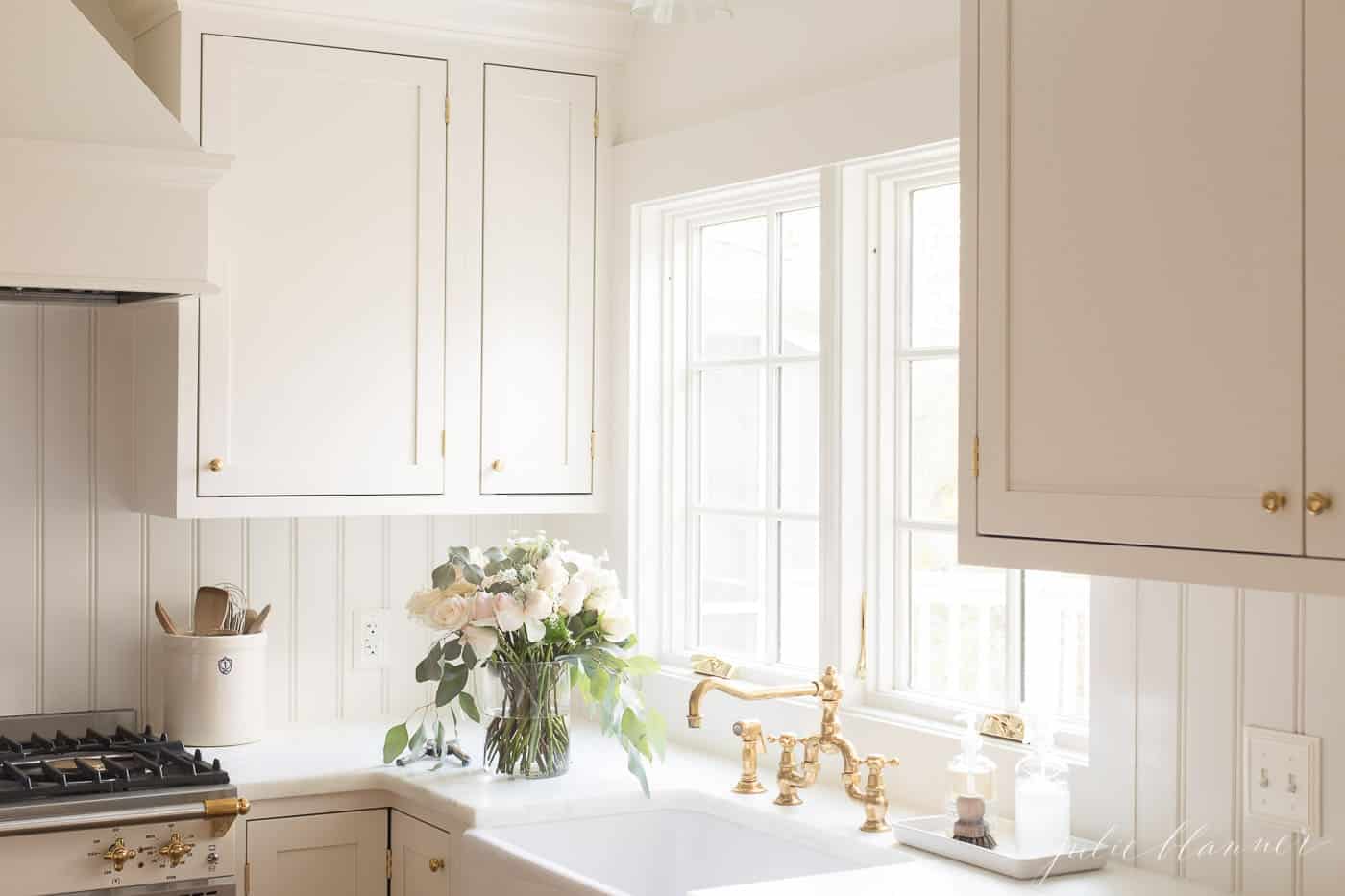 What Are Full Overlay Cabinets?
Full overlay cabinets have extra large doors and drawer fronts that completely cover the cabinet face. Once they are in place, there is only about 1/4-inch spacing in between each one.
This creates a seamless, streamlined look, since the doors and drawers all rest flush with each other and no cabinet face can be seen in between.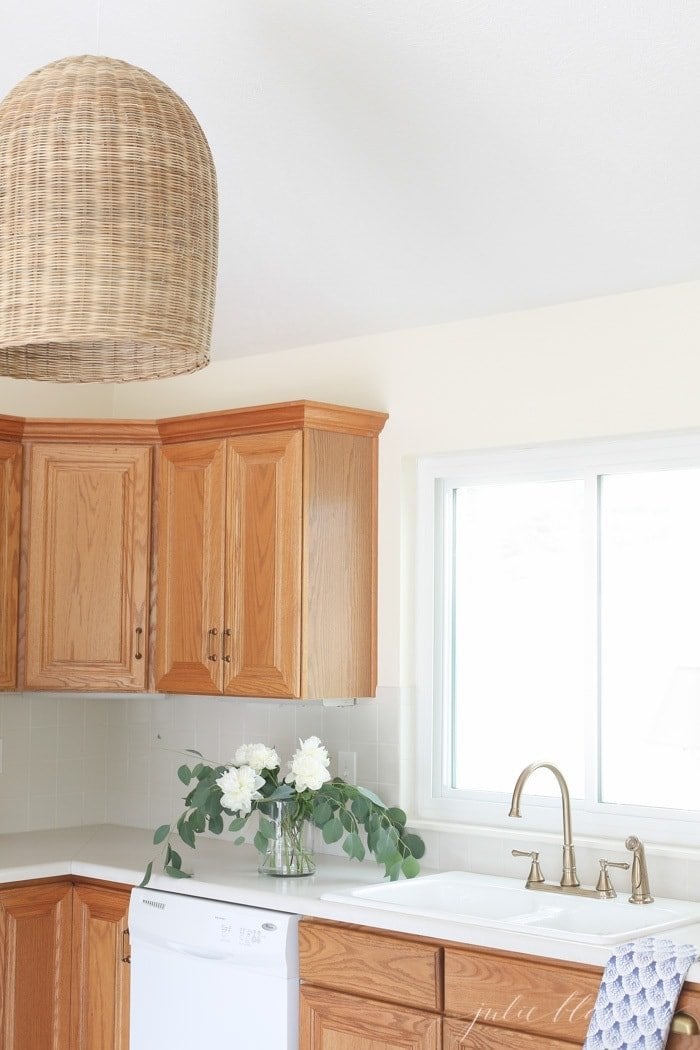 Doors can be installed with traditional framed cabinet boxes or frameless cabinet boxes. Framed boxes have a face frame constructed of solid wood attached to the front of the box. They are a little less expensive than frameless (about $1,000 less for a 10′ x 10′ space), and they are also stronger, easier to install, and offer more support for door hinges.
Frameless boxes, also called European, are simply the cabinet boxes with no face frames. They work only with full overlay doors, but together they offer the sleekest, most modern look of any cabinet and door combination.
With so many options of cabinet box type and door styles, it's no wonder why full overlay are the most popular type of cabinet doors today. There are so many ways to customize them to exactly the look you want.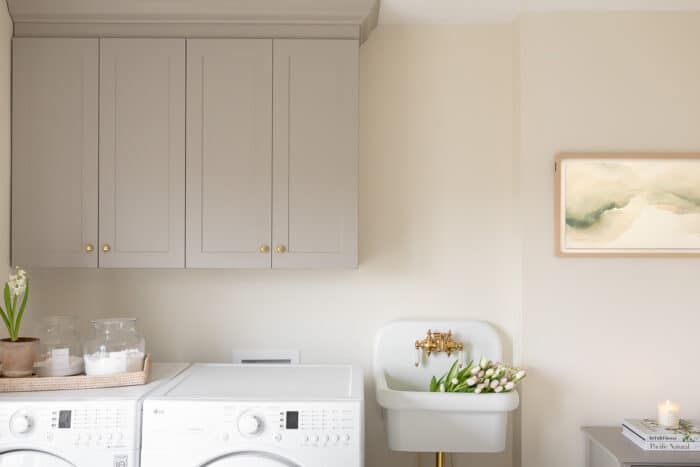 Stop by to read about how to add charm with a vintage-inspired Wall Sink for your laundry or utility room!
Pros of Overlay Cabinet Doors vs Inset
Here are some reasons that full overlay cabinets would be an ideal choice for your next build or kitchen remodel.
Similar Look – Both full overlay and inset cabinets have doors and drawers that rest flush, creating a smooth, uniform look. Full overlay cabinet doors do this by sitting over the cabinet frame, and inset doors do this by sitting inside of the frame.
Lower Cost – They have a similar look to inset cabinets, but at a lower cost! Full overlay cabinetry takes less skill to build, so it is also less expensive. This is a plus for anyone wanting to create a streamlined look for less!
More Storage – Because the doors and drawers sit on the outside of the cabinet frame, they leave more room on the inside to store items. The difference is about 7/8-inch in extra depth (the thickness of the door). Also, double cabinet doors don't need a vertical frame in between them, which means it's much easier to slide large items into your cabinets.
Modern Style – Full overlay is a newer method of cabinetry building, so it can also have a more modern look than inset cabinetry. That's great news for anyone looking to create a modern, minimal style in their home!
Any Design Style – The other great news is that full overlay cabinet doors can be built to suit any design style – shaker, craftsman, traditional, transitional, farmhouse, and more!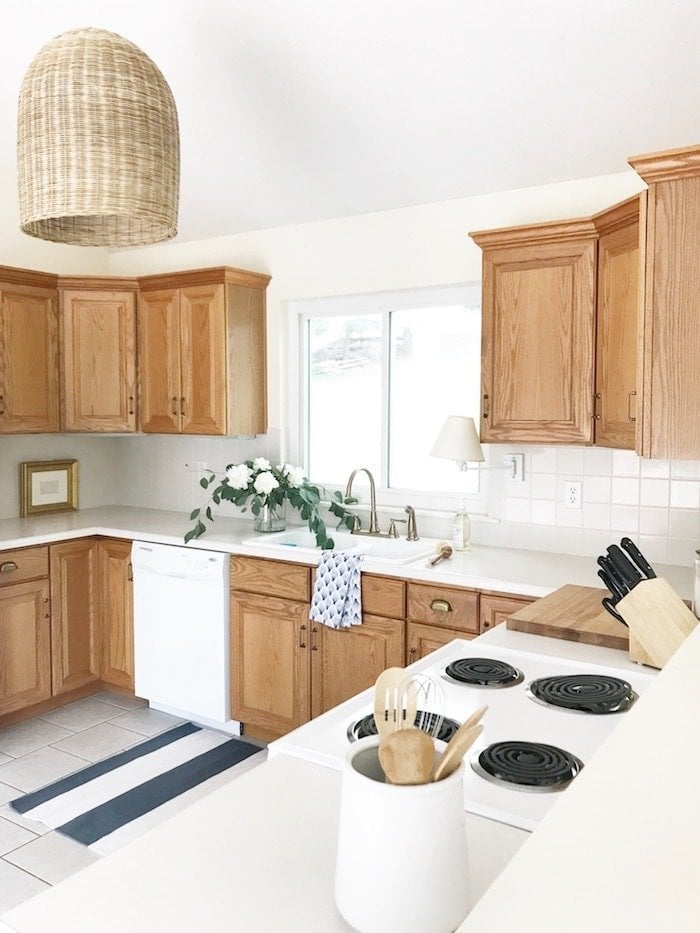 Cons of Full Overlay Cabinet Doors
As with any choice, there are some possible downsides to consider.
Hardware – Since there's only 1/4-inch in between doors and drawers, there is no space to slide your fingers. That means you will definitely have to purchase door pulls are knobs. (You'll also need hardware with inset cabinetry, but not with partial overlay.) This isn't necessarily a bad thing, since the right hardware can be the perfect finishing touch in a kitchen, but it's still something to consider!
Exposed Corners – Having all of the corners exposed means they are more susceptible to nicks and dings. This can lead to chipped paint or rounded corners over time. Corners are most protected with inset cabinets, since they are inside the cabinet frame unless the door or drawer is opened.
Full overlay is a great alternative to the slightly more expensive inset cabinet door style, but after seeing all of my favorite kitchens, I chose inset cabinetry. They are the cabinets that called to me, and I was willing to make concessions elsewhere in the kitchen to cover the extra cost.
Which cabinet door style do you love? Do you find yourself drawn to one more than another? Then that's the style for you! In the end, there isn't a right or a wrong choice. There's just whichever choice is right for you! Your kitchen should be a space in your home that is truly you, where you will love to be.
Is Full Overlay More Expensive?
Full overlay cabinet doors are 15-30% less expensive than inset. They require less skill to build, which translates into lower costs. Full overlay can achieve a similar look with the flat cabinet front, making it a desirable cost-effective option.
Is Full Overlay the Same as Frameless?
Frameless cabinet boxes work only with full overlay doors, but full overlay doors also work with frame cabinet boxes. In other words, they're not the same thing. The difference between frame and frameless boxes is the horizontal and vertical face pieces on the front of the boxes. A frameless box gives the sleekest, most modern look possible.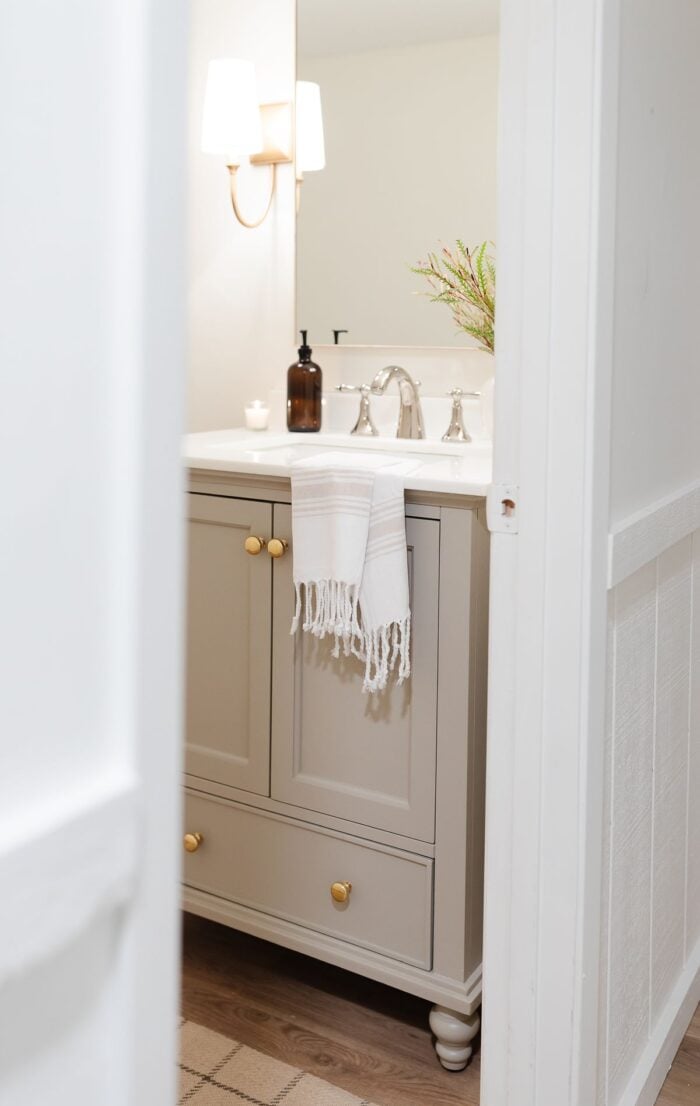 Let's stay in touch! Join our newsletter for access to exclusive content, never-before-seen photos, your questions answered, and our favorite projects. You'll receive the best design secrets delivered directly to your inbox! Sign up here!
More Kitchen and Bath Design