Fresh greenery adds color and life to any space. A preserved Boxwood Wreath is a beautiful, natural alternative to a faux wreath.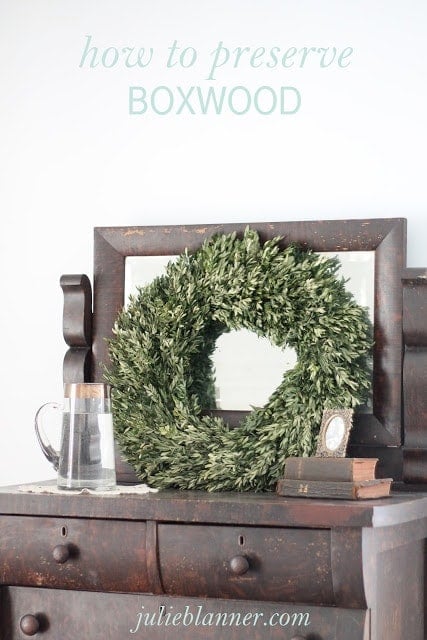 What Is a Boxwood Wreath?
Boxwood is a classic garden shrub, known for its small leaves in a lovely, vibrant green shade. It's an evergreen, so it keeps its color year round. On its own, it grows into a natural, organic shape. Or it can be trimmed into any shape desired. It's often used to form hedges, shape topiaries, or to make wreaths.
Boxwood is perfect for wreaths! Because it is an evergreen, it can be used year round without looking out of place. Its small leaves are dainty enough to fit on a small wreath form, but are also full enough to fill in a large wreath nicely. It is also extremely versatile – it can hold its own as a stand alone wreath, or you can embellish it with sprigs from seasonal flowers.
Everyone should have a boxwood wreath in their home decorating arsenal. And if it's a preserved boxwood wreath, that's even better! You get the look of a fresh wreath for longer, without having to worry about the maintenance. Don't forget to check out my tips on How to Keep Live Wreaths Fresh!
Preserved Boxwood Wreaths
I use my preserved boxwood wreath all the time. It's the perfect background for any special occasion or everyday decorating. You can see how I used it as a winter decoration in our guest room or as a subtle layer of green for elegant St. Patrick's Day Decor.
Preserved boxwood wreaths are appealing for their longevity, simplicity, and low-maintenance care – plus they look great year round in any season and for any occasion.
When choosing a place for your wreath, be aware that preserved wreaths are somewhat delicate and should not be exposed to direct sunlight or heat. If using outdoors, hang it on a covered porch or patio, away from the sun and weather. If indoors, avoid places of extreme heat, such as over a fireplace or in a sunny window.
Otherwise, don't be afraid to think beyond your front door. A boxwood wreath would look lovely layered over an entryway mirror, over a bed, on a prominent interior door, or at the end of a long hallway. It's the perfect way to add a touch of freshness and life to any space in your home.
How to Preserve a Boxwood Wreath
You can purchase Preserved Boxwood Wreaths, but they can be expensive and are often dyed to achieve their color. Fortunately, it's easy to preserve your own boxwood wreath. You can certainly make your own wreath from scratch using boxwood cuttings, but it's easiest to purchase an already-made wreath. I often find them at Trader Joe's for just $10 during the holidays.
I use Design Master Foliage Sealer. Basically, it seals in the moisture, extending the life of your wreath. It's user-friendly, too – it comes in a spray can and goes on exactly like a spray paint or adhesive would. I love that it doesn't change the appearance of the boxwood at all!
To preserve your own boxwood wreath, follow these easy step-by-step instructions:
In an exterior space, cover the ground to protect it from overspray. I used old cardboard, but you could also use a tarp or old blanket.
With the wreath facedown, spray the back of your wreath thoroughly. Make sure to cover it with spray completely, including the sides. Allow to dry completely.
Flip wreath over and spray the front in the same manner. Let dry.
Hang using ribbon looped through wreath or a small hook attached to back. Can hang from wall using a nail, wall hook, or 3M Command hook for easy removal.
Note: For your safety, wear a mask to protect your lungs, and make sure your work area is properly ventilated.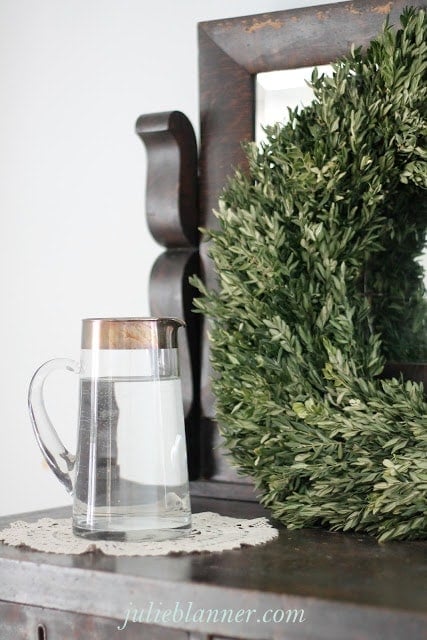 Now stand back and enjoy the feeling that a fresh green wreath will add to your home. You'll love it!
How to Take Care of Preserved Boxwood
Since this isn't a faux wreath, you will have to take care of it. The good news is the maintenance is minimal to keep it looking beautiful and fresh.
Real boxwood wreaths can last up to two weeks before they start to look wilted, brown, and dried out. Preserved boxwood wreaths can last anywhere between 2 – 5 years, depending on where they're displayed and how they're cared for. Isn't that amazing?
First, follow the guidelines I mentioned above about where to hang your wreath. Basically, keep it out of direct sunlight and away from heat and extreme weather. Next, simply mist it with water once a month to keep it looking its best. Keeping a spray bottle filled with water on hand is an easy way to do this. Set a reminder so you won't forget!
If you decide you want to store it away, do so on its back in a flat, lidded box. Store it away from light and heat. You'll still want to mist it even when it's in storage, so make sure you have easy access to it.
Yes, it's a little bit of work, but a light misting once a month seems worth it to me to have a beautiful, natural wreath year round, year after year!
How long does preserved boxwood last?
Real boxwood lasts up to 2 weeks, and preserved boxwood can last between 2 and 5 years, depending on how it is displayed and cared for.
Can you use a preserved boxwood wreath outside?
Yes, preserved boxwood wreaths can be used outside, but only under certain conditions. They should be hung away from direct sunlight, heat, and extreme weather. The best places for preserved boxwood wreaths outside are covered patios and porches.
How do you take care of preserved boxwood?
Other than displaying your wreath properly, caring for it is as easy as lightly misting it with water once a month. Fill a spray bottle with water and keep it on hand for the job. If your wreath seems to be drying out, mist it a bit more often, perhaps every few weeks. To store, lay wreath on its back in a flat, lidded box and store in a cool place away from sunlight and heat.
More Wreaths You'll Love
When your preserved boxwood does finally start to dry out beyond repair, you can extend the life of your wreath by spray painting it a color – white, gold, or silver would be lovely and versatile for any occasion.
Alternatively, you can let the leaves dry out, then embellish the wreath with seasonal flowers and faux fruits. This would make a perfect autumn wreath, don't you think?
Don't forget to check out these other beautiful door decorations, too!
More Ideas