Learn how to host a simple and elegant St. Patrick's Day party. Think beyond the clichés, and create a fun and festive party.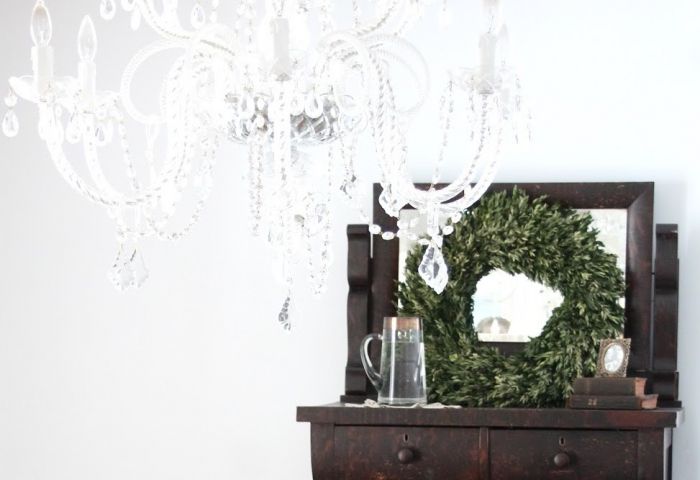 When you think of St. Patrick's Day, you most likely imagine leprechauns, pots of gold, and A LOT of green. You can throw a quick, easy, and elegant St. Patrick's Day party for you and your friends, without a single leprechaun in sight!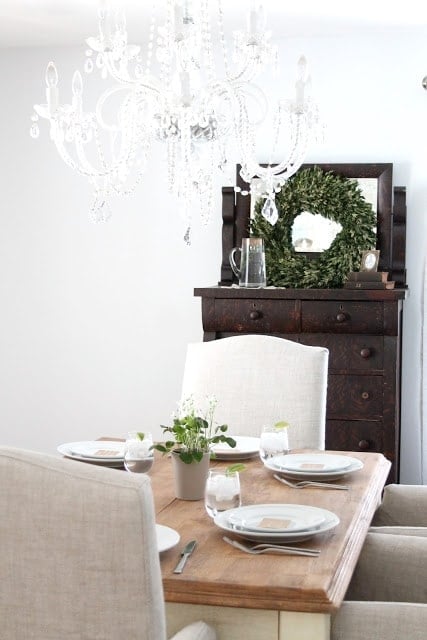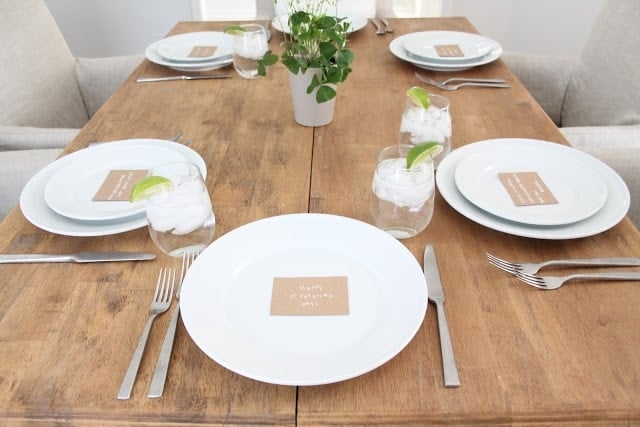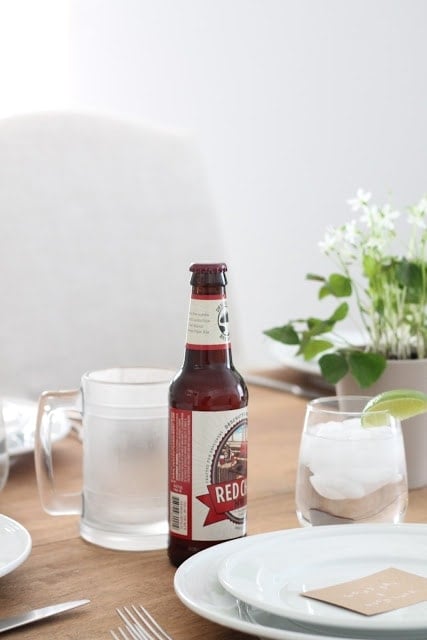 I love to entertain, but I have to keep it simple! Fortunately, St. Patrick's Day can be a no-fuss holiday. All you need for the perfect party is a few great friends, good food, and festive drinks. These Lucky Charm Treats are a fun addition, too!
You already have everything you need on hand to host a St. Patrick's Day party. There's no need to rush to the store to buy green tablecloths, napkins, and place settings.
You also don't need to wear a broad-rimmed derby hat and green polka-dot tie. Your St. Patrick's Day party can be simple, tasteful, and classy with just a few small decorations and special touches.
Check out more great ideas for hosting a housewarming party, wine tasting party, casual dinner party, and even a last-minute birthday party. With these tips and tricks, you'll be able to relax and enjoy your celebrations!
St. Patricks' Day Party Ideas
A few simple, well-placed decorations go a long way. Rethink your existing decor to see how you can integrate it into a St. Patty's Day theme. I layered a small side table with a preserved boxwood wreath, pitcher of water for easy refills, and two family heirloom Bibles.
The wreath is a subtle touch of green. It is natural and fresh, and helps keep the atmosphere feeling light.
The Bibles, of course, are a nod to Saint Patrick himself. As the patron Saint of Ireland, he is credited with spreading Christianity throughout Ireland during the 5th century. Plus, the vintage look of these Bibles helps to create an Old World feel that is so charming.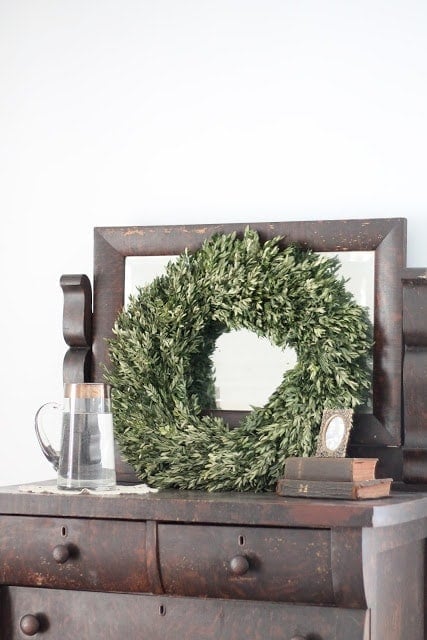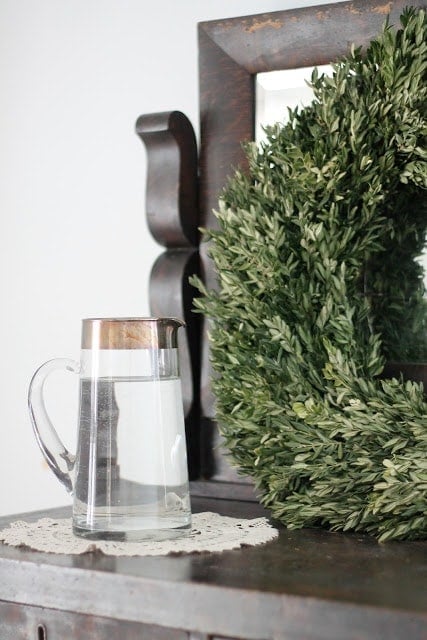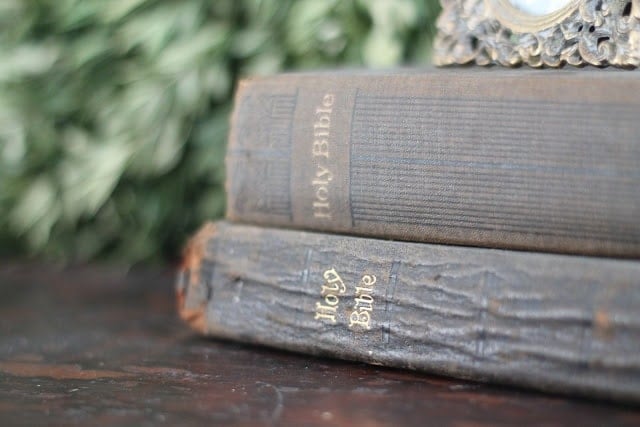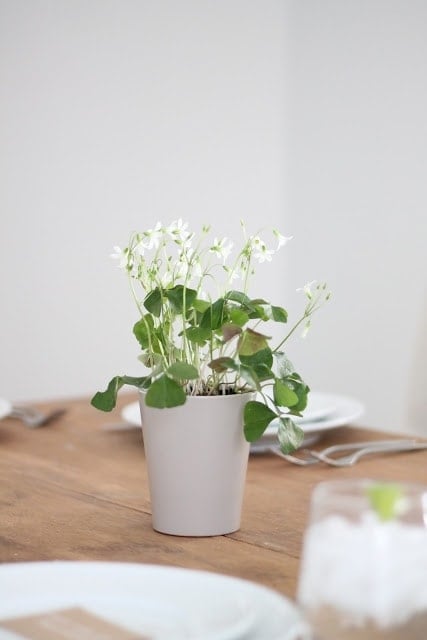 Of course, clover plants make the perfect accent for a St. Patrick's Day party. They are sweet and delicate, and the subtle green is enough to compliment a simple table setting.
Simply pot them in a container for a simple centerpiece. You can also add them into a rope vase for added texture.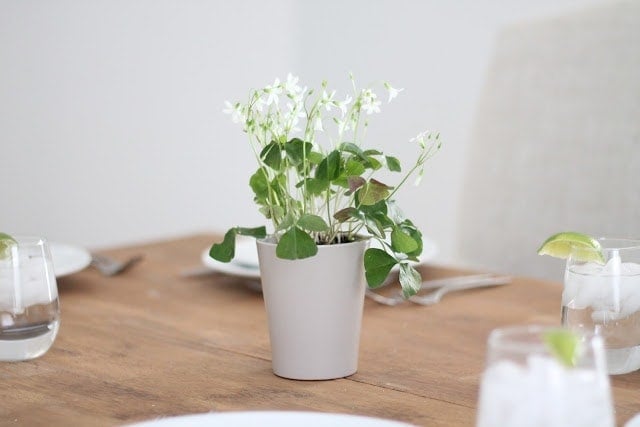 Lucky Place Cards
We can all use a little good luck and inspiration from time to time. As musician Jimmy Buffet wisely sang, "With a little love and luck, we'll get by."
So why not spread some good luck to your friends and family? I made a simple card for each place setting, each with its own little handwritten bit of luck and wisdom. This is such a simple gesture, but it will add a personal touch to your St. Patrick's party that your guests are sure to appreciate.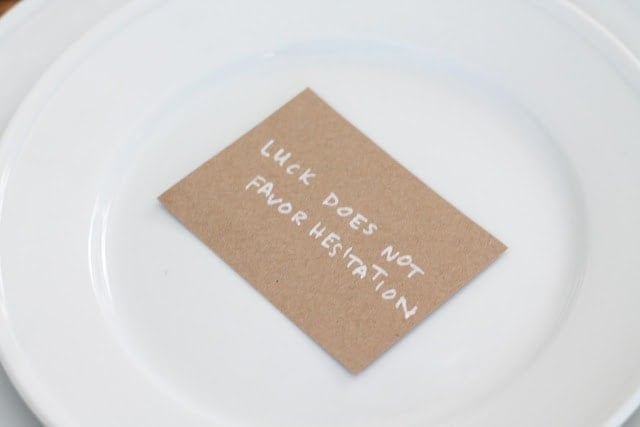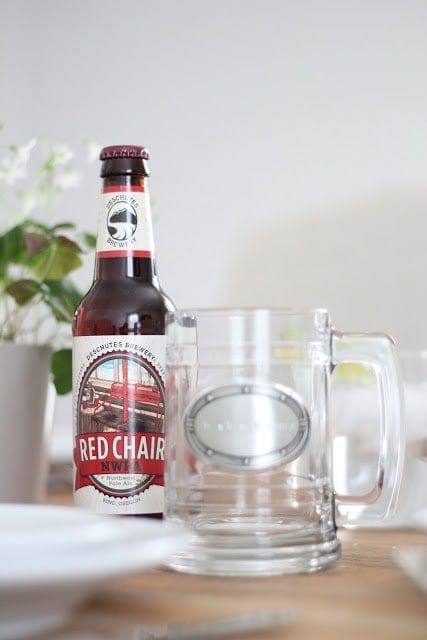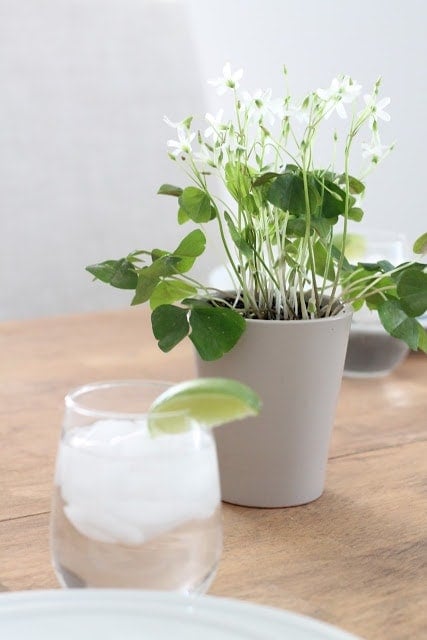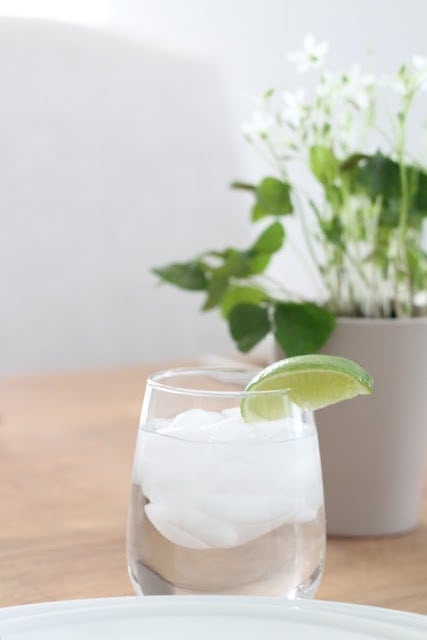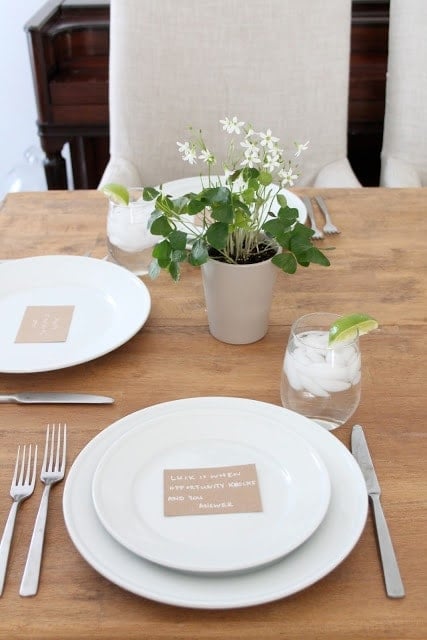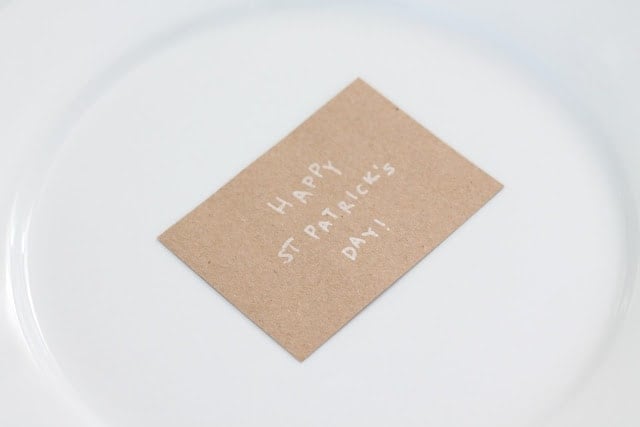 A wedge of lime in each glass added another touch of green, and good beer was a must have. As a result, we had a stylish, classy St. Patrick's party – the perfect opportunity to gather with good friends!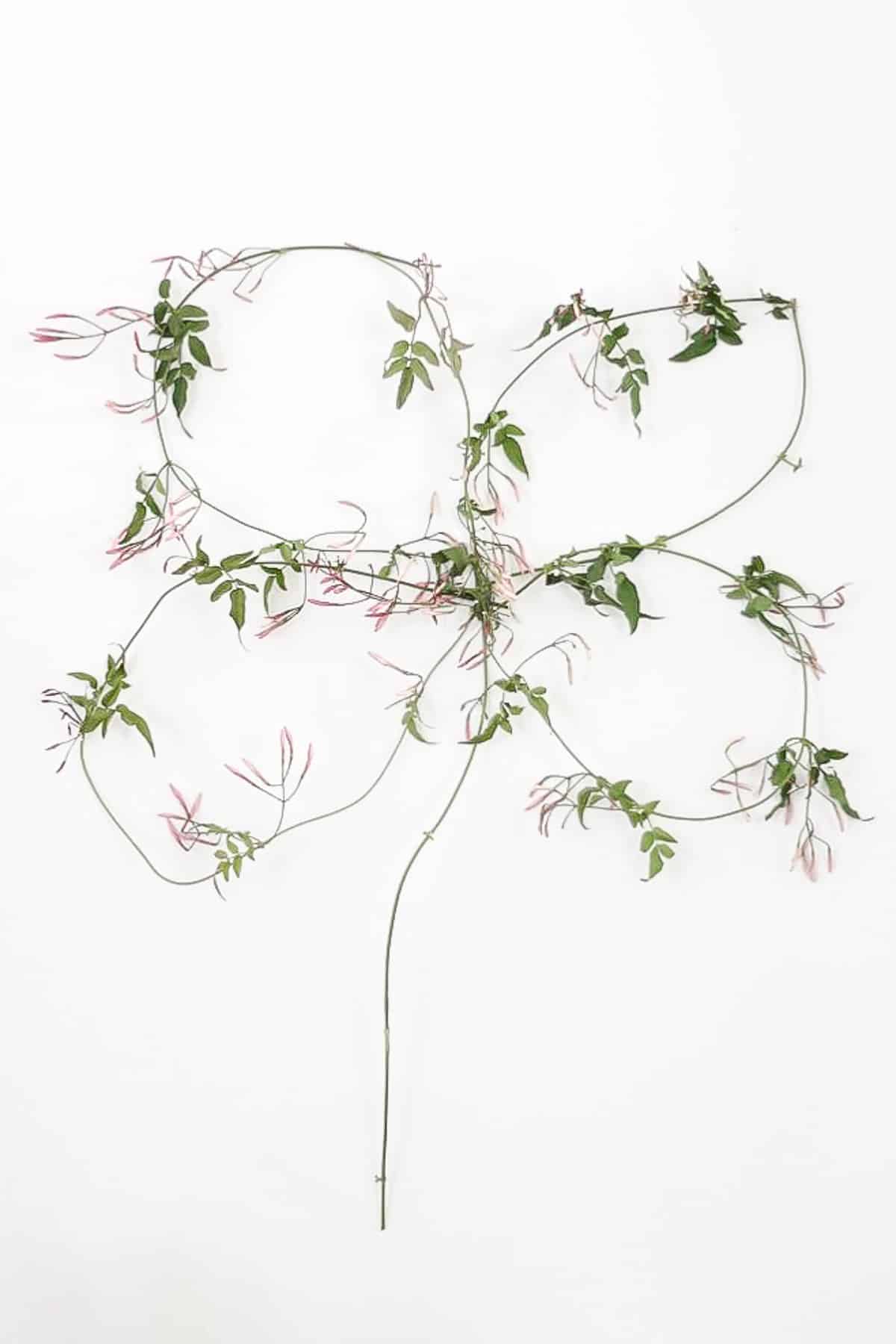 More St. Patrick's Party Ideas
Did you think I'd stop at showing you just one party? Not a chance – I've got you covered on all of my best ideas, tips, and tricks. So here is another fresh take on a St. Patrick's Day party.
It's no surprise, but you still won't find any cheap, plastic, or bright green party decor here either. That's because I replaced it with plenty of beer, wine, cheeses, pie, and laughter with good friends!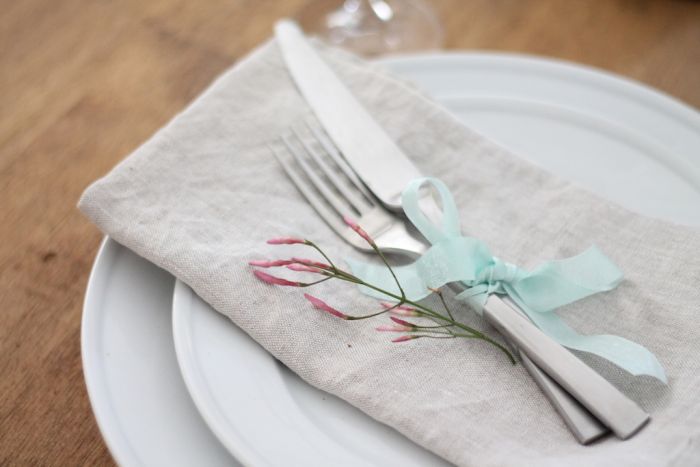 I like to think outside of typical holiday colors and decorations. For instance, my color palette for this party included mint, green, hints of pink, and flax.
I tied each place setting with pretty mint ribbon and embellished it with a snip of jasmine. The effect was so subtle and sweet, layered over a neutral linen napkin and white plates.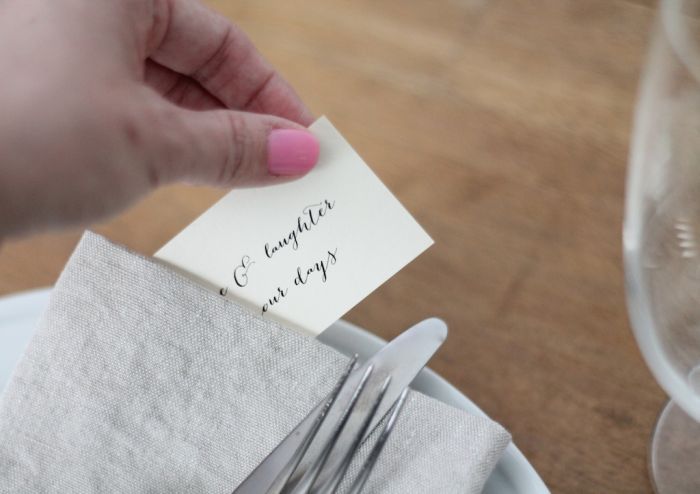 Irish Blessing Place Cards
As an added thoughtful touch, I slipped a card printed with an Irish blessing into each folded napkin. Irish blessings are a traditional way to celebrate weddings, baby christenings, family gatherings, and other special occasions.
Irish blessings speak of light, goodness, happiness, and health, among other blessings. And can't we all use more positivity in our lives? Here are just a few of my favorite Irish blessings: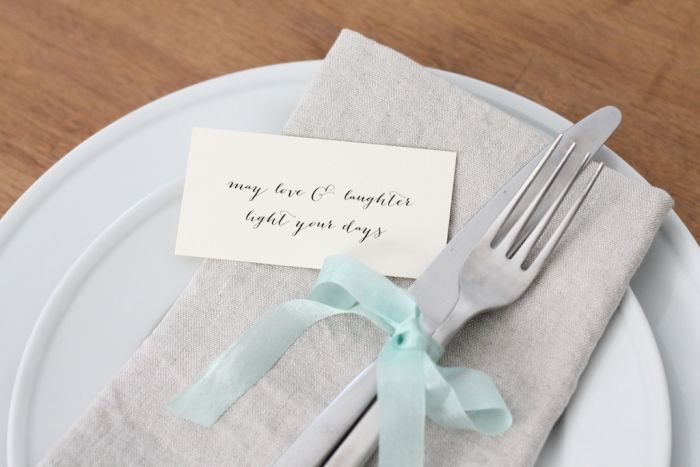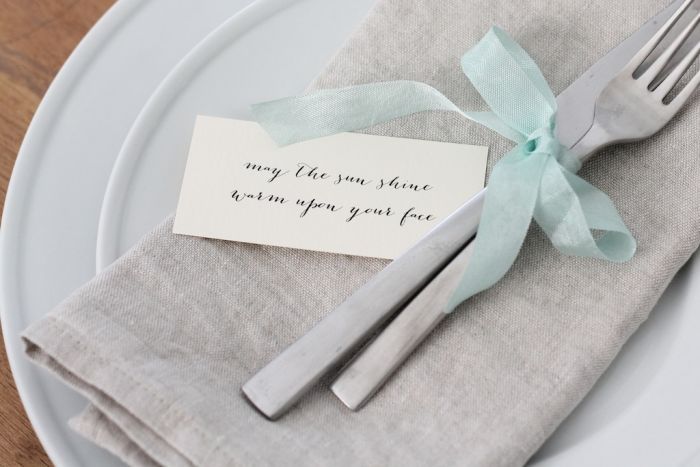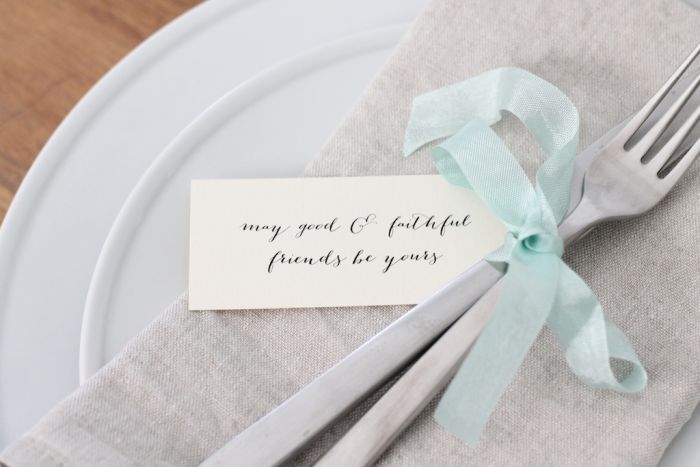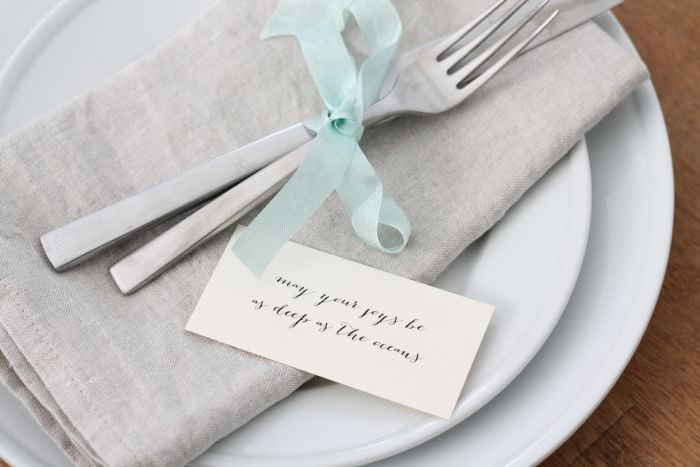 Don't these place settings look so lovely and inviting? Their simplicity only adds to their charm. Remember, a party doesn't have to be elaborate to be perfect.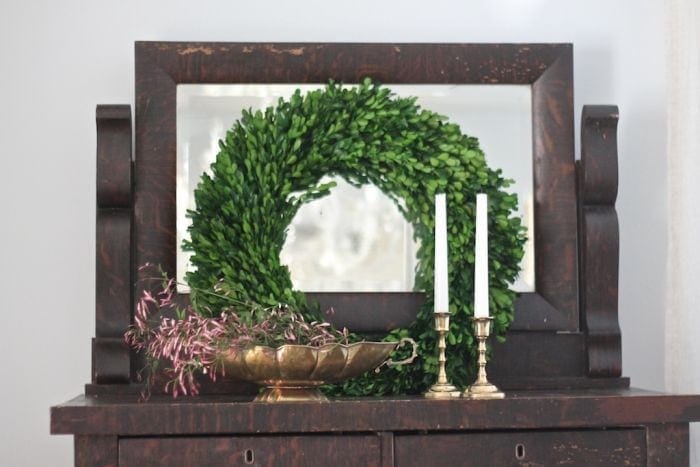 I used a boxwood wreath as the foundation for a charming vignette. I layered it with my brass pedestal bowl filled with additional jasmine cuttings, and I added two brass candlesticks.
There's nothing gimmicky here – just understated elegance for the perfect party backdrop.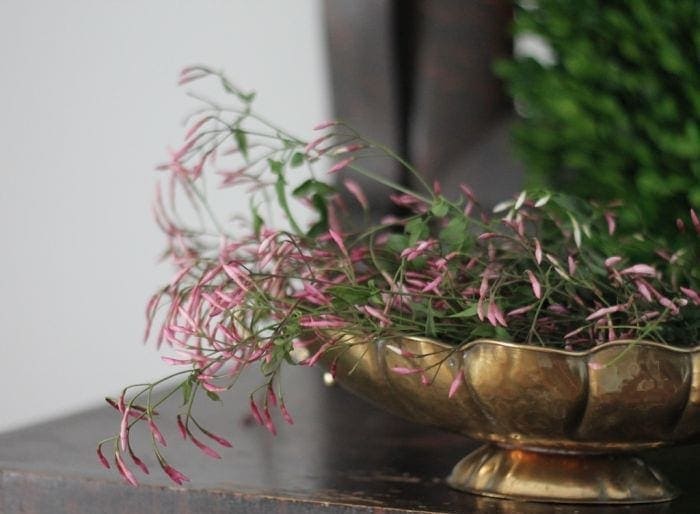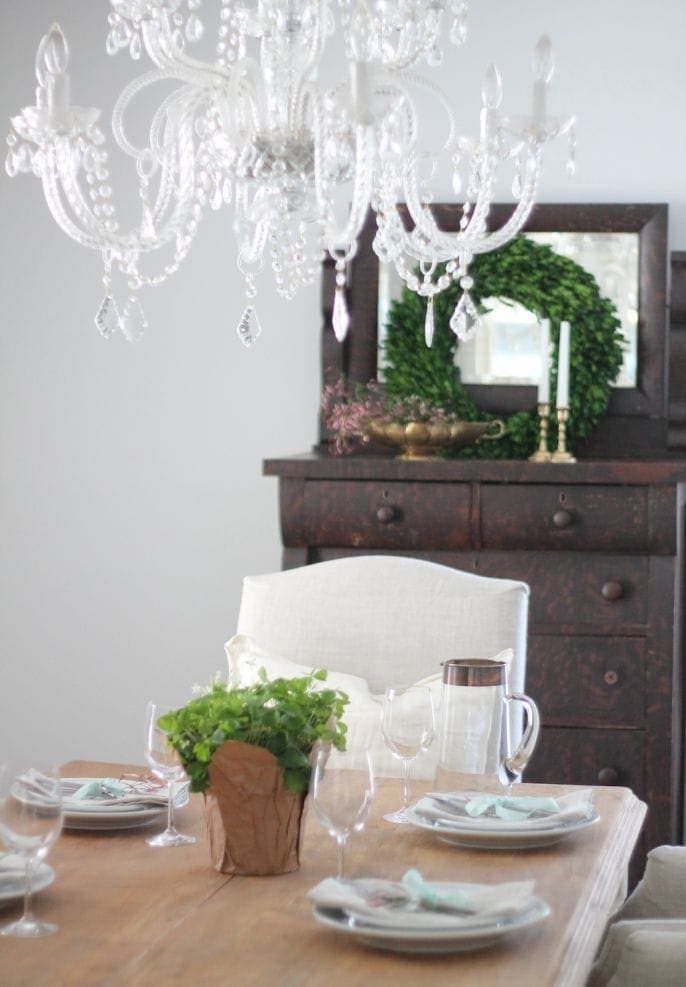 Potted Clover Centerpiece
This time I wrapped a clover plant in craft paper for an easy, neutral St. Patrick's Day centerpiece. The paper adds just the right amount of texture to the table, while still keeping things simple and light.
I love how clover closes up at night. It is such a darling little plant. Trust me when I tell you to get yourself a clover plant! It will surely get you into the St. Patrick's Day spirit.
A small potted plant like this makes great gifts as well. You could even use these sweet clover plants as party favors. Simply enjoy them as table decorations, then send them home with guests. It's just another thoughtful gesture to show your guests that your party is about them, not the holiday hoopla.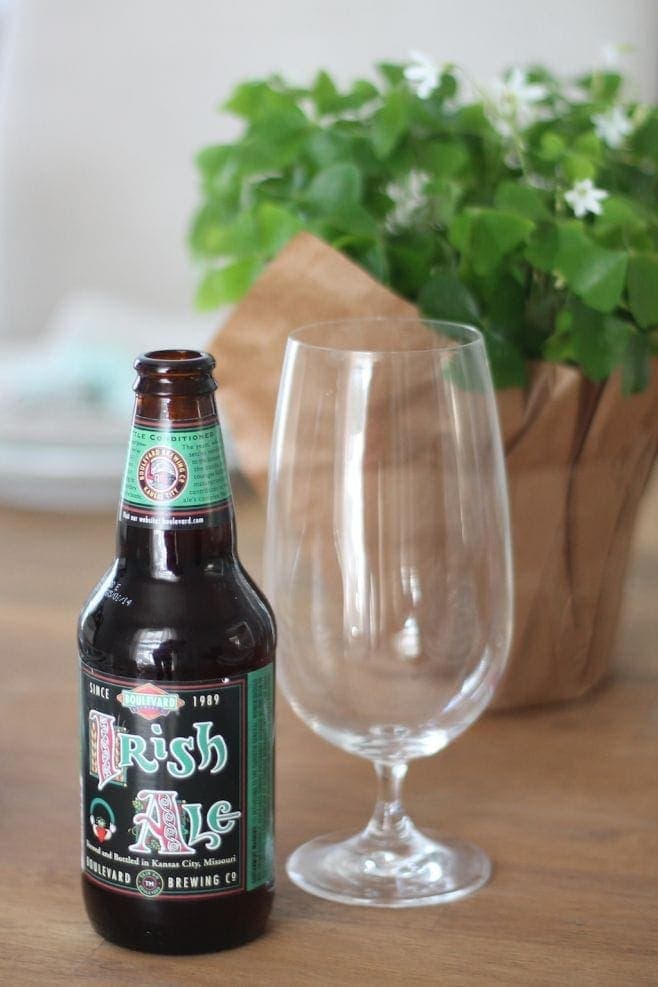 Irish Beer and Wine
Of course we served Irish beers, both local and from Ireland. The bottle itself served as a subtle decoration, reminding us to relax and have some St. Patrick's Day fun!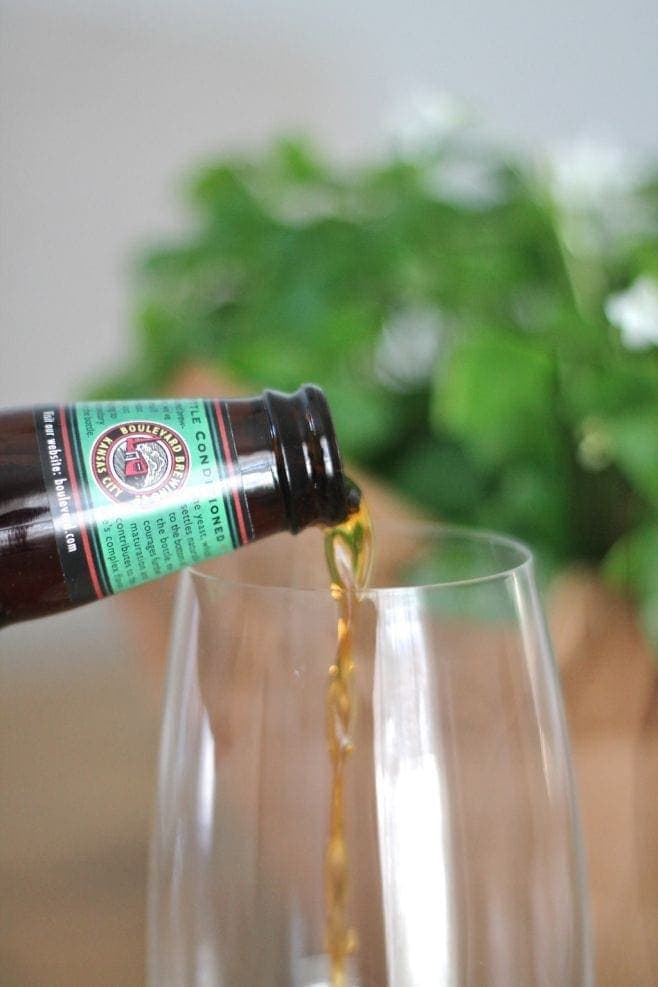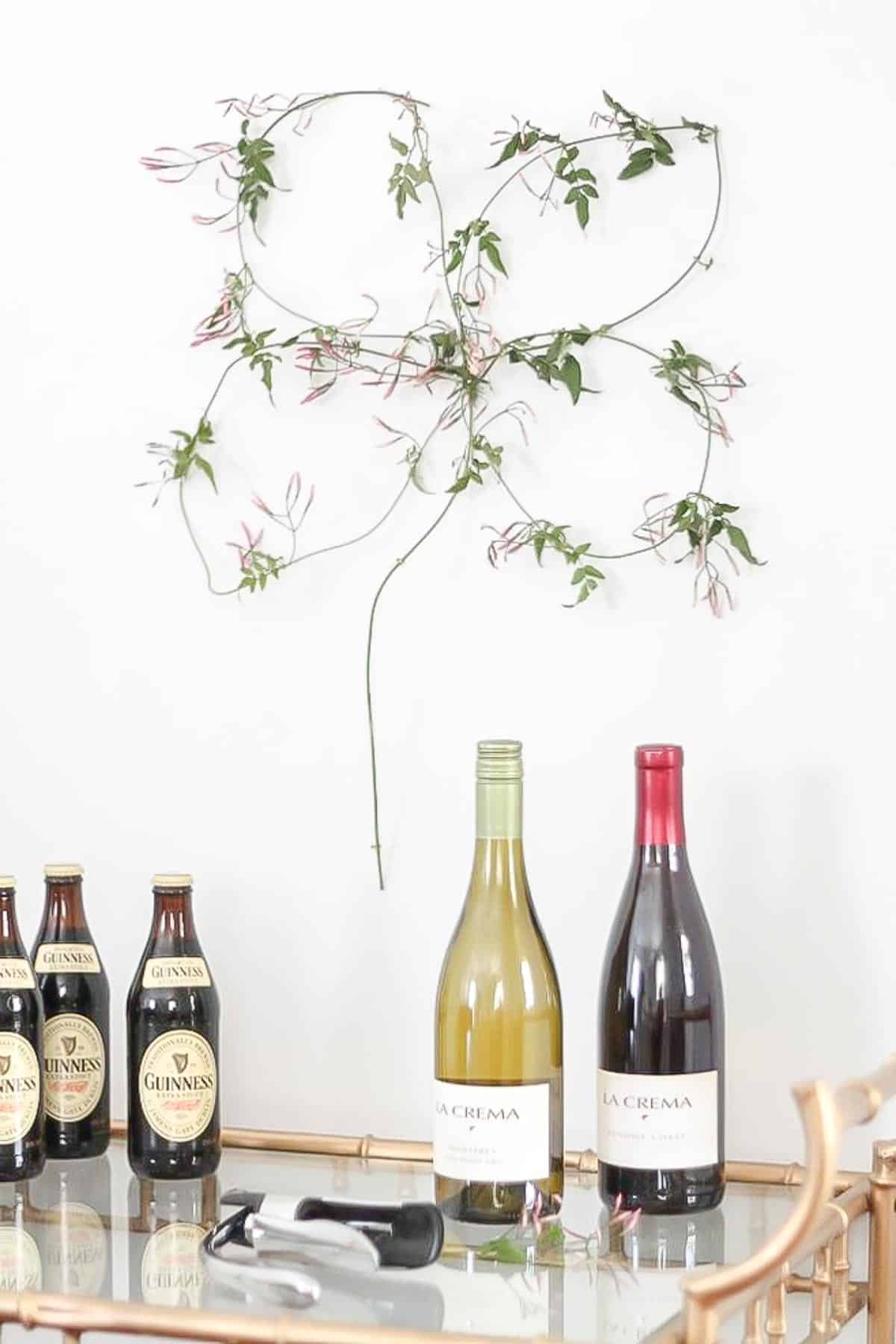 And just because it is St Patrick's Day, who's to say you can't serve wine? Disregard everything you previously thought about this holiday, and do what you enjoy. I say celebrate with what you love – especially if what you love is wine!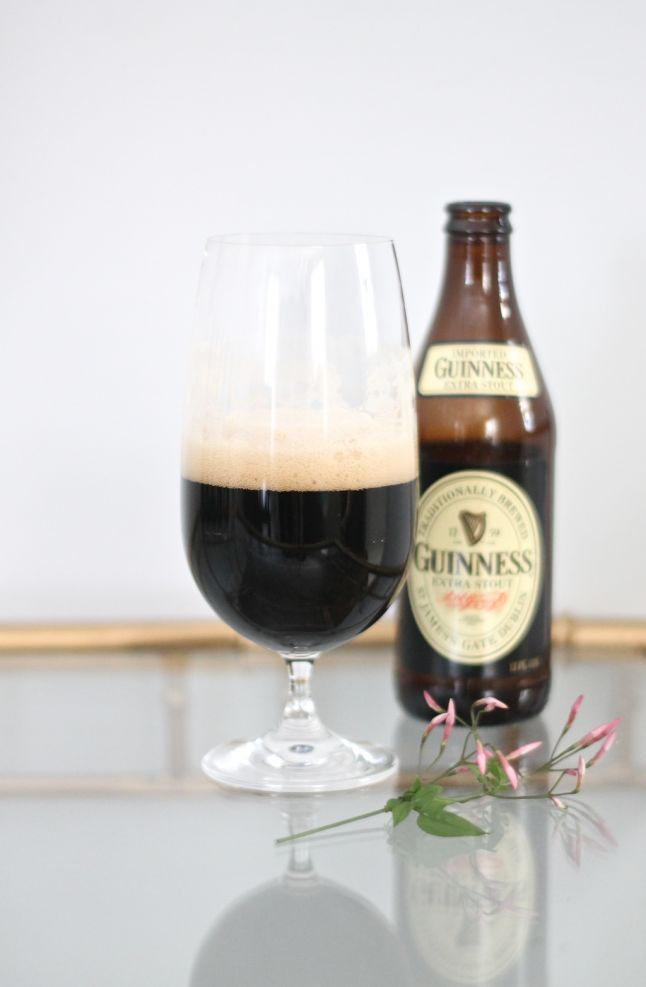 DIY Four Leaf Clover Wreath
This lovely floral four leaf clover was the perfect backdrop for our bar cart. It was a subtle and sweet nod to the holiday, yet classic and sophisticated too.
Create your own using sprigs of jasmine (or your favorite flower) formed into shape, tied with wire, and pinned to the wall. Trim any excess leaves and buds. A three leaf shamrock would probably have been easier, but what can I say? I was feeling lucky!
The simple shape of this clover wreath reminds me of the sweet floral monogram wreath I made for my daughter. Check it out for more detailed instructions.
Easy St. Patrick's Day Recipes
For easy and stress-free serving ideas, try these recipes. They're perfect for St. Patrick's Day or any other time of the year, too!