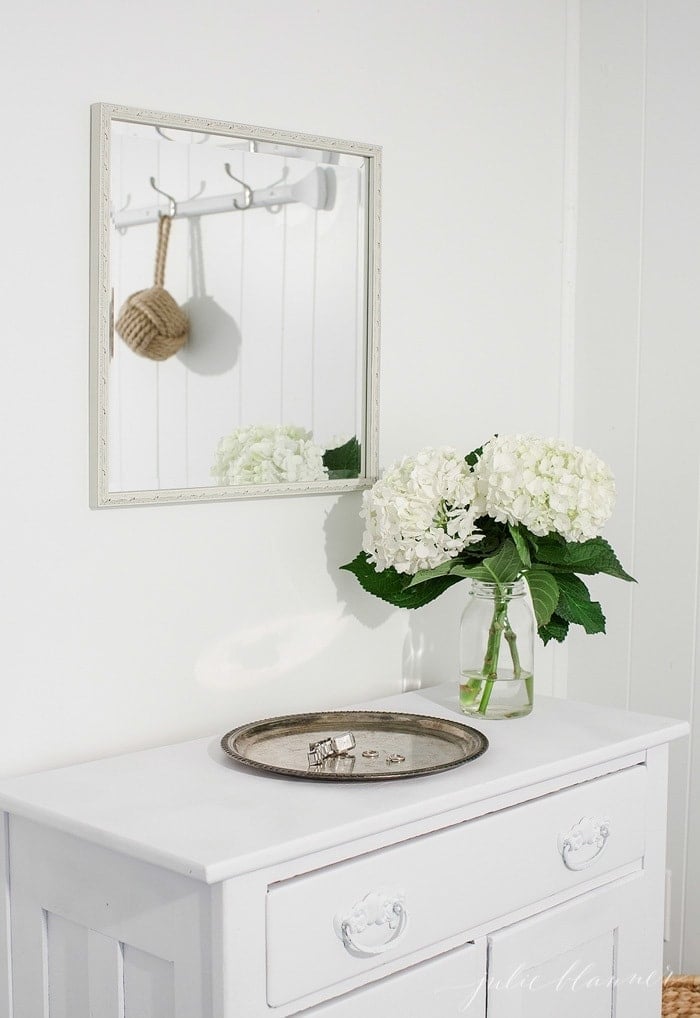 As we're renovating our new home, I've been reflecting back on the changes that made the most significant impact on our previous home. I came across these photos today that I had saved on DropBox and was really proud of the difference we made. Before we purchased our home, dozens of realtors and prospective buyers came through and walked away without blinking an eye, but Chris and I saw potential, so we threw out a number and they accepted! There were times I thought we were crazy, times we had doubts and times I wanted to alter things that really weren't possible with the given structure, but we made it work and it made me proud.
One of our first projects was the guest bedroom. We wanted to make guests' comfort a priority. We didn't have a spare bedroom, so we created one. Sure, it wouldn't count by real estate standards with a closet and a window, but it was fully functional.
The room was DARK and honestly, a little creepy. There was a faux fireplace filled with ashes, a pipe and random 60's cabinet, a door to the storage room and bold blue carpet. And guess what? We were on a tight budget! Eek!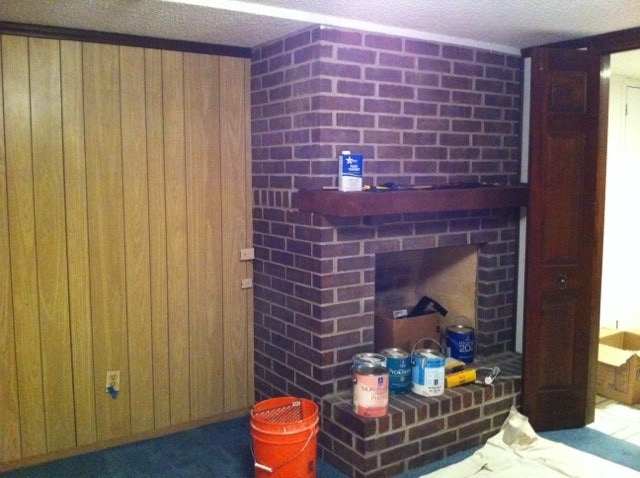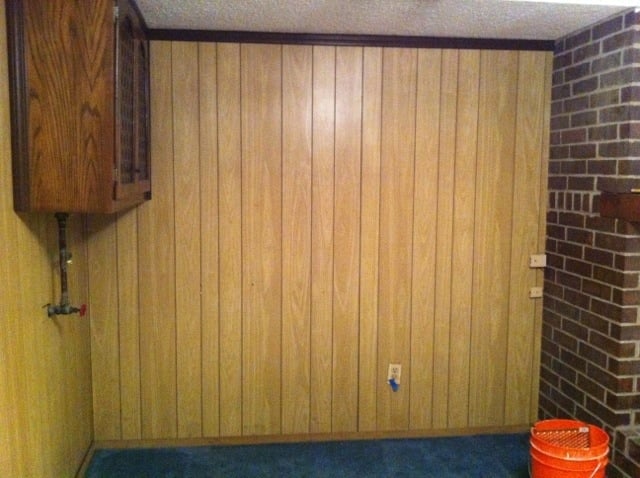 Welcoming, right? Who would want to sleep here? Of course all great transformations start with paint – eh, primer! It needed a lot of it! The ceilings, the walls, doors, fireplace and pipe all had their share. We didn't have a budget for plumbing, nor did we want to replace the paneling, so we did our best to make it blend in.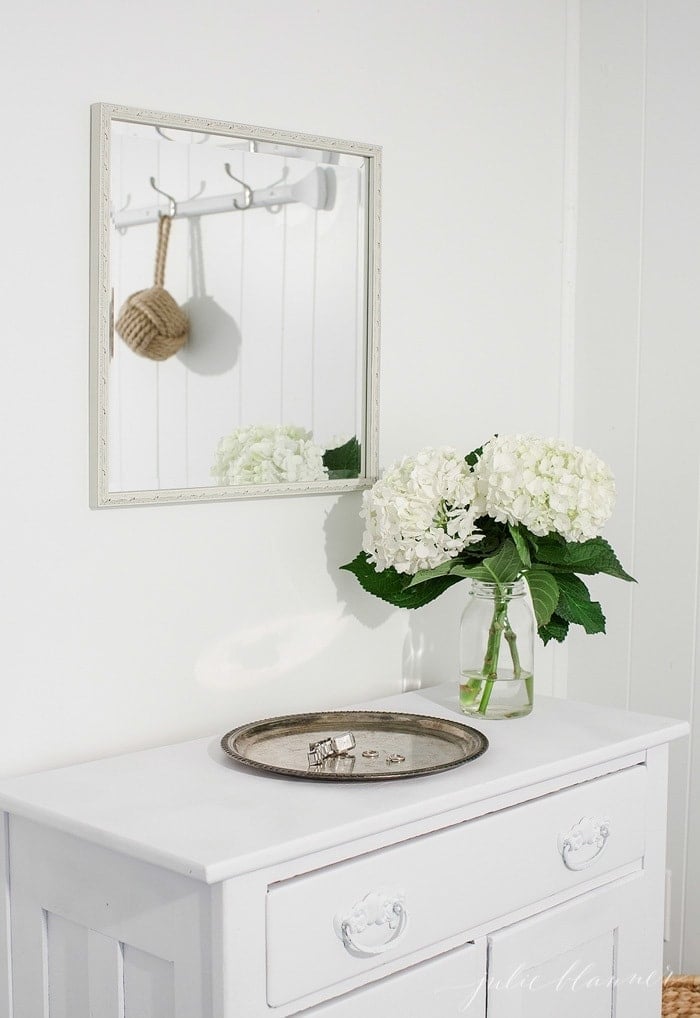 The white walls made the blue carpet feel intentional, especially when paired with nautical decor. To give the carpet new life we cleaned it thoroughly time and time again. It went from dated and dingy to bright and *almost* beautiful. When you're on a budget, the key is to work with what you have and to rethink it.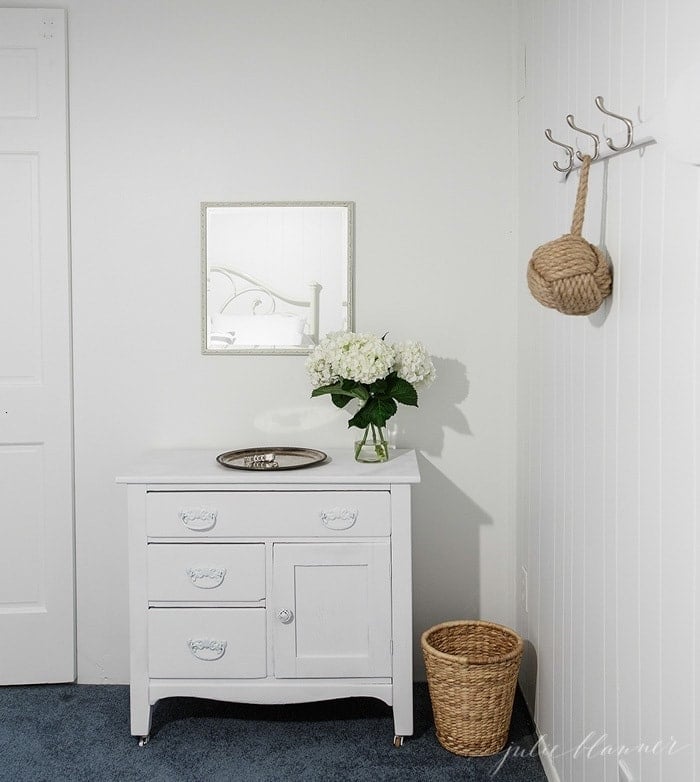 Without a closet to hang clothes or adjoining bathroom to hang towels we needed to offer some accessible place to hang the occasional shirt, so we added a few hooks to an oar and secured it to the wall.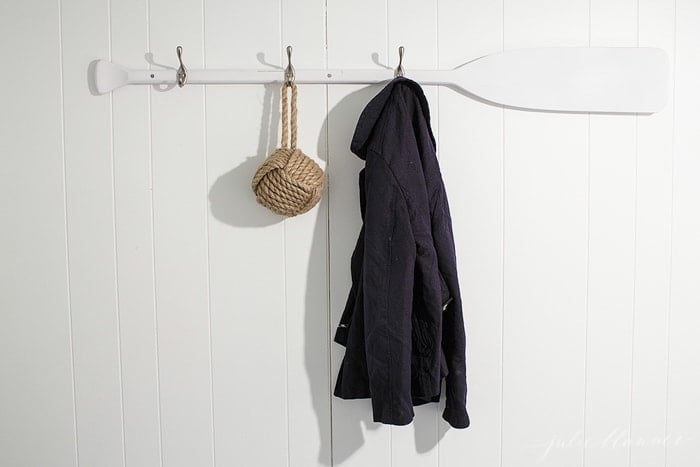 That eyesore of a cabinet and pipes? Well, we couldn't make it go away so we strategically placed a side table nearby to further disguise it.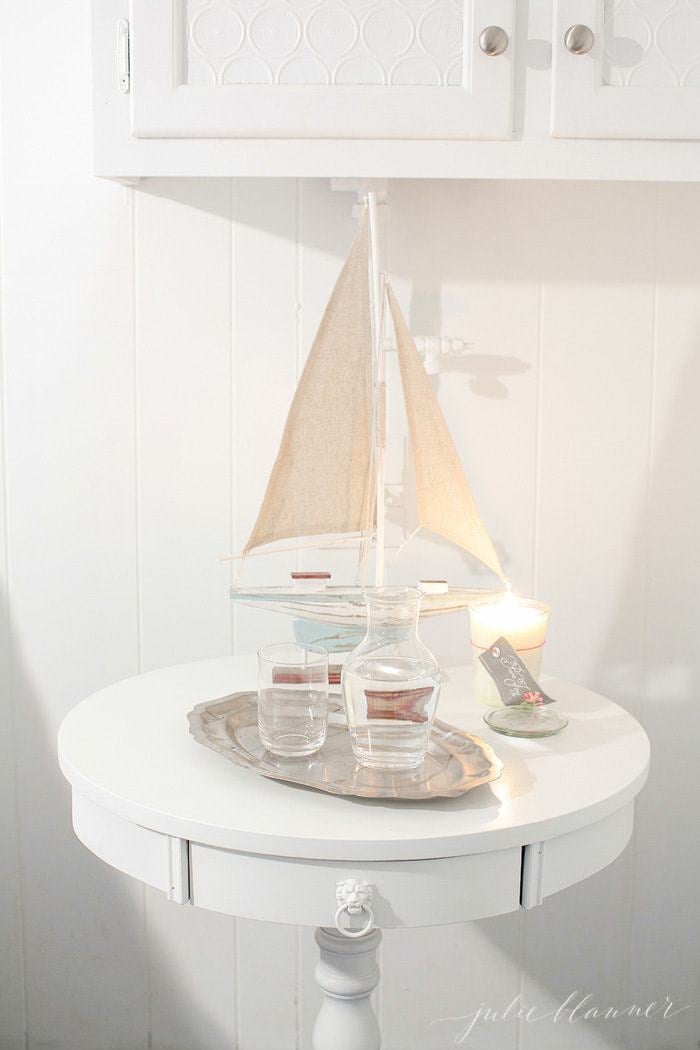 And finally light, my favorite! An inexpensive IKEA pendant with a maximum wattage bulb paired with 2 mirrors made the room feel like a bright, sunny day. We also chose a satin paint sheen to reflect a little additional light. Every little bit counts, right?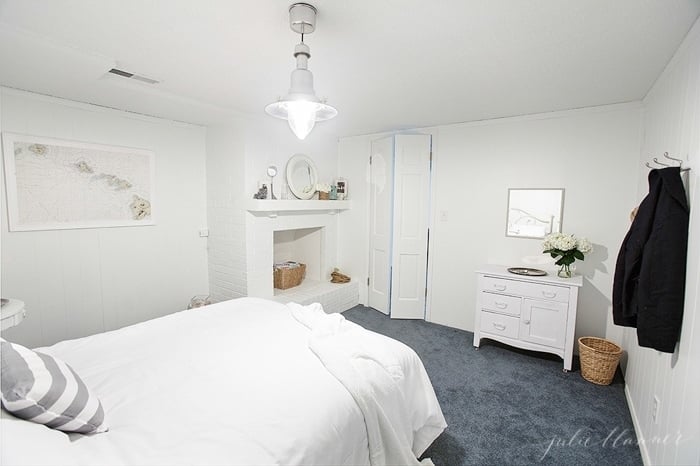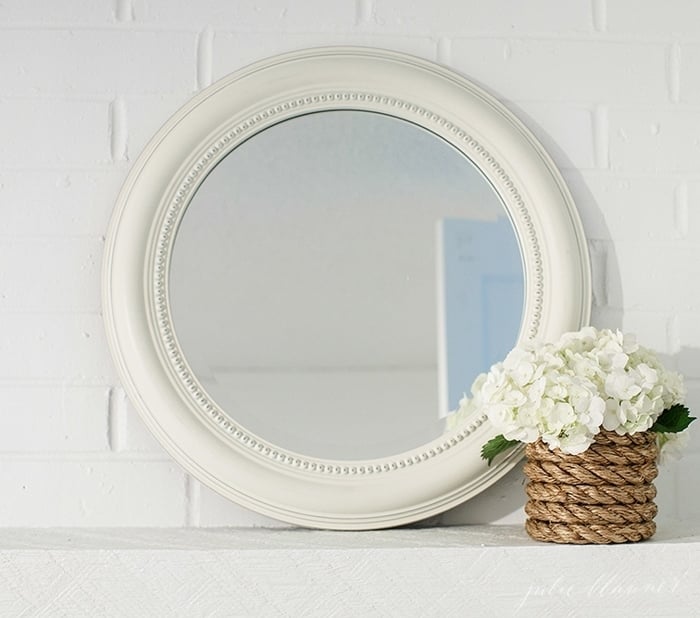 This "renovation" including all paint, decor, bedding, etc was just $300 and a weekend's worth of work with a couple toddlers running around. I believe it provided a great return on investment. All of our guests loved sleeping in, which I take as a good sign of a comfortable space!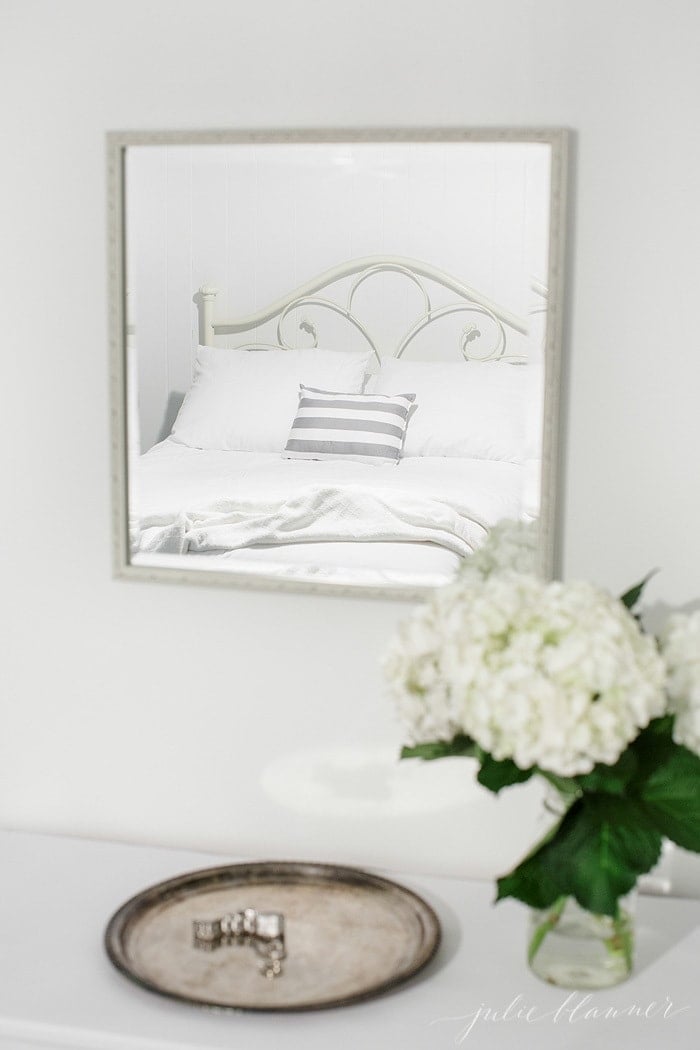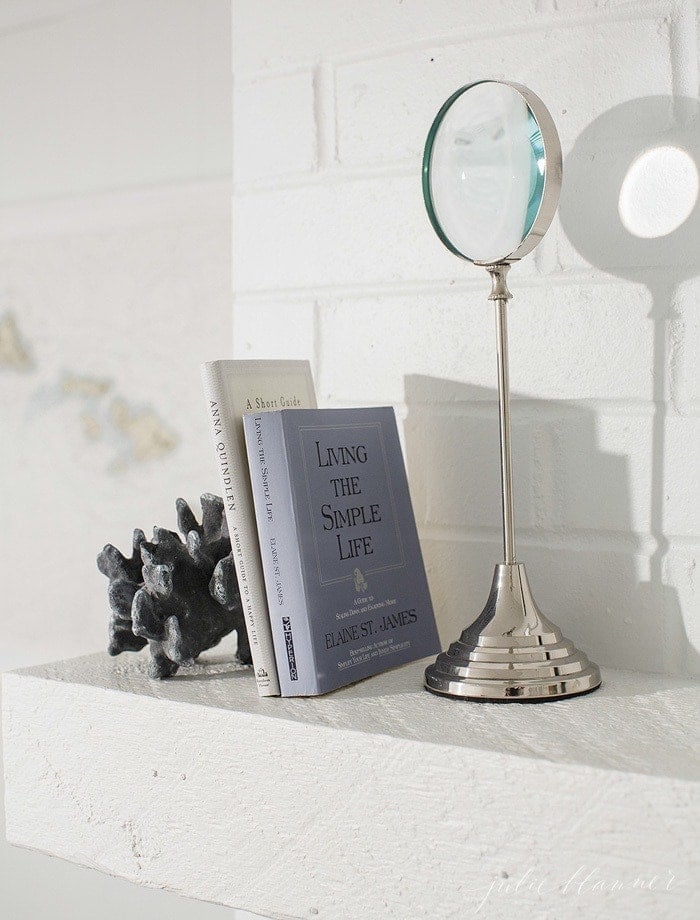 A huge thanks to Christine of Click Photography who took these beautiful photographs of the space a few years ago!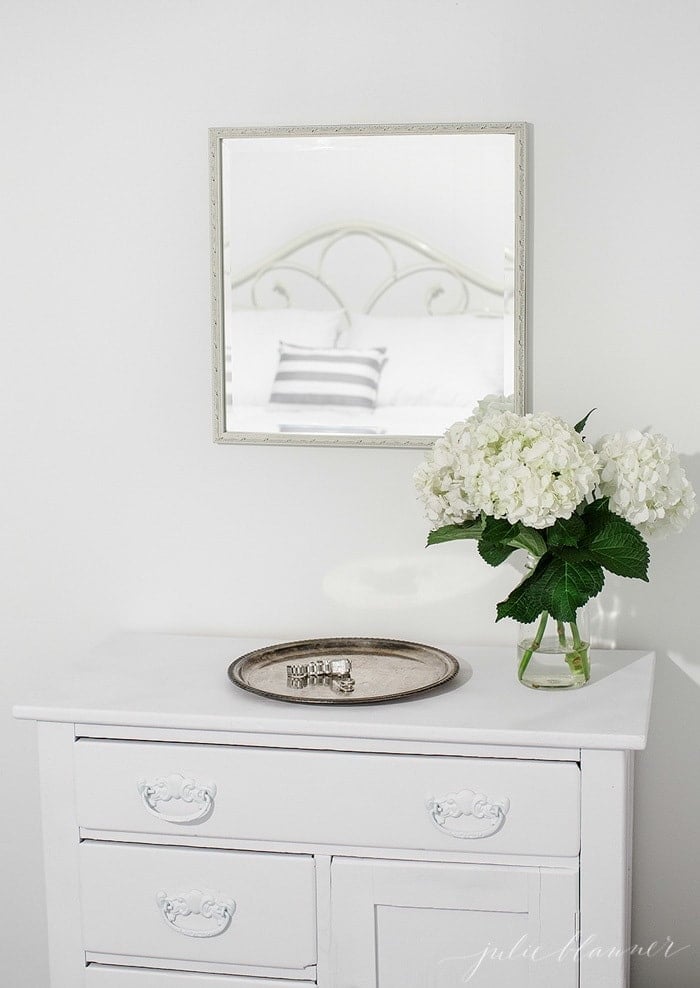 You can read about how we transformed the remainder of our basement here. Do you have any basement tips to add?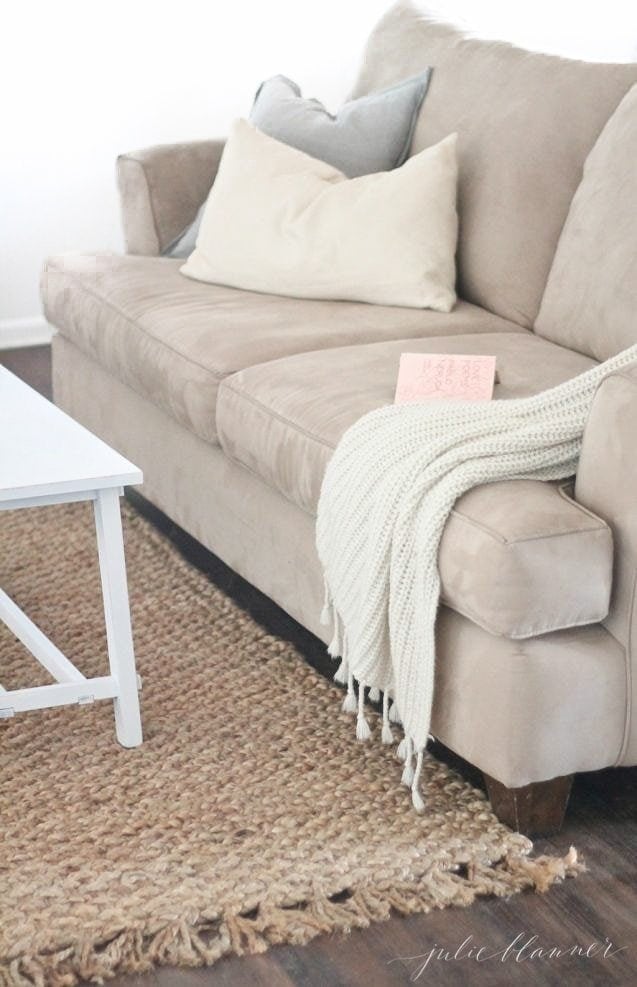 We did it! Another week, another project completed! I'm taking advantage of the cold, windy Kansas days to finish the interior of our home. This week's project was to complete our finished basement. What a difference a week can make!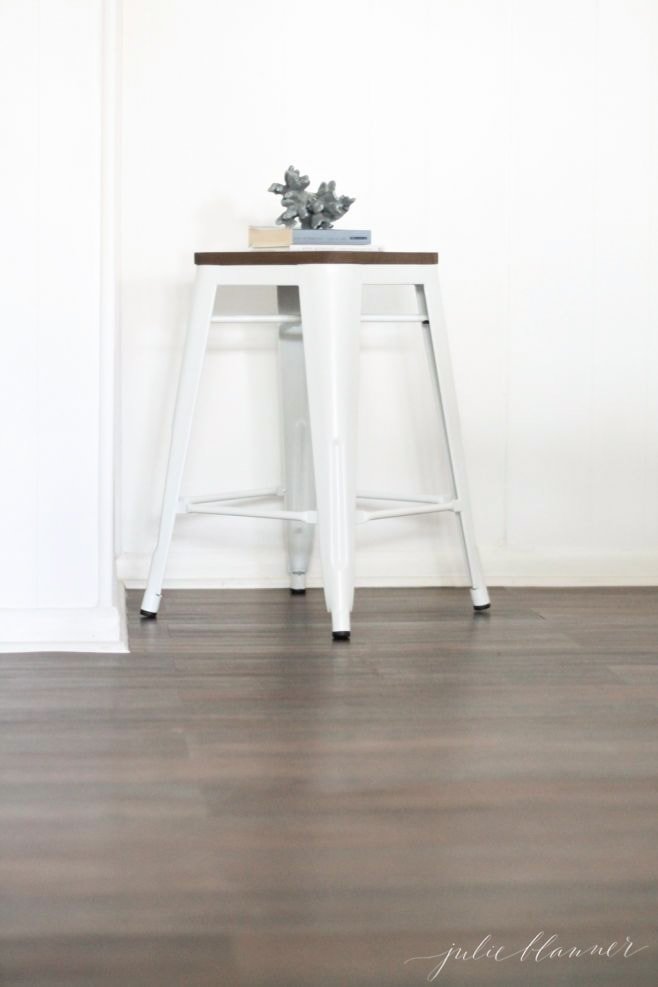 We started our project by installing new floors. A friend stopped by today & couldn't believe the transformation the new floors made. At first she thought they were the custom hand carved hardwoods we had upstairs, then pergo / laminate flooring. No, they are much easier & more cost effective vinyl plank floors from Lowe's – the same we used in our bathroom remodel. Given that most basements have uneven surface due to the concrete subfloor, laminate isn't always a great choice. This vinyl wood floor is perfect for a finished basement, and we were able to lay most of it in just 2 hours. The more difficult area around the stairwell took a couple additional hours.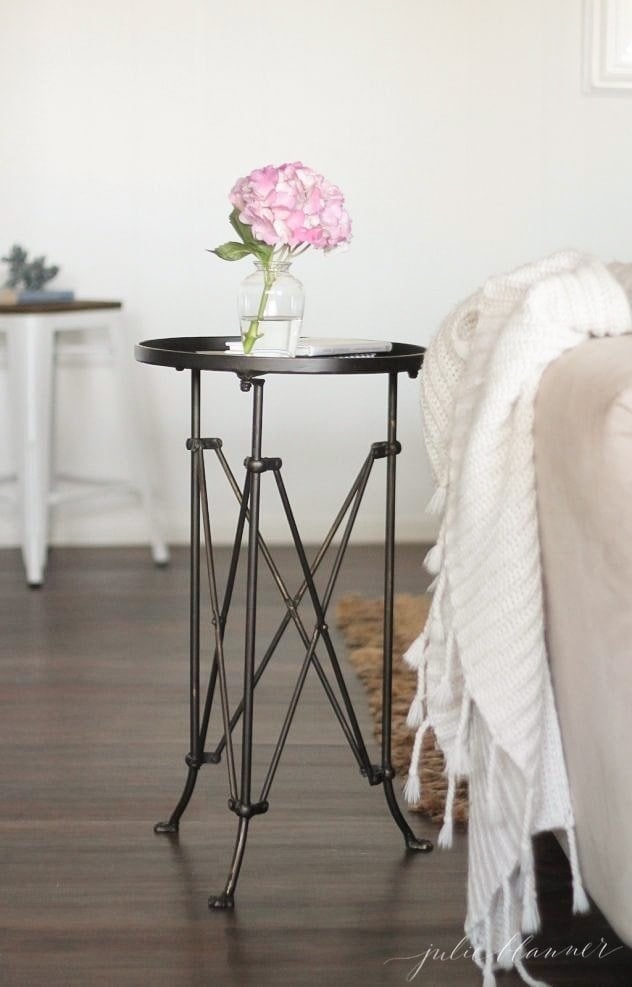 Chris alternated the planks to create a pattern. The 6″ Style Selections planks grains & patterns matched incredibly, providing enough variation, while flowing beautifully. To install, we just cleaned the floors, peeled the backing off & adhered them over the original vinyl floors in an alternating pattern. We used an exacto knife to cut. It's so quick & easy, really! The girls immediately rode their tricycles, cars & strollers over them to "test" them out! We have spent a lot of time in our basement this winter & it's sure to be enjoyed even more now! The flooring cost just about $1/square foot. Seriously.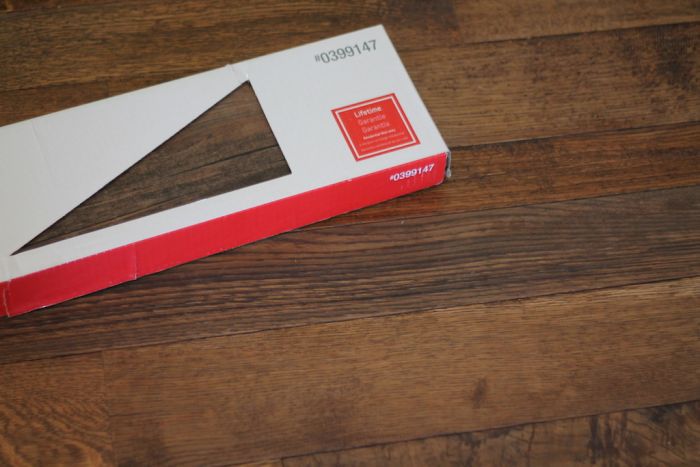 You can see how close they are to our significantly more expensive wood floors we have on the main level.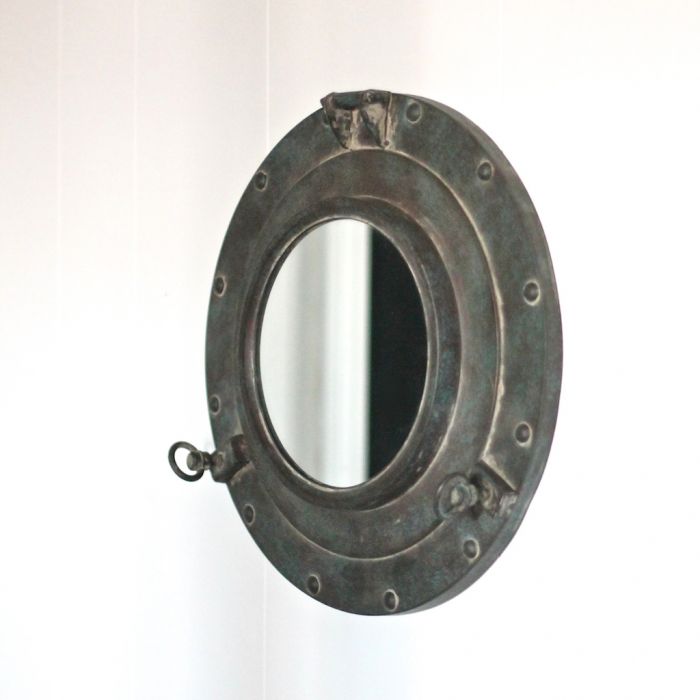 The other hurdle I had to overcome was the lack of light and a few oddities…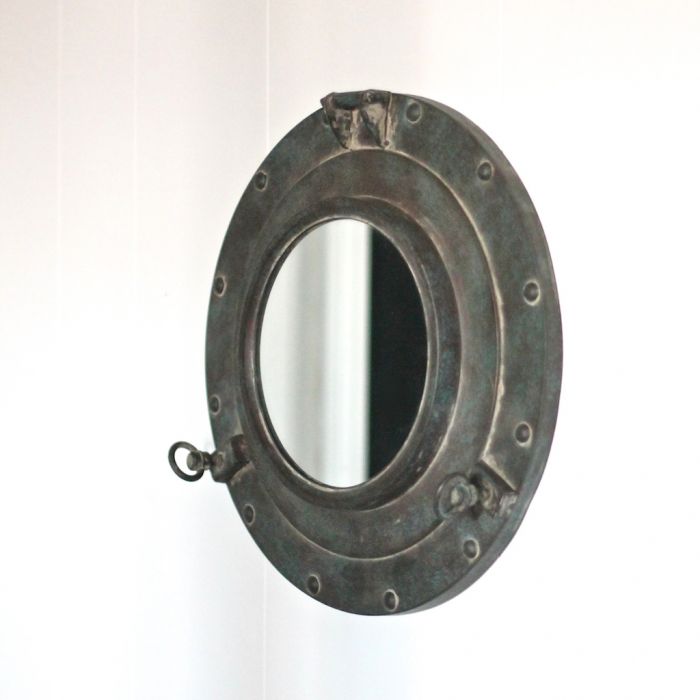 Basements tend to be dark. To add light & make it feel larger, we added mirrors.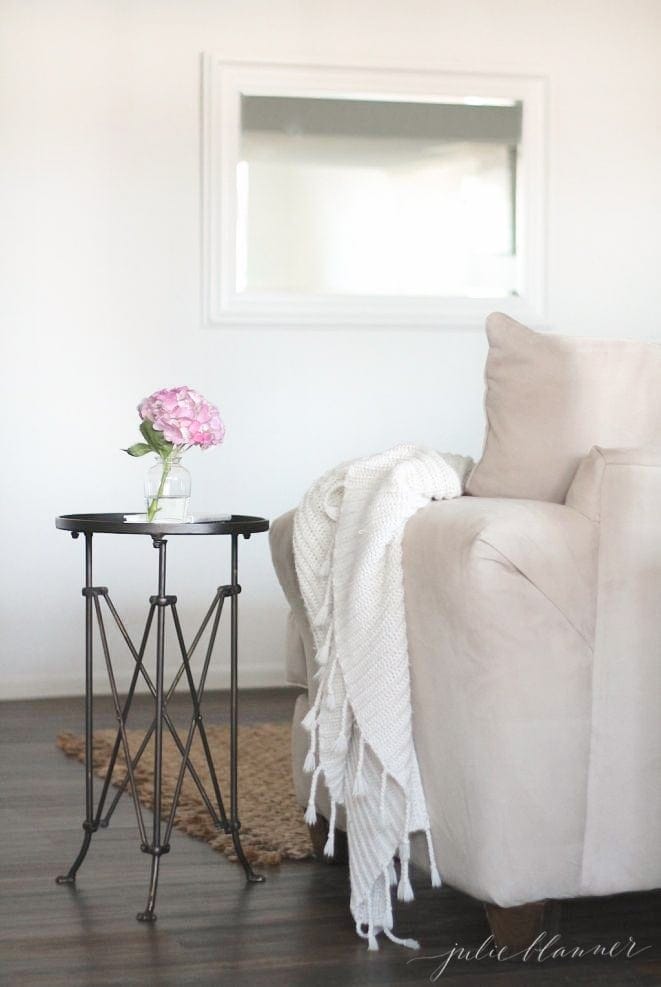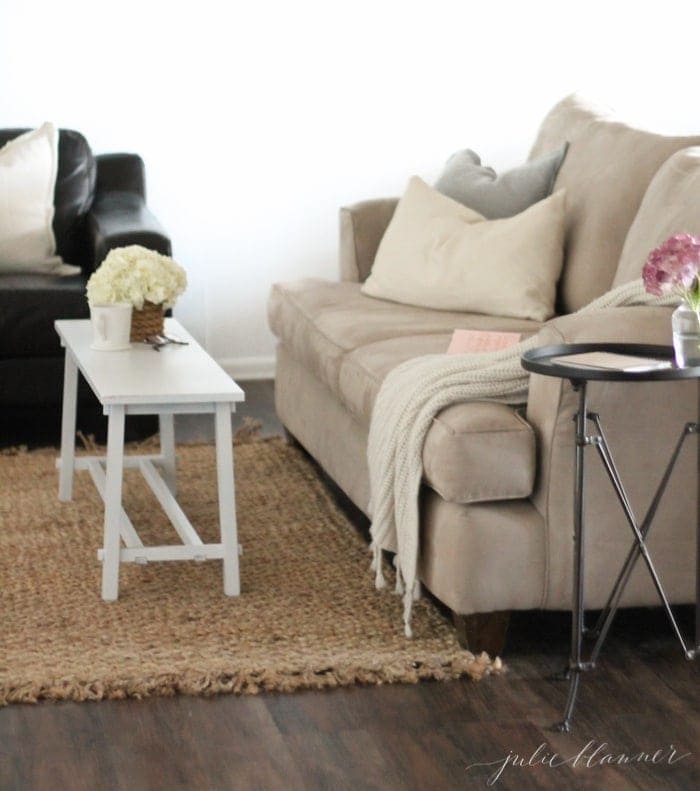 Since this finished basement had a tight budget, we used our sofa & chair from our first home. I made them feel fresh & up to date with linen pillows & a throw we could spare from our upstairs family room. It started out as an area for guests to relax as an ensuite since the guest bedroom & guest bath are also downstairs; however, I think this will quickly become my place to relax & escape for an hour or two.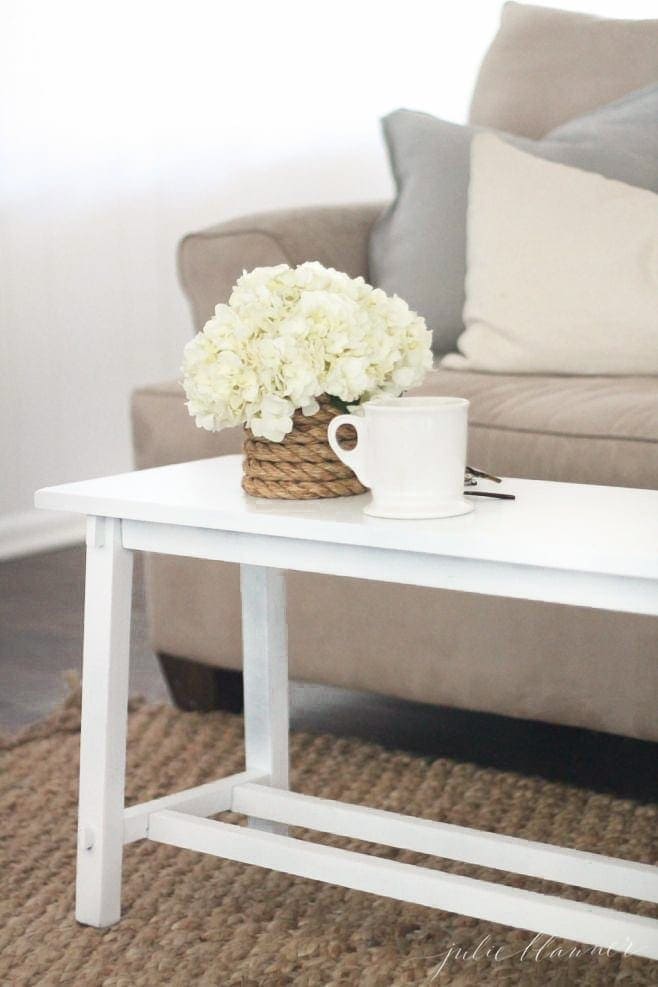 I found a bench for $60 at a discount store that I painted white to use as a coffee table. I didn't want anything too significant because this allows for plenty of space for the girls to play. It was one of the few purchases we made for the room.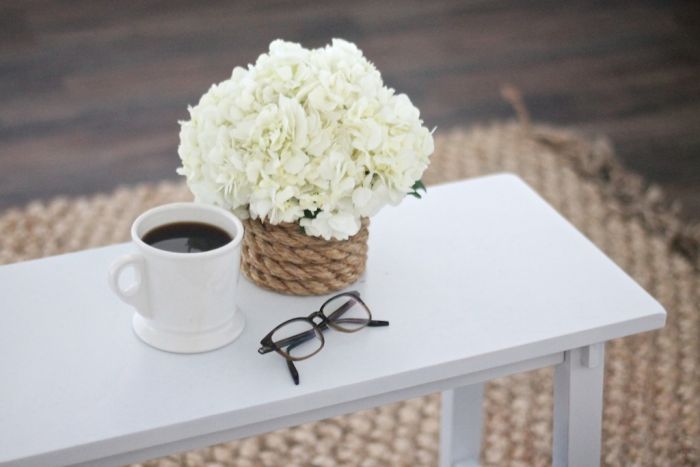 Of course one of my nautical rope vases made an appearance.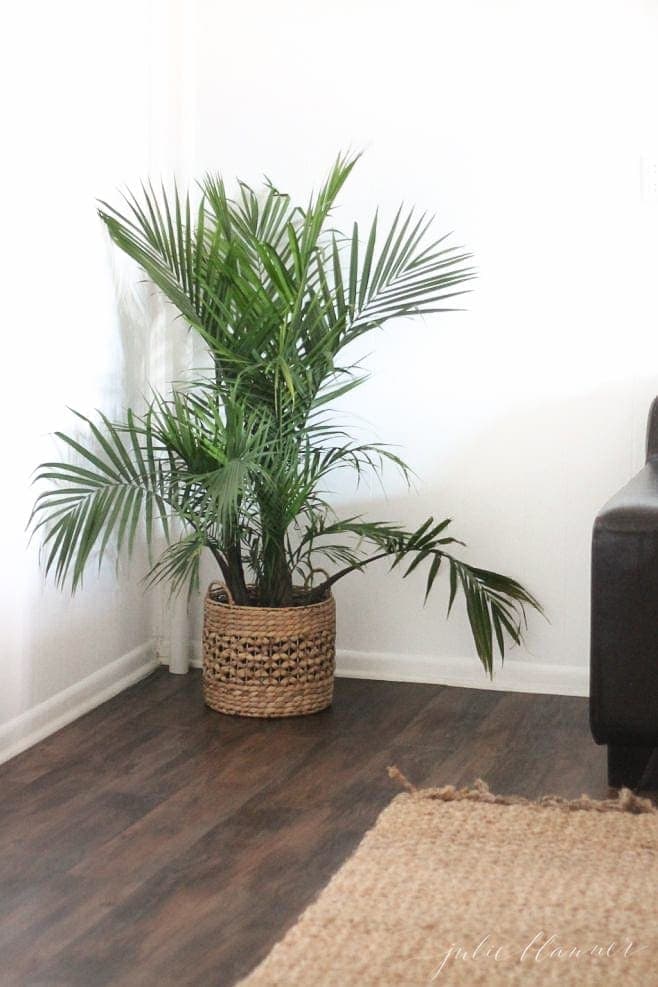 I placed an easy to care for tropical plant in a basket to disguise an unsightly pipe that I previously painted white. At most angles, you would never know it was there! We hung a bamboo shade to tie in the jute rug & make the space feel less like a basement.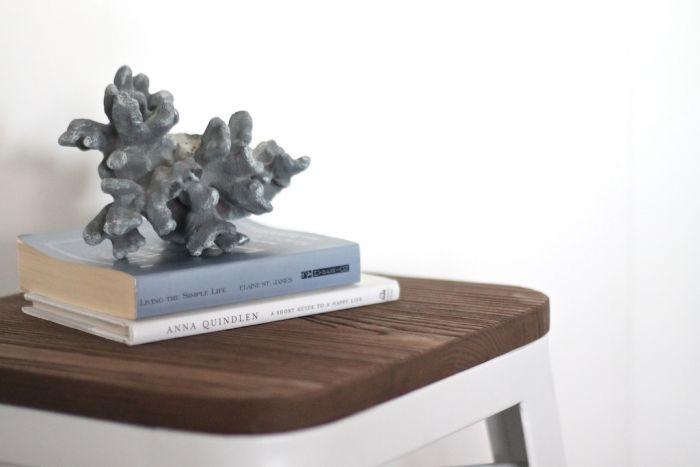 I filled an empty corner space with a stool that doubles as a table when not in use.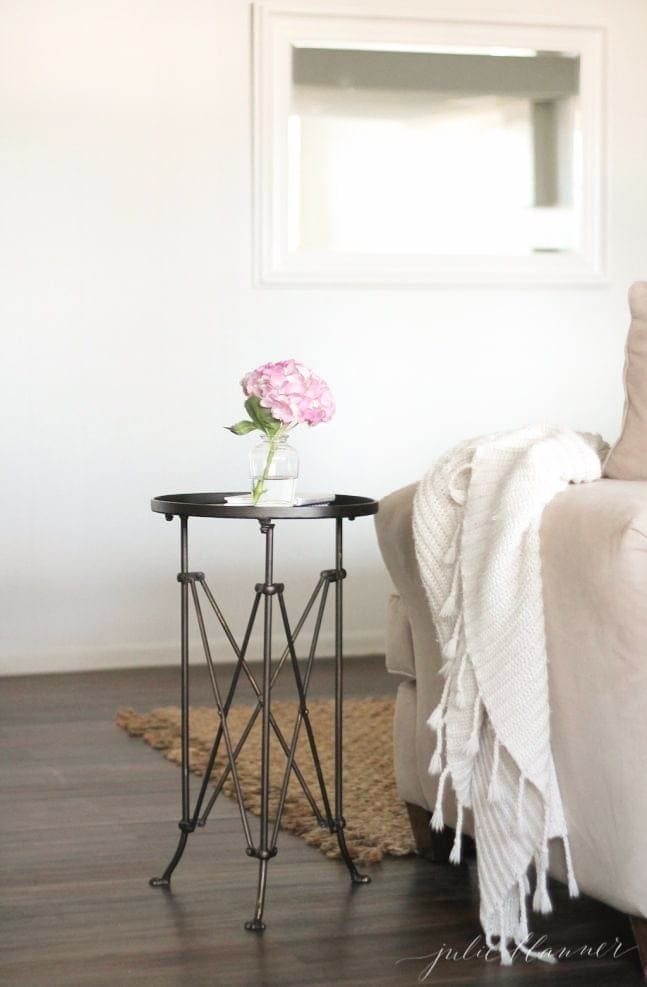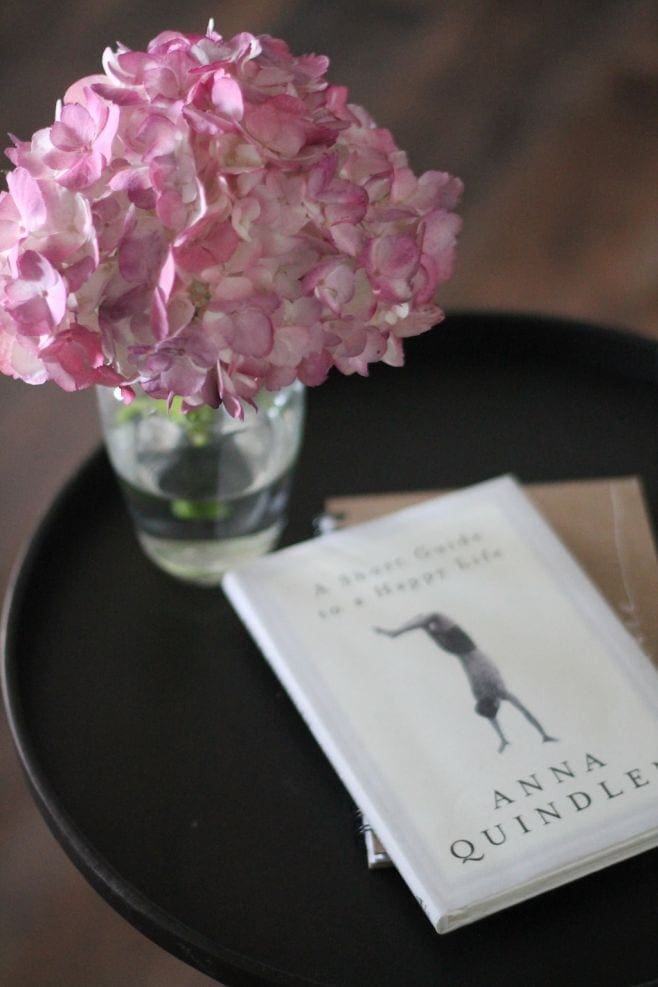 For a pop of color, I added a stem of hydrangea in a bud vase. I always try to add something organic to the space whether it be a plant or fresh cut flowers. In this case, both! I'll dry it to continue using the color year round.
Because "life ain't always beautiful," here is a before/during photo. As with most basements, the floor is not level. The flooring we selected works well with uneven surfaces.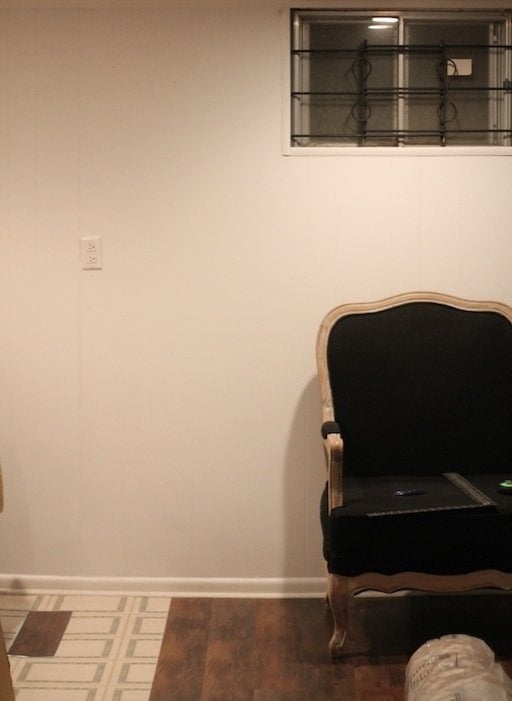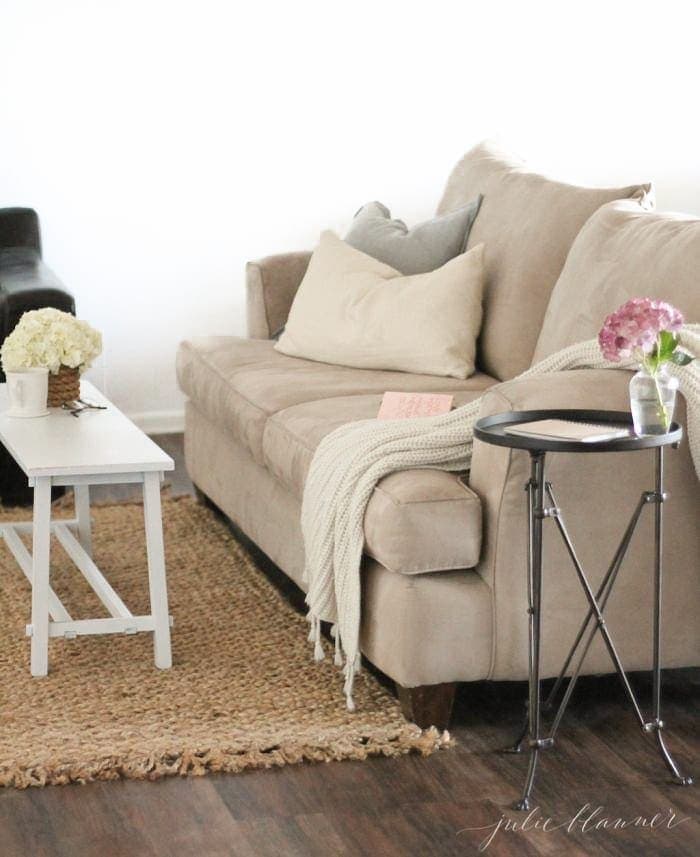 The Allen & Roth jute rug is one of the softest I've found! I'm proud to partner with Lowe's & the unique products they offer! Our next project is adding a wet bar & office space for Chris.
PIN this project for later here:

For more of our home decorating & DIY projects, follow along at Bloglovin, Facebook & Instagram & pin with me on Pinterest! #celebratehome
SHOP THIS POST:
[show_shopthepost_widget id="680695″]