Toffee cookies combine the indulgent flavors of a buttery cookie and toffee in an easy to make treat that will soon be one of your favorites. If you adore toffee, then these cookies are for you! They're super simple to make, and then you can sit back and enjoy your toffee – transformed into cookies.
Butter and I go way back—I was basically raised on it. My Grandma Bruck always had butter in a dish on the countertop to spread on just about anything. I learned at a young age that butter is amazing! I love incorporating it into just about everything.
Take these toffee cookies, for example. There's something magical that happens when butter mixes with brown sugar and toffee! You'll just need to try them to experience that magic yourself.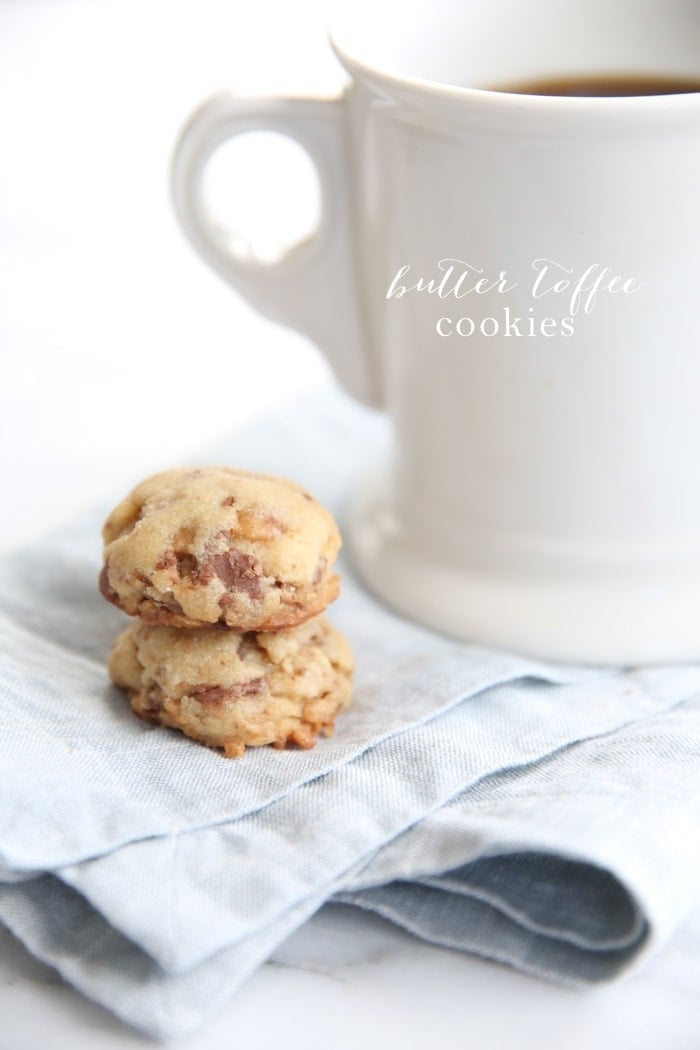 Adding this toffee cookie recipe to your collection of traditional favorites is a must. It should sit right up there alongside Chocolate Turtle Cookies, The Best Soft Snickerdoodles, and Chewy Chocolate Chip Cookies as your go-to cookies for personal indulgences, thinking-of-you gifts, and holiday party platters.
Toffee is a classic, rich dessert in and of itself. It often makes appearances around the holidays because its sweet robust flavor pairs well with other strong holiday flavors. When toffee is incorporated into cookie form, the result is an irresistible treat that you'll enjoy to the last crumb.
Toffee cookies, or Heath Bar cookies, come out of the oven soft and rounded. Their flavor is sinfully delicious, with butter and sweet brown sugar that melt in your mouth.
The toffee bits add delightful crunch in every bite. Topped with sea salt for the ultimate taste and texture, butter toffee cookies have it all.
Add toffee bits or Heath Bars to your grocery list if you don't have them already. You probably have everything else you need right now in the kitchen. Whip up a batch of toffee cookies as soon as possible!
Why You'll Love Toffee Cookies
Easy to Make
Great Flavor
Perfect for Parties and Gifting
Uses Basic Ingredients + Toffee Bits
What are Toffee Bits?
Toffee bits are just small pieces of toffee. They can be used as mix-ins in cookies and cakes, as a topping for ice cream and shakes, and any other place you might want a sweet crunch added.
Depending on your preference, you can have plain toffee bits or toffee bits with a chocolate coating.
You can buy toffee bits from the grocery store and online. They're sold in the same aisle as the chocolate chips. If you're buying some, you may as well buy a couple of bags and store one in the freezer because you'll want to make toffee cookies again.
Making your own is also pretty simple. You can start with homemade toffee or buy a toffee bar. Place in a large bag and break pieces by hitting with a cup or spoon. Or you can place on a cutting board and chop with a knife.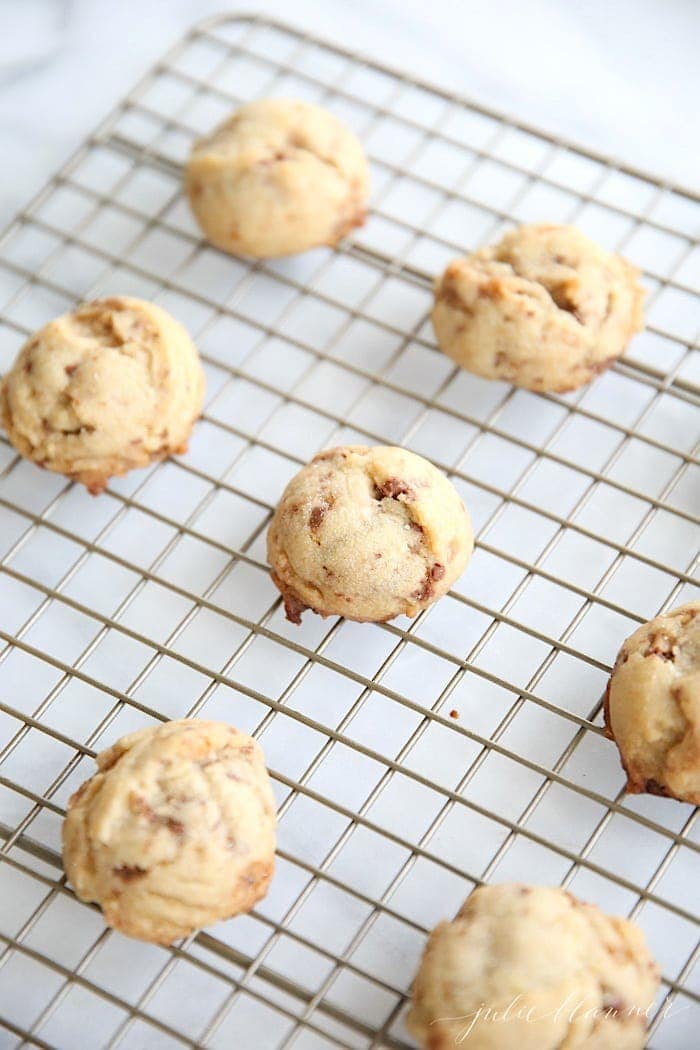 Ingredients and Substitutions
Butter – One of the key flavor and texture ingredients, use unsalted
White Sugar
Brown Sugar – dark or light, adds rich flavor
Vanilla – use pure for best flavor
Egg – binds everything together
All-Purpose Flour
Baking Powder – an essential leavening agent
Baking Soda – a second leavening agent, see how fluffy the cookies are?
Salt – supports and enhances other flavors
Toffee Bits – find them in the chocolate chip aisle
Sea Salt – don't skip, it is the final touch!
Variations
If you just need chocolate in your cookies, go ahead and add ¾ cup of mini chocolate chips.
Mix ¾ cup chopped pecans in with the dough for a nutty butter toffee flavor.
Go all out and add chocolate, nuts, and even some coconut for a toffee cookie flavor explosion!
How to Make Toffee Cookies
In a large mixing bowl, combine butter, both sugars, and vanilla until well blended. Stir in egg.
Mix flour, baking powder, baking soda, and salt in a medium bowl.
Gradually incorporate flour mixture to the wet mixture on low speed.
Fold in toffee bits.
Cover dough and refrigerate for at least two hours.*
Heat oven to 350° F. Line cookie sheet with parchment paper.
Scoop dough into 1″ balls using a scoop or spoons.
Place on cookie sheets 3″ apart.
Top with a sprinkle of sea salt and bake for 8 minutes, until the edges are golden brown.
Remove from oven and let cool on pan for 1 minute before placing cookies on a cooling rack.
Like most of my cookie recipes, you need to refrigerate your cookie dough for the best possible toffee cookies. Although I can't endorse eating raw cooking dough, I grab a few tastes while I'm patiently waiting to bake these babies After all, I make these toffee cookies for a few scoops of dough alone.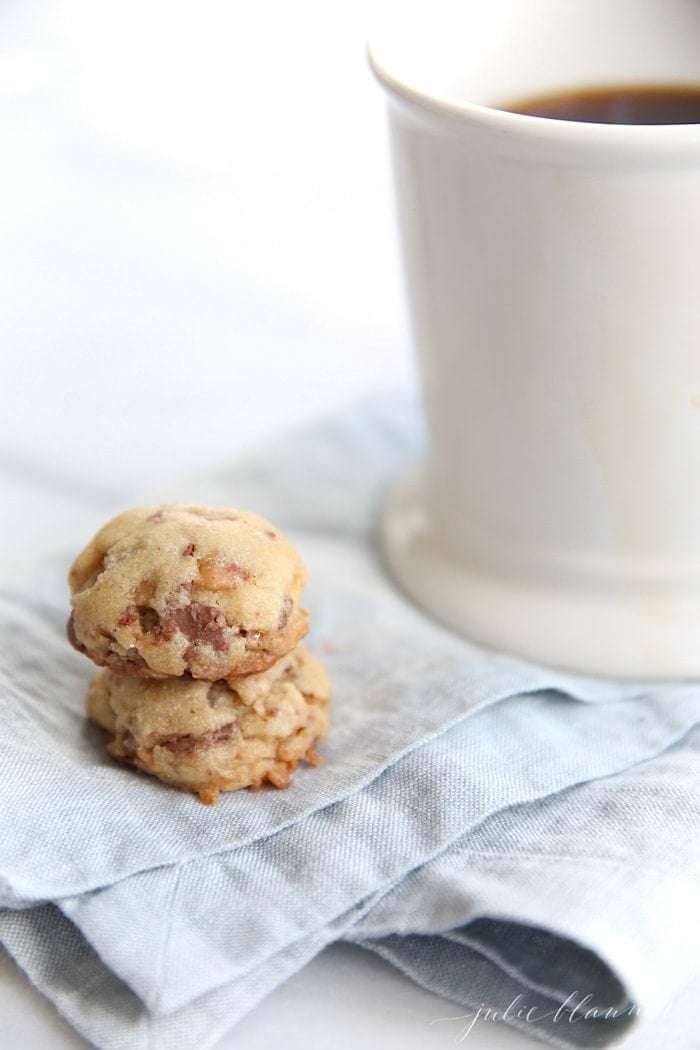 Serving Suggestions
A la Mode – serve warm cookie with a scoop of vanilla ice cream
Chocolate Drizzle – Melt some chocolate and drizzle it on the top for an elegant look.
Alongside Fruit – A platter with Heath Bar Cookies and fruit is a stunning dessert.
Tips
Make sure toffee bits are evenly distributed throughout the dough. If you get the bottom of the dough and there don't appear to be as many, add a few more.
Let the dough chill. This gives the flavors time to meld and the cookies won't spread out as much.
Use quality and fresh ingredients because the cookies can taste only as good as the ingredients.
Scaling up, down or substituting? You'll love this printable Measurement Conversion Chart!
Shortcuts
Use a cookie scoop
Use purchased toffee bits instead of making and chopping your own.
Make a double batch and freeze the dough. This isn't a shortcut the first time, but when you want to make them again, you'll have everything ready to bake.
Frequently Asked Questions
Do toffee bits melt?
Some of the edges may melt a bit, but the toffee will mostly remain crunchy.
What size should I make my toffee bits?
If you buy a bag of toffee bits, they'll be the right size that you need. When you chop your own, try to get them the size of mini chocolate chips.
How to Store
At Room Temperature – Let your toffee cookies cool completely and then if you happen to have any cookies left, place them in an airtight container or Ziploc bag. They can stay on your counter for up to 5 days.
Refrigerate – After cookies cool completely, place in airtight container or bag and store in the refrigerator for up to a week.
Freeze – It's actually better to store cookies in the freezer rather than the refrigerator. If you're planning on freezing them, wait for them to cool, and then immediately put the cookies into an airtight container or bag, with parchment paper between layers, and freeze up to 3 months.
Freeze Cookie Dough – by shaping it into balls and freezing in airtight containers with parchment paper between layers. When ready to use, let thaw in the fridge and then bake as directed.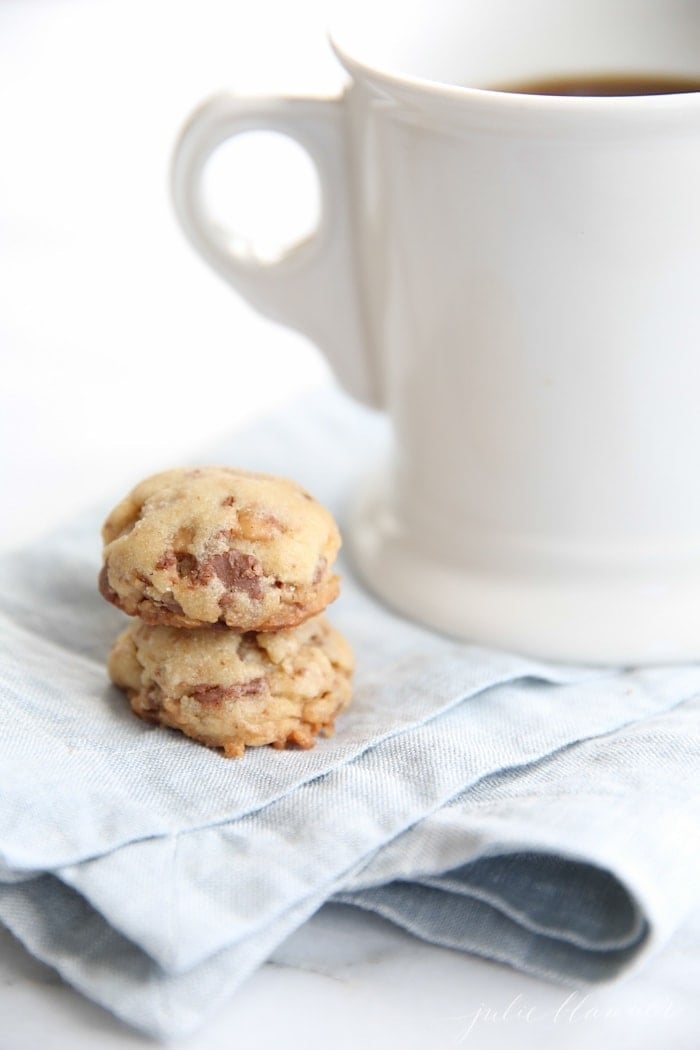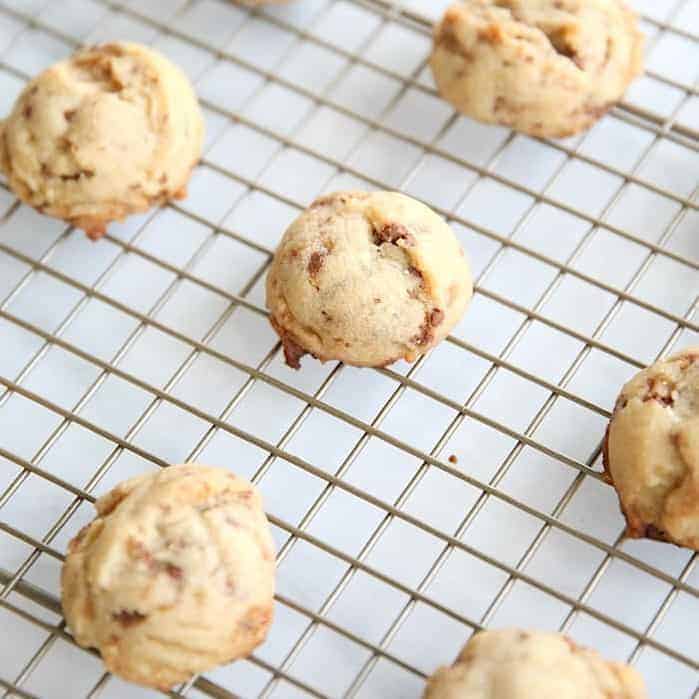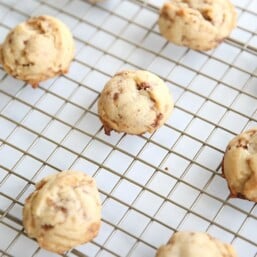 Butter Toffee Cookies
Delightfully sweet cookies with a crunch! Whip up this incredible cookie in minutes!
Instructions
In a large mixing bowl or stand mixer, combine butter, sugars, vanilla until light and fluffy (about 3 minutes). Blend in egg until just combined.

In a medium mixing bowl, whisk together flour, baking powder, baking soda, and salt. Gradually incorporate into wet mixture.

Cover dough and refrigerate 2+ hours.

Preheat oven to 350°F. Line cookie sheets with parchment paper.

Make 1" dough balls and drop onto cookie sheet spread 3" apart.

Top with sea salt and bake 8 minutes or until edges are just golden brown.

Allow cookies to cool on baking sheet for 1 minute. Transfer from cookie sheet to wire baking rack to finish cooling.
Tips
Tips
Use softened butter for best results.
Use a cookie dough scoop for uniform cookies. Making cookies consistent in size ensures some cookies don't over bake while others remain under baked.
Refrigerate dough to prevent spreading.
Transfer cookies to cool to prevent over baking.
To Store
Refrigerator – In their airtight container or bag, store in the refrigerator.
Freezer – It's actually better to store cookies in the freezer over the refrigerator. If you're planning on freezing them, wait for them to cool, and then put the cookies into an airtight container or bag, with parchment paper between layers, and freeze up to three months.
Calories:
207
kcal
|
Carbohydrates:
25
g
|
Protein:
2
g
|
Fat:
11
g
|
Saturated Fat:
7
g
|
Cholesterol:
37
mg
|
Sodium:
132
mg
|
Potassium:
38
mg
|
Fiber:
1
g
|
Sugar:
15
g
|
Vitamin A:
360
IU
|
Calcium:
16
mg
|
Iron:
1
mg
Estimated nutrition information is provided as a courtesy and is not guaranteed.
Explore More