Blackened chicken is the perfect way to add a little spice to your dinner life! Enjoy this blackened chicken recipe over pasta, or alongside veggies or salads for a flavorful, healthy protein your family will love!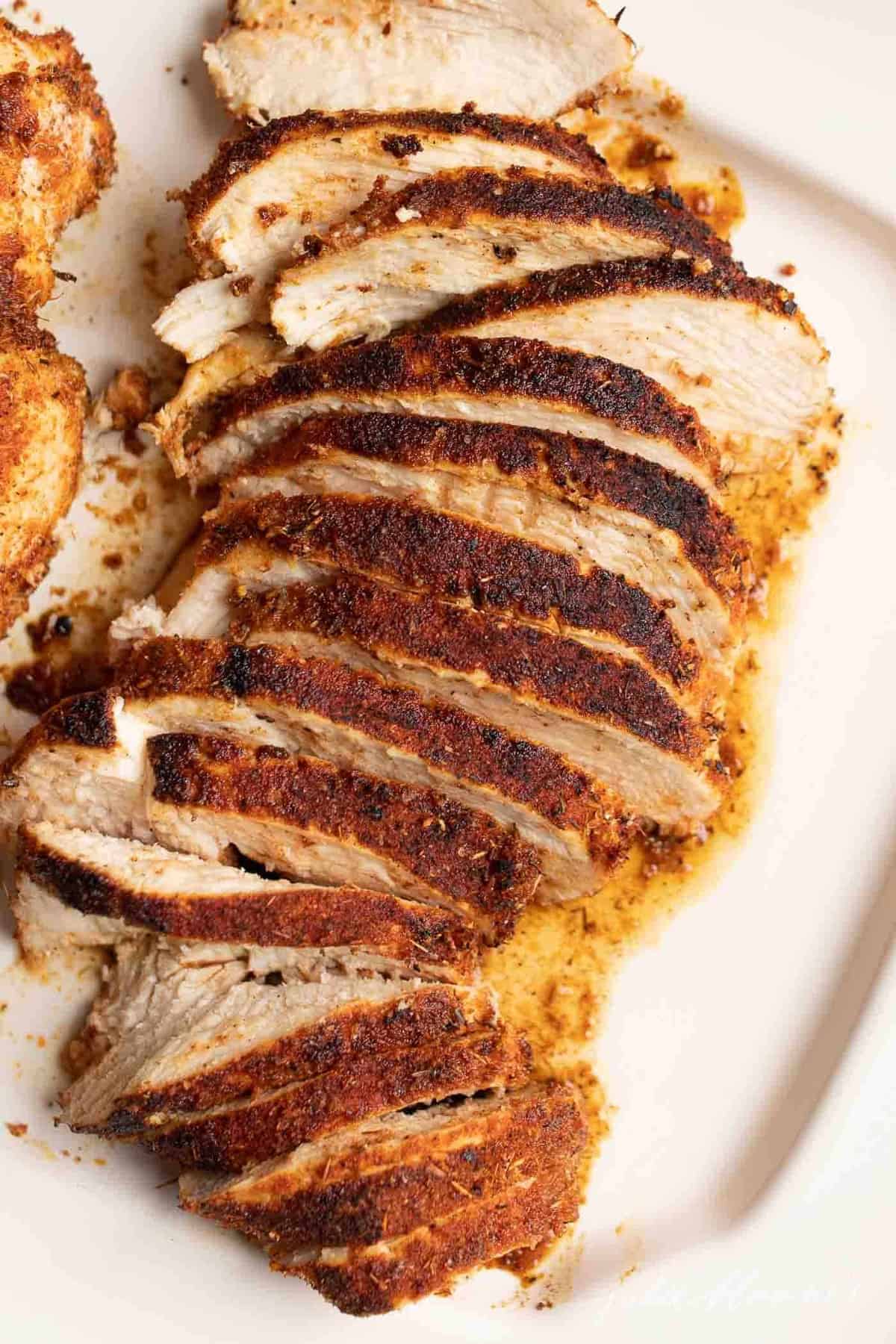 Today I'm spicing up your life in the best possible way. This easy blackened chicken recipe is seared on the stove top and then baked for a moist, delicious finish your family will crave!
I love bringing you easy, healthy chicken recipes that are loved by all. We eat a lot of chicken in this house! It's an easy, healthful protein that serves beautifully with a variety of side dishes.
A few of my reader favorites are lemon chicken, easy baked chicken, piccata milanese, and so many more! I've also made a cajun chicken that is too flavorful for words!
Blackened chicken might scare some people off because it sounds spicy. But that doesn't have to be the case at all! If you're afraid of too much spice, you can make this dish as hot as you'd like – and if your kids are anything like mine, they'll love this recipe too!
What Does it Mean to Blacken Chicken?
Originally, blackened chicken was created with a base of melted butter and covered in a coating of herbs and spices. This creates the dark brown (blackened) color that is traditionally considered the process of blackening.
While butter adds a delicious layer of extra flavor (and it's included in this recipe), you can choose olive oil instead. If you're looking to lighten up on calories, you can even use a cooking spray – it just depends on how light or rich you'd like for your blackened chicken recipe to be.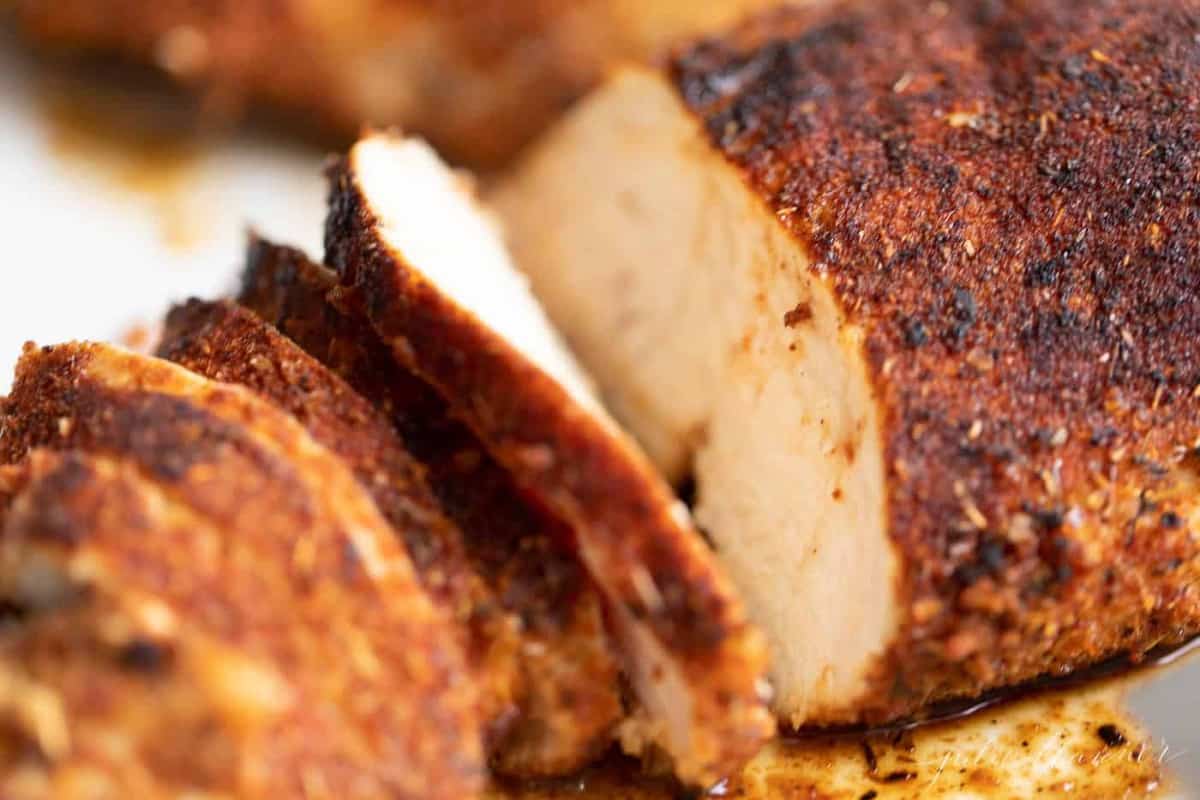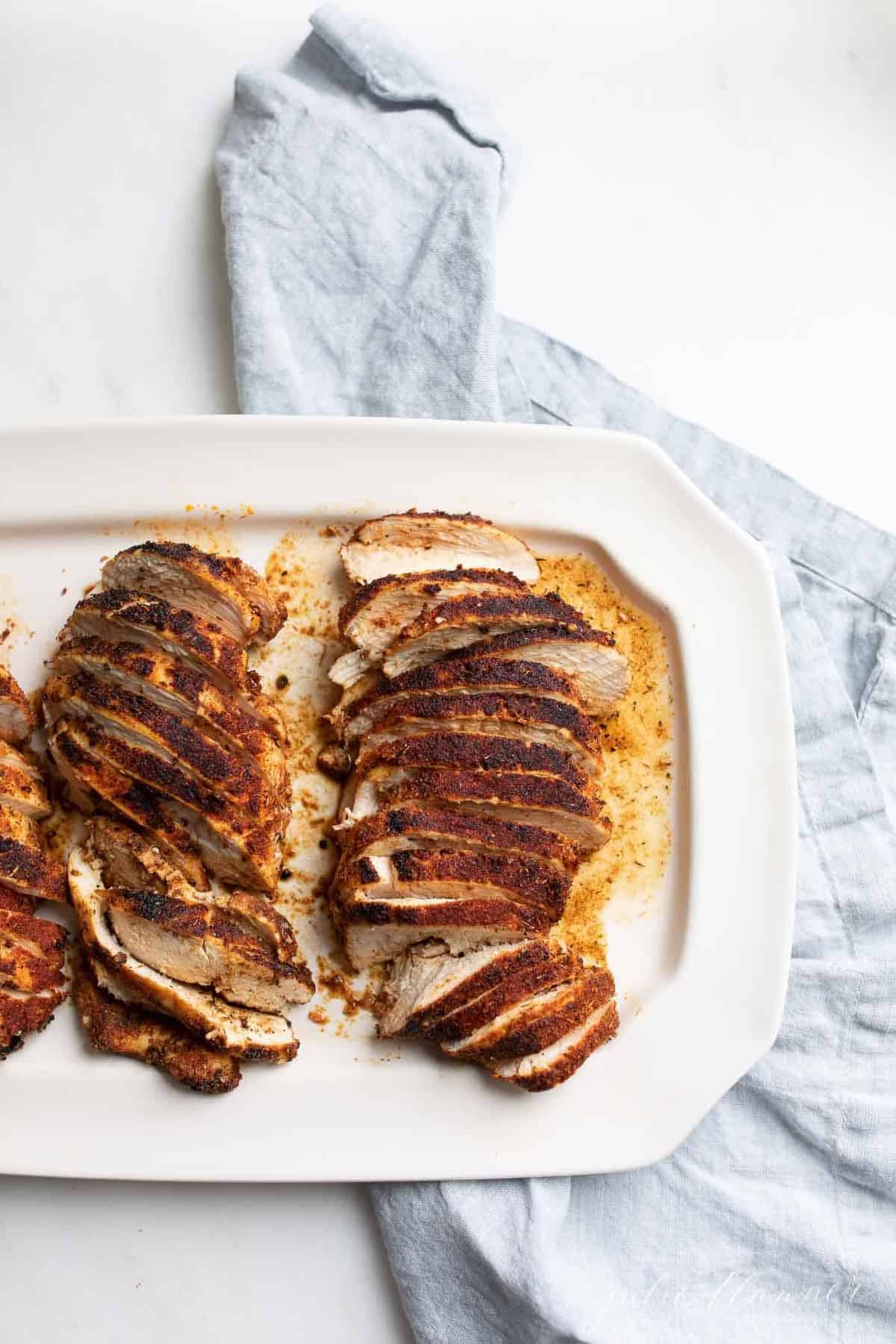 I like to give a lot of detail in my recipe posts to guide readers through any questions. If you're just here for the printable recipe, feel free to click "jump to recipe" right under the title of this post and you'll head straight there!
Blackened Chicken Ingredients
You'll need a few basic spices for this blackened chicken recipe. Of course it's completely flexible- add or omit based on personal preferences. We like it just a little spicy… not so spicy that it makes you sweat!
In addition to butter, olive oil and boneless skinless chicken breasts, you'll need to make or buy a simple blackened seasoning blend.
This blackened seasoning mix has only seven ingredients that are most likely already in your spice cabinet.
Salt – Thick flakes, if possible

Black Pepper – Thick flakes, if possible

Smoked Paprika

Cayenne Pepper

Onion Powder

Garlic Powder

Thyme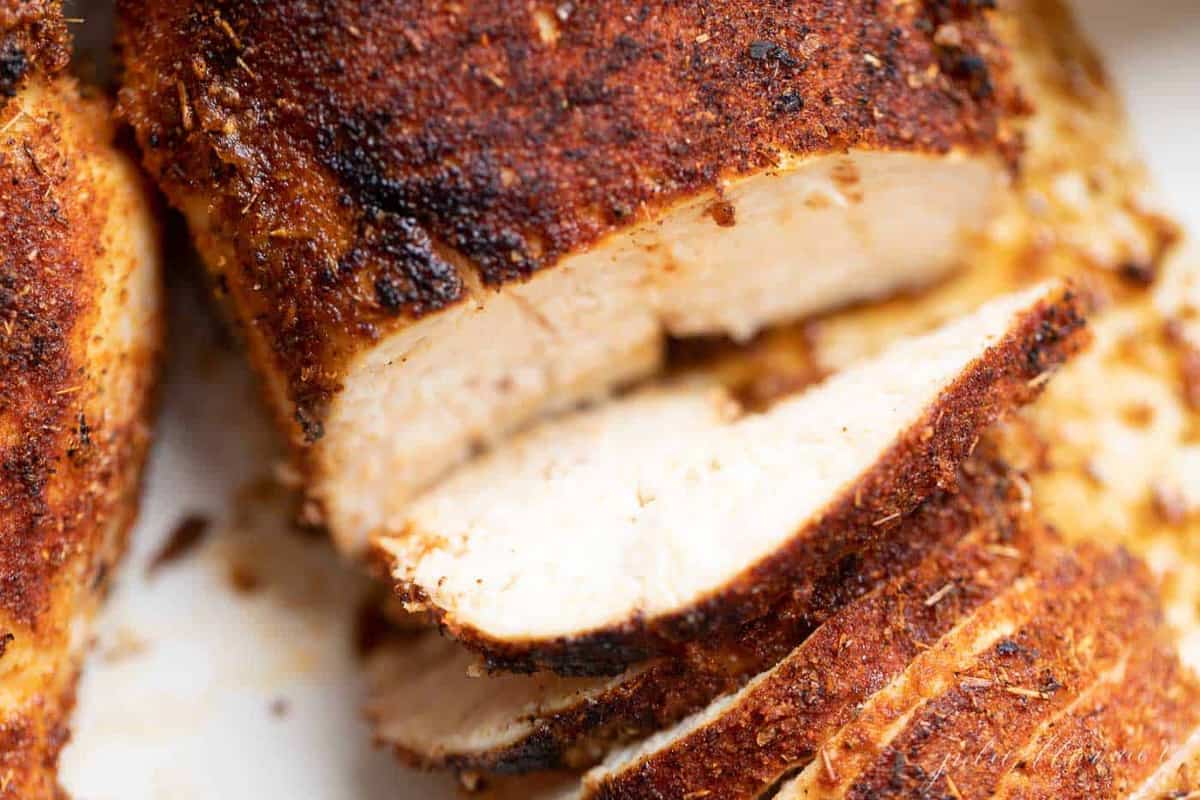 How to Make Blackened Chicken
Blackened chicken can be made on the grill, on your stove top, or even in the oven! These directions are meant for a classic saute or frying pan on the burner but you can make this chicken in so many ways. Regardless, this delicious dinner entree is created in just one pan – who doesn't love one pot recipes!?
Cast iron (like the one pictured) works beautifully for this recipe because it helps create such a beautiful crust as you finish cooking, but you can use any kind of nonstick frying pan as well! (Most modern non-stick pans are safe in the oven up to 500 degrees.)
Prep – Preheat oven to 450 degrees and heat cast iron skillet over high.
Coat your chicken breasts with melted butter or olive oil. Next, spread the blackened seasoning liberally on the chicken, coating both sides.
Blacken – Add the chicken breasts into the hot pan. To form the blackened crust, cook the chicken for 30 seconds per side.
Cook in the Oven – Now you'll put the pan in the oven to finish cooking! This takes another 10 minutes, or until your chicken has reached 165 degrees Fahrenheit.
*You can cook this blackened chicken completely on the stove top. You'll follow all the directions, but instead of throwing your pan into the oven to finish cooking, simply turn your burners to medium heat and allow the chicken to cook through.
Is Chicken Healthy?
Many nutritionists agree that chicken is a healthy part of a well-rounded diet rich in protein and nutrients.
It's lower in saturated fat than red meats like beef and pork, and it's one of the leanest animal proteins available.
It's also a fast and easy way to get dinner on the table and it cooks faster than many other meats! You can cook chicken in just 15 minutes – what's not to love?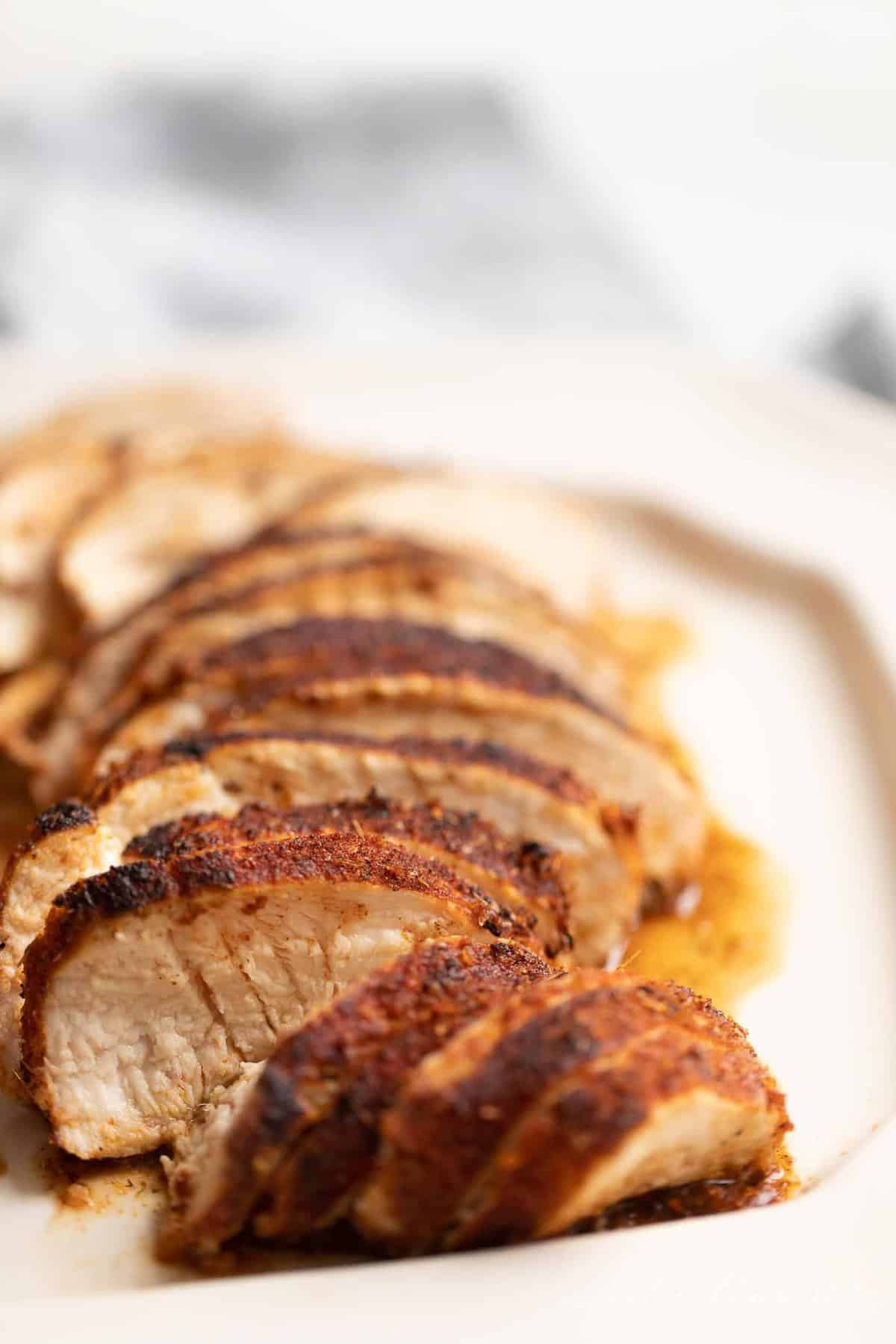 Does Blackened Mean Spicy?
Not necessarily. While it may have been a spicy mixture when it began, now it's whatever we want it to be!
Most frequently, blackened seasoning mixes have more of a Cajun seasoning feel. You can add as much or as little spice as you want – just back off on the cayenne and black pepper if you are nervous.
What to Serve with Chicken
You can go so many different directions with this chicken. It's so flavorful that it creates a different dinner with any number of side dishes, and it works beautifully when added to salads or a bed of pasta.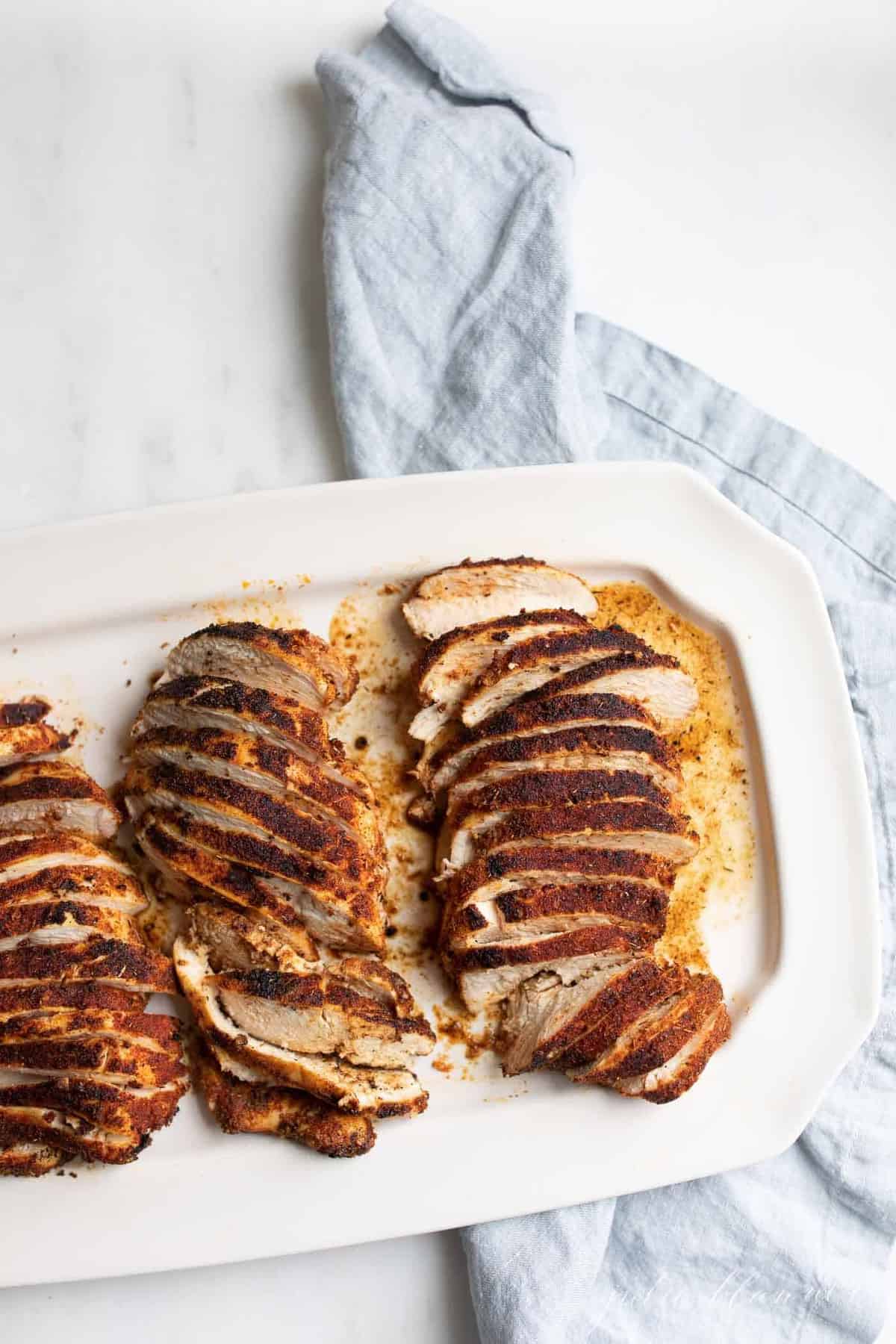 Blackened seasoning flavors also blend well with potatoes! Try my delicious caramelized shallot mashed potatoes, or my truffle french fries for a delicious side dish. Want to learn more about blackened seasoning and where to use it? Check out the detailed post!
Want more? Receive the best ideas directly to your inbox and connect on Youtube, Instagram, Facebook, and Pinterest!
If you try this recipe, please come back to share using my 5 star rating in the comments below! Not only do I appreciate it, but I know readers do, too!
More Easy Chicken Recipes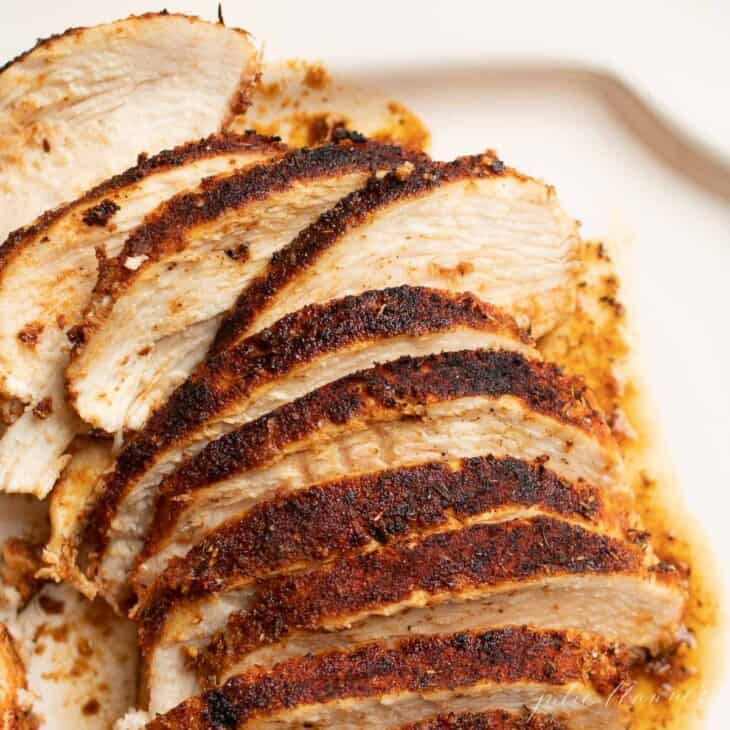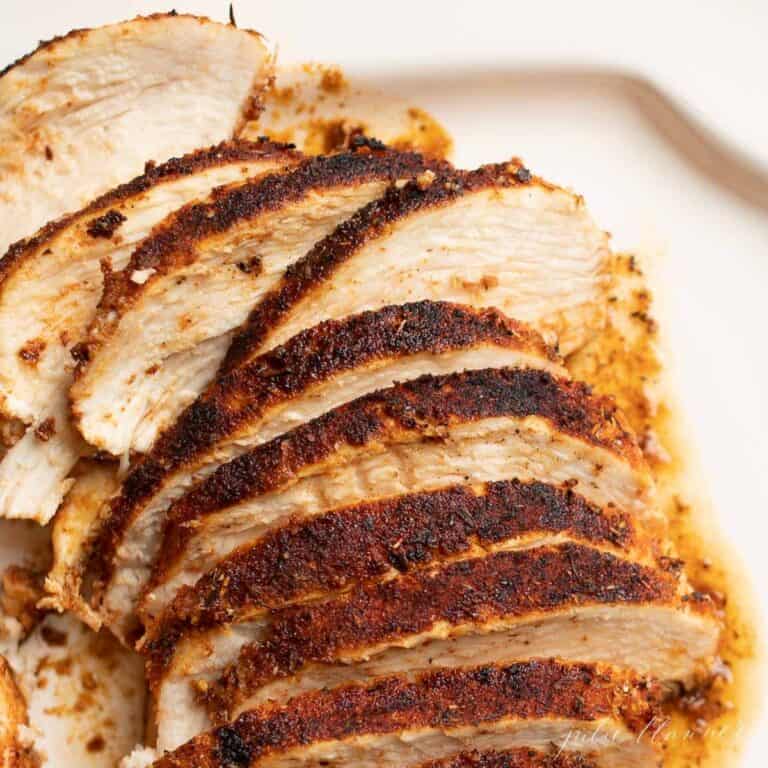 Blackened Chicken
Juicy blackened chicken packed full of flavor. Enjoy alone or serve over pasta and salads.
Ingredients
4

boneless skinless chicken breasts

2

tablespoons

paprika

1

teaspoon

cayenne pepper

½

teaspoon

black pepper

freshly cracked

1

tablespoon

dried thyme

1

tablespoon

garlic powder

1

tablespoon

onion powder

1

teaspoon

salt

thick flakes, if possible

1

tablespoon

olive oil
Instructions
Preheat oven to 450 degrees.

Heat a skillet over high approximately 5 minutes.

Brush olive oil onto chicken breasts and generously season with spices, patting them on.

Place chicken breasts in skillet 30 seconds to blacken then flip and blacken the other side 30 seconds.

Transfer to the oven 10 minutes + until internal temperature reaches 165 degrees.

Transfer to covered serving dish and allow to rest 5 minutes.
Tips
Substitutions
Oil – Use olive oil, canola oil or melted butter to coat chicken.
Seasonings – Substitute with your favorite blackening seasoning.
To Store
Refrigerate – Store refrigerated sealed in an airtight container up to 3 days. Use leftovers in wraps, salads and more!
Nutrition Information
Calories:
187
kcal
(9%)
,
Carbohydrates:
6
g
(2%)
,
Protein:
25
g
(50%)
,
Fat:
7
g
(11%)
,
Saturated Fat:
1
g
(5%)
,
Cholesterol:
72
mg
(24%)
,
Sodium:
718
mg
(30%)
,
Potassium:
549
mg
(16%)
,
Fiber:
2
g
(8%)
,
Sugar:
1
g
(1%)
,
Vitamin A:
2004
IU
(40%)
,
Vitamin C:
3
mg
(4%)
,
Calcium:
39
mg
(4%)
,
Iron:
3
mg
(17%)
Estimated nutrition information is provided as a courtesy and is not guaranteed.