This California chicken recipe is so easy, beginning with a savory marinade and ending with healthy and flavorful toppings. Grilled or baked, this chicken is easy, moist, and delicious!
Since chicken is such a staple dinner item, I like to vary the way I prepare it to make sure that it is always exciting and tasty.
A California chicken grill is so fresh and flavorful, provides protein and healthy fats, and is low in carbohydrates.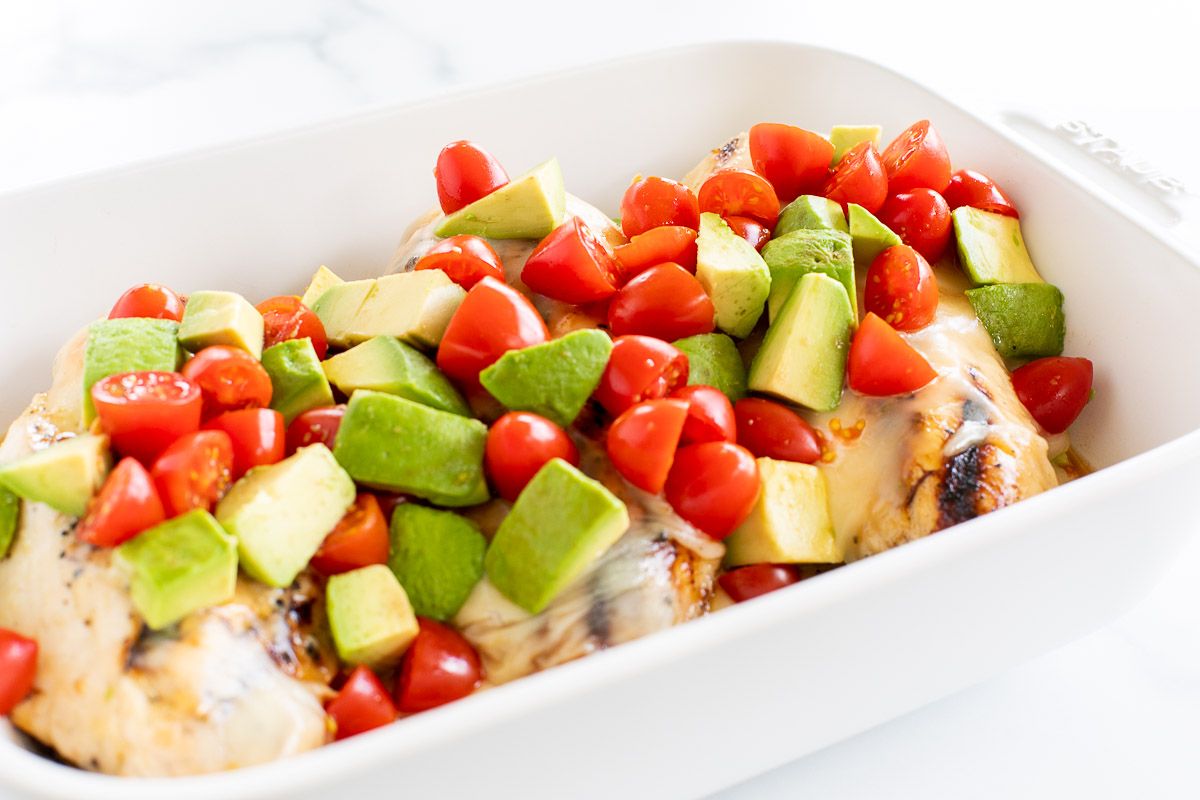 A marinade is hands down the easiest way to flavor chicken breasts, setting the base for the rest of the entrée. It soaks into the chicken, which begins the breaking down process of the meat, ensuring tender and moist chicken.
This marinade has oil, lemon juice, garlic, and onion salt, which all work together to make savory chicken with a kick of citrus! It's perfect for spring and summer grilling!
California chicken is a nod to the vibrant garden fresh feeling of California. With Monterrey Jack cheese, smooth avocados, and fresh tomatoes, it's almost like the chicken is topped with a salad. It's perfect for spring and summer barbecues!
To make California Chicken customizable, serve the chicken and cheese alongside dishes of avocado and tomatoes – plus any other toppings you think would taste good on the chicken. Allow everyone to choose the way they want to dress their chicken.
For other amazing chicken entrées, try baked chicken breast, cilantro lime chicken, and chicken with garlic sauce and caramelized shallots. They all add fresh and delicious flavors to chicken.
Are you a fan of everything garlicky and good in life, like this chicken recipe? Check out this handy Garlic Conversion Guide to help with your time in the kitchen!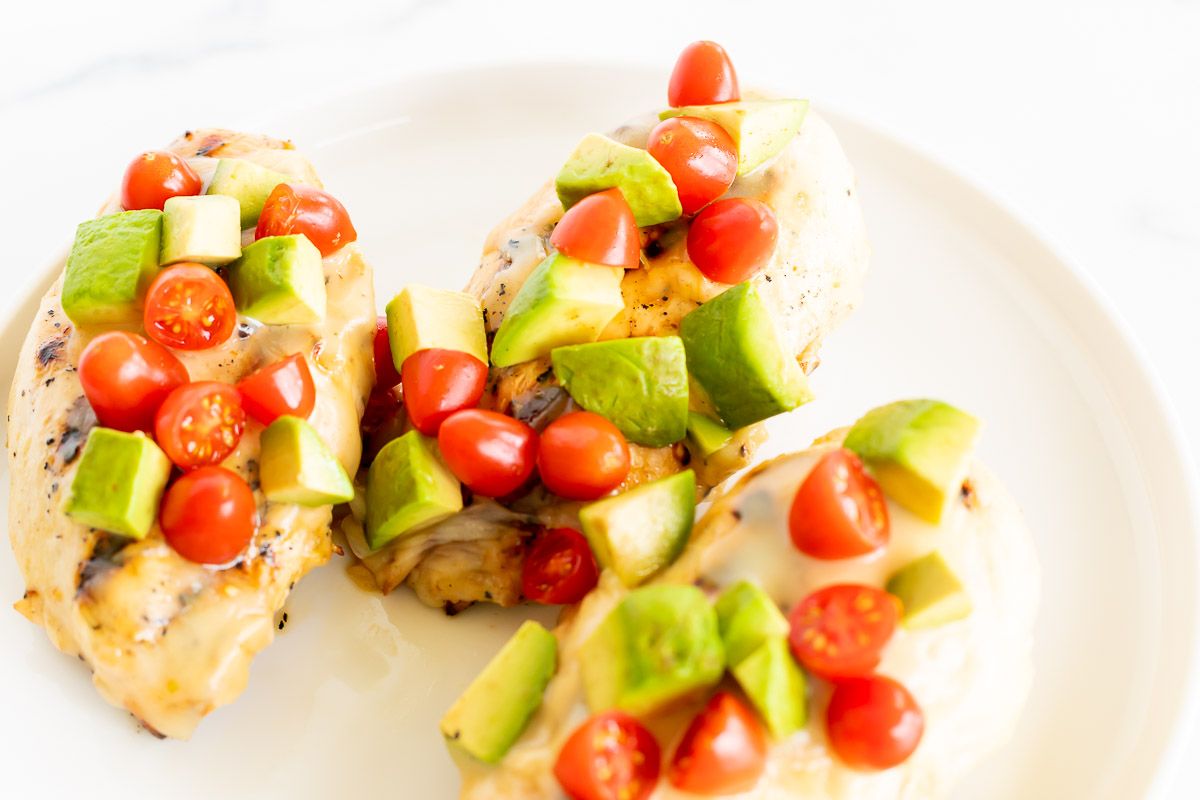 Why You'll Love this California Chicken
Light – This dish is light, yet packed full of protein and flavor.
Versatile – Make it on the grill or in the oven.
Quick and Easy – Make in just a few minutes of hands on time!
Low Carb
Gluten Free
This recipe makes one of the best Summer Dinner Ideas! Don't skip these incredible Summer Appetizers, too.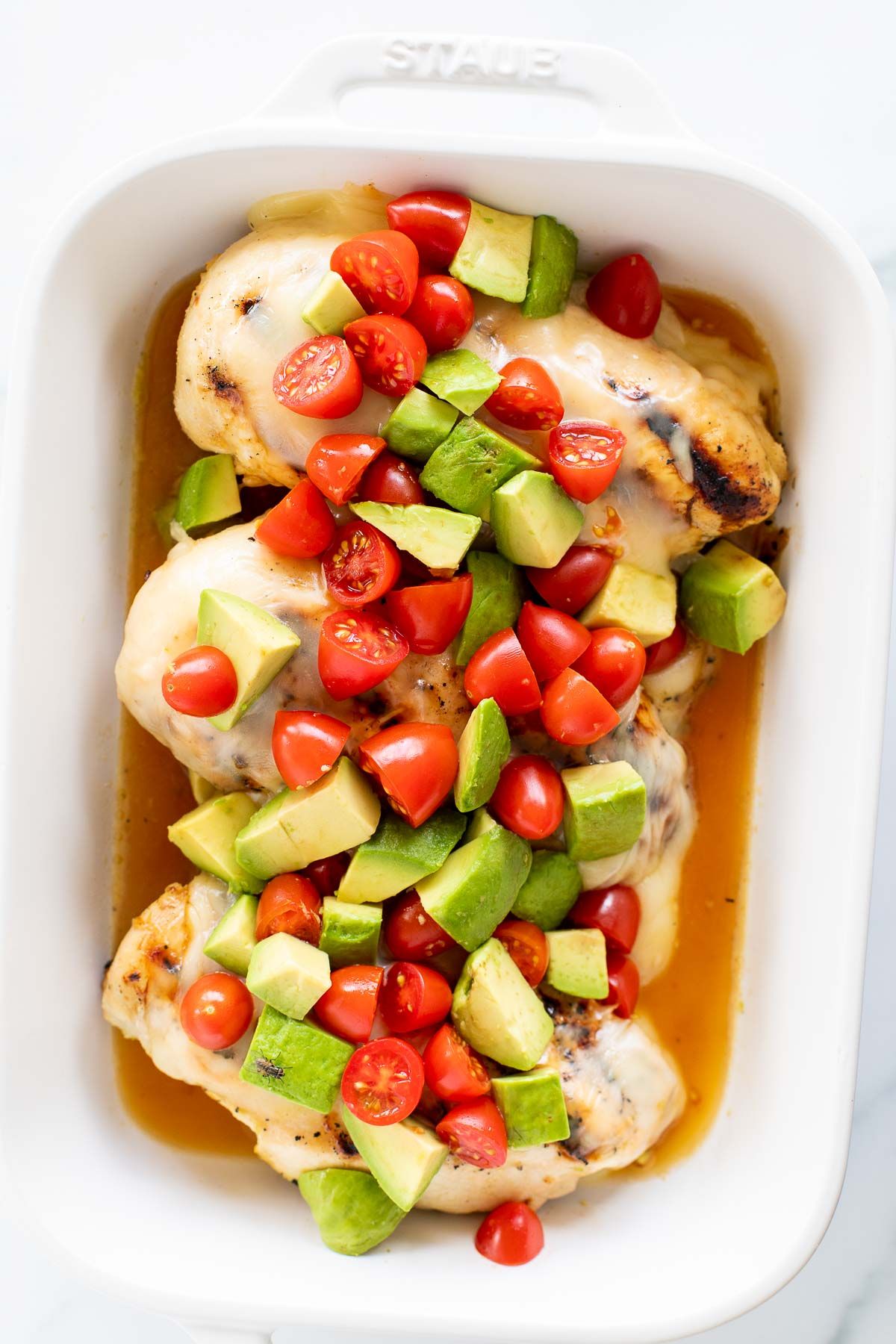 Ingredients and Substitutions
Chicken Breasts – Select like-sized boneless skinless chicken breasts so that they grill or bake evenly.
Olive Oil – Extra virgin olive oil creates a simple marinade.
Lemon Juice – Fresh squeezed lemon juice or store-bought in the produce aisle of your grocer. Either way it adds bright flavor.
Onion Powder – Adds a hint of flavor. If you want to use fresh, I highly recommend adding a chopped shallot to the marinade instead.
Garlic – You can mince 3 cloves of fresh garlic or use a tablespoon of minced garlic. You won't notice the difference in this time-saving shortcut.
Salt and Pepper – Fresh cracked on the highest setting for a little pop of flavor and texture.
Avocados – Ripe avocado adds additional protein, a lot of flavor, and color to this easy dish. Slice or cube according to your serving preference. Learn How to Cut an Avocado here.
Tomatoes – Use cherry, grape, or plum tomatoes cut in half or Roma tomatoes sliced.
Cheese – Monterey jack melts impeccably, but Havarti or fresh mozzarella are also incredible.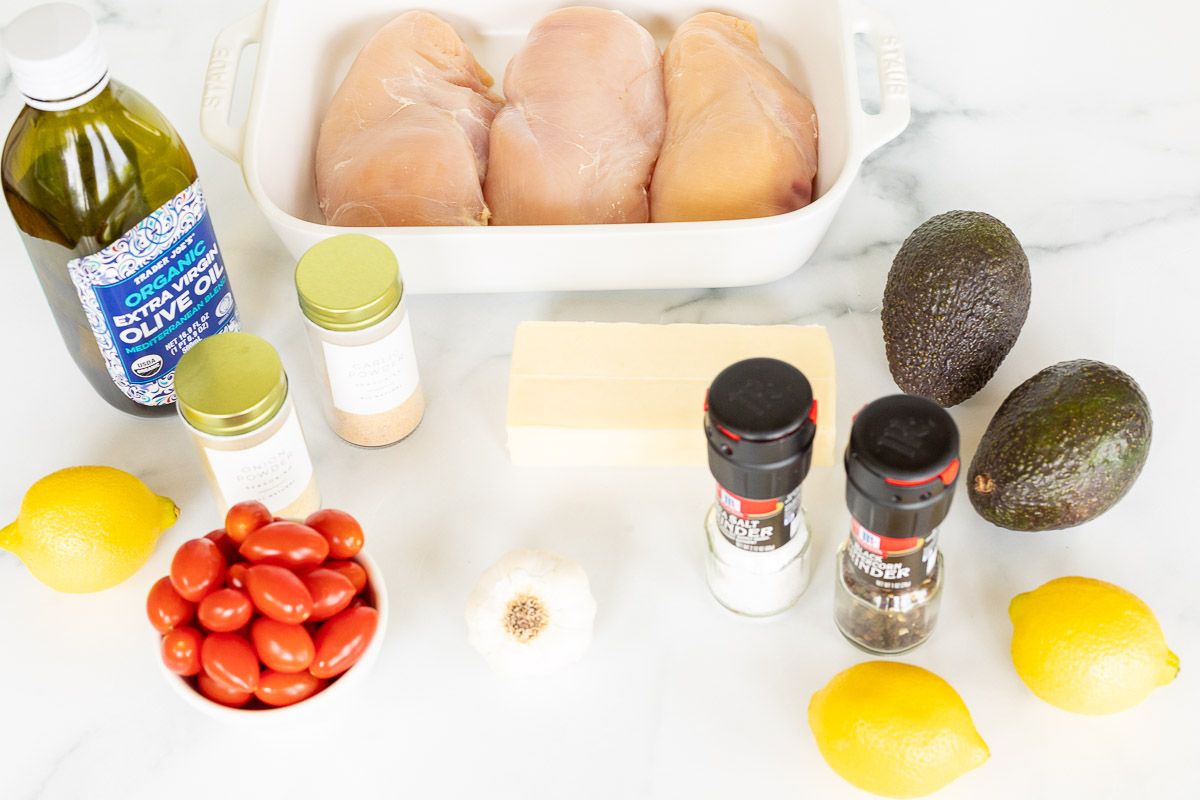 Variations
Add Black Olives
Add Bacon
Or Prosciutto
Top with Basil
Balsamic Glaze
Mozzarella Cheese
How to Make California Chicken in Just Three Easy Steps
Marinate – Combine and refrigerate to allow the flavors to meld.
Grill or Bake – Either way, it's quick and easy! Grill it and rotate halfway through or bake it and forget it until it's done.
Top – Add cheese, tomatoes and avocado.
Tips
For the juiciest chicken, allow the chicken breasts to rest 5-10 minutes before slicing and serving. It seals the juices in.
The longer you can marinate the chicken, the more tender it will become.
Use a meat tenderizer to pound the chicken if one side of the chicken is a lot thicker than the other side. This will help it cook more evenly.
Scaling up, down or substituting? You'll love this printable Measurement Conversion Chart!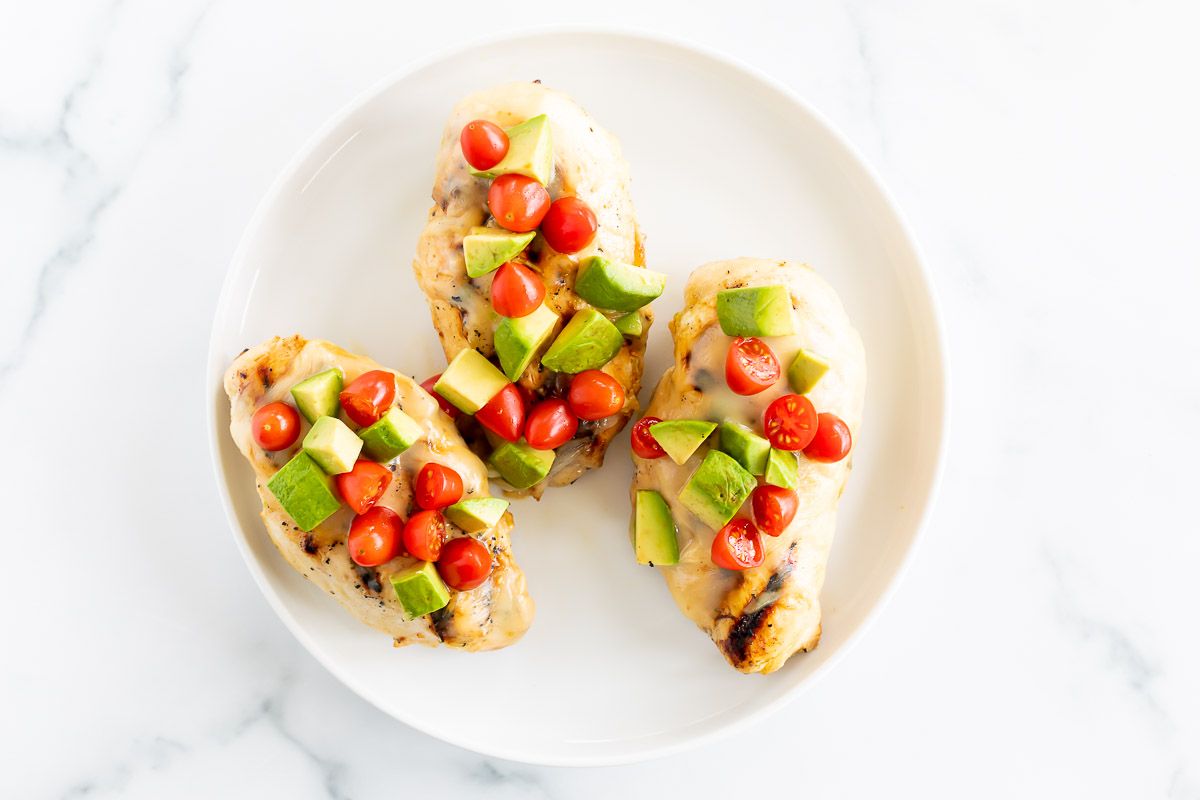 Shortcuts
Minced Garlic
Use Store Bought Guacamole Instead of Avocados
Pre-sliced Cheese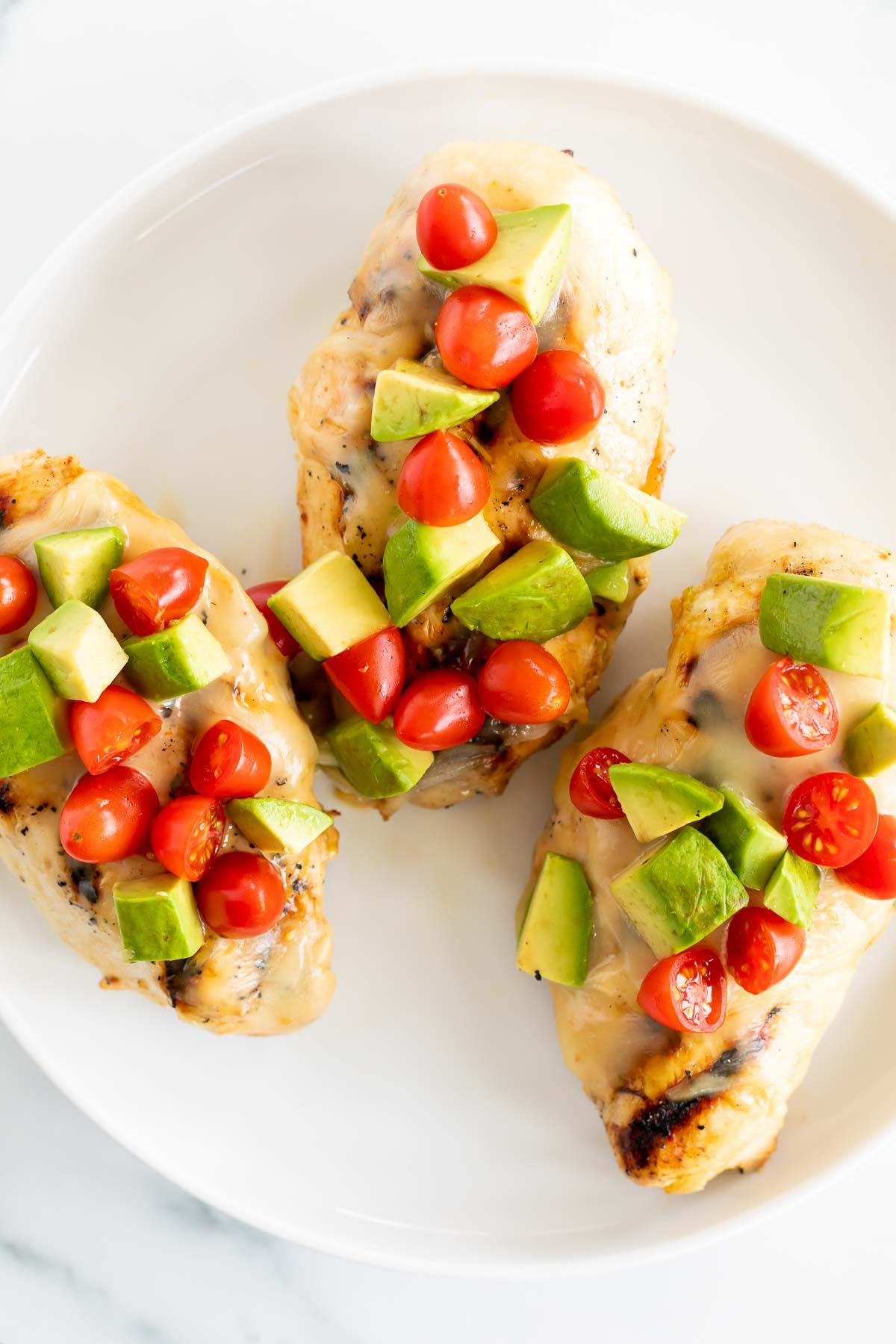 Frequently Asked Questions
Do I use frozen or thawed chicken for California Chicken?
You can use fresh or frozen chicken, but the frozen chicken should be thawed when you begin. The marinade will be absorbed better if the chicken is not frozen. Thaw chicken in the fridge for best results.
How long do I cook the chicken in the oven?
Chicken breasts come in different sizes, so there isn't an exact time that would work for every piece of chicken, but around 25 minutes at 400 degrees would be the average.

I recommend using a meat thermometer so you can pull the chicken out right when it reaches the internal temperature of 160 degrees. The chicken will rise to 165 degrees as it rests.
Make Ahead
The marinade will last from 2-4 weeks in the fridge.
Begin marinating the chicken up to 24 hours before grilling or baking.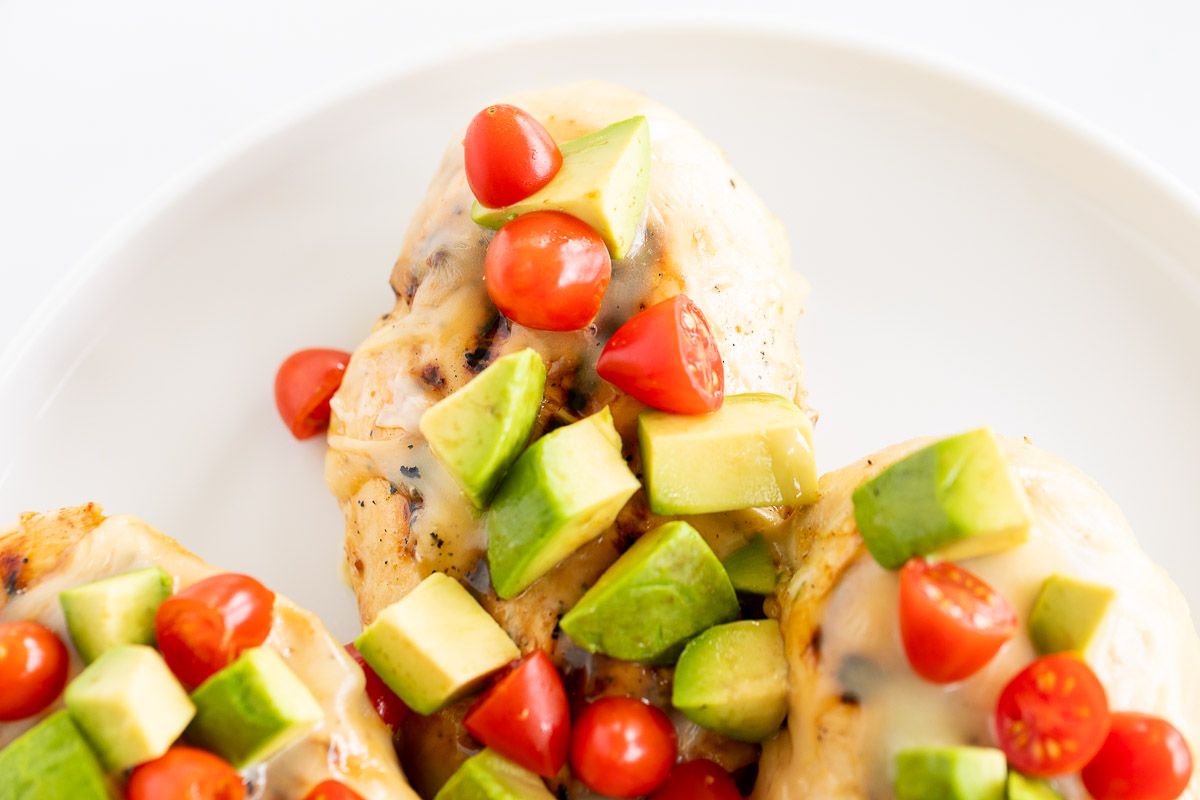 How to Store
At Room Temperature – Chicken can be left out while serving, but not longer than 2 hours. Store in fridge or freezer after that.
Refrigerate – California Chicken can be stored covered in the refrigerator for 3-5 days. I recommend storing it without the avocado and tomatoes on top. That way you can heat up your chicken and then add the toppings.
Freeze – Allow chicken to cool. Freezing is recommended before adding the toppings. Place whole chicken, chopped chicken, or shredded chicken in bags or containers. Label what is inside and then freeze. Keep frozen for up to 4 months. Let thaw in refrigerator and then reheat in oven or skillet. To keep chicken moist, let simmer in a covered skillet or covered pan in the oven with a few tablespoons of chicken stock.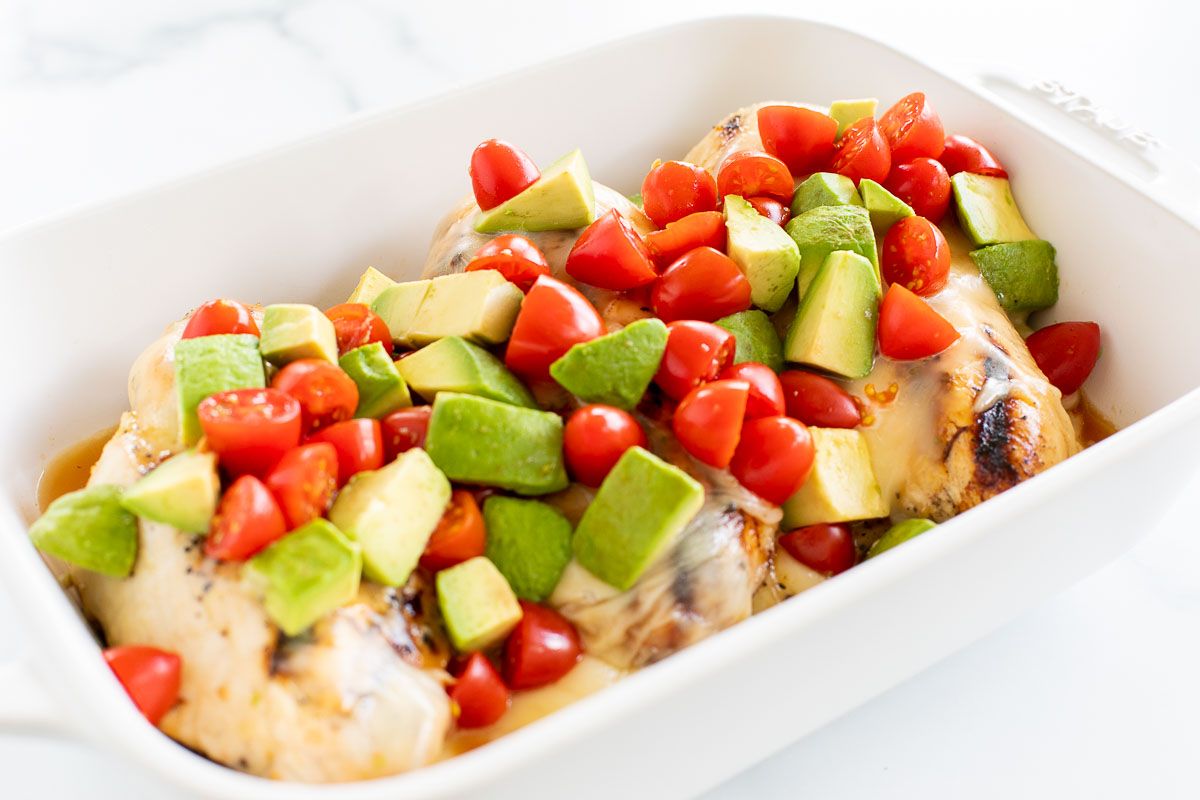 What to Do with California Chicken Grill Leftovers
Make it into a salad
Chop it up and put it in a wrap
Serve it in a warm corn tortilla for tacos
Cut it in cubes and serve in a soup
Dietary Considerations
Gluten Free
Dairy Free
Nut Free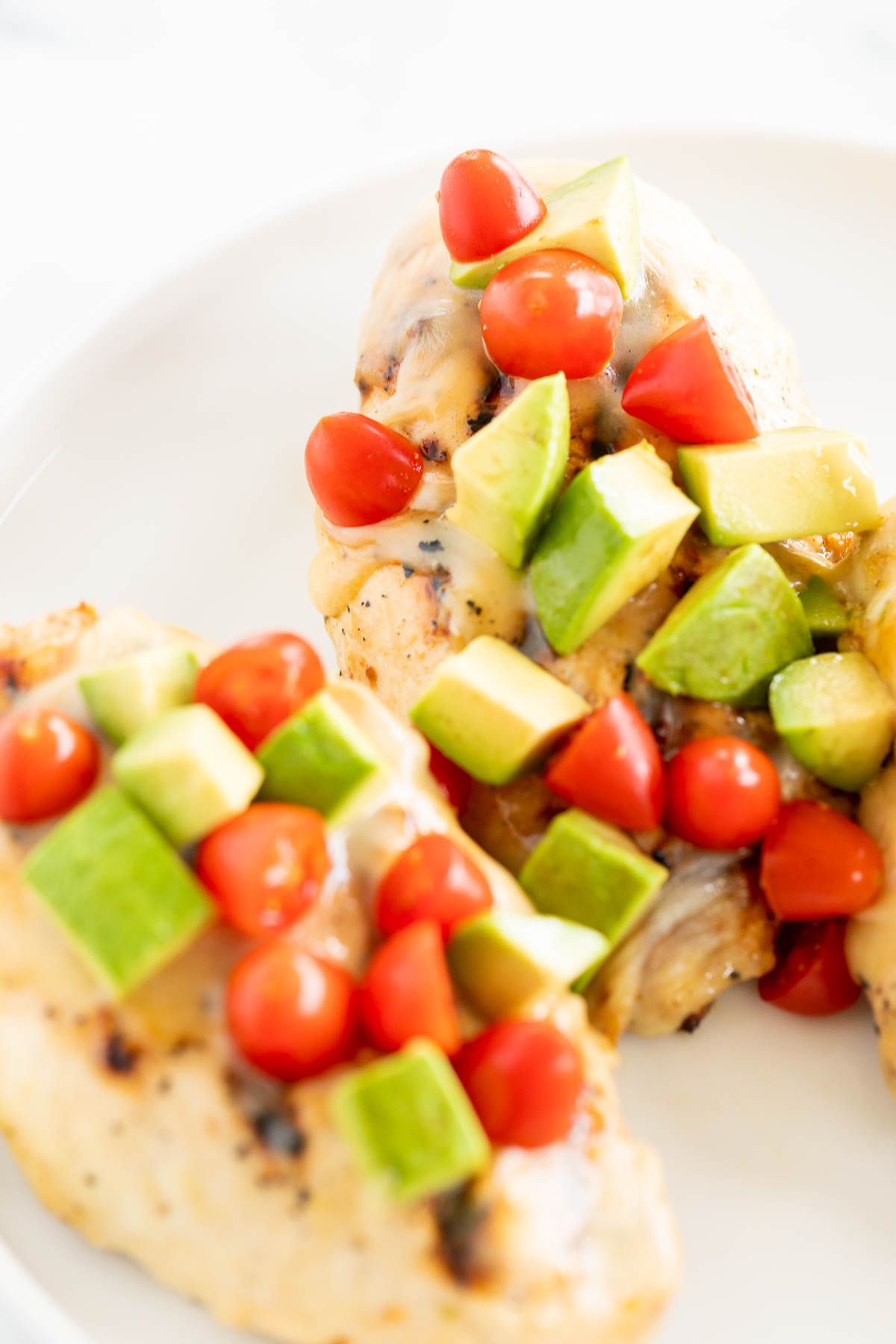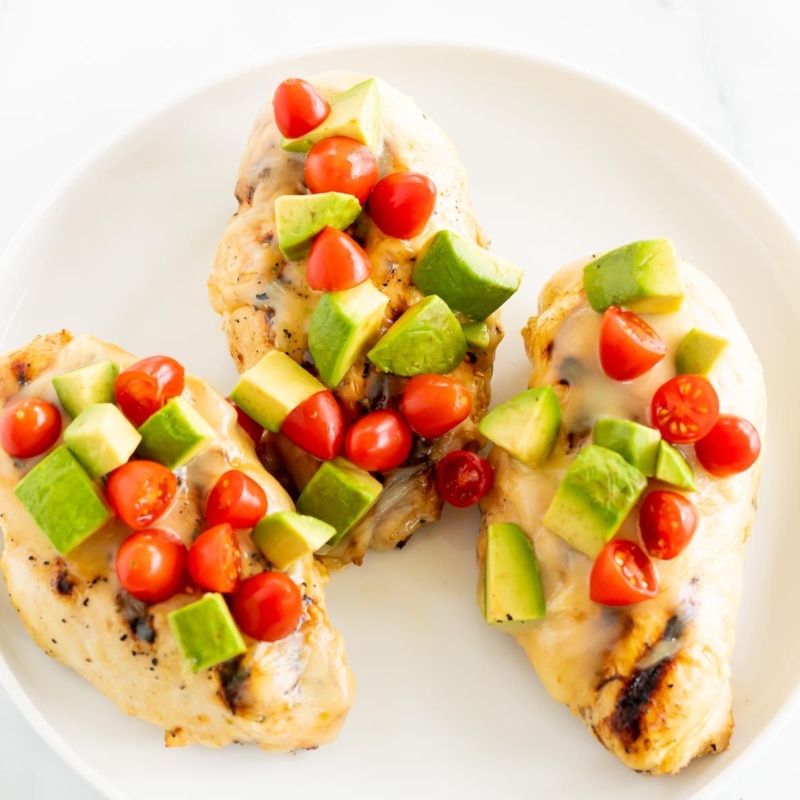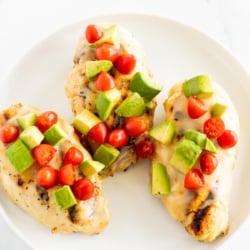 California Chicken
This light, fresh and flavorful easy chicken recipe can be made on the grill or in the oven in minutes!
Ingredients
Chicken and Topping
4

boneless skinless chicken breasts

2

avocados

sliced or cubed

1

cup

cherry tomatoes

cherry plum or grape cut in half, or 2 ripe Roma tomatoes sliced or cubed

6

ounces

monterey jack cheese

sliced
Instructions
Marinate Chicken
In a sealable jar, bag or small mixing bowl, combine olive oil, lemon juice, onion powder, garlic, salt and pepper. Shake or stir to combine.

Add chicken to bag or casserole dish and cover with marinade. Refrigerate covered for 30 minutes or up to 24 hours.
On the Grill
Preheat grill to medium high heat. Brush with oil. Place chicken breasts on the grill and discard marinade.

Close lid and grill covered 6 minutes.

Rotate chicken and grill 5-7 minutes when juices run clear and internal temperature has reached 165°F using a meat thermometer.

Top chicken breasts with cheese and close lid for 30 seconds or until melted. Remove from grill.
In the Oven
Marinate chicken as instructed. Preheat oven to 400°F when you're ready to bak.

Place chicken breasts in a casserole dish. Bake 25 minutes or until internal temperature of chicken reaches 165°F.

Remove from oven, top with cheese. Cover with foil and return to oven covered for 1 minute.
Add Toppings
Add tomatoes and avocado after chicken cooks through. Allow chicken to rest 5-10 minutes to seal in the juices.
Tips
Tips
For the juiciest chicken, allow the chicken breasts to rest 5-10 minutes before slicing and serving. It seals the juices in.
The longer you can marinate the chicken, the more tender it will become.
Use a meat tenderizer to pound the chicken if one side of the chicken is a lot thicker than the other side. This will help it cook more evenly.
Calories:
522
kcal
|
Carbohydrates:
12
g
|
Protein:
37
g
|
Fat:
37
g
|
Saturated Fat:
12
g
|
Polyunsaturated Fat:
3
g
|
Monounsaturated Fat:
19
g
|
Trans Fat:
1
g
|
Cholesterol:
110
mg
|
Sodium:
516
mg
|
Potassium:
1049
mg
|
Fiber:
7
g
|
Sugar:
2
g
|
Vitamin A:
692
IU
|
Vitamin C:
26
mg
|
Calcium:
345
mg
|
Iron:
2
mg
Estimated nutrition information is provided as a courtesy and is not guaranteed.
Explore More