A recipe for incredibly delicious, thick, light and fluffy Orange Rolls! These easy sweet orange rolls are covered in cream (to make them extra moist) and topped with an orange glaze for a truly memorable treat!
Perfect for breakfast and brunch and great if you are feeding a crowd, these orange rolls are the ultimate treat for weekends, holidays or ANY time!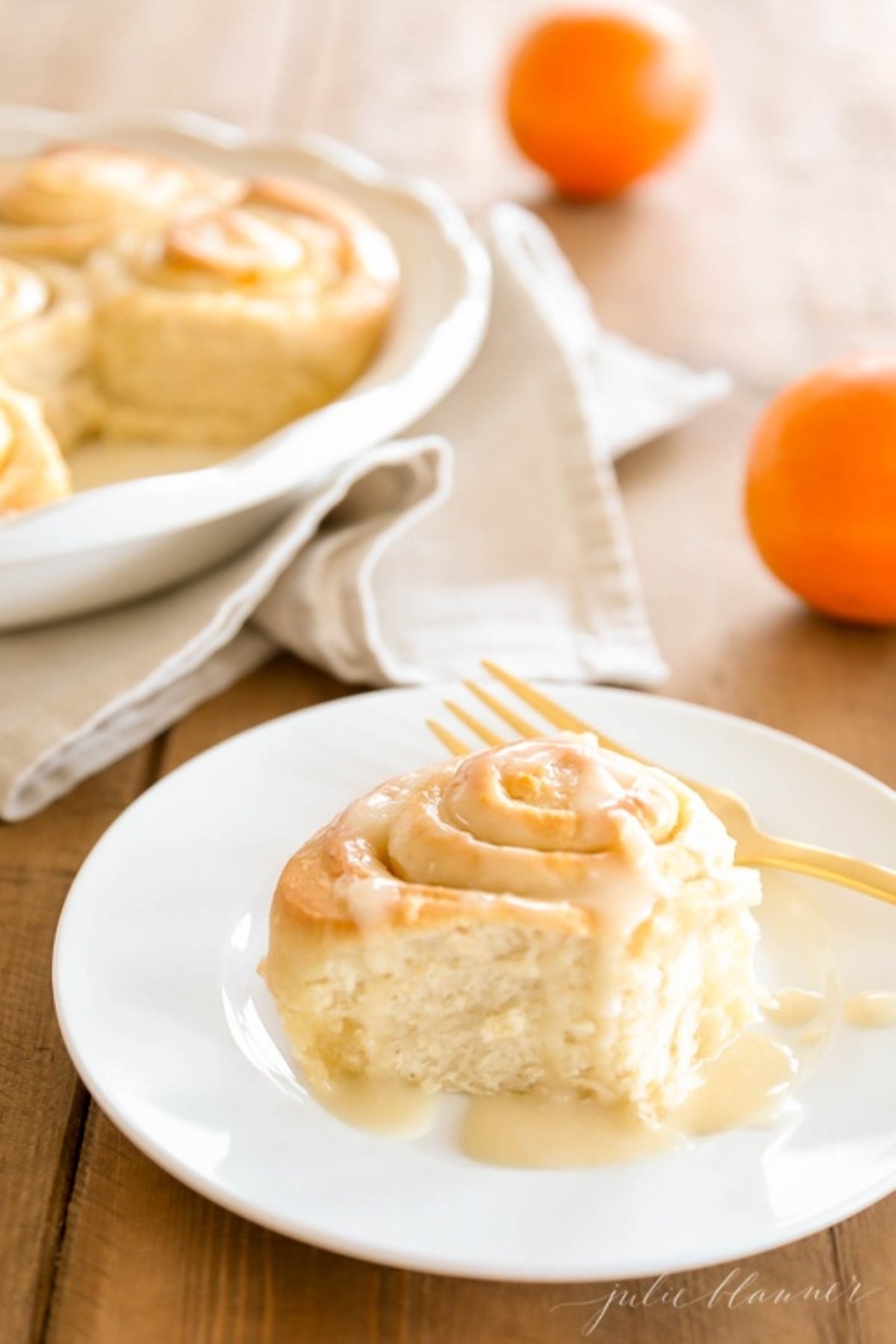 I adapted my better than the bakery cinnamon roll recipe and to be honest, I'm not sure which one you're going to love more. Do we have to choose? I don't think so!
This recipe for easy orange rolls is great for brunch and will have everyone talking! If you love everything sweet orange, you'll also love Mandarin Orange Cake (Made From Scratch), Orange Pound Cake and Orange Bread.
I've even got the easiest method for creating Dried Orange Peels for all kinds of kitchen goodies!
These delightful, light and fluffy sweet orange rolls with orange glaze are made start to finish in less than an hour. The best part? 50 minutes of that you're just patiently waiting while they rise to the occasion!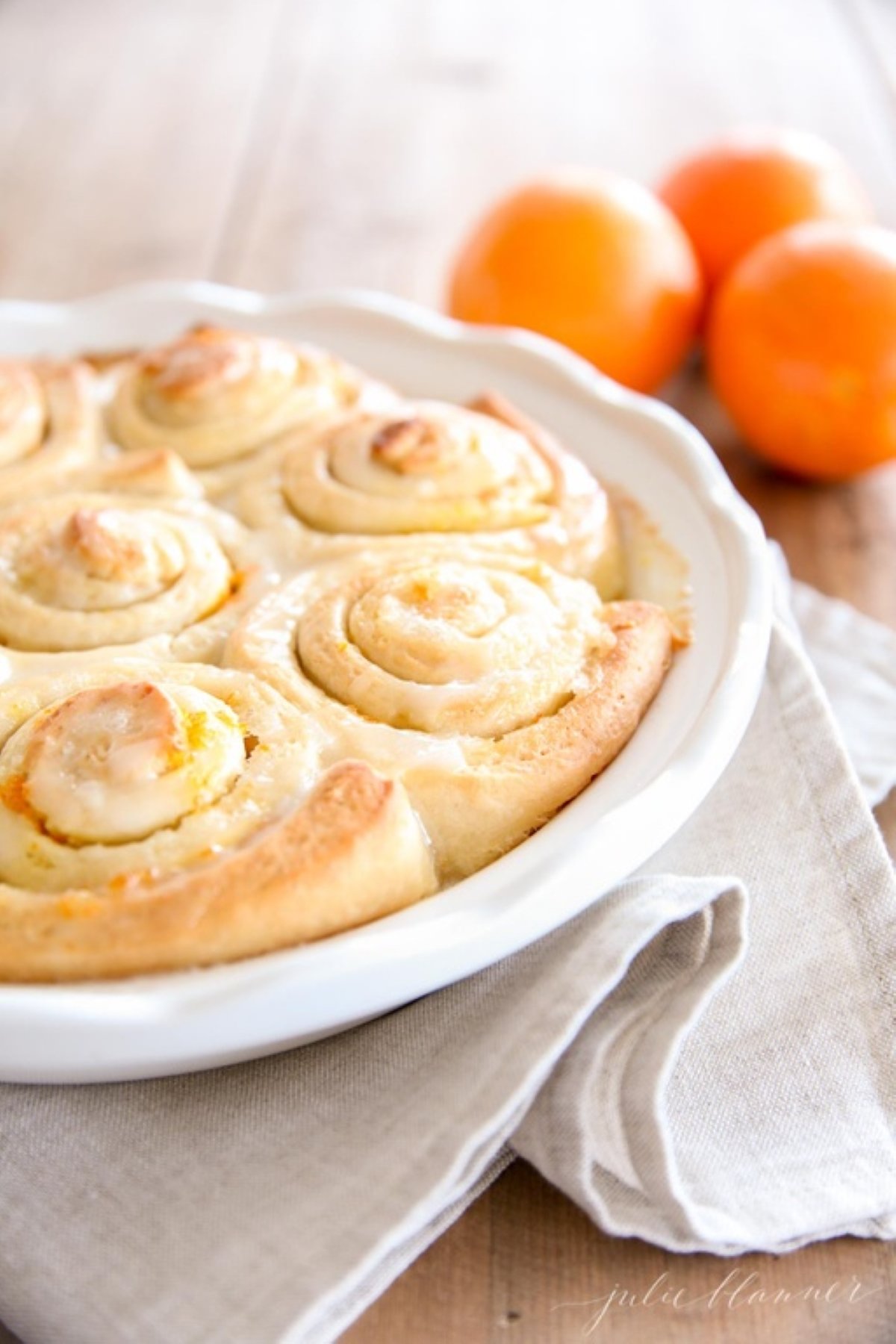 Why You'll Love these Orange Rolls
These amazing orange rolls are light and fluffy but oh-so-decadent.
Perfect amount of citrus
Great for holidays or ANY day!
Beautiful to serve, with sparkling sugar crystal zest on top.
They taste even better than they look! One bite and you'll never buy canned or frozen orange rolls again!
★★★★★

5 STAR REVIEW

"Our paper published this recipe and I made them. They were delicious and the easiest rolls I have ever made. I also loved that it made 10 rolls- just the perfect amount."

— SYLVIA —
Don't skip our incredible pumpkin cinnamon rolls if you're in the mood for a taste of fall.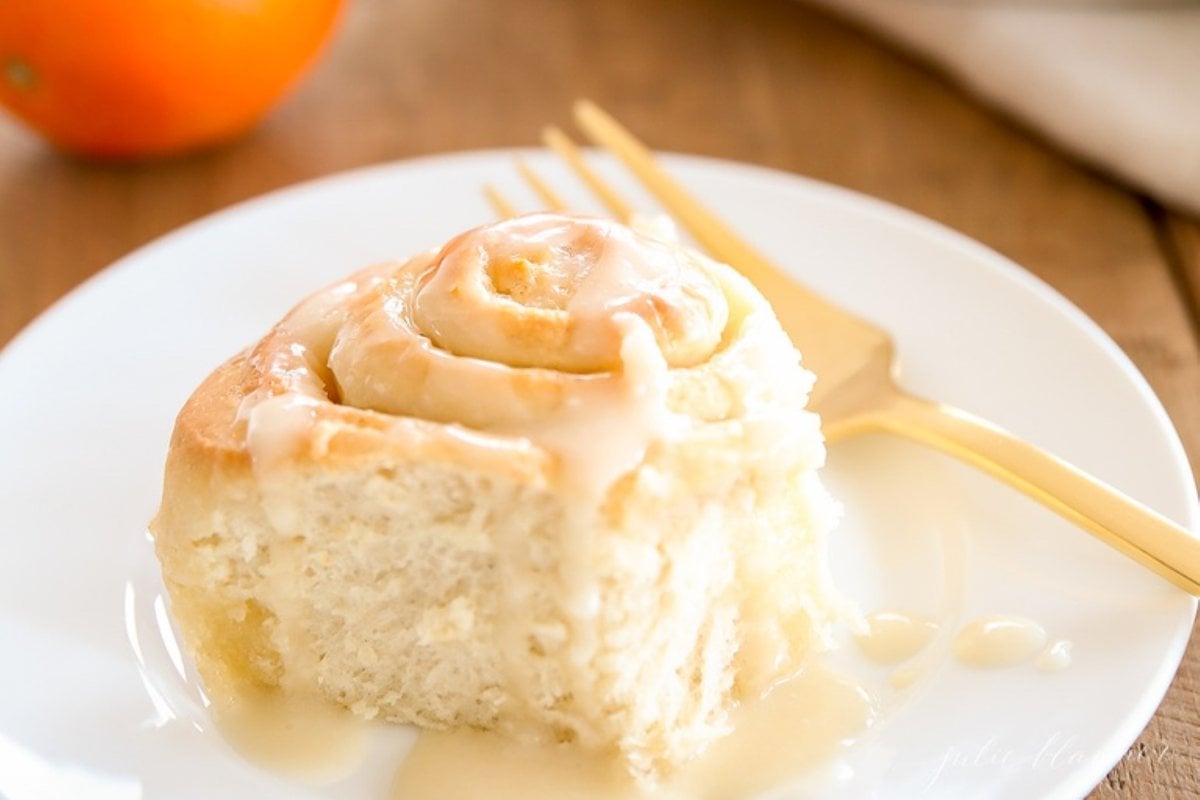 Ingredients and Substitutions
Need help with yeast? I've got a complete guide that will take you through the steps of baking with yeast! Don't miss these fabulous tips and tricks!
For the Rolls
Milk – Any kind of milk will work, but full fat is always best when you're making these super decadent orange rolls.
Butter – Unsalted or salted is fine. I generally have salted butter on hand so that's what we use.
Flour – All-purpose flour
Sugar – White granulated sugar is required for these rolls.
Salt – to balance out the sweet citrus flavor
Active Yeast – Quick rise yeast is best.
Eggs – The dough for these rolls comes together quickly and easily with the aid of a stand mixer. Use unsalted butter for this dough, if you do use salted, you may want to decrease the amount of salt added.
Orange zest – Sprinkled on to the dough to give the rolls a slightly sweet and wonderfully rich and vibrant orange flavor.
Heavy cream – This is poured on top of the rolls before they are baked in the oven.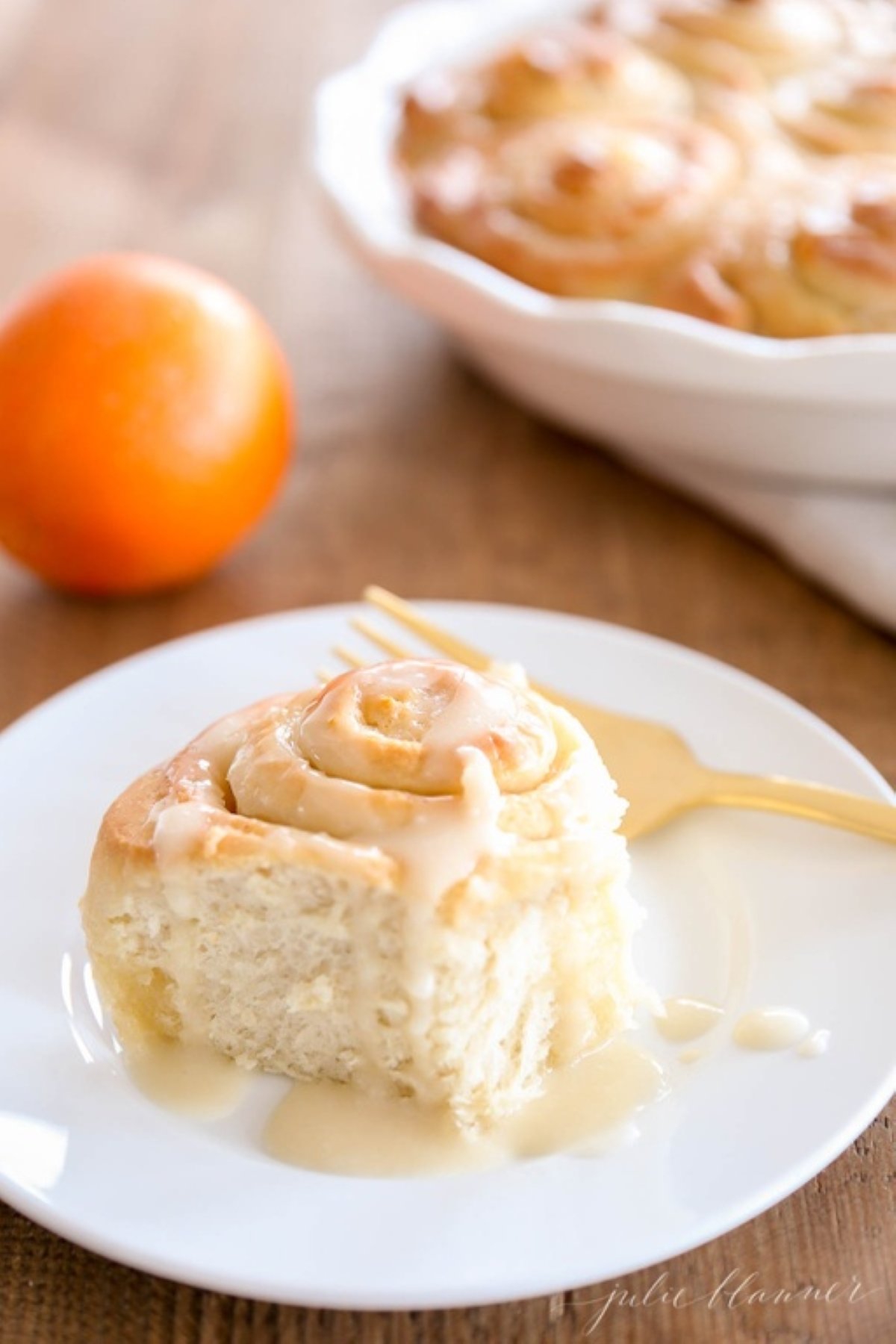 For the Glaze
Powdered sugar – also known as confectioner's sugar, this is a necessity for a smooth, creamy frosting.
Orange juice – adds the perfect touch of citrus sweetness.
Vanilla Extract– These rolls are topped off with a sweet and tangy orange glaze that seeps into the rolls for the best flavor and prettiest drizzle!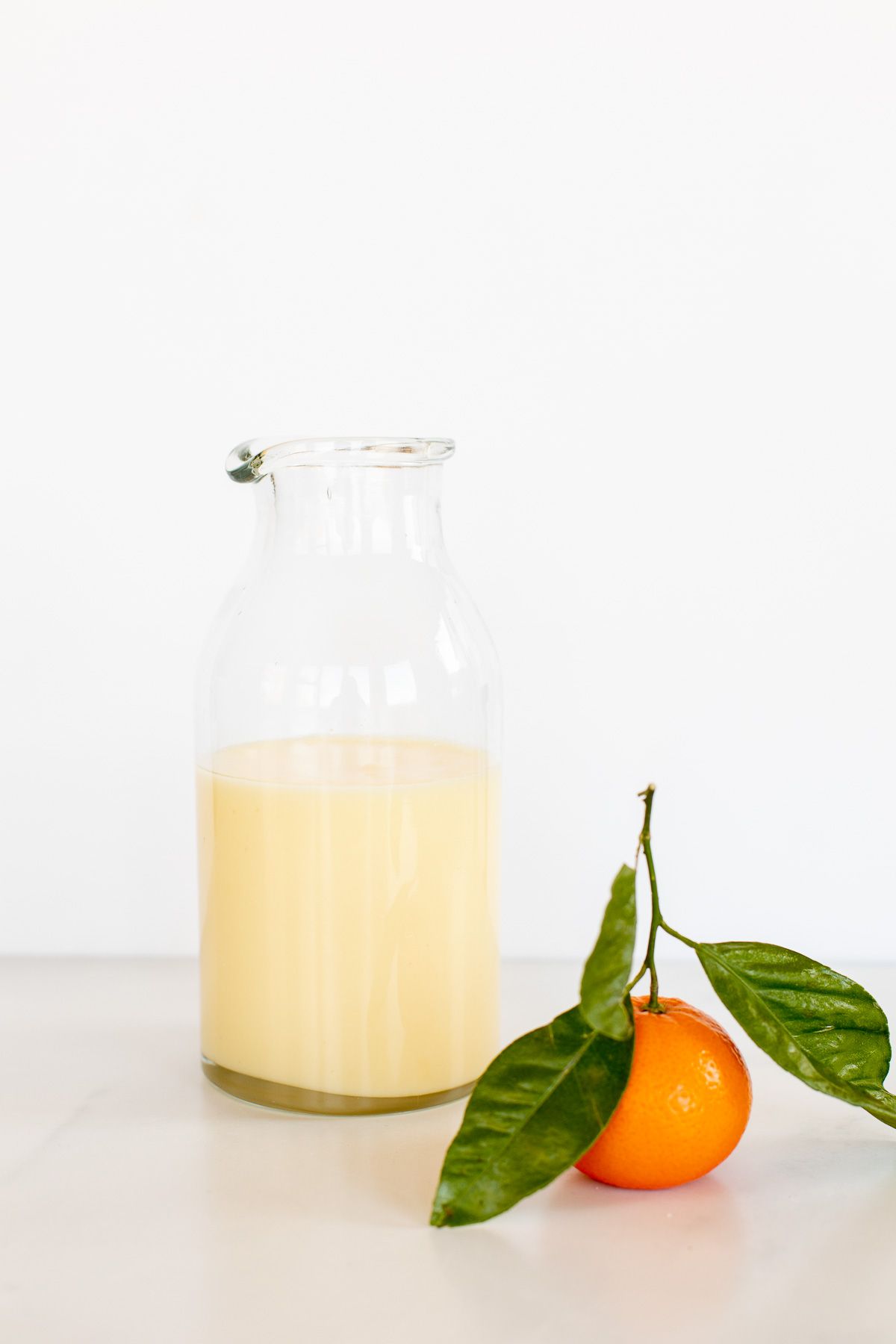 Variations
Make these sweet rolls with a Cream Cheese Glaze instead of the orange icing.
Add chopped nuts! Walnuts, pecans and almonds would work beautifully in these orange rolls.
Don't want to deal with orange zest? Simply replace with 2-3 tablespoons of orange marmalade.
Add a little Grand Marnier to the Glaze for an extra special treat!
How To Make Orange Rolls
In a saucepan over medium heat, add milk and butter. Stir until melted and remove from heat.
In a mixing bowl, combine dry ingredients. Add yeast and lukewarm milk mixture. Combine, and add egg.
Using the dough hook attachment on your mixer, knead as directed.
Let dough rest for 10 minutes. Preheat oven.
On a floured surface, roll out dough and add filling. Cut into thin strips, roll and place in a baking dish.
Turn oven off. Cover rolls with a damp towel and allow to rise. Remove from oven, preheat again as directed. Cover rolls in heavy cream, and bake.
Top the orange rolls with icing and serve.

How to Zest an Orange

While fresh orange zest is not required for this recipe, it's a delicious addition. It's easy to get a tablespoon of zest to really take your orange rolls to the next level!

Use a microplane held in one hand at an angle, or the finer side of a box grater.
Holding the orange in your opposite hand, rubbing it down over the microplane holes.
You'll see the finely grated orange zest begin to appear. Be careful to not grate the white part under the peel, avoiding the bitter pith.

Tips

Butter your baking dish before adding the rolls to it, so that once baked they are easy to remove and won't stick.
It's best to use fresh orange juice when you make the glaze for a really fresh and tangy flavor.
Don't skip the heavy cream pour before baking. It makes every single bite taste like the center of the orange roll! It's the secret ingredient (and step) that make these rolls stand above the rest! Covering them with heavy cream makes these thick, fluffy rolls so moist and decadent.
Pour icing over the rolls directly out of the oven so it can seep into the rolls. Don't skimp!

Scaling up, down or substituting? You'll love this printable Measurement Conversion Chart!

Frequently Asked Questions

Are Orange rolls the same as cinnamon rolls?

The dough is generally the same, resulting in a soft, fluffy, yeasty treat. However, the addition of citrus instead of cinnamon makes them a delightful class all their own!

Can you make orange rolls in advance?

The beauty about these rolls is that they do come together quickly, you just need a little patience to let them rise. If you are organized and want to get ahead with things, once the rolls have risen, you can cover them with plastic wrap and keep them in the fridge overnight.

In the morning preheat your oven, pour the cream over the rolls and bake as directed. You can also bake these rolls ahead of time and keep them covered in the fridge. Gently reheat them in the oven and spread the frosting before serving.

Looking for more brunch inspiration? Don't skip this incredible classic Quiche recipe, this Spinach and Feta Quiche, and this Chorizo Burrito Casserole.

How to Store Orange Rolls

Room Temperature: Store these for up to two days in an airtight container on your kitchen counter.
Refrigerator: If you have leftovers, keep them in an airtight container in the refrigerator up to three days. You can then reheat them in the oven or microwave to serve.
Freezer: Freeze these after baking and cooling completely. Before adding glaze, place rolls on a sheet pan and freeze individually until hardened, then transfer to a freezer bag or container. They will keep well in the freezer for up to six months.

To defrost from the freezer, simply allow to come to room temp or microwave in 30 second increments until defrosted completely.

Dietary Considerations

Vegetarian
Nut Free
Use gluten free flour to make these rolls gluten free

Breakfast & Brunch

36 mins

1 Hour Easy Orange Rolls Recipe

Thick, light and fluffy orange rolls covered in cream are topped with an orange glaze for a truly memorable treat!

Ingredients

Dough

¾

cup

milk

⅓

cup

unsalted butter

2¼

cups

all-purpose flour

(+ up to 1 cup additional, see step by step instructions)

¼

cup

white granulated sugar

½

teaspoon

salt

1

package

active quick rise yeast

(one packet of yeast is equivalent to 2¼ teaspoons if you buy yeast in bulk)

1

large

egg

Filling

4

tablespoons

unsalted butter

melted

1

cup

white granulated sugar

granulated white

2

tablespoons

orange zest

zest of 1 large orange

Poured Over Rolls Before Baking

Glaze

2

cups

powdered sugar

3

tablespoons

orange juice

can substitute lemon juice

1

teaspoon

vanilla extract

Instructions

In a saucepan over medium heat, add milk and butter. Stir until melted and remove from heat.

In a large mixing bowl, whisk to combine 2¼ cups flour, ¼ cup sugar, and salt. Add yeast over dry mixture. Gradually add lukewarm milk and butter mixture and blend until combined. Add egg and mix until just combined.

Using the dough hook attachment on your mixer (or knead by hand), knead while gradually adding up to 1 cup additional flour until the dough forms a ball and pulls away from the edges of the bowl.

Let dough rest for 10 minutes. Preheat oven to 350°F.

On a floured surface, roll dough into a rectangle approximately 12" by 18" wide. Using a pastry brush, spread melted butter on top. Sprinkle with sugar and orange zest.

Using a knife or pizza cutter, cut into 10 even (18") strips. Starting at the end, gently roll and place in a baking dish or cast iron skillet.

Turn oven off. Cover rolls with a damp towel and allow to rise in warm oven for 25 minutes.

Remove from oven and preheat to 350°F. Pour ¼ cup heavy cream over rolls. Bake 15 minutes or until slightly golden.

Orange Glaze

In a medium mixing bowl, combine powdered sugar, juice and vanilla extract.

Using a spatula or spreader, spread glaze over warm rolls and serve.

Tips

Tips and Variations

Butter your baking dish before adding the rolls to it, so that once baked they are easy to remove and won't stick.
It's best to use fresh orange juice when you make the glaze fro a really fresh and tangy flavor.
Make these sweet rolls with a Cream Cheese Glaze instead of the orange icing.
Add chopped nuts! Walnuts, pecans and almonds would work beautifully in these orange rolls.
Don't want to deal with orange zest? Simply replace with a little orange marmalade.
Add a little Grand Marnier to the Glaze for an extra special treat!

To Store

Room Temperature: Store these for up to two days in an airtight container on your kitchen counter.
Refrigerator: If you have leftovers, keep them in an airtight container in the refrigerator up to three days. You can then reheat them in the oven or microwave to serve.
Freezer: Freeze these after baking and cooling completely. Before adding glaze, place rolls on a sheet pan and freeze individually until hardened, then transfer to a freezer bag or container. They will keep well in the freezer for up to size months. To defrost, simply allow to come to room temp or microwave in 30 second increments until defrosted completely.

Calories:

428

kcal

|

Carbohydrates:

73

g

|

Protein:

5

g

|

Fat:

14

g

|

Saturated Fat:

8

g

|

Cholesterol:

54

mg

|

Sodium:

228

mg

|

Potassium:

82

mg

|

Fiber:

1

g

|

Sugar:

50

g

|

Vitamin A:

490

IU

|

Vitamin C:

4

mg

|

Calcium:

40

mg

|

Iron:

1

mg

Estimated nutrition information is provided as a courtesy and is not guaranteed.

Explore More