These Sugar Cookie Bars with Buttercream Frosting melt in your mouth. Each bite of these amazing Cookie Bars are like the thick, chewy center of a sugar cookie – but better!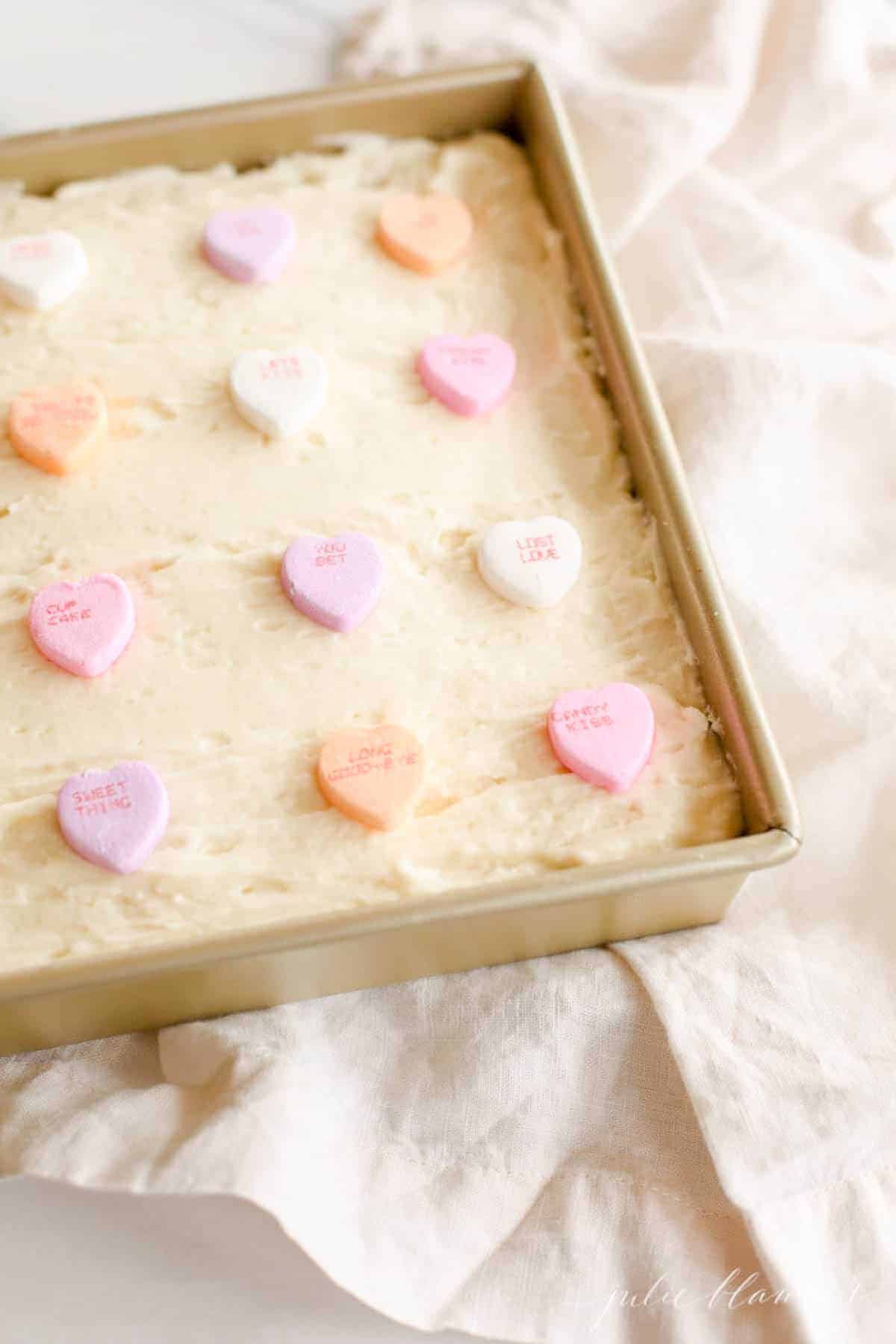 Originally published January 2017, updated with video and tips February 2021.
I can't be trusted with a working oven, a little sugar and butter. Especially if there's anything to celebrate. You all loved my sugar cookie cake so much, I decided to make it in bar form.
That's right, melt-in-your-mouth frosted sugar cookie bars with thick buttercream icing. They're so indulgent and oh so good.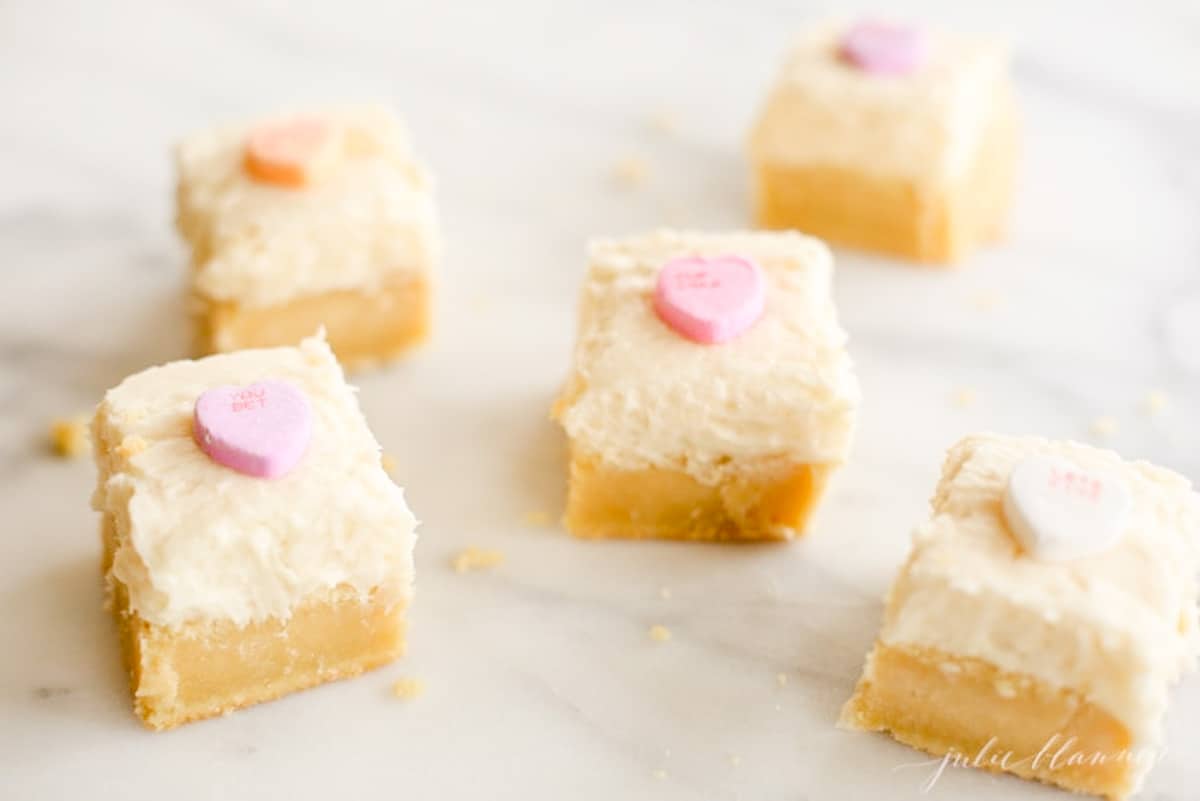 When you have a really great cookie dough recipe like these melt in your mouth sugar cookies, it's hard not to imagine it in other forms beyond a cookie.
This dough makes incredible cookie cobblers, cookie cakes, and cookie bars, because why not? Each has its own incredible texture and consistency.
When you put my melt in your mouth sugar cookie dough into a 9×9 or 9×13 pan (depending on how ridiculously thick you want them), they are so moist, chewy and delectable.
Just one bite and you'll see why Chris can't stop at one. I've been known to munch on them for breakfast. That's acceptable, right?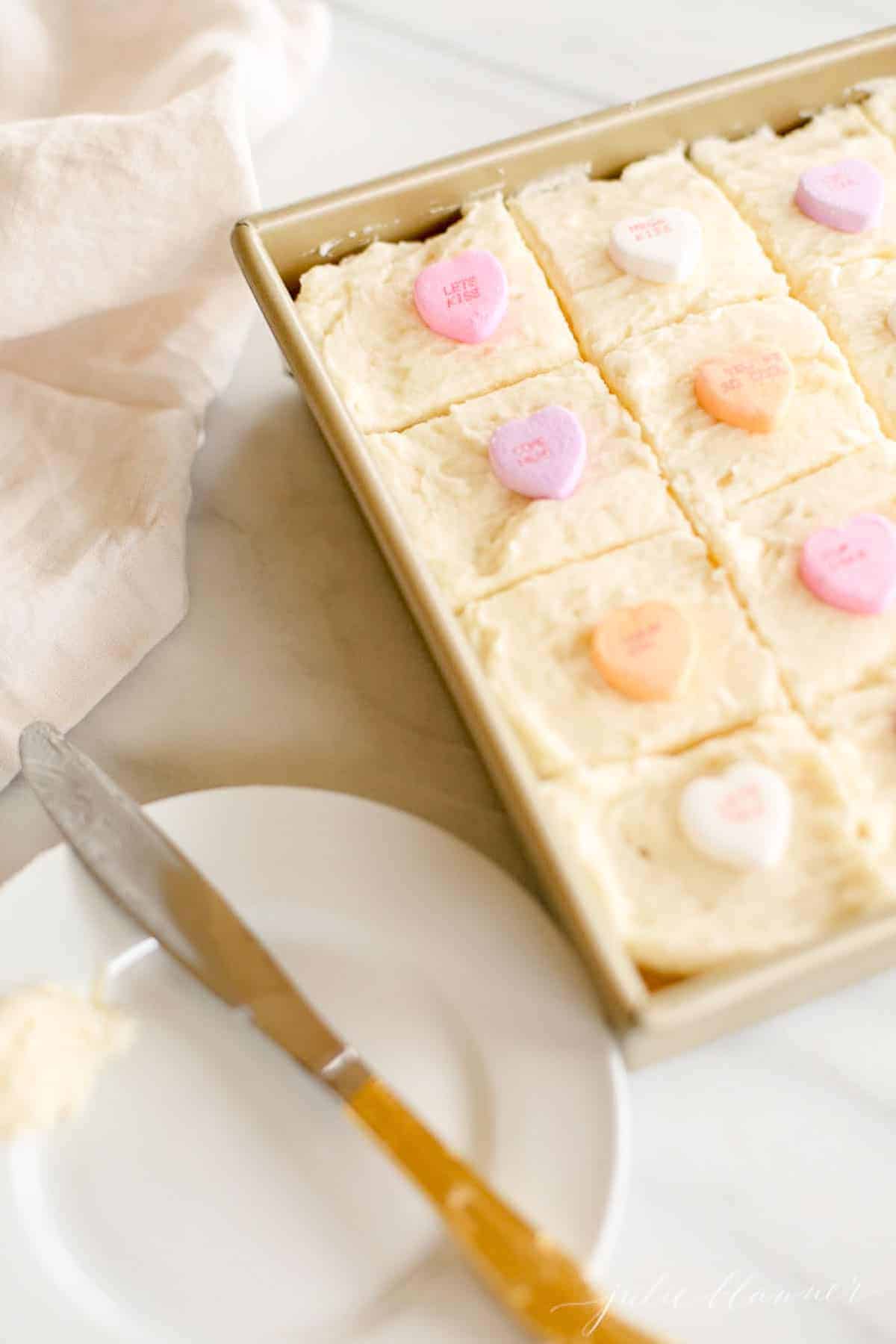 The other reason I love making Sugar Cookie Bars is because each bite tastes like the thick, chewy center of a sugar cookie. There are no crisp edges, only melt-in-your-mouth centers!
They're so soft, sweet and decadent, and with an incredibly buttery crumb. The creamy buttercream, matched with that soft cookie, is perfection!
Looking for more Valentine's inspiration? Check out this complete guide to my favorite Valentine's Day Recipes.
Why You'll Love These Sugar Cookie Bars
Cookie Bars are quicker and easier to make than cookies because you don't have to scoop the dough out and bake one cookie sheet after another. Just spread the dough in your baking dish and bake all at once, and frost all at once. It's a huge time saver.
Quick and Easy – No need to use multiple cookie sheets, scoop and roll dough! Making them into bars is a huge time saver!
Thick and Chewy – Each bite is like the incredible center of a sugar cookie.
Effortless – They look so pretty, without any effort! You can customize them for birthdays, holidays and more!
The thicker your cookie bar, the longer you'll need to bake. Likewise, should you choose to make them thinner, you may want to reduce baking time. Whatever you do, don't over bake. That's what makes them so amazing.
Just cut them into squares once they've cooled for the perfect handheld treat. If you can't wait, you can cut them in just 15 minutes to enjoy.
Well, that and the fact that I use oil and butter. Don't judge! That's what gives them the melt-in-your-mouth quality that makes them so addicting.
These Cookie Bars are great for birthdays, Valentine's Day, picnics, barbecues, Christmas, parties and so much more! Basically, anything you need a quick, easy and incredible dessert for! They even make a delicious birthday "cake"!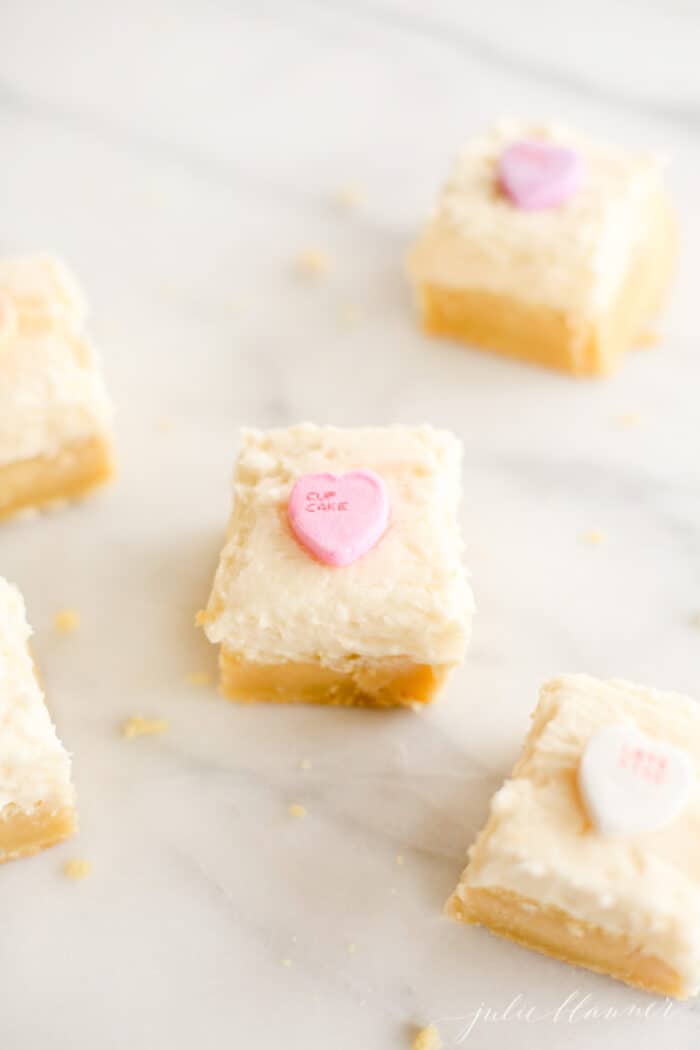 Sugar Cookie Bar Ingredients
These bars use staple ingredients. The combination of both butter and vegetable oil make them melt-in-your-mouth-delicious!
Butter – Salted or unsalted, softened. If you are using salted butter, simply omit the salt in this recipe. Learn how to soften butter quickly here.
Vegetable Oil – Using both butter and vegetable oil gives these bars a melt-in-your-mouth texture you can't resist!
Sugar – White granulated sugar sweetens and when blended with butter, helps give these bars a little rise.
Powdered Sugar – Also known as confectioners sugar, this powdery sweetener gives these bars luxurious texture.
Eggs – To bind it all together!
Vanilla – Vanilla extract adds a hint of flavor, and it's so easy to make your own Homemade Vanilla. You can use almond, lemon or orange extract as well!
Flour – All purpose flour, no need to sift.
Salt – Salt brings out all the other flavors in baking. Omit if using salted butter.
Cream of Tartar – Makes them light and fluffy!
Baking Soda – The leavening agent.
Buttercream Icing Ingredients
Butter – Salted or unsalted, softened.
Powdered Sugar – For texture.
Milk or Heavy Cream – To thin to desired consistency.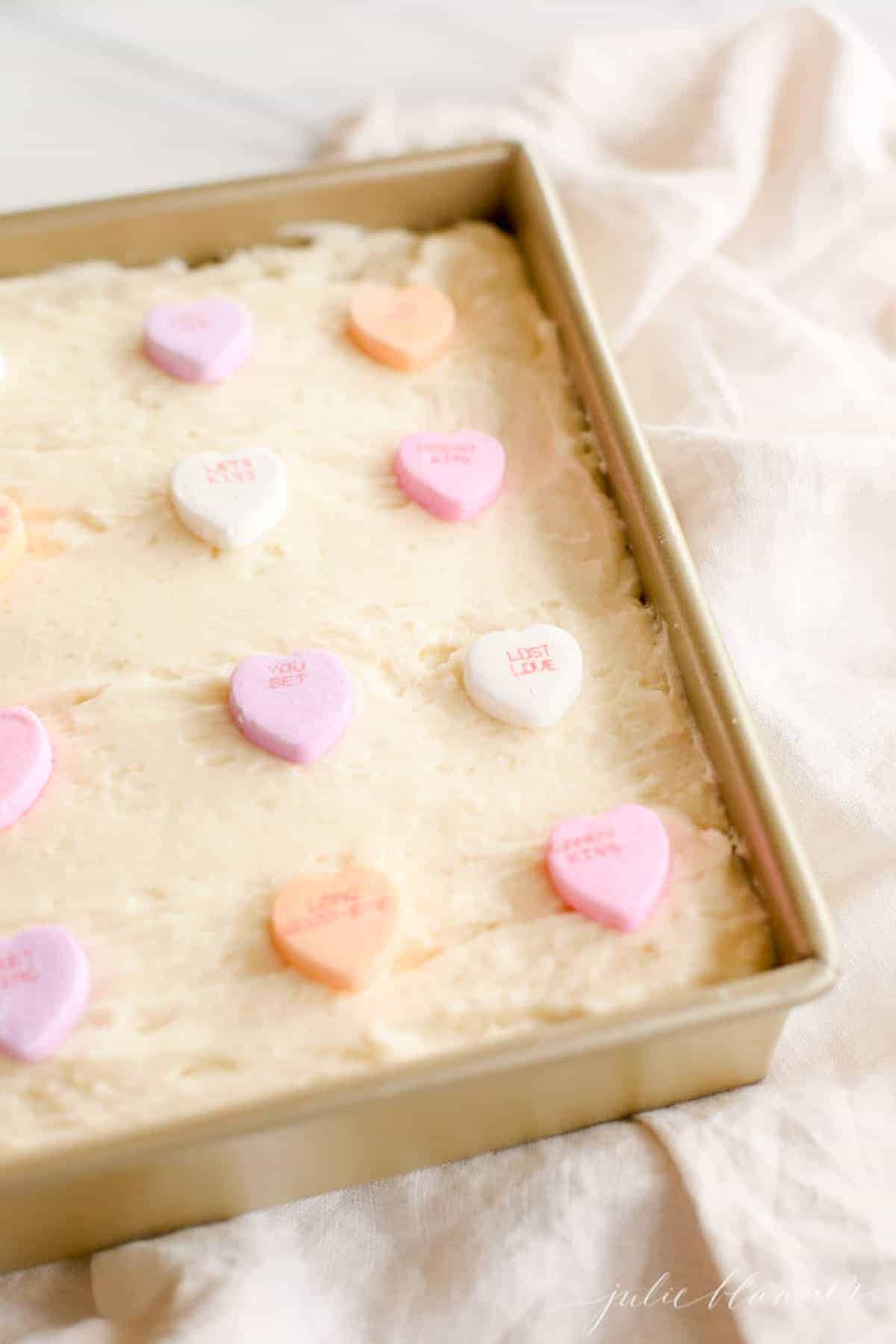 How to Make Sugar Cookie Bars
They're so quick and easy! Continue for the full printable recipe card below.
Prep – Preheat oven and grease baking dish.
Beat Butter and Sugars – In a large bowl or mixing bowl, combine wet ingredients. Blend in eggs.
Add Dry Ingredients – Add dry ingredients. Blend until incorporated.
Bake – Press dough into dish. Using a piece of parchment or paper, smooth the top.
Make Icing – Blend butter, slowly add powdered sugar and milk until light and fluffy.
Ice and Decorate – Smooth icing onto cooled cookie bars. Top with candies, sprinkles and more.
What Size Pan is Best?
You can bake cookie bars in your favorite dish or multiple dishes. Just about any size and shape will do. Here are just a few suggestions:
9×9
9×13 pan
tart pan
sheet pan
Decorating Suggestions
You can decorate these Cookie Bars in so many different ways – the options are endless!
Use your favorite candies
Sprinkles
Valentine's hearts
You can also set up a sugar cookie bar for kids to decorate their own!
Tips
Beat butter, oil and sugar until light and fluffy. It contributes to the incredible texture of these bars.
Use both butter and oil – it gives them the best texture.
Don't over bake. You want them to be ever so slightly golden brown. They will continue to bake as they cool.
Bring butter to room temperature for a smooth, luscious frosting.
If you have heavy cream, use it in lieu of milk to make the creamiest frosting.
Should you put sprinkles on sugar cookies before or after baking?
While you can certainly add sprinkles into your sugar cookie dough, they are traditionally sprinkled on top of the frosting after baking. If you use them in your dough, you're creating more of a funfetti cookie!
How do you get sprinkles to stick to sugar cookies?
If you're using this decadent buttercream frosting recipe, the sprinkles will stick if you add them before it's hardened!
How to Store
Room Temperature – Enjoy them at room temperature, stored in an airtight container for up to four days.
Refrigerator – however makes the icing easier to cut through. You can enjoy this for up to seven days refrigerated.
Freezer – You can even freeze them up to the six months when sealed tight, though they are best enjoyed fresh.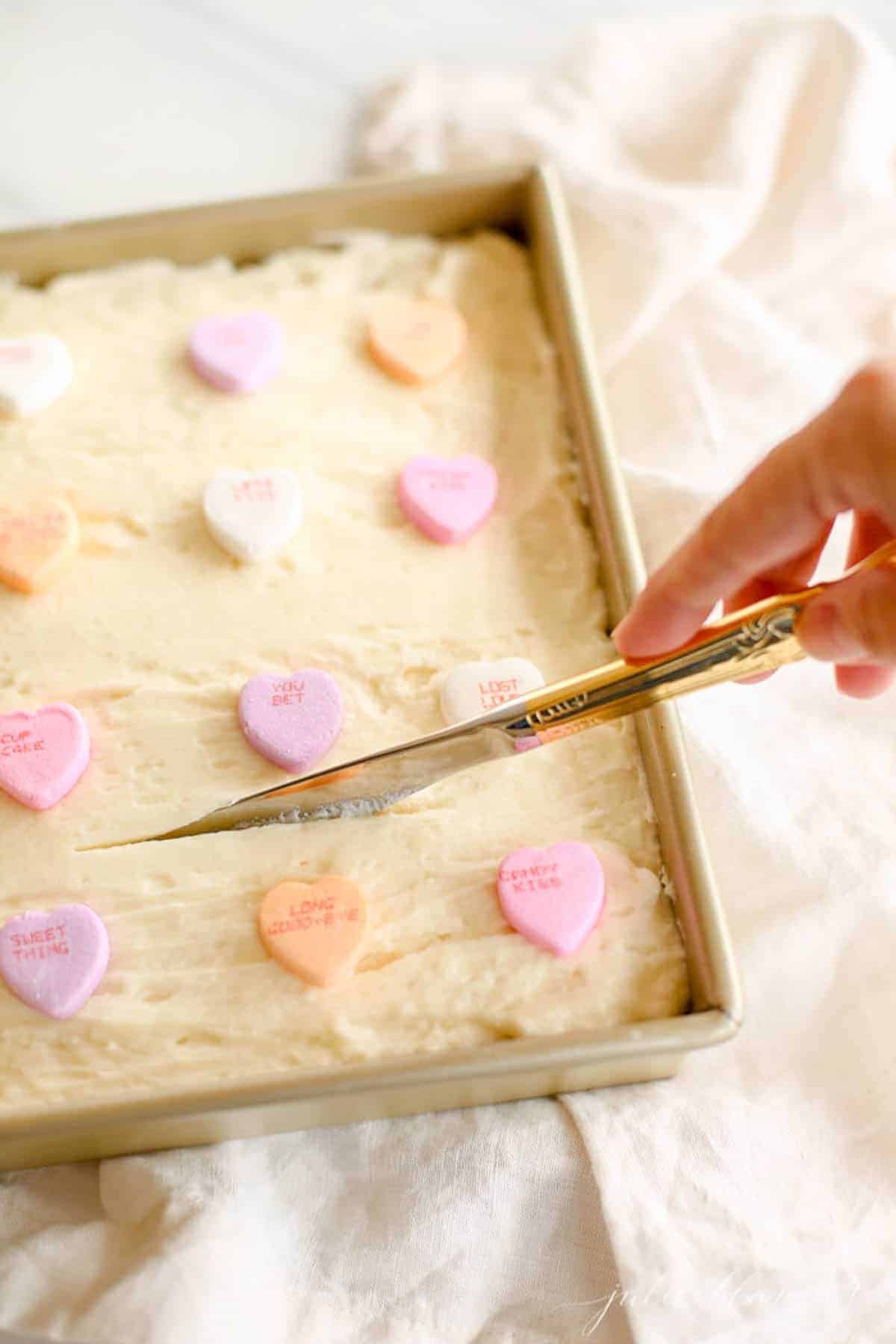 If you love these, you'll also love this easy and adorable Donut Cake and these adorable Red Velvet Sandwich Cookies for Valentine's Day!
To see just how easy these Cookie Bars are, watch the video in the recipe card below (and don't forget to click subscribe on YouTube!)
More Cookie Bar Recipes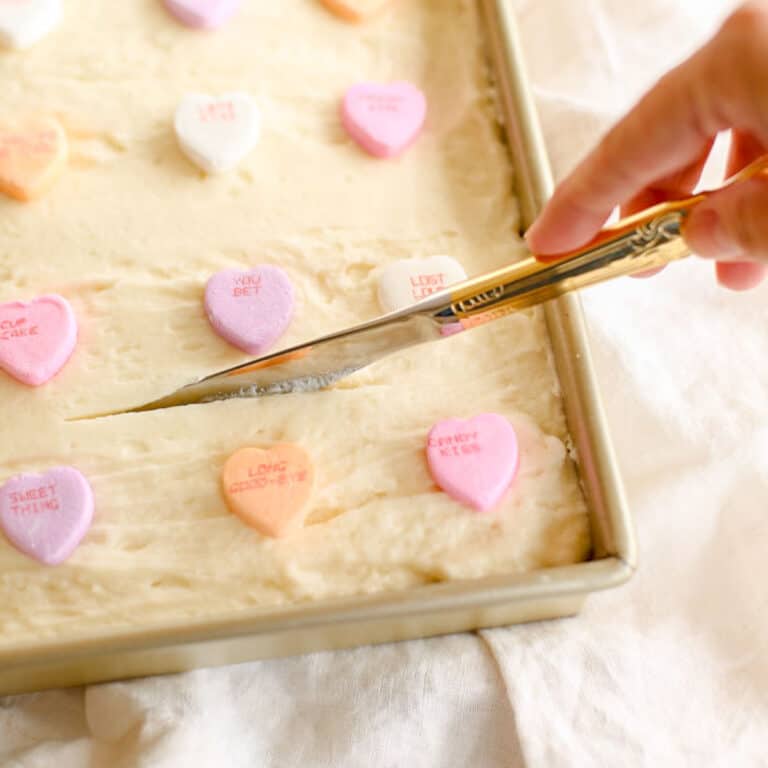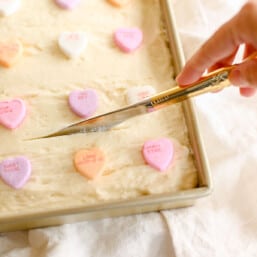 Melt in Your Mouth Sugar Cookie Bars with Buttercream Frosting
These Sugar Cookie Bars with Buttercream Frosting melt in your mouth. Each bite of these amazing Cookie Bars are like the thick, chewy center of a sugar cookie – but better!
Instructions
Preheat oven to 350°F. Grease baking pan.

In a medium mixing bowl, combine butter, oil, sugars and vanilla until smooth. Blend in eggs.

Gradually add flour, salt, cream of tarter and baking soda until blended in.

Press dough into a greased pan and use parchment paper to smooth the top if desired.

Bake 20 minutes or until firm watching carefully as to not over bake.
Buttercream Icing
Combine 1 cup softened butter, 5 cup powdered sugar and ¼ cup milk until smooth.

Allow bars cool, ice, slice and serve.
Tips
Use whatever baking dish or dishes you have on hand and adjust bake time 9×13 (or 9×9)
Decorate them any way you wish! Add sprinkles, candies and more! You can also add food coloring to the frosting to personalize it for the occasion.
Calories:
618
kcal
|
Carbohydrates:
90
g
|
Protein:
5
g
|
Fat:
27
g
|
Saturated Fat:
17
g
|
Cholesterol:
87
mg
|
Sodium:
379
mg
|
Potassium:
94
mg
|
Fiber:
1
g
|
Sugar:
61
g
|
Vitamin A:
795
IU
|
Calcium:
21
mg
|
Iron:
2
mg
Estimated nutrition information is provided as a courtesy and is not guaranteed.
Explore More