Small Bedroom Decorating Ideas that will help you maximize space, function and comfort. Get tips and tricks to make the most of your small bedroom decor.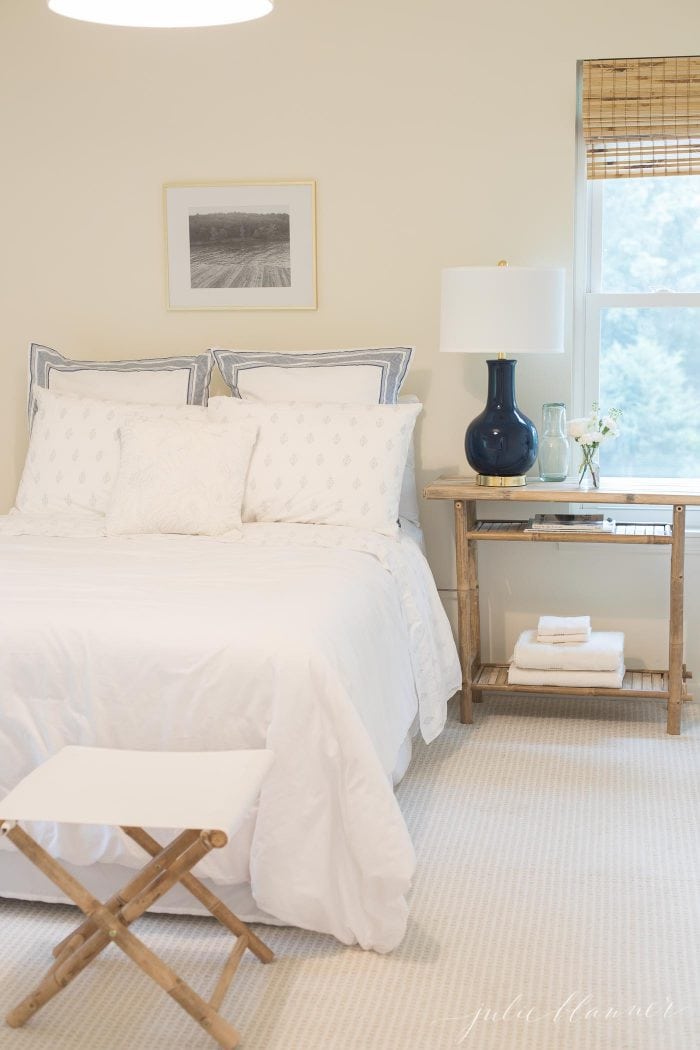 After sharing a tour of the second lake cottage guest bedroom on Instagram stories over the weekend I realized I never shared all of the sources for that room.
While you can find most of our home decor in my shop and on Amazon, I'm compiling many of the sources for this bedroom along with simple small bedroom decorating ideas.
Small Bedroom Decor
This small bedroom is just off the entryway of our lake cottage and with an angled entrance, two windows and a closet, the layout was a bit of a challenge. However, I knew that with a little thought it could be a very functional guest room.
Maximizing floor space and creating the illusion of more square footage is possible in a bedroom designed with thought and intention. Read on for my favorite ideas for decorating a small bedroom.
How Can I Make The Most Of My Small Bedroom?
While dealing with a tiny footprint can be a challenge, I have found that it can force me to think outside the box. As it turns out, I love the challenge of a small room!
A small bedroom designed with thought and intention might turn out to be the coziest, most charming space in your home, whether it's a tiny master bedroom or a guest room that needs more than one function.
First, let's consider the fact that the bed is your focal point simply because it's the largest furnishing in the room! Fresh bedding or a headboard that you truly love can upgrade a small space instantly. Get all my best tips for creating a luxurious Guest Bedding look on a budget!
No headboard? No problem- get my tips for faking a headboard with pillows! With this trick, no headboard is necessary for setting up this bed frame to create the bed of your dreams!
If you're struggling with a lack of floor space, try to draw the eye up and away from the floor layout! Beautiful window treatments or personalized art will bring the focus of the space to these carefully chosen elements of the wall space, and away from what might be lacking.
My best tips on choosing framed art and upgrading simple store bought curtain panels will elevate your space instantly!
What Color Is Best For A Small Bedroom?
A light color is absolutely the best choice for the impression of more square footage. A light wall color will reflect light (both natural/window light and overhead/task lighting). Especially when you choose the correct sheen of paint, the light will bounce around beautifully!
Learn more about my favorite paint colors and what I love about each of them right here. I have a tendency to embrace warm cream paint tones.
This is simply because they reflect light just as well as pure whites, but they feel a little richer and cozier. My best tips for a cohesive paint palette will help you choose the perfect color!
Neutral spaces don't have to be boring. A soft cream wall color creates the perfect backdrop for pops of color throughout your space. For example, if you want more contrast, choose brighter-toned accessories like pillows, lamps and art for a bold pop of color in your room!
How Do You Arrange Furniture In A Small Bedroom?
As anyone who has dealt with a tiny bedroom knows, space is at a premium. One of the simplest solutions to this issue? If possible, eliminate the need for a dresser or chest of drawers by optimizing your closet storage.
As a result of eliminating this furniture, your square footage immediately feels larger. Two of my favorite small bedroom closet makeovers can be found here and here.
Low on square footage? If that's the case, consider the importance of incorporating furniture that will serve double duty. In this particular guest bedroom, the side table serves in several ways.
First, as traditional night stand storage (a space for books, electronics, lighting, etc), as well as towel storage for guests using a shared bathroom. The stools at the end of the bed double as a place to sit and tie your shoes or a luggage rack!
Furthermore, one of the longest standing traditions in bedroom space-savers is a murphy bed! There are so many charming murphy beds on the market now, and they are perfect for changing the use of your space. If more storage is needed, you can also consider a raised/platform bed with drawers underneath, especially in a child's bedroom.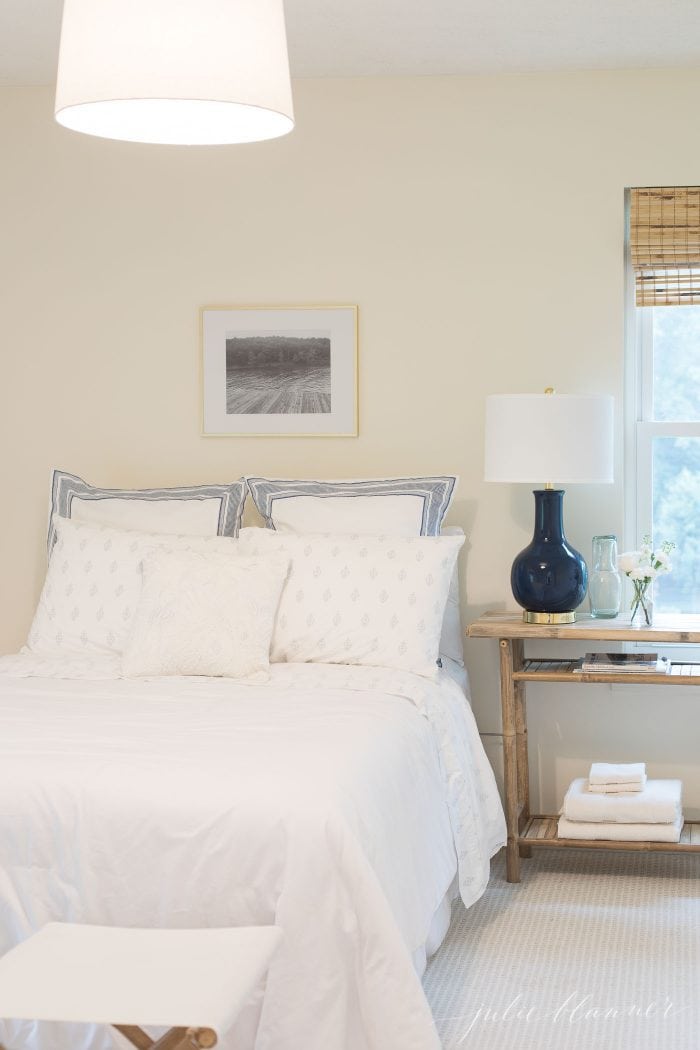 Small Bedroom Decorating Ideas
Use a bed to scale. For this particular space, we opted for a double bed. Anything larger would hamper walkways.
Incorporate a mirror to reflect natural light throughout the space.
Include both overhead and task lights. Especially for a guest bedroom, a table lamp or even mounted lights are ideal to give guests ample lighting.
Paint the room in a light color in eggshell/satin or above to reflect light.
Use pieces that multi-task. For example, the stools at the foot of the bed also double as luggage racks for guests.
Choose a side table that offers the style storage you need for your small bedroom. For the guest room, I used a console table for a water carafe, reading materials and towels. In the girls' bunk bedroom a chest of drawers doubles as a side table for all four beds to maximize space.
Define the space with a rug if needed.
Use the same type of flooring as an adjacent room/hall to make the room appear larger by tricking the eye.
Make the most of the closet by incorporating furniture or a closet system to eliminate the need for storage in the bedroom itself.
Use a minimal headboard (or forgo one altogether) to maximize wall space, creating the illusion of more space.
How Do You Make A Small Bedroom Look Bigger?
As I mentioned earlier, a soft, light-toned wall color will make all the difference in the world. Monochromatic finishes in the bedding, flooring and furniture will fool the eye and create the effect of more space.
One of my favorite tricks as I begin to design a space is to choose all the elements and see how they look together on a design board. You don't have to be an interior designer to do this- anyone can create a design board!
Similarly, any way that you can add more light to a small space will be a welcome idea. Incorporating large mirrors is one of the oldest tricks in the book.
They instantly reflect light and create the impression of a larger room. In addition, consider placing a mirror across from your window to reflect the green and blue of the nature right outside.
If you don't have the time or budget to redo your entire space, consider an accent wall like our guest bedroom in St. Louis! In a tiny bedroom, this feature wall might even double as a headboard and create a focal point via fresh paint or even wallpaper.

These Small Bedroom Ideas are Budget Friendly, Too!
You can find sources for all available items below:
Light Kit | Drum Shade | Lamp | Table | Carpet | Paint | Pillow Covers | Carafe | Mirror | Shades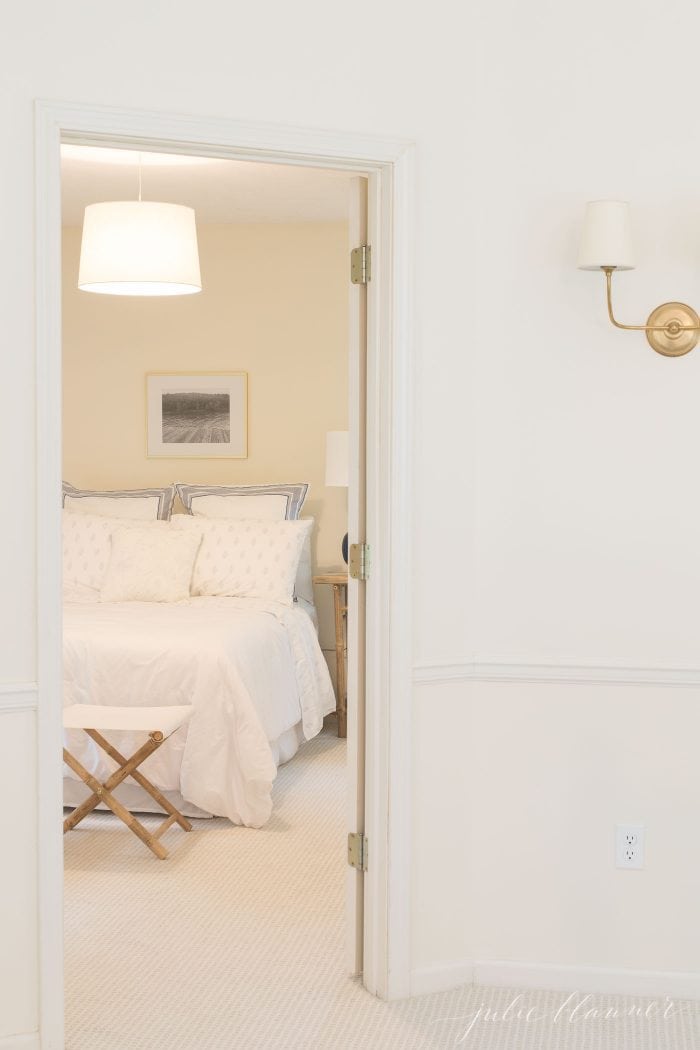 I hope you enjoyed these small bedroom ideas! If you have any to add, please leave them in the comments below. Most importantly, I'd love for you to pin these ideas or share them on social media!
If you like this post, check out my Breakfast Nook Table Ideas and More!