Learn how to make your own versatile pasta salad dressing in just a couple minutes. You can mix up this easily adaptable recipe with your favorite oils, vinegars, and spices and herbs!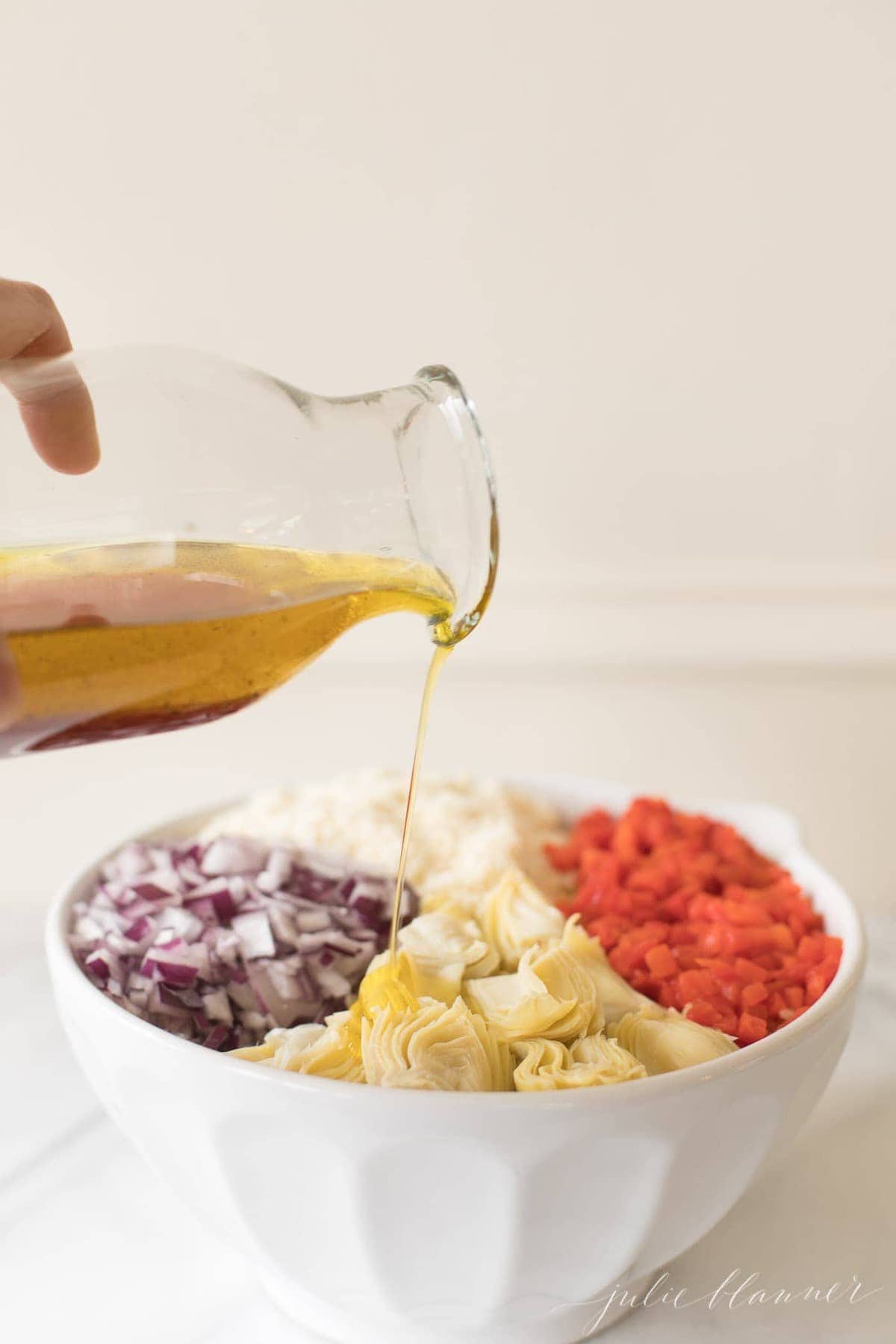 School is out and the unofficial start of summer is here! I have dreams of afternoons by the pool, trips to the lake house, and visiting attractions around St. Louis.
One thing I love about summer is all of the gatherings! Enjoying time with family and friends to celebrate Memorial Day, Father's Day, and our nation's birthday on the Fourth of July.
It seems every summer event centers around the meal. We sit down and visit while enjoying a little BBQ and with a side of pasta salad.
In fact, I've got an entire post dedicated to rounding up all the reader-fave easy pasta salad recipes around here. Don't miss it– you'll want to pin and save it for later!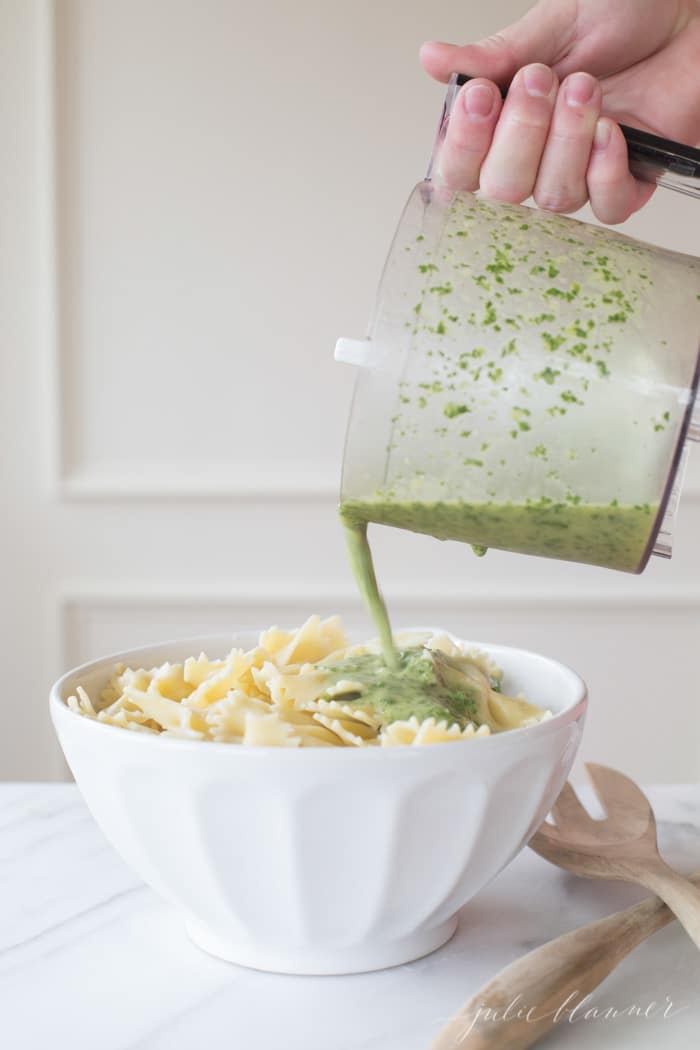 Pasta Salad is easy and amazing. It's a traditional side dish that's always a crowd pleaser. For serious pasta salad lovers, it makes an incredible lunch as well! It is usually served in the summer (although definitely can be enjoyed all year round).
I've shared a few easy pasta salad recipes over the years, and readers always seem to love the results! If you're a fan, be sure to check out my Mexican pasta salad, seafood pasta salad, basil lemon pasta salad, Italian pasta salad, spaghetti salad, vegetarian pasta salad, and this classic bowtie pasta salad.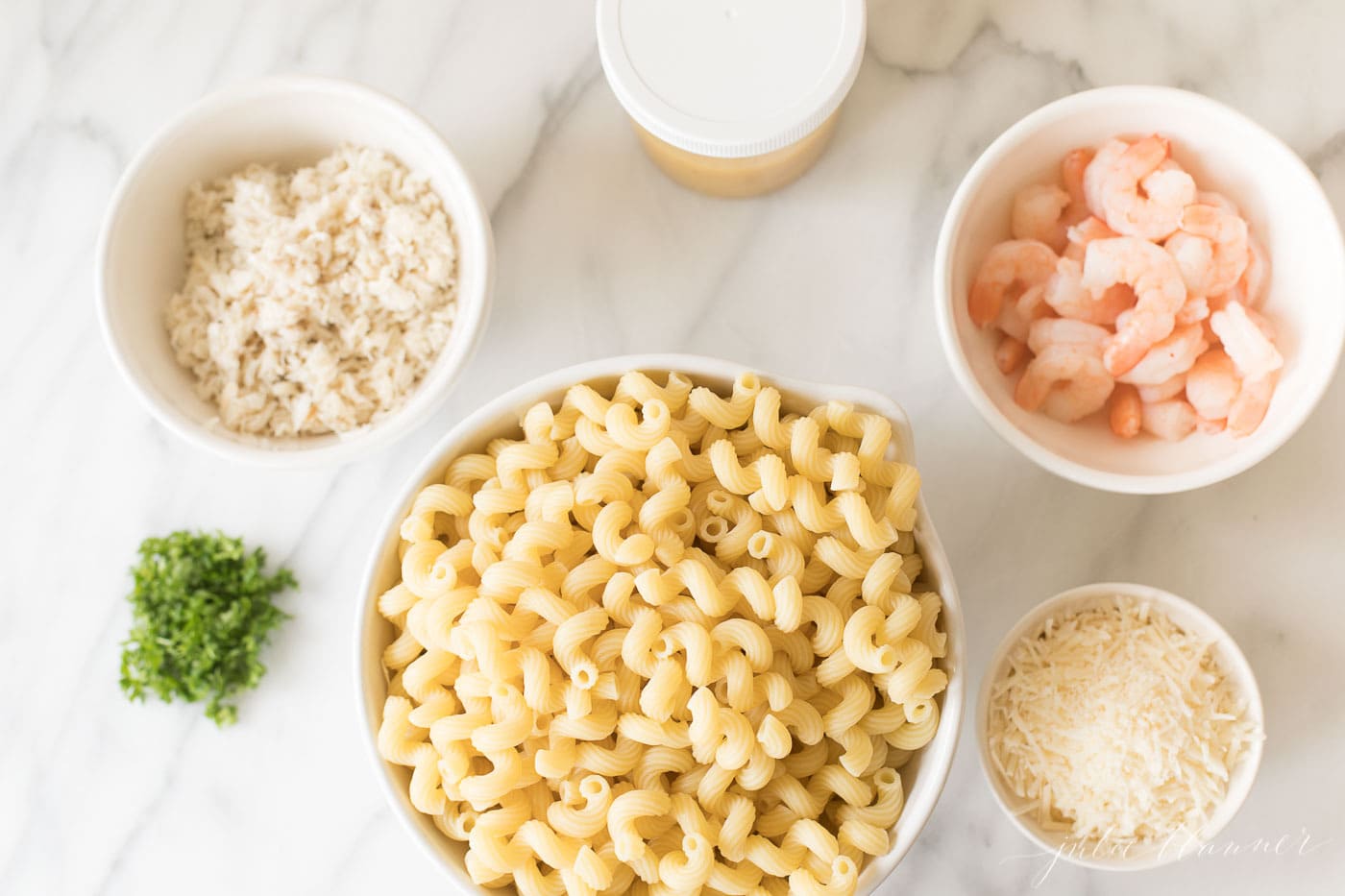 Pasta Salad is traditionally served cold tossed in one of two types of pasta salad dressing. It is a versatile dish that you can mix up depending on what you have on hand or what you're in the mood for! You can change up the noodle shape, vegetables, meat, cheese, and of course the pasta salad dressing!
Two Types of Pasta Salad Dressing
Pasta salad dressing typically is made with either an oil and vinegar dressing or with a creamier base like mayonnaise. I tend to go with oil and vinegar because it is so easy to change up the flavor combinations with different oils and vinegars and also it will keep a lot longer, either in your fridge or at room temperature when serving. It is also a lighter dressing with less calories.
If you prefer creamy Pasta Salad dressings though, you can always add mayo to the recipe usually substituting it for the oil in the recipe.
Mayonnaise Based
Mayonnaise is the most popular base for a creamy pasta salad dressing. If you prefer a creamier dressing for your pasta salad, try out some of these options. It is interchangeable with the oil in your favorite recipe!
Sour Cream can also be used to add a creamy base and a bit of tang to your dressing.
Greek yogurt is a great choice for giving your dressing a creamy silky element but still lighter and with less calories.
To add a creamy element to your dressing you can either leave out the oil entirely or use 3 tablespoons of olive oil and 1 cup of mayonnaise.
Tip: Drain your noodles well before mixing with a creamy dressing.
Vinaigrette
Pasta Salad Dressing is made with a base of olive oil and vinegar and usually a dash black pepper. I like to use large flakes (just adjust your pepper grinder) to add a little color and texture. Try adding a few tablespoons of dijon mustard for a little color and punch.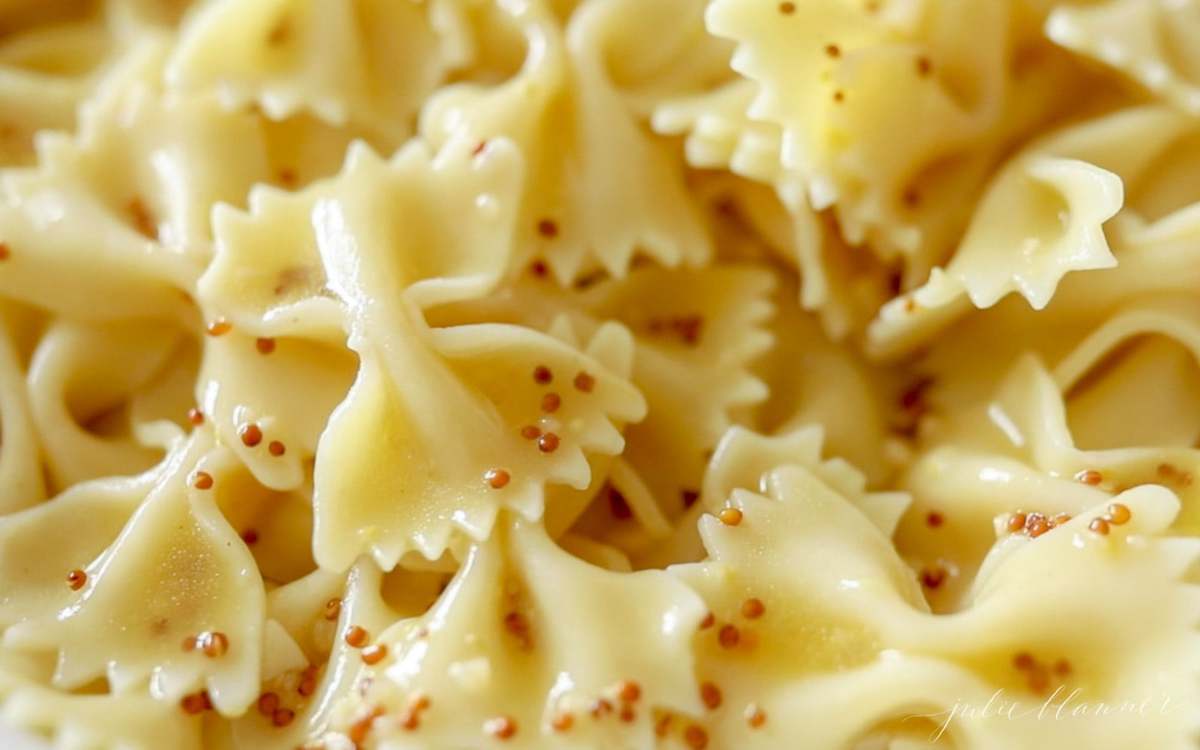 It can be adapted using the same oil and vinegar ratio and adding your favorite vinegar, herbs and more.
Pasta Salad Dressing Inredients
Oil – Extra Virgin Olive Oil is my go to, but you can substitute Canola.
Vinegar – Your favorite! Red wine vinegar, white wine vinegar,
Mustard Seed
Minced Garlic – You can use fresh garlic cloves, but I always opt for minced garlic available in a jar in the produce section of the grocery store. It's quick, and easy, just like this dish and has amazing flavor. It's a staple in our home and one of my favorite shortcuts!
Herbs – Your choice, the options are endless!
Salt and Pepper
Vinegars to Use
balsamic vinegar

white wine vinegar

red wine vinegar

apple cider vinegar
Vinegar Substitutes
white wine

lemon juice

lime juice
Oils to Use
olive oil

canola oil

vegetable oil

butter (which is in my seafood pasta salad)
More Variations and Ideas
Vegetables – cherry tomatoes, bell peppers, cucumbers, black olives, onion, shallot
Cheeses – fresh mozzarella cheese, parmesan cheese, feta, pepperjack, monterey jack, cojito
Herbs – basil, cilantro, rosemary
Spices – salt, black pepper, red pepper, garlic
A sprinkle of black pepper is always a nice addition. Salt, red pepper flakes or minced garlic and even fresh chopped herbs chosen to blend with the initial flavor you chose. I like to add grain mustard seed in most of my dressings for a little texture and flavor.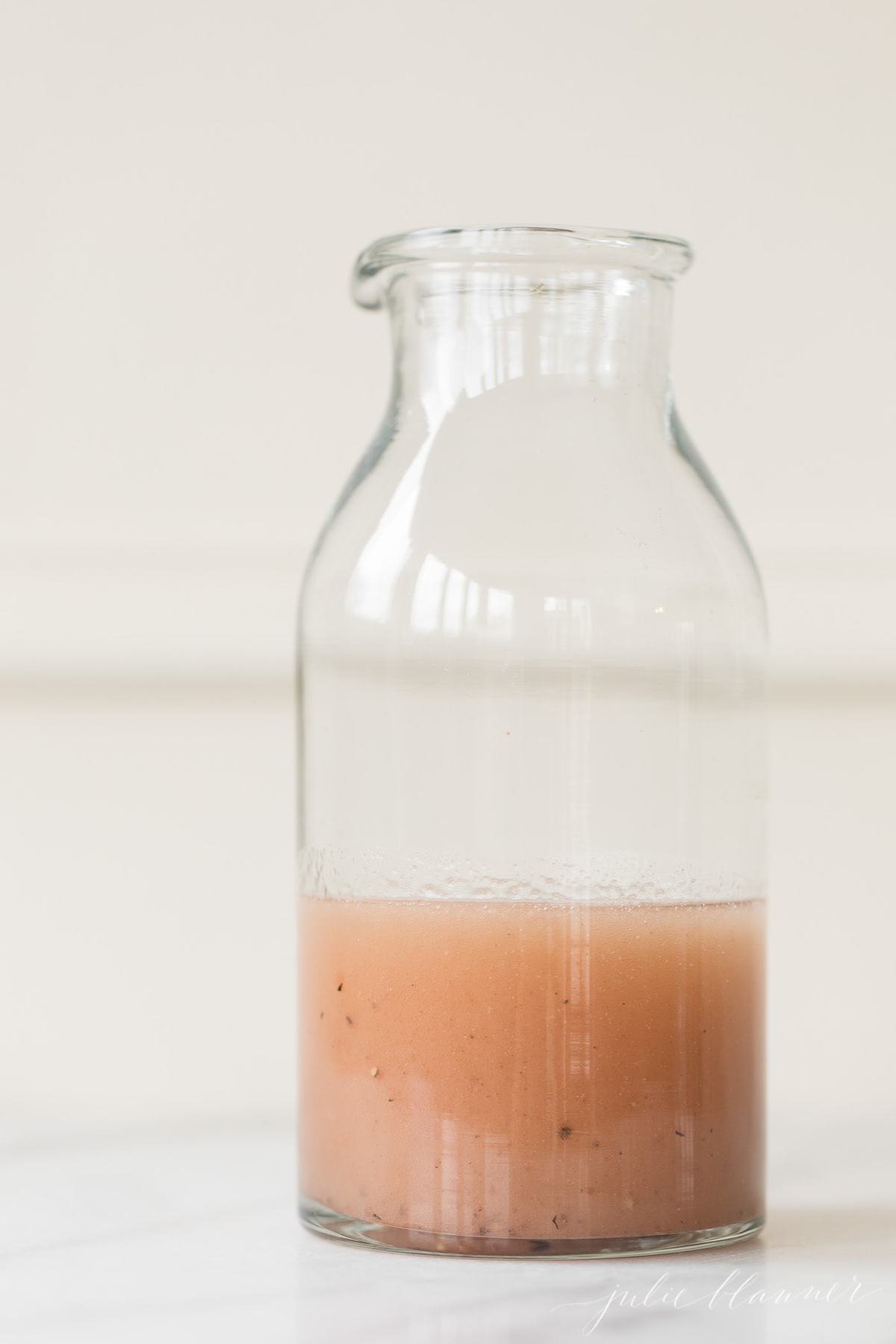 These Pasta Salad Dressings are great for traditional salads as well. They often make a great marinade for your favorite chicken or fish, too! Among my most popular pasta salad dressings are Red Wine Vinaigrette, Lemon Vinaigrette, and White Wine Vinaigrette.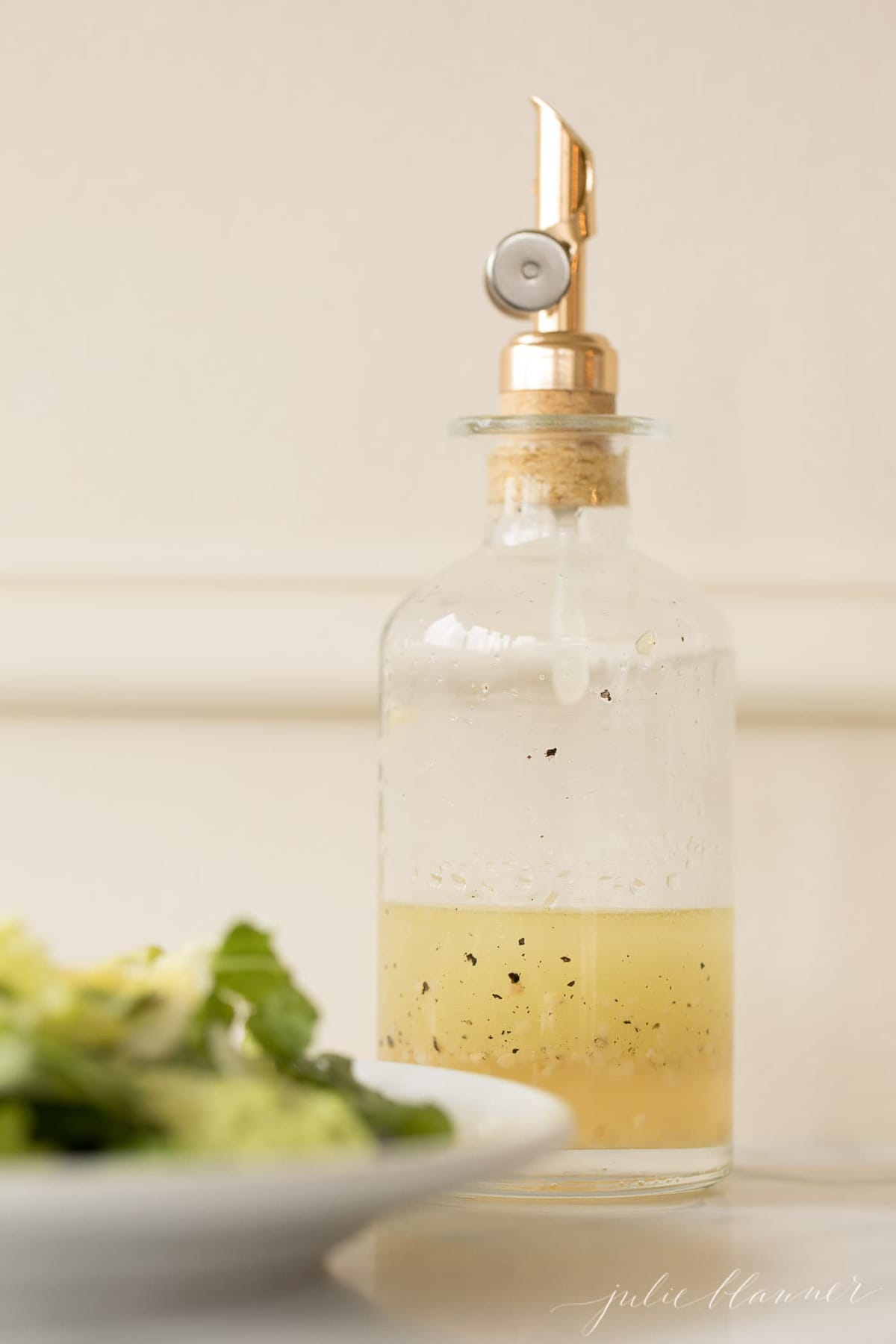 Red Wine Vinaigrette is perfect on top of a bed of greens. I add some blue cheese and dried cranberries for color and a bit of sweetness. I love to use lemon vinaigrette on top of arugula with a sprinkle of freshly grated parmesan cheese. White Wine Vinaigrette is my family's number 1 choice and I always have a recipe made, ready for any side salads!
Each week day, I like to have a leafy green salad for lunch. It is so simple to whip up a different vinaigrette recipe each week.
Pasta Salad Recipes
Pasta salads are a beautiful, versatile dish. It makes a great side dish for summer barbecues, but it's also the perfect lunch! They're easy to make ahead (in fact, that's ideal), require a single dish and are just as beautiful as they are delicious. These pasta salad recipes are tried and true and I know you'll love them, too!
I love to make Lemon Basil Pasta Salad. A light dressing with a beautiful lemon and herb blend.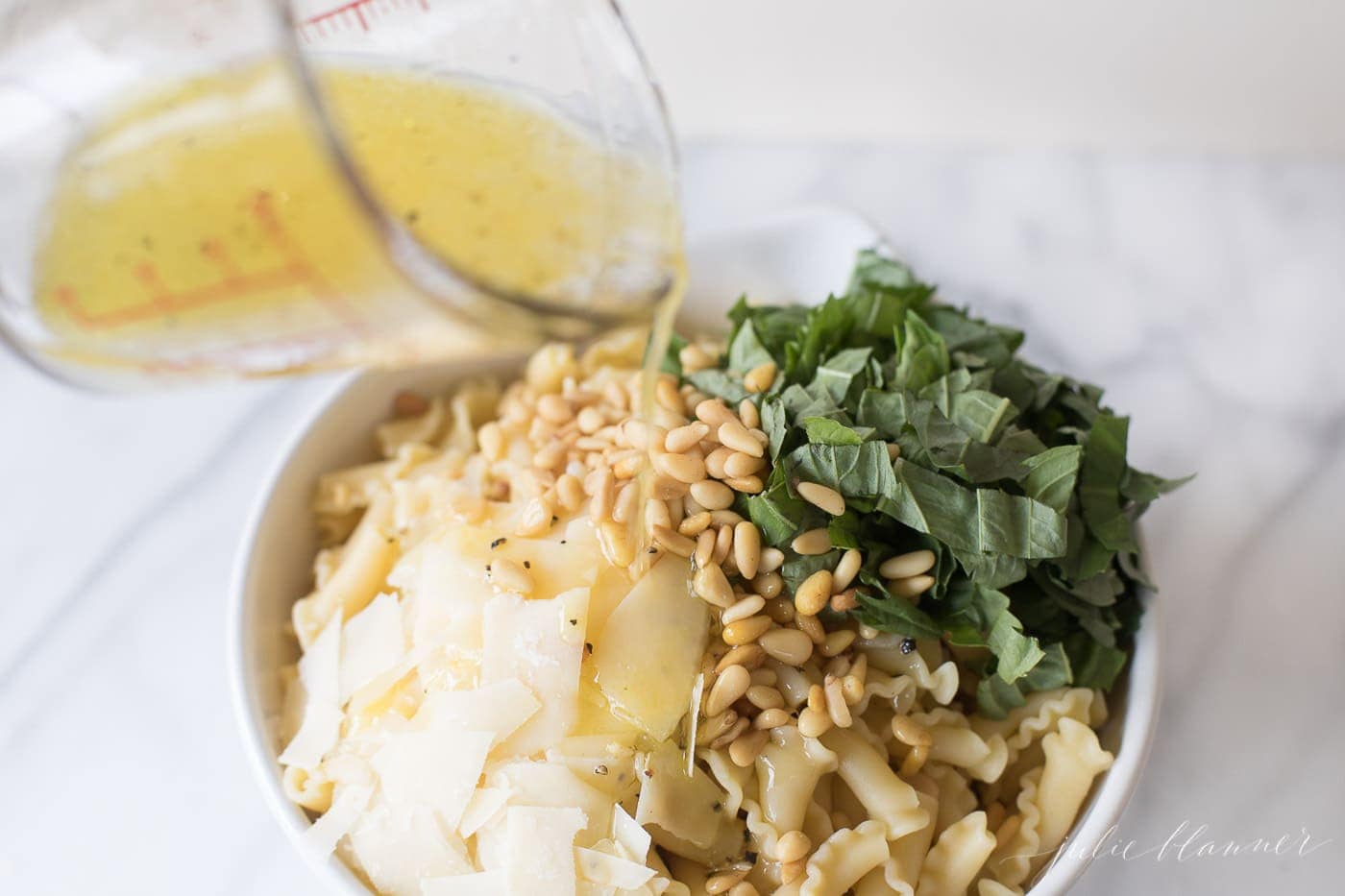 Italian Pasta Salad is such a family favorite, and now you can make your own Italian dressing to marinate the pasta with!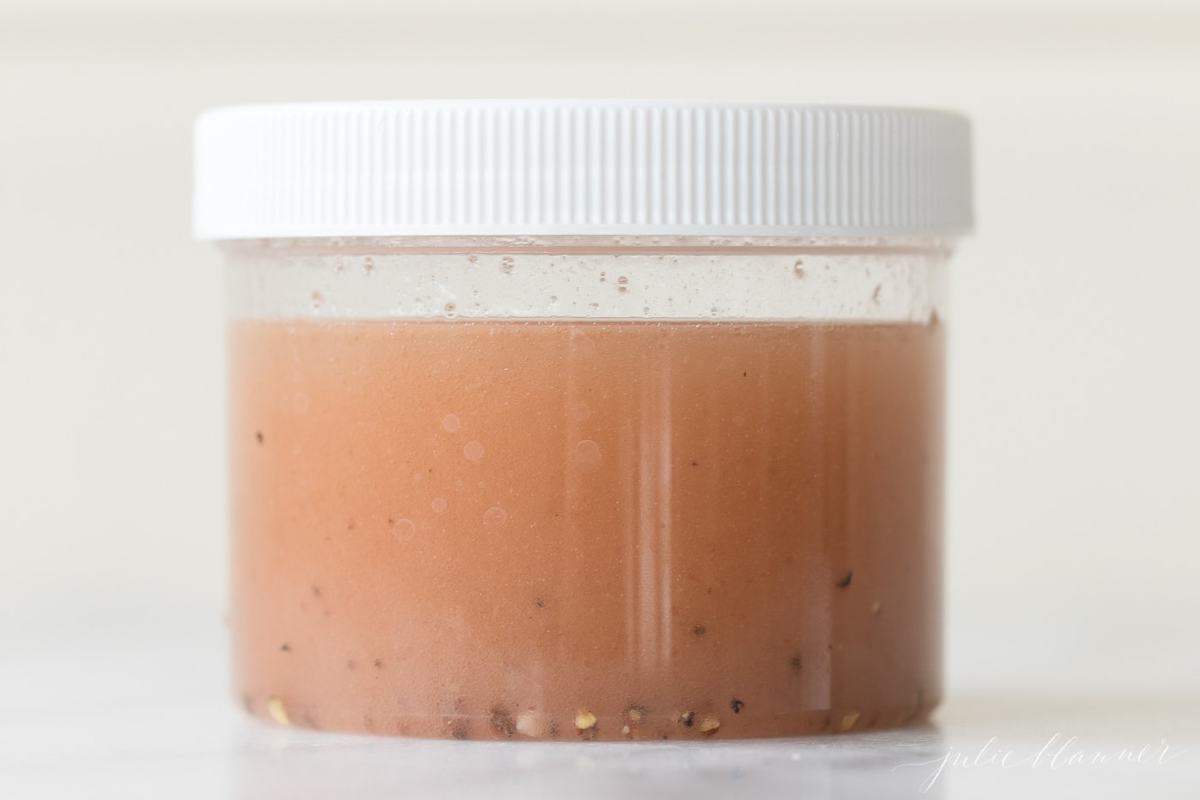 Seafood pasta for your shrimp lovers! It has shrimp and crab meat for extra protein and a more hardy side dish.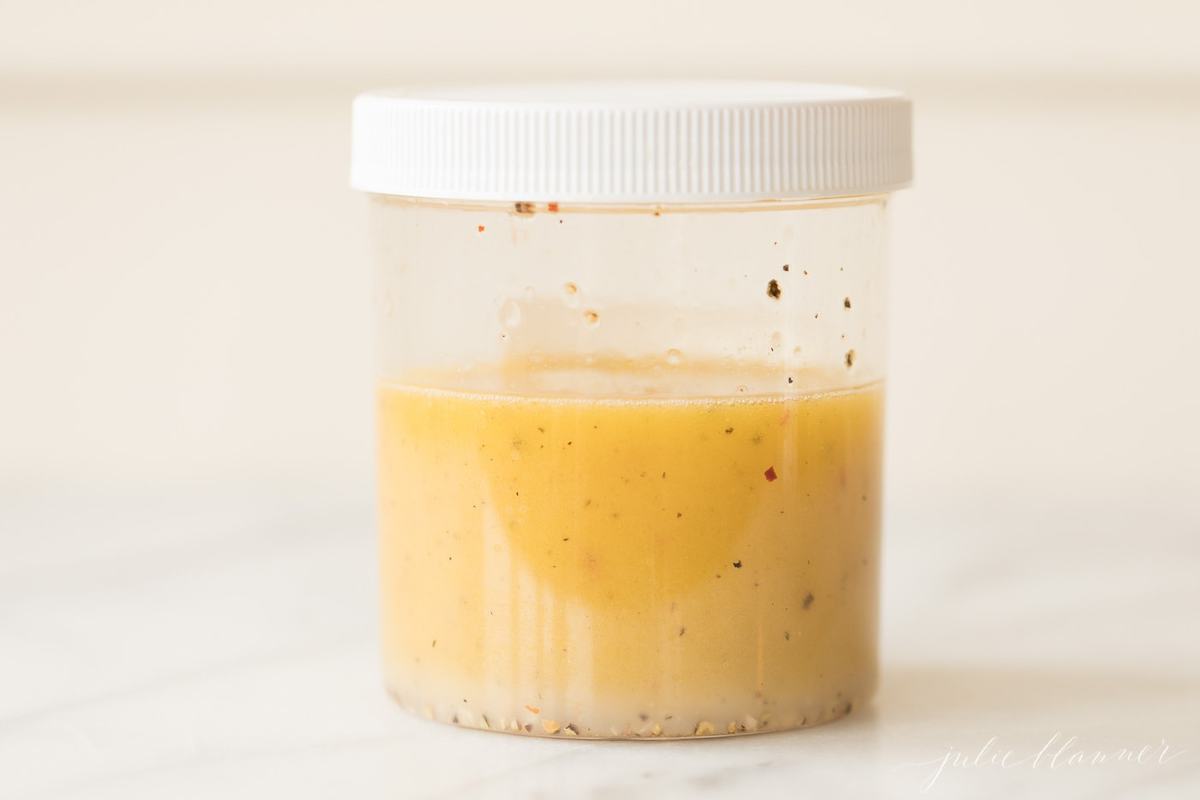 This Easy Bow Tie Pasta Salad is quick and light with a bit of salty feta and cherry tomatoes for a touch of bright color.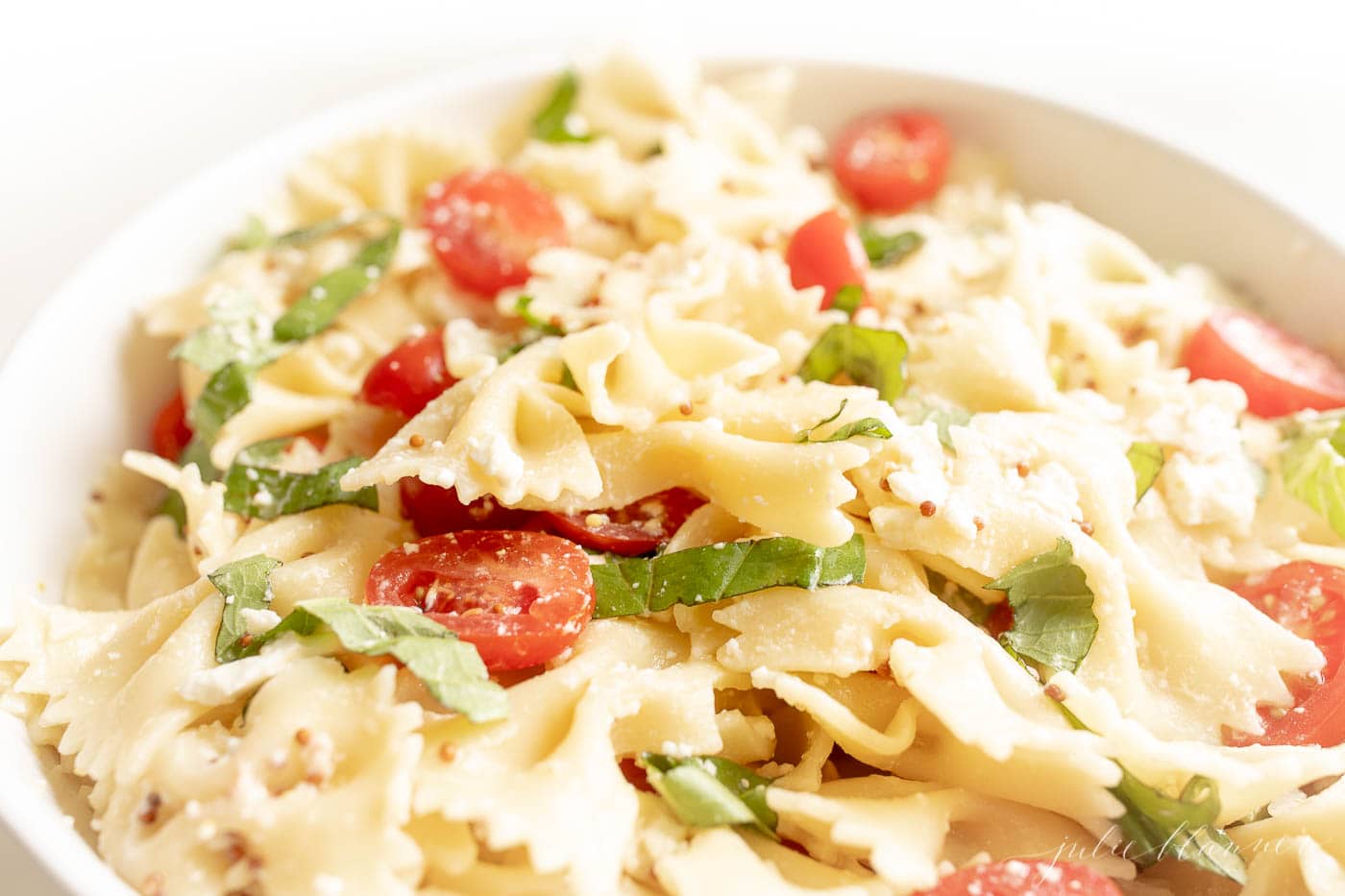 Fiesta Pasta Salad has a little kick with an amazing Cilantro Lime Dressing.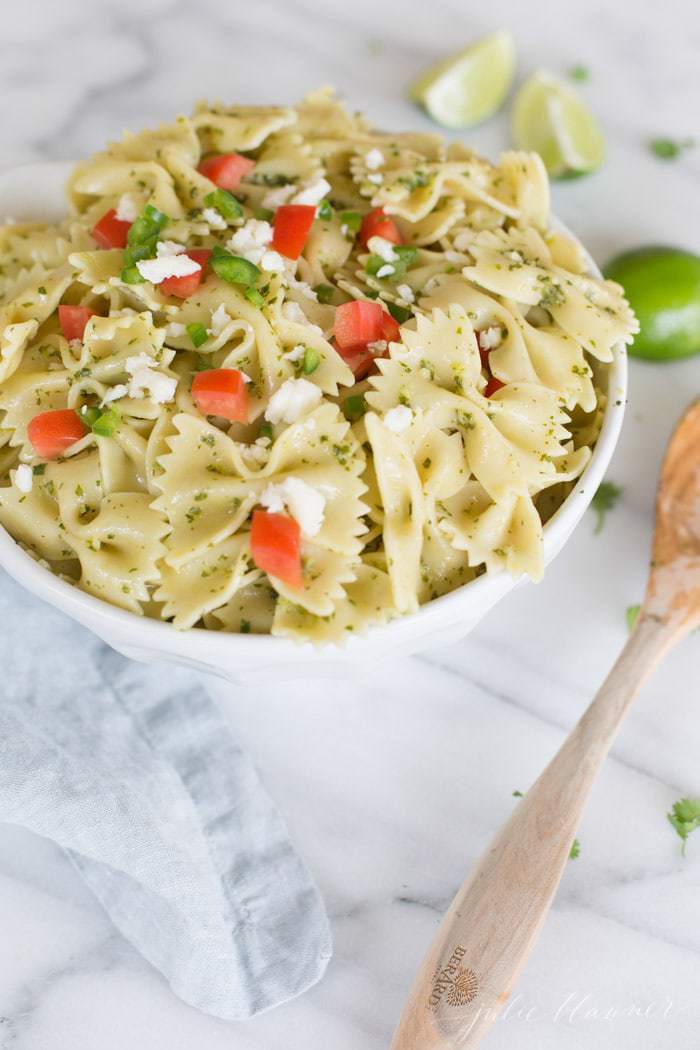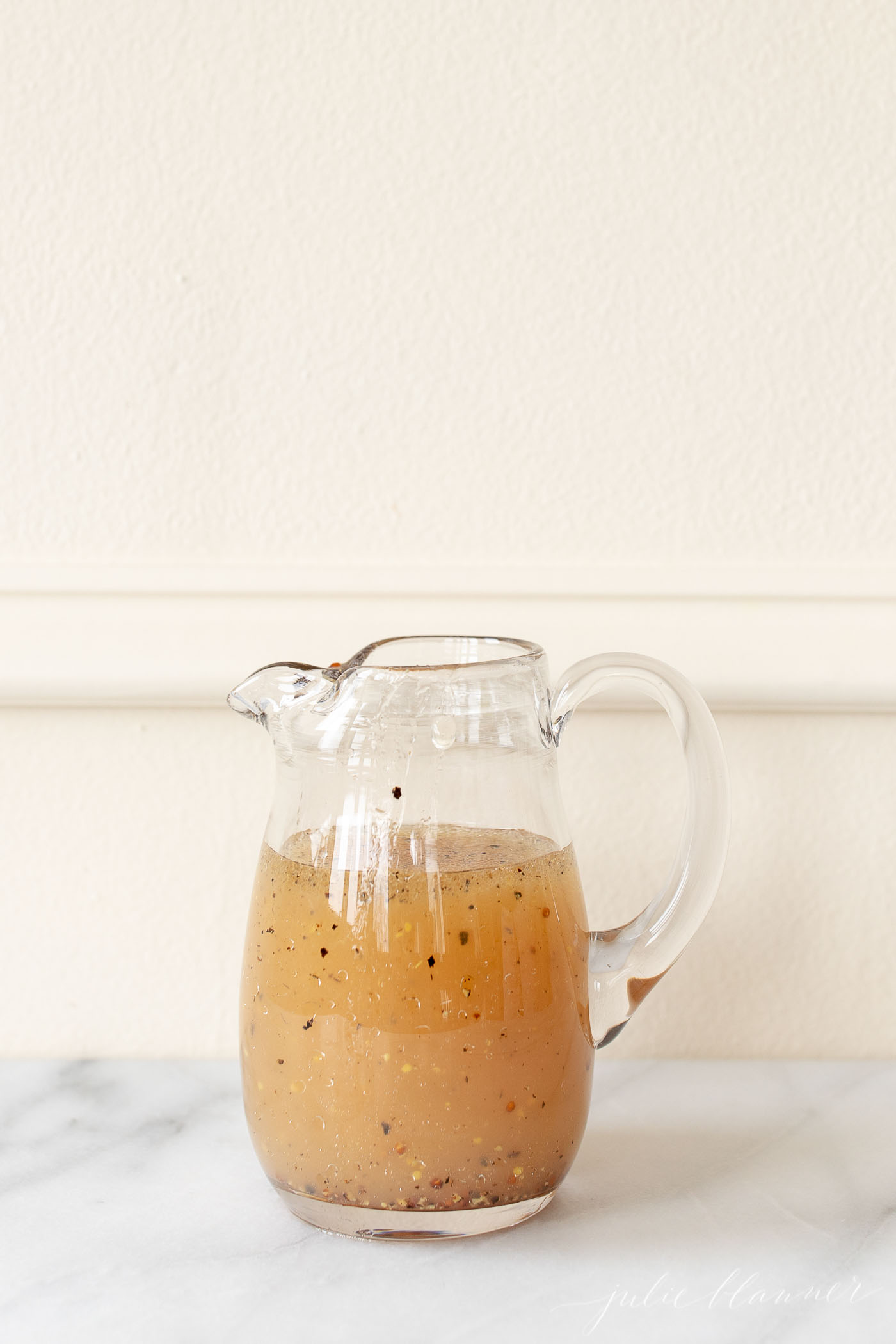 Notes
Most of my pasta salad dressings are gluten free, vegetarian, and dairy-free. You can leave out the cheese or substitute it with a dairy-free cheese. Substitute your noodles with a gluten free noodle. I love rice based noodles!
Pasta salad dressing is really so easy to make! To see just how easy it is, watch the video in this post!
How To Make Pasta Salad Dressing
Measure out your ingredients and pour into a large bowl or pour into a mason jar.




Shake or whisk vigorously.

After your pasta salad dressing is prepared,

toss with the noodle of your choice in a large pot or mixing bowl.

Allow it to marinate in the refrigerator for at least 2 hours.
Tip: rinse noodles in cold water before combining them with your pasta salad dressing.
Tips
How to Store Pasta Salad Dressing – If you have extra dressing or are making it ahead, you can store in a covered jar, in the refrigerator, for up to a week if you are using fresh herbs. If it is just an oil and vinegar dressing then it will keep for two weeks!
Refresh Pasta Salad – If the pasta seems dry after marinating, add more pasta salad dressing and stir! You can also leave a little water when draining the pasta to keep it moist and use less dressing.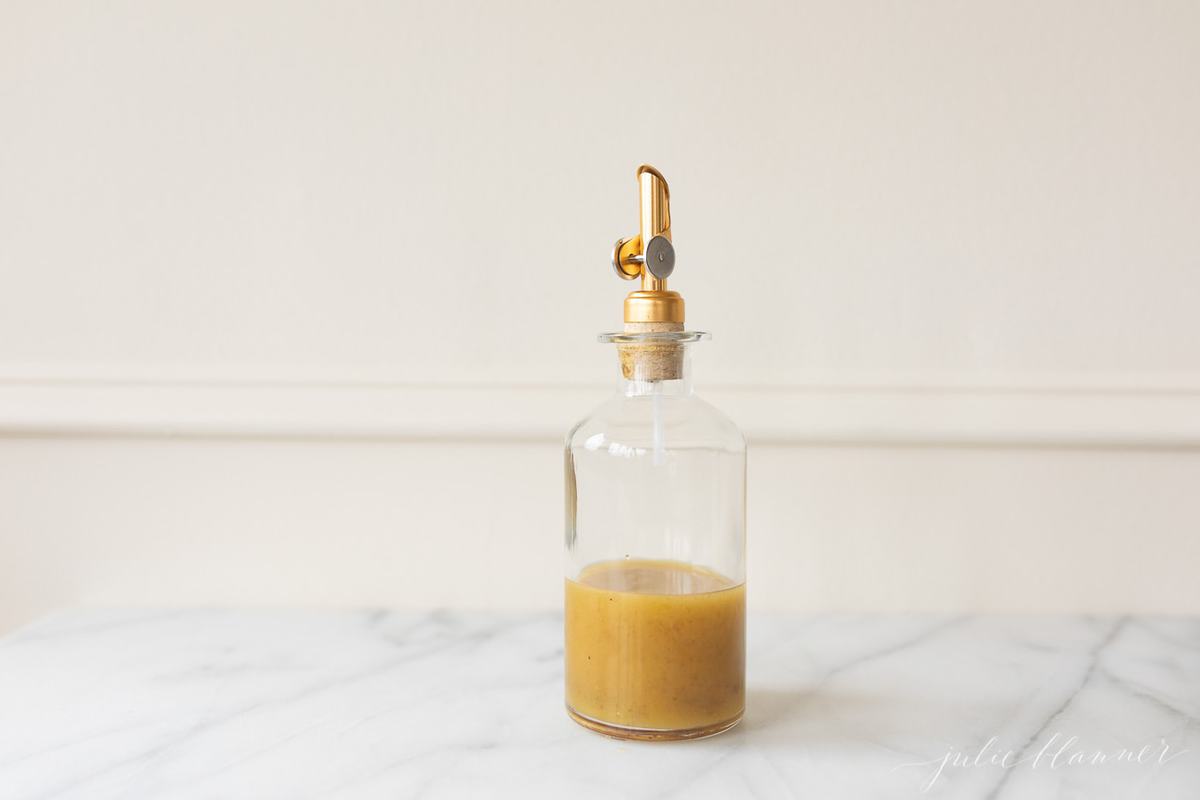 Want more? Receive the best ideas directly to your inbox and connect on Youtube, Instagram, Facebook, and Pinterest!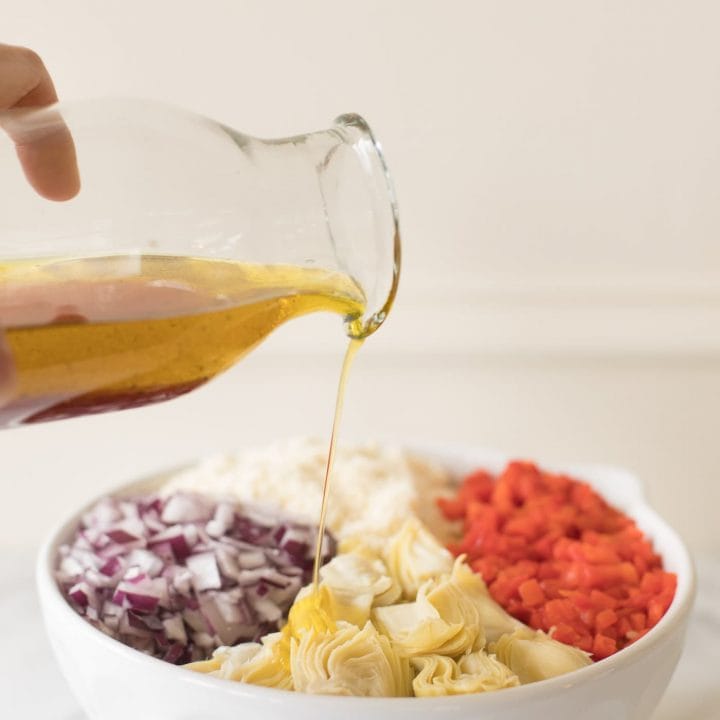 Basic Pasta Salad Dressing Recipe
This easy pasta salad dressing is adaptable and versatile. Mix it with your favorite pasta and toppings for a delicious side dish.
Ingredients
1/4 cup olive oil
1/4 cup lemon juice, or vinegar
2 Tablespoon whole grain mustard
1 Tablespoon garlic, minced
Instructions
Combine ingredients in a jar.
Shake until it reaches full emulsion.
Notes
Substitutions and Variations
Vinegars to Use
balsamic vinegar
white wine vinegar
red wine vinegar
apple cider vinegar

Vinegar Substitutes
white wine
lemon juice
lime juice
pesto

Oils to Use
olive oil
canola oil
vegetable oil
butter (which is in my seafood pasta salad)

Mix-Ins
Vegetables – cherry tomatoes, bell peppers, cucumbers, black olives, onion, shallot
Cheeses – fresh mozzarella cheese, parmesan cheese, feta, pepperjack, monterey jack, cojito
Herbs – basil, cilantro, rosemary
Spices – salt, black pepper, red pepper, garlic
To Store
Store in an airtight container refrigerated up to 2 weeks.
Nutrition Information:
Yield:

16
Serving Size:

1
Amount Per Serving:
Calories:

33
Total Fat:

3g
Saturated Fat:

0g
Trans Fat:

0g
Unsaturated Fat:

3g
Cholesterol:

0mg
Sodium:

22mg
Carbohydrates:

0g
Fiber:

0g
Sugar:

0g
Protein:

0g