Versatile Pasta Salad Dressing
Learn how to make your own versatile pasta salad dressing in just a couple minutes. You can mix up this easily adaptable recipe with your favorite oils, vinegars, and spices and herbs!
Skip the bottle of store bought dressing and create your own – it's so much easier than you might think!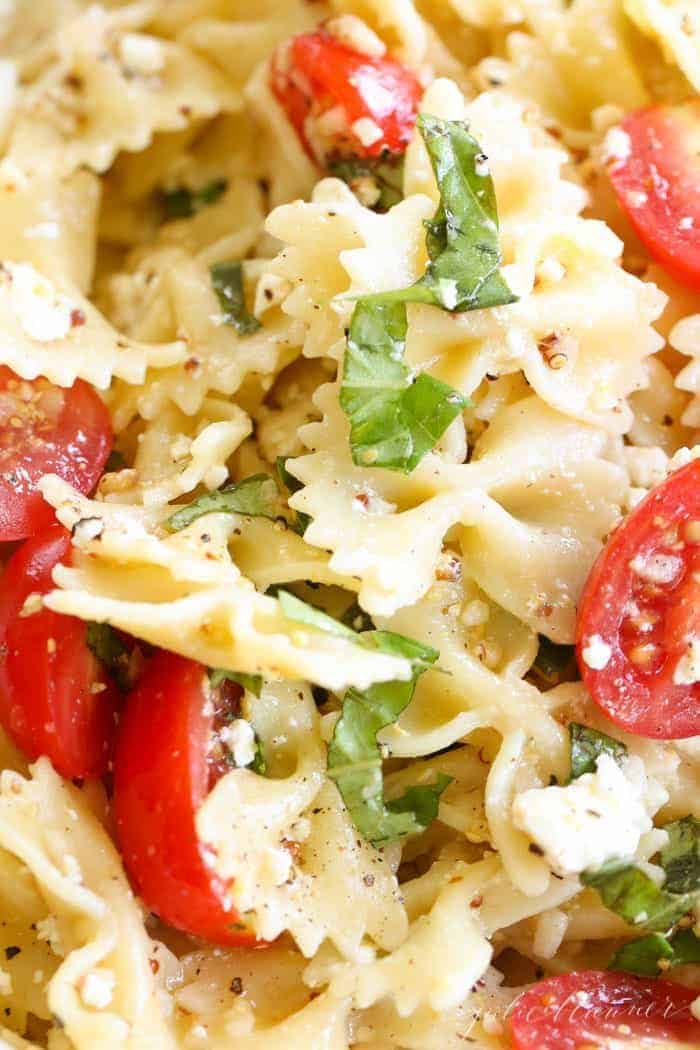 School is out and the unofficial start of summer is here! I have dreams of afternoons by the pool, trips to the lake house, and visiting attractions around St. Louis.
One thing I love about summer is all of the gatherings! Enjoying time with family and friends to celebrate Memorial Day, Father's Day, and our nation's birthday on the Fourth of July.
It seems every summer event centers around the meal. We sit down and visit while enjoying a little BBQ, with a side of fresh pasta salad.
I tend to gravitate towards all the sides more than the main dish itself, I just love all the variety and flavor profiles!
I'm such a fan of pasta in every format, and pasta salad is a longtime favorite. In fact, I've got an entire post dedicated to rounding up all the reader-fave Easy Pasta Salad Recipes around here. Don't miss it– you'll want to pin and save it for later!
Pasta Salad is easy and amazing. It's a traditional side dish that's always a crowd pleaser.
For serious pasta salad lovers, it makes an incredible lunch as well! It is usually served in the summer (although definitely can be enjoyed all year round).
I've shared a few easy pasta salad recipes over the years, and readers always seem to love the results! If you're a fan, be sure to check out my Mexican pasta salad, seafood pasta salad, basil lemon pasta salad, Italian pasta salad, spaghetti salad, vegetarian pasta salad, and this classic bowtie pasta salad.
Before we dive into this easy, versatile recipe (printable recipe card at the bottom of this post), let's learn a little about pasta salad and the most popular dressings out there!
This versatile dressing comes down to a simple equation. You'll want a little oil/fat, a little acidity (vinegar or citrus) and then herbs, spices etc. It's a simple formula that allows you to customize your dressing to suit any need or occasion!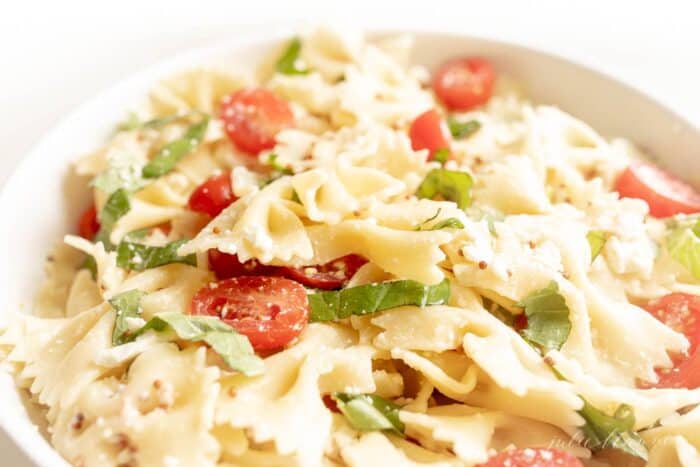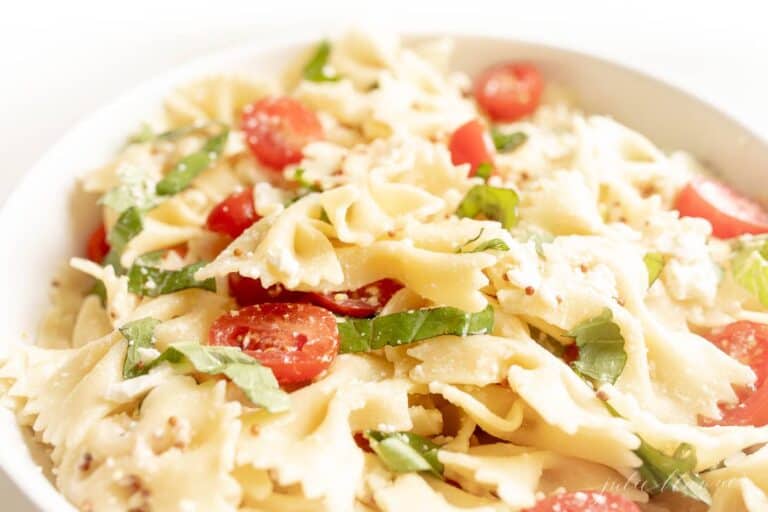 What is Pasta Salad?
While pasta itself has solidly Italian roots, pasta salad is actually more of an American tradition. In Italian culture, pasta is served hot and as its own course.
Cold macaroni style salads have been staples of American cooking for many years. Often served at church gatherings, potlucks and picnics, they've become an iconic tradition of summer.
Pasta Salad is traditionally served cold, tossed in one of two styles of pasta salad dressing. It is a versatile dish that you can mix up depending on what you have on hand or what you're in the mood for!
Tossed with a creamy or more acidic vinaigrette style dressing, pasta salad combined elements like chopped veggies, nuts, fruits, cheese, meat, and more to create an unbeatable side dish.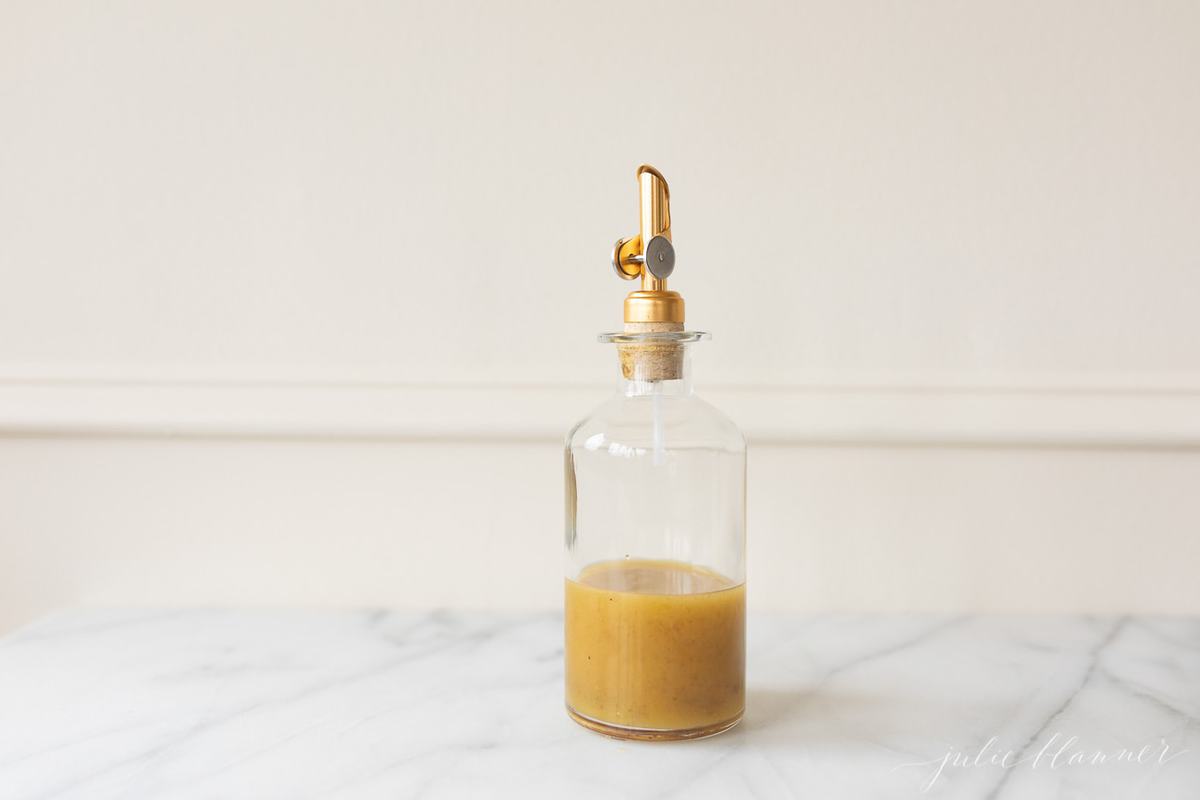 Best Pasta Salad Dressing
Pasta salad dressing typically is made with either an oil and vinegar dressing or with a creamier base, like mayonnaise.
I tend to go with a vinaigrette style dressing because it is so easy to change up the flavor combinations with different oils and vinegars. It will also keep a lot longer, either in your fridge or at room temperature when serving. It is also a lighter dressing with less calories.
If you prefer creamy Pasta Salad dressings though, you can always add mayo to the recipe usually substituting it for the oil in the recipe. It's such an easy way to mix it up!
This Pasta Salad Dressing is made with a base of olive oil and vinegar and herbs, spices and salt and pepper. It's a simple, versatile four ingredient recipe that is easy to adapt, but delicious as written!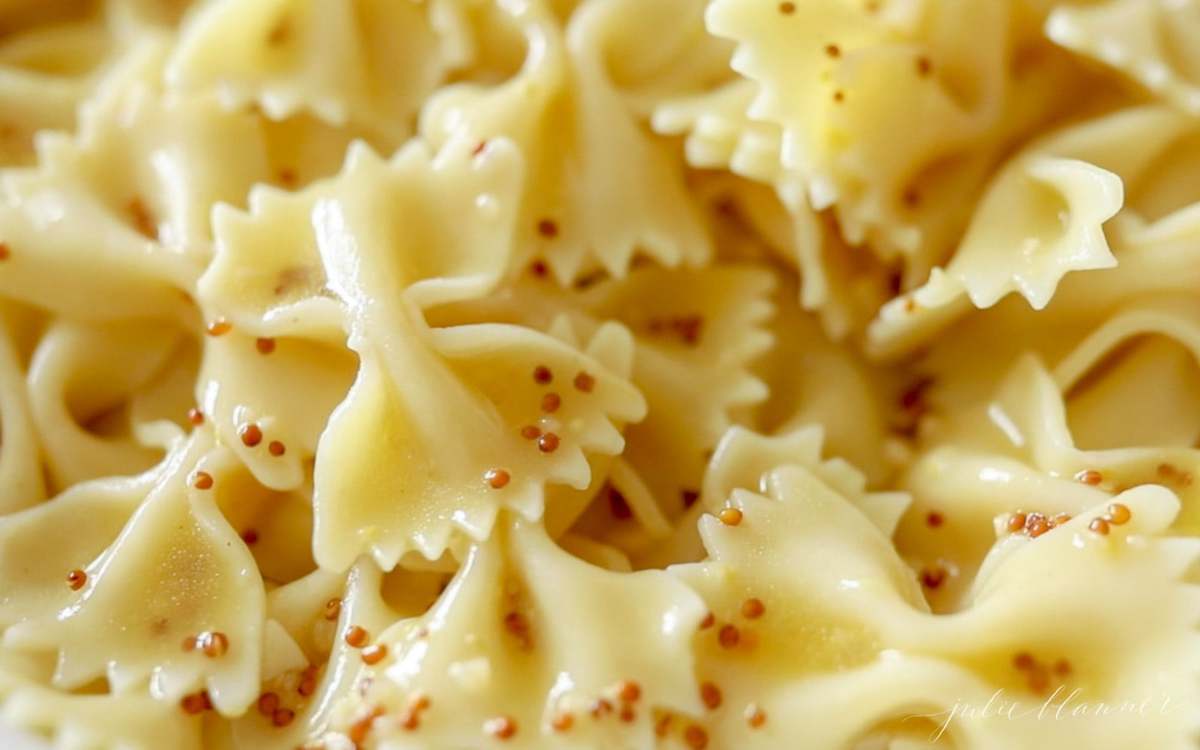 Why You'll Love this Pasta Salad Dressing Recipe
So Easy
Pantry ingredients
Customize to your tastes
Long-lasting – save it for up to two weeks in the fridge!
Pasta Salad Dressing Ingredients
Oil – Extra Virgin Olive Oil is my go-to, but you can substitute Canola oil, avocado oil, etc.
Vinegar – Your favorite! Red wine vinegar, apple cider vinegar, white wine vinegar, balsamic or rice wine vinegar are all favorites.
Mustard Seed – This comes in a shelf stable jar just like any other spice. Adds so much flavor to any dressing!
Minced Garlic – You can use fresh garlic cloves, but I always opt for minced garlic available in a jar in the produce section of the grocery store. It's quick, and easy, just like this dish and has amazing flavor. It's a staple in our home and one of my favorite shortcuts!
Salt and Pepper
Optional: Herbs – Your choice, the options are endless! Fresh is always wonderful but you can use dried, too.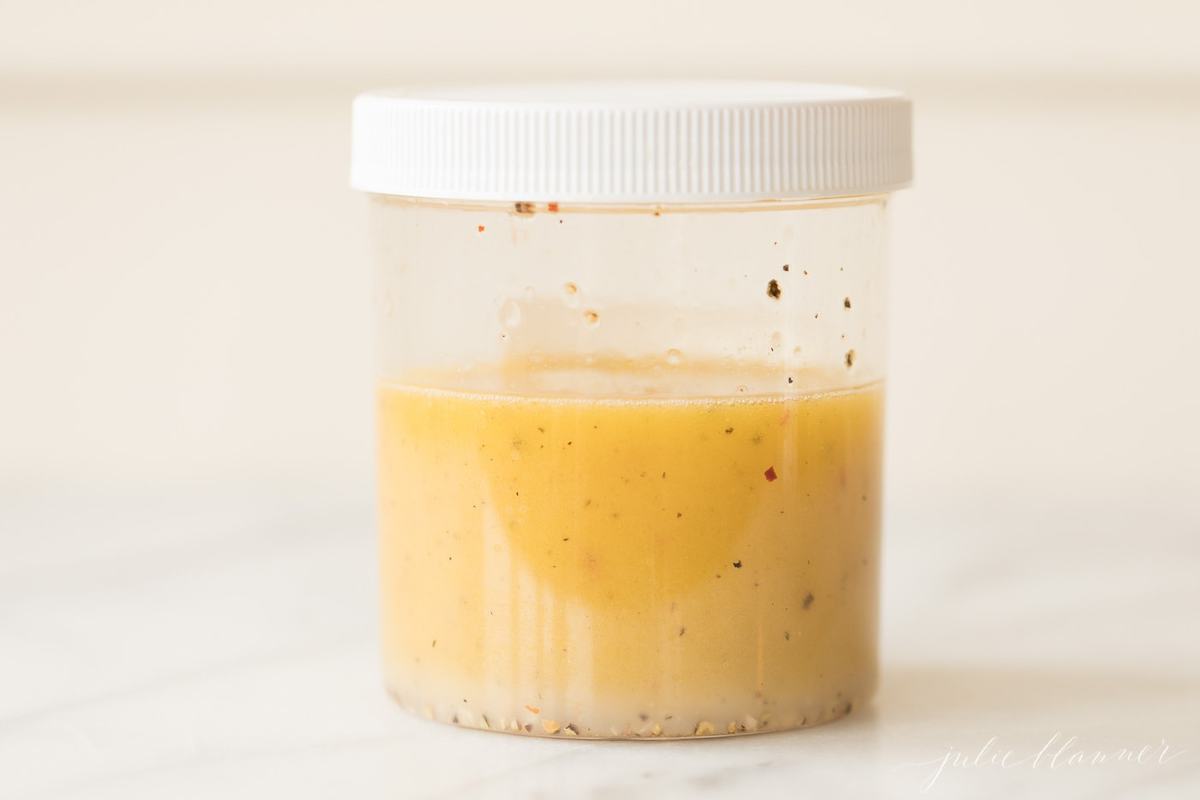 Variations
Make it Creamy
Mayonnaise is the most popular base for a creamy pasta salad dressing. If you prefer a creamier dressing for your pasta salad, try out some of these options. It is interchangeable with the oil in your favorite recipe!
Sour Cream can also be used to add a creamy base and a bit of tang to your dressing.
Greek yogurt is a great choice for giving your dressing a creamy silky element but still lighter and with less calories.
To add a creamy element to your dressing you can either leave out the oil entirely or use 3 tablespoons of olive oil and 1 cup of mayonnaise.
Tip: Drain your noodles well before mixing with a creamy dressing.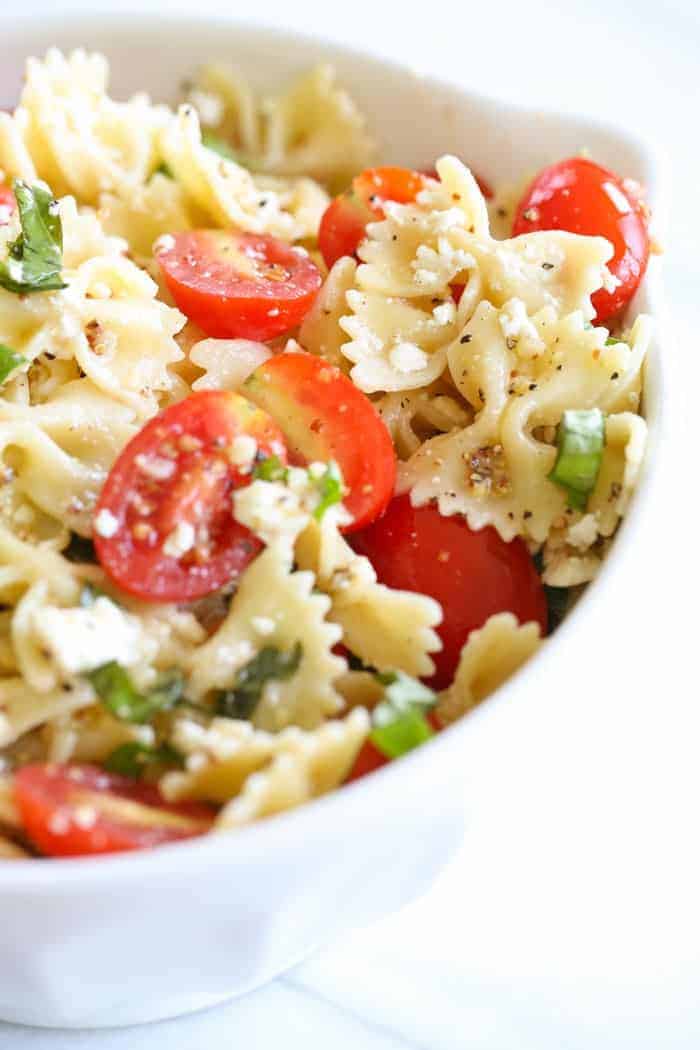 Vinegars to Use
First, most pasta salad dressings require vinegar or an acidic counterpart.
Balsamic Vinegar
White Wine Vinegar
Red Wine Vinegar
Champagne Vinegar
Sherry Vinegar
Apple Cider Vinegar
Rice Vinegar
Malt Vinegar
Vinegar Substitutes
white wine

lemon juice

lime juice
Oils to Use
This is for the "fat" part of the pasta salad dressing equation.
olive oil

canola oil

vegetable oil

avocado oil

butter
More Variations and Inspiration
Have a little fun here! Use your favorite dried seasoning blend, or use diced fresh herbs and fun spices and create your own customized version of this pasta salad dressing recipe.
Note: If you're replacing the mustard, garlic and herbs in this recipe with dried seasoning, use 1-2 tablespoons of dried herbs to taste.
Fresh

H

erbs – basil, cilantro, rosemary, oregano, mint, and more.
Spices – salt and pepper, red pepper, garlic, mustard etc.
I like to use large flakes of black pepper (just adjust your pepper grinder) to add a little color and texture. Adding grain mustard seed creates more texture and acidity too.
These Pasta Salad Dressings are great for traditional salads as well. They often make a great marinade for your favorite chicken or fish, too!
How To Make Pasta Salad Dressing
Measure out your ingredients and pour into a large bowl or pour into a mason jar.

Shake or whisk vigorously.

After your pasta salad dressing is prepared,

toss with the noodle of your choice in a large pot or mixing bowl.

Allow it to marinate in the refrigerator for at least two hours.
Serving Suggestions
Pasta salads are a beautiful, versatile dish. It makes a great side dish for summer barbecues, but it's also the perfect lunch!
They're easy to make ahead (in fact, that's ideal), require a single dish and are just as beautiful as they are delicious. These pasta salad recipes are tried and true and I know you'll love them, too!
Tip: rinse noodles in cold water before combining them with your pasta salad dressing. If you're making a creamy dressing, dry the pasta off as much as you can so the dressing can stick.
Tips
How to Store Pasta Salad Dressing – If you have extra dressing or are making it ahead, you can store in a covered jar, in the refrigerator, for up to a week if you are using fresh herbs. If it is just an oil and vinegar dressing then it will keep for two weeks!
Refresh Pasta Salad – If the pasta seems dry after marinating, add more pasta salad dressing and stir! You can also leave a little water when draining the pasta to keep it moist and use less dressing.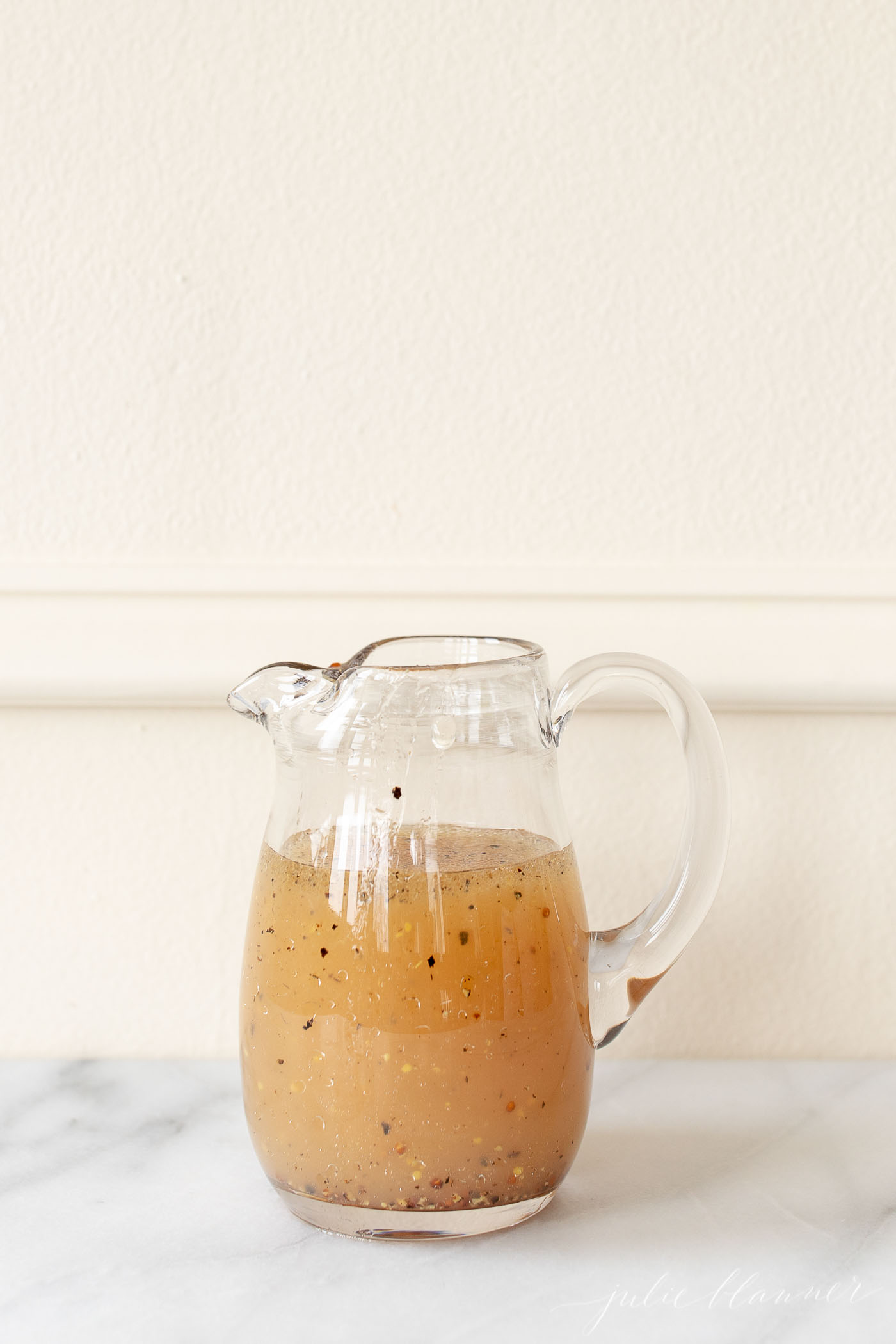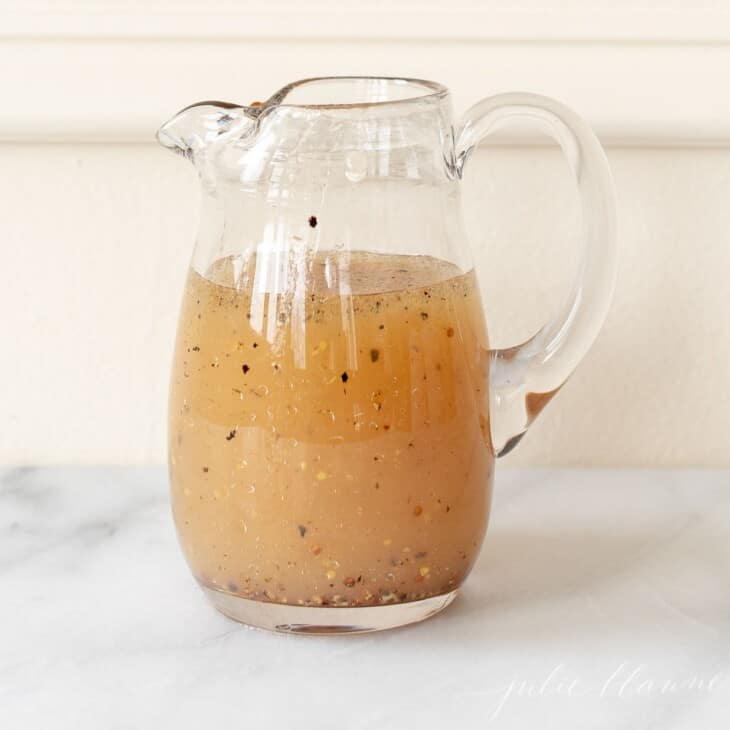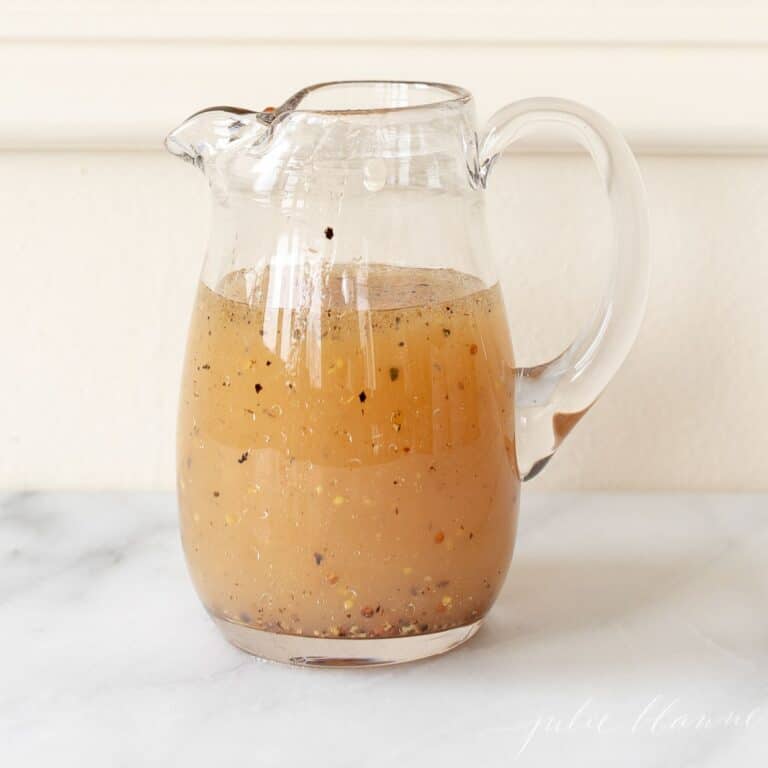 Versatile Pasta Salad Dressing Recipe
This easy pasta salad dressing is adaptable and versatile. Mix it with your favorite pasta and toppings for a delicious side dish.
Instructions
Combine ingredients in a jar.

Shake until it reaches full emulsion.
Tips
Substitutions and Variations
Vinegars to Use
balsamic vinegar, white wine vinegar, red wine vinegar, apple cider vinegar
Vinegar Substitutes
white wine, lemon juice, lime juice, pesto
Oils to Use
olive oil, canola oil, vegetable oil, butter
To Store
Store in an airtight container refrigerated up to two weeks.
Nutrition Information
Calories:
87
kcal
(4%)
,
Carbohydrates:
1
g
,
Protein:
1
g
(2%)
,
Fat:
9
g
(14%)
,
Saturated Fat:
1
g
(5%)
,
Sodium:
57
mg
(2%)
,
Potassium:
23
mg
(1%)
,
Fiber:
1
g
(4%)
,
Sugar:
1
g
(1%)
,
Vitamin A:
4
IU
,
Vitamin C:
4
mg
(5%)
,
Calcium:
6
mg
(1%)
,
Iron:
1
mg
(6%)
Estimated nutrition information is provided as a courtesy and is not guaranteed.