The Ultimate Collection of Easy Pasta Salad Recipes
Easy pasta salad recipes just might make the ultimate summertime food. It's fast, flexible, and gets more delicious by the day. Find eight of the BEST pasta salad recipes right here – and don't forget to pin and save for later so you don't miss any of these delicious combos!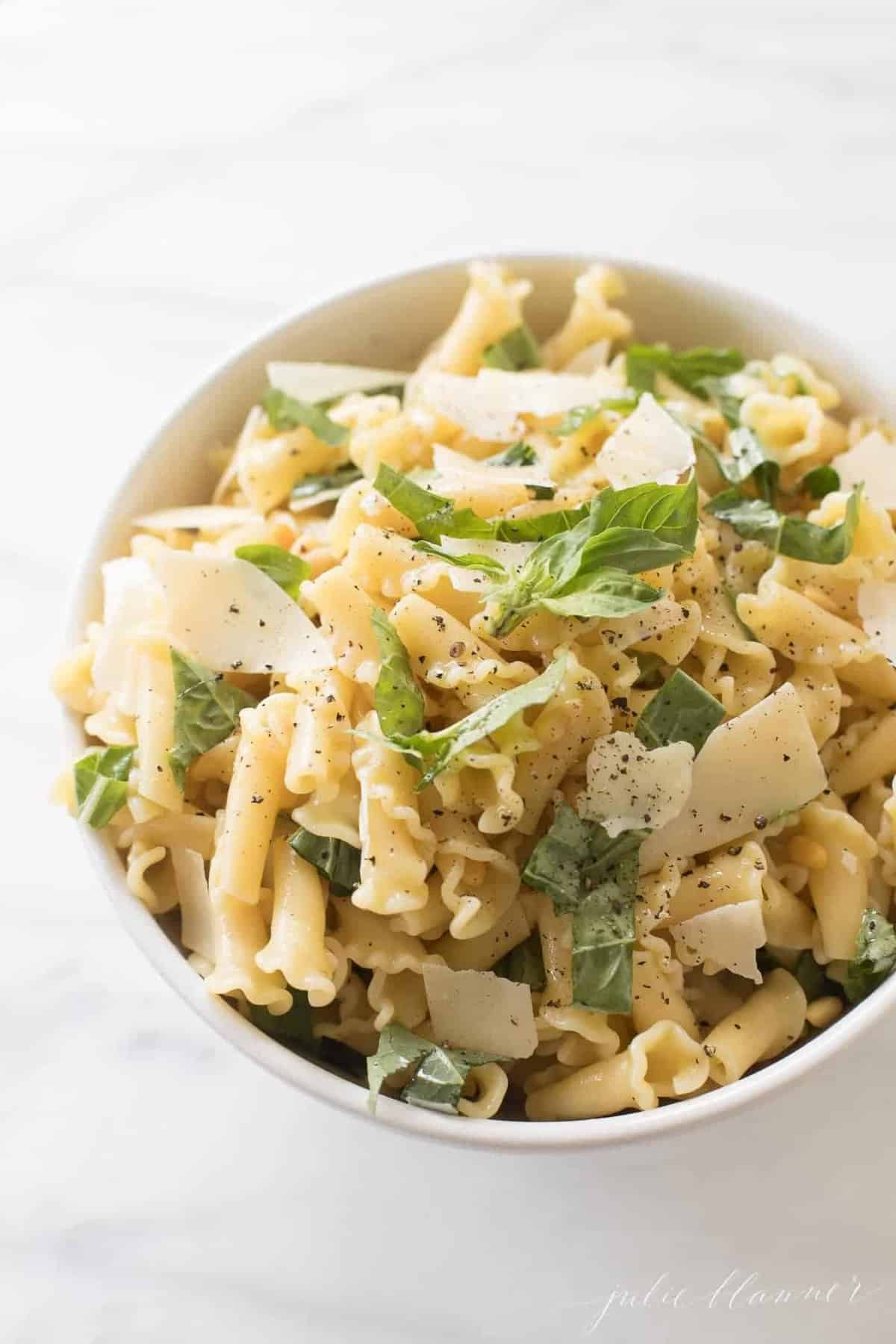 Learning how to make pasta salad might just be your ticket to getting invited to the best summer parties. In fact, when you find one you like, it can be a recipe that goes immediately into the "keeper" files… the kind of recipe that party guests will beg you to share!
A cold pasta salad recipe is an iconic tradition of American summer. It's a side dish, it's a meal, it's a crowd pleaser, it's all the things.
They are full of vibrant flavors, they travel well, and they get better in the fridge by the minute – marinating in a delicious dressing. What's not to love?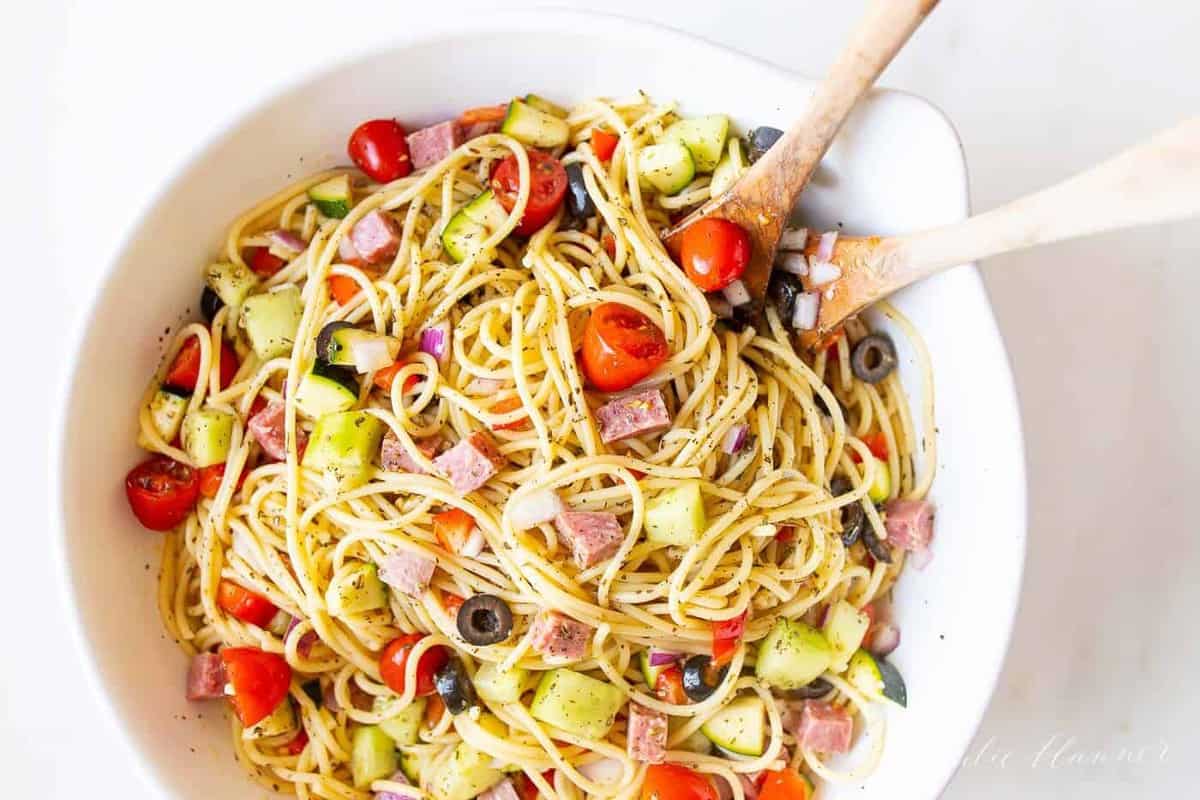 It's true, I love pasta in every format. I've shown you how to make fresh pasta from scratch, egg noodles, and reader-fave recipes like this white wine pasta sauce, lemon basil pasta, pesto pasta, a traditional fettuccine alfredo and so many more.
While I could drone on and on about pasta salad recipes almost as often as I can eat them (and that would be brunch, lunch, snacks, dinner, picnics, potlucks and more…) today I wanted to round up all of my favorites for you.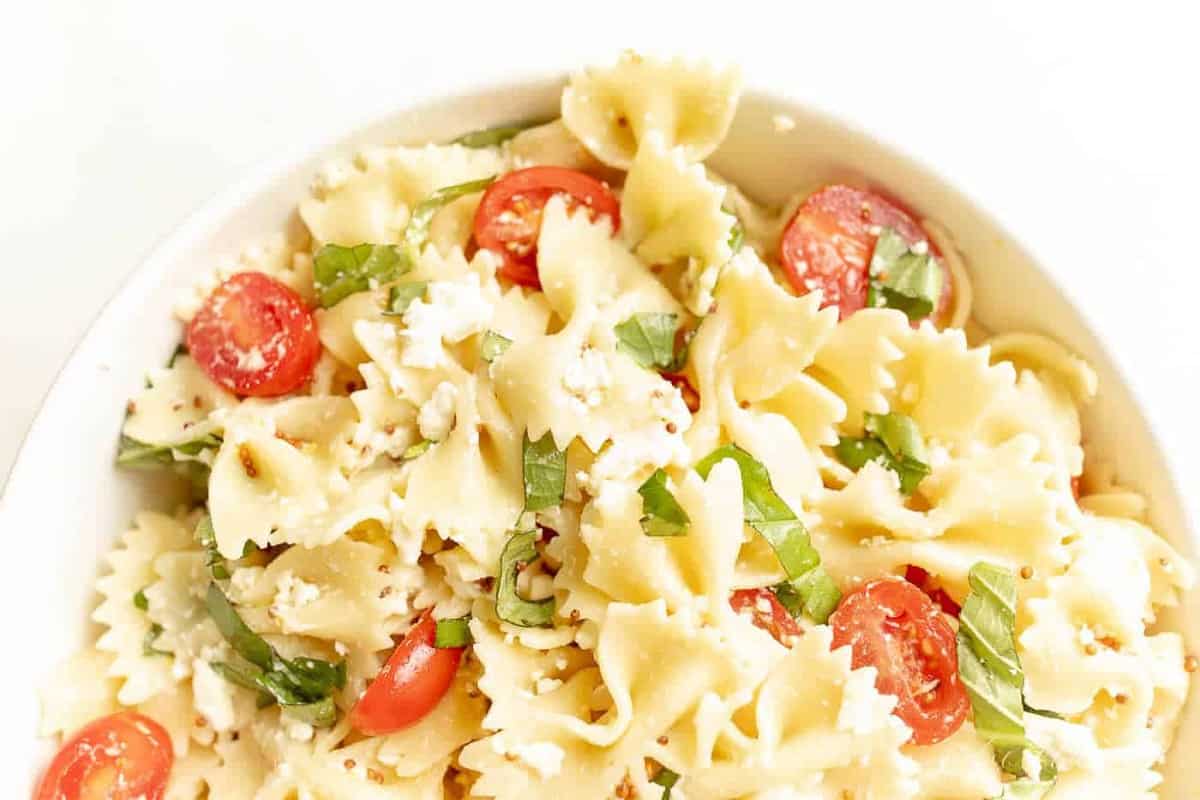 This post is a great one to save and refer to down the road, whenever you need inspiration! Let's dig right into some cold pasta salad, shall we?
First, we'll discuss some of the basics of making the BEST pasta salad recipes, and towards the end of this post you'll find all the printable recipe links!
Making an Easy Pasta Salad Recipe Starts with a Great Homemade Dressing
Yes, of course you can make a great pasta salad with a bottle of store bought dressing. But once you see how easy it is to make your own homemade Italian dressing or the like, you'll never go back!
You might love your grandma's old-fashioned Italian pasta salad recipe, but I think we can make it even better with a homemade dressing.
All of this to say, a great pasta salad definitively starts with a fresh, flavorful homemade dressing. It's the beginning and the end of this iconic dish – it matters so much!
I love homemade salad dressings (in fact, I have a complete vinaigrette guide) and I've shared many with you in the past – be sure to check out all those delicious dressing options!
With the addition of a homemade dressing, you're creating a customized, colorful salad experience with an explosion of flavor! Not only does it taste better, but you get to control the ingredients. No more strange preservatives and added sodium. Fresh is always best!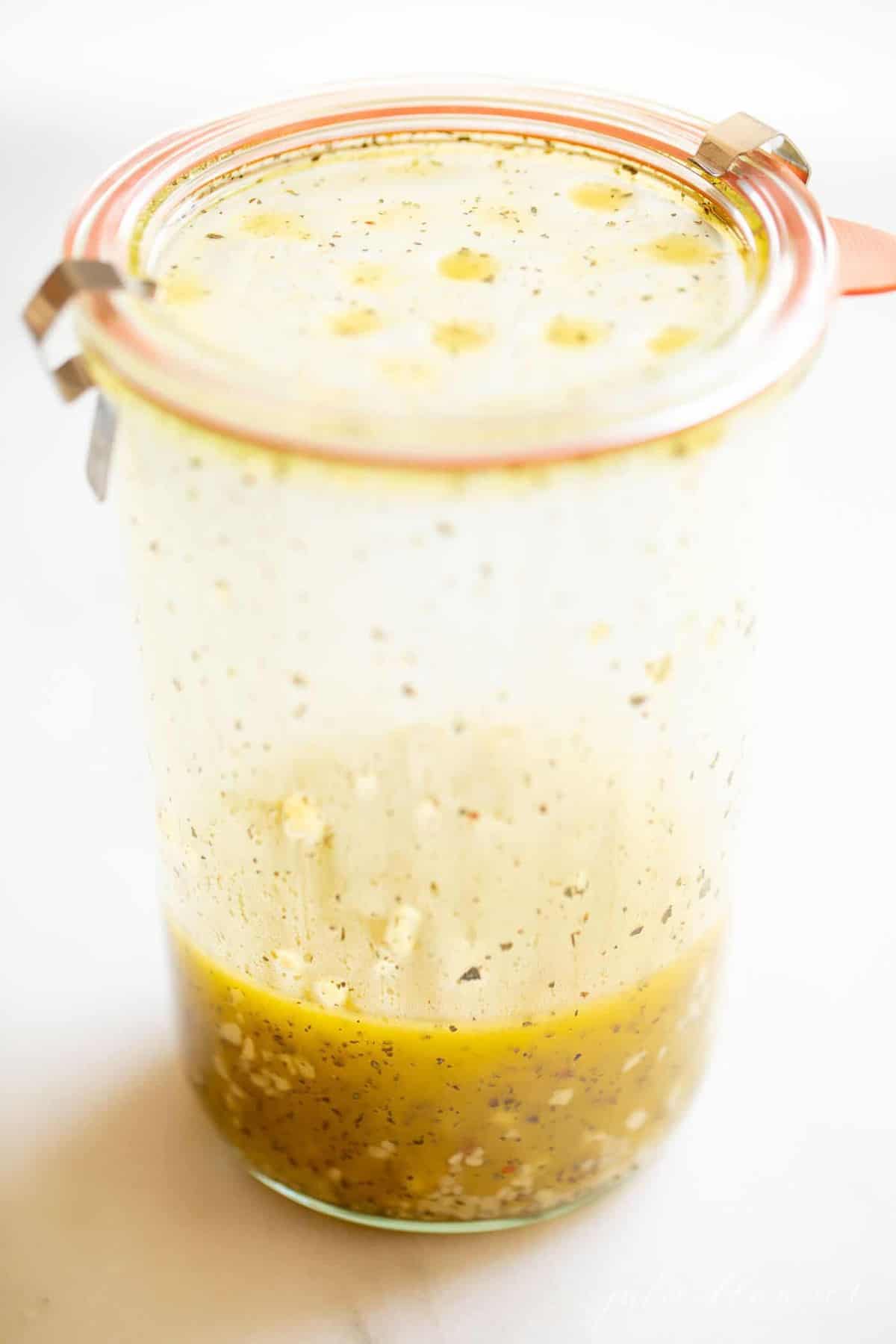 Two Types of Dressing for Cold Pasta Salad Recipes
Pasta salad dressing typically is made with either an oil and vinegar dressing or with a creamier base like mayonnaise.
I tend to go with oil and vinegar because it is so easy to change up the flavor combinations with different oils and vinegar. It also stays fresh for longer, either in your fridge or at room temperature when serving. Bonus? It is also a lighter dressing with less calories.
If you prefer creamy Pasta Salad dressings though, you can always add mayo, sour cream or greek yogurt to the recipe, usually substituting it for the oil in the recipe.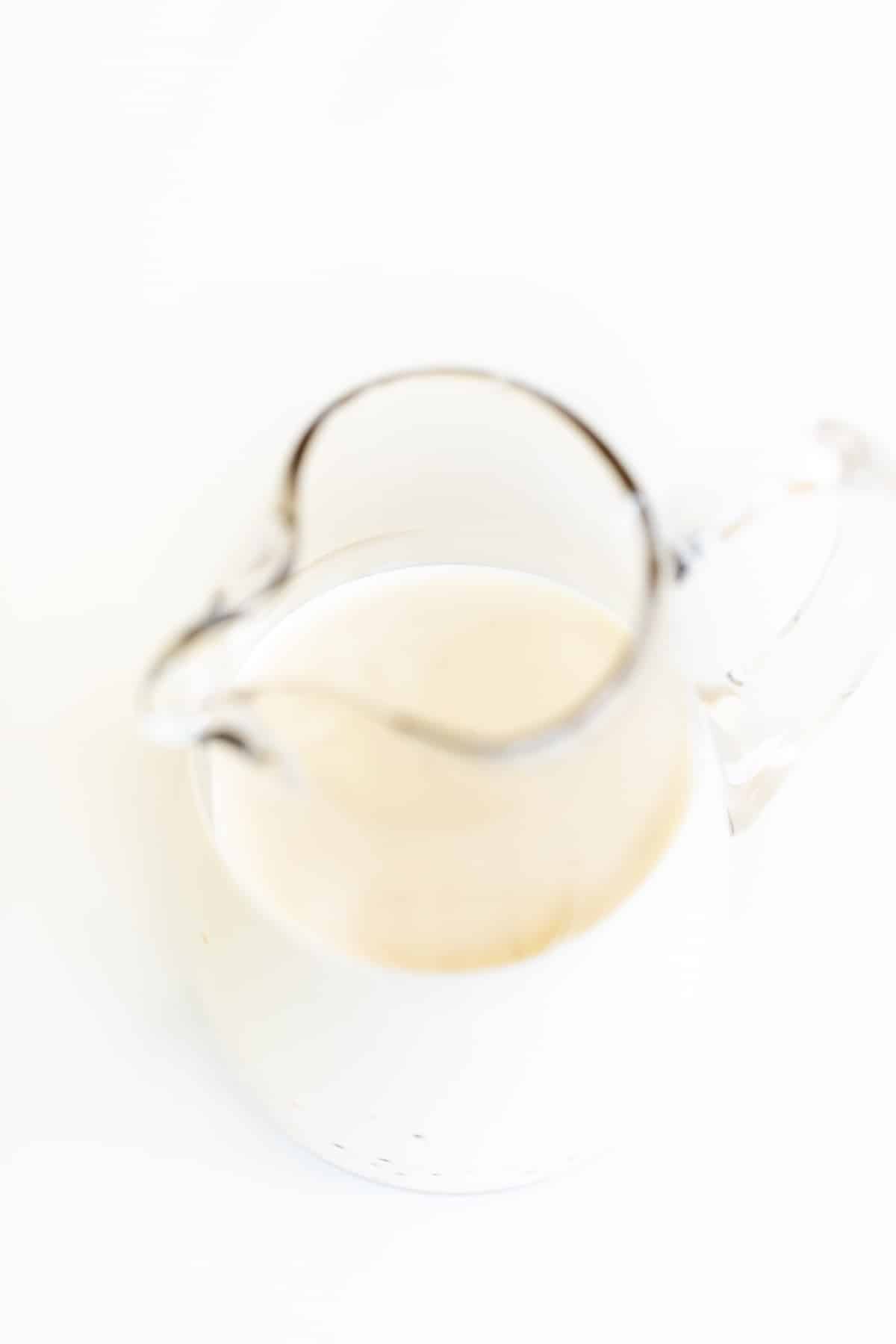 If you're looking for more in-depth detail about the varieties of homemade pasta salad dressings, please head to this post where I discuss at length! It will really help you understand the basis for a scratch dressing and you'll quickly be an expert.
Tools You Need to Make an Easy Pasta Salad Recipe
I can practically taste that homemade pasta salad right now! I love it when they are bursting with veggies… cherry tomatoes, black olives, bell peppers and MORE.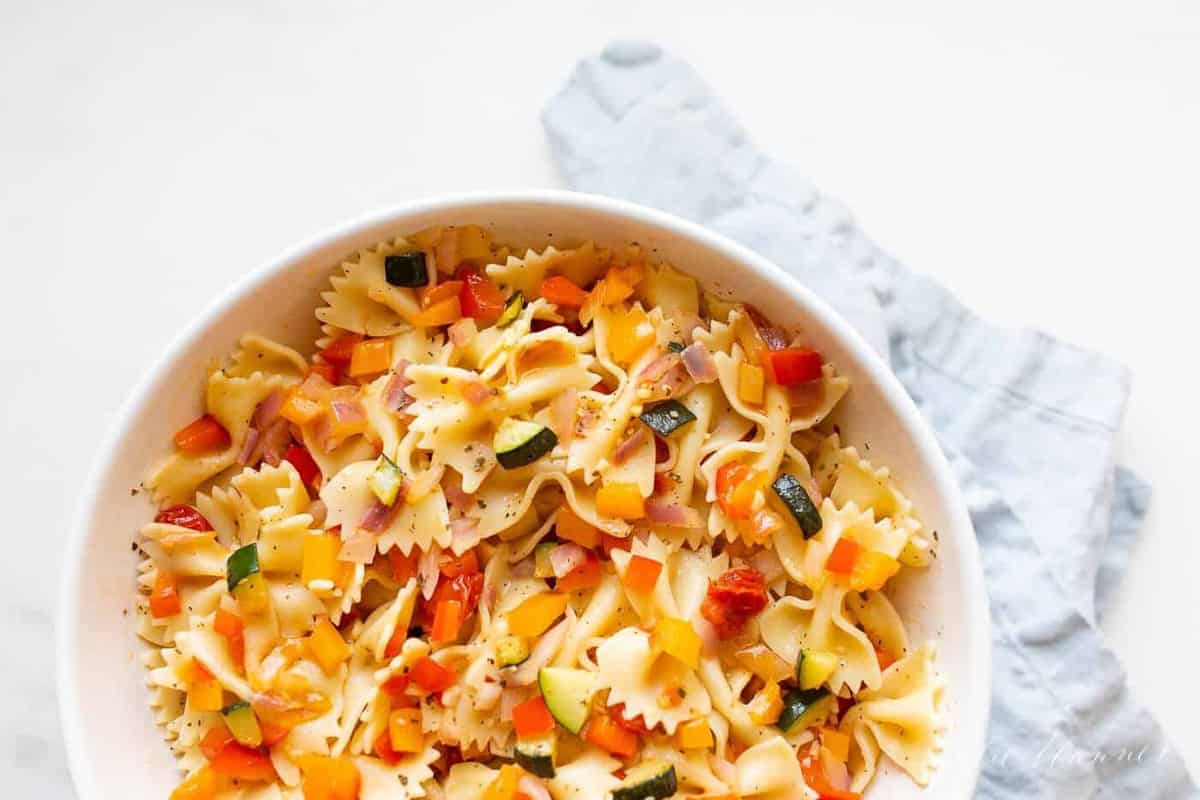 Regardless of which recipe you make, I find the following items to be helpful for shaking, stirring, serving and storing. I choose pieces that are both practical and pretty so they can go directly from the fridge to the table!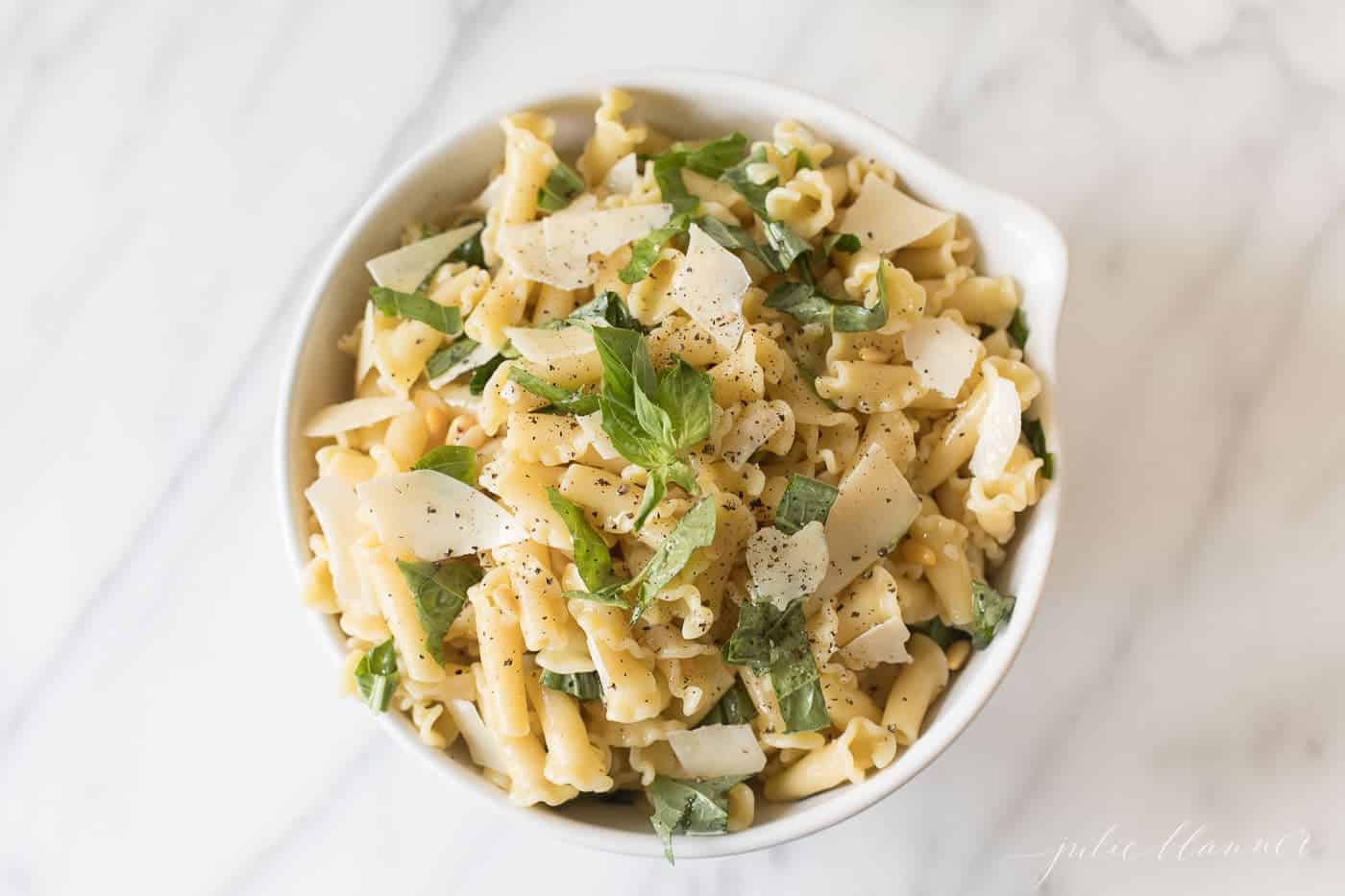 How to Make Pasta Salad
Regardless of specific ingredients, additions and directions in each of my recipes, the steps and fundamentals remain the same.
Bring a pot of salted water to a boil. Add pasta.
Strain pasta and rinse in cold water.
Return pasta to serving bowl.
Add any veggies, cheeses, deli meats, and the like.
In a jar, combine dressing ingredients and shake until combined. Pour over pasta salad.
Toss.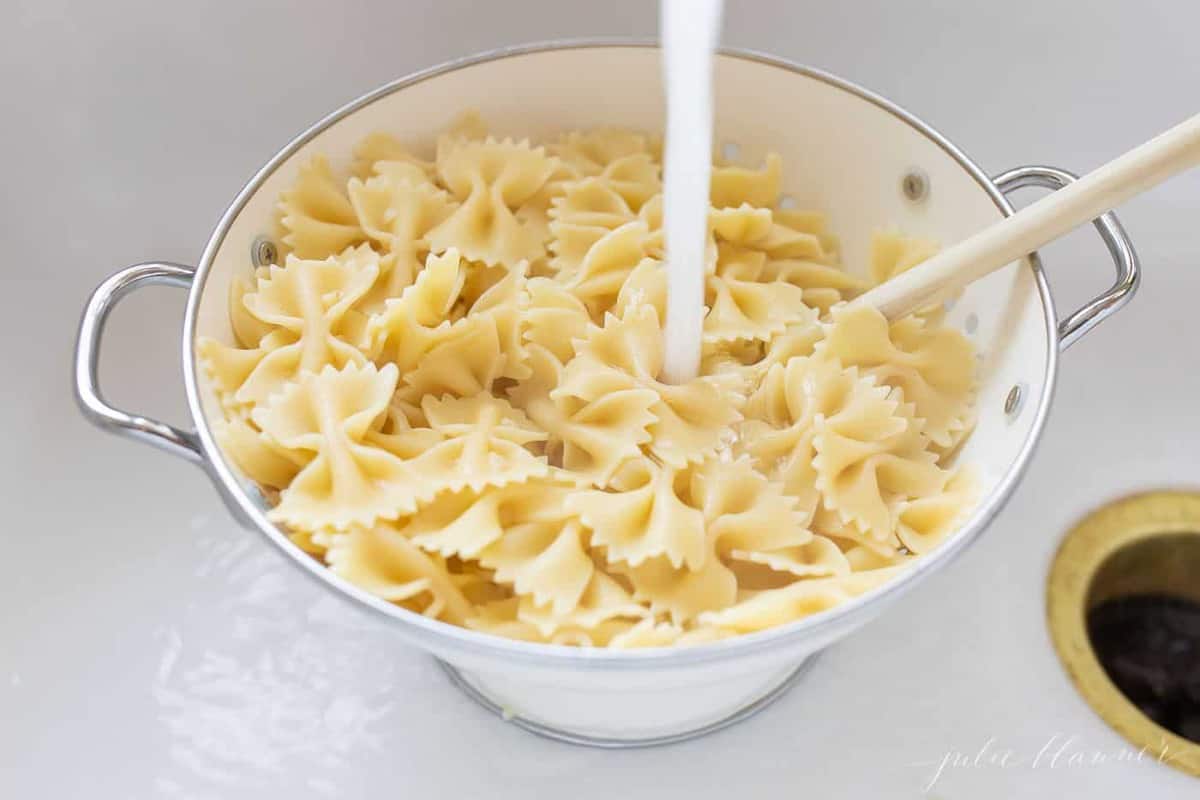 The Best Pasta Salad Recipe Tips
Use a large pot for your noodles. You want to give them plenty of room to cook, separated, in the lightly salted water.
Check out this guide to How to Stop Water from Boiling Over – it's so handy for pasta and potatoes!
Cook your noodles al dente. I repeat: do not overcook your pasta! Especially when the cooked pasta will spend extra time soaking in a dressing, you don't need to cook it too long.
Rinse noodles in cold water before combining them with your pasta salad dressing.
Use a high quality olive oil. When you're making such a simple dressing, the individual ingredients will shine!
How to Store Pasta Salad – If you are making it ahead, you can store in a covered bowl, in the refrigerator, for up to a week.
Same goes for your pasta salad dressings! In fact, if it is just an oil and vinegar dressing then it will keep for up to two weeks!
Refresh Pasta Salad – If the pasta seems dry after marinating, add more pasta salad dressing and stir! You can also leave a little water when draining the pasta to keep it moist and use less dressing.
Adding cheese? Grate it fresh. You'll never regret this extra step! Fresh grated Parmesan cheese or mozzarella cheese are the hallmarks of any great pasta dish in my eyes!
Pasta salad is one of my favorite BBQ Sides – don't skip this complete guide to help you plan your next cookout!
The Best Pasta Salad Recipes
There are so many delicious ways to create an incredible cold pasta salad recipe! This list is filled with inspiration and printable recipe links.
Find an easy pasta salad recipe for every occasion right here! There are crowd-pleasing flavors to suit every taste. Which one will you make first?
I can't wait to hear from you! Which recipe is your favorite? If you've made one of my pasta salad recipes, please be sure to leave a comment or a review with my five star rating system!
More Pasta Recipes You'll Love