If you love all the flavors of a classic mojito but maybe not the rum, this gin mojito is just the ticket! Filled with all the lime and mint essence that is loved in mojitos around the world, you also get the mellow, smooth and herbaceous hint of gin.
What's not to love about a mojito cocktail? It's sweet, refreshing and bubbly, bursting with fruit and herbal mint. Replace the rum with gin and you've got a complex, fabulous cocktail that captures the mojito love just as well!
A mojito is a traditional Cuban highball that is generally made with white rum, simple syrup or sugar, fresh squeezed lime, club soda and mint. But since rum doesn't suit everyone, this gin version might be exactly what you need!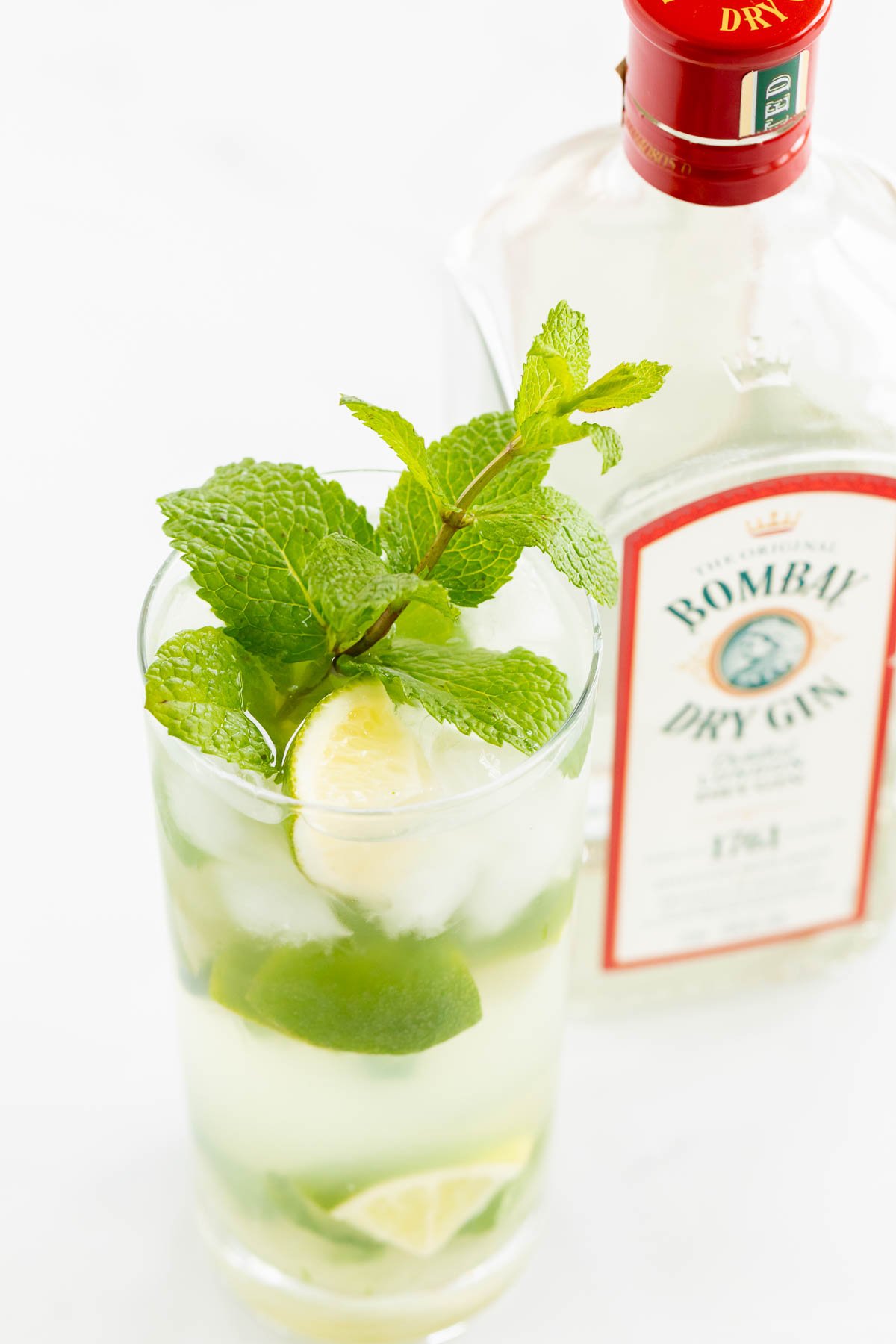 This gin mojito came about quite by accident when a friend mentioned she didn't love rum so she'd never had a mojito. I realized that must be the case for others and thought it would be fun to develop some rum-free mojitos in this series.
That's how the Tequila Mojito, Virgin Mojito and Vodka Mojito came to be!
Gin Mojito
Truthfully, while I love a good cocktail, I'm not an expert on gin. It was fun to research it a little and start to understand the history and essence of this classic liquor. A gin mojito is also called a London Mojito!
I'm thrilled to share this gin mojito with you today! I hope it brings you a little relaxation and joy when you sip with friends and family this summer.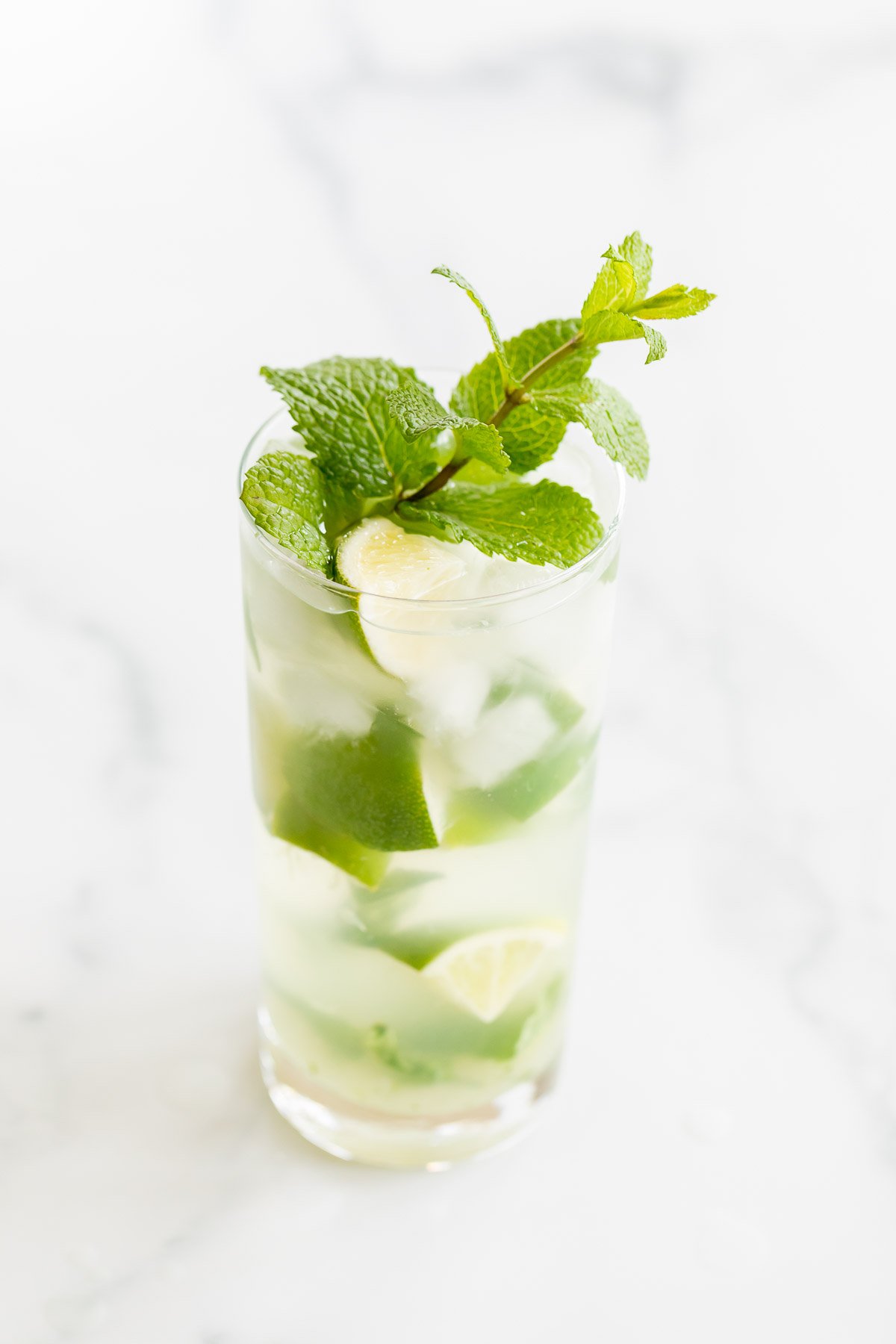 What is Gin, and What does it Taste Like?
Gin is a liquor, generally infused with juniper flavor and bottled at 40% alcohol by volume. The juniper berries that are used in every bottle create an essence that is quite distinctive, herbaceous and floral in both fragrance and flavor.
Gin is produced from a variety of bases (wheat, barley, and more) but with a neutral background regardless of origin. This lends it to a variety of classic cocktails.
Ingredients and Substitutions
Gin – A classic Bombay Gin works well as we used here. However, feel free to experiment and use your favorite – some are more floral and herb-infused than others!
Limes – Fresh lime juice is always best, but you can take a shortcut with a bottle of lime juice if you're short on time!
Mint – Fresh mint leaves are a necessity for any good mojito.
Simple Syrup – Store bought or homemade simple syrup adds a hint of sweet flavor to this cocktail! To make your own just allow equal parts sugar and water to dissolve in a pot over medium heat. You can also substitute with white granulated sugar or sugar cubes if you prefer.
Soda Water – Club soda or sparkling water adds a little bubbly to this refreshing cocktail.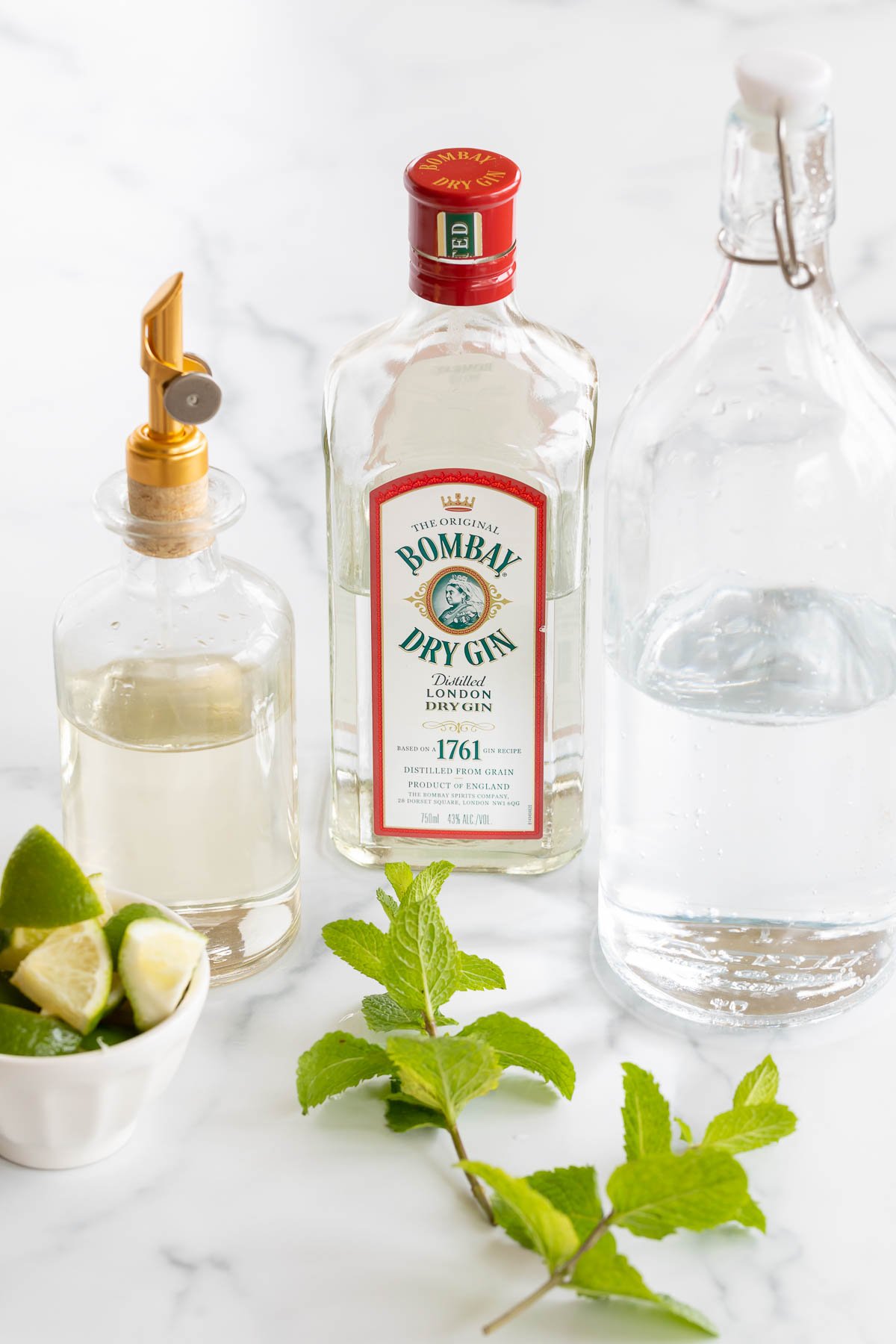 Variations
Tools
Muddler
Jigger
Cocktail Shaker or Stirrer
How to Make a Gin Mojito
Muddle lime and mint.
Add simple syrup or sugar.
Fill the glass with crushed ice.
Pour gin over ice.
Top off with club soda.
Stir and garnish with lime slice and/or mint sprigs.
Best Gin for Mojitos
Look for a classic London Dry Gin or a Plymouth for more sweetness.
Tanqueray
Bombay
Hendrick's
The Botanist
Plymouth
Serving Suggestions
Rim Glasses – Run a lime wedge along the rim of your glass. To line the glass, dip the edge in a plate filled with white granulated sugar.
Garnish – A slice of lime and sprig of mint to garnish makes this cocktail pretty and delicious!
Tips
Use Fresh Mint and Fresh Limes – It makes such a difference to the flavor and fragrance!
Crushed ice – Much like my favorite margarita tip, crushed ice is everything in a cocktail!
Shake – A cocktail shaker can be a fun change. It's a bit more formal for shaking or stirring your mojito.
Balance – Not all mojitos are the same – and that's great! Experiment with the amount of mint, lime, fruit, gin and sweetener until your mojito is the perfect mix for you.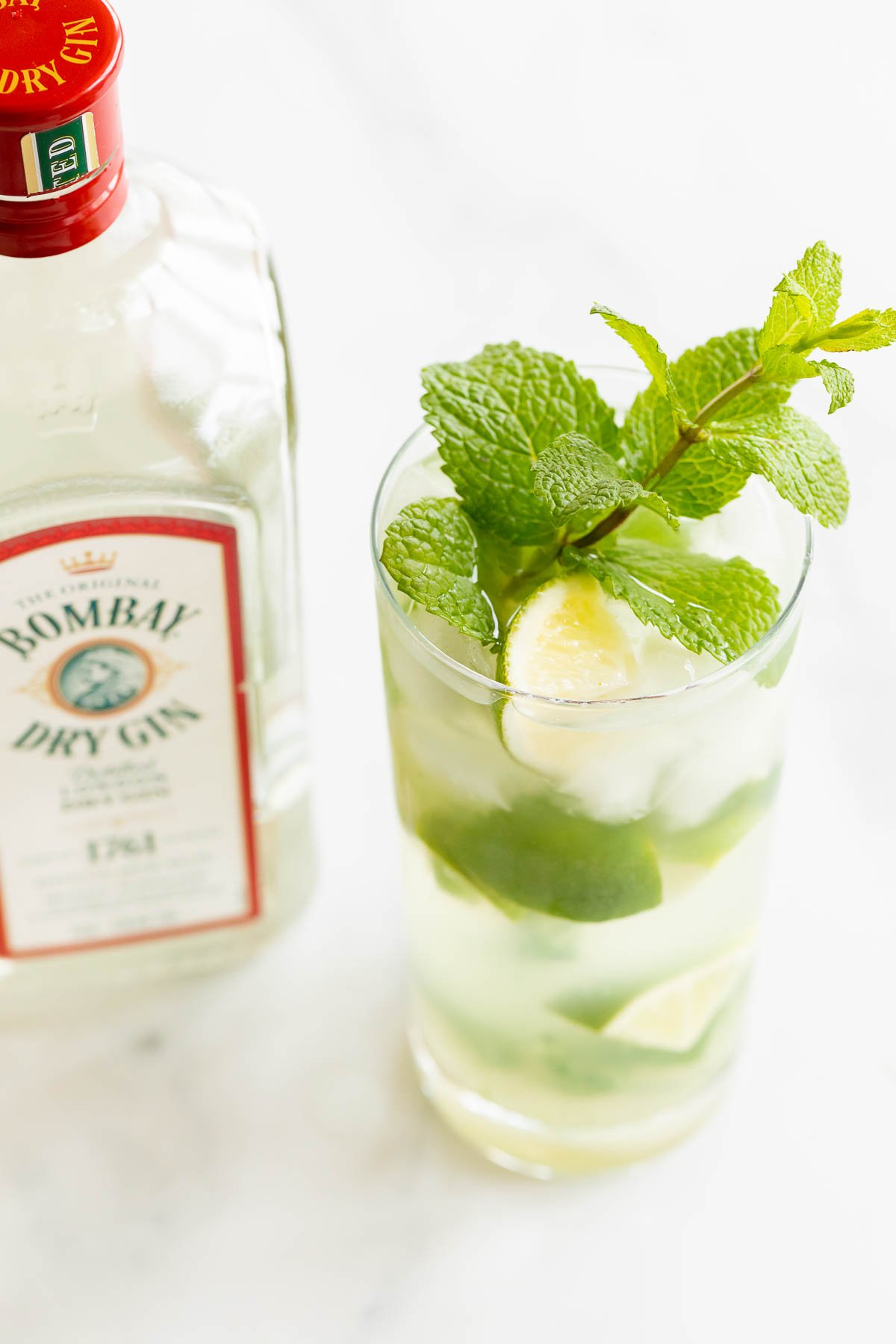 Scaling up, down or substituting? You'll love this printable Measurement Conversion Chart!
Shortcuts
Make a simple syrup ahead so it's ready to go when you need it. You can store it in the refrigerator for up to a month! You can also use store-bought simple syrup or white granulated sugar to save time.
Try a juice attachment for your KitchenAid stand mixer if you tend to squeeze a lot of lemons and limes like we do!
Frequently Asked Questions
Is gin the healthiest alcohol?
Because gin is made with juniper berries, (which are considered to be a super fruit) gin is certainly highly regarded as a cleaner liquor.

Gin is low in carbs and calories, making it a healthier and cleaner option than many of its counterparts.
What flavors go well with gin?
Gin pairs beautifully with citrus flavors because of the earthy, juniper essence. Gin is often paired with lemon, lime (as in this gin mojito), herbs like thyme, rosemary and mint and more.
How to Make a Pitcher
1 bunch fresh mint (discard stems – 50-60 mint leaves)
4 limes, quartered into wedges
4 cups ice
1 cup simple syrup
12 ounces gin
4 cups club soda or sparkling water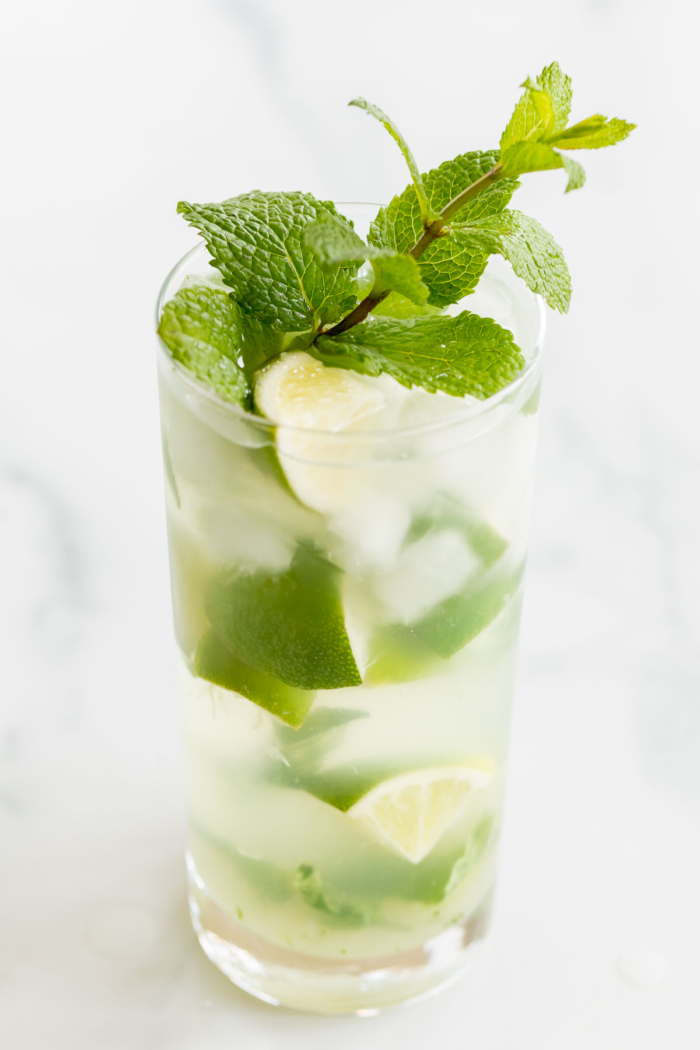 Make it Frozen
Muddle – Muddle lime and mint.
Purée – Blend any fruit puree you'd like to add (or none) and ice in food processor.
Combine – Add gin, simple syrup or sugar, club soda, and fruit / ice purée.
Add Ice – If you want it slushier, blend more ice and add in.
Garnish – Garnish with lime wedge, and sprig of mint.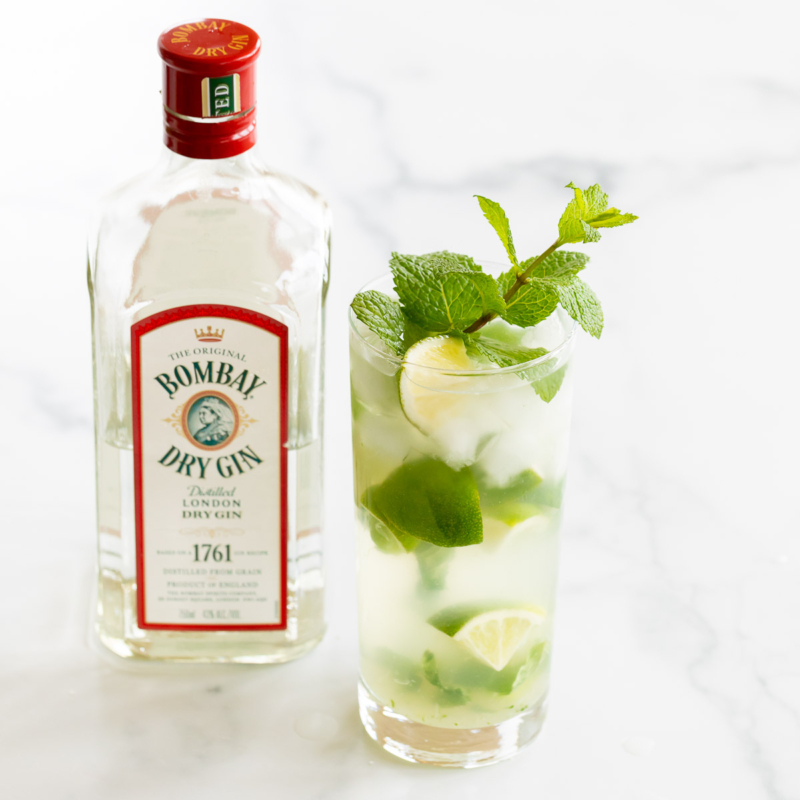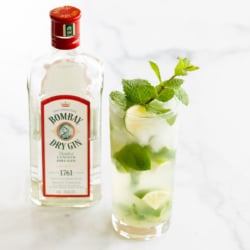 Gin Mojito
If you love all the flavors of a classic mojito but maybe not the rum, this gin mojito is just the ticket! Filled with all the lime and mint essence that is loved in mojitos around the world, you also get the mellow, smooth and herbaceous hint of gin.
Ingredients
10

leaves

mint

fresh, plus more for garnish

½

lime

quartered into or 2 tablespoons lime juice

1

tablespoon

simple syrup

or 1 teaspoon white granulated or raw sugar

1½

ounces

gin

½

cup

club soda

or to taste
Instructions
Start with a mojito glass.

Muddle lime and mint.

Fill the glass with ice.

Add simple syrup.

Top off with club soda.

Stir and garnish with lime slice and/or mint sprigs.
Tips
Use Fresh Mint – It will make all the difference to the flavor of your mojitos.
Use Fresh Limes – You can use bottled lime juice, but it won't approach the flavor of fresh limes.
If you don't have a traditional muddler, that's okay! Instead of a classic mojito muddler, try using the end of a wooden spoon.
Play with the ingredients until you get it exactly as you like it! Try using more or less lime or syrup, etc.
Calories:
162
kcal
|
Carbohydrates:
18
g
|
Protein:
1
g
|
Fat:
1
g
|
Saturated Fat:
1
g
|
Sodium:
38
mg
|
Potassium:
53
mg
|
Fiber:
1
g
|
Sugar:
15
g
|
Vitamin A:
38
IU
|
Vitamin C:
10
mg
|
Calcium:
21
mg
|
Iron:
1
mg
Estimated nutrition information is provided as a courtesy and is not guaranteed.
Explore More