A quick Bubble Gum Ice Cream recipe with just 4 ingredients and 5 minutes of hands-on time. This no-churn ice cream requires no special "tools" and is the perfect ice cream to make with your child. It is the stuff childhood dreams are made of!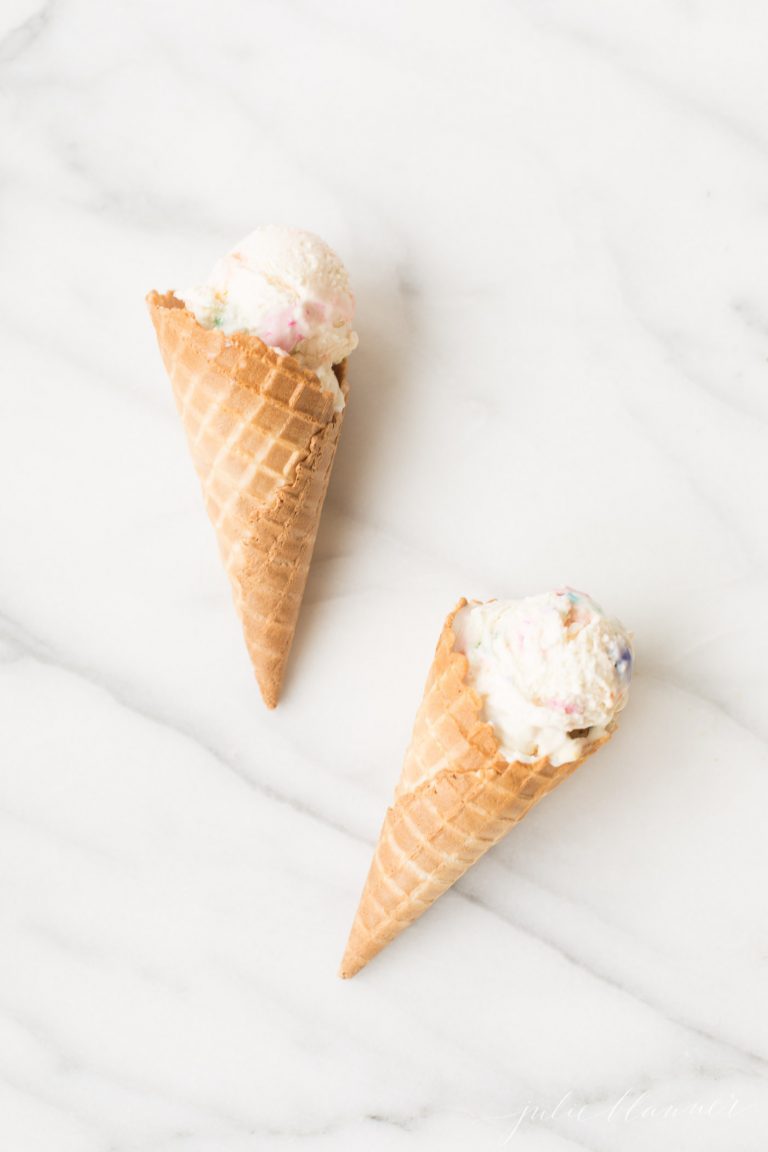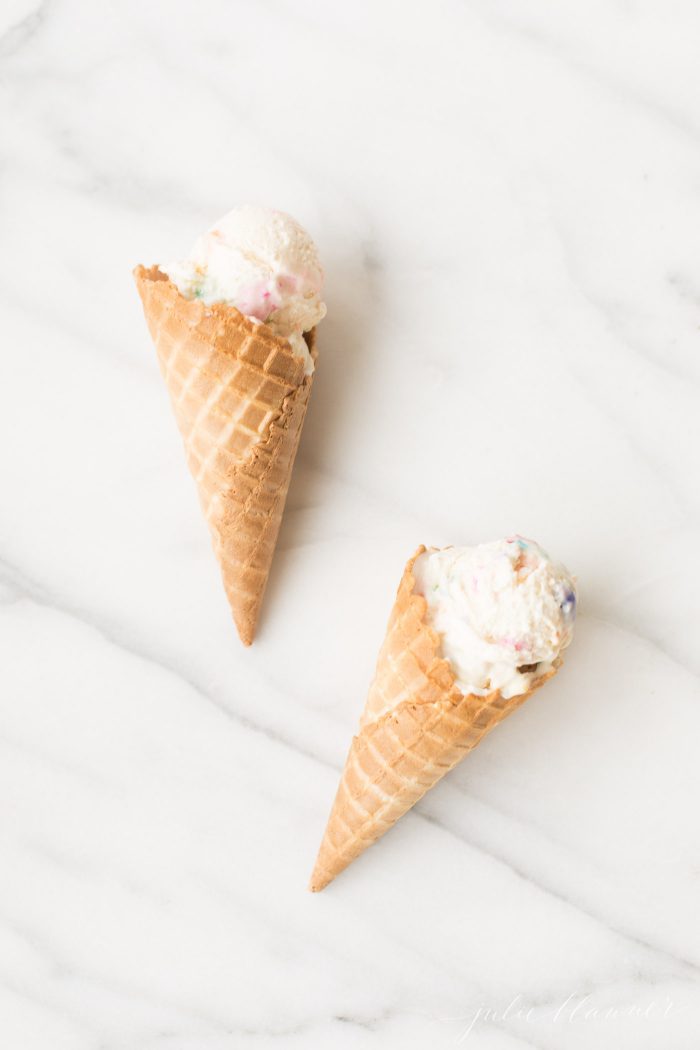 Bubble Gum Ice Cream Memories
Each time I make Bubble Gum Ice Cream, I have feelings of nostalgia. It reminds me of birthdays, dance recitals, and simple summer outings. Any special occasion or sunny day was an excuse to get my favorite childhood ice cream. I never could get enough of it.
Each special occasion in my sister's and my childhood was celebrated with a trip to the ice cream parlor where out of all the ice cream flavors, we inevitably both chose Bubble Gum Ice Cream in a waffle or sugar cone. It was such a special treat!
I remember anxiously watching as they scooped out the cold ice cream, and prepared a napkin at the table for the bubble gum to save until the end. It is a super sweet ice cream that pairs well with a waffle cone.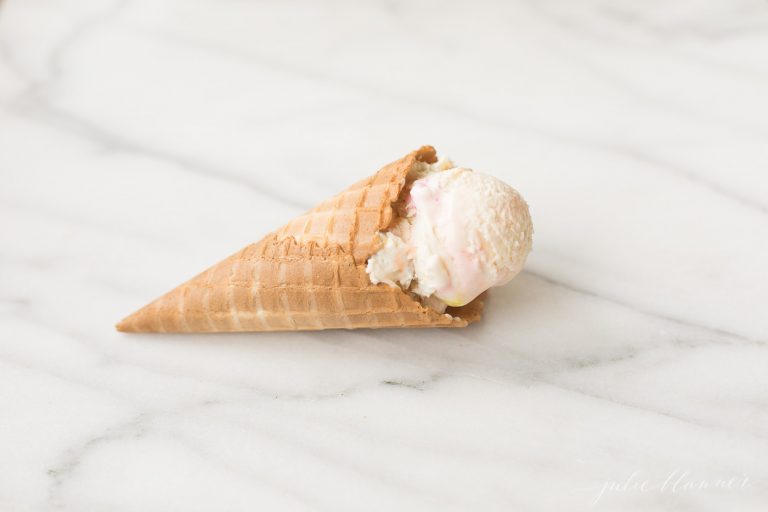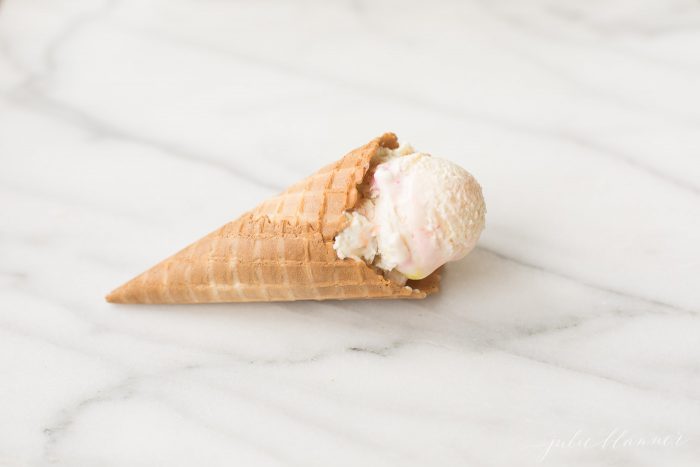 Having been in love with this creamy, cold, ice cream for years, I wanted to create a version I could make with my kids. I love watching them develop the same fond memories that I had growing up.
Bubble Gum Ice Cream is essentially 2 special treats and my favorite flavors, ice cream and coveted bubble gum, rolled into one perfect dessert (which we were rarely granted as children being daughters of a dental hygienist).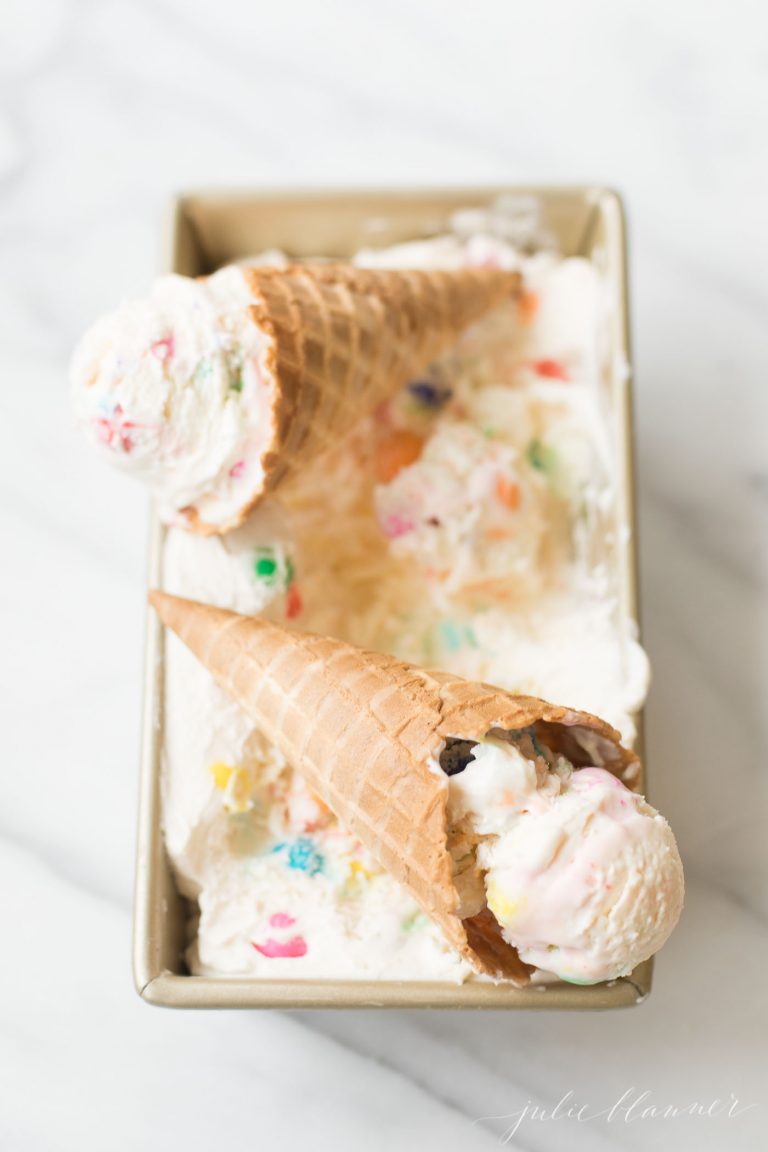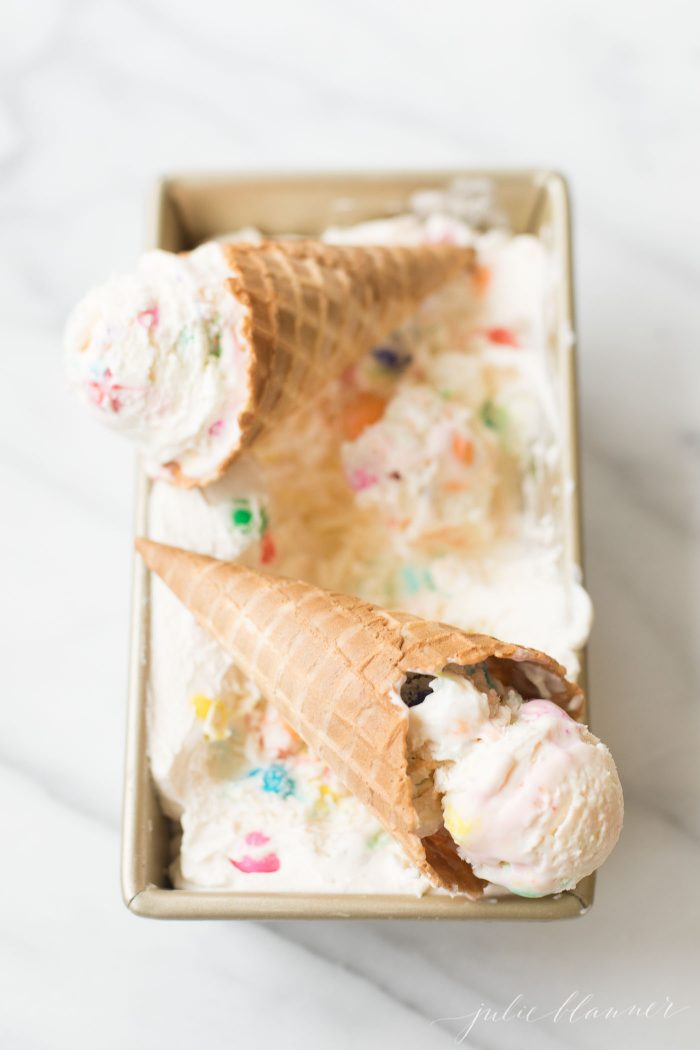 This is the ultimate kid-friendly ice cream. Serve it up at any event that involves children. Birthday parties, tea parties, swim parties, a neighborhood block party, the list goes on!
However, you don't have to wait for a special occasion for this delicious bubblegum ice cream. It's just as good any time, any time of the year!
It's simple to whip up and freeze hours before, a day ahead, or even the week prior your event. Whenever it's convenient for you!
It will have every child oohhing and ahhing over this sweet summer treat! Even adults can't resist!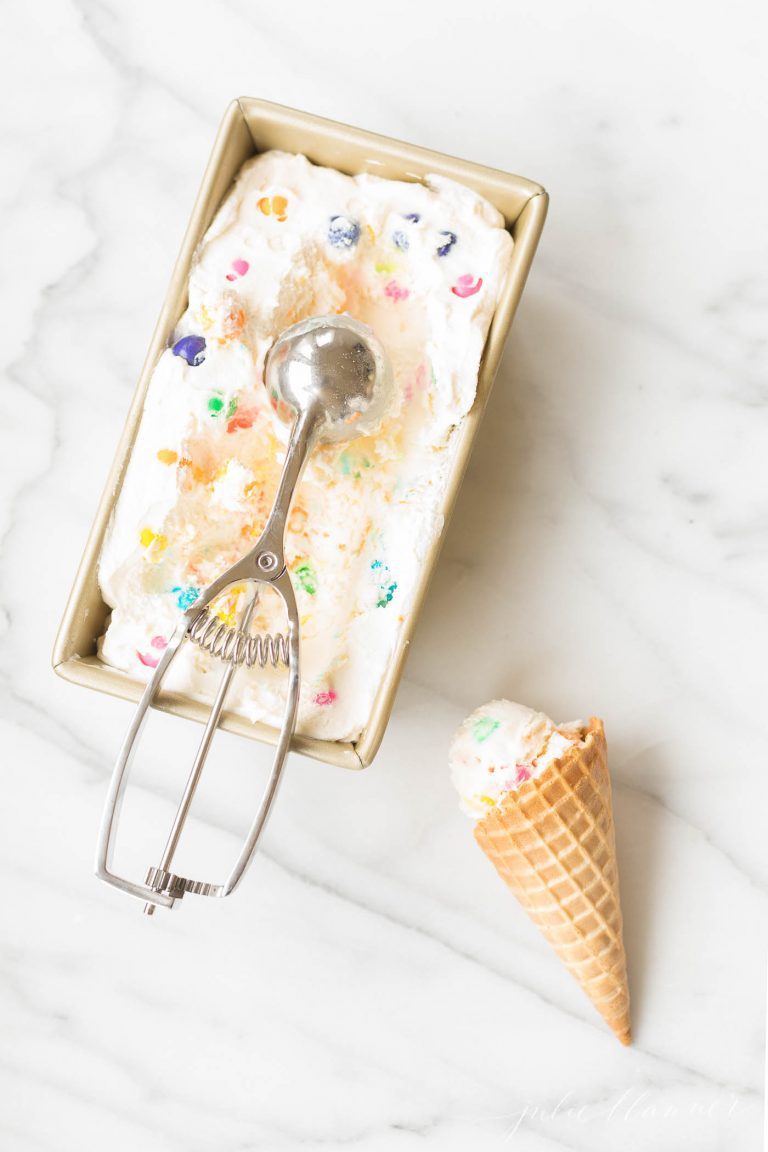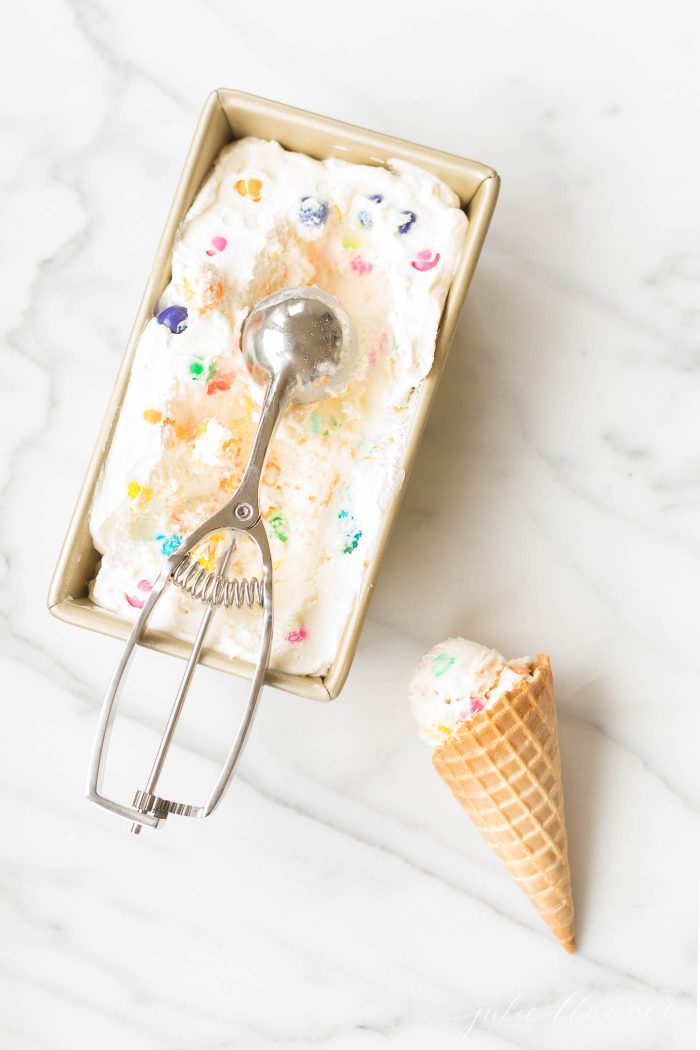 No Churn Bubble Gum Ice Cream
Of course, you can always purchase ice cream at your local supermarket, but what's the fun in that? Homemade ice cream is always best isn't it? Especially when you make it with your kids.
A shot of love makes everything taste better. Even more special to see is your child laugh as they enjoy this cold treat with you.
But what about the prep time? Not to worry! Given it is a no-churn ice cream recipe, it is a snap to make.
There is no need to bring out the ice cream maker.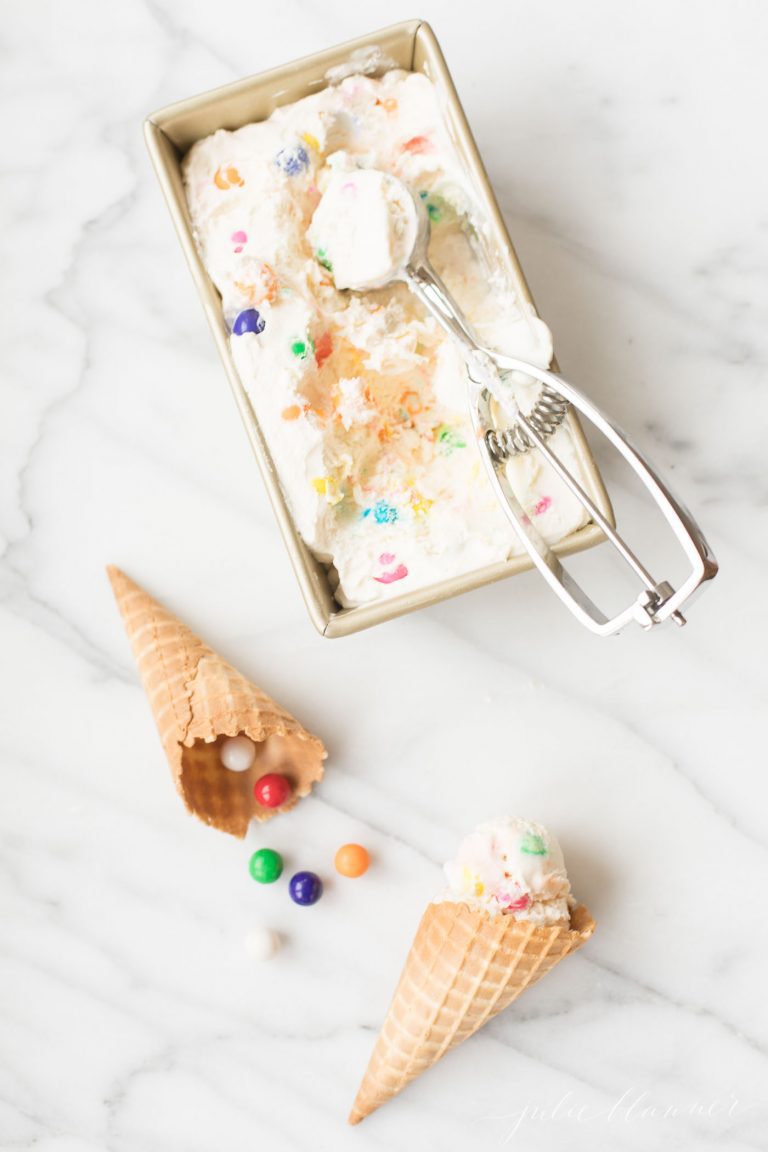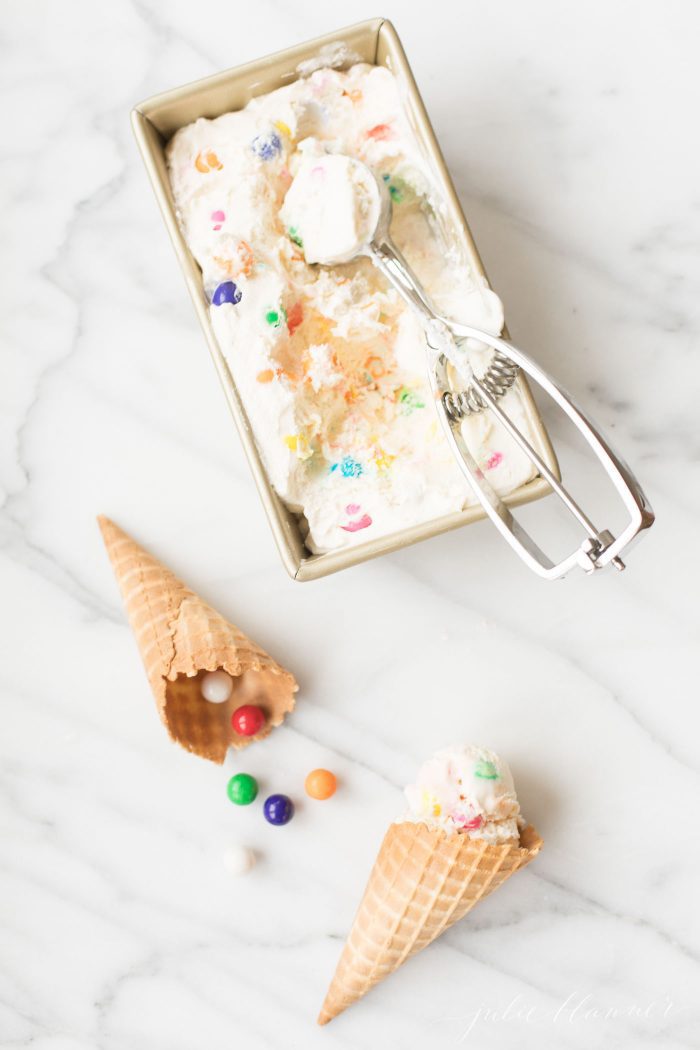 What's in Bubble Gum Ice Cream?
This fun-filled ice cream is made with just four ingredients!
Heavy Cream – the foundation for this no churn ice cream that gives it it's rich, creamy flavor.

Sweetened Condensed Milk – this ingredient sweetens the ice cream.

Bubble Gum Flavor – a hint of bubble gum flavor.

Bubble Gum Balls – classic gum balls are the basis for this sweet treat and add an array of colors. Over time, they also add to the bubble gum flavor.
Variations
Food Coloring is completely optional! Just add a few drops of red food coloring for a sweet pink or blue ice cream. My girls arre just as happy seeing little rainbow swirls from the gum balls. Besides, I think the silky white ice cream with the colorful gumballs looks rather elegant.
Where to Buy Supplies for Bubble Gum Ice Cream
With a little bit of planning, you can purchase the gum balls and bubble gum flavor from Amazon to save a trip to the store. Bubblegum balls are easy to find at most retail stores including big box stores, drug stores, and grocery stores.
Bubble gum flavoring is a little more limited. I've purchased it at Hobby Lobby, but it's available at most craft supply stores. It is also available online.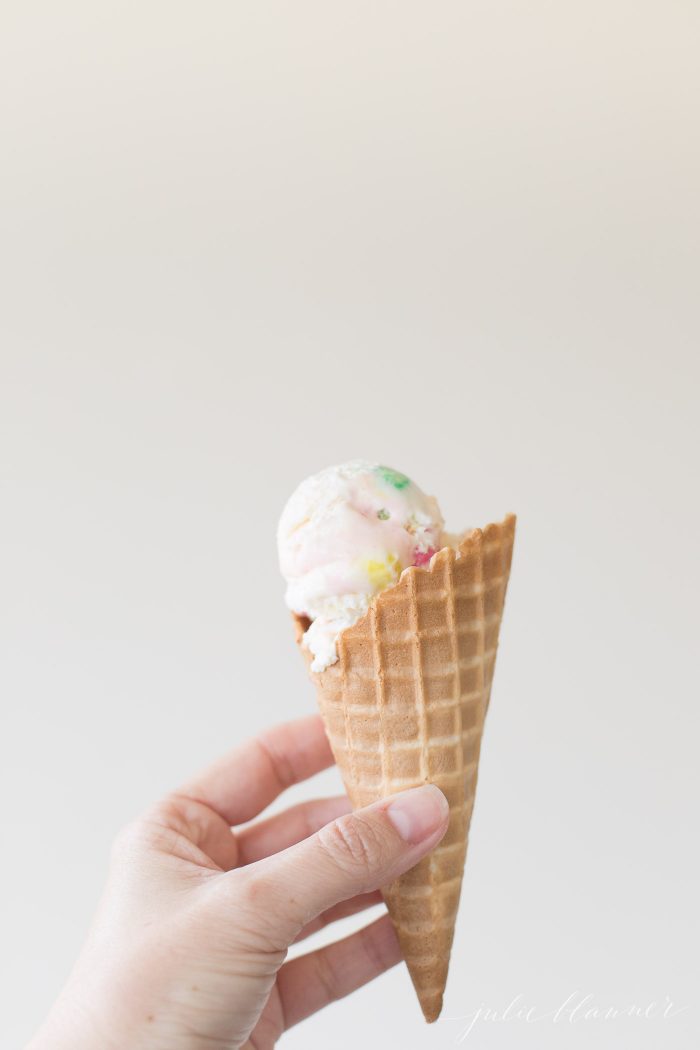 How to Make Bubble Gum Ice Cream
Beat the cream until stiff peaks form.
Blend in sweetened condensed milk and bubble gum flavor.
Fold in gum balls.
Pour the ice cream liquid in a ceramic loaf pan, cover and freeze.
The most difficult part is waiting until it's frozen!
Tips for Making Bubble Gum Ice Cream
Try adding a few drops of food coloring. Blue and pink tend to be the more popular colors.

Waffle cone or sugar cones are a favorite way to serve this ice cream but certainly no flavor will be lost if served in a bowl!

This can be made days in advance before you want to serve, but only needs 3 hours of freezer time if you're in a hurry! (Try using a mini loaf pan if you want it to freeze quicker).

You can freeze for up to two weeks and still retain the fresh flavor. However, it needs to be in an airtight container to avoid freezer burn.

One allergy note, this ice cream is gluten free so it is safe to serve your family or friends with gluten sensitivities.
Add a little secret chocolate sauce on top for a more magical experience.
You can see how easy this Bubble Gum Ice Cream recipe is in the video in this post and watch my little taste testers!
No Churn Ice Cream Recipes
Easy, creamy no churn ice cream recipes that have all the flavor, without the fuss!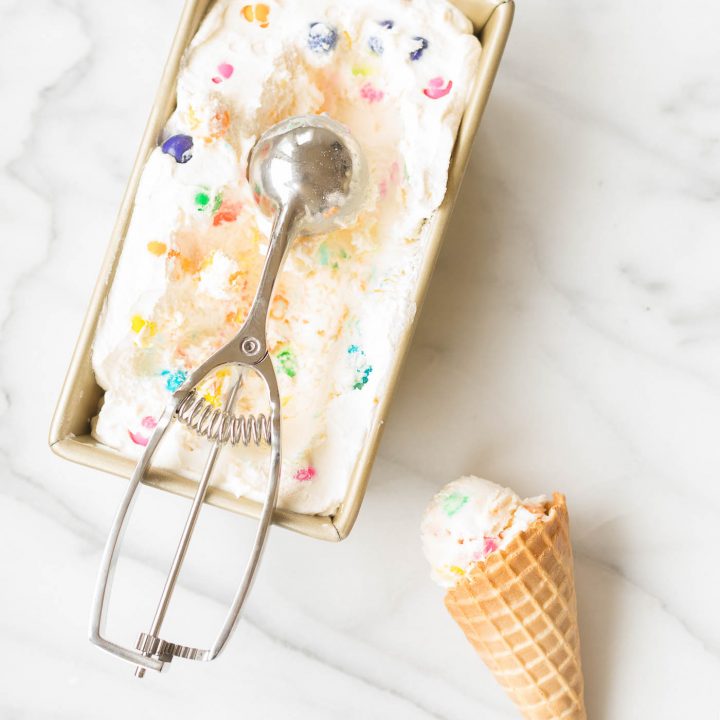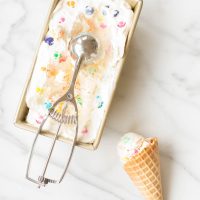 Bubble Gum Ice Cream
Bubble Gum Ice Cream recipe with just 4 ingredients in 5 minutes hands on time and 0 special "tools" - the stuff childhood dreams are made of.
Print
Pin
Rate
Total Time:
3
hours
5
minutes
Servings (hover to scale):
16
large scoops
Instructions
In a mixing bowl, whip heavy cream until stiff peaks form.

Blend in sweetened condensed milk and bubble gum flavor.

Fold in bubble gum.

Pour into a loaf pan or baking dish and freeze until solid.
Notes
You can make bubble gum ice cream pink with the addition of food coloring.
Nutrition
Calories:
182
kcal
|
Carbohydrates:
14
g
|
Protein:
2
g
|
Fat:
13
g
|
Saturated Fat:
8
g
|
Cholesterol:
49
mg
|
Sodium:
42
mg
|
Potassium:
114
mg
|
Sugar:
13
g
|
Vitamin A:
505
IU
|
Vitamin C:
0.8
mg
|
Calcium:
90
mg
|
Iron:
0.1
mg
LET'S CONNECT!