Are you considering your flooring options? Learn all about peel and stick floor tiles – what they are, how much they cost, their pros and cons, and more. See if they're the perfect type of floor for your space!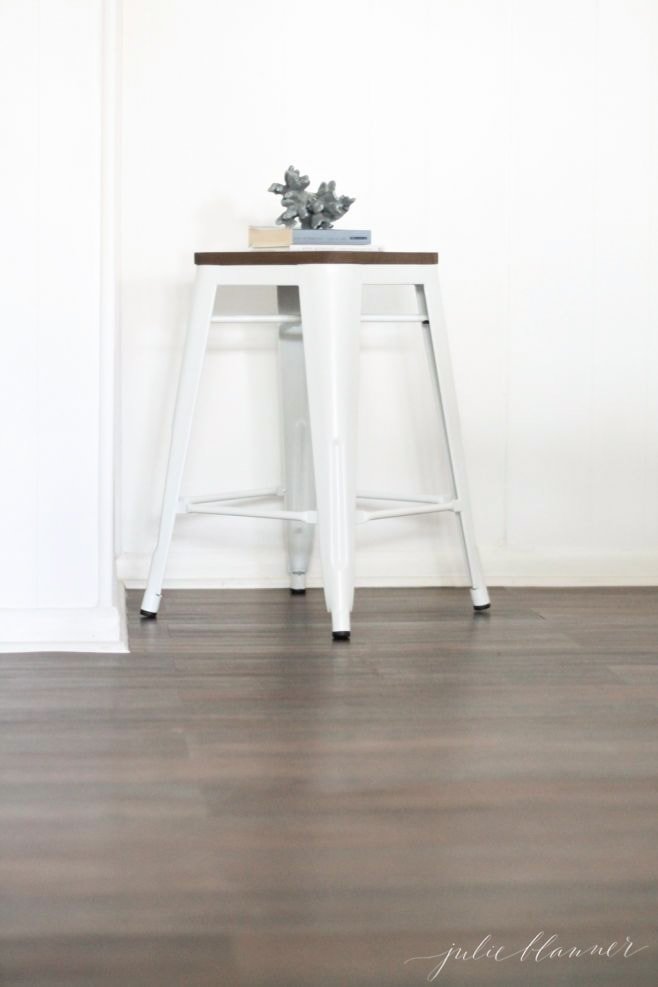 If you've been here long, you know we've remodeled our fair share of homes. That includes redoing several floors, so I've spent a lot of time researching the best flooring options for different types of spaces.
There are so many great types of flooring to choose from! We recently put beautiful White Oak Floors in our home and lake cottage. Hand scraped hardwood, carpet, brick, painted concrete, luxury vinyl planks, and peel and stick vinyl planks – we've used them all!
We used the peel and stick planks in the basement of our previous home. It looked like real wood, plus it was inexpensive and easy to lay. Did I mention it was inexpensive? Oh yes, I did, but it's still hard to believe we completed a large space for just $300!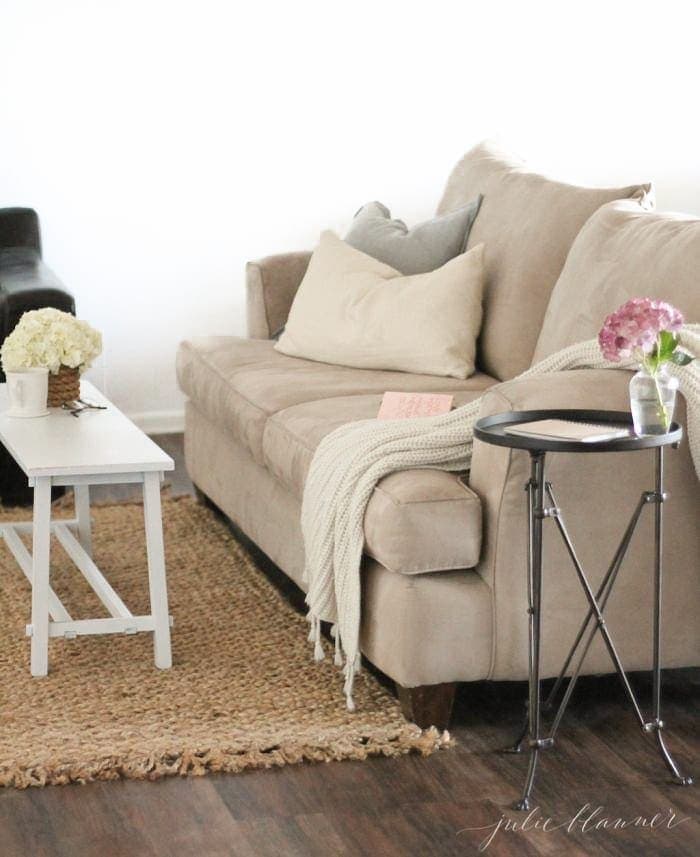 Now instead of planks, let's talk about peel and stick floor tiles. They're similar to planks but with some notable differences.
What Are Peel and Stick Floor Tiles?
Peel and stick flooring is just what it sounds like – vinyl flooring with a self-adhesive backing, PVC core, digital image (i.e. wood or stone), and wear layer on top. Basically, you peel off a paper backing and you stick the tile in place.
Vinyl tiles are different from planks in their shapes and photographed images. Peel and stick planks look like long planks of hardwood. Peel and stick floor tiles look like, well, tile.
This means that vinyl tiles are usually square shaped, with the most common being the 12″ x 12″ and 18″ x 18″ sizes. You can also find them in rectangles such as the 12″ x 24″ size – see Subway Tile for different stacking patterns!
With improvements in technology, you can find self-adhesive floor tiles in just about any color, pattern, or "stone" you're looking for. It can resemble marble, travertine, slate, quartz, sandstone, limestone, and cement. Some types of peel and stick tiles can even be installed then grouted to look even more like real tile.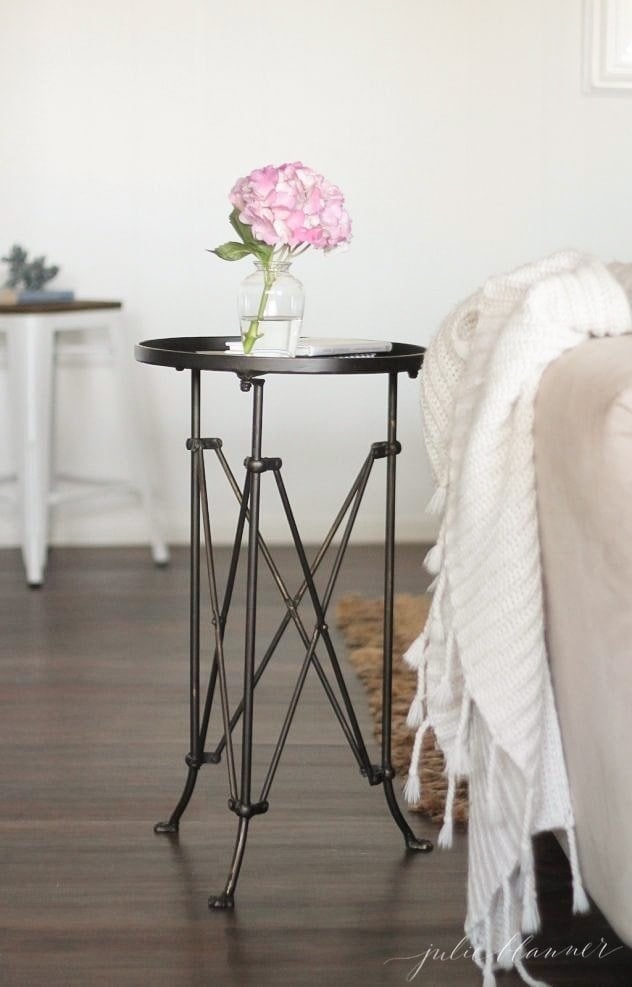 Benefits of Peel and Stick Floor Tiles
There are a lot of reasons to consider peel and stick floor tiles for your home. Here are a few of them:
Wide Selection – Choose from a huge selection of colors, patterns, and different stone looks to get just the style and design you want.
Inexpensive – Most styles and patterns cost $0.60 – $1.20 per square foot. Even premium designs by top brands are fairly inexpensive – $2 per square foot (Armstrong) and $3 per square foot (Trafficmaster).
Easy installation – Tiles can be cut with a utility knife and installed without an extra underlayment. Finish a room in an afternoon!
Can be installed over other surfaces – This works best if your floor is smooth and level, such as a linoleum or hardwood floor. They may work over existing tile floors if you fill grout lines until flush. Follow your product's instructions for specific prep needed.
Water resistant – Peel and stick floor tiles are water resistant, in that water will not damage the surface of the tiles at all. They aren't water proof, however, because there is nothing to stop standing water from seeping in between the seams and reaching the floor underneath.
Easy on your feet – Unlike real tile that can be cold and hard on your feet, vinyl is a bit soft and warm. It is easier underfoot and makes standing for long periods of time a bit easier.
Easy to remove – This type of flooring has a bad reputation for being difficult to remove. However, with the right tools (a heat gun and extra strength solvent to remove glue residue) it really isn't that difficult. Plus, it can be done without damaging the flooring underneath.
Replace one tile – If a tile gets damaged, it is possible (although it can be difficult) to remove just that one tile and replace it. Other types of flooring require you to remove the entire floor up to that point.
Easy to clean – A broom, dustpan, and damp mop are all you'll need to keep these floors looking like new. You don't want to get them overly wet, so light mopping is all they need.
Cons
Of course, no flooring is foolproof. Here are some of the downsides to self adhesive floor tiles.
Not real stone – Obviously, if you want the look of real stone, this is an option, but it will never be real stone. When compared to the real deal, it will be fairly obvious that this isn't it.
Home value – Self adhesive floor tiles won't increase your home's value. In some cases, they may even lower it a bit.
May shift – Make sure to follow installation instructions on your specific product! If your floor isn't properly prepped for adhesion, tiles may shift over time and leave small gaps in between.
Off gassing – The adhesive may release gases, causing to smell for several days or even weeks. Some people are more sensitive to the smell than others.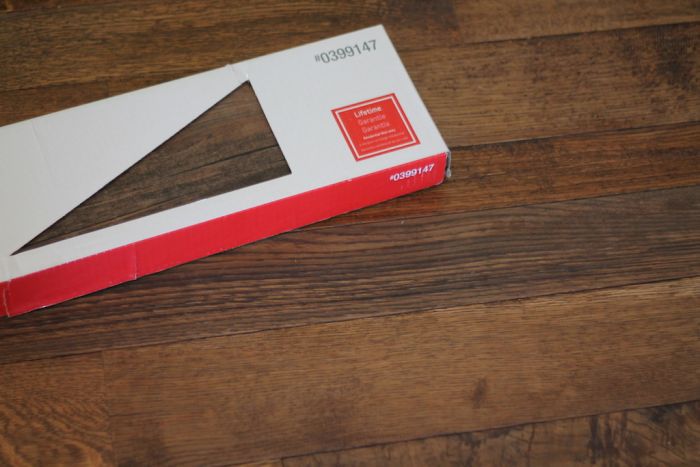 Where to Use Self Adhesive Floor Tiles
Peel and stick floor tiles are ideal for light to medium traffic spaces. Also, avoid areas that may be exposed to a lot of water, such as kitchens and an high-use bathrooms.
Self adhesive tiles would be great in these areas:
Guest bedroom and bathroom (not often used)
Powder room (without shower or bathtub)
Laundry room
Walk in closets
Storage/utility rooms
Multimedia rooms
Game rooms
Home office
You may even consider using them in high traffic areas, such as kitchens, living and family rooms, and main bathrooms under certain conditions. Perhaps you want a quick update while you save for a full remodel. Peel and stick floor tiles could help you love your home while you wait!
Installation
Self adhesive floor tiles are pretty straight forward to install, so they make an easy DIY. However, if you're not sure it never hurts to hire a professional.
All it takes is a utility knife to score the tile, then it should snap fairly easily. A small square helps to keep lines straight. If you're installing groutable tiles, you'll need the necessary tools for grouting – the grout, a float, a bucket, and a sponge.
The floor you're installing over should be clean, level, and smooth. Ideally this would be underlayment such as plywood, hardboard, or cement board, but it could even be your home's subflooring or concrete. The main concern is for it to be level and completely free from dust and debris – these can prevent the adhesive from working properly.
Some people have had success installing self adhesive tiles over existing flooring, such as linoleum. Make sure to read the instructions of your particular product first. It may require special preparation, such as leveling or priming.
The tiles don't move much once they're in place, so make sure to put them down straight and in line. If you need to make small adjustments before they're all the way down, you can use a scraper and a heat gun to get them up.
How to Clean Peel and Stick Floor Tiles
It's easy to keep your floors looking their best. With these simple tips, you can care for them with minimal effort.
Sweep using a broom or stick vacuum, like you would any kind of floor. It's best to catch spills quickly if possible. Liquid likely won't damage the top of the tiles, but it could seep into the seams.
Use a lightly damp rag or mop and your favorite all-purpose cleaner to clean the tiles as needed. A Swiffer-type mop would work great as well. Avoid using abrasive cleaners and sponges, since they can scratch the tiles. Also avoid using too much water.
That's it! It really is that easy to keep your floors clean and fresh.
Variations
Hexagon peel and stick tiles create a modern look.
Use light and dark marble tiles to create a checkerboard effect.
Use light, medium, and dark tiles to create a buffalo check pattern – this would be cute in a small powder room.
Try creating different patterns with rectangle tiles, such as a herringbone or stack bond.
Let's stay in touch! Join our newsletter for access to exclusive content, never-before-seen photos, your questions answered, and our favorite projects. You'll receive the best design secrets delivered directly to your inbox! Sign up here!