Turn your screened porch into an incredible outdoor room for entertaining guests! Get screened porch ideas for transforming this area of your home into a charming little retreat where your family can enjoy sunsets and more.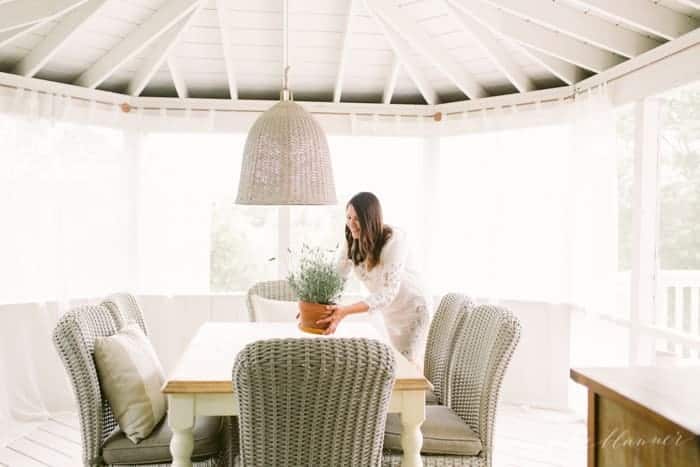 When we purchased our home, I was reluctant about it for several reasons. First of all, while there is a gorgeous view, from the main level it's limited due to the deck and screened in porch.
As much as I love a good southern home with a screened in porch, this wasn't quite what I was going for! However, while I would have preferred it to be off to the side, I'm making the most of it.
I love sharing our renovated spaces with you and taking you along the journey with us! Between our home here in St. Louis and our lake house at Table Rock, I've shared many fun makeovers through the years.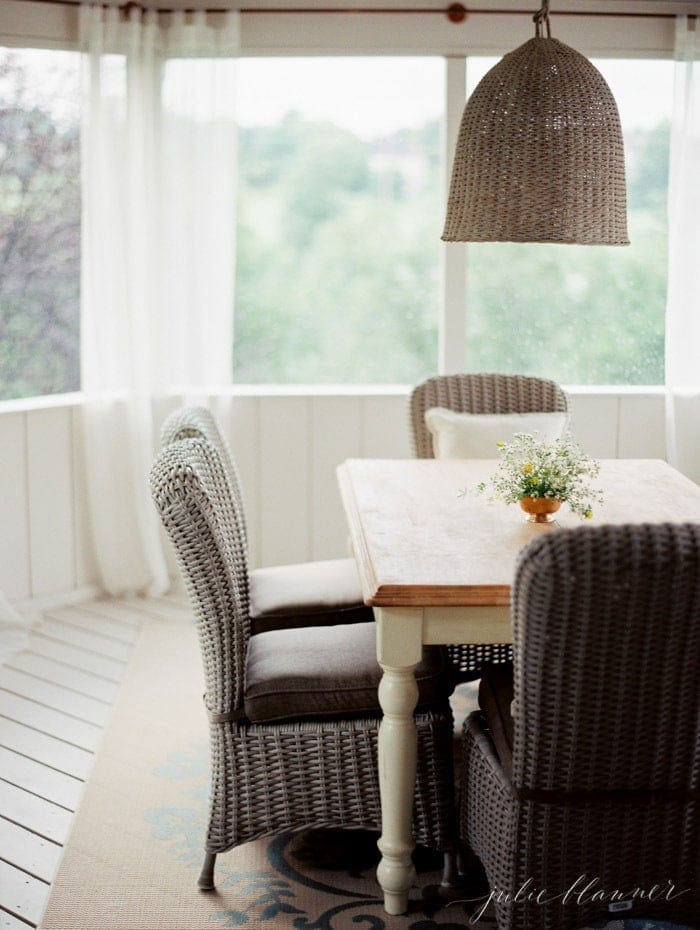 Be sure to check out our before and afters, along with the steps to creating an outdoor room, my favorite tips for creating vacation vibes at home, 15 ways to add charm to your home, and so much more!
Ater years of living with this space, I'm so grateful for what it's turned into for our family! I want to take you along on my journey to turn our so-so screened in porch into an outdoor room we now love and use often.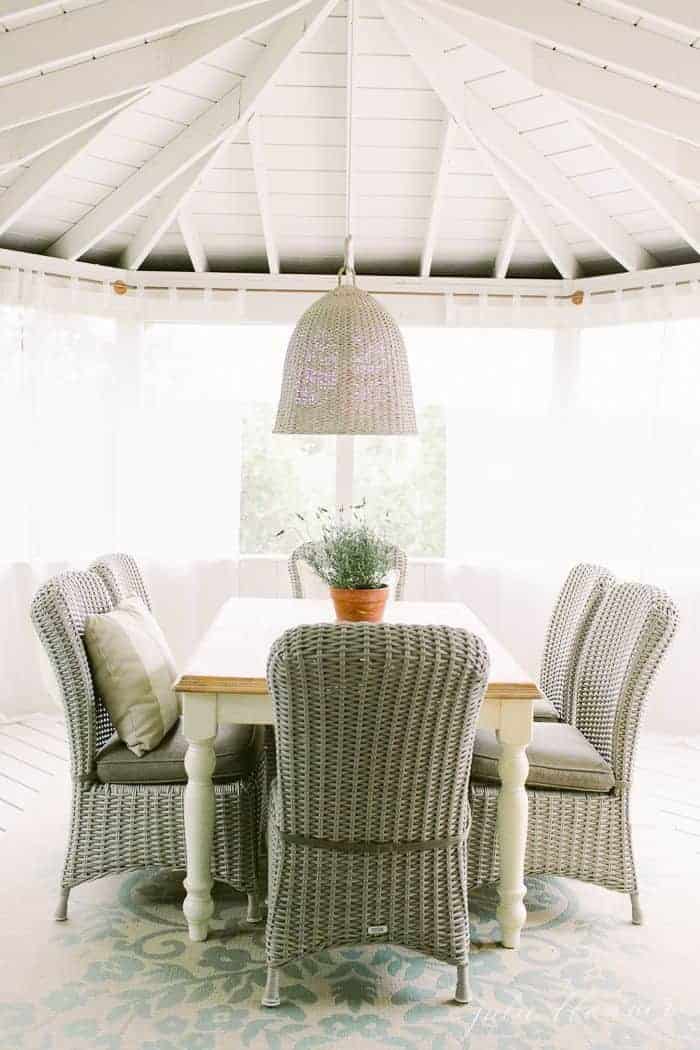 Screened porches offer the most beautiful sunsets, a nice breeze, and a relaxing place to enjoy dinner or gather for drinks with friends after the girls go to bed. It's an indoor outdoor space that is the best of both worlds!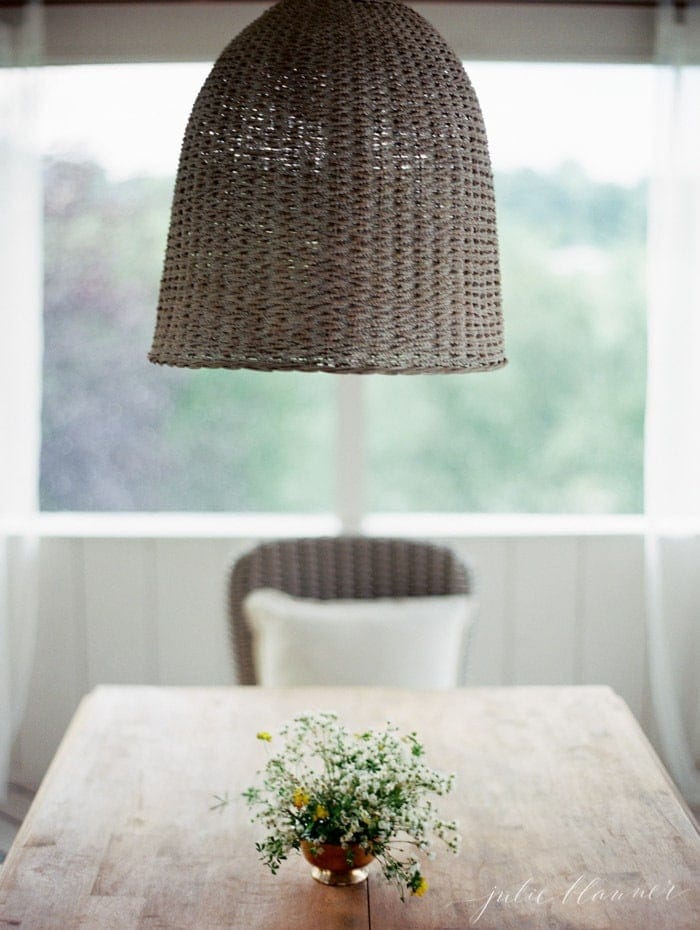 This space was initially inspired by our love of wine country. If you ever travel anywhere that sparks joy in your heart, try bringing a little piece of that place into your own home. This porch creates that relaxing feeling for us now- we are so thrilled with the outcome!
Sometimes it just takes a little vision to transform a space. This screened in porch has become an extension of our home, and another living area we adore spending time in. It is truly a three season room offering a relaxing place to dine spring, summer and fall.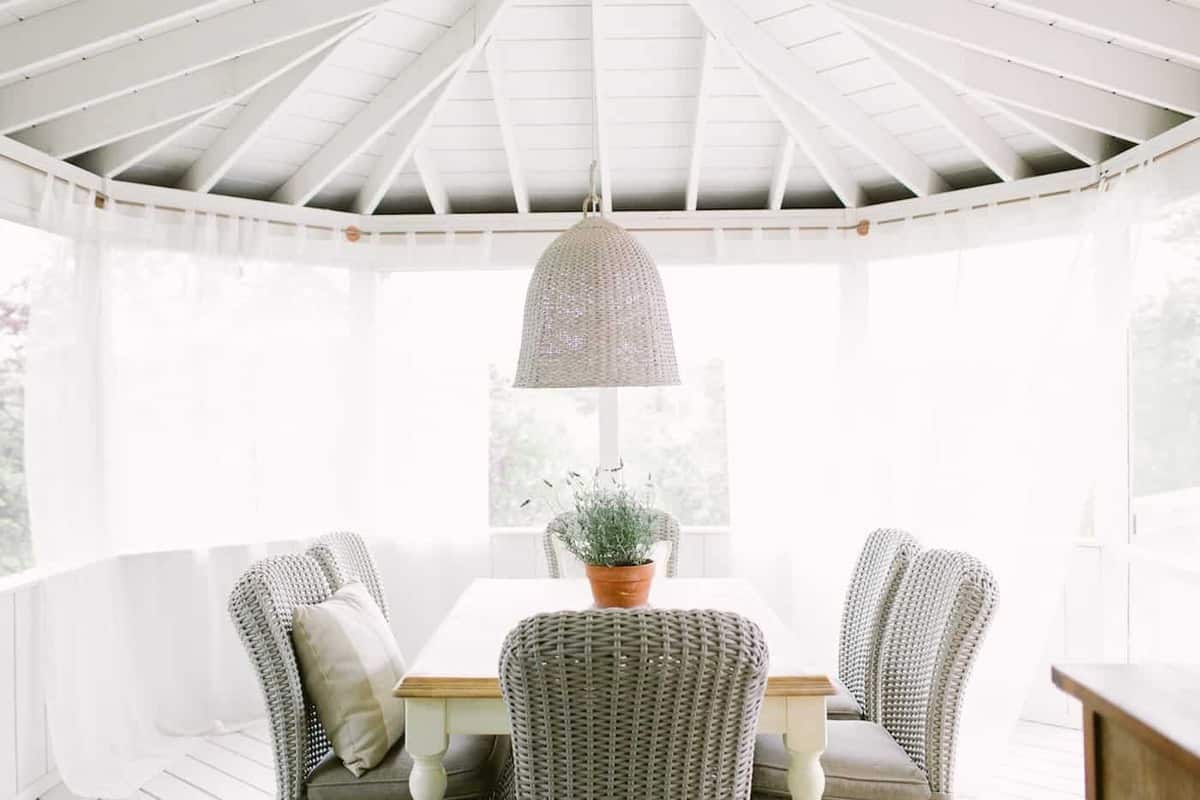 Small Changes, Big Impact
We fell in love with our apple trees when we moved in. To be honest, our crabapple – apple trees. I'm not sure how, but we were told that an apple took into the root system of an existing crabapple tree! I just love the charm they add to our home.
It makes our suburban address feel a little more country. We wanted to embrace that feeling and tie it into our love for California wine country, creating that elegant rural ambiance we love so much.
During the initial phases of our screened porch renovation, we used rocking chairs and simply enjoyed the view. Once we had lived in this home for a while, we knew that we would be better benefited from an outdoor dining area for entertaining friends.
Screened In Porch Before
This covered porch was previously dark, dated and somewhat undefined. While we enjoyed it for the ability to have fresh air on this level of our home, it wasn't a cozy, charming space to spend time yet.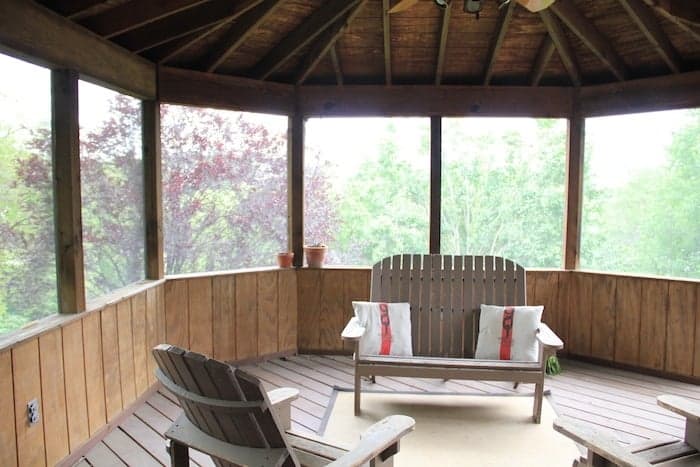 With a few DIY projects, Chris and I added to both the living space and enjoyment of our home.
The beauty of this space is that it didn't take a lot of time, money or effort to completely transform it!
The original porch design did not embrace the warm, light-filled feeling that we have grown to love throughout the rest of our home. If the walls and ceiling would have been a natural wood color, I would have embraced them! However, they had long ago been stained a dark, dated color, and I knew I needed to embrace change.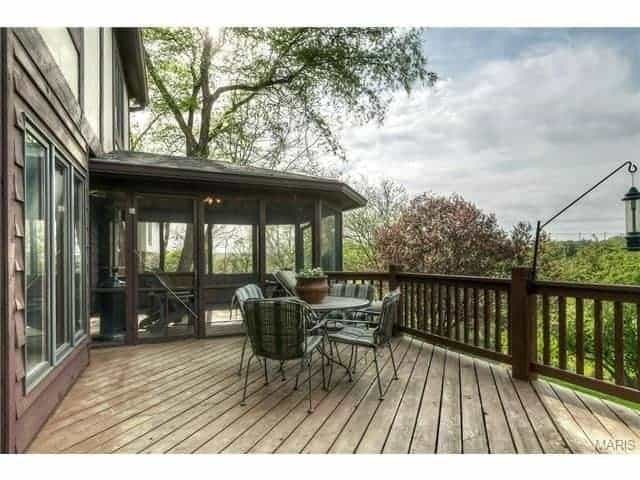 I wanted it to feel like an extension of our living room so we chose a solid Deck Stain in a soft, warm color!
While I wanted the space to feel warm, I wanted it to almost disappear so that the focus would be the view. With that in mind we painted the floor, ceiling and walls the same shade. It instantly felt larger!
We had Sherwin Williams solid stain tinted in Sherwin Williams Realist Beige. It instantly brightened these outdoor rooms!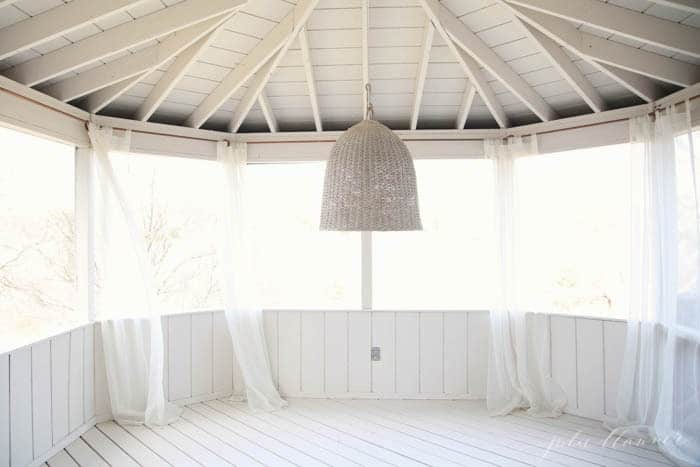 Screened Porch Curtains
Adding curtains to the covered patio made it feel like a room of our home, adding to our square footage. With so many unique corners, we created our own custom curtain rods for bay windows – during the girls' nap time!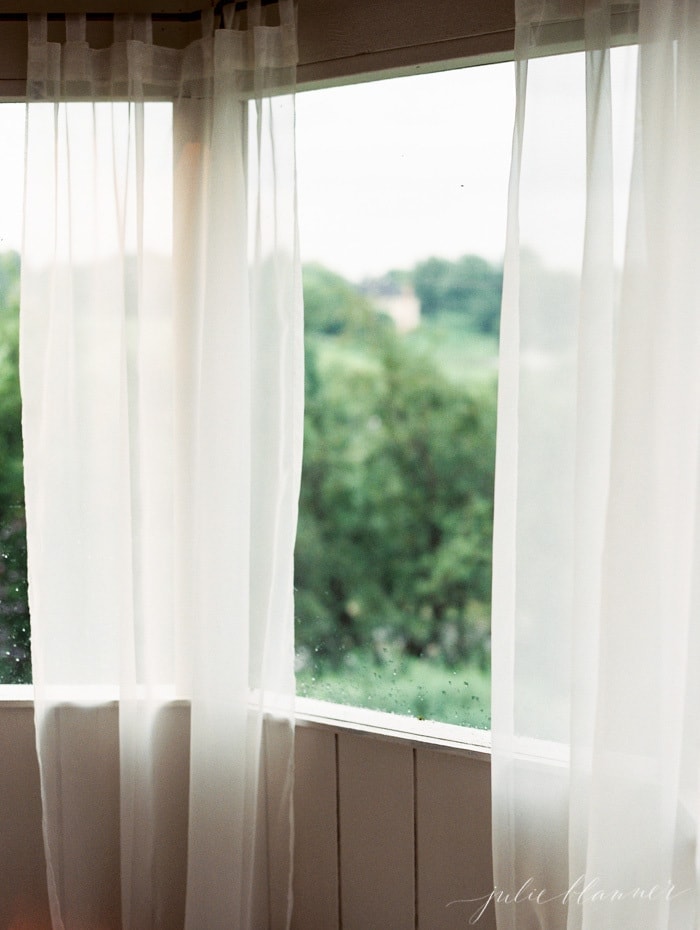 We started the makeover by making custom curtain rods to fit the porch impeccably in one of my favorite metals – copper. I didn't want to hinder the view, but wanted to define the space, so I selected sheer tab top curtain panels. They're soft and wispy, making the space feel romantic. I ordered them in 96″ length to create a puddle.
This project was easy, inexpensive and gave the room that breezy look I was hoping for. PS, this trick can be used indoors and out!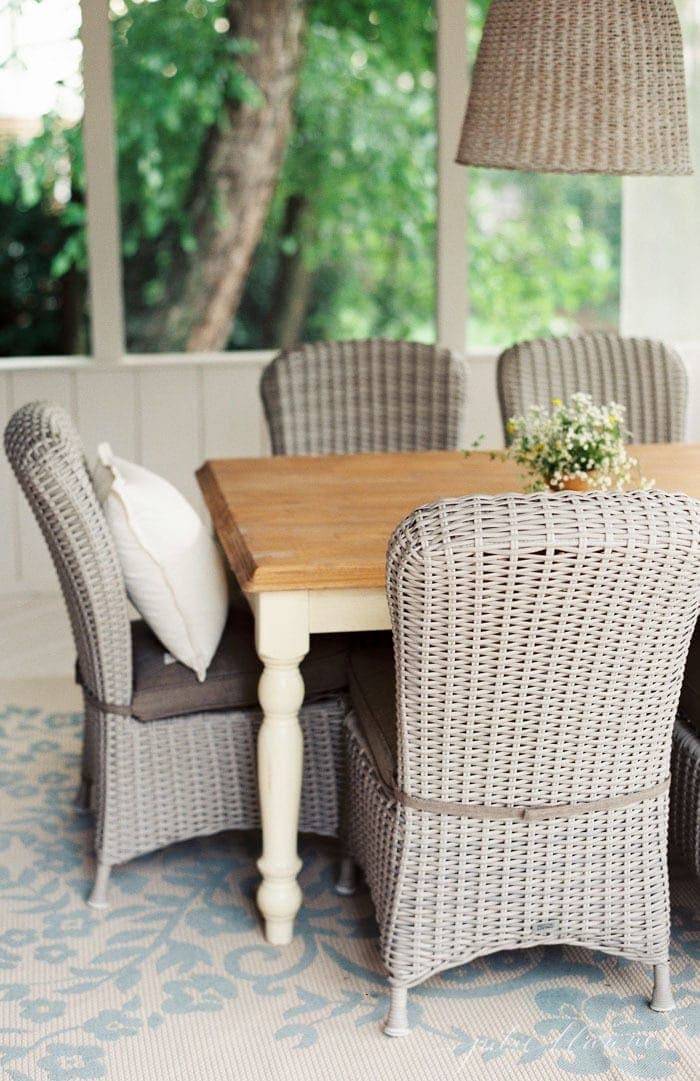 Screened Porch Furniture
Our screened in porch continues to be one of my favorite retreats in our home and now, it's completely furnished! We transformed the screened in porch to our outdoor dining room, adding a wood dining table that seats six, a buffet and some pretty (and comfortable) outdoor wicker dining chairs.
The porch is slightly more eclectic than other rooms in our home. I wanted to create a warm, relaxing and comfortable room that we could use beyond brunches and dinners.
This inexpensive makeover also included a DIY Farmhouse Table.
I purchased the chairs as a set with a table, but I like to break up sets to add a little interest, so opted to sell the table online and keep my original farm table.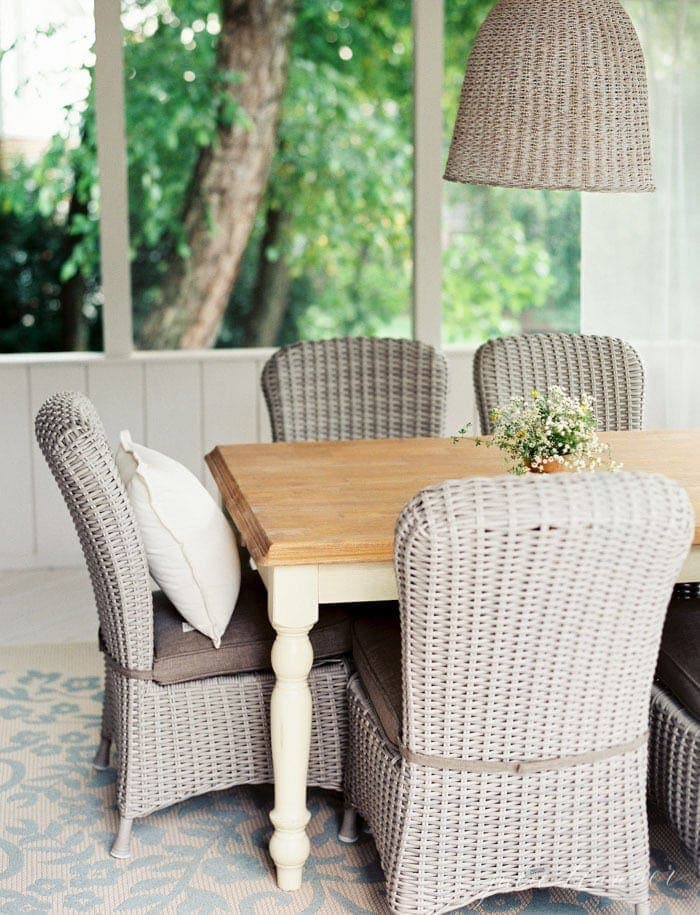 We also purchased a vintage chest of drawers to store entertaining essentials.
Often we find ourselves entertaining friends and not leaving the dining table for hours, sharing laughs, playing games and of course, enjoying great wine. Below, you can see the space from our deck lounge seating view.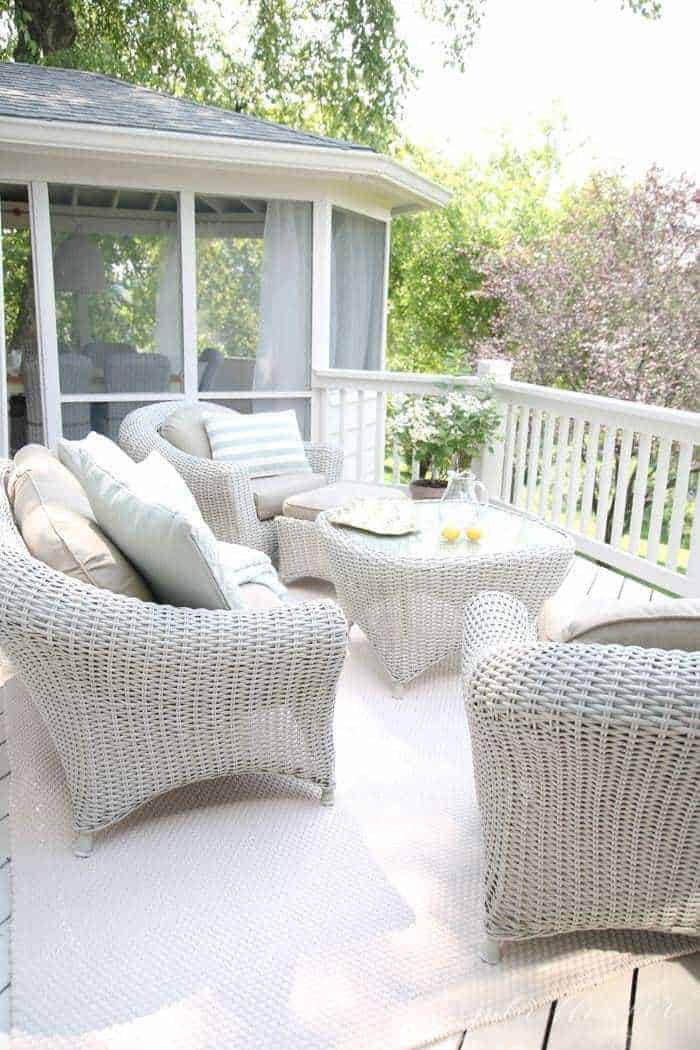 Screened Porch Lighting
Outdoor lighting is often overlooked, but can add so much ambience. It not only sets the mood, but it can also become the focal point!
We replaced the dated ceiling fan using an inexpensive basket we found on clearance and a $15 light kit for the easiest diy project ever. Read more about turning a basket into a light fixture!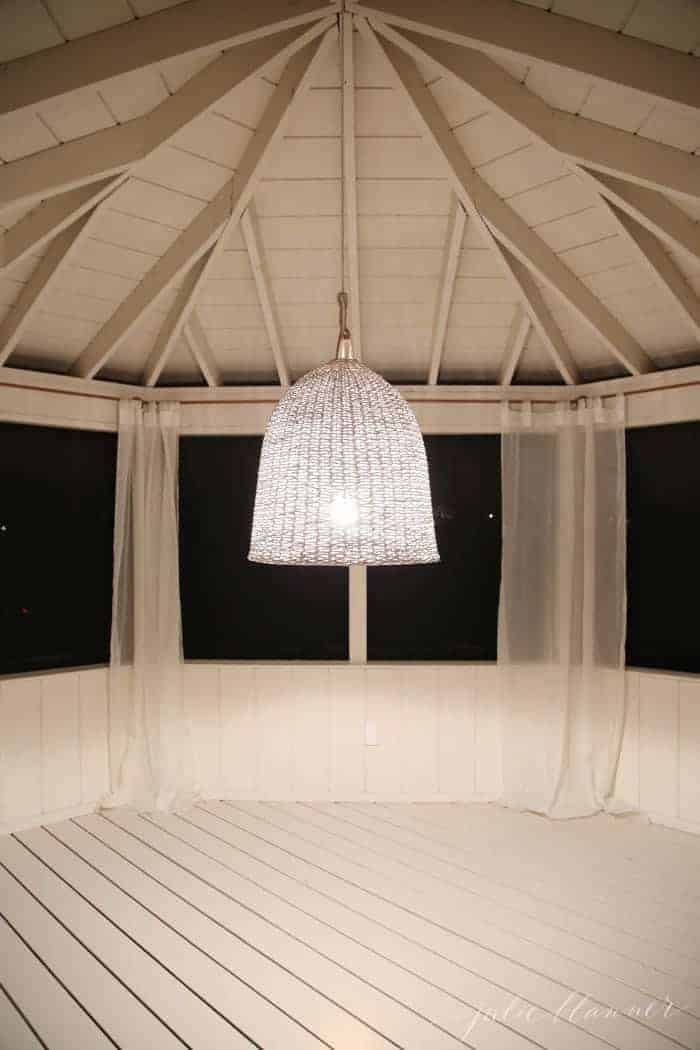 Another option for creating much-needed ambient lighting in your outdoor spaces is simply adding string lights! They add whimsical charm and create that cozy glow that everyone loves to enjoy when they are relaxing outdoors.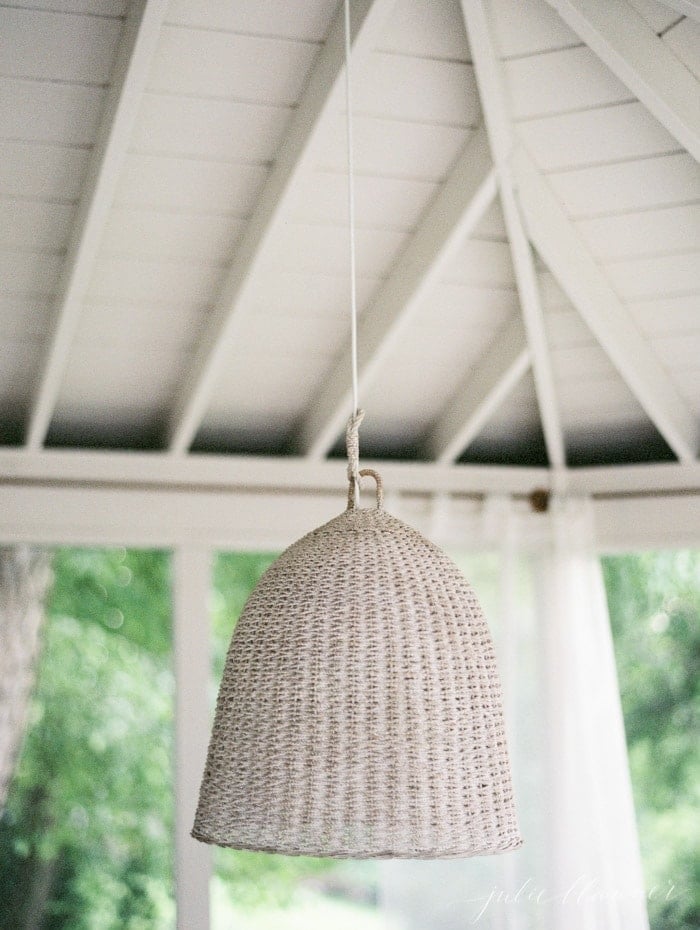 Screened in Porch Ideas for Decorating
I like to treat our exterior spaces like our interior spaces, with curtains, rugs, accessories and decor. Don't miss the easiest steps for creating an outdoor room right here!
My love for Sonoma doesn't end with wine. The olive trees in California are just as gorgeous as grape vines. Their leaves are subtle, yet reflect light when the breeze hits them.
I usually keep a small olive tree in our kitchen, but didn't think I'd successfully maintain one outdoors in Missouri. I found a lifelike olive tree and placed it in a basket in the corner so that it doesn't catch wind.
I like to change out the decor elements on the buffet with the seasons. We'll keep s'mores supplies there in the fall, flag elements in the summer, etc.
To truly make it feel like another room, I added a rug, which is soft on foot so we don't feel the need to put shoes on to step outdoors.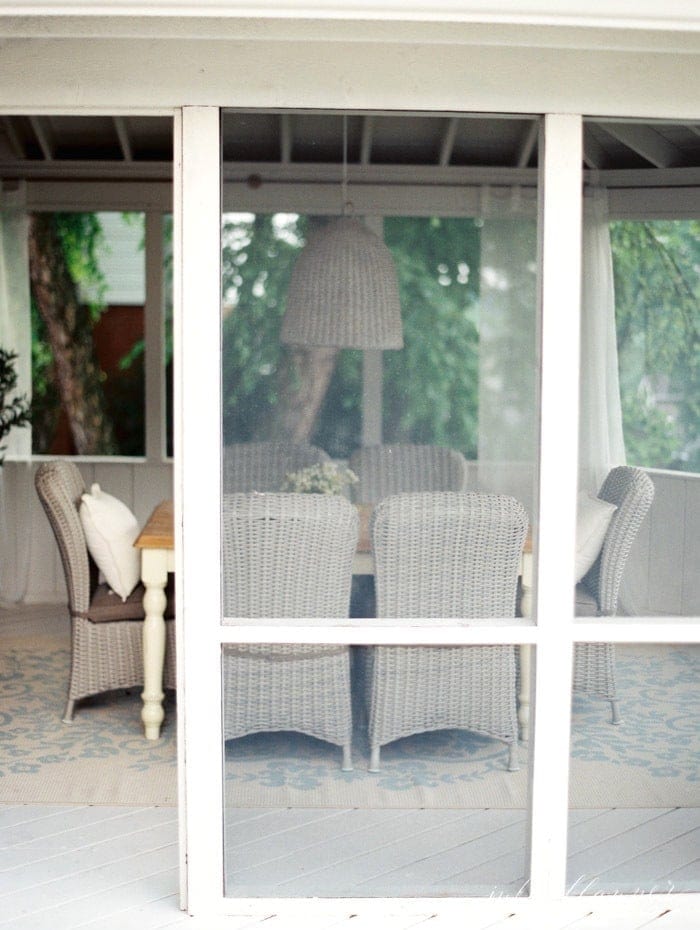 Lately it's been either miserably hot or delightfully cool and rainy. Without our screened in porch, dining outdoors at home would be impossible, but we're able to make the most of rainy days by eating al fresco. There's also something rather satisfying about eating without fussing over the crumbs.
For the longest time, I had set unrealistic expectations for myself that to reveal a space, if had to be completed. That's not a reality for many and it isn't for me.
Between the kids, work and everyday life, there's only so much I can accomplish and budgets are always a factor as well. I'm proud of how we transformed this room and made it feel cozy in just a few nap times.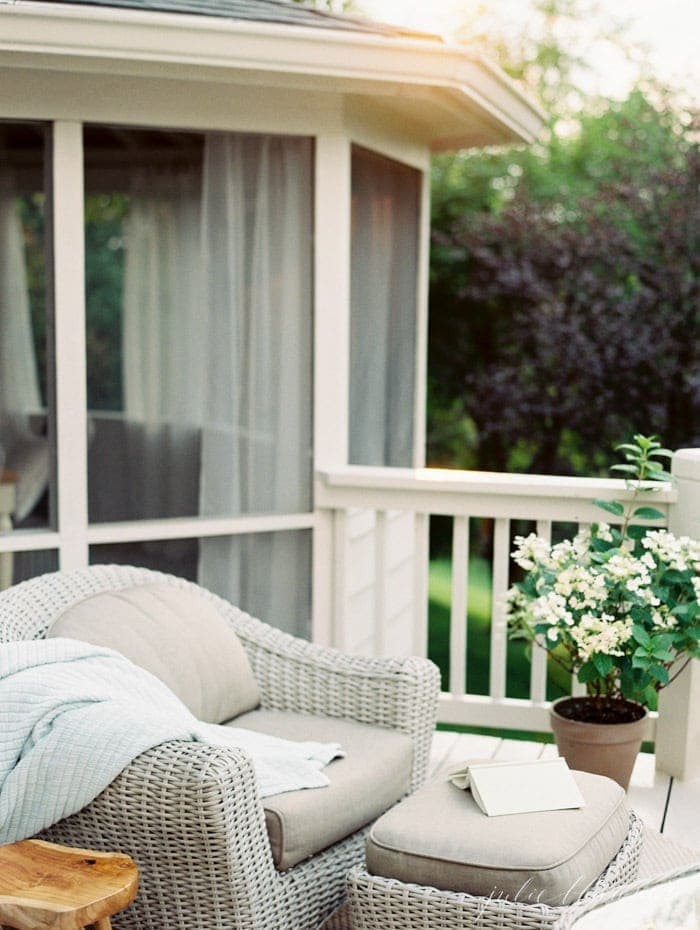 This project was a minimal investment of time, but I'm still feeling accomplished! We see this space as our family room, sunroom, dining room and deck, so it makes a big impact on our home.
Stay tuned for our next outdoor renovation – we are placing the deck at our lake cottage! I can't wait to share those porch features with you, including a charming under-deck porch swing and so much more.
*Many of these photos were taken by the incredible Clary Pfieffer, the rest are my own!