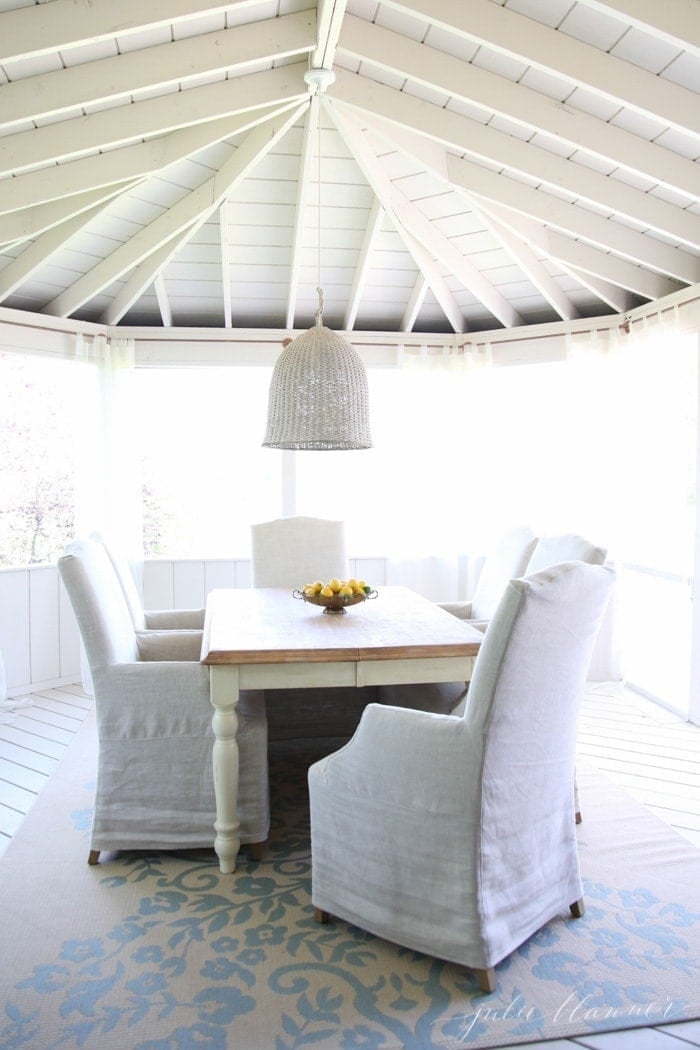 For months I've been waiting for our outdoor dining chairs to arrive so I could share the room, but even without, we've been using it frequently by pulling our kitchen or dining room chairs in. I can't resist a beautiful evening dining al fresco. When we purchased the home, I wasn't sure if the screened porch or the deck would be the outdoor dining room. The screened porch is actually 3 rooms from the kitchen while the connected deck is off of the breakfast room. We decided to take advantage of the screens to eliminate the risk of bugs and made a slight accomodation in the room to make eating there more convenient – a  buffet!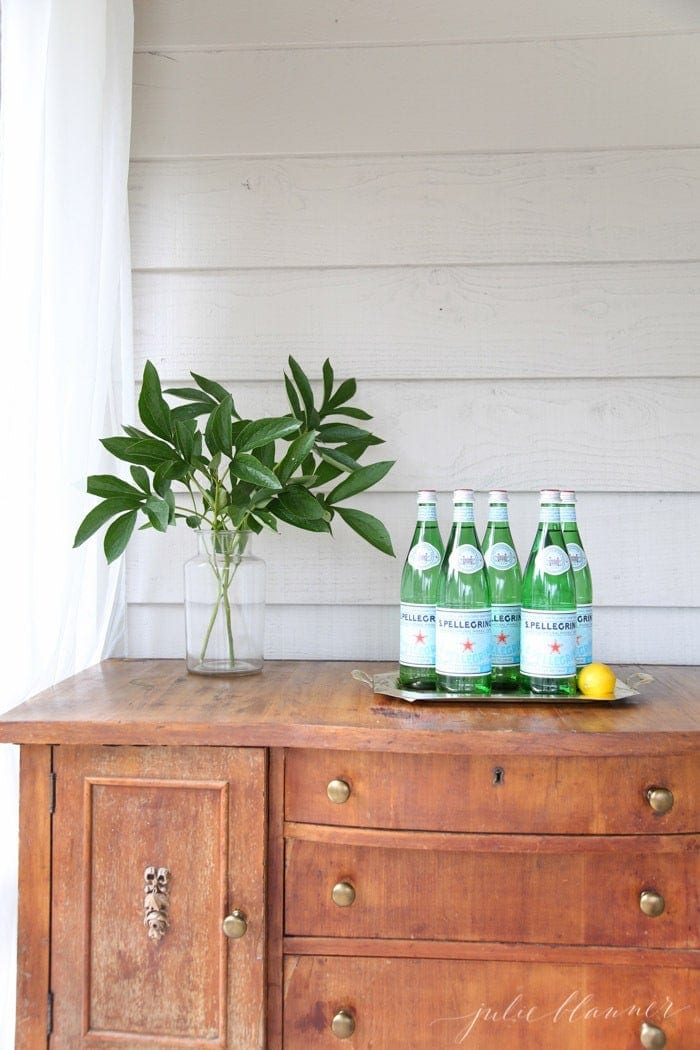 Almost immediately after moving in, we made a custom curtain rod from copper that goes around the entire perimeter of the porch and added outdoor curtains. At the time, we hadn't painted or stained yet, but I wanted to define it as a room – even if just in my head.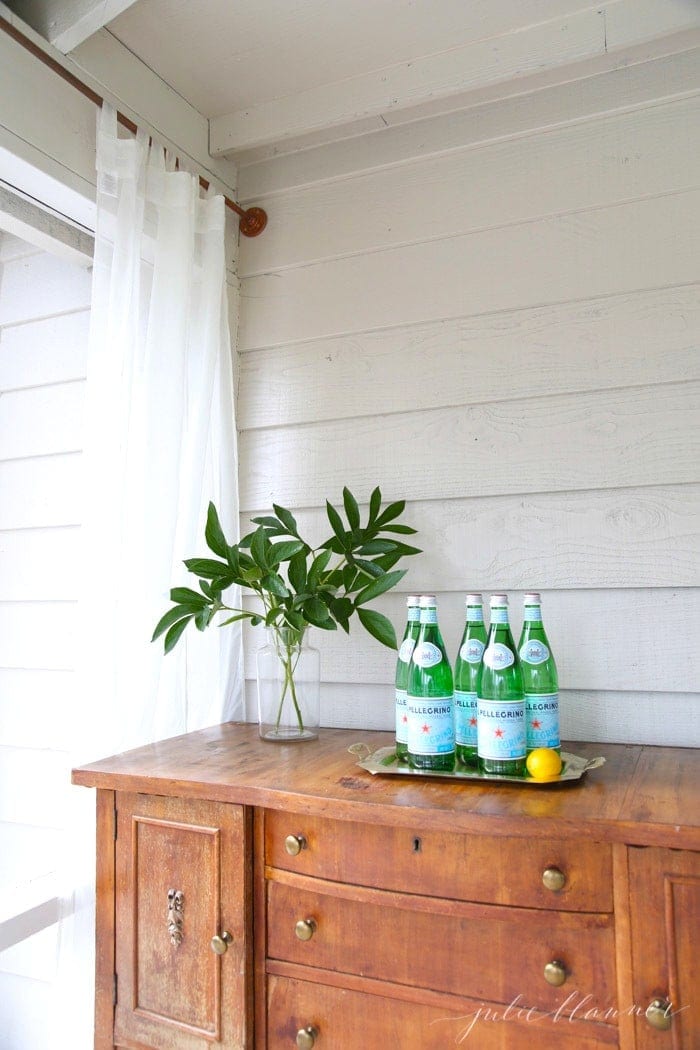 Rather than staining it white, we stained the floor the darker of the two exterior paint colors. Initially I wanted to stain it the lighter of two colors, but resisted in hopes dirt would blend in a little better, and it worked! Also, the reflection of the lighter color on the walls makes it feel brighter than it does on the exterior walls.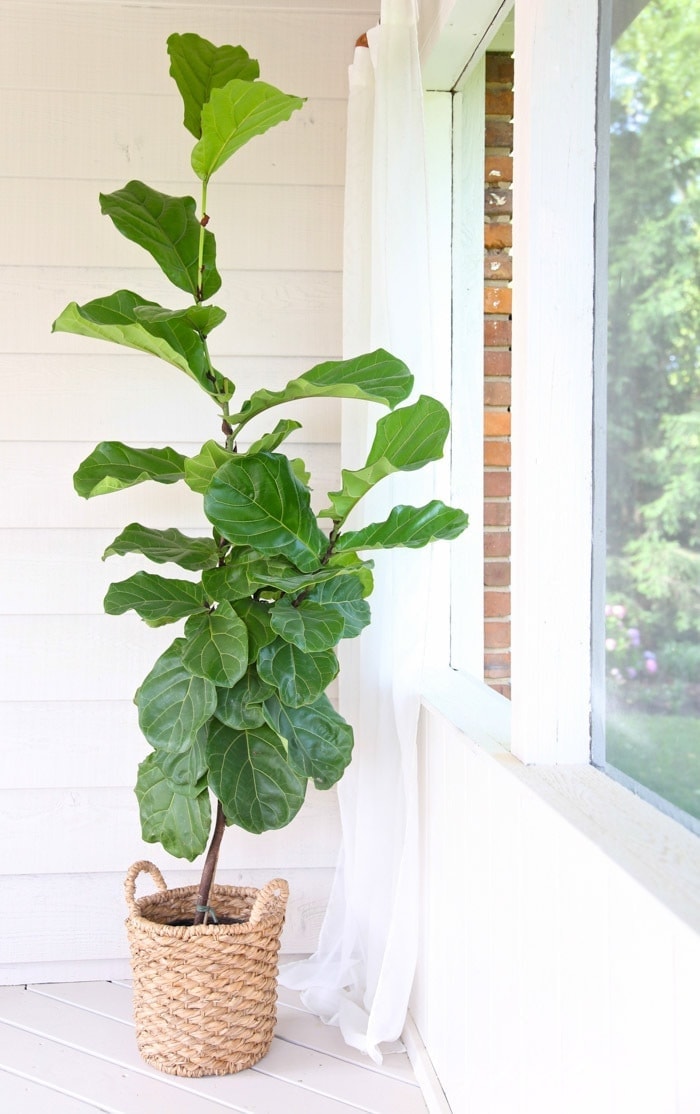 I searched for an outdoor buffet for months, ultimately finding a bow front buffet that was tired, so I didn't feel guilty about exposing it to harsh Missouri weather. I just couldn't bring myself to pick the perfect piece, only to weather it with the humid summer conditions. I use a basket to conveniently transport everything from dishes to dinner to the porch. It's a great serving piece for drinks and desserts!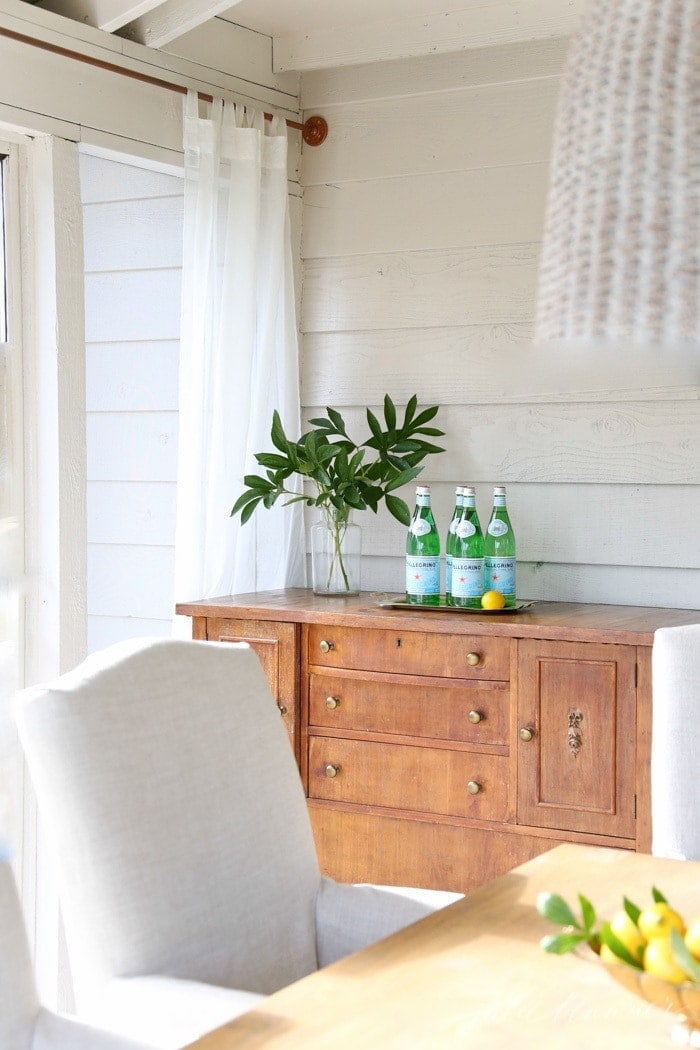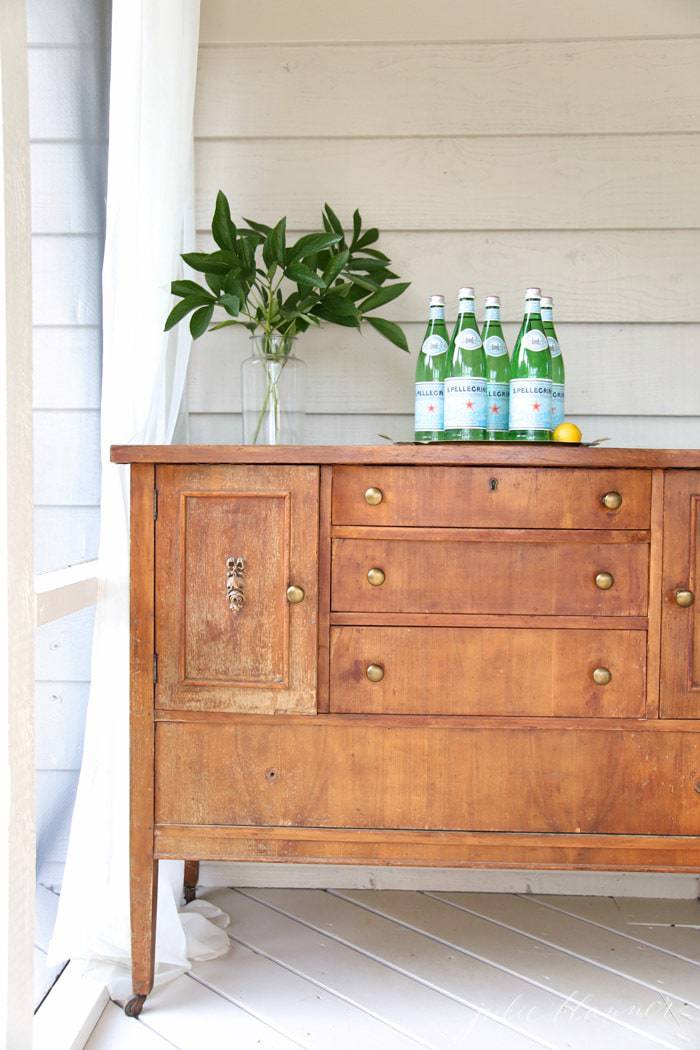 I repurposed our former dining room table and added a rug with a pretty blue floral pattern. Oh, and let's talk about that fiddle fig! It's grown well over a foot in the past month!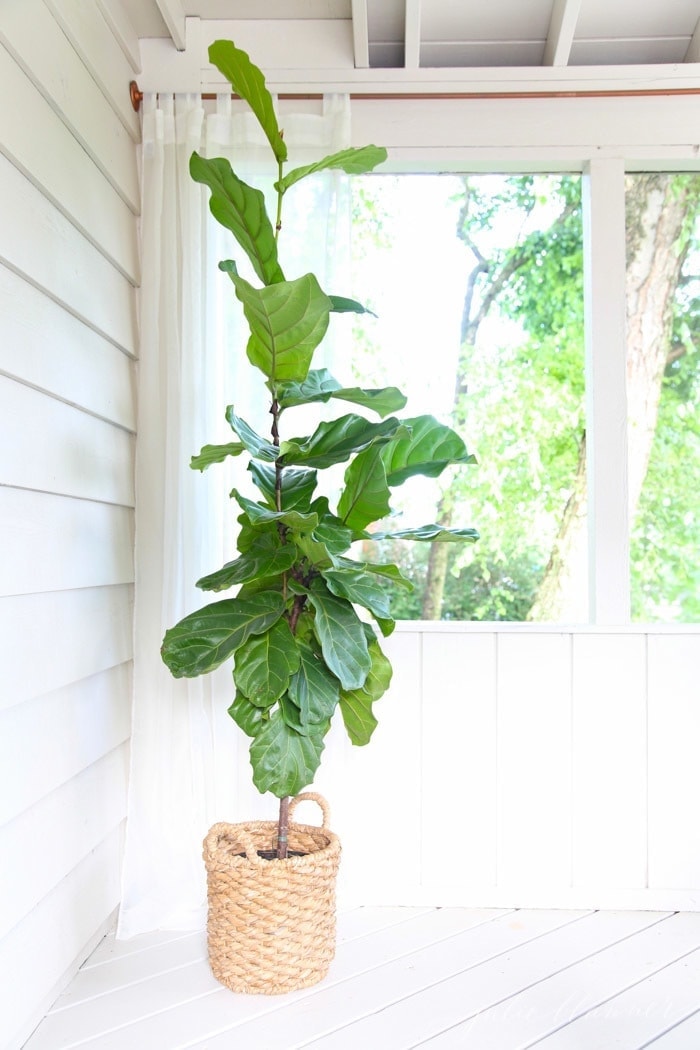 I'd like to add a couple pieces of art, but haven't decided how I can adapt pieces for outdoor hanging with the wood siding. At times, we experience heavy winds, so they'll need to be secured well. Overall, I'm so excited about our "new" outdoor dining room and am still holding out hope for my chairs! Here's the before from MLS: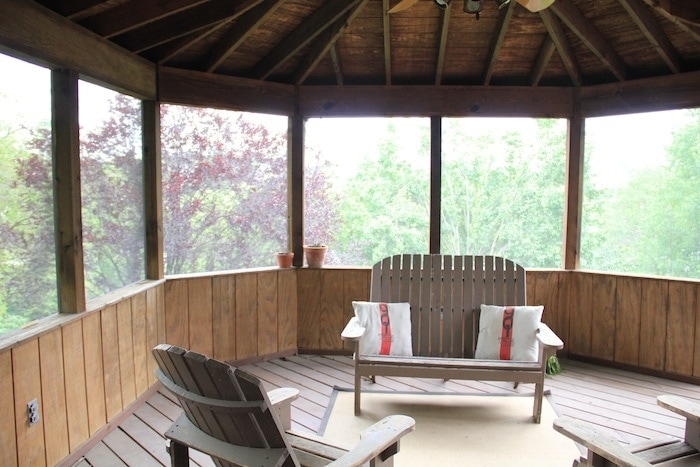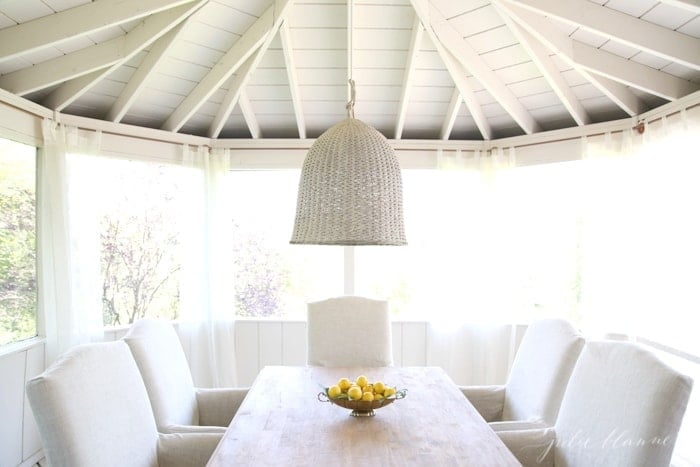 Our screened in porch is far from complete – we were hit hard by a hail storm a couple months ago and need a new exterior door and to replace the screens. I'm excited to update it to invisible screens this fall. I also desperately want to replace the existing french doors to ones that are wood indoors and out, that open into the porch, if I can find the budget for it! I'm overwhelmed with excitement for all of the potential in our home. I wish I could have you all over to celebrate!
Sources…Paint: SW Everyday White and Realist Beige in Valspar Signature at Lowe's | Stain: SW Realist Beige | Curtains: Wayfair | Chairs: Restoration Hardware | Table: Craigslist | Buffet: Craigslist | Basket: Target | Light: RH Baby and Child & Lowe's | Curtain Rod: Custom | Rug: Home Decorators
SHOP THIS POST:
[show_shopthepost_widget id="816375″]