Rejuvenate and revive your skin with this easy citrus sugar scrub recipe. With only 3 ingredients you probably already have on hand, you'll be ready to whip up this gentle exfoliating body scrub in no time!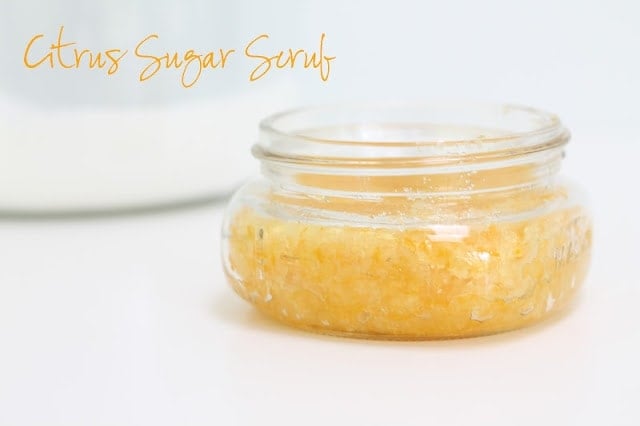 The rosemary spearmint sugar scrub is such a winter hit that I decided to share my summer favorite as well! It's refreshing for your senses and your feet!
Sugar Scrub, or body polish is a luxurious way to refresh your skin. It is so gentle that it can even be used on sensitive skin.
Exfoliating body scrub makes a great shower favor, quick gift, treat for yourself or a hostess gift when you are welcomed to a friend's beach house. This jar will keep my skin happy all summer long!
Keep a jar of this sugar scrub by your kitchen to soothe your hands after washing dishes. It will rehydrate your skin from the harshness of the hot water and dish soap. Keep a jar of sugar scrub in the shower for a mini spa treatment up to 3 times a week!
Citrus Sugar Scrub Recipe Ingredients
It's made with just a few ingredients, from your kitchen!
Sugar – regular white table sugar is perfect for this diy sugar scrub! It exfoliates your skin, gentling rubbing away dead skin cells leaving your skin feeling smooth and radiant.
Oil – I use Vitamin E Oil in this recipe which is so good for your skin. Its anti inflammatory properties soothes and calms, while hydrating dry skin and working to heal any blemishes.
Citrus – Is so good for your body inside and out! Naturally full of vitamin C it leaves your skin with a beautiful glow! It also can help to lighten sun spots or other blemishes on your skin. I love the texture and beautiful color the citrus adds along with its amazingly refreshing scent! You can use the zest from an Orange, Grapefruit, Lemon, or 2 Limes in this recipe.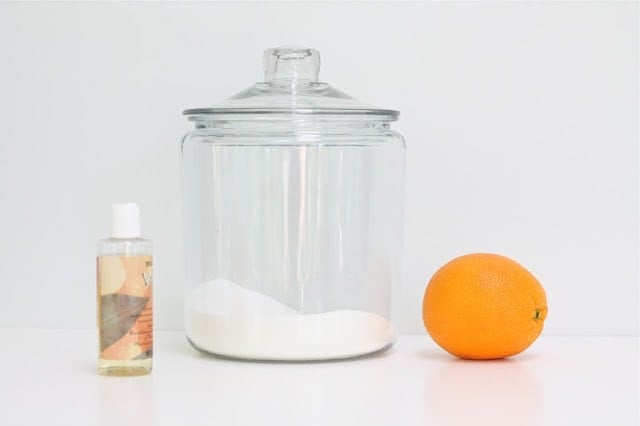 Supplies
Large Glass Mixing Bowl

Handheld Citrus Zester (variations under Tips and Tricks)

Spatula

Measuring Cups

Sealable Glass Jars (I like to use mason jars or repurpose clean jars I already own)

Ice Cream Scoop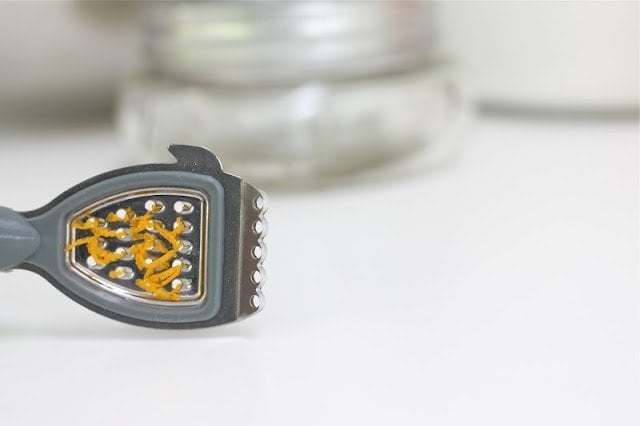 How to Make Exfoliating Body Scrub
This scrub is so easy to make. It only contains natural ingredients and no artificial food colorings.
Combine sugar and oil.
Add zest.
Scoop into sealable glass jars.

Label and date.
Variations
This sugar scrub recipe is so easy to customize to fit your needs!
Citrus Variations – In this recipe I use orange, but any other citrus would work well!

In the past, I have used grapefruit, orange, lime, and lemon. They all have worked wonderfully! If using lime I chose to use the zest from 2 limes since they are smaller sized fruit.

Oil Variations – Vitamin E Oil, Coconut Oil, Olive Oil, Almond Oil, Carrot Oil, Argan Oil, Jojoba Oil, and Grapeseed Oil.

Sugar Variations – Any white sugar should work well in this recipe. Sugar is used for a gentle exfoliation so keep that in mind when choosing the coarseness of the sugar.

For a winter sugar scrub try adding a dash of ground cloves or ground cinnamon.

Add a few drops of essential oils. My favorite combinations include other citrus oils to complement and enhance, floral scents such as moroccan rose or lavender, and woody scents such cedar or rosemary.
Pro Tip: If using coconut oil, it will help to slightly warm the oil on the stovetop or even the microwave before adding it to the mixture. I love coconut oil and lime combination!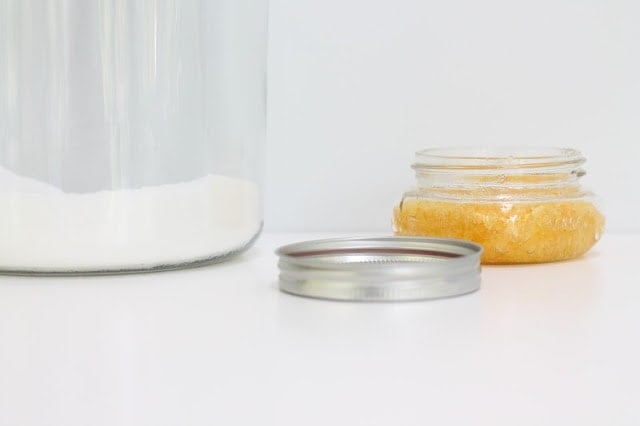 How to Store Sugar Scrub
This Sugar Scrub recipe can be stored for up to 3 months in a properly sealed jar / airtight container.

PRO TIP: Upcycle jars you already own!

A simple ribbon also dresses up the jar and is a placeholder for a label.
Tips
See variations to mix and match with this versatile recipe!

Label and date your jars to ensure freshness.

Zest is made from the top layer of a fruit peel. Always try to avoid the white pith.

If you don't have a zester, you can use a vegetable peeler to gentle peel the top layer of your fruit. Then cut the strips into finer strips lengthwise, and then again into tiny cubes widthwise.

To use in the shower, apply the exfoliating body scrub in a circular motion. Rinse.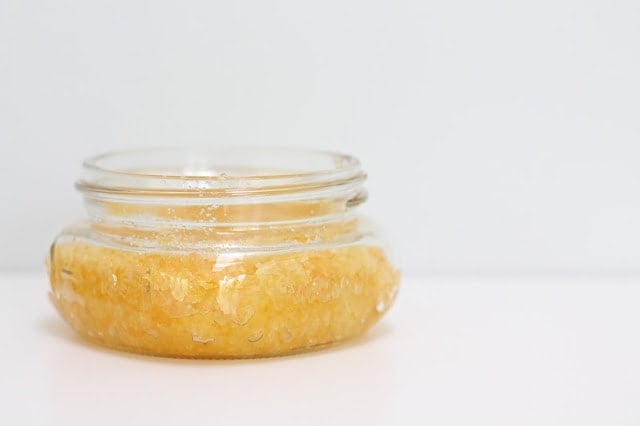 Gifting Tips
Homemade body scrubs make perfect last minute gifts! Who doesn't love a little pampering?
I've found that quarter-pint size mason jars are perfect for storing this diy sugar scrub. It is also the perfect size for gifting. It provides several uses prior to expiration. Gift a jar alone or as a part of a gift basket.
Wrap a jar in a square piece of burlap and tie it off with twine and add a manila tag.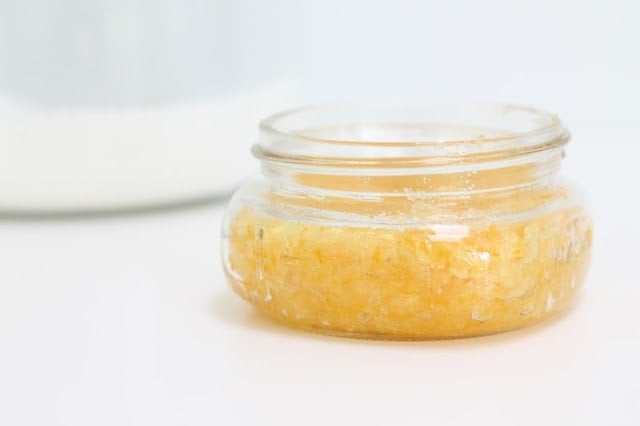 More Sugar Scrub Recipes
More Natural Bath Recipes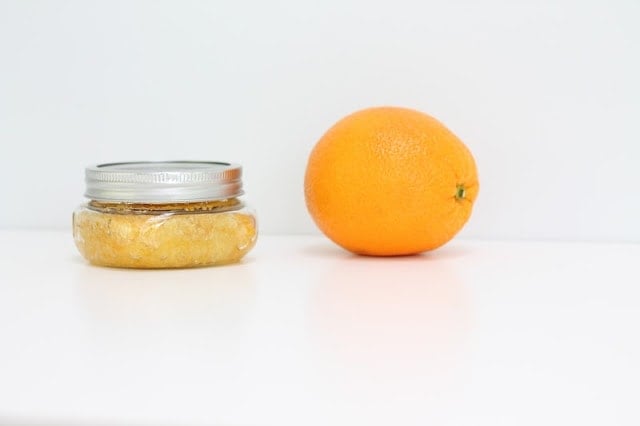 Want more? Receive the best ideas directly to your inbox and connect on instagram facebook and pinterest!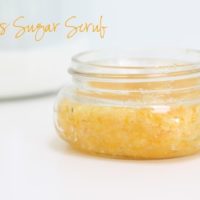 Citrus Sugar Scrub
Pamper your skin with this versatile sugar scrub recipe! Wash away dead skin with this exfoliating body scrub you can whip up in your kitchen in minutes!
Ingredients
½

cup

white granulated sugar

¼

cup

vitamin e oil

1

orange

zester
Instructions
Combine sugar and Vitamin E oil in a mixing bowl.

Add zest and thoroughly combine.

Using an ice cream scoop, scoop into sealable jars.

Label and date to ensure freshness.
Tips
Oil Variations- Vitamin E Oil, Coconut Oil, Olive Oil, Almond Oil, Carrot Oil, Argan Oil, Jojoba Oil, and Grapeseed Oil.
Citrus Variations – Grapefruit, Orange, Lime, and Lemon. If using lime I chose to use the zest from 2 limes since they are smaller sized fruit.
Optional: Add essential oils
Store in an airtight container up to 3 months.