This is a fragrant and luxurious sugar scrub made with staple ingredients in your kitchen. You'll find that it's an easy and inexpensive sugar scrub recipe that's great for gift-giving or washing away your worries with a little self-care!
Learn how to make your own sugar scrubs, simply and affordably at home – perfect for gifting!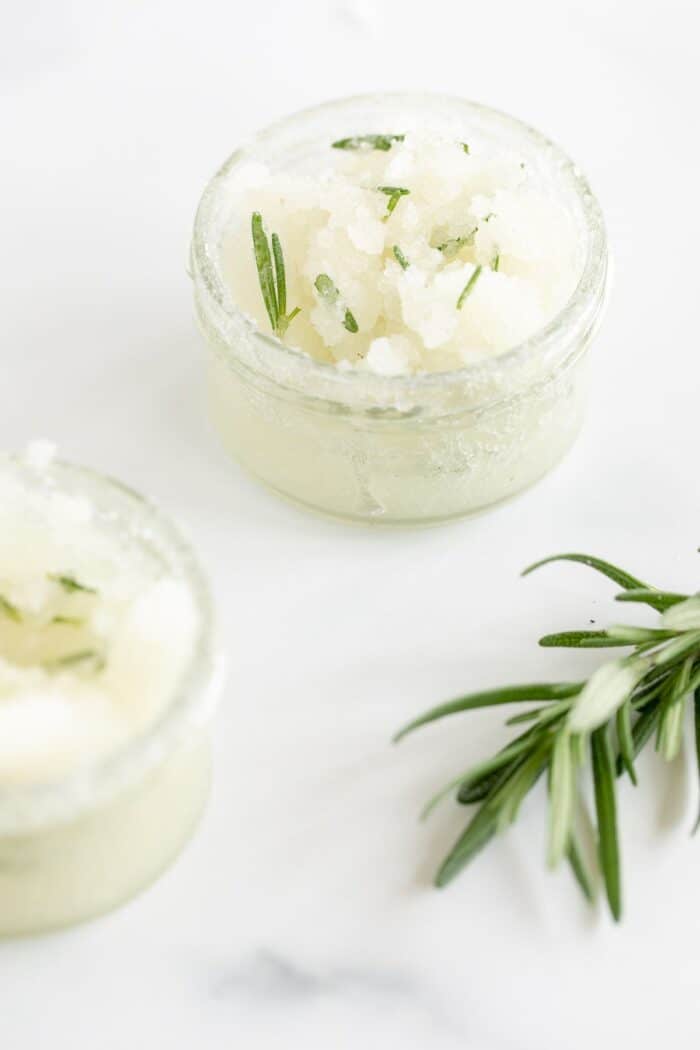 Originally published December 19, 2012 and updated May 7, 2021 with fresh content and photos.
I've been making homemade sugar scrub for the last 20+ years. It's quick and easy, inexpensive and makes each shower feel like a day at the spa!
Sugar scrub is made with just a few staple ingredients and your favorite essential oils. You can even add herbs to it for a little added color, texture and fragrance!
It leaves your skin feeling silky smooth, washing away all the dead skin cells while sealing in moisture. It's a natural exfoliant!
You can use a sugar scrub on your body and feet, and it can even be used on your lips. It's perfect for an at home pedicure and so much more! There's no need to purchase at the store when you can make it at home.
They make a beautiful gift as well.
Why You'll Love this Sugar Scrub Recipe
So easy to make
Pantry ingredients – keep them on hand!
Great for gifting
Easy to customize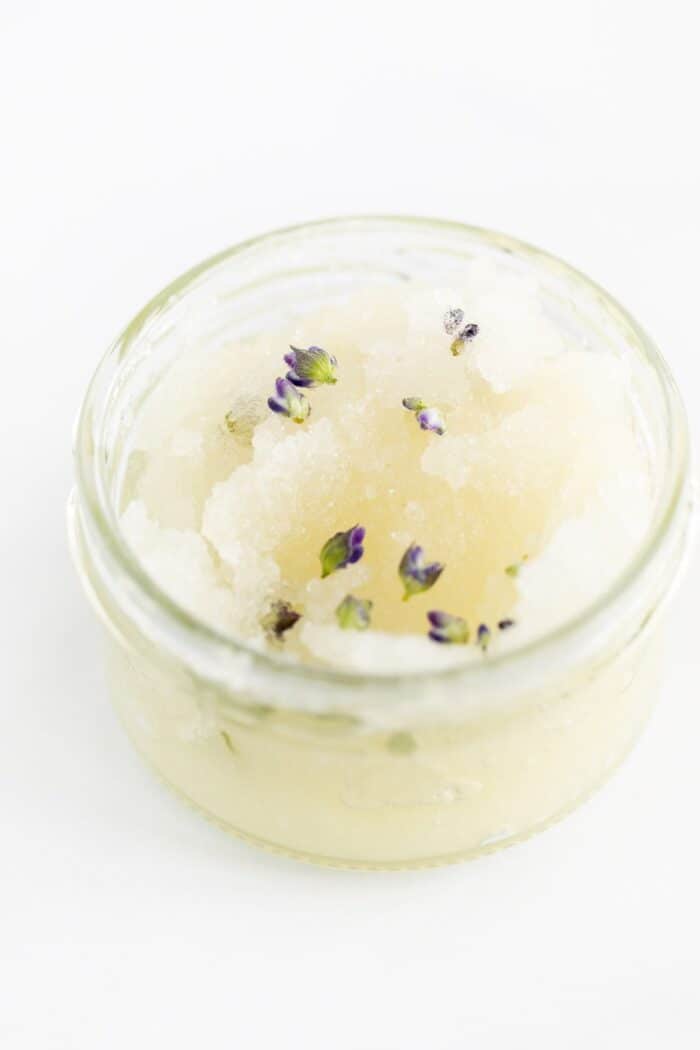 These make a wonderful gift for friends, teachers, neighbors and family! To gift simply tie a ribbon around your mason jar. You can also add a label.

Baker's twine always makes it feel festive. A single roll will last years and is just $8! You can also use any slender ribbon, like the sweet velvet one shown here.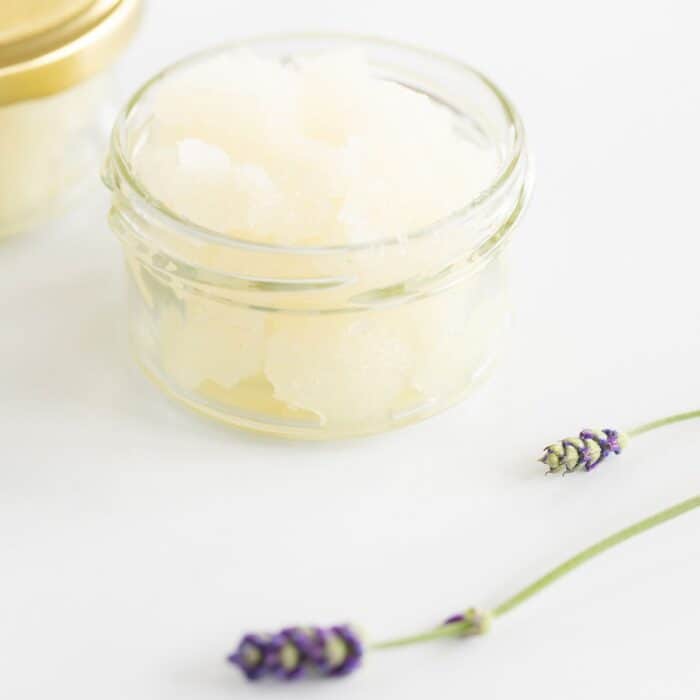 Make your own homemade sugar scrub with just four ingredients. It only takes minutes to whip up a batch of natural body scrub for yourself or a beautiful gift!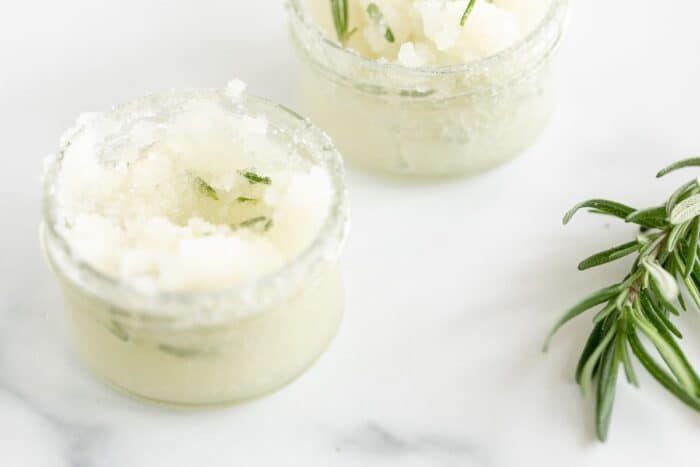 Learn how to set up your own Sugar Scrub Bar for a party! Perfect for showers – it's a fun activity that doubles as a take home party favor!
I enjoy making gifts for those dear to me. When contemplating what to give one of my friends for her birthday, I knew that I wanted to give her something natural.
After all, we often talk about taking a step back and looking at products we use and the things we consume and considering chemicals, artificial flavors, etc.
Years ago, a friend got me into making my own bath products. I immediately recalled the scent-rosemary mint! It's so invigorating for winter! It makes a great hostess gift!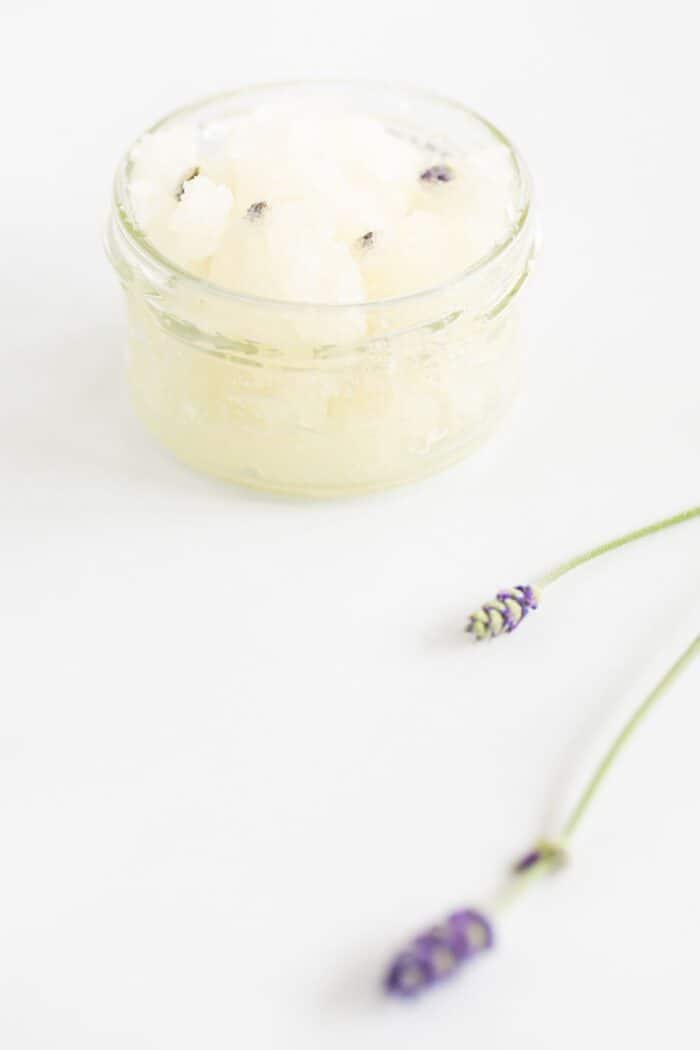 Sugar Body Scrub Ingredients
Sugar – White Granulated Sugar is perfect for sugar scrubs and you most likely already have this ingredient on hand. If you are looking for a more hardy exfoliation you can try a more coarse ground sugar.
Oil – A great oil for locking in moisture and helping your skin look its best!
Fresh or Dried Herbs – add a beautiful color, scent, and texture to your sugar scrub. Most supermarkets carry dried rosemary in their baking section and fresh in produce.
Essential Oil – It just smells amazing! Besides its delicious smell, spearmint is said to help with uplifting and energizing your mood. It also can help with focus.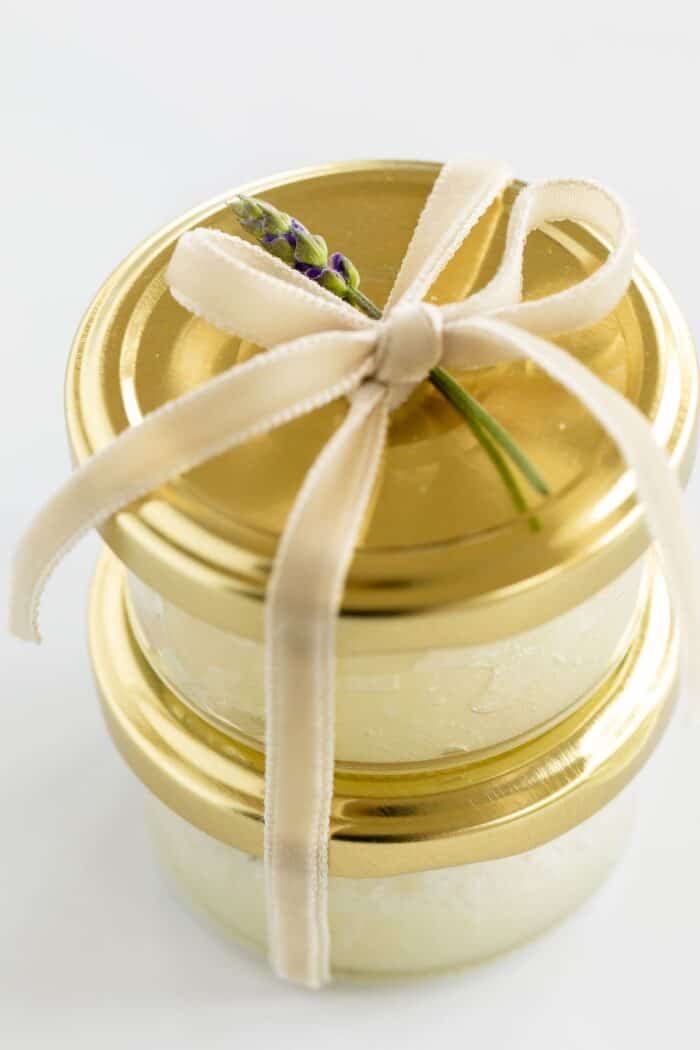 How to Make a Natural Body Scrub
Combine
Add Herbs or Zest

(Optional)

Add Essential Oils

Jar
Each batch yields 4-5 5.4 ounce jars.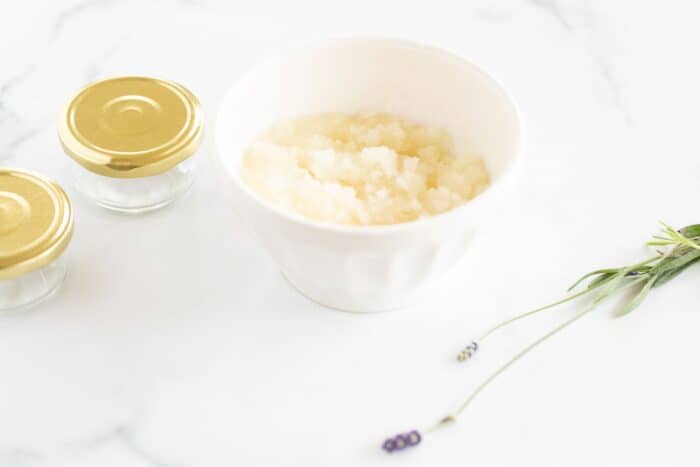 Variations
One reason I like to make my own natural bath recipes is that I can tailor each recipe batch to what ingredients I have on hand, the season, or if I'm making it as a gift. I have created a variety of sugar scrub variations as well as milk bath recipes.
Sugar Scrub is very adaptable. Here are a few suggestions for ingredient substitutes, but don't limit yourself to these. If you use any variations, I'd love to hear about it. Please leave a comment below!
Sugar Variations – Any sugar you have on hand should work well in this recipe. However, sugar isn't the only option when it comes to a gentle exfoliator. Sugar does smell amazing but if you want to check out some other options you can try, Brown Sugar, Coffee Grounds, Sea Salt, or Coarse Ground Sugar,
Oil Variations – I love all the health benefits of oil in sugar scrubs. I've tried most of these and find that they each have their own benefits to keep my skin healthy and glowing! Try, Coconut Oil, Almond OIl, Jojoba Oil, Olive Oil, Carrot Oil, or Vitamin E Oil.
Herb Variations – You can use fresh or dried herbs in sugar scrubs, but of course it's easier to keep dried on hand. Some great options include lavender, rosemary and mint as pictured throughout this post.
Essential Oil Variations – Essential oils have amazing aroma, however they are very potent. When in doubt about a particular oil, mix a drop of essential oil with a carrier oil and do a small skin test first. Options include, lavender, lilac, rosemary, peppermint, orange, clove, lemon, lime, and grapefruit.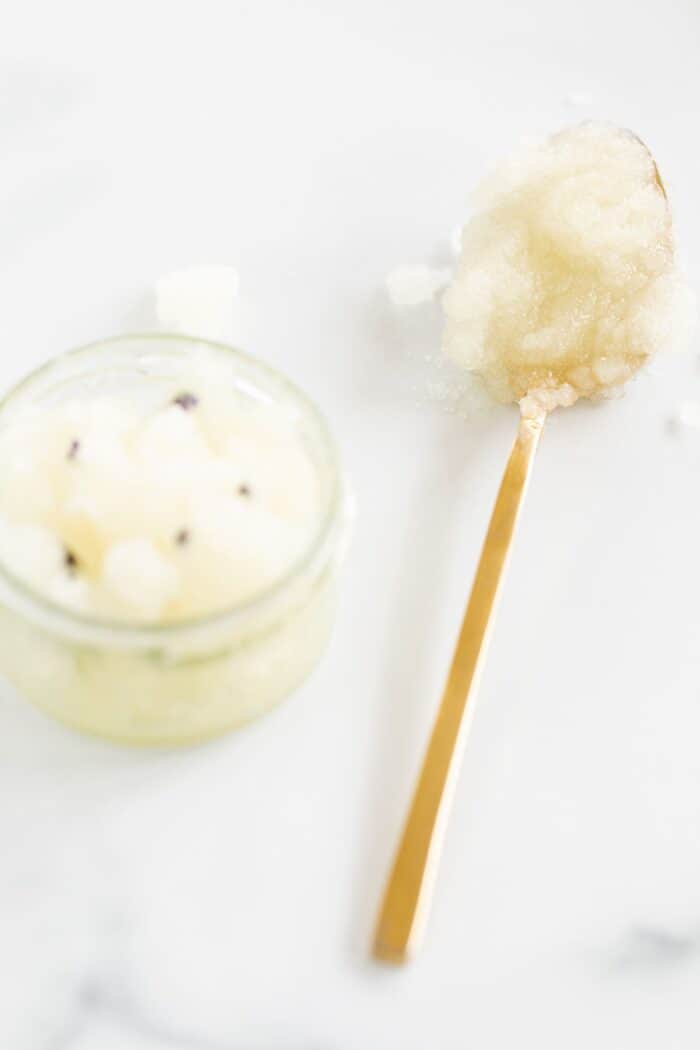 Benefits of Sugar Scrub
This DIY body scrub is great for whole body skin care, exfoliation in the shower, and also to spot treat areas that need extra attention.
I like to keep a jar in my kitchen to pamper my hands after washing dishes or for a firm hand scrub after working in the garden. After cleansing, the grapeseed oil helps to moisturize your skin leaving it feeling smooth and hydrated.
Spearmint Sugar Scrub also works well for a gentle lip scrub for chapped lips. I love how the spearmint cools dried lips leaving them feeling refreshed!
How to Use Sugar Scrub
Using a small spoon, scoop about 1 tablespoon of sugar scrub directly onto your skin. Rub in a circular motion to remove dead skin cells. Rinse with warm water and pat dry. Your dry skin will thank you!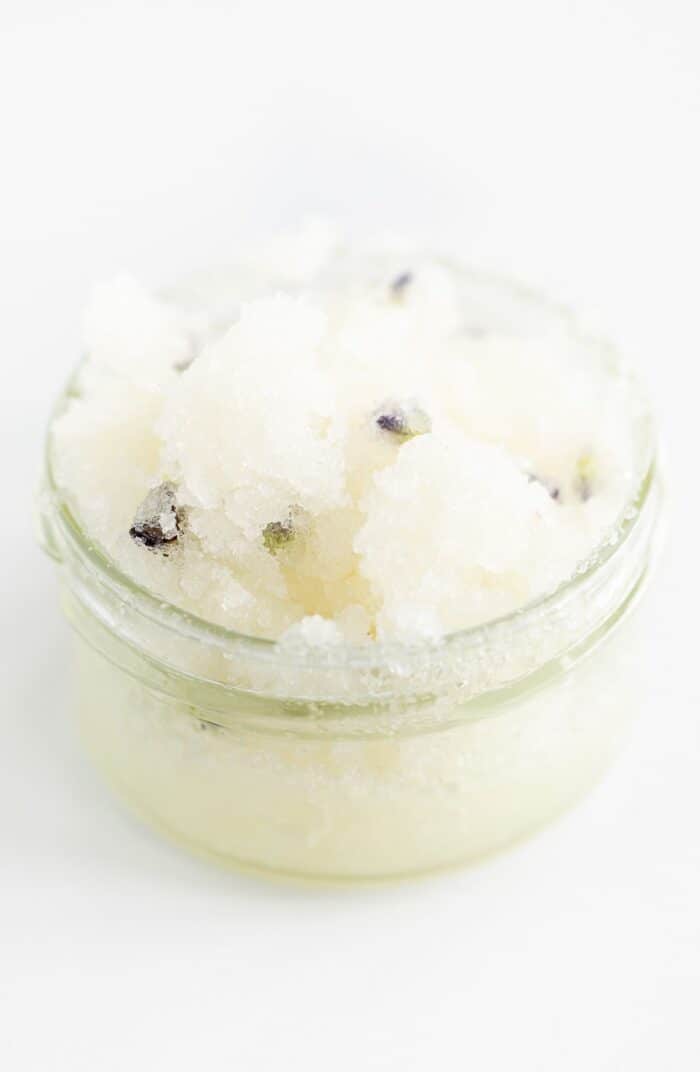 How to Store
Small jars with tight lids are the best way to store sugar scrubs. I like to use glass mason jars if I'm storing them to use in the kitchen. However, choosing a plastic jar is safest and best for use in the shower.
When storing at room temperature, this scrub will keep for up to two months!
---
Recommended Containers
Glass Jar with Wood Spoon
Miniature Mason Jar
Weck Jar
Swing Top Lidded Jar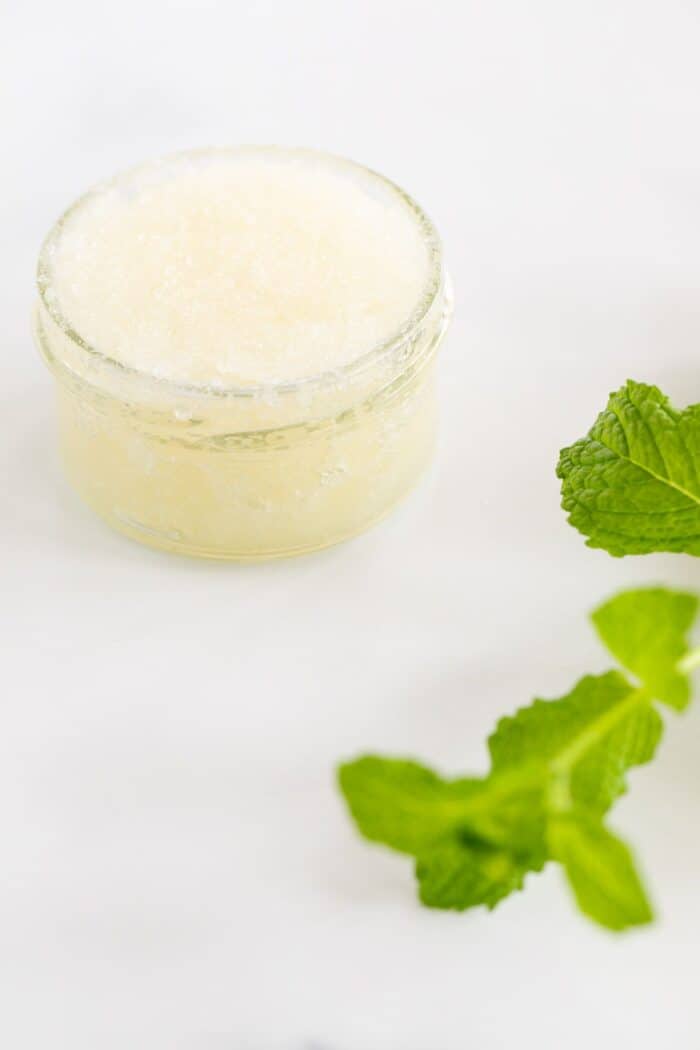 These make an excellent Mother's Day gift! Check out this inspiring round-up of my favorite handmade Mother's Day Gift Ideas.
Gifting
Gift giving is a beautiful way to show love and appreciation. Homemade gifts like this sugar scrub can be simple, easy, and frugal, while still making a huge impact in showing that you care.
I have given my homemade natural bath recipes as gifts for Christmas, in themed gift baskets, as teachers gifts, to friends and family.
To gift, choose a cute small jar to store your homemade sugar scrub. It can even be a recycled jar. Keep in mind who you're gifting too and the season. I like to add some warm spices such as cinnamon or clove for winter gifts.
Floral scents are great for spring, and choose scents such as citrus for a refreshing summer scrub. A simple ribbon around the jar is enough wrapping, but you can also use a gift bag or basket. Don't forget to add a label with an expiration date!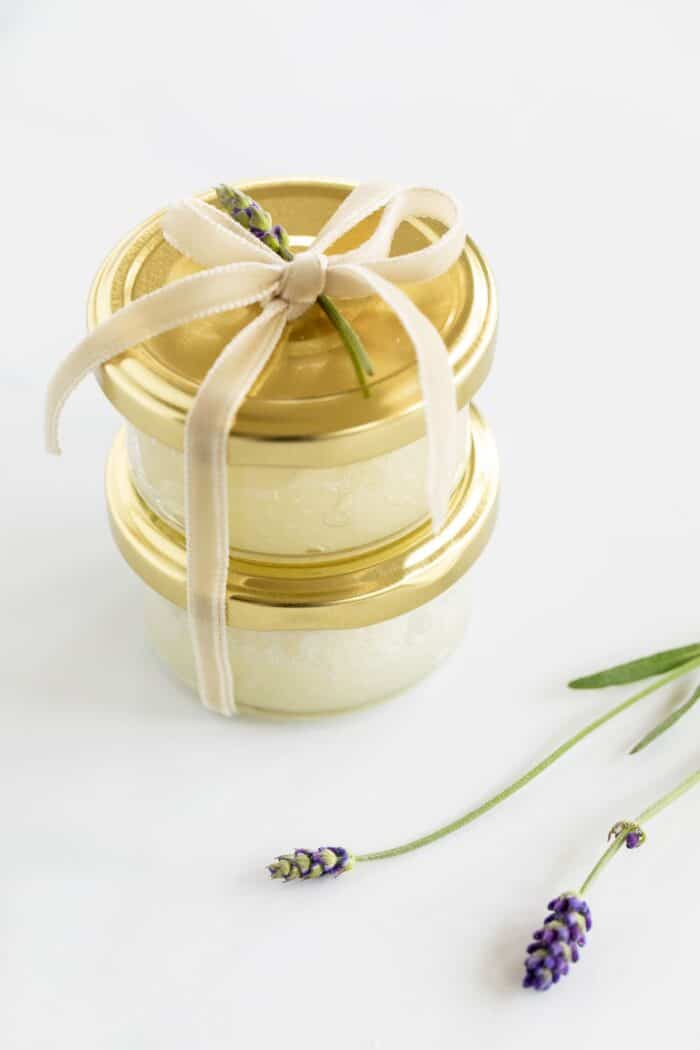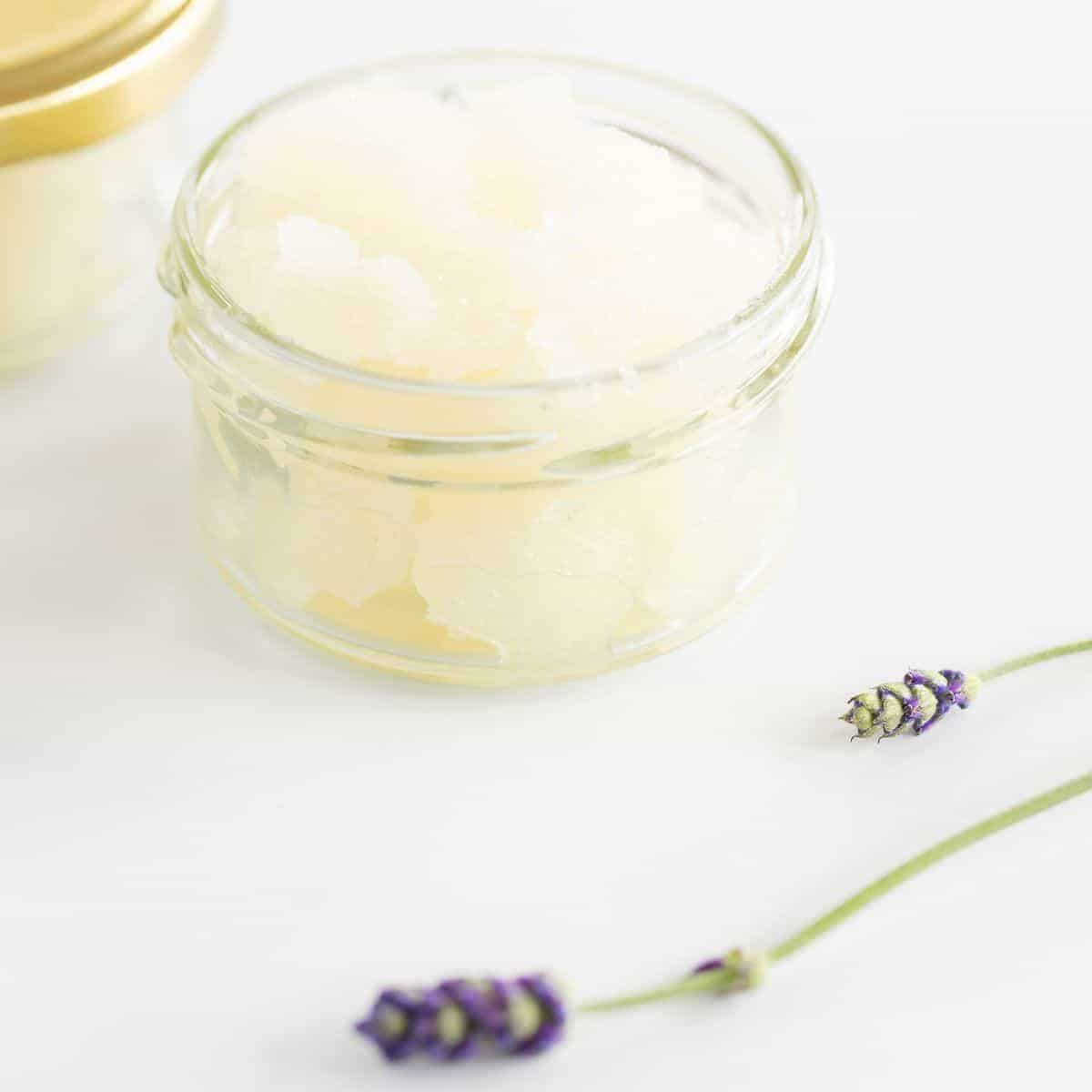 Rosemary Spearmint Homemade Sugar Scrub
Additional Time:
5 minutes
Make your own homemade sugar scrub with just 4 ingredients. It only takes minutes to whip up a batch of natural body scrub for yourself or a beautiful gift!
Materials
3 Cups White Granulated Sugar
1 Cup Grapeseed Oil
1 Tablespoon + 1 Teaspoon Dried Rosemary Herb
Spearmint Essential Oil
Tools
Mixing Bowl
Measuring Cups and Spoons
Spatula
Storage Jars
Instructions
Combine Sugar and Grapeseed Oil in a large mixing bowl.
Stir in Dried Rosemary.
Add Spearmint Essential Oil as desired.
Mix thoroughly to combine sugar, oil, herb, and essential oil.
Scoop into clean, dry, glass or plastic jars.
Notes
Keeps up to 2 months at room temperature in a sealed container.
Use in the shower, on your hands after washing them, and on your lips to exfoliate.

Using a small spoon, scoop about 1 tablespoon of sugar scrub directly onto your skin. Rub in a circular motion to remove dead skin cells. Rinse with warm water and pat dry.