This simple design farmhouse style dining table was so easy to build using a preexisting table from Craigslist. It looks gorgeous in my dining space and was well worth the effort!
A farmhouse table is perfect to use when looking to create a simple cottage, rustic, or traditional look. It has a no-fuss design that suits any space. It's easy to dress up or dress down with your choice of chairs, tableware, and centerpieces. Families and friends can gather around a farmhouse table to eat, celebrate, play games, and just enjoy being together.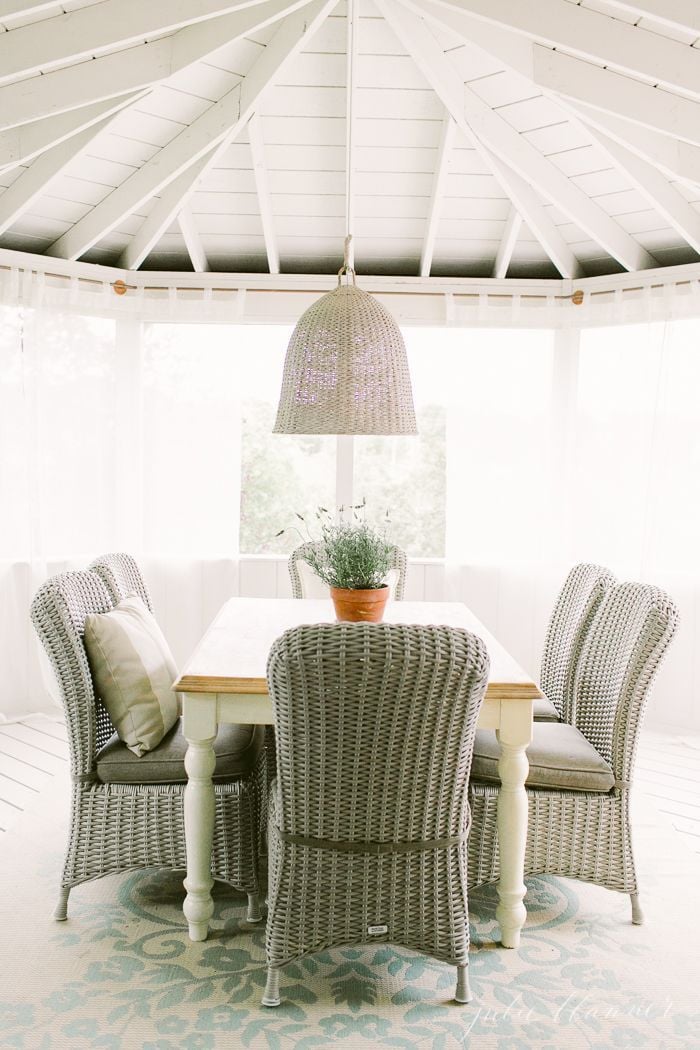 A farmhouse table's basic style makes it fun and easy to decorate for holidays and celebrations. There is plenty of room for centerpieces, seasonal decoration, and a lot of food. Farmhouse tables are even perfect for serving a breakfast buffet – with blueberry bread, meltaway cinnamon muffins, and vanilla fruit salad.
What Is a Farmhouse Table?
Farmhouse tables, farm tables or harvest tables, were originally tables that were simple in design yet strong enough to support work that farmers and their families would need to do. Their practical and timeless look has continued to be a favorite style in homes today.
Table Top
Made of wood, farmhouse tables are heavy, solid, and able to withstand a lot of use (and love) from families. In fact, distress marks and imperfections are perfectly acceptable and appreciated on farmhouse tables. They can also be sanded for a smooth finish – it's up to you.
Table tops are made from multiple slabs of wood, so the wood tones are varied from table to table, and varied even within one table itself. Farmhouse table tops are so lovely when the wood can show off its natural grain and beauty. They can be stained to coordinate with surrounding tones in your home to create the perfect look.
Table Base
Farmhouse tables have one of three base styles:
Legs – With a leg on each corner, the table is evenly supported and very sturdy. Legs can be straight for a rustic look, tapered for a slightly daintier look, or simply turned for a soft and elegant look. Tables with legs usually have an apron to help stabilize the legs.
Trestle – This base has two trestle end pieces with a stretcher board between the ends that a table top sits on. The trestle can be very basic and straight or have more elaborate designs. It is a very durable base that can withstand a lot of weight and use.
Pedestal – One or two pedestals support the table top, depending on the size of the table. The pedestal can be turned to have curved features or be kept straight for a chunkier look. Because the table is supported in the middle by the pedestal, it could rock if too much weight is put on one side.
Farmhouse Table Inspiration
This photograph from Kinfolk Magazine instantly captured my attention. I loved the simple farmhouse table used outside. It inspired me to search for the perfect table that could work in the dining room for now and then move outside to the patio later on.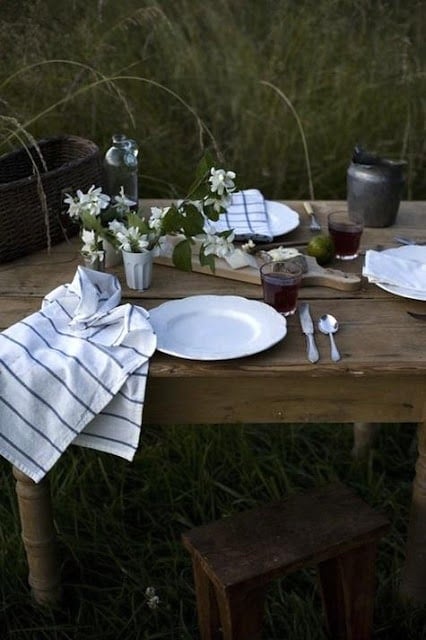 I've always loved this harvest table from Williams Sonoma. It's clean, simple, and rustic enough, without being too rustic. The classic legs give it a more traditional feel.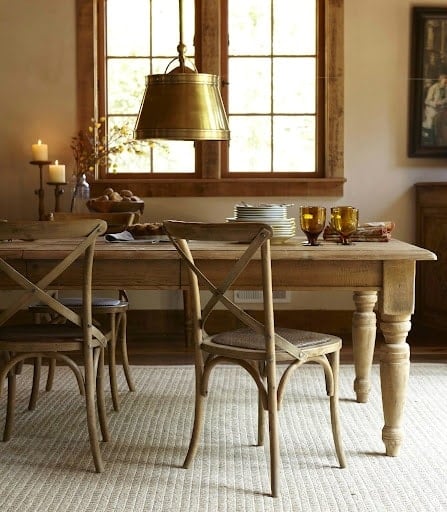 Here is another example I have been admiring from Restoration Hardware for years, but not practical for an outdoor setting (though we did purchase a similar Restoration Hardware Dining Table for our Breakfast Nook).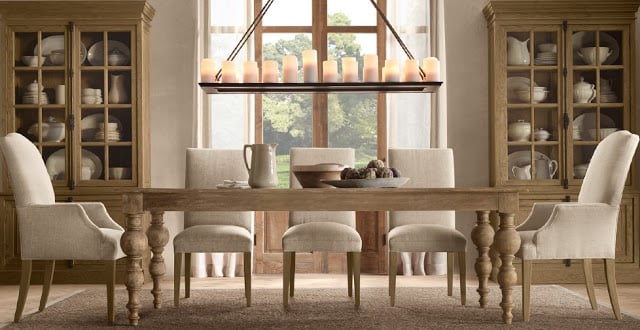 This beautiful dining table was my grandmother's and then my mother's. While I waited to inherit it, I needed a large dining table to entertain guests and fill the void in our dining room. A farmhouse table was the perfect solution to have a table in my dining room in the meantime, and then move it outside to the patio when I received my grandmother's table.
Our dining room was host to a chest of drawers and my great grandmother's piano. It also had the most amazing crystal chandelier! I needed the right table to bring the room together.
Searching Craigslist for a Farmhouse Table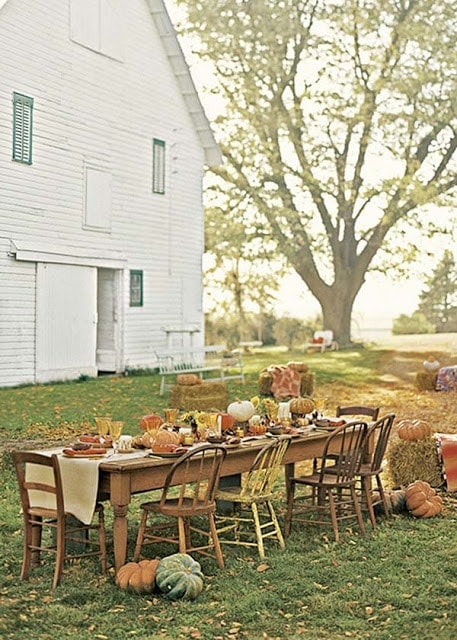 I love an antique harvest table like this one here. I knew I could make my own farm table without needing to buy a brand new one. Since the table would eventually be moved outside, I didn't want to overspend.
My project started with a Craigslist search and I found a great, solid wood kitchen table (the heaviest I could find, according to Chris), with a leaf that could expand or contract the length of the table, for a mere $50!
Tips for Searching Craigslist
When beginning a search on Craigslist, have a detailed idea of what you're looking for and an open mind at what you find.
Measure your space ahead of time and know what size of table you'll need. Decide if you want a table that can expand with a leaf. Think about what look you'd like in regards to table bases and tops. Start specific in your search to see what results it yields.
Then, keep an open mind when you see something that doesn't instantly fit the look you wanted. Many times the item just needs a coat of paint or to have a coat of paint removed. With some elbow grease and vision, someone else's unwanted table can be your perfect piece.
Cost of Farmhouse Table
In my plans to build, I didn't anticipate spending more than $75 for the cost of the table and the supplies – significant savings from the tables pictured above.
I ordered the dining room chairs that coordinate well with this table and my mom's set. Here's a sneak peek of the legs. Sorry, I couldn't put the table together myself. It was entirely too heavy to even scoot!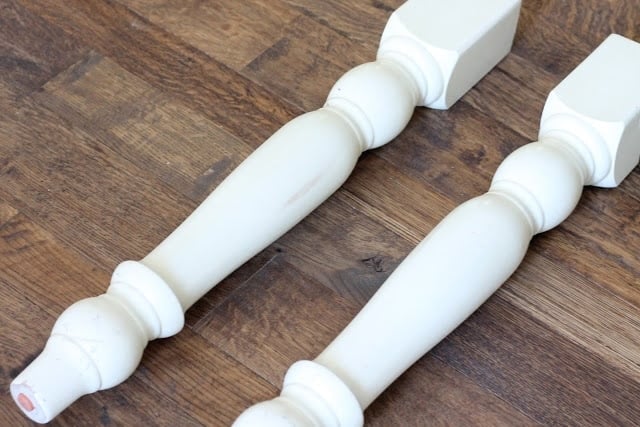 As in any project, I changed my mind a few times in the process. But let's start with the DIY I did to build this table. This DIY would also work for a coffee table.
How to Make a Farmhouse Table
Start with a traditional table (ours was made of solid pine). Using a hand belt sander and 60 grit sandpaper (rough), remove the varnish. Make sure to sand with the grain of the wood.
With the hand sander, use a sandpaper grit of 120 to ensure a smooth surface. The 120 grit sandpaper closes the pores of the wood just enough so the stain will be absorbed evenly and effectively. I also used the hand sander for the divots around the edge.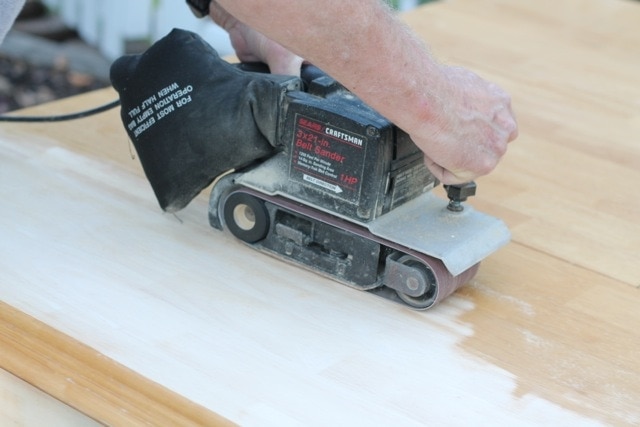 I left just a tad of varnish/color in them, which adds a lot of character and saves a lot of time. No hand sanding here!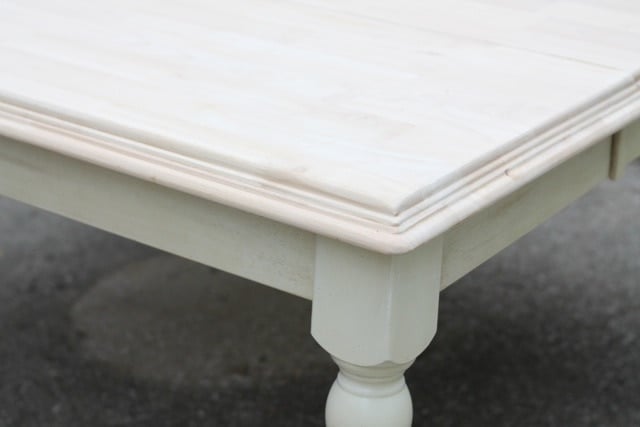 When I got to this point, I just couldn't continue with my original plan to sand the sides and legs to give them all a slight stain. It just looked so simple and beautiful as is. The transformation from its honey color had captured my heart! And hey, who doesn't like eliminating steps?
Next, I let it weather a few days. Not long, just enough to give it a little more variation in color and darken it a little.
Faux Weathering Tip
To achieve a weathered look quickly, break apart a steel wool pad and soak it in vinegar overnight. Then brush the liquid onto your wood. It instantly adds an aged look and color to your wood.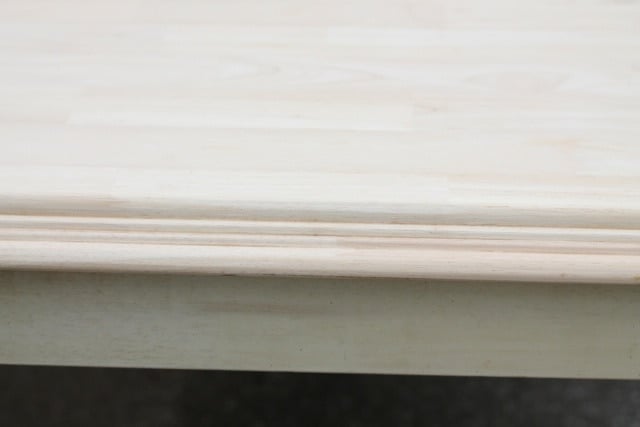 To give it a little protection, I "waxed on" tung oil. Yep, just like a car. It penetrates into the wood, protecting it without giving it a gloss coat, making it useful for now!
Spoiler Alert! I ended up deciding to stain this beautiful table to give it a more rustic feel! Keep reading to find out how I added this element!
The table that will eventually go in the dining room is walnut, matching the current furniture and floors, but, for now, this table will be used in the dining room.
The table seats 9 with the leaf and is perfect for hosting Thanksgiving – see it in all it's glory with this fall table setting.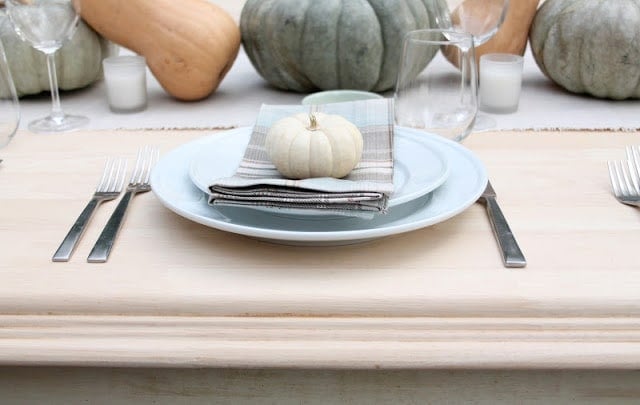 Staining and Sealing a Table
In the end, I just couldn't stop thinking about my original idea to have a table that looked like this photo (via Williams Sonoma). There was no way I would be totally satisfied until I had the table I had envisioned from the start.
I considered the vinegar, tea and steel abrasive pads to age the wood, but wasn't sure if that was the look I really wanted to go for. It had a little rustic look already because I didn't give it a completely smooth sanded finish and didn't eliminate all of the tarnish from the edges. It needed to be stained. I decided to use two stains to achieve the color and look I wanted.
Using Minwax to Stain a Table
First I used Minwax Driftwood to give it a bit of a dirty look, followed by their simple Special Walnut. I used really thin coats, continually stroking with the brush to "pull" the stain. Using an old towel, I brushed off stain on areas below that naturally collected too much.
I wanted those to be a little darker, just not as dramatic as they were. I allowed extra stain to seep into the crevices and edges of the table to continue the rustic look. Don't worry if your table has any screw holes or pocket holes. It all just adds to the character of the table!
Sealing prevents a table from staining and minimizes exposure from moisture. Teak Outdoor Furniture is recommended for extensive or exposed outdoor use.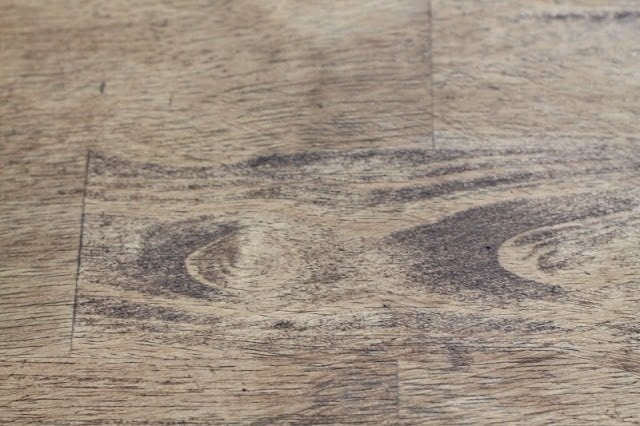 What You Need to Stain a Farmhouse Table
Old Towel

– Be prepared to throw this away when you're done.
Paint Brush – Use a quality brush that is made to handle stain.
It pairs beautifully with a burlap table runner!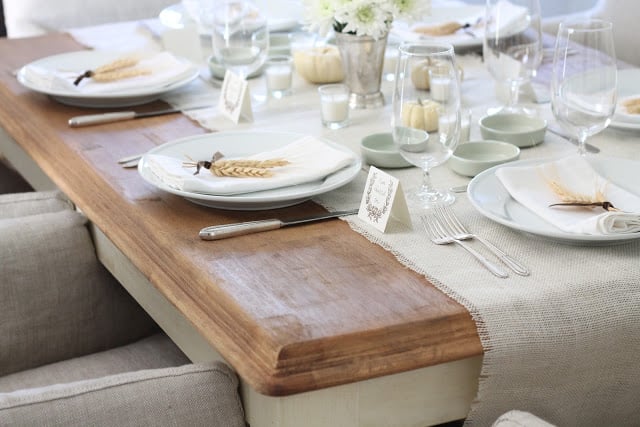 A farmhouse table is so versatile it can be paired with a variety of chairs – indoors or out! You'll see above it is paired with linen dining chairs and in our screened in porch it is paired with wicker dining chairs.
This simple project takes just a couple hours from start to finish. If you love all things farmhouse, you'll love this Modern Farmhouse Tour!
Let's stay in touch! Join our newsletter for access to exclusive content, never-before-seen photos, your questions answered, and our favorite projects. You'll receive the best design secrets delivered directly to your inbox! Sign up here!
Thinking of starting your own blog? Take my Blogger Course and learn How to Become a Blogger!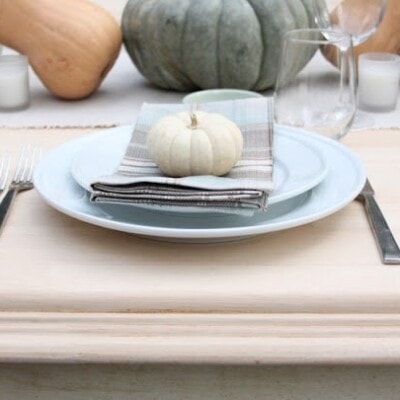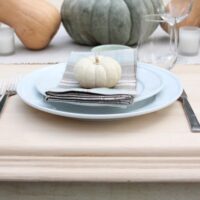 DIY Farmhouse Table
Create your own farmhouse table with this easy DIY project!
Ingredients
Solid Wood Table

Tung Oil

Vinegar

optional

Stain

optional
Instructions
Start with clean table, made of solid wood (I used pine).

Using a hand belt sander, and 60 grit sandpaper (rough), remove the varnish.

Switch to a hand sander (grit of 120 to ensure a smooth surface) sand over entire table and and divots around the edge for a smooth finish.

Stain as desired or leave to naturally weather for a few days.

Cover in a coat of Tung Oil to protect your new farmhouse table.
Tips
You can make your own stain by soaking a steal wool pad in vinegar overnight. It gives a natural weathered look to your wood.
In the end, I stained my table using Minwax Driftwood, and Minwax Special Walnut stain.
Equipment
Sandpaper (60 grit and 120 grit)
Steal Wool Pad (optional)
Old Towel (for staining, optional)
Stain brush (for staining, optional)