Coffee Table Height Guide
If you're searching for the perfect coffee table, you're probably wondering about sizing. This coffee table height guide is the easiest way to learn how to choose the perfect dimensions!
Coffee tables come in a wide variety of sizes and heights. What works for one living room won't work for the next! Keep reading to learn why.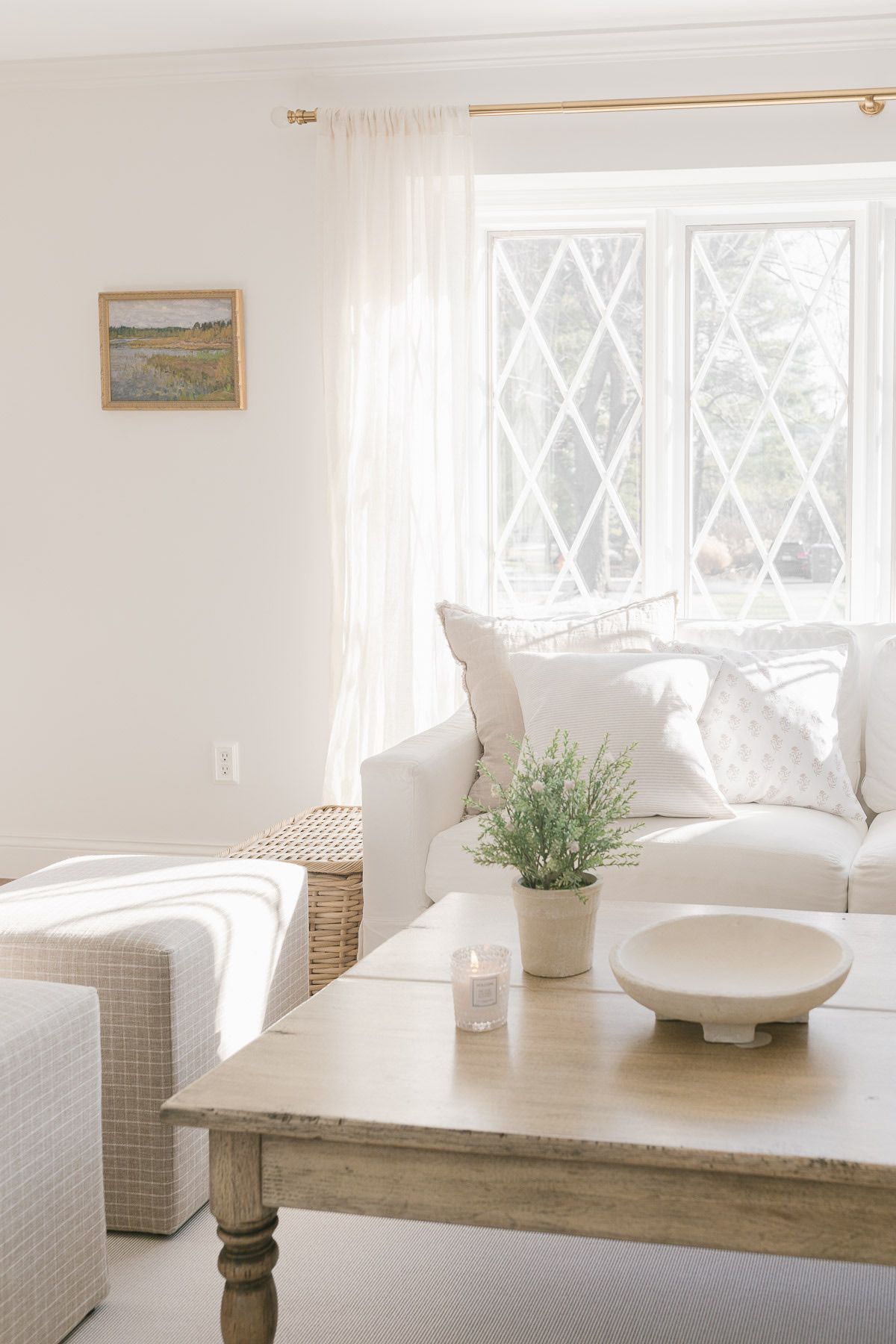 If you've been reading for long, you'll already know that I love sharing my favorite furniture and accessory finds with you.
Personally, I'm not a person who makes purchases on a whim. I am careful with decisions to make long-term investments in our home, and I want items that we will love for years to come!
I have compiled a series of furniture and design guides to take the guesswork out of design for you! We answer questions on How to Measure Furniture and so much more.
I hope these guides are useful to you as a reader, and create confidence in your search for the perfect home furnishings.
This guide showcases coffee tables in both of our homes – our St. Louis tudor and our coastal modern lake cottage! You'll learn a little about why we chose both tables.
There are no hard and fast rules.

Choose the coffee table you love.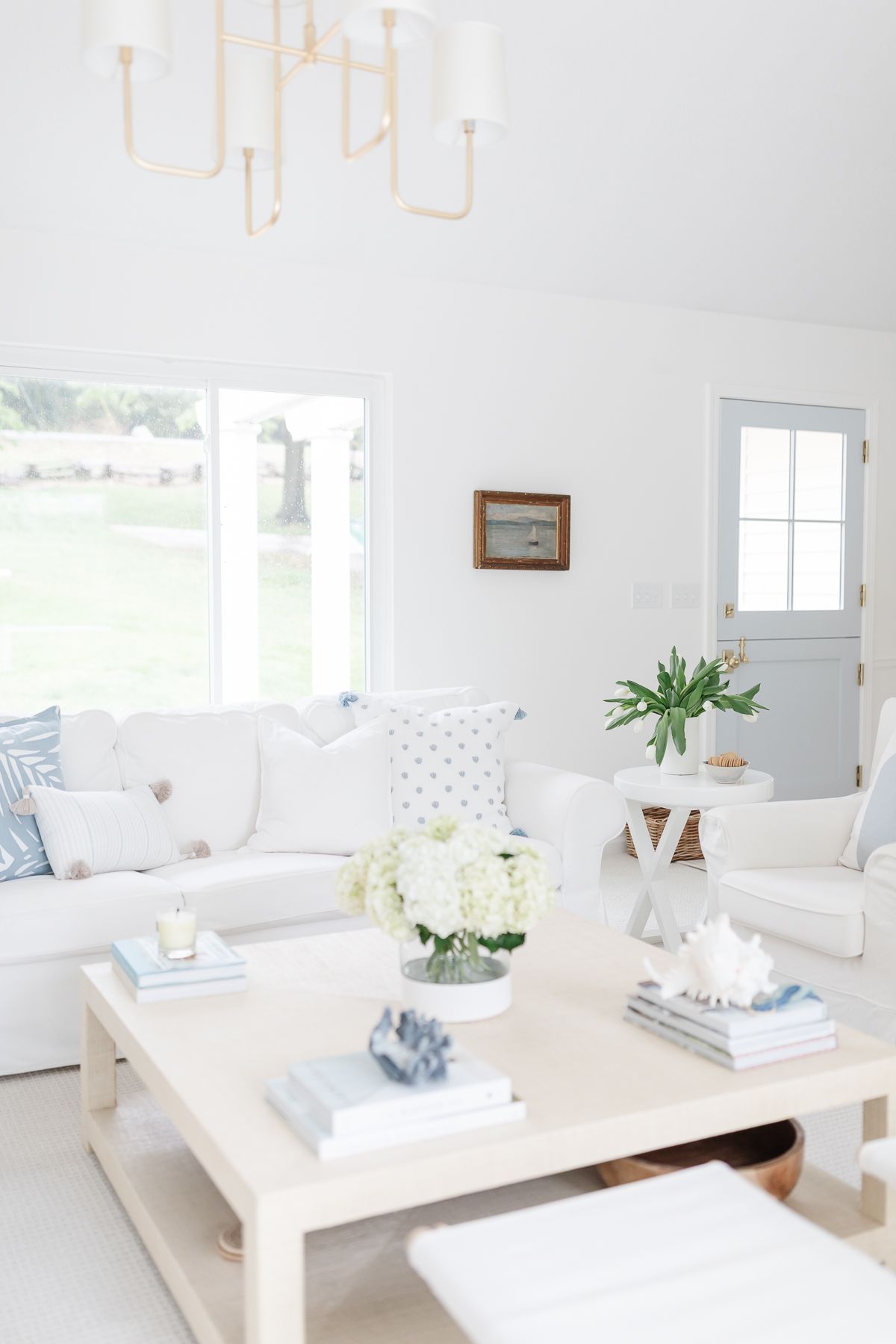 Coffee Table Height
To know how to choose the perfect coffee table height, you must first know the height of the rest of your living room furniture.
You'll want to measure from the floor to the top of the cushions. That goes for your sofa and any surrounding chairs, as well.
Traditionally, most coffee tables will come in a height that is between 16″ and 18″. If you can, select a coffee table that is lower than your sofa and chairs. You can integrate one that is taller than your cushion height, but it can sometimes look a little awkward or feel slightly less comfortable.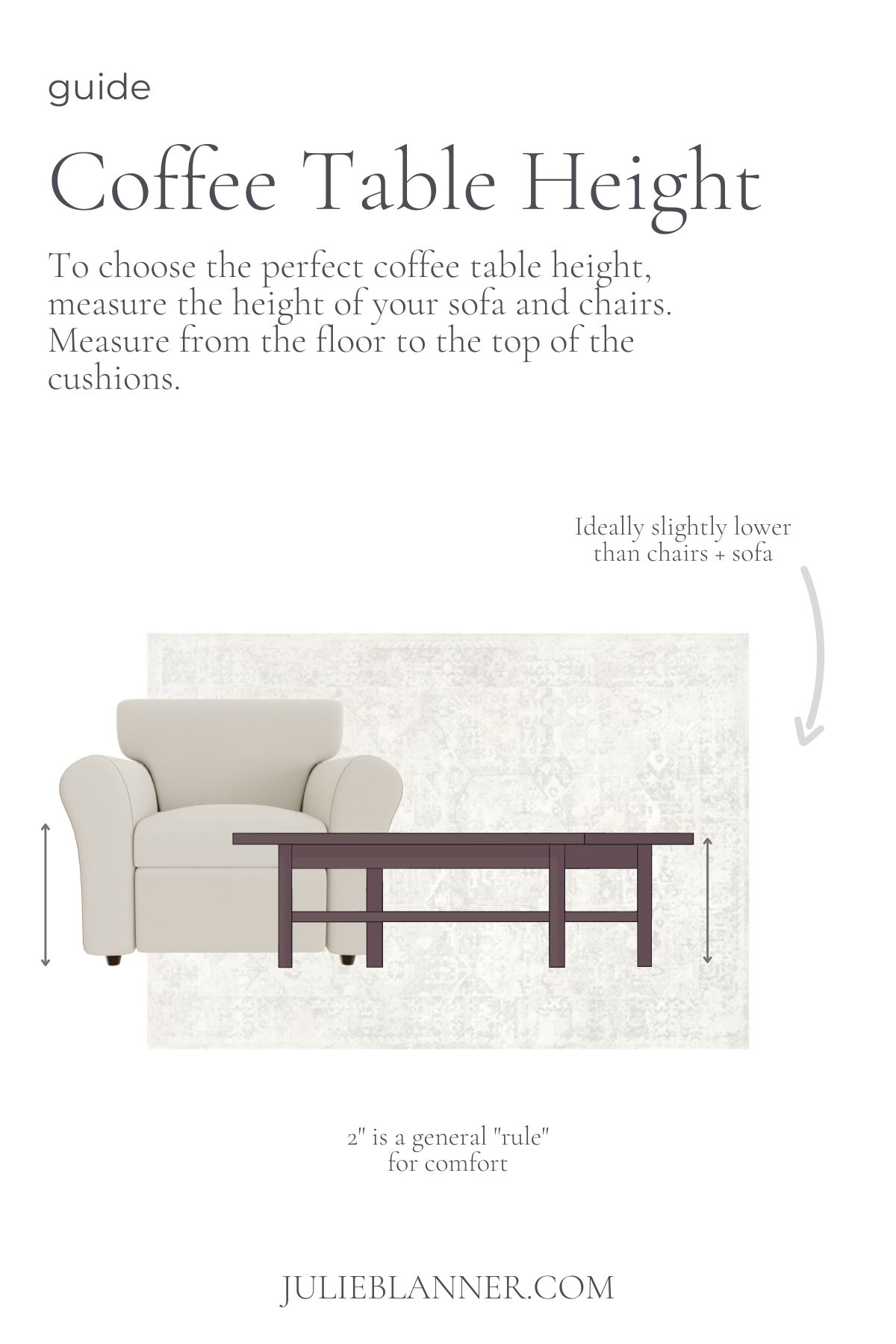 A good guideline is to measure to the top of your sofa cushions, and choose a coffee table with a height that is approximately the same as that measurement, aiming for no more than 2″ lower.

That's not always true, though – keep reading to learn why!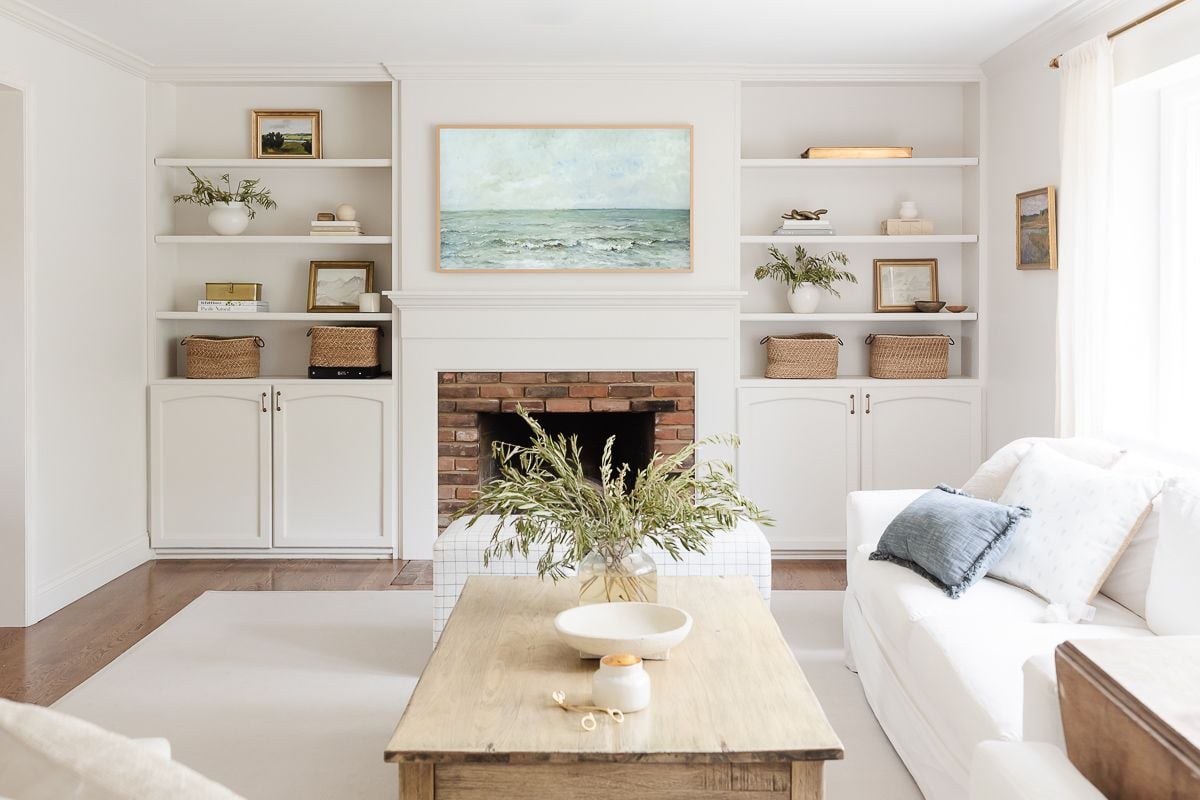 More About Coffee Table Dimensions
In our situation, the measurement to the top of the cushions on our Pottery Barn slipcovered sofa was 19.5 inches. Most sofas will tend to to be 17-19″, but it is always best to measure.
We wanted a large, functional table top that would work beautifully with the room, just a touch lower than the sofa for added comfort.
With that in mind, we chose a wooden coffee table that measures 18 inches high. This felt like a comfortable height for our family to place drinks, and even play board games!
However, at our lake cottage, our Ikea Ektorp sofa cushions are also just over 19″, and we chose a coffee table that is just 15.5″ tall. That's significantly lower than what you'll often find as a suggested height!
Why? Because we wanted a sleek, modern and low table that wouldn't interfere with our views of the lake!
Depending on the height of your sofa cushions, you'll want to choose the right height for you – don't base that decision on any specific rules.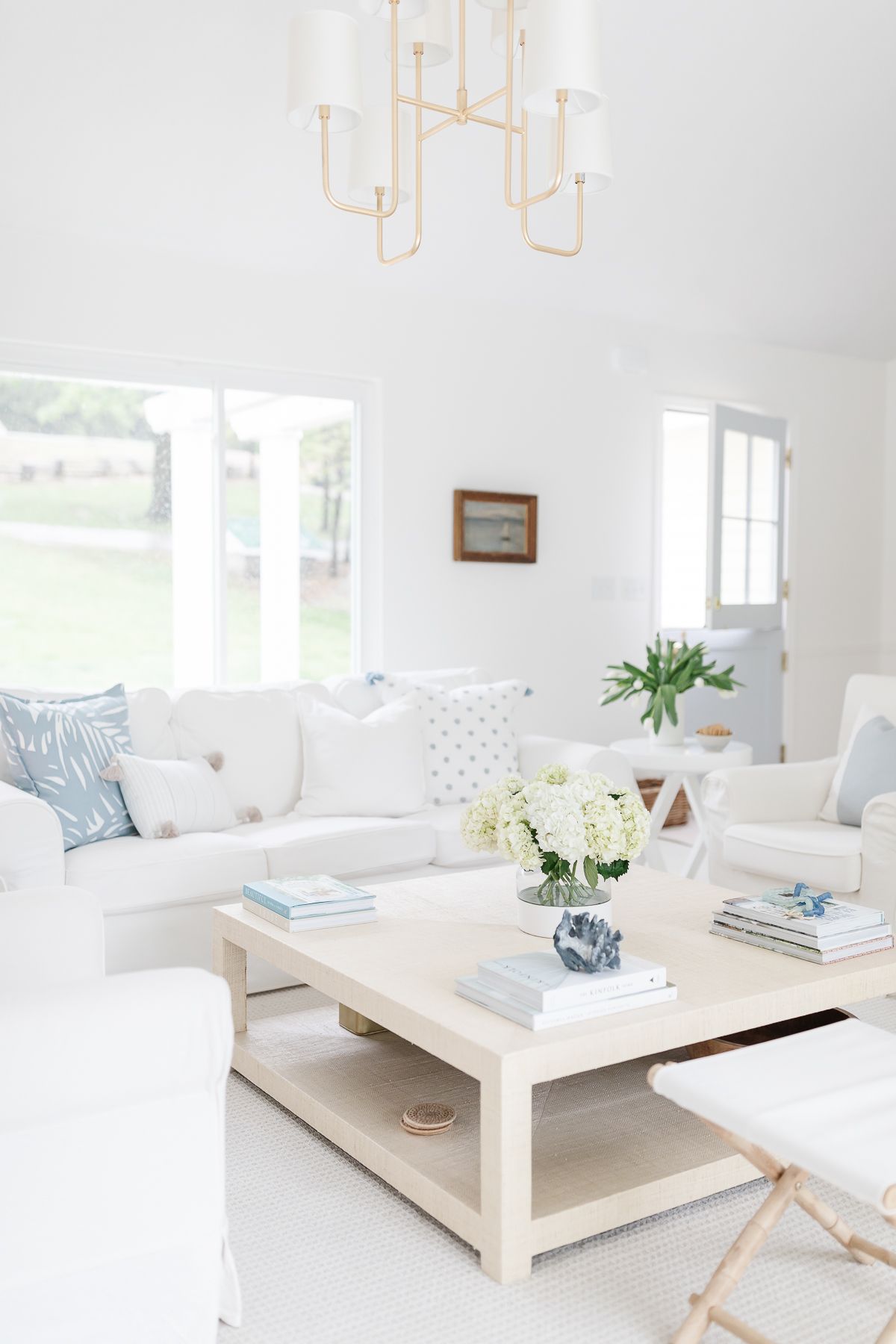 Tips
A coffee table is generally centered in a room, but that's not always the case. Some rooms don't have the right layout to center the table – so instead, center it with your sofa.
Consider length and width of your coffee table as well – not just the height! Choose a coffee table with a length that is 2/3 of your sofa, and a width that allows at least 16″ of leg room between the coffee table and any other furnishings.
The right coffee table height is the one that makes you and your guests feel the most comfortable!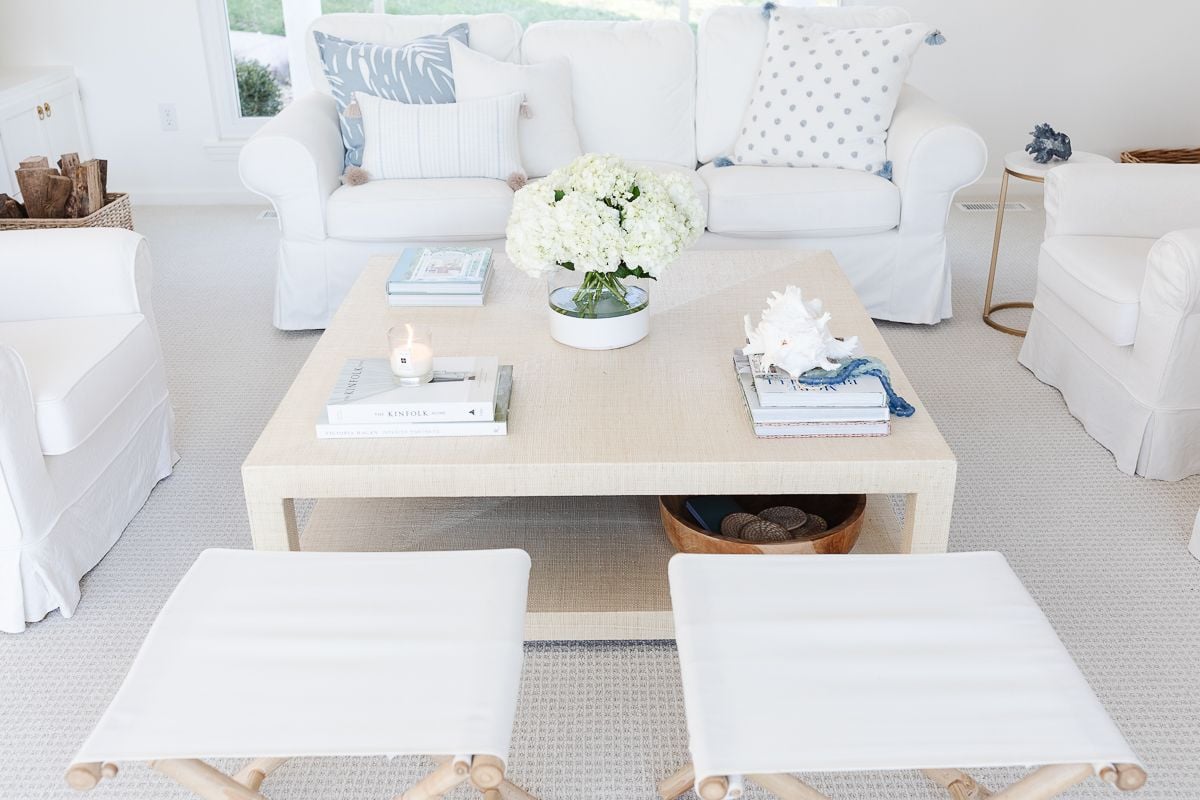 Read more about our Coffee Table Decor and favorite Coffee Table Books in these complete guides!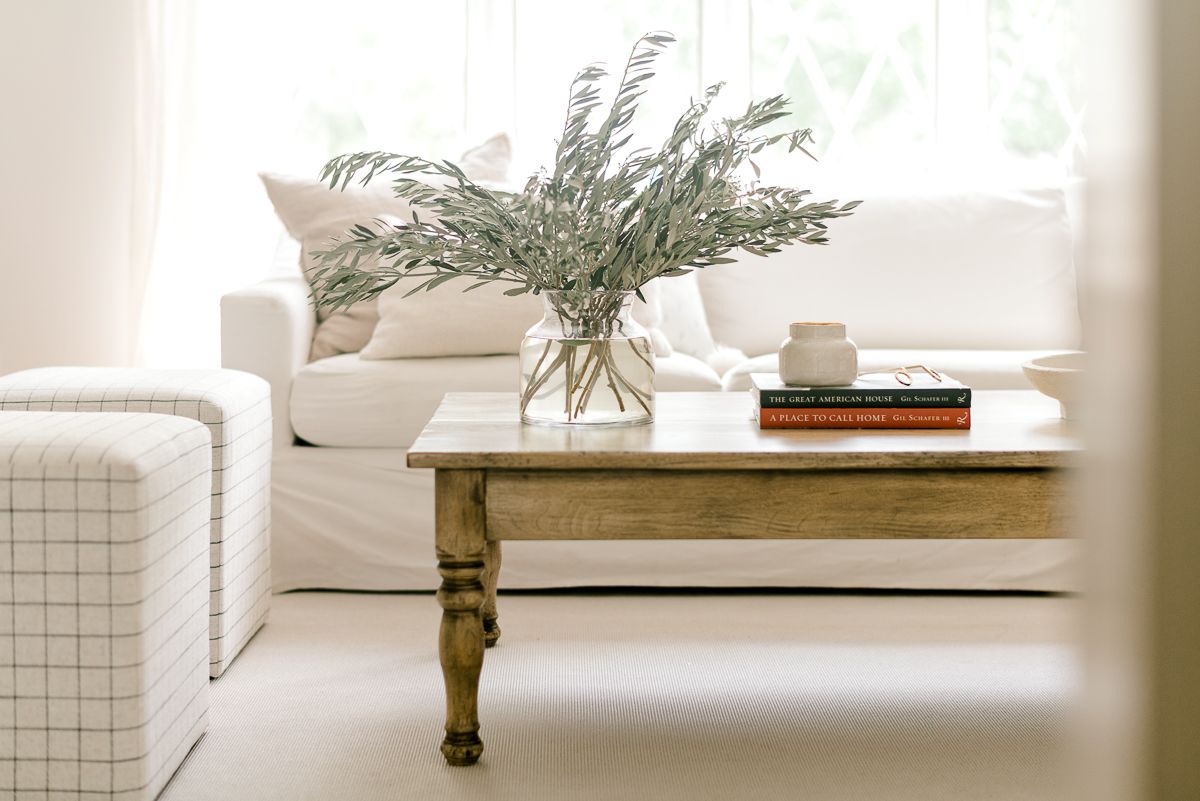 Frequently Asked Questions
What is the standard height of a coffee table?
Most coffee tables will be between 14 and 20 inches tall. However, it's possible to find low slung tables that are as low as 12″ and taller coffee tables that go up to 24″.
How tall is too tall for a coffee table?
Remember, a design guide is just that: a guide. Rules are meant to be broken! However, keep in mind that coffee tables are meant as a comfortable, low table to encourage conversation and provide a spot for drinks to rest.
Generally, you don't want your coffee table to be more than 2-3 inches taller (or lower) than the cushions of your sofa or chairs.
How long should your coffee table be compared to your couch?
A great rule of thumb is that your coffee table dimensions can be approximately 2/3 as long as your sofa. Measure the length of your sofa and narrow down the options from there!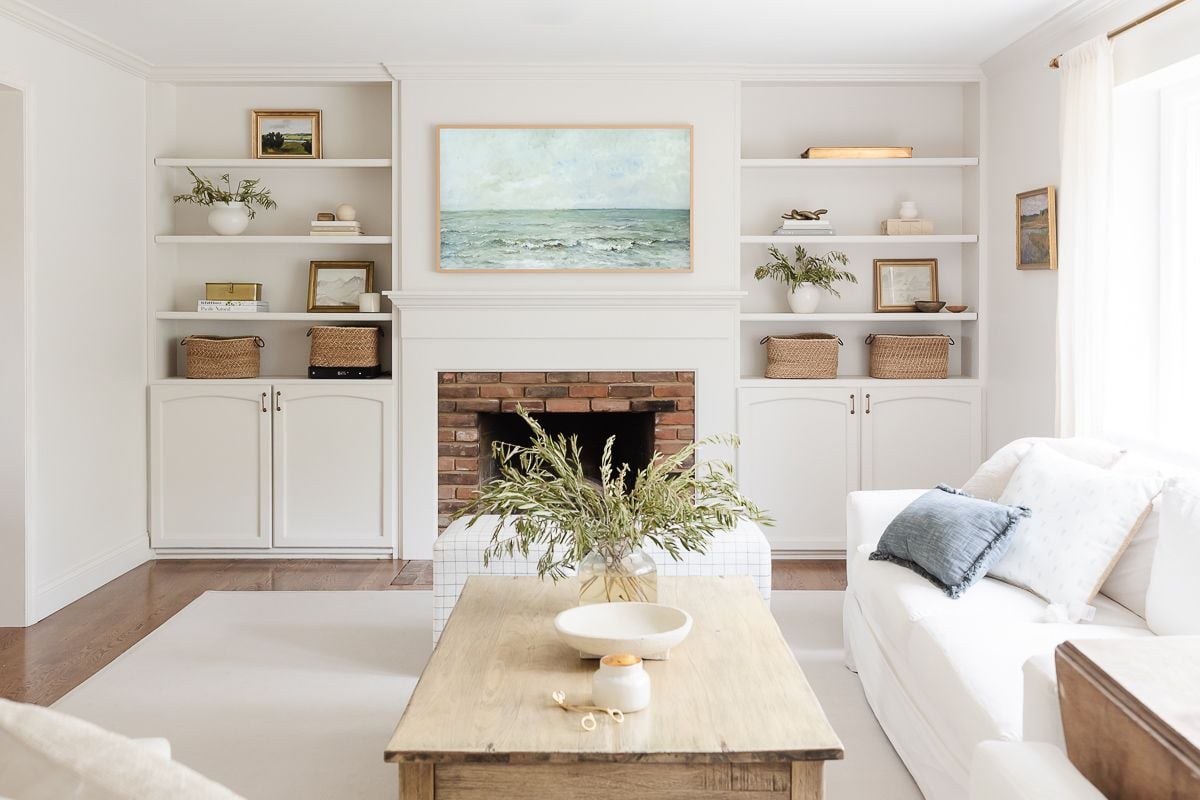 Let's keep in touch! Receive exclusive content, including never-seen-before photos, our favorite home decor DIYs and more!