Get the quick, inexpensive tutorial to create your own Woodland Floral. Woodland Flowers are perfect centerpieces for baby showers, birthday parties, Mother's Day, and more!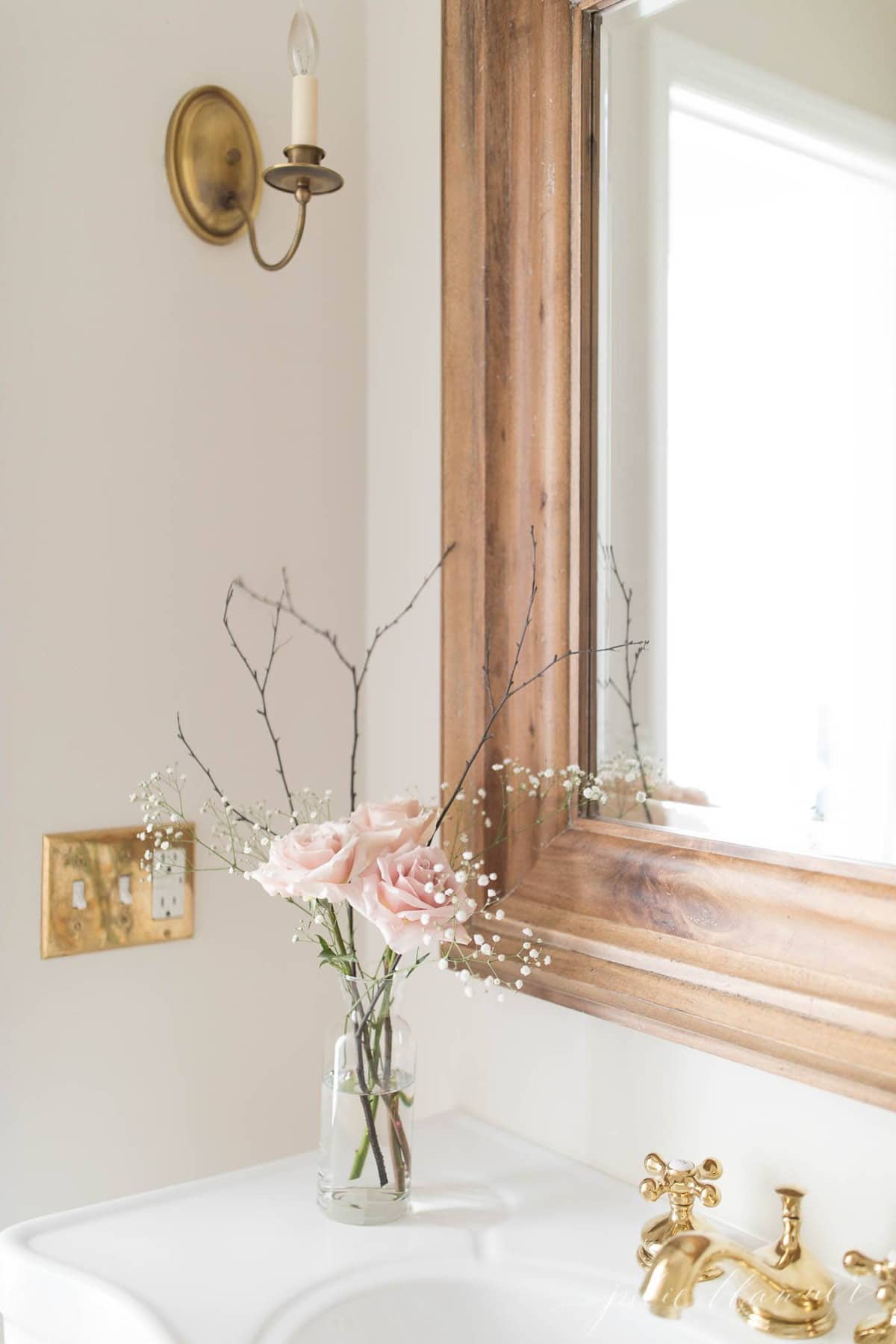 Although I am certainly not a floral expert, I do love to create floral arrangements of all kinds. Designing flowers for our home, as well as friends and family brings me so much joy. Even better, I get to share the photos and details with you!
I've shown you how to make an arrangement of roses and eucalyptus, how to revive hydrangea, and allllll the details about the perennial favorite, peonies.
Recently I hosted my niece's woodland baby shower. I love an occasion to try a new style of floral design! I created a centerpiece in a style that we dubbed woodland floral… it is so simple to make, and yet adds so much charm to your rustic-themed events or gifts.
Supplies to Create This Woodland Floral
This woodland floral centerpiece begins with a simple cylinder vase, which you can find anywhere (Craft/hobby stores, Amazon, Target and more). You can find the one I used right here. With that said, you can use any kind of vase you have on hand! I love that this arrangement is so easily adaptable to a variety of containers. You can even try my DIY Birch Vase for an added element of woodland floral charm!
You can find a flower vase for every occasion here.
Necessary supplies to achieve this look:
6 Roses
3 stems seeded eucaylptus
3 stems fir/pine greenery
5 stems baby's breath
Note: any of these flowers and greenery can be substituted.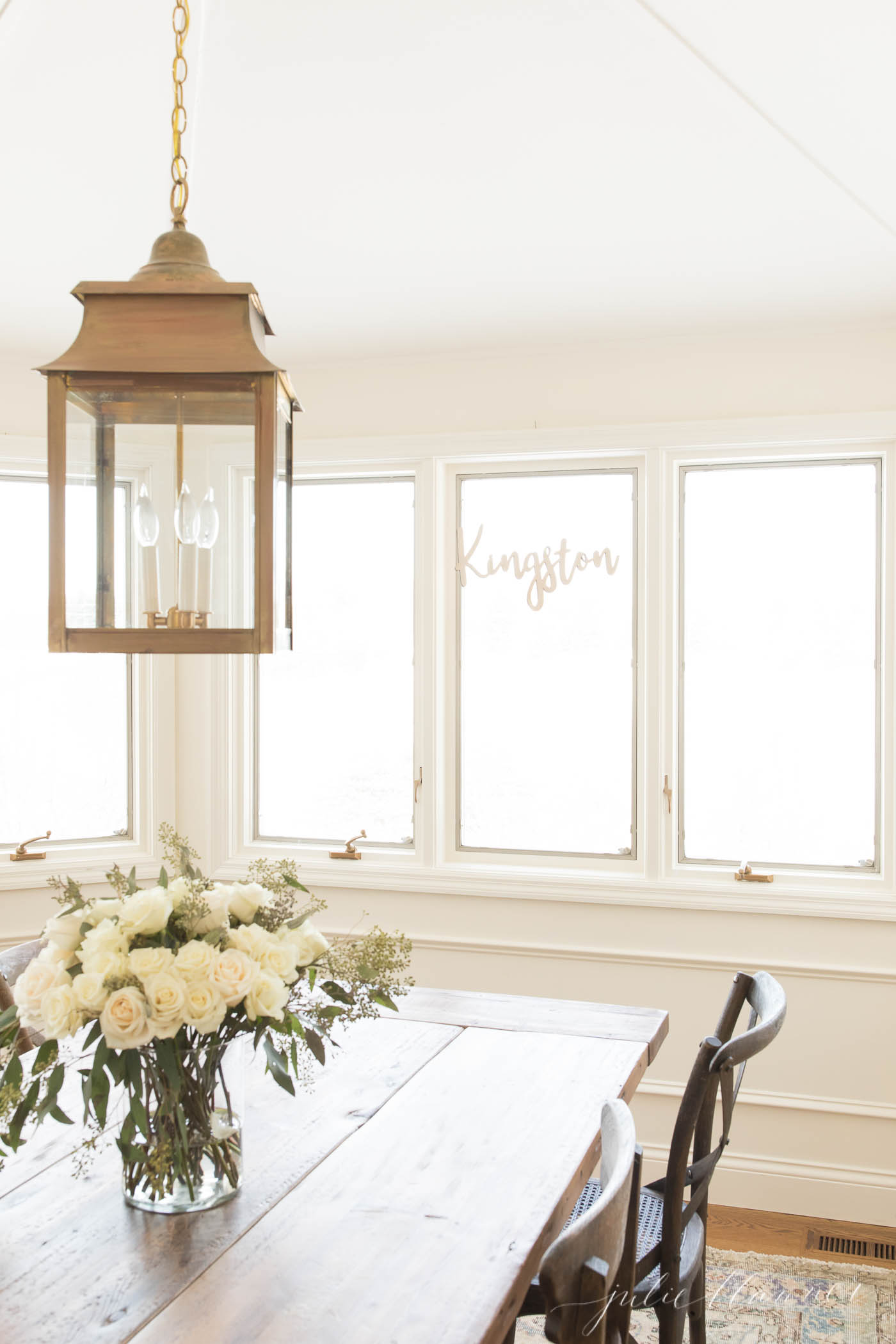 Where To Buy Woodland Flowers
I always have great luck buying inexpensive blooms from our neighborhood grocery stores. We're lucky to have a Trader Joe's near our house, where you can generally find a great selection of fresh flowers and greenery of all kinds.
The great thing about these woodland flowers is that they are all easily accessible blooms! This post of where to buy flowers is a great resource that has a lot of ideas on where to find beautiful blooms.
Don't look past your own backyard! When I was struggling with this arrangement, I decided to grab my clippers and wander around our yard to see what would help me fill in a few spots. I chose some pretty stems of evergreen and they filled in this rustic woodland floral perfectly!
Birch branches are available here. These come in a full bundle that can be used for a variety of decor elements throughout a birthday party or baby shower, so nothing will go to waste.

How to Make a Woodland Floral Arrangement
First, gather your design tools into your workspace (this means your vase, clippers, and all blooms/greenery).
Next, begin to trim the ends of your seeded eucalyptus. You'll place these 3 stems (or more) so that they are draping over the edge of the vase.
Trim an inch from the bottom of your roses, and place them together, centered in the vase as a group.
Trim and then add the baby's breath to fill in any holes. Again, place at a variety of heights for added woodland floral whimsy and charm.
Next, add your evergreen branches. Be sure to place them at a variety of heights to begin to shape your arrangement into a wilder, rustic style. Have fun with it! (If you're anything like me, you'll go back to your yard for more because the evergreen smells so good and adds such a charming rustic touch!)
Finally, add the birch twigs. Use as many as you'd like, adding to the height and rustic woodland floral charm of this design.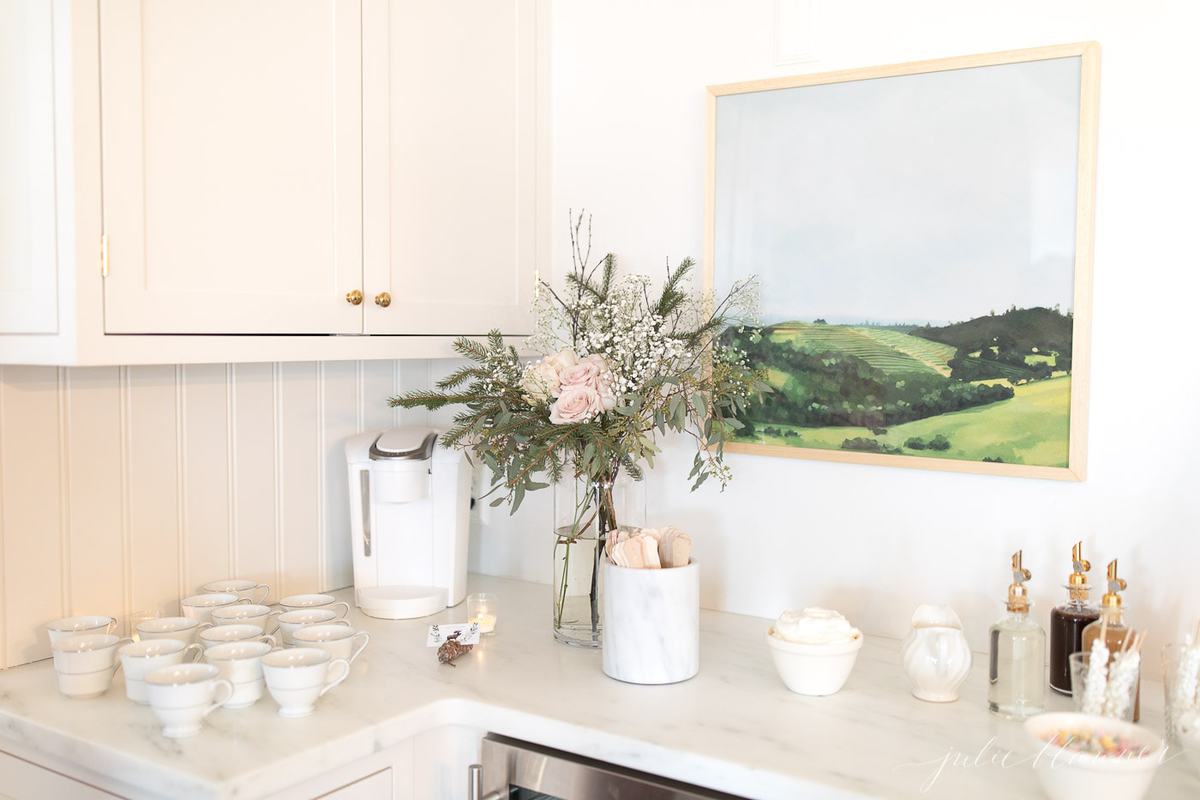 There you have it! Such a charming woodland floral design that you'll be proud to show off to family and friends. You can make smaller versions of it in bud vases as well.
To learn how to make the Roses and Eucalyptus Flower Arrangement here.
Do you love designing beautiful floral arrangements for your family and friends? You can find all my floral design tutorials, tips and tricks right here.
I love sharing all my florist secrets with you! If you make these woodland flowers, I'd love for you to come back and share! Don't forget to share this post on Pinterest and Facebook.
Let's keep in touch! Receive exclusive content, including never-seen-before photos, our favorite home decor DIYs and more!
More Floral Decor Ideas for Parties