Learn how to make Christmas arrangements to incorporate into your home for a beautiful table setting, accents or for a beautiful holiday gift. This step by step Christmas centerpiece DIY will make your home festive for the holidays!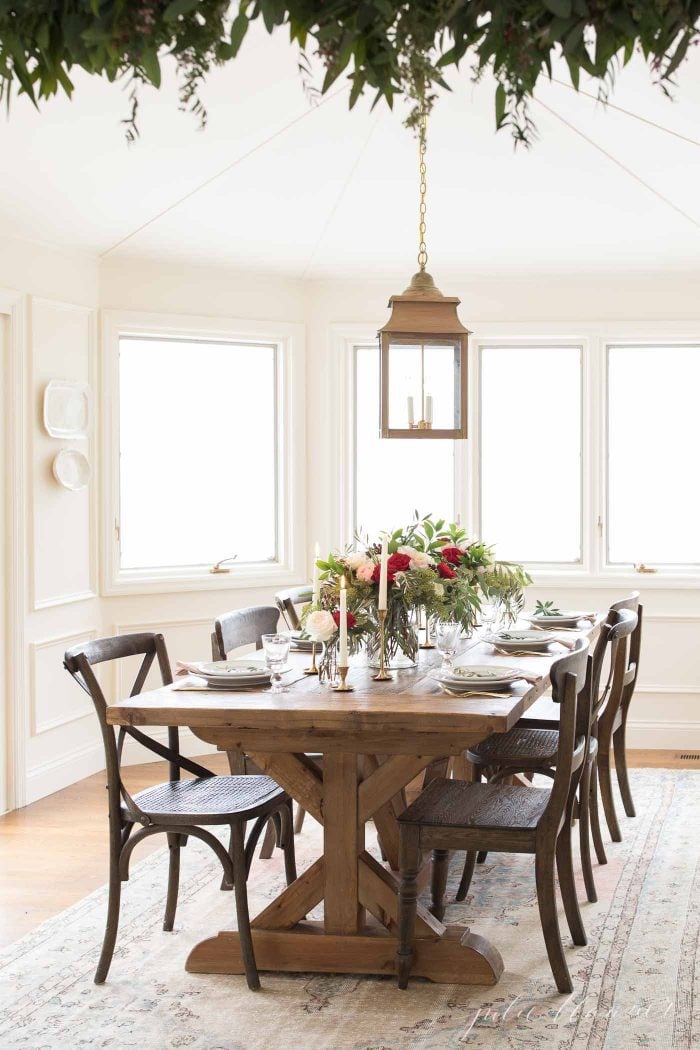 Today, I'm sharing how to make Christmas arrangements and why I decided to mix it up this year!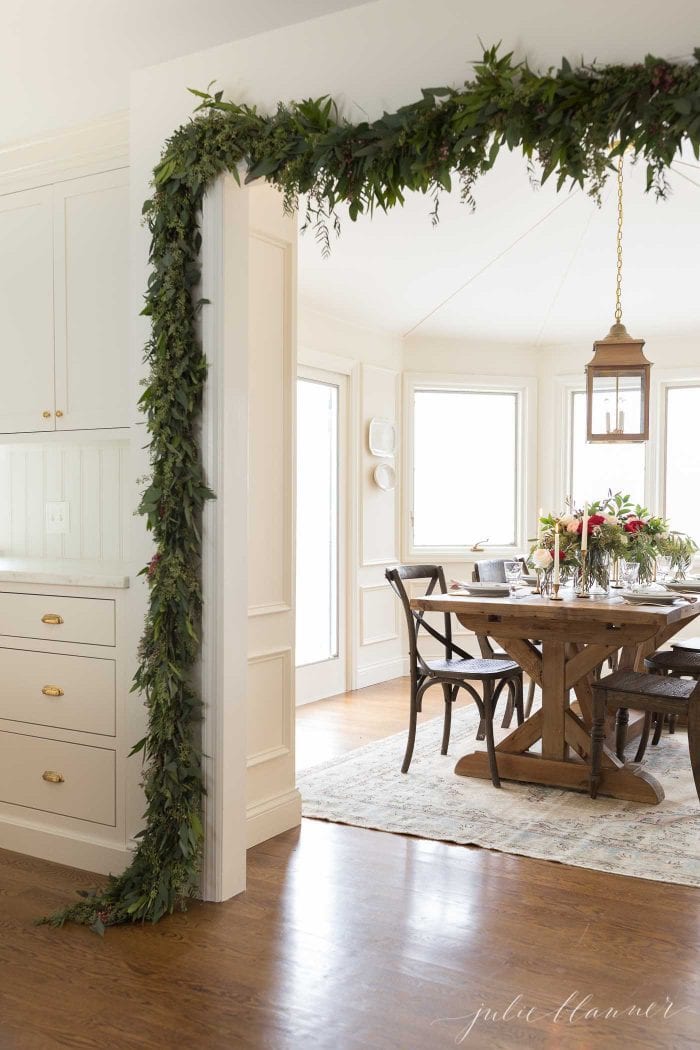 This year I have taken a little reprieve from some of the simple table runners you've come to expect from me like the Winter Flowers, Pomegranate Christmas Table Setting, and Red and Green Garland Centerpiece and Christmas Table Setting which I still love so very much!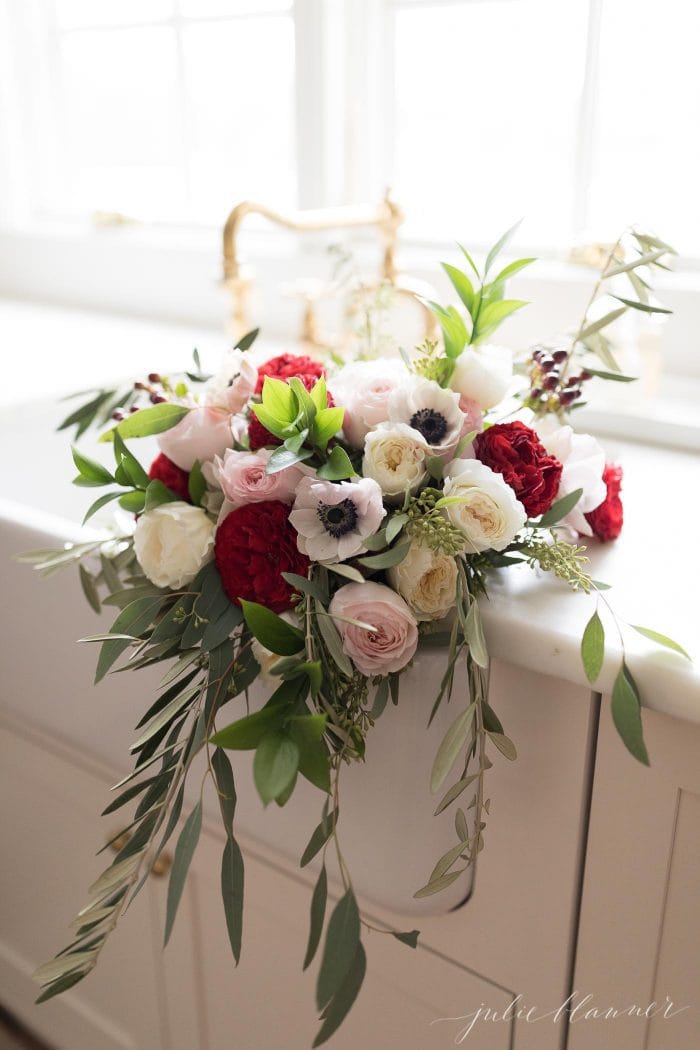 This year I made two large Christmas arrangements and a few small Christmas centerpieces that can be enjoyed before and after entertaining throughout our home or sent home with guests! The larger are perfect for a side table, coffee table or chest while the smaller are perfect for sprinkling into powder rooms and bedrooms.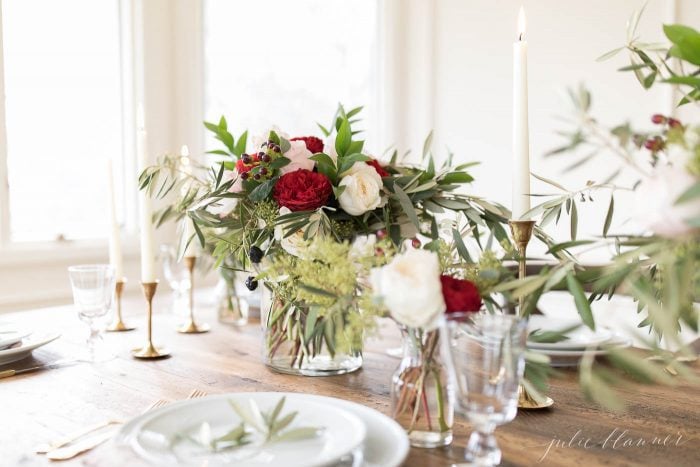 If you've seen my video on how to make a Roses and Eucalyptus Arrangement, you know that Christmas arrangements are easy to make, too! With arranging flowers, you always have a second chance! There's no right or wrong way.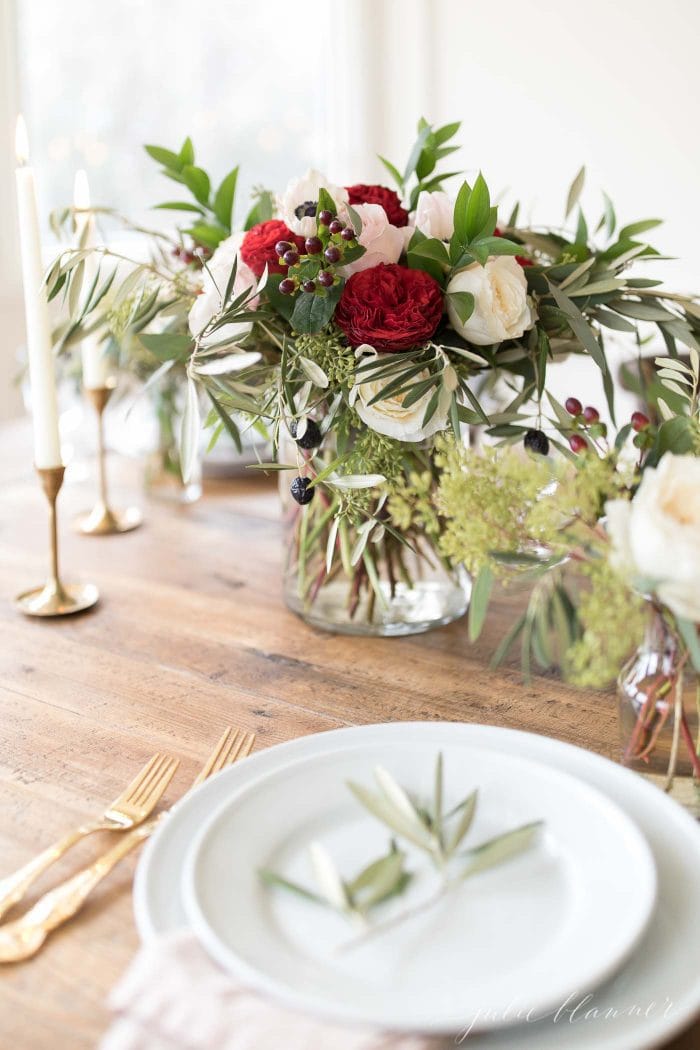 Over the past several years I've had a lot of fun playing with flowers though have had no floral training. You can, too – I'm breaking it down for you step by step.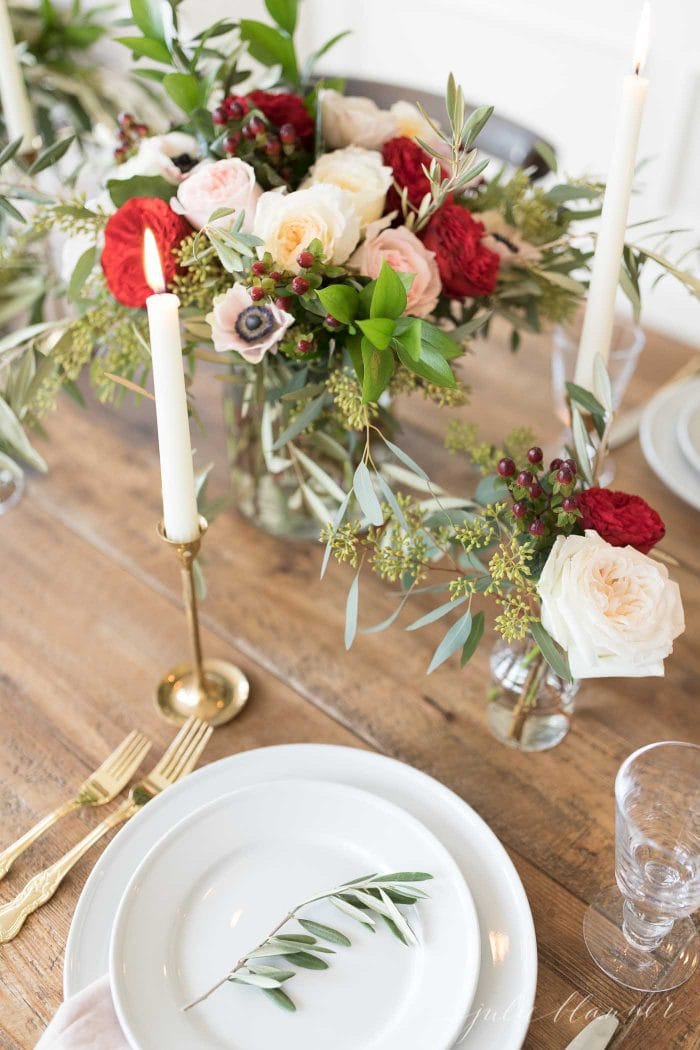 Any of the flowers and greenery can be substituted. You can find most of these at Whole Foods and Trader Joe's, your local florist or grocer. You can also purchase online like I did at FiftyFlowers.com and have them delivered just before you need them.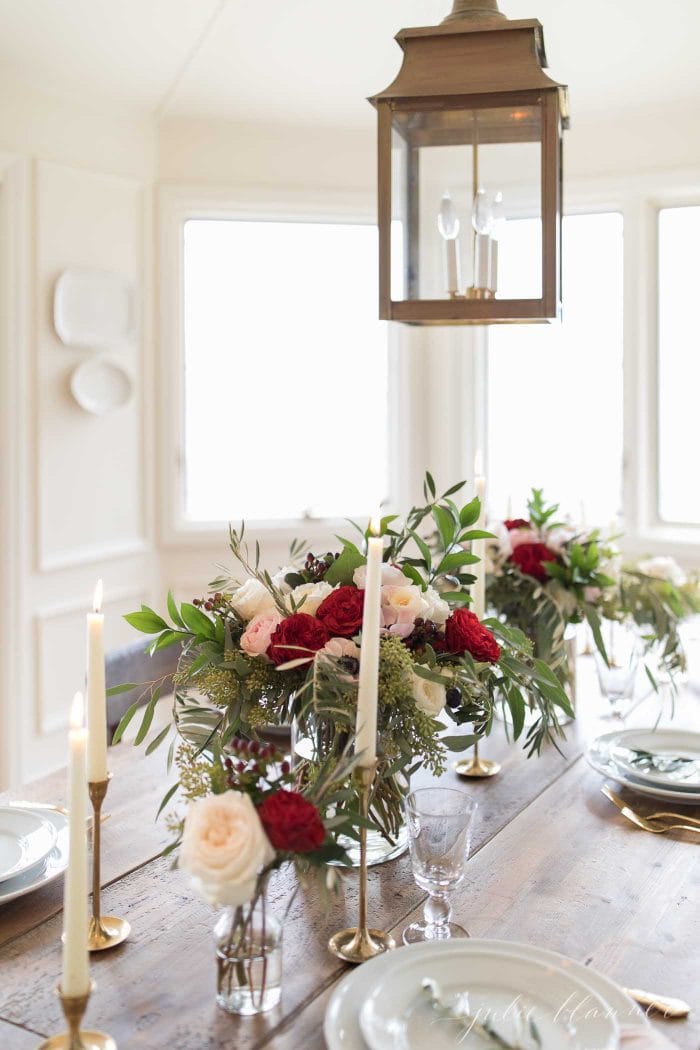 Supplies to Make Your Own Christmas Arrangements
Cylinder Vase (this is my favorite size and shape to work with)
Bud Vases
Floral Pruners (scissors will do, but pruners are much easier to work with)
Flowers (I used pink, ivory and red garden roses and anemones. You can use a variety of colors or make it monochromatic)
Greenery (I used seeded eucalyptus, ruskus and olive)
Hypericum berries (berries off of a tree/bush work well, too!)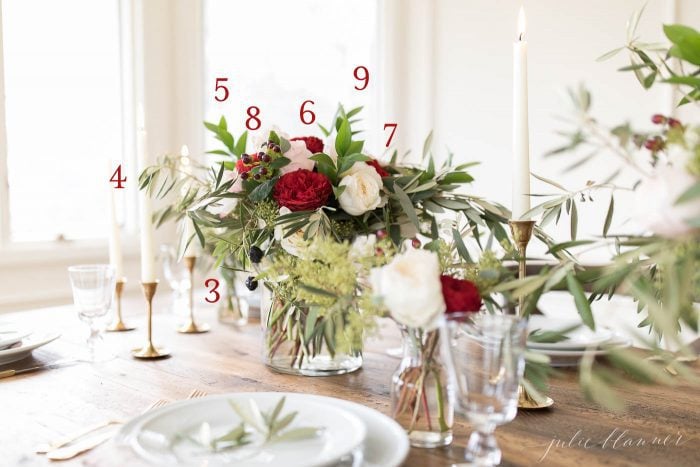 Christmas Centerpieces DIY
Fill your vase with water.
Prep your stems by removing any leaves that may fall below the vase.
Working along the outside, add your first layer of greenery. Choose the drapiest, like seeded eucalyptus. On the outside of the vase, angle the greenery so you can see how you'd like it to fall and what length you would like it to be. I like to do this near the edge of a countertop so I can visually see where I need to cut. Cut at an angle, and repeat with all the stems.
Add your second layer of greenery, like olive, again working along the outside.
Add your third layer of greenery. Set aside remaining stems.
Measure and cut your flowers working in all directions, turning your Christmas arrangements as you work. Work your way inward.
Continue with additional flowers.
Cut 3 stems of berries and insert them to create a triangle, just above the blooms.
Fill in any holes with greenery until your arrangement feels full and adjust as needed.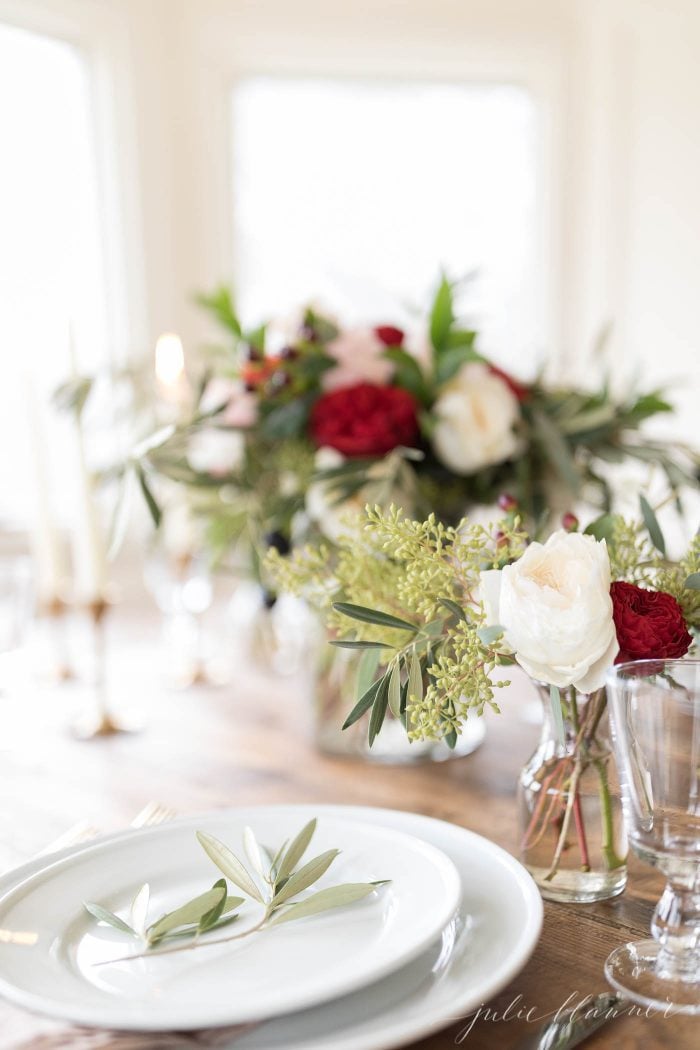 How to Make Small Christmas Centerpieces
If you're not ready to create large Christmas Arrangements, you can group together several small Christmas centerpieces! When mixed with candlelight, you can still achieve a full, beautiful effect and make the table feel special. You can create one for each guest or household to take home!
Fill your bud vase with water.
Measure and cut your first, larger bloom to rest 1-1.5″ above the vase.
Measure and cut your second, smaller bloom to fall just below the larger one.
Cut greenery to 2-3″ taller than the blooms and insert in the back of the vase to the center and sides.
Add hypericum berries to the middle of the vase just behind the blooms.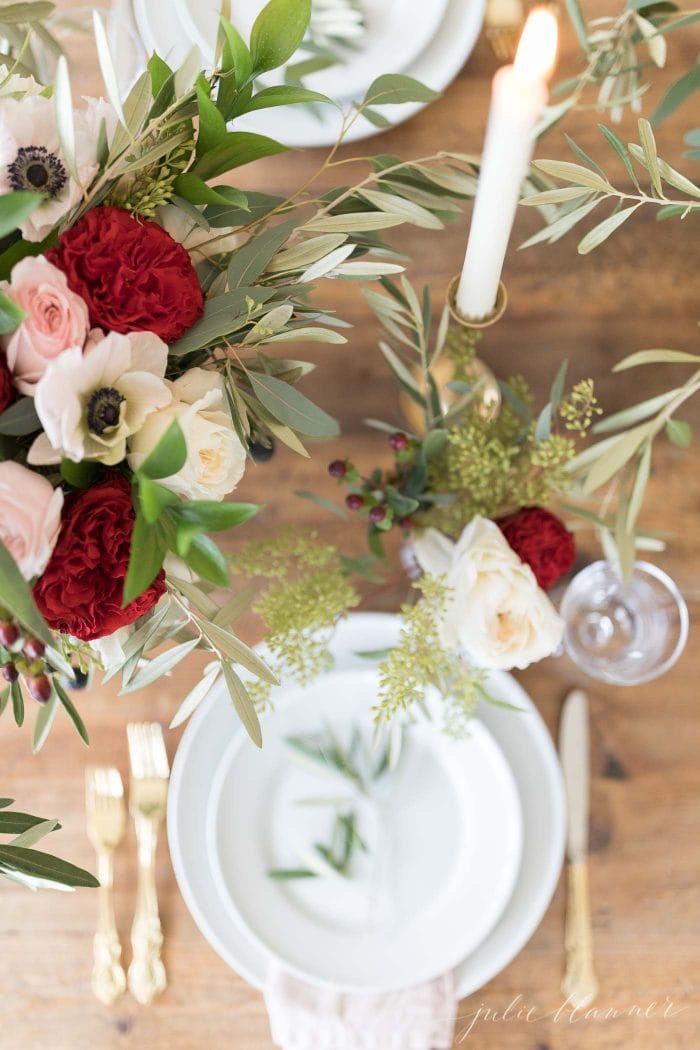 Sprinkled the Christmas arrangements throughout the table with candlelight (for these arrangements I like to use tapers for height) putting the tallest in the center. Add sprigs of greenery at each place setting and your Christmas table will feel warm and elegant!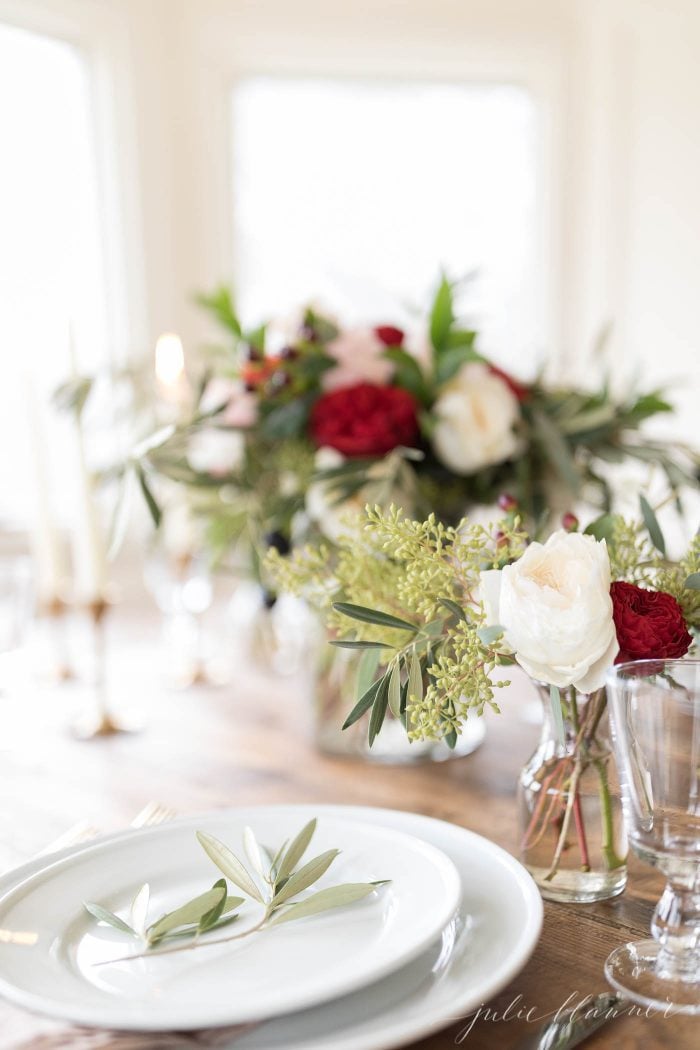 You can get free printable Christmas activities including place cards and a word search to coordinate with this table here!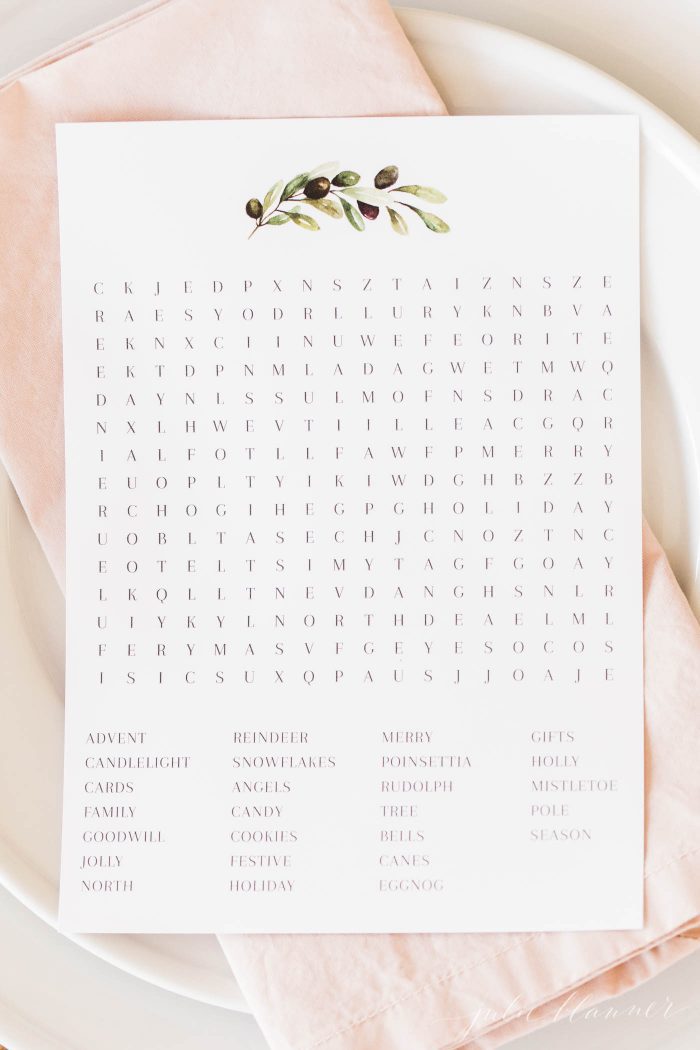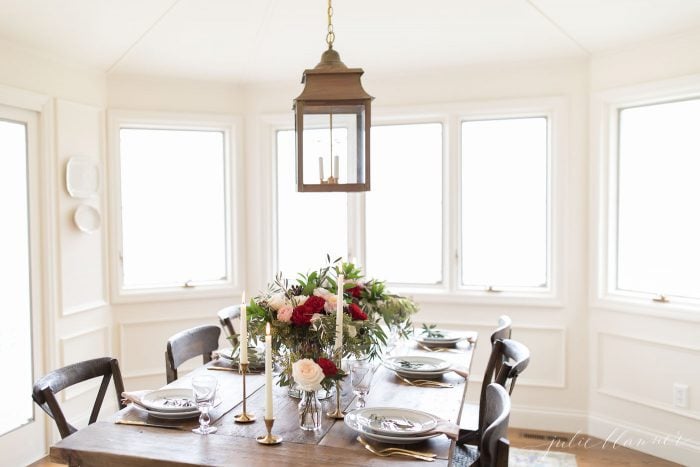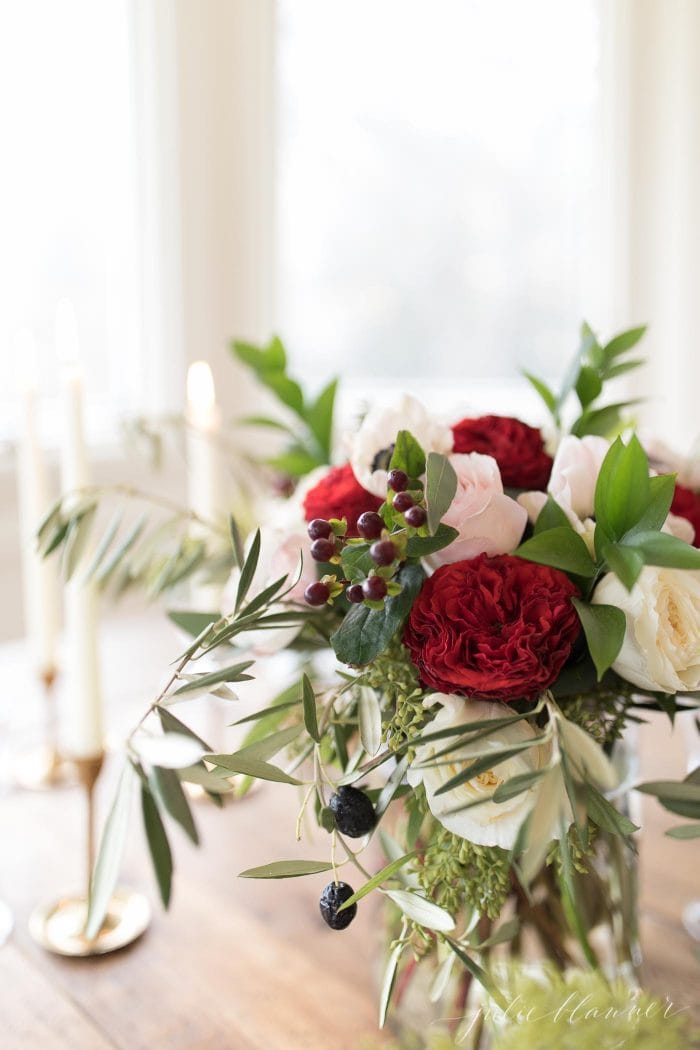 If you create these holiday floral arrangements, let me know! I'd love to hear and see! As always, I'm happy to answer any questions to help you with these Christmas centerpieces DIY!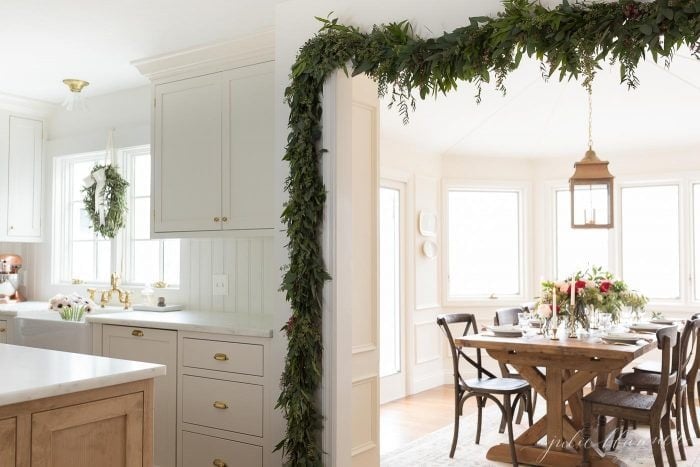 You can also find me on Instagram! I look forward to connecting with you! Check out our charming Wooden Advent Calendar this year.
Let's keep in touch! Receive exclusive content, including never-seen-before photos, our favorite home decor DIYs and more!