A fragrant Homemade Potpourri Recipe with oranges, apples and the trifecta of Fall and Winter spices is so simple to make. With a few tips and tricks along the way, how to use potpourri was never so easy! Gift it to your friends and family during the holiday season to warm their homes and hearts!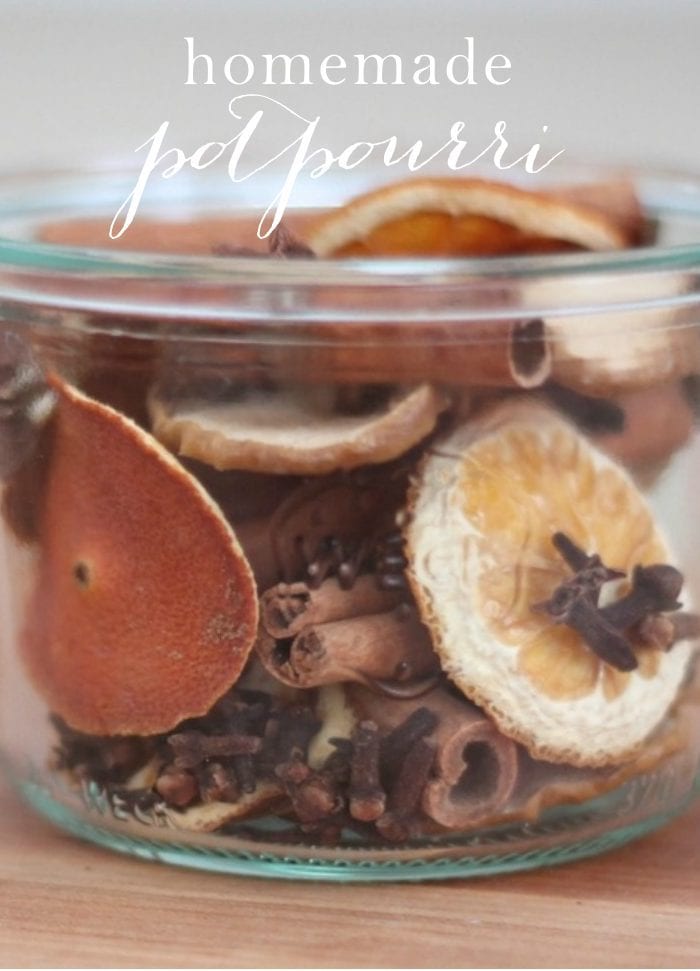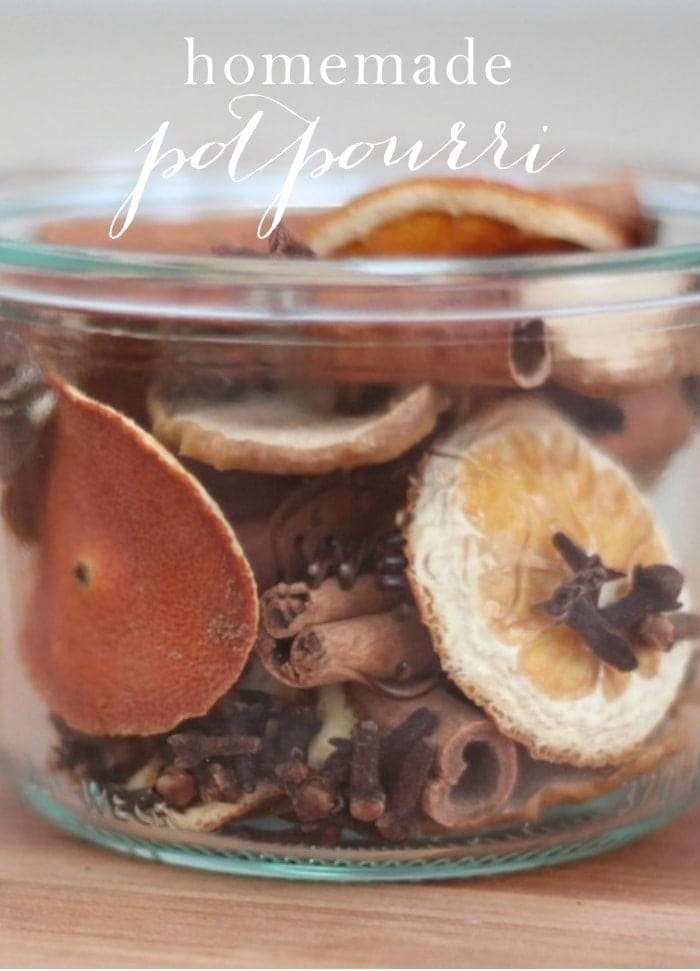 I love gift giving just before Thanksgiving – before the hustle of the holidays, when it's a little unexpected. I consider it a little "thankful for" gift. This homemade potpourri can be enjoyed on the holiday itself simmering on a stove top or all winter long in a dish. It's a perfect project for a cold afternoon at home and will fill your home with fragrance!
A great potpourri begins with great grocery store ingredients. There are no right or wrong ingredients, it's all a matter of preference. However, I love this combination of fruits and spices in fall and winter. They are both fragrant and beautiful, which makes them perfect for gift giving.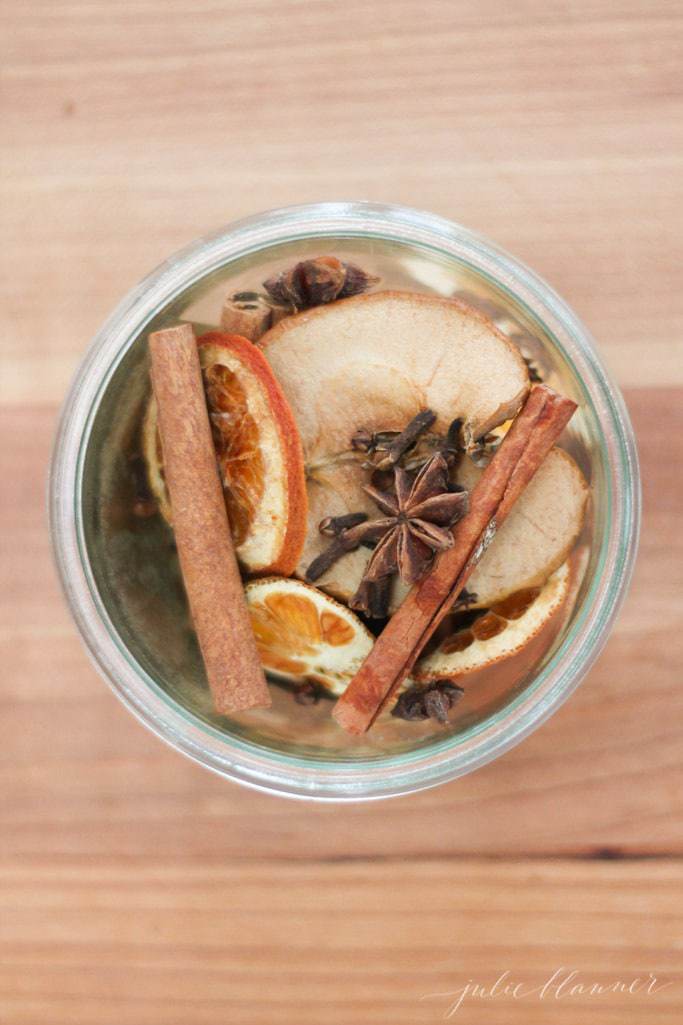 Homemade Potpourri Ingredients
Apples – Any of your favorite variety will do. I really enjoy the fragrance of Pink Lady and Gala apples.
Oranges – The more popular Navel oranges work wonders for a potpourri with oranges, but if you want more of a variety for the holiday season, try Cara Cara or Blood oranges.
Cinnamon – Whole Ceylon cinnamon is the good stuff for this homemade potpourri recipe. It's more fragrant than the commercial Cassia cinnamon.
Cloves – This is the one spice that sings all things Fall to me. Keep a jar on hand for all your holiday recipes.
Star Anise – I really like the sweet, licorice scent of star anise, especially during the holidays. The whole stars make a beautiful presentation for the potpourri gift, too!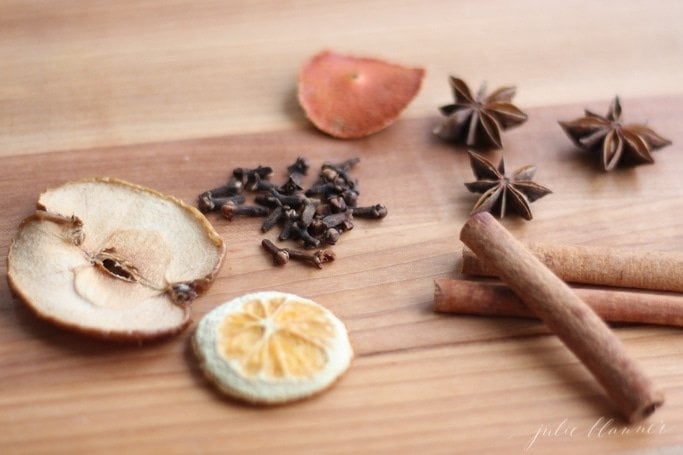 How To Make Homemade Potpourri Recipe
Preheat the oven to 250 degrees.
Slice the apples and oranges as thin as possible.
Place in a single layer on baking sheets. Bake 1 1/2 hours, checking every half hour.
Once dry, mix with the remaining spices.
Jar and allow the flavors to meld together for 1 day before gifting.
Tips for Apples and Oranges
Use a mandoline to slice the fresh fruit for the best thin and even slices.
Placing the sliced fruit in a single layer ensures the slices will dry evenly. Use two baking sheets, if needed.
Apples will continue to crisp once they're removed from the oven. Oranges will stay about the same texture.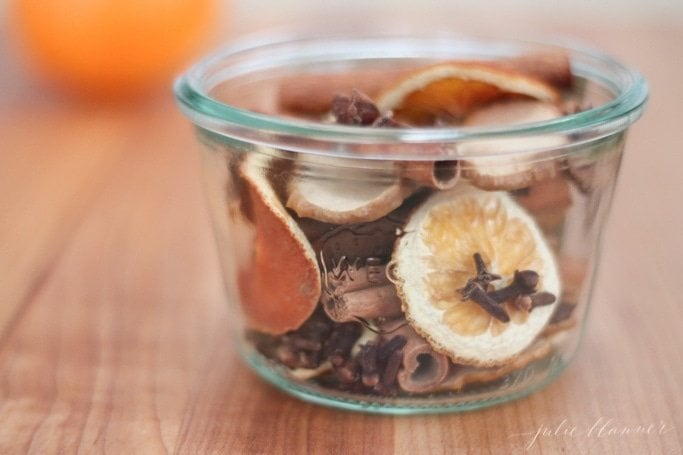 How to Use Homemade Potpourri
Homemade potpourri can be placed in a dish for up to a few months. The perfect amount of time for those long winter months. Get a little extra life out of your dried potpourri by using the stovetop method before disposing of it.
For the stovetop method and one-time use, boil 2 cups water, add potpourri and reduce to a simmer. Just make sure to check it after a few hours, as the water will start to reduce to just about nothing.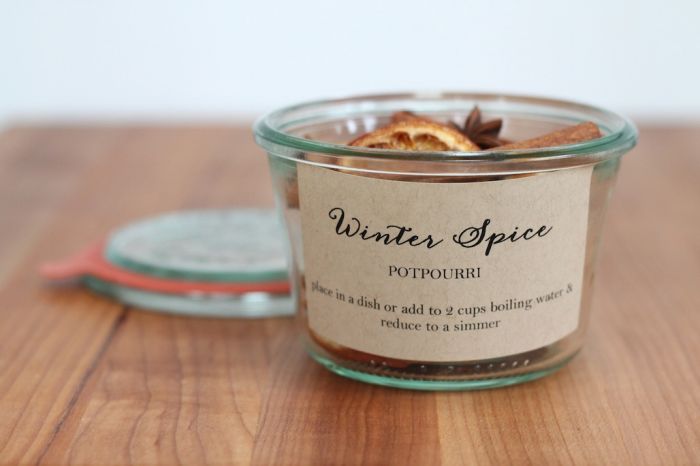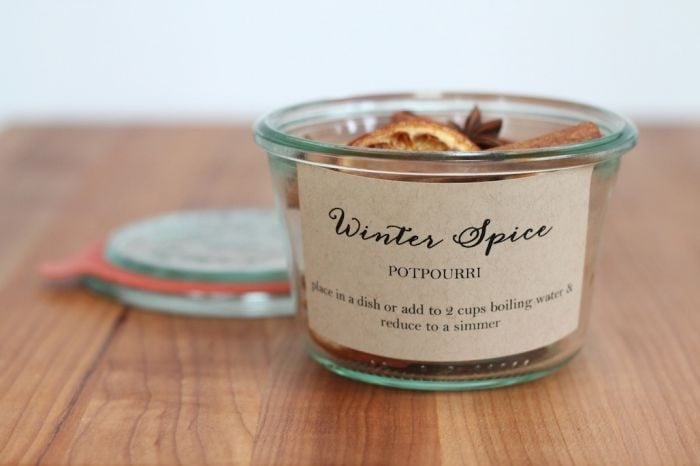 How to Store Fruit and Spice Potpourri
I like to store and gift my homemade potpourri in classic weck jars with a custom, printable label. The clear glass makes for a beautiful gift. Small mason jars would work, too.
More Homemade Gifts You'll Love:
If you try this Homemade Potpourri recipe, please come back to share using my 5 star rating in the comments below! Not only do I appreciate it, but I know readers do, too! For more easy recipes and simple living ideas, subscribe to my newsletter!
LET'S CONNECT! instagram | newsletter | facebook | pinterest
Homemade Potpourri Recipe
Fragrant homemade potpourri recipe that is perfect for gift-giving. Use dry or simmer on the stovetop for a fall or winter scent that will warm your home.
Ingredients
apples

oranges

cinnamon sticks

cloves

star anise
Instructions
Preheat oven to 250 degrees.

Slice apples and oranges thin, really thin.

Place in a single layer on cookie sheets and bake for an hour and a half, check every half hour thereafter.

Once dry, mix with your spices.

Jar and allow to "marinate" for a day before gifting.
Notes
Use any of your favorite variety of apples.
For an extra special touch, try Cara Cara or Blood Oranges.