Peppermint Bark is a traditional Christmas candy made with layers of chocolate, refreshing peppermint, and crushed candy canes for added crunch.
When topped with thick flakes of sea salt, it's an incredible sweet and salty treat that you simply can't miss.
Easy to make, but gorgeous to serve (and gift) this is a delicious holiday recipe you're going to want to keep forever!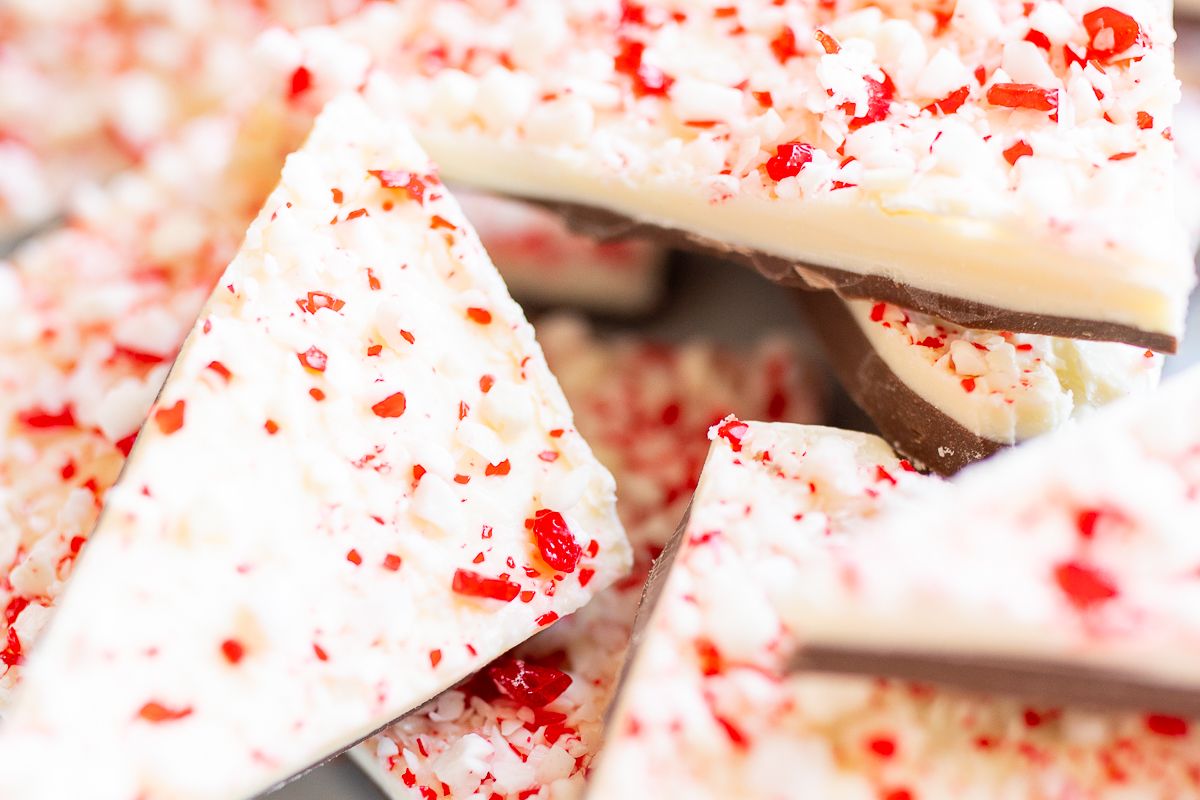 One of my biggest weaknesses is a sweet and salty combination and this Salted Peppermint Bark is no exception! Fortunately, 'tis the season for indulging – and gifting!
I love sharing cute and easy ideas for your holiday celebrations – my cranberry and orange sweet bread is a classic reader favorite, and these reindeer brownies are another oh-so-simple treat option you'll love!
If you love peppermint as much as I do, you'll have to check out my ultimate peppermint dessert guide. It's filled with great recipes and detail about this delicious winter flavor.
Salted Peppermint Bark is made with just four ingredients! It's so easy and delicious it might become a permanent part of your holiday treat line-up.
While Peppermint Bark has been around for years, Williams Sonoma has made it a holiday staple. It is widely available at retailers including Costco and Trader Joe's, but makes a thoughtful and beautiful homemade Christmas gift.
Gift it in a tin, stacked in a cellophane bag or on a cookie platter!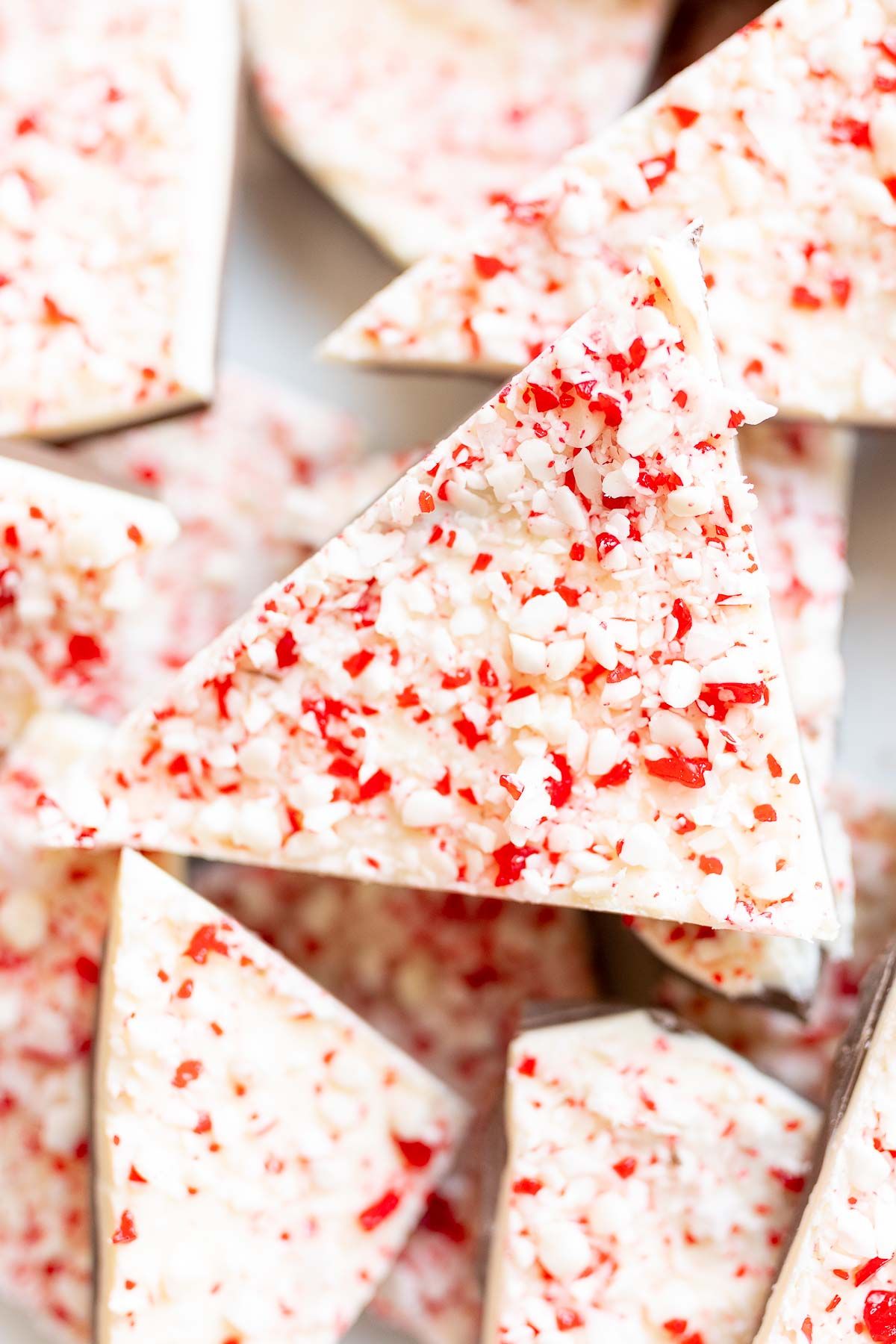 Why You'll Love Peppermint Bark
I love how easy and quick it is to make bark and it makes a huge batch as well that will easily see you through the holidays! It doesn't have an overly strong flavor to it and it's a hit with kids and adults alike.
Easy to Make
No Candy Thermometer Required
Great for Gifting
Pretty for Parties
Made with Pantry Ingredients
★★★★★

5 STAR REVIEW

"I've made bark before but it never really set or turned out all that pretty until I started using this recipe. The doubling up of white chocolate over the dark really makes such a difference. Thank you for this!"

— BILLY —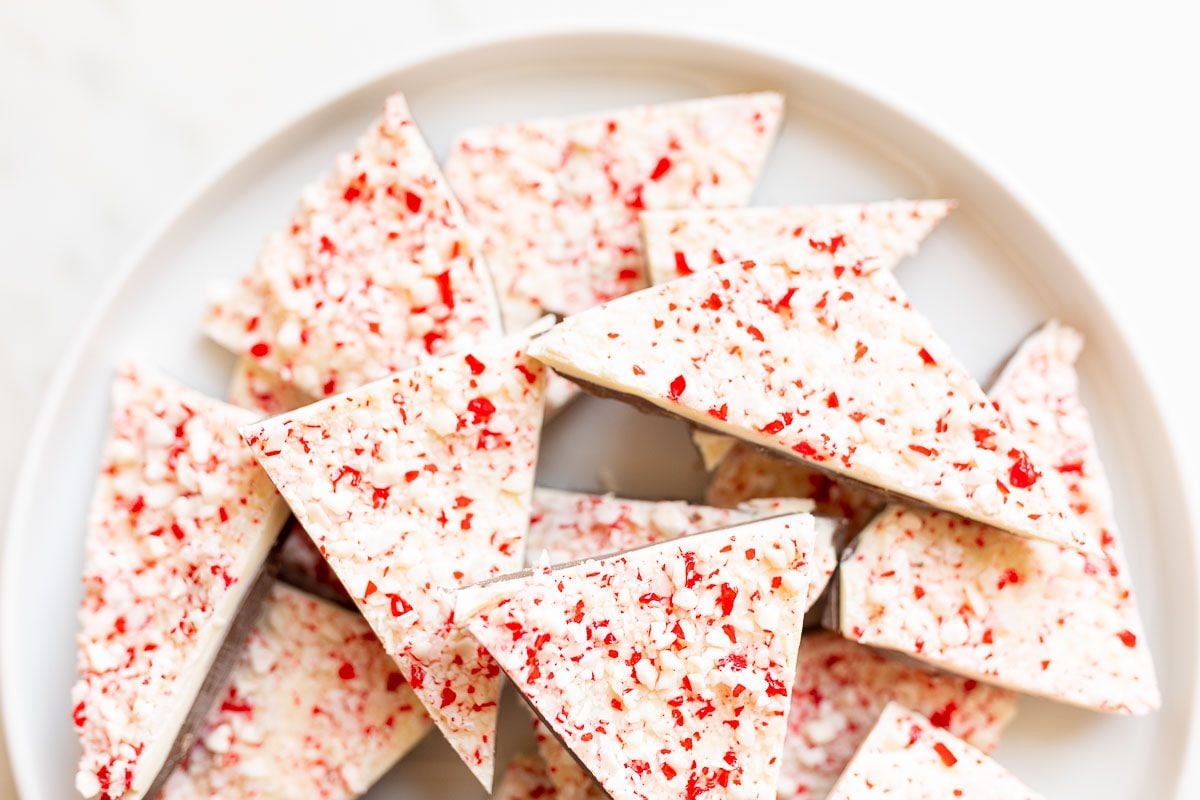 Ingredients and Substitutions
Chocolate – Chocolate chips, melting wafers, or candy melts work best, but you can also use almond bark. Use dark chocolate, semi-sweet or milk chocolate.
White Chocolate – White chocolate chips, melting wafers, almond bark or candy melts.
Crushed Peppermint – You can also used crushed candy canes.
Sea Salt
Peppermint Extract – Optional.
Variations
Use all Dark Chocolate
Swirl White Chocolate into Chocolate
Add Crushed Pretzels
Add Crushed Toffee
How to Make Salted Peppermint Bark
Melt chocolate in the microwave or double boiler, and pour onto parchment paper.
Meanwhile, melt white chocolate and add optional peppermint extract. Pour on top of chocolate before it is completely set. This will keep it from separating when cutting. Add crushed peppermint and sea salt and allow to set for 30+ minutes.
Cut into pieces using a sharp knife and enjoy!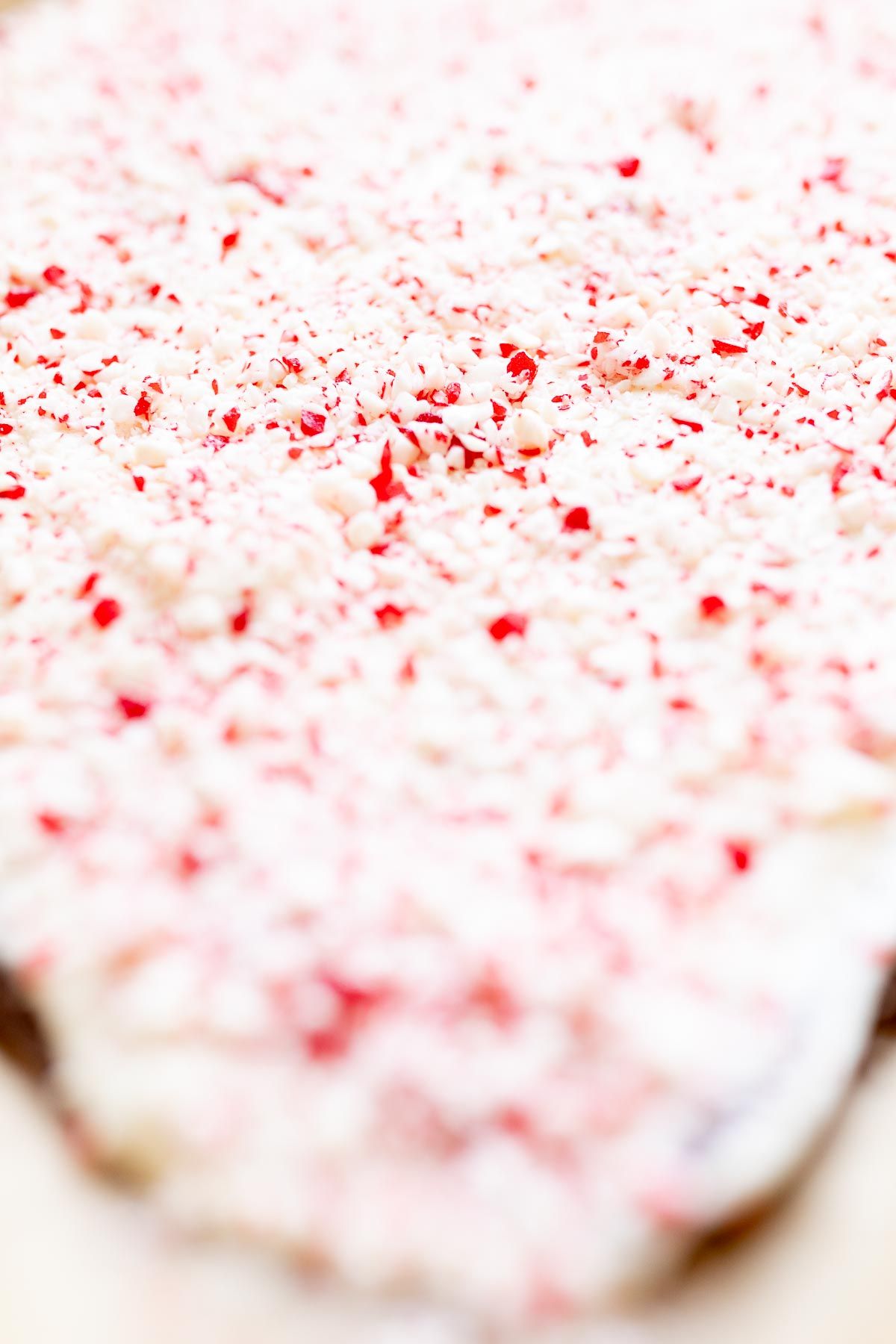 How to Melt Chocolate
Unlike my mom's amazing peanut brittle, you don't need any special equipment to make Salted Peppermint Bark. No candy thermometer required!
You can melt the chocolate in the microwave in 30 second increments and as it melts reduce to 15 second increments stirring in between.
Or make a double boiler like I often do, filling a large pot with a 1 1/2 inches of water over medium low heat and placing a smaller pot on top to melt the chocolate.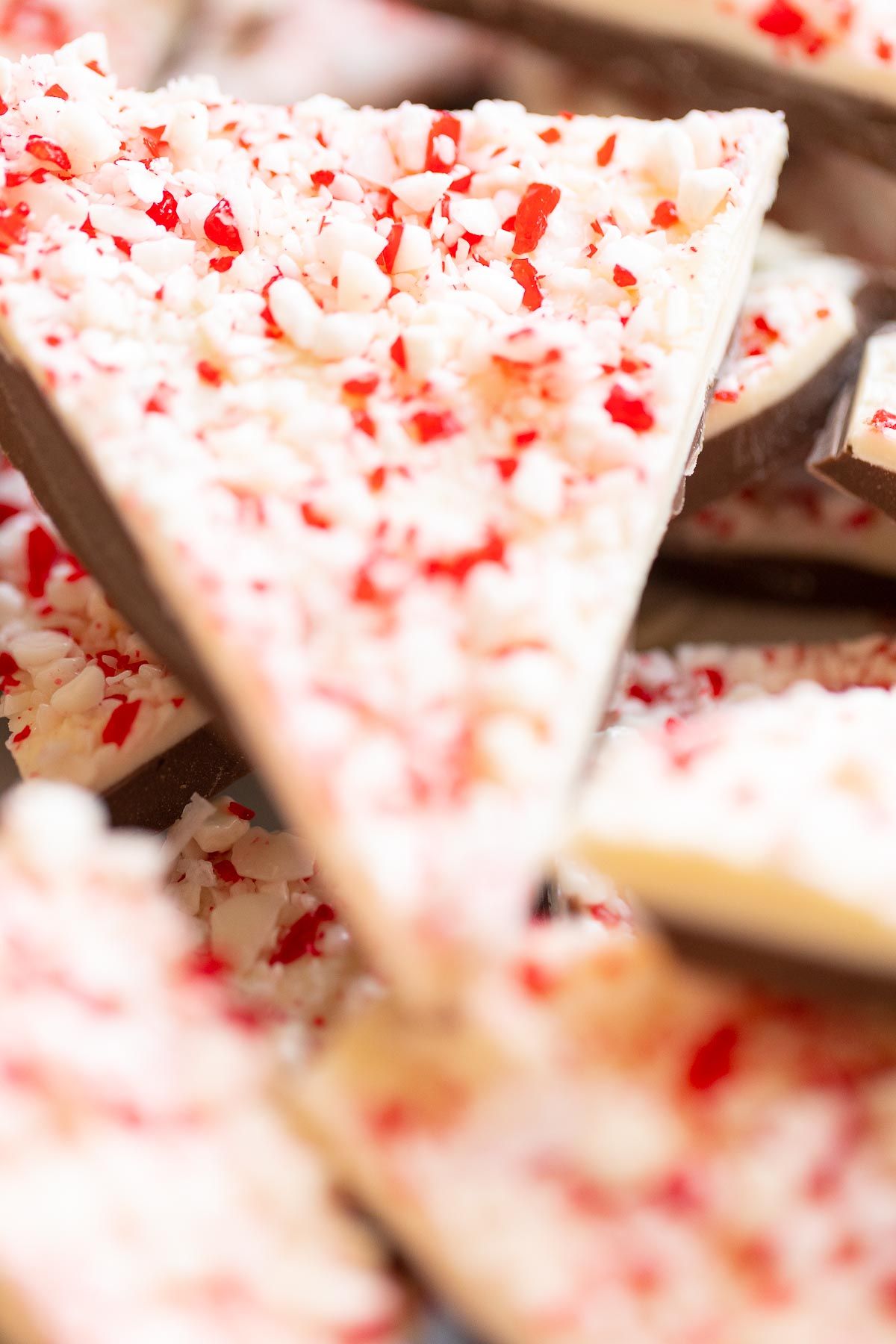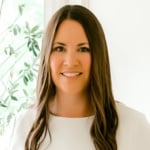 Tips
Pour white chocolate on top of chocolate when it is partially set to prevent separating.
You can use sea salt in a salt grinder set to the largest setting to achieve small flakes or use sea salt flakes. Sea salt flakes are more noticeable but both give the same flavor.
Use a food safe peppermint extract.
Use your favorite chocolate brand for this recipe, but look for a high quality option.
Allow the bark to set completely before you try to break it apart. Ideally, this will happen at room temperature to prevent separation of the layers!
Frequently Asked Questions
Why is my peppermint bark separating?
This occurs sometimes for a couple reasons – one, the temperature of your layers is too far apart (hence my tip to add the second layer when the first is only partially set). Another reason might be that your peppermint bark isn't at room temperature when you try to break it – be patient and let it set up completely.
Why do they call it peppermint bark?
This name is figurative, and based off of tree bark that easily peels and breaks from the trunk of trees.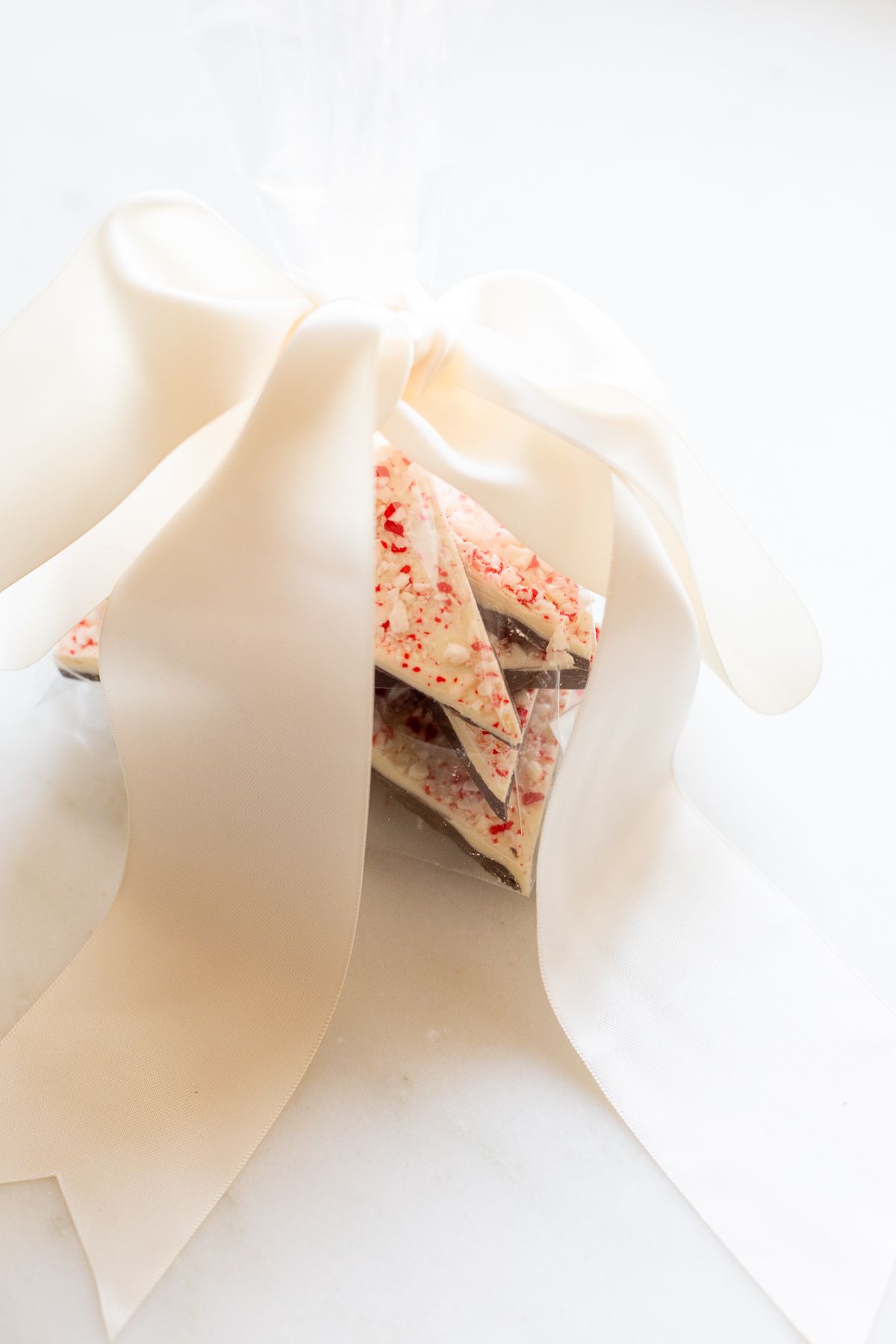 Peppermint Bark Gift
I always like to have a share plan when I'm baking and making candies. Peppermint Bark makes a beautiful gift and is simple to make.
I like to gift wrap it with cellophane bags and a ribbon! Even better, you can use my FREE printable gift tags for a customized touch.
Dietary Considerations
How to Store
Room Temperature – If stored properly, this salted peppermint bark will last for several weeks in an airtight container at room temperature. Choose a cool, dark place for storage.
Refrigerator – If your home is generally too warm, you can also store this Christmas bark in the refrigerator. You risk the colors running together with moisture, though, so be aware.
Freezer – You can freeze your peppermint bark for up to three months. Wrap it in an airtight container. Again, you'll risk condensation so be careful when thawing!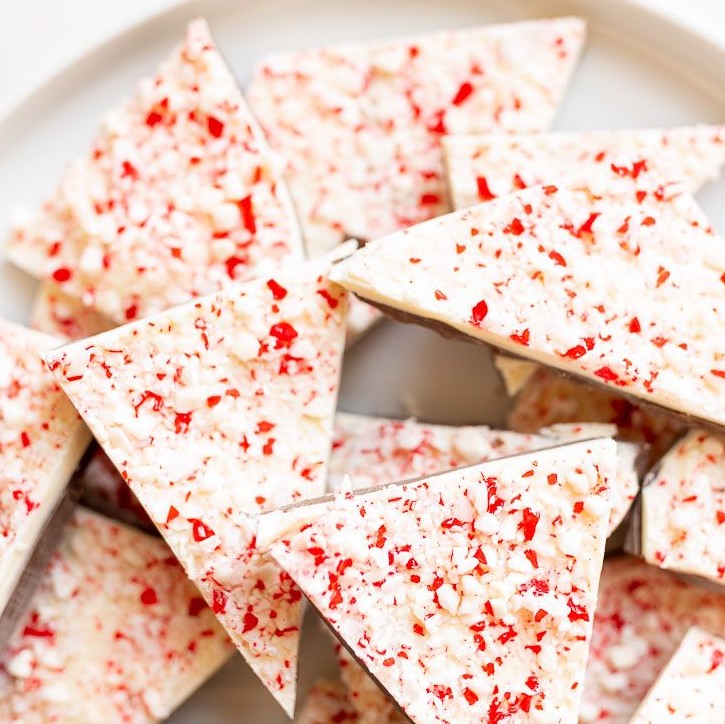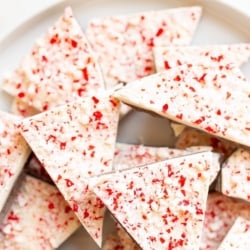 Salted Peppermint Bark
Salted Peppermint Bark is an elevated version of peppermint bark, a traditional Christmas candy. It's a blend of sweet and salty with a cool refreshing flavor topped with peppermint and sea salt flakes for added crunch.
Instructions
Line cookie sheet with parchment or wax paper.

In a double boiler (or microwave), melt chocolate stirring continuously. This usually takes about five minutes – less in the microwave. Just ensure that it's totally melted and smooth.

Pour melted chocolate onto cookie sheet and spread until smooth. Allow to partially set for a few minutes (at room temperature) while you move on to the next step. (This keeps it from separating.)

In a double boiler (or microwave), melt white chocolate stirring continuously. Add peppermint extract.

Spread onto partially set chocolate.

Add crushed peppermint and sea salt flakes.

Allow to set and cut into pieces.
Tips
You can use sea salt in a salt grinder set to the largest setting to achieve small flakes or use sea salt flakes. Sea salt flakes are more noticeable but both give the same flavor.
Use a food safe peppermint oil so you don't seize the chocolate.
Use your favorite chocolate brand for this recipe.
If you need to crush your peppermint sticks or candy canes, try adding them to a Ziplock baggie and rolling with a rolling pin.
Store in a cool place in an airtight container for several weeks.
Calories:
105
kcal
|
Carbohydrates:
12
g
|
Protein:
1
g
|
Fat:
6
g
|
Saturated Fat:
4
g
|
Cholesterol:
2
mg
|
Sodium:
91
mg
|
Potassium:
34
mg
|
Fiber:
1
g
|
Sugar:
12
g
|
Vitamin A:
4
IU
|
Vitamin C:
1
mg
|
Calcium:
26
mg
|
Iron:
1
mg
Estimated nutrition information is provided as a courtesy and is not guaranteed.
Explore More