Pizza is a dinner that is always a winner – for kids and adults alike. Try this prosciutto pizza recipe for a sweet, salty, and creamy pizza that you'll crave again and again.
I love to look beyond the pepperoni and introduce unique flavors and combinations into pizza. The crust on pizza is a blank canvas for countless options of toppings, including "porky fig."
What is "Porky Fig?"
Porky fig is the delightfully popular blend of prosciutto and fig. This combination of meat and fruit can be used in so many ways: salads, sandwiches, appetizers, and pizza! This is one bandwagon I am all over. It's a staple at Dewey's Pizza.
Prosciutto has long been a favorite meat in our house. The super fine slices of salty cured ham practically dissolve in your mouth. It is amazing on sandwiches, pasta, chicken, and pizza, of course! I've even wrapped peaches in prosciutto!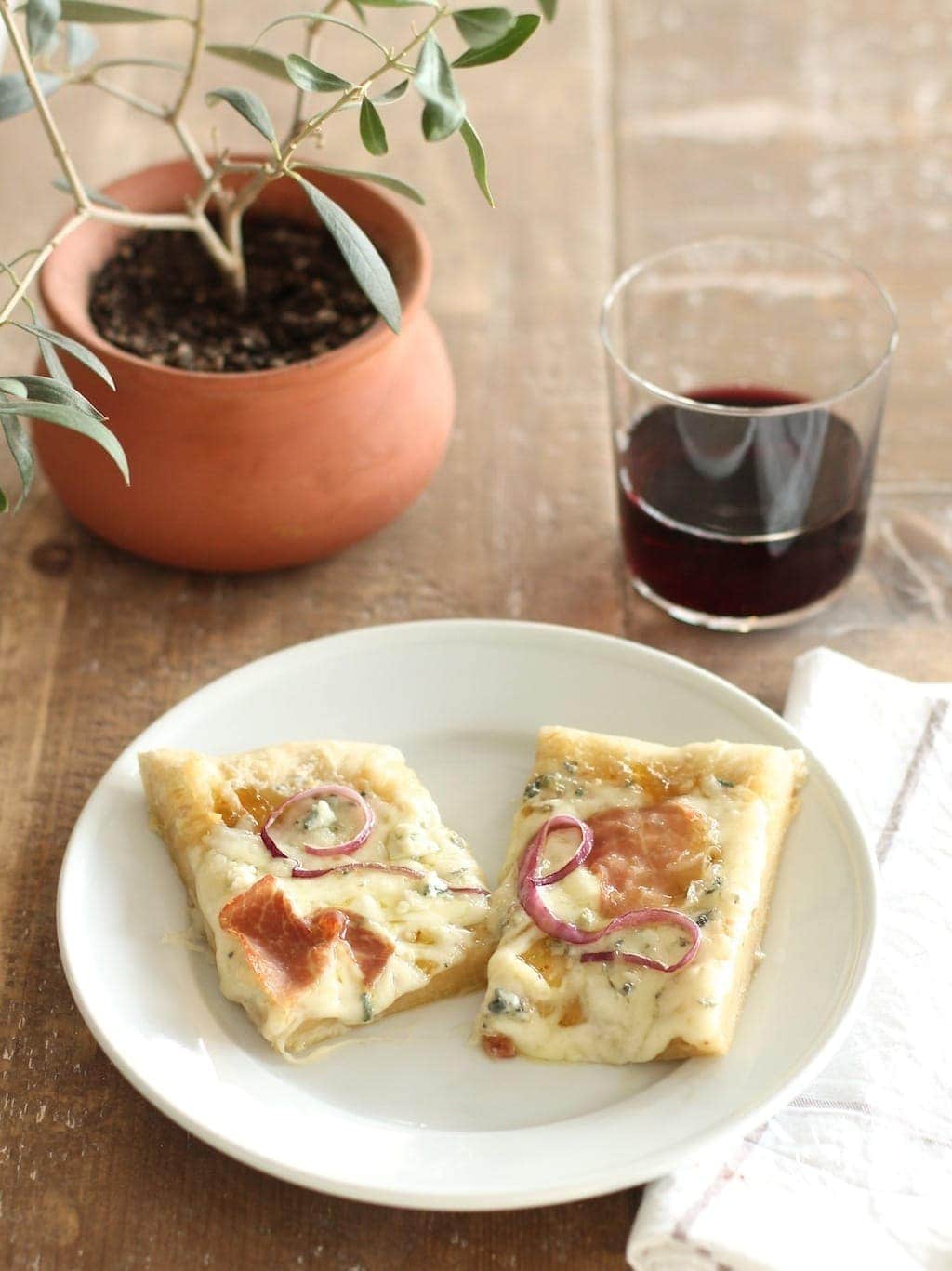 Figs are absolutely gorgeous and sweet as candy. I love tossing them in salads, snacking on them, or using the jam in a crostini bar.
And together, prosciutto and figs really hit it off. The sweet fig flavor balances the salty prosciutto, which is why it is my absolute favorite pizza recipe.
In this prosciutto pizza recipe, the secret ingredient is fig jam. Yes – fig is my jam, or rather, pizza sauce. It makes the perfect, sweet saucy layer for this pizza – just waiting to be topped with prosciutto, caramelized onions, and a variety of cheeses.
My whole family loves this Prosciutto Pizza recipe, and Isla just can't get enough of it! If you're looking for a classic pizza night, be sure to check out my classic pizza sauce! You might also want to try grilling your pizza for a fun and grilled taste!
This easy recipe is my take on Dewey's Pizza's Porky Fig! If you've had it, you know what the fuss is all about!
Why You'll Love This Recipe
Sweet and Salty
Quick Dinner
Kid-Approved
Prosciutto Pizza Ingredients
Pizza Dough – Homemade, store-bought, or from a restaurant. Yes! Your favorite pizza joint likely sells dough balls! It's a quick and easy shortcut.
Red Onion – Caramelized onion adds a lot of flavor to this delicious recipe! You can substitute with shallot to mix it up!
Flour – Spread on counter before rolling the dough.
Olive Oil – Optional, for brushing on crust before adding other toppings.
Fig Jam – Find at grocery store or order online.
Garlic – Minced garlic in a jar or fresh garlic cloves, minced.
Fontina – A nutty semi-soft cheese that is delicious in this recipe.
Mozzarella – The standard cheese for pizza.
Gorgonzola – To use as a garnish.
Prosciutto – The salty meat for this pizza.
Variations
Arugula – Sprinkle with arugula after the bake.
Parmesan – Add thin flakes of parmesan in lieu of gorgonzola
How to Make Prosciutto Pizza
Prep – Preheat oven and roll out dough.
Caramelize Onion – In a medium saucepan on medium low, sauté onion in olive oil. Allow to caramelize while preparing the pizza.
Prepare Dough – Roll out on floured surface to desired size and shape.
Top – Brush olive oil over crust for added flavor and color. Smooth a light layer of fig jam over the crust. Add minced garlic. Sprinkle with fontina and mozzarella, then top with prosciutto and garnish with gorgonzola. Add caramelized red onion.
Bake – Bake or grill pizza until crust is golden brown and toppings have melted.
Tips
Freshly shred and crumble cheeses for the best flavor. It results in creamier cheese that melts better. This is definitely my top tip for delicious pizza!
Brushing a little olive oil on the crust adds another layer of flavor.
As I've mentioned in previous pizza recipes, I prefer to buy my pizza dough from local pizzerias, but grocery store doughs work as well. I've just never found one I love near as much.
Scaling up, down or substituting? You'll love this printable Measurement Conversion Chart!
Shortcuts
Use store-bought or pizzeria crust.
Make an extra pizza and freeze it. Bake it as you would any frozen pizza for a quick weeknight meal.
Use minced garlic in a jar.
Is prosciutto good on pizza?
Prosciutto can be very good on pizza. Prosciutto is a thinly sliced cured ham that adds a saltiness to the pizza. This recipe calls for adding the prosciutto before baking, but other options are to add it right after the pizza comes out of the oven.
Where can I buy fig jam?
Fig jam is sold at most grocery stores down the jam aisle. You can also order it online.
How to Store
At Room Temperature – Pizza can sit out at room temperature while serving, but not longer than 2 hours.
Refrigerate – Cover with plastic wrap or foil, keeping slices separated with wax paper. Seal tightly to keep air out. Store in refrigerator for 3 to 4 days; any longer than that and it won't taste fresh when reheated. Reheat in a 350 degree oven either on a pan, piece of foil, or just on the rack (for crispier pizza) for about 10 minutes.
Freeze – Wrap pizza up in single layers and fully seal to prevent air from getting to the pizza. When ready to reheat, place in 350 degree oven on a pan, piece of foil or just the rack (for crispier pizza) for about 15 minutes. Wrap foil around the crust edge to prevent it from getting too crunchy.
How to Serve
Sprinkle with dried oregano or Italian seasoning
Drizzle with a little bit of Italian dressing or balsamic dressing
Dietary Considerations
Dough Contains Gluten
Cheese Contains Dairy
Nut Free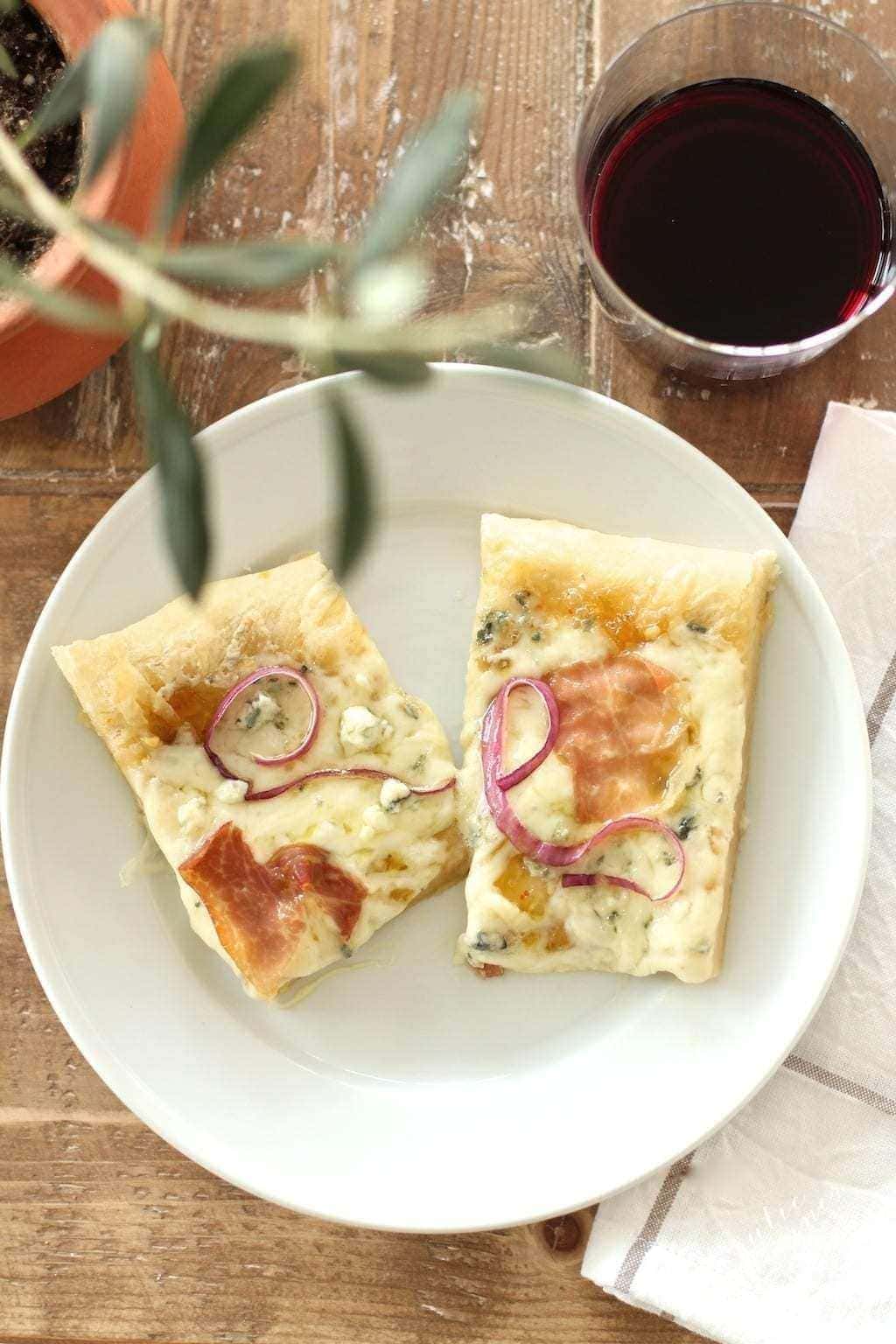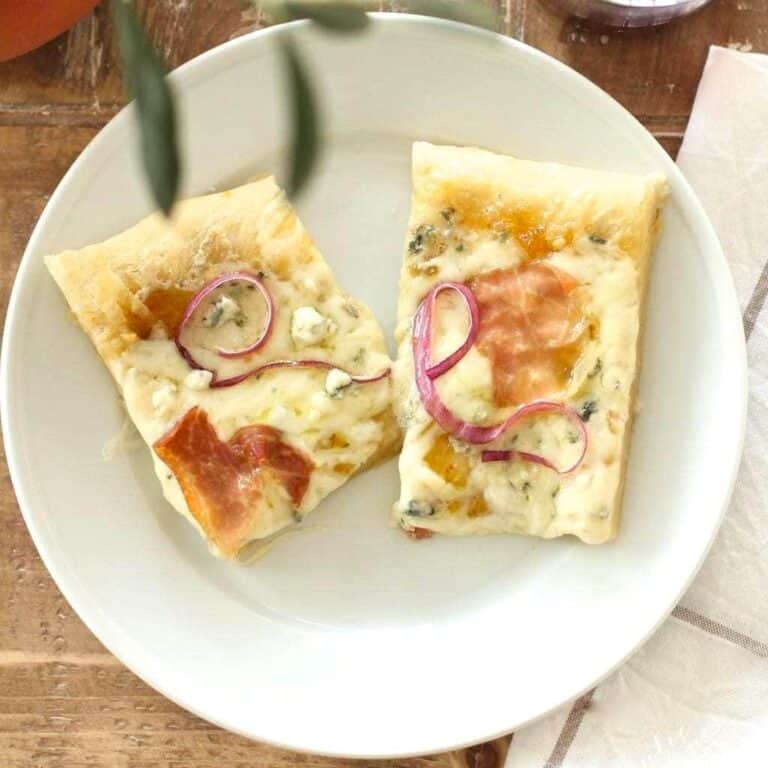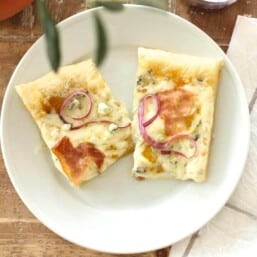 Prosciutto Pizza
Flavorful prosciutto pizza with fig jam, caramelized onions and creamy cheese.
Ingredients
½

red onion

sliced

1

tablespoon

olive oil

pizza dough

all-purpose flour

to roll dough

¼

cup

fig jam

1

tablespoon

minced garlic

¼

pound

fontina

shredded

¼

pound

mozzarella

shredded

⅛

pound

prosciutto

¼

cup

gorgonzola

to garnish
Instructions
Preheat oven to 425°F or as specified on your dough.

In a medium saucepan on medium low, add 2 tablespoons olive oil & onion. Allow to caramelize while preparing the pizza.

Roll dough out on floured surface, brush crust with olive oil.

Using a large spoon, smooth a light layer of fig jam over the crust. Repeat with minced garlic.

Sprinkle cheese over the crust.

Add prosciutto & caramelized red onion.

Bake 8-10 minutes or as specified on your dough.
Tips
Tips
Freshly shredded cheese. It takes just a couple additional minutes, but it is so much creamier!
Brushing a little olive oil on the crust never hurts either!
Purchase pizza dough from local pizzerias or the grocery store.
Calories:
144
kcal
|
Carbohydrates:
2
g
|
Protein:
9
g
|
Fat:
11
g
|
Saturated Fat:
6
g
|
Cholesterol:
35
mg
|
Sodium:
299
mg
|
Potassium:
53
mg
|
Fiber:
1
g
|
Sugar:
1
g
|
Vitamin A:
252
IU
|
Vitamin C:
1
mg
|
Calcium:
172
mg
|
Iron:
1
mg
Estimated nutrition information is provided as a courtesy and is not guaranteed.
Explore More