This peach salad features a memorable sweet and savory honey dijon vinaigrette.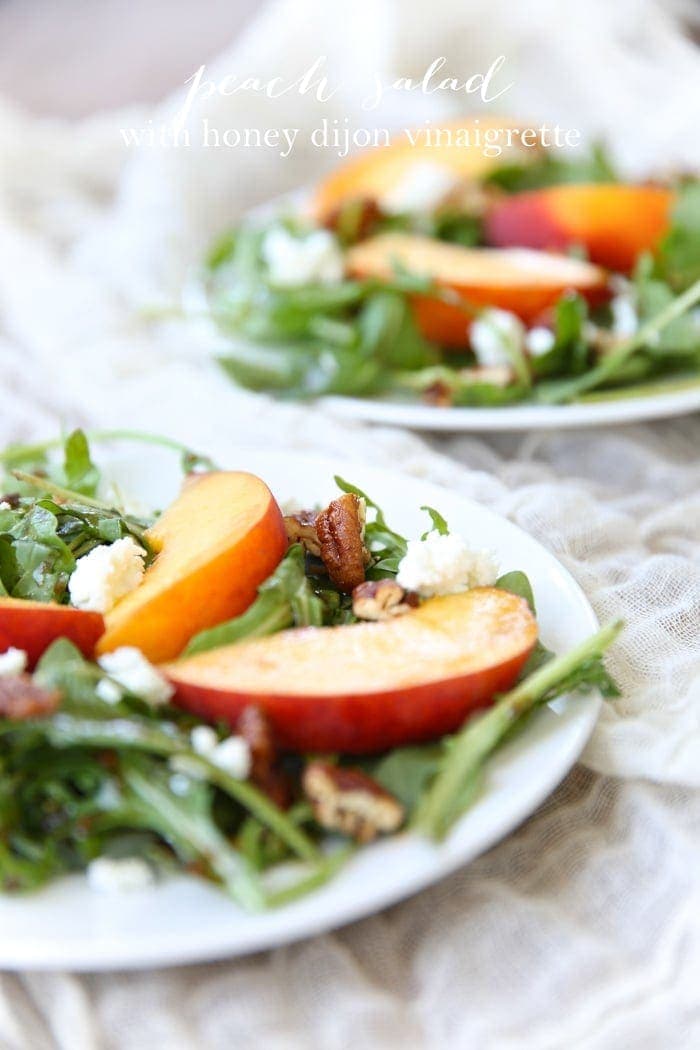 Embracing Peach Season
It's officially peach season in Missouri, and I am clearly so excited! Growing up, I remember hoping and praying for peaches on Grandma and Grandpa's farm. They didn't fruit each year, but when they did, we didn't.waste.one.
I love taking the girls to pick peaches and I look forward to sharing some of my favorite childhood flavors with them. I just might even attempt Aunt Mildred's jam. In Missouri, we truly eat seasonally. I embrace each day we have fresh, flavorful fruit.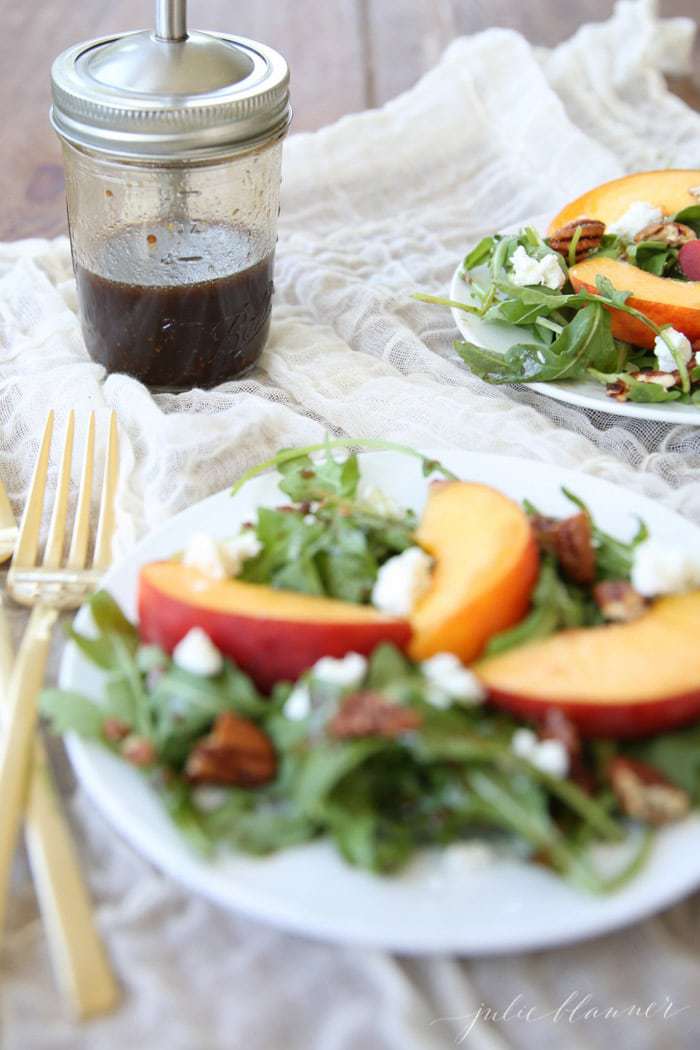 Honey Dijon Vinaigrette Dressing
Honey dijon vinaigrette is a classic, timeless salad dressing that can be used to marinate chicken, as a dip for vegetables and crusty bread or as a versatile salad dressing. It works really well with all lettuce, including endive.
Honey dijon vinaigrette is one of my go-to's, although I don't care much for honey or mustard when they are standing alone. However, when paired together they create a sweet and slightly tangy dressing that makes me fall in love with salad all over again.
A Simple Peach Salad
This week I'm eating peach salad with honey dijon vinaigrette. I love tossing it with goat cheese and candied pecans and topping it with ripe peaches for a light, summery flavor.
To make this simple peach salad, you'll need the following:
Your favorite greens. This vinaigrette recipe pairs especially well with leafy lettuces like baby spinach, butter lettuce, and endive.
Fresh sliced peaches. Truly, the fresher the better! That ripe juicy flavor adds so much to this simple salad!
Goat cheese. Any cheese works, but creamy soft goat cheese is the perfect foil to the honey dijon in this case!
Candied pecans. You can make a simple candied pecan, but I also like to keep some on hand to throw into salads. Trader Joe's makes a great candied pecan and you can find them here!
Honey Dijon Vinaigrette. Don't skip this homemade dressing, it's the star of the show! I love a good shortcut when it saves time, but you'll never regret adding a two-minute homemade dressing to your salad!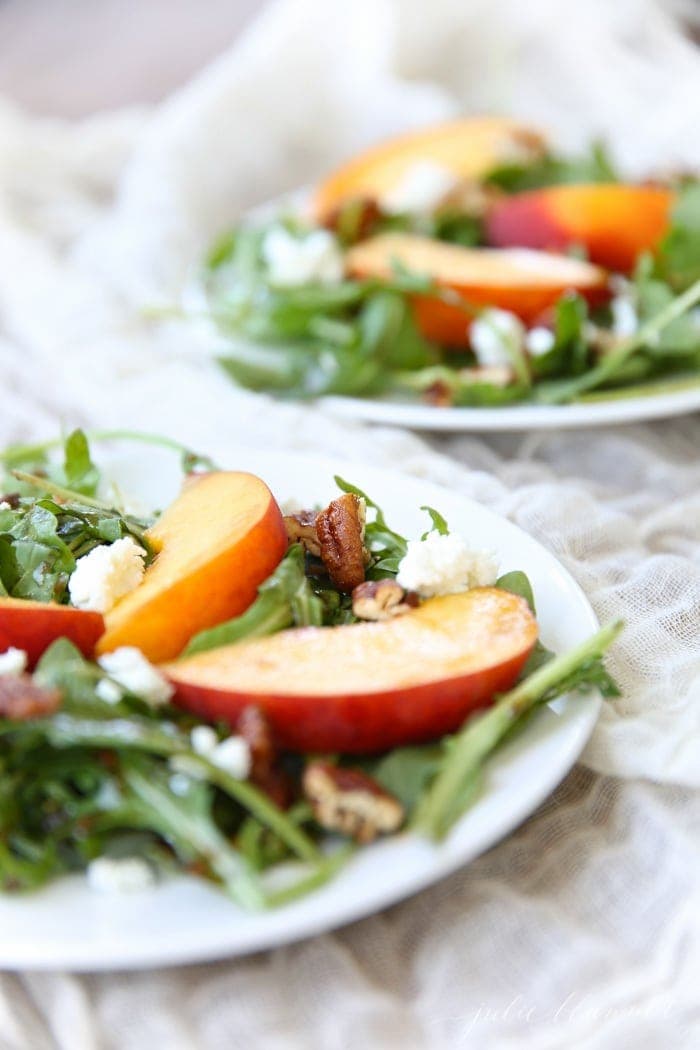 More Salad Dressing Recipes You'll Love
Salad dressings for every kind of salad and every occasion! You're sure to find one (or a dozen) to love!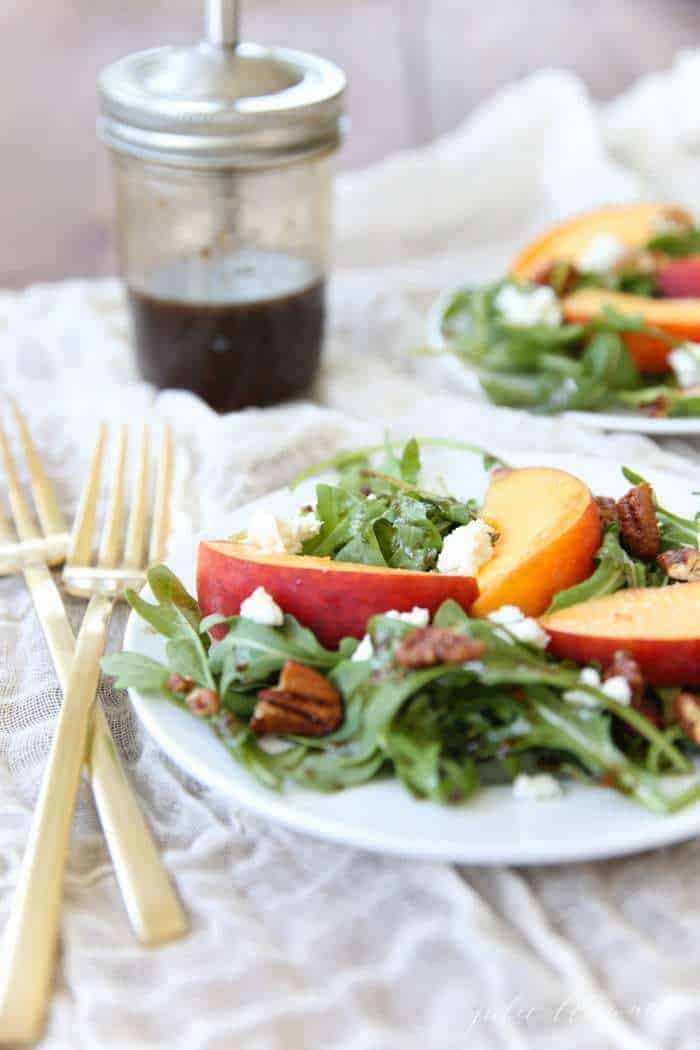 What's your favorite summertime salad dressing? If you make one of my recipes, I'd love to see! Please pin on Pinterest or share in Celebrating Simple, my Facebook share group.
How To Make This Honey Dijon Vinaigrette: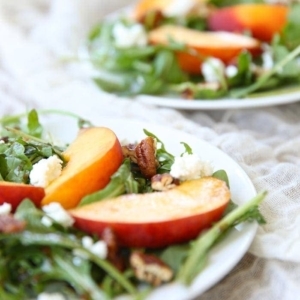 Ingredients
1/3

c

balsamic vinegar

1/4

c

olive oil

1

Tbsp

dijon mustard

1

Tbsp

honey
Instructions
Combine ingredients and shake well.
This post was originally published July 15, 2015.