Oh, how time evades me. Earlier this year, I spent the winter months organizing our home as part of my Simple Guide to an organized life. I started this post, but never added photos. However, it's one of my favorite organized spaces to date. Today, I'm finally sharing my tips to organize under the sink with simple & inexpensive solutions.
The cabinet under our kitchen sink may have been the worst of our kitchen problem areas. So many tall bottles of cleaners that all too easily tip over and create a domino effect when attempting to reach just one. The simple solution? Individual storage bins with handles.
I started by assessing what we had and what "category" they belonged in:
everyday cleaners
dishwasher/dishwashing
specialty cleaners
miscellaneous
I divided the products into 4 bins with handles purchased from the dollar store! The handles make the entire bin easily accessible to pull out if needed. This is especially handy for my everyday cleaners. Having items in individual bins keeps items from falling over.
To organize the bins under the sink, I considered how I used each of the categories. The miscellaneous and specialty bins were placed in the back since they're used infrequently. The dishwashing bin was placed on the side of the dishwasher and the everyday cleaners bin on the right, since that's where I gravitate when I open a cabinet and I'll be using them most.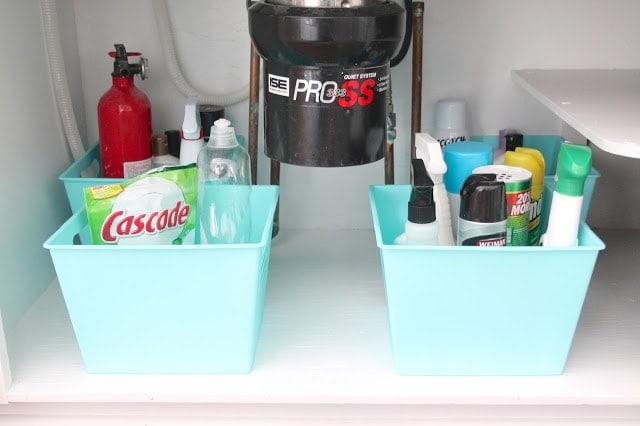 I added hooks for our dish and bottle scrubbers, but used 3M Command hooks so that if our needs changed, I could remove and replace them, add more, etc, without leaving holes.