A photo tour of an incredible vacation rental in Round Top, Texas filled with easy DIY and farmhouse interior design ideas. This industrial farmhouse decor is what dreams are made of – whether you're living in an urban farmhouse or enjoying true country living!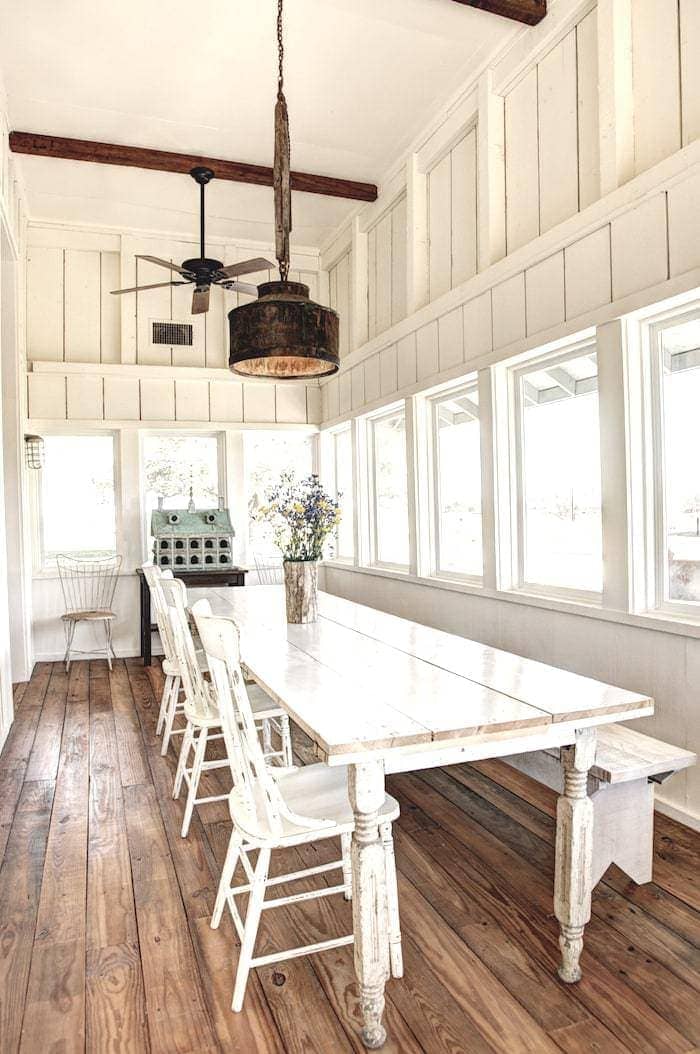 Modern Farmhouse Home Tour
I may only get to enjoy decorating my own personal homes, but I sure love taking a tour of the way others decorate theirs! (Check out both of our before and afters for all the fun photos! Our St. Louis home is here, and our lake cottage renovation is a fun photo tour as well!)
I just love perusing other homes for ideas and unique design styles! I was lucky enough to enjoy a stay at The Vintage Round Top, a charming farmhouse rental where I fell in love with modern farmhouse living and the style of the owners, Paige and Smoot Hull.
It's only two hours from Waco, too – and you know what that means! You can have a full farmhouse vacation between these two towns and a trip to Magnolia Farms.
I love taking you on photo tours with me! You've got to check out my visit to this charming modern colonial home, a 100 year old designers' showhouse, and Rachel Ashwell's Shabby Chic B&B called The Prairie.
Best of all, don't miss the incredible Patina Farms – it's a European inspired farmhouse you'll have to see to believe!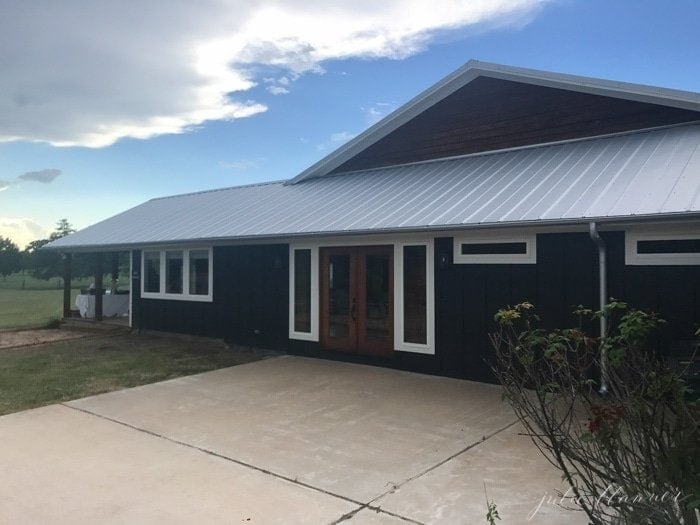 Let's start at the beginning! This classic Texas farmhouse is full of charm as you pull up the driveway. It stole my heart immediately from the entrance of this farmhouse. I can't wait to take you inside with me!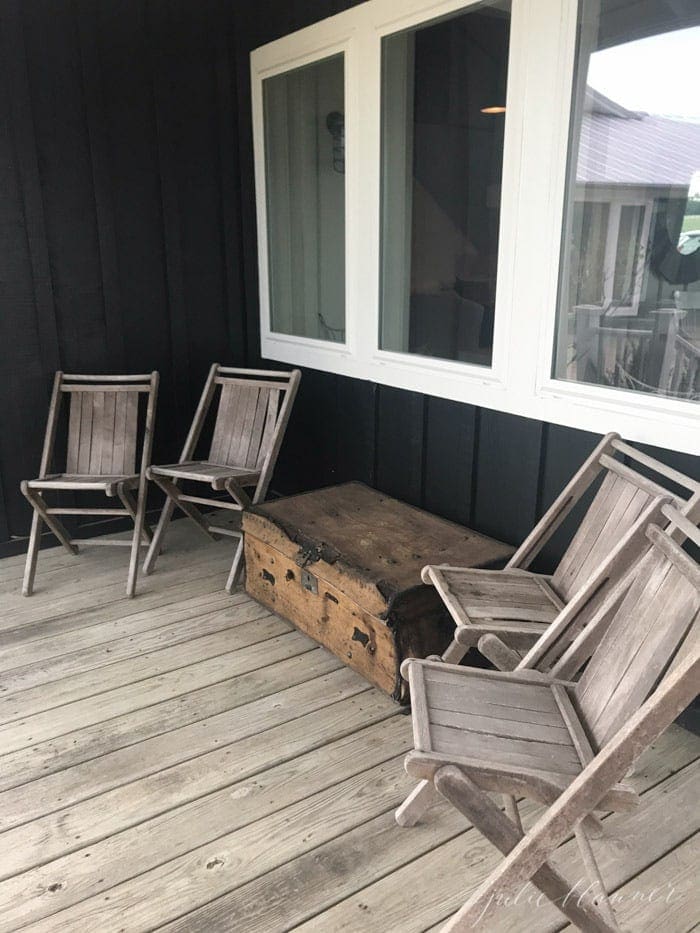 Modern Farmhouse Decor Ideas
You know I don't love black – or at least I never thought I did! However, the black board and batten exterior was so simple and balanced with wood, a metal ceiling and wrap-around porch. It's the perfect way to give a modern touch to a traditional farmhouse styled home.
It's lovely, don't you think? It was so simple, yet warm and full of charm… I had to take a few snapshots on my camera and phone to share with you. Want to come along for a tour?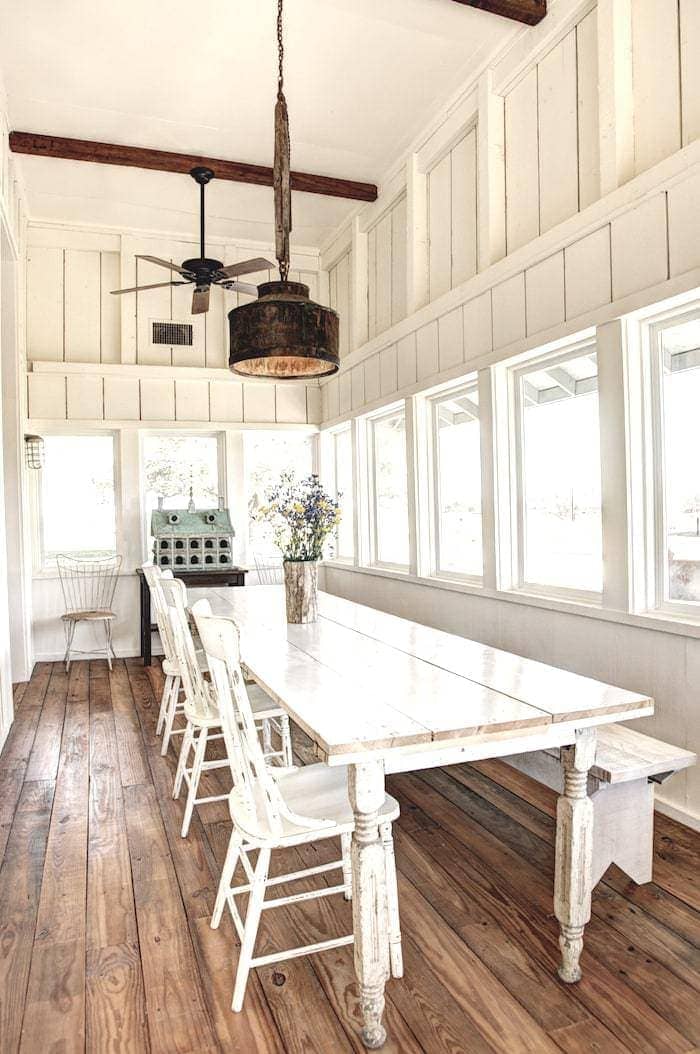 Farmhouse Dining Room
My favorite space was the dining room! This sunny space is all white and wood, with simple paneled white walls and an oversized table for group gatherings.
It would be so easy to recreate this look by having your walls paneled and adding an incredible dining table like this one! (PS you can learn how to do vertical shiplap here.)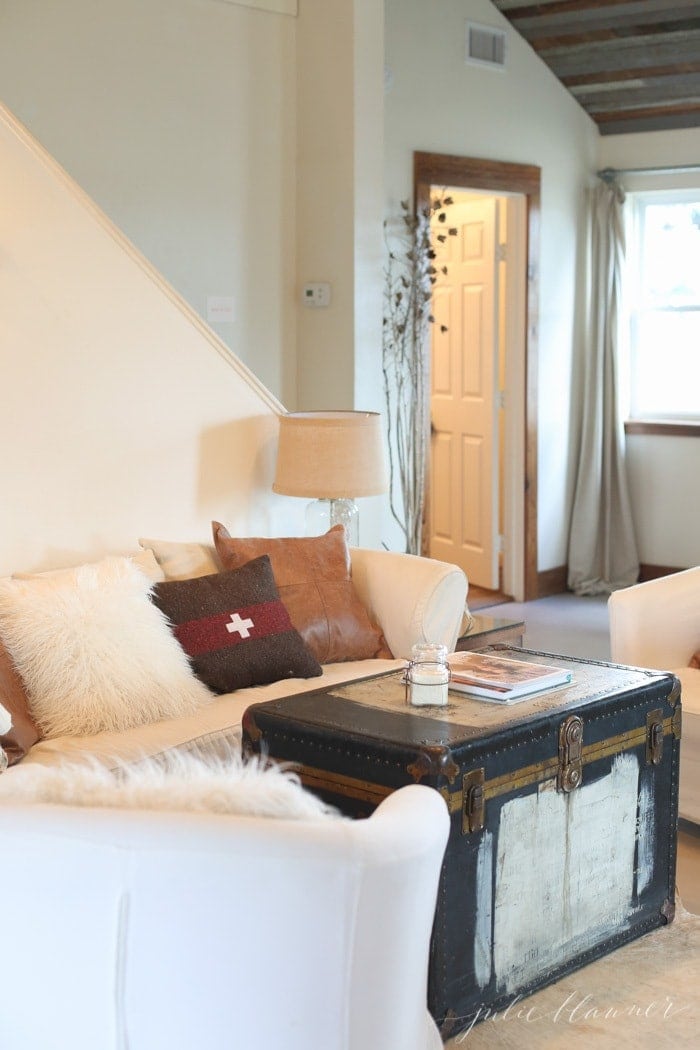 Industrial Farmhouse Living Room Inspiration
The living room was a beautiful blend of new and vintage pieces. It's easy to accomplish this look with white slipcovered sofas!
Looking for something similar? Read all the details about ours in this Pottery Barn sofa review and our white Ikea sofas, too. If you're interested in this traditional farmhouse look it's such a classic way to mix and match!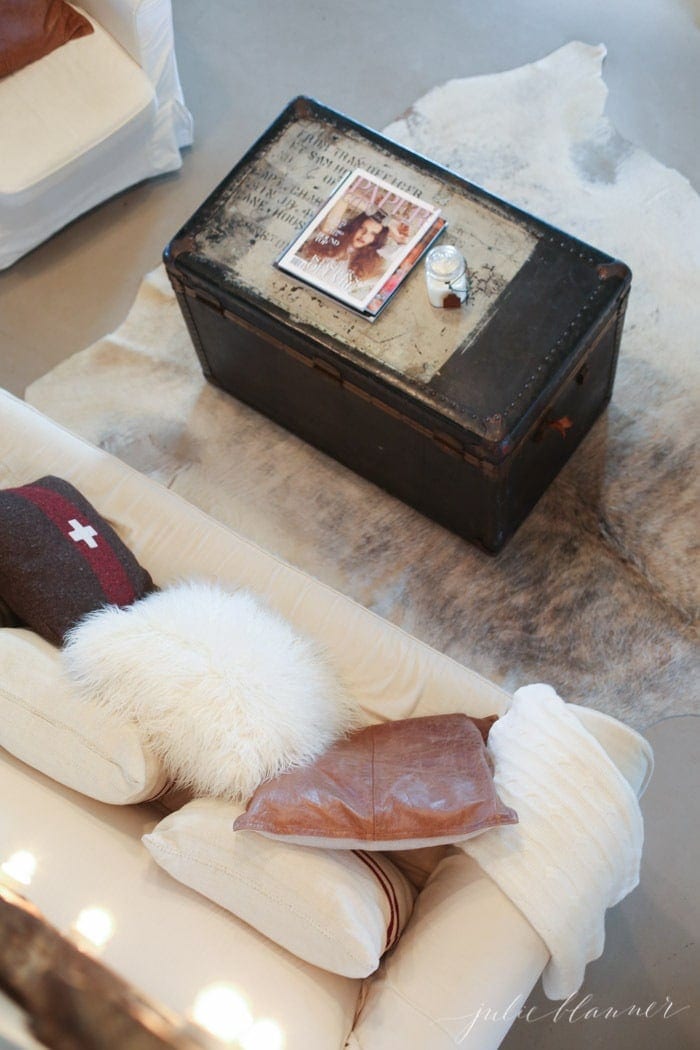 Just above the painted stairs, you'll find farmhouse style for days.
I love that the white walls and concrete floors are such a perfect modern design element to balance all the rustic touches!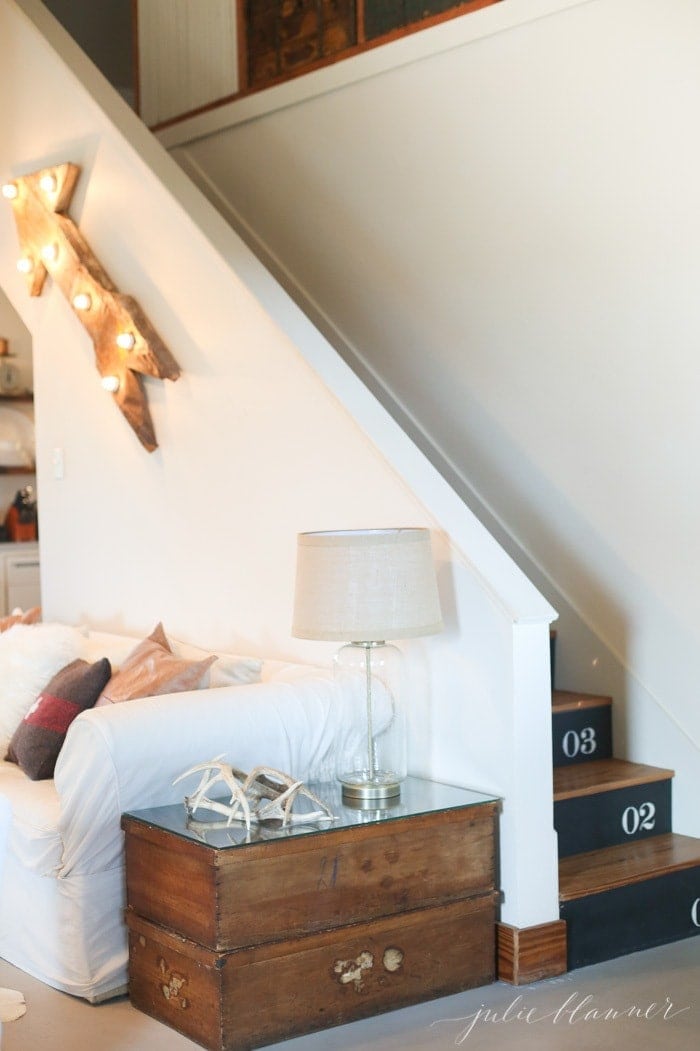 Love this look? It's easy to accomplish! Just pick up a package of vintage-inspired number stencils and use a contrasting color for the finish. These stencils would work beautifully!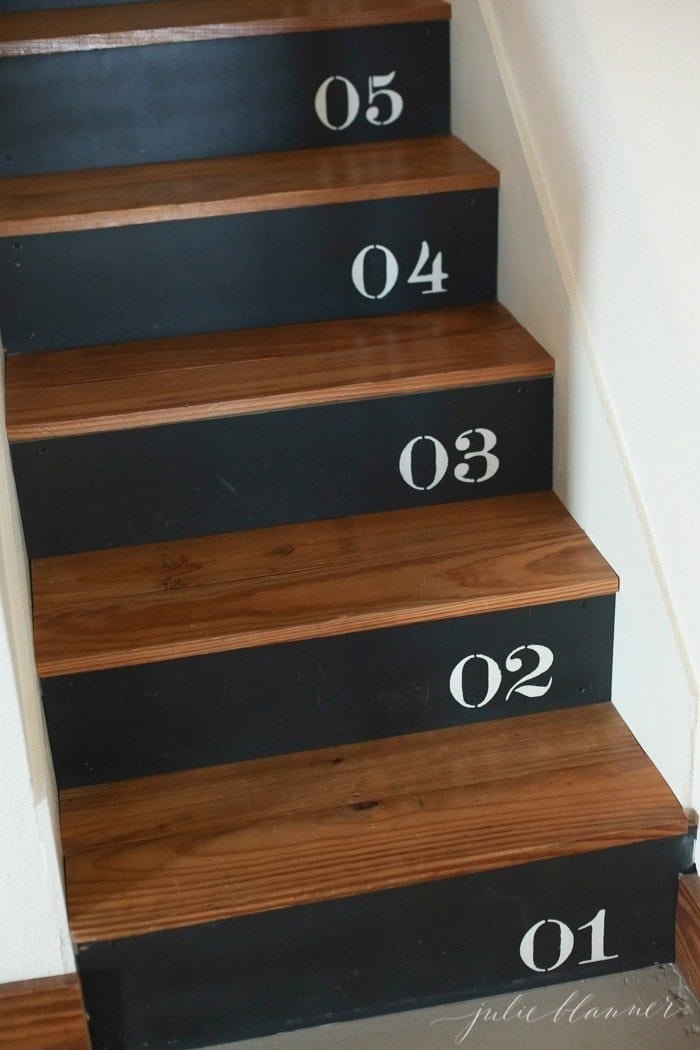 Vintage Decor for a Modern Farmhouse
Up above the stairwell, you'll find a curated wall of vintage luggage that looks and feels like vintage art!
I loved that Paige and Smoot diligently worked together to create this wall by cutting the suitcases in half to fit them into the space. It created a charming, rustic design element in what would have been a wasted space!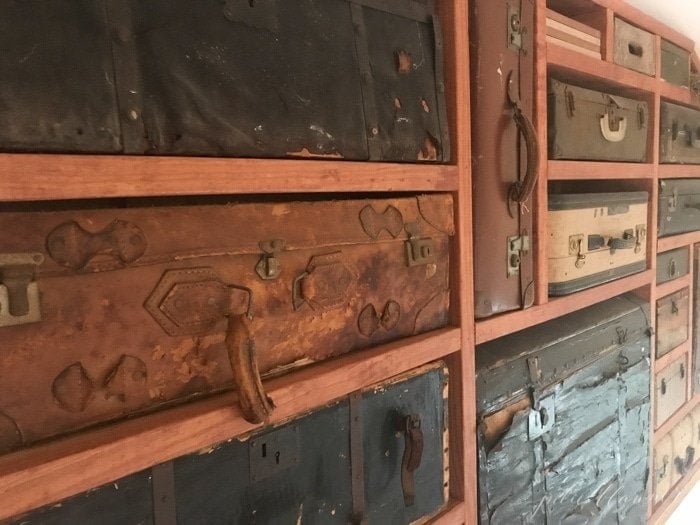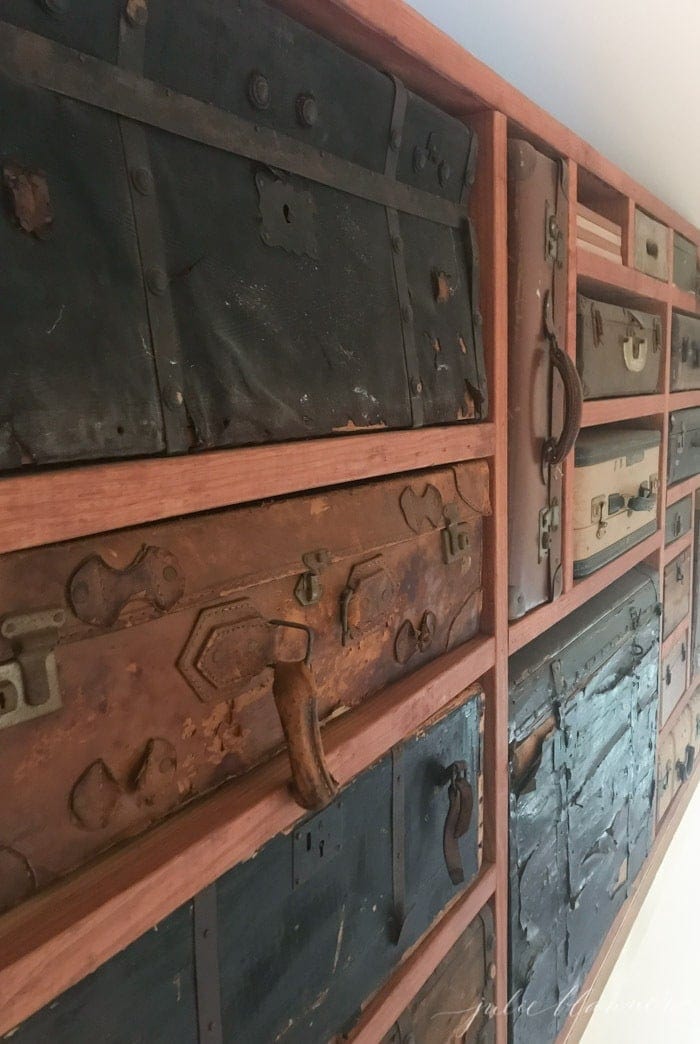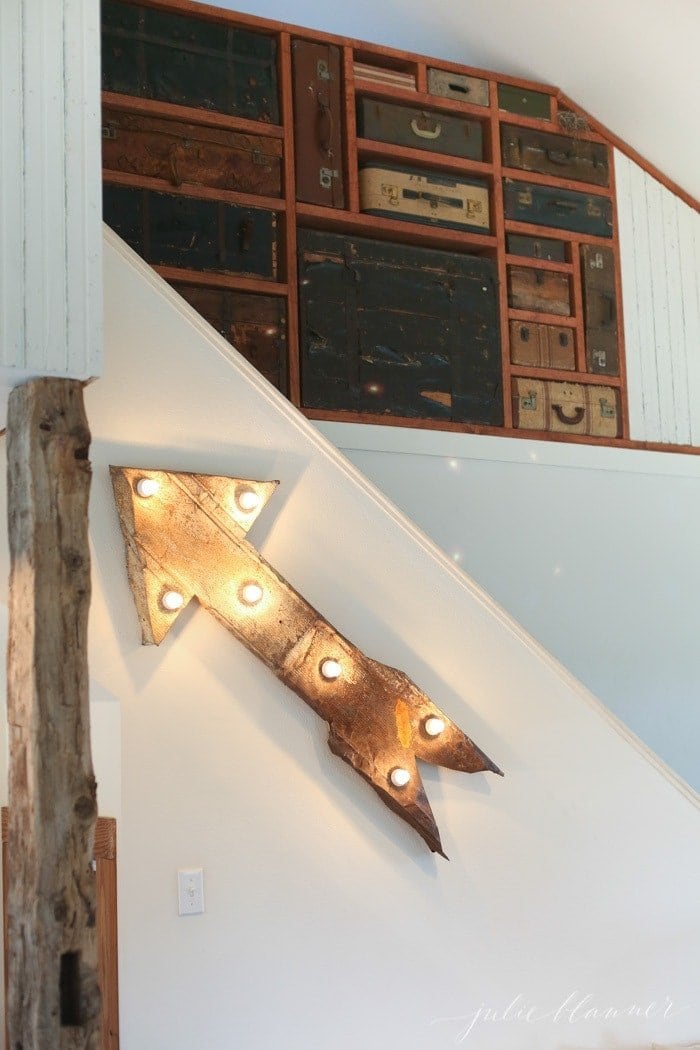 Pallet Decor in Farmhouse Interior Design
For years, folks have been creatively re-purposing wooden pallets as charming additions to their industrial farmhouses. This idea can work in a true country setting or in any modern urban farmhouse, too!
This pallet daybed offers convenient seating that doubles as sleeping accommodations. I love the rustic style of this bed and there are so many tutorials online to help you accomplish this look!
However, if you're like me and you don't always have the time (or skills) for this level of DIY, there are options to purchase, as well! I love this look of this light wood daybed to achieve a similar feel.
Note this gorgeous ceiling and those incredibly cool wall sconce fixtures! I could drink a cup of coffee in this cozy spot, couldn't you?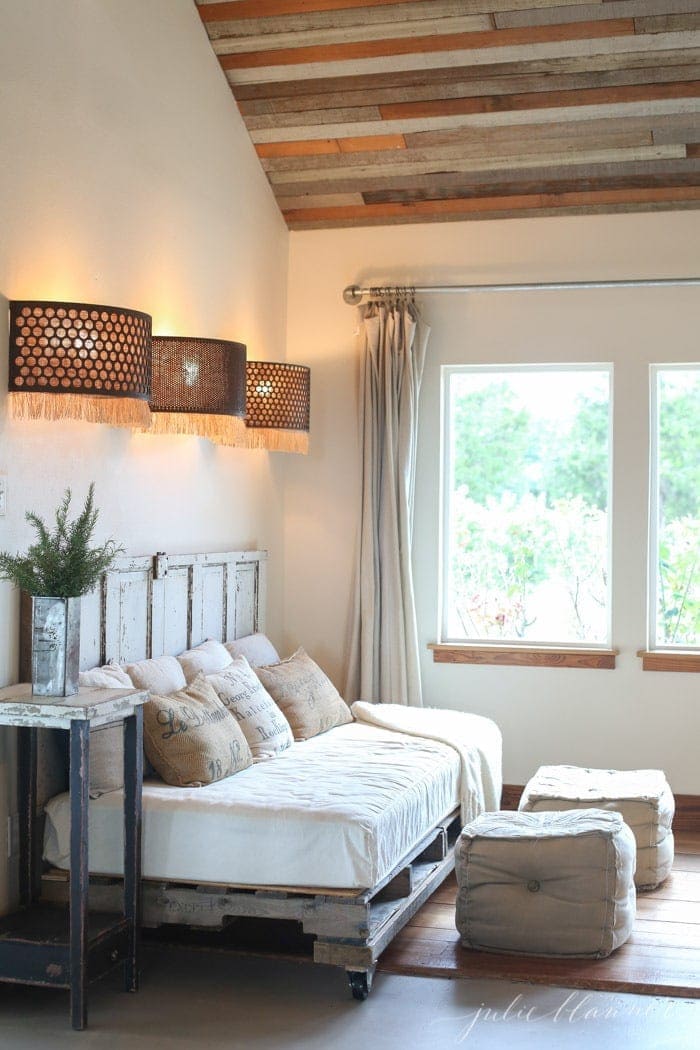 Another easy-to-copy urban farmhouse element of note: I loved the drop cloth curtain panels and the gorgeous industrial pipe style of the curtain rods!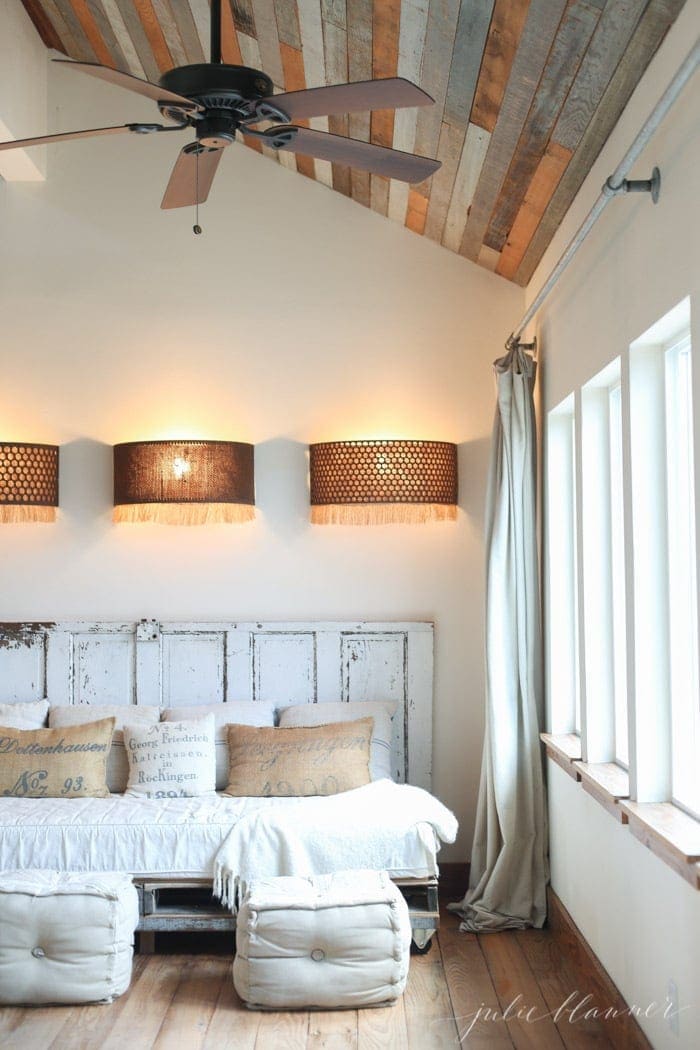 An Eclectic Farmhouse Kitchen Design
Moving onto the kitchen… how much do you love those pendant lights? These are some of my favorite light fixtures in the house, and I think it's because the industrial style so perfectly fit the farmhouse kitchen vibe.
I loved so many charming details in this space… note the vintage beadboard, industrial stools, raw wood beam, and pretty open shelving.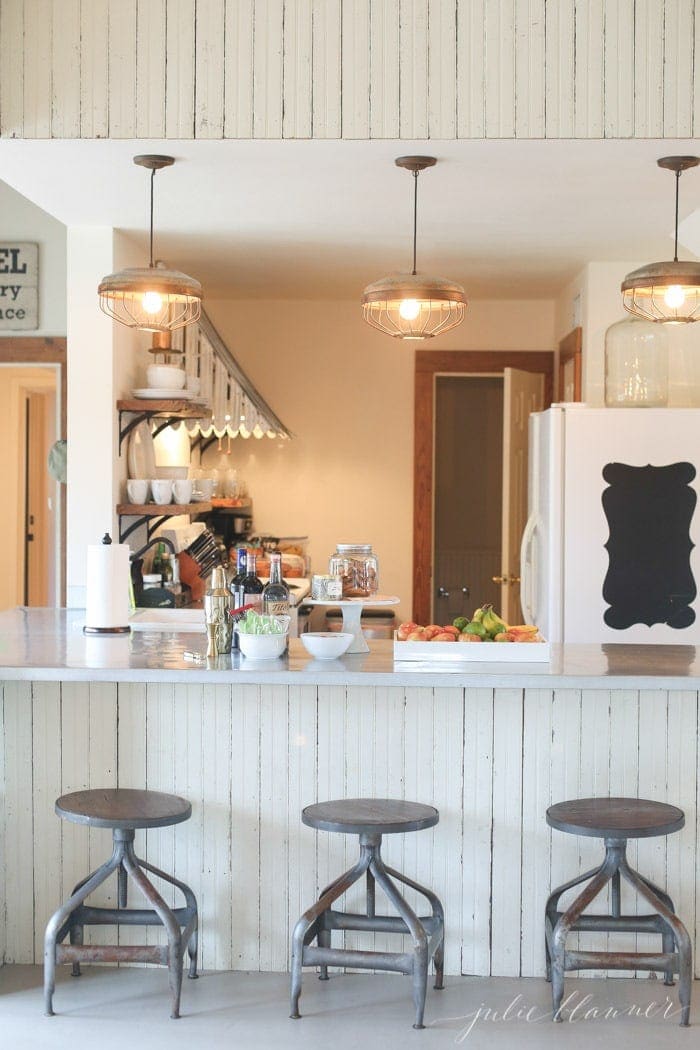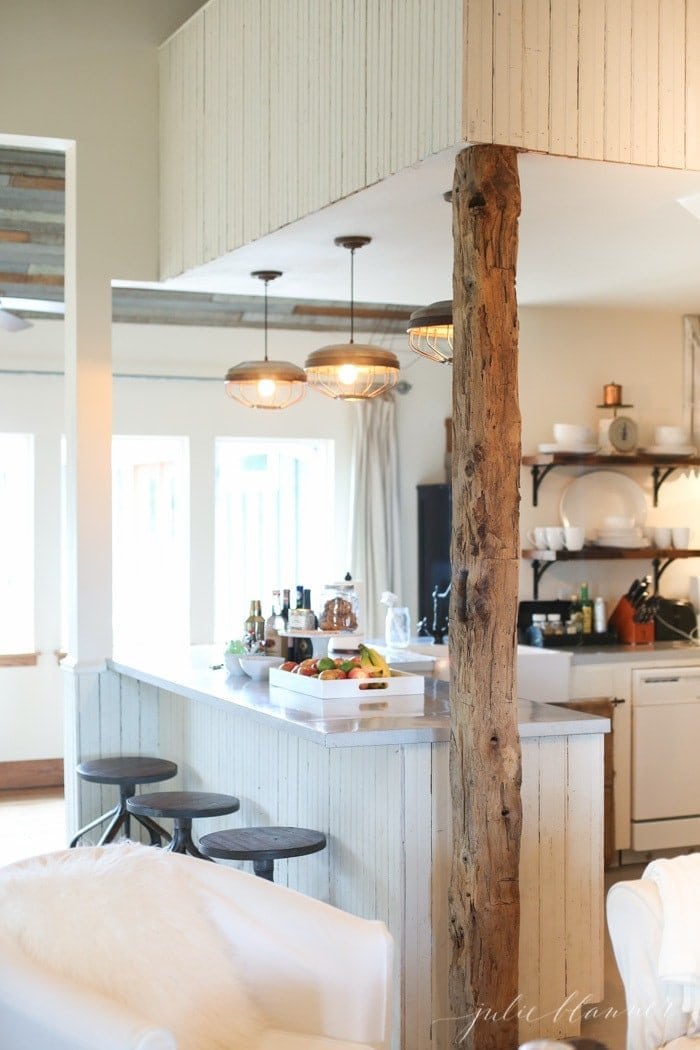 The farmhouse kitchen transitions to the second living area with wood plank ceilings and reclaimed wood floors…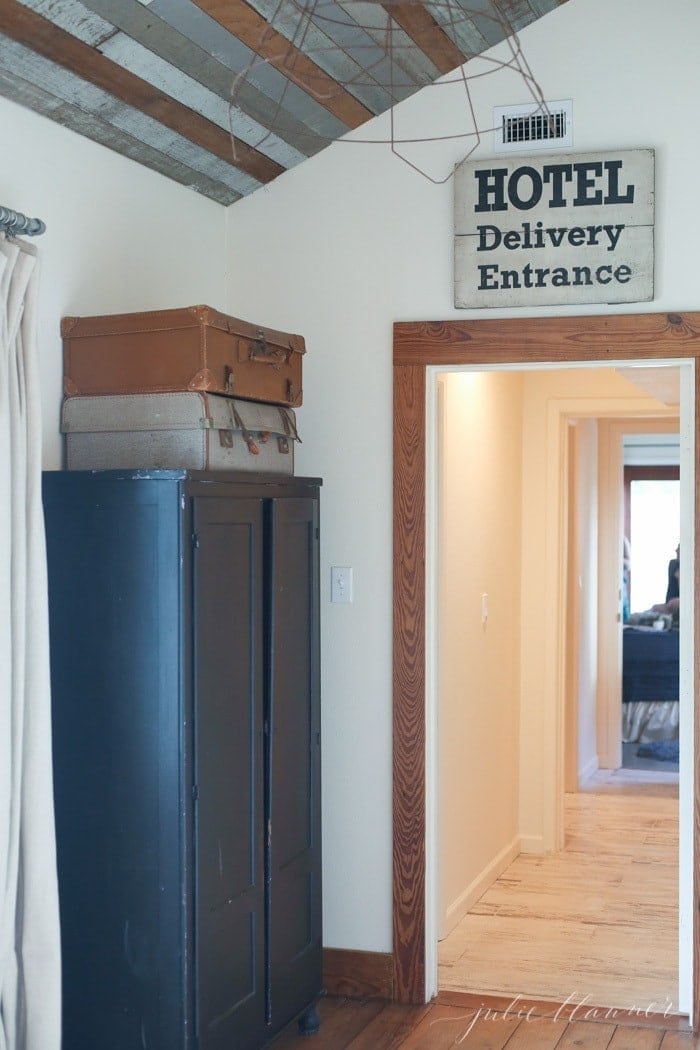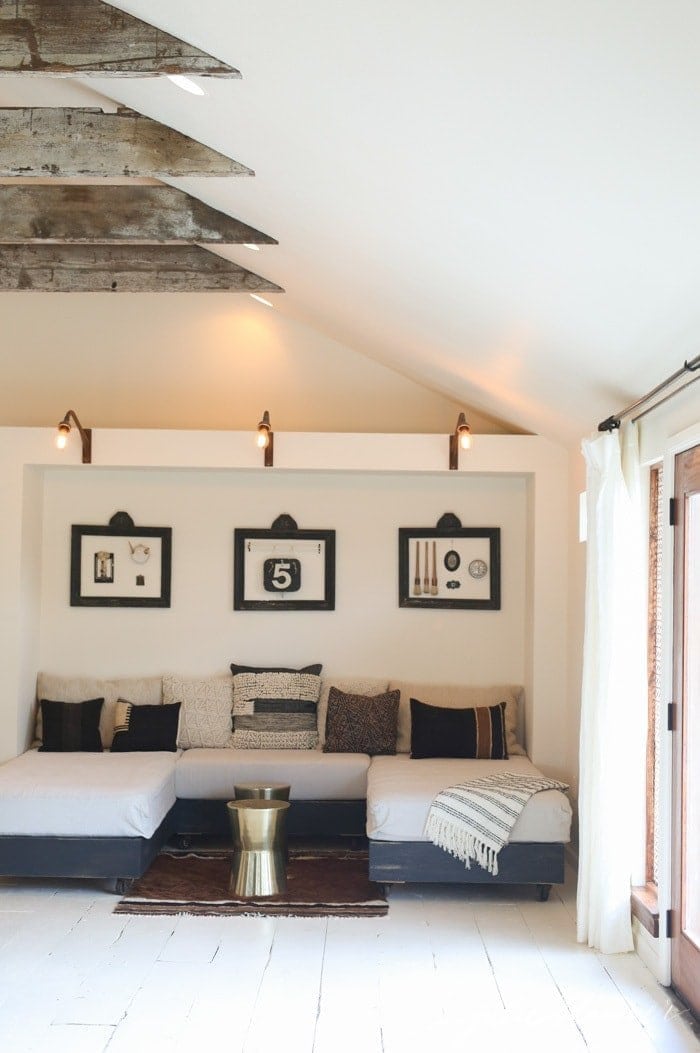 There's a whole separate side to this farmhouse! They call this the Boho side (or maybe that's what I called it in my mind?)… and it was filled with brass accents and white painted wood floors that were a dream come true!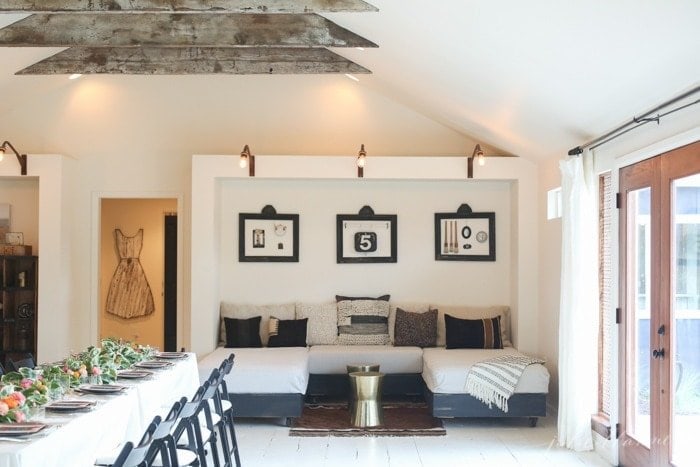 This side also featured the most incredible French antiques! What would you fill that sideboard with? I can think of a million ideas!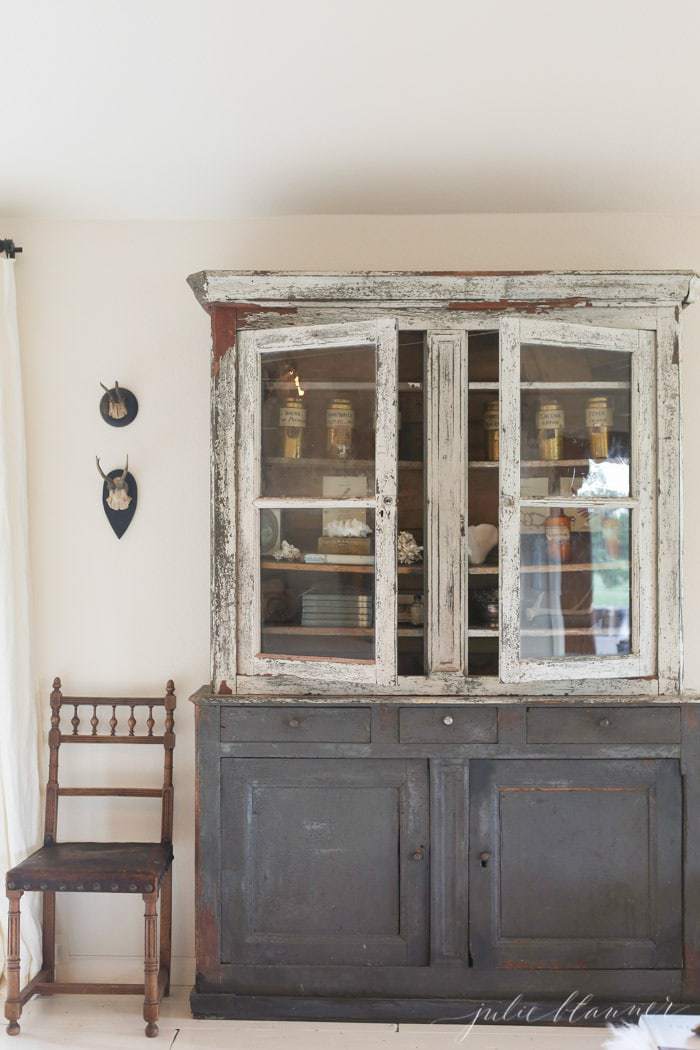 And did I mention the most incredible brass accents throughout this home? Check out those incredible counter tops!
(Psst… There are so many ways to achieve a farmhouse feel in your kitchen through a variety of surfaces! Check out our marble counter tops here for another way to accomplish a charming, rustic yet refined look!)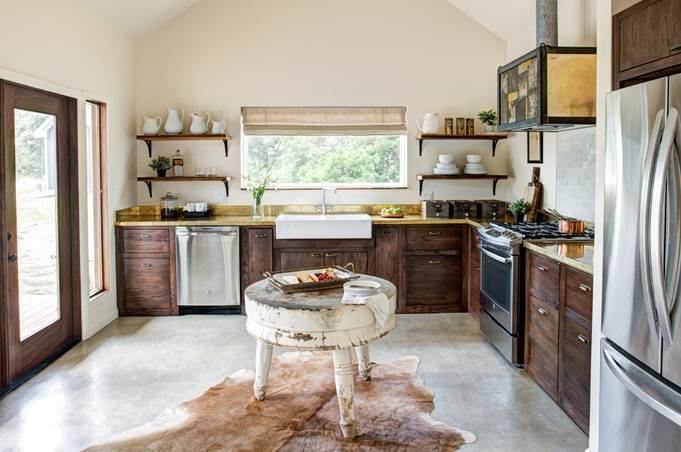 Seriously, aren't these counter tops gorgeous? I can't get enough of them!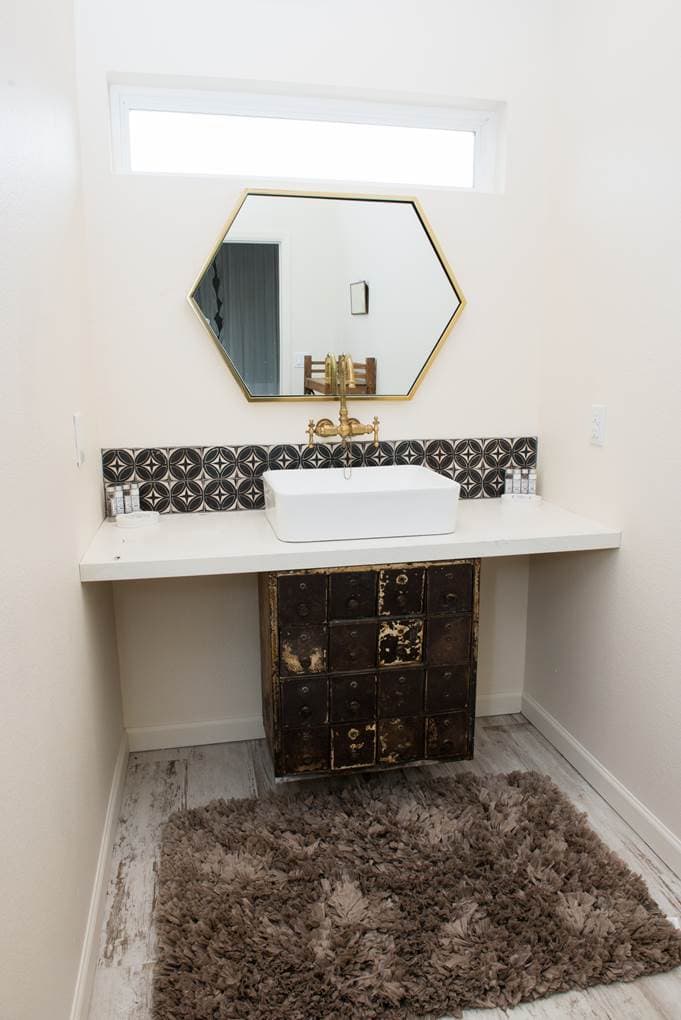 Industrial Farmhouse Inspired Bathroom
This antique wall faucet came from a mansion in Galveston! While I can't find you an antique version, there are incredible, affordable reproductions available, like this one.
The floating counter top feels modern and fresh in combination with the antique vanity piece below. This bathroom was such a good example of mixing old and new for a fresh, modern farmhouse feel!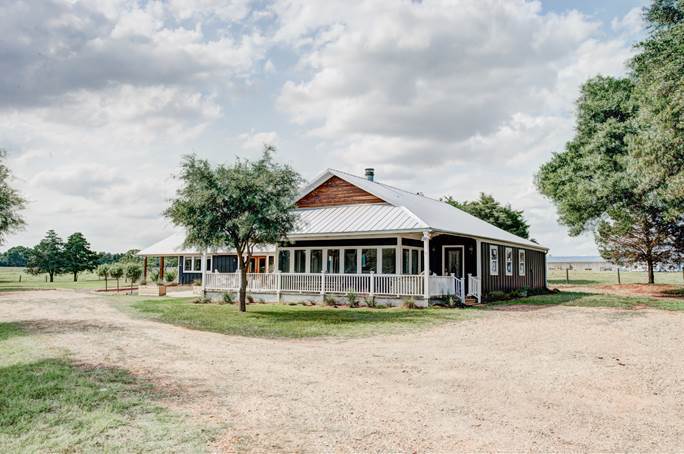 Want to Stay in A Modern Farmhouse?
Don't worry, you can stay there, too! You can see more of this modern farmhouse and read about Paige and Smoot here, and you can find ideas about what to do in Round Top, Texas here.
Round Top is such an inspiring, quaint place to visit for a taste of true Texas country life! I hope to return someday for the antique fair and a red dirt band concert at the dance hall!
LET'S CONNECT!
instagram | newsletter | facebook | pinterest