Learn how to integrate Halloween porch decorations without effort, to create a spooktacular Halloween porch that will be a hit with trick or treaters. These Halloween porch ideas create the perfect amount of BOO!
Halloween is one of my favorite holidays – it's the season where adults become kids again and everything is fun and magical for children.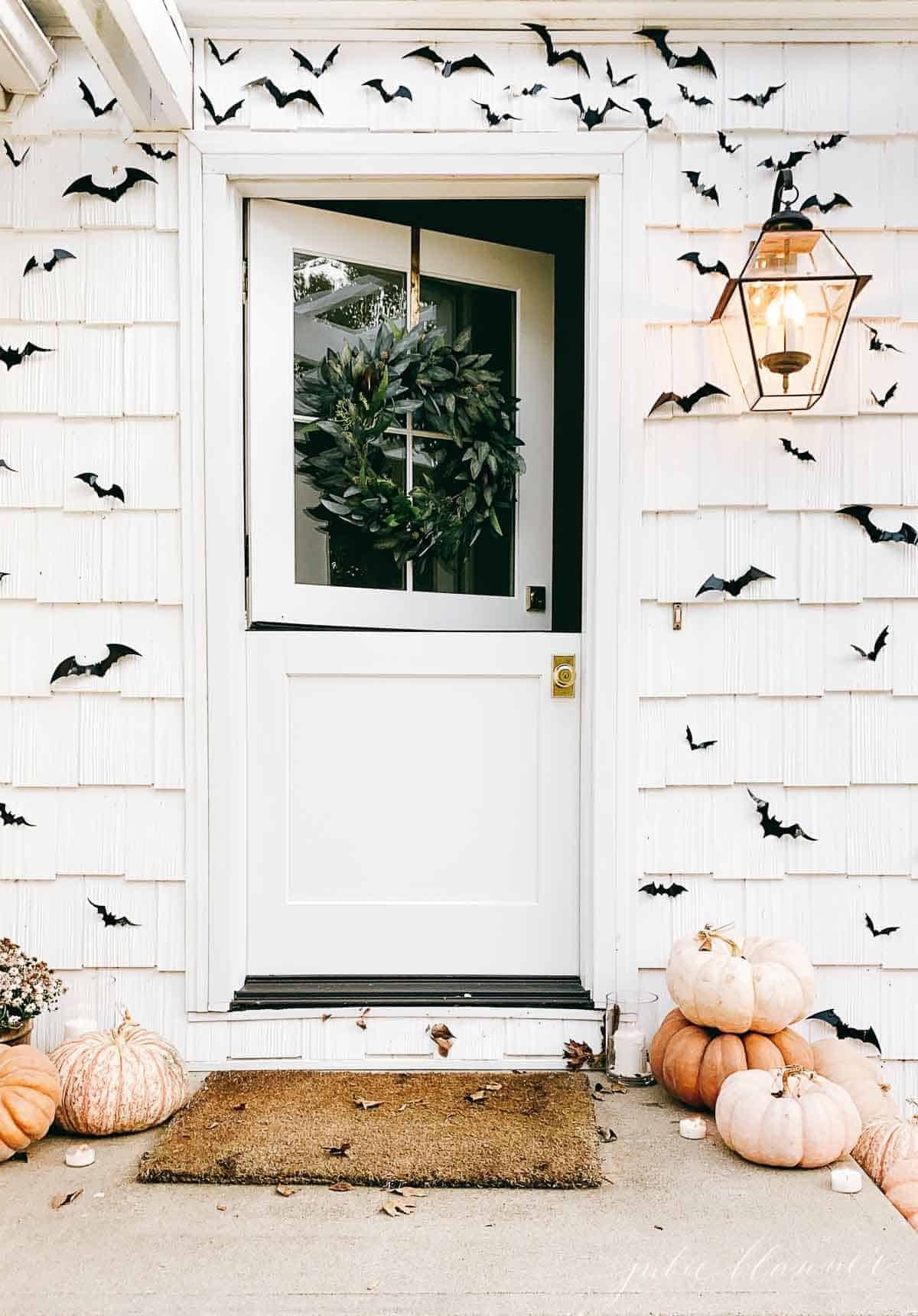 I love sharing my favorite fall and Halloween decorating ideas with you! Don't skip Fall Living Room Decor inspiration for a few more of my favorite autumn ideas.
As a minimalist who is always trying to manage time and stress, today I'm sharing some easy ways to create a fun and festive Halloween porch! It's easier than you think!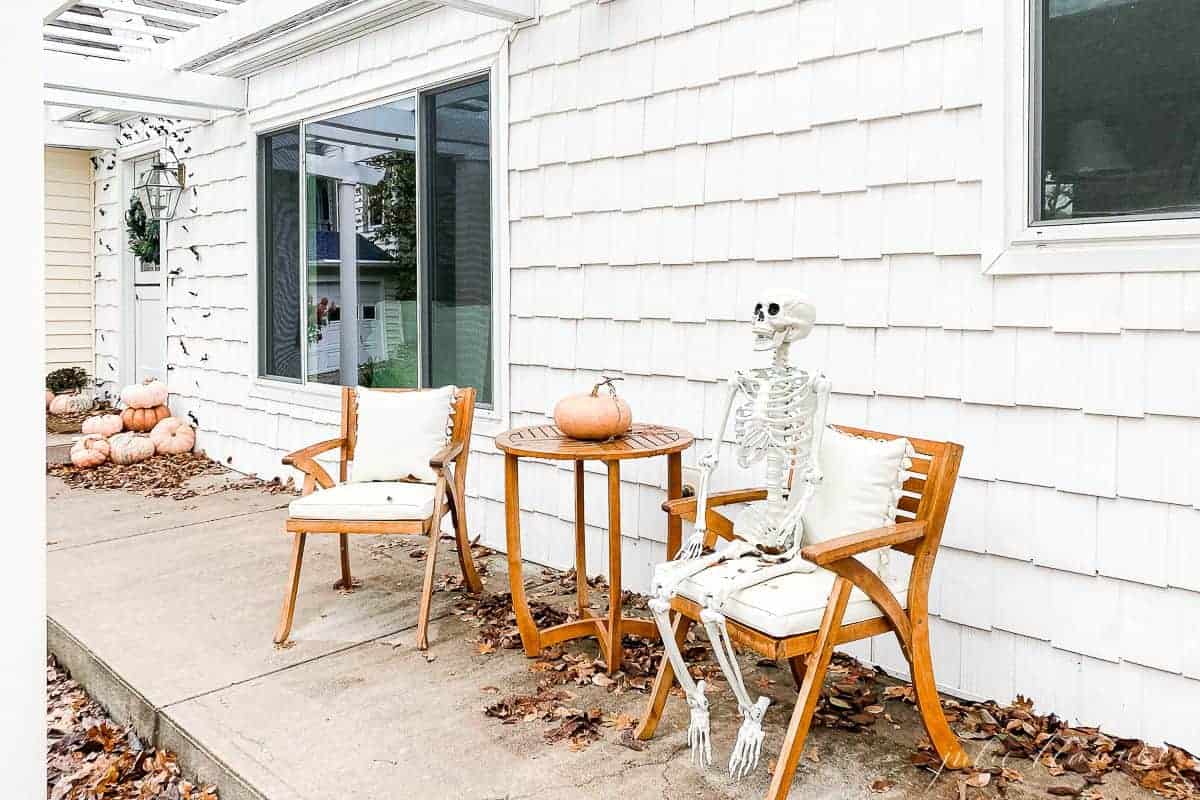 The Best Halloween Porch Decorations
Bats
One of the easiest things you can do is to add bats. This works especially well on siding, windows and doors. It takes just a few minutes to make a haunting Halloween porch! It's just $5 for 108 reusable bats! You can shop the bats here!
Skeleton
You can easily transition your porch from fall to Halloween by adding a skeleton. There are so many ways to prop them up! Make him/her climb onto your portico, peep out from the bushes, sit on the bench and more!
You can get a life size posable skeleton here.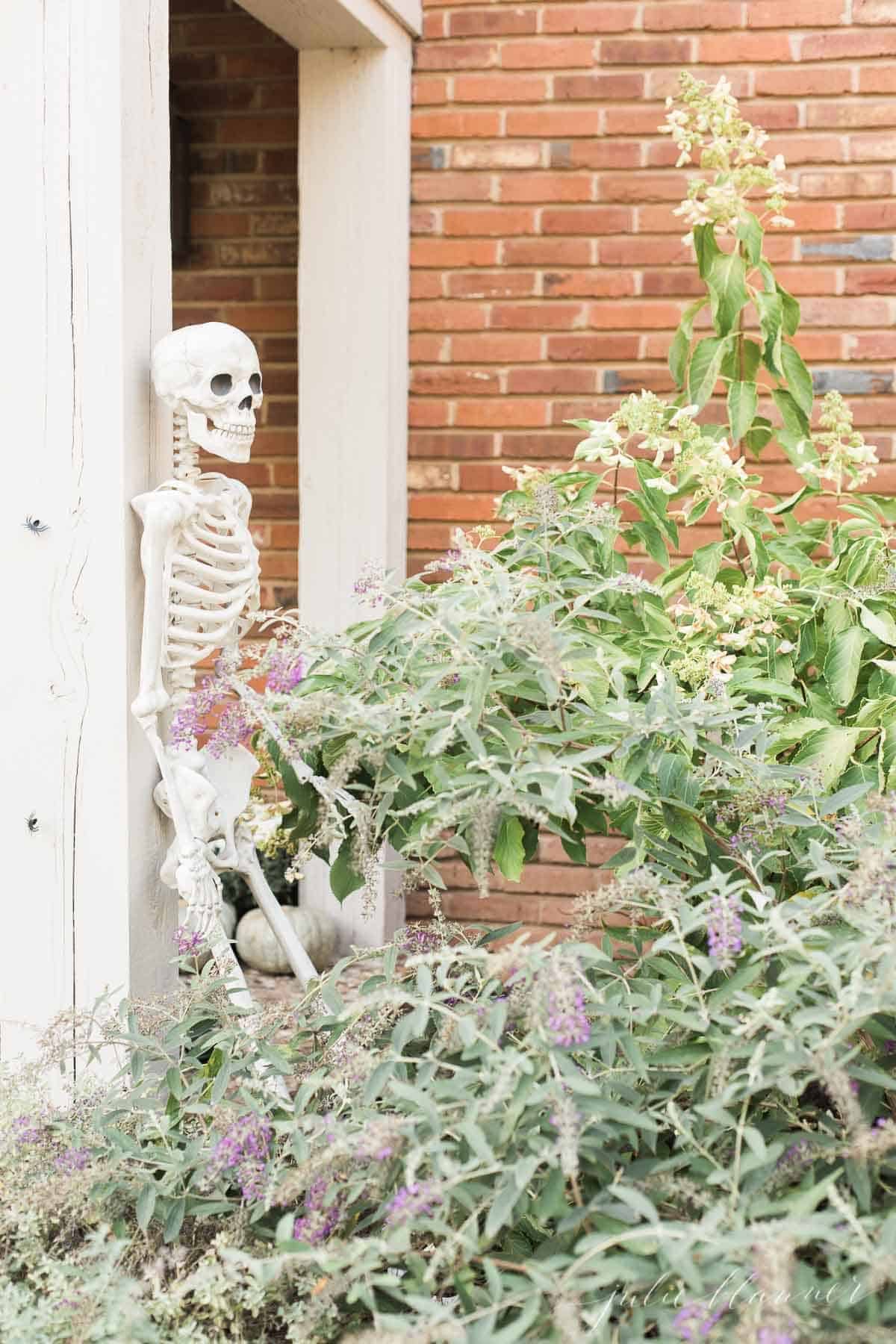 Add a skeleton to a chair, sofa or bench indoors or out. He'll definitely take guests by surprise. Give just a hint that something is amiss, like toes peeking out from under the sheet.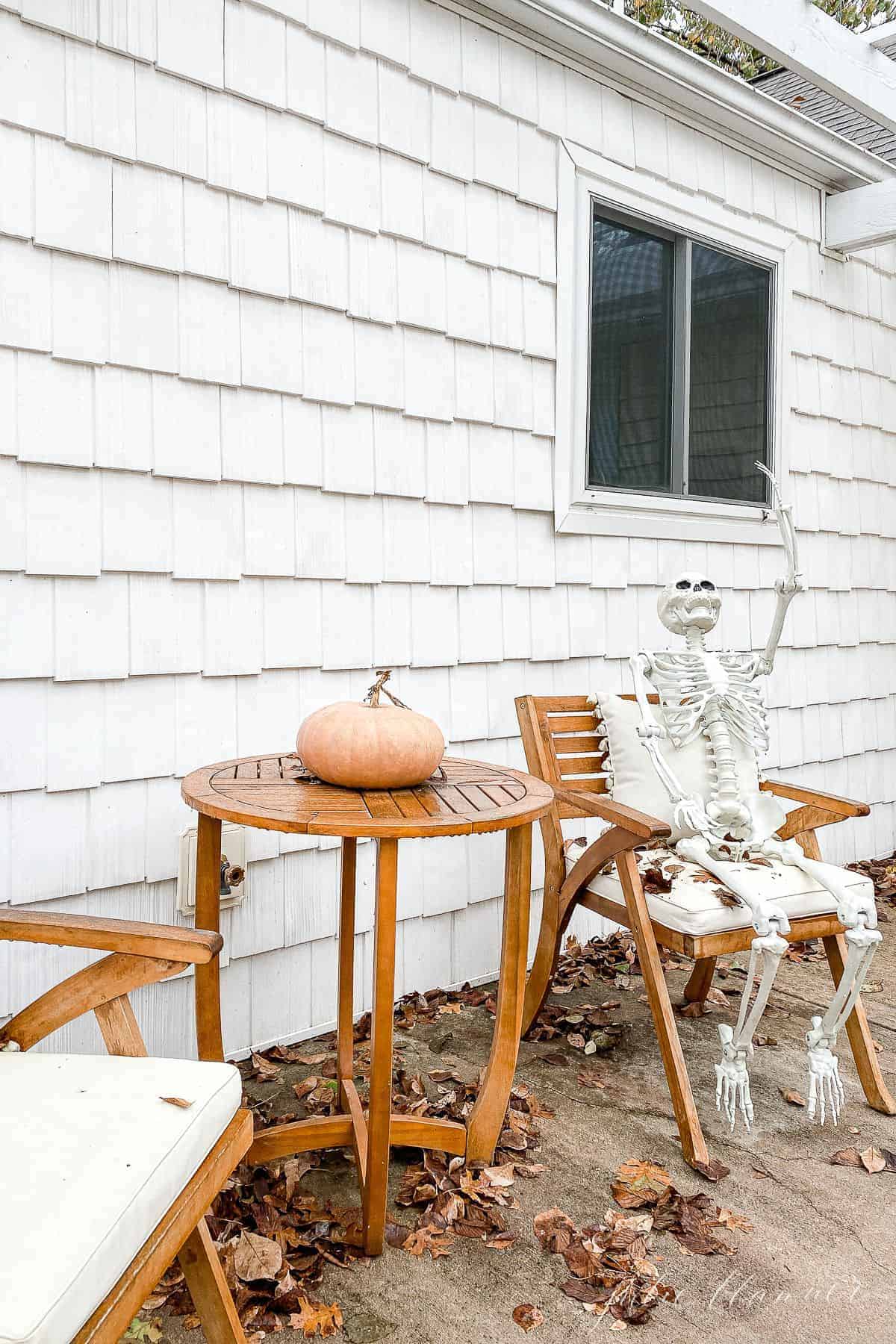 The skeletons that can strike a post are so hilarious and it's fun to change them around to tease your kids and neighbors!
Skeletons are so fun and versatile, don't you think?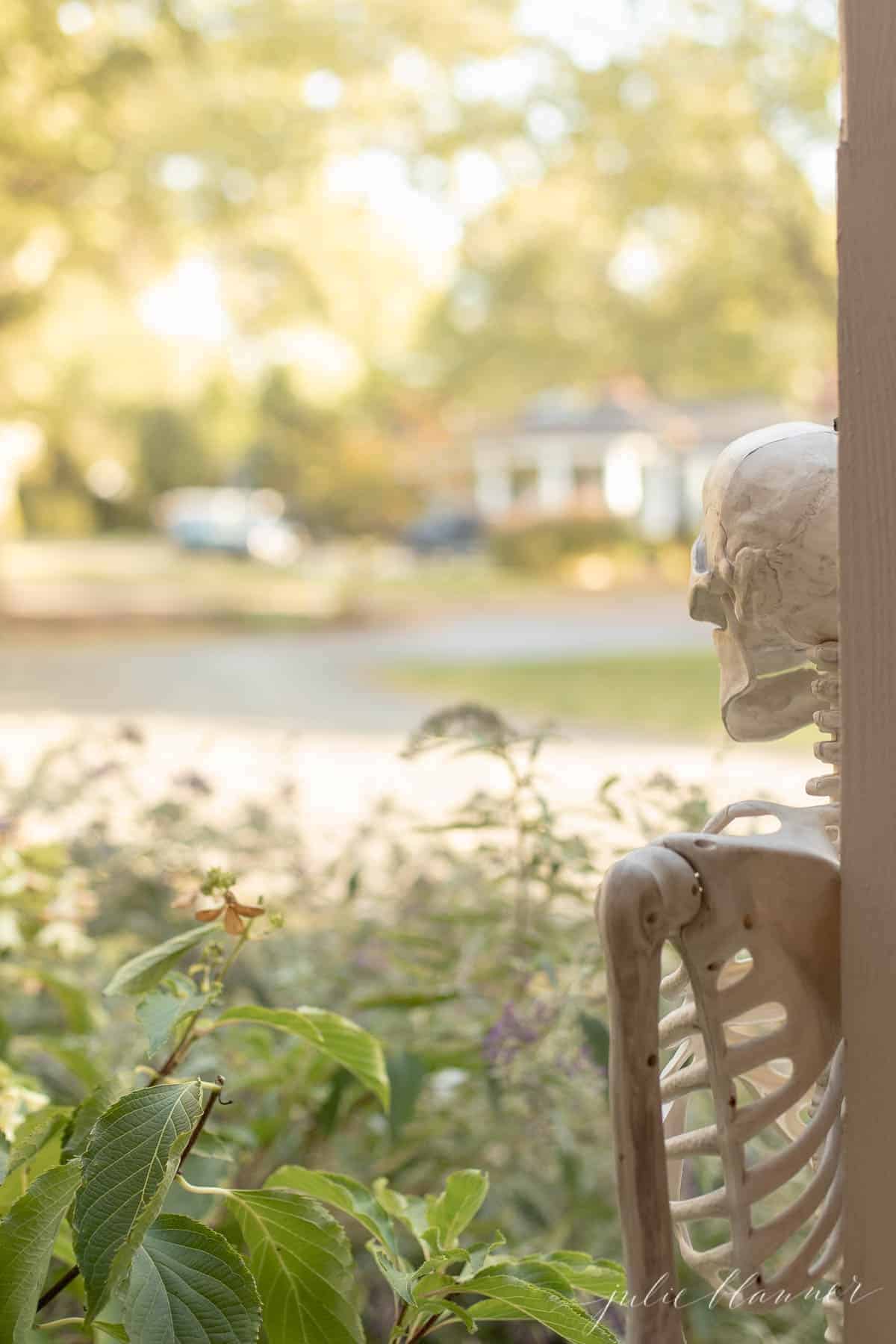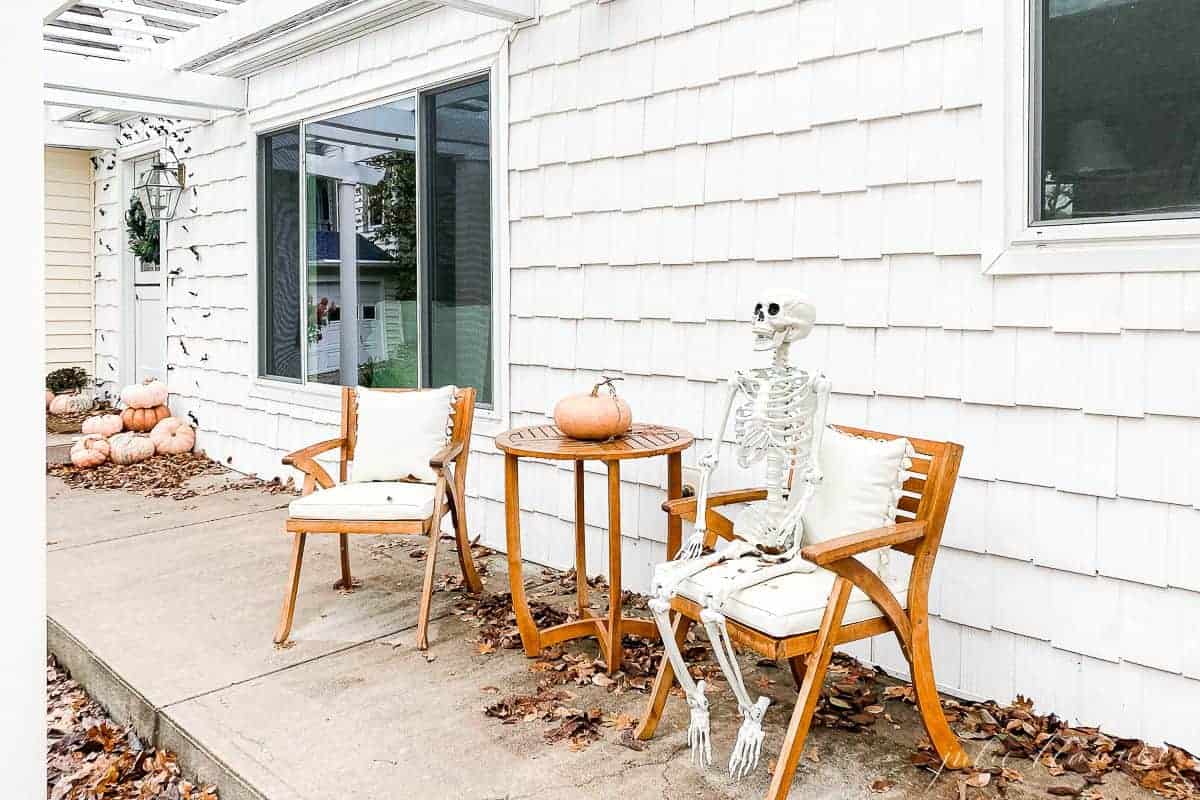 Black Birds
A black bird hanging from a cage or merely sitting on a chair is terrifying in itself! After watching Hitchcock's "The Birds," I feel a chill come through the air just seeing one!
Hang Spiders
Purchase plastic spiders or spider rings (clip the ring off) and tie clear fishing line. Hang from your porch at varying heights to spook guests! (See video for the easy DIY!)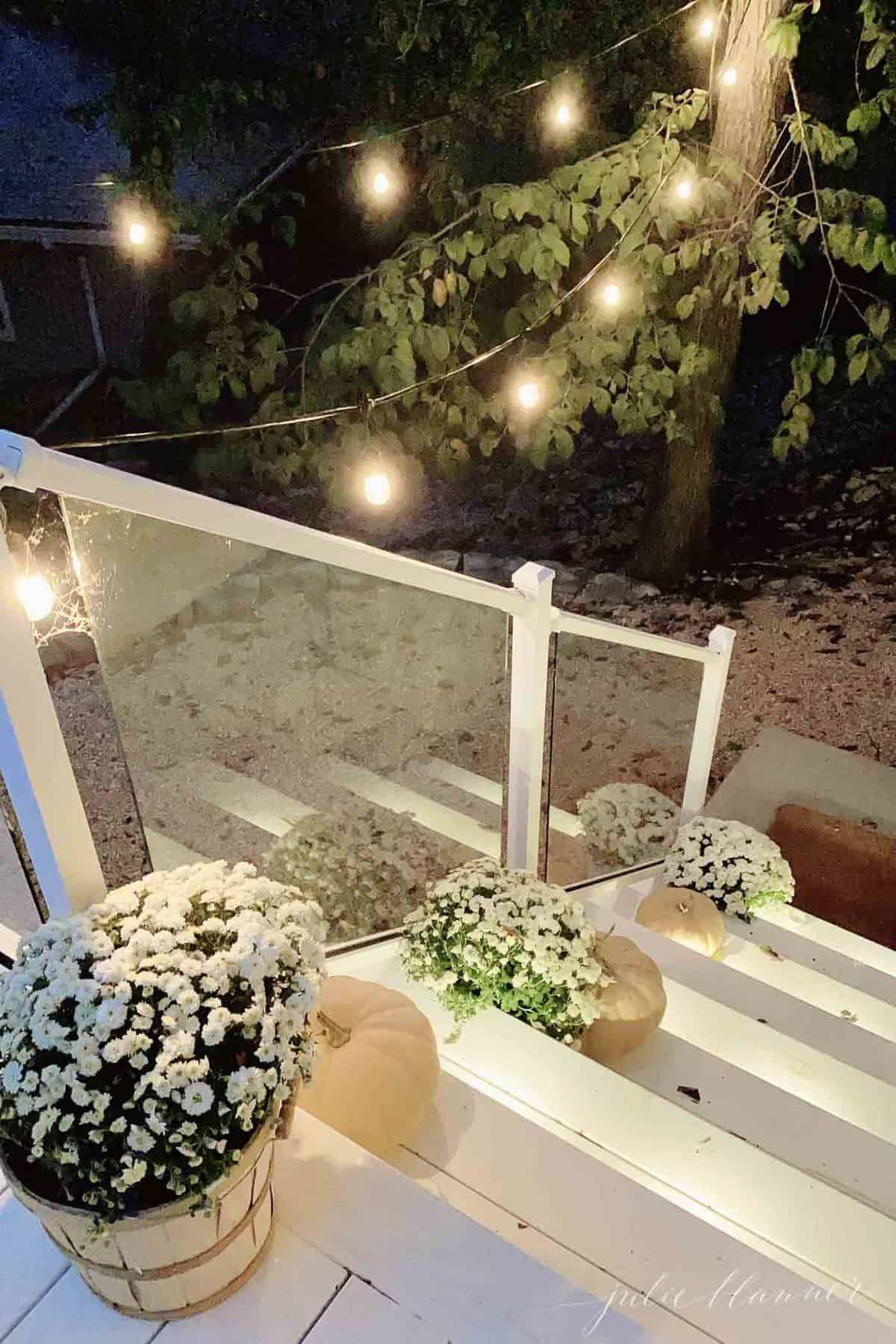 Add Webs
Cover mums and corners with spider webs! It's a hauntingly fun way to update your porch for Halloween!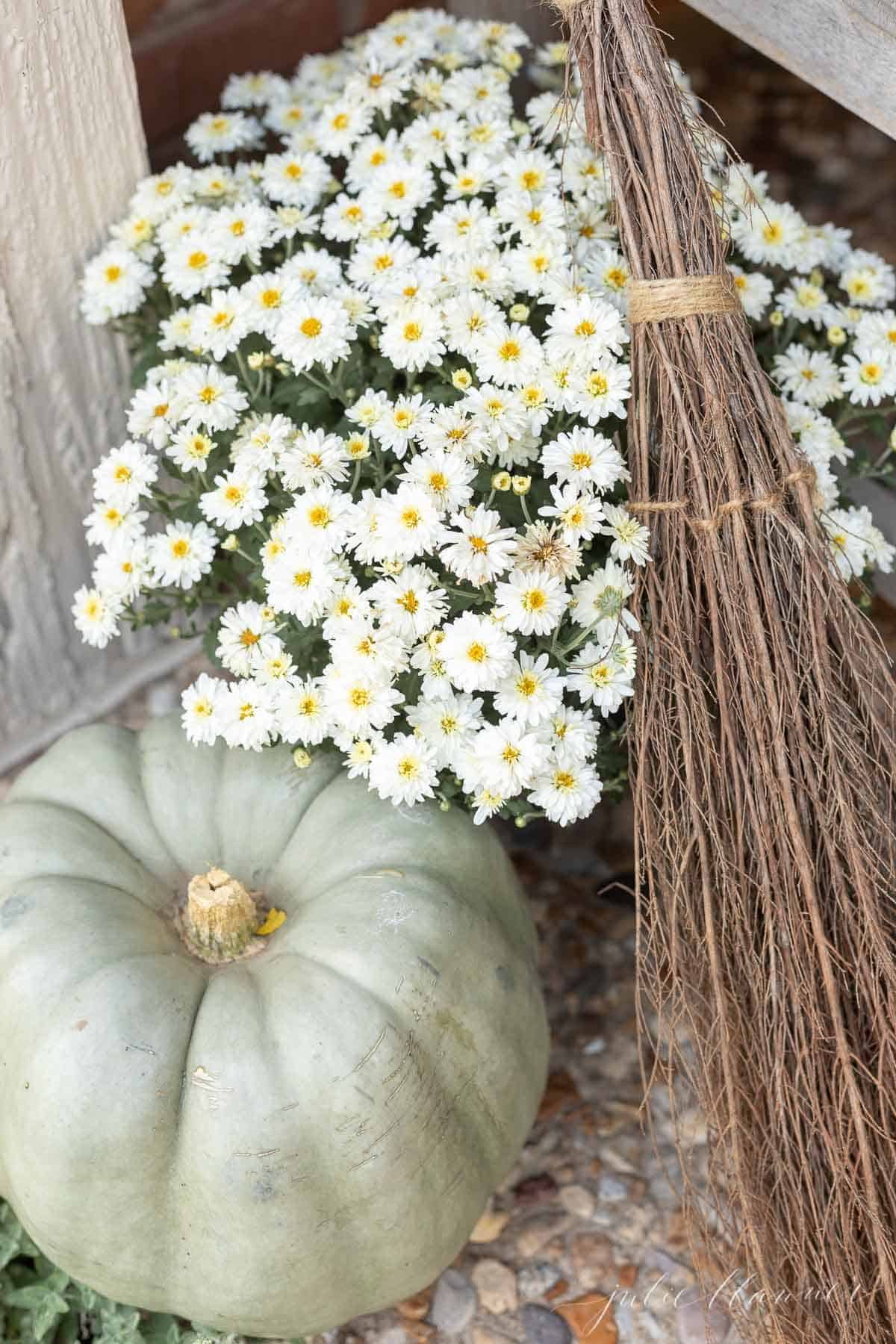 Dead Mums
Dying mums? No problem! Give the illusion that everything is dead and has been left untouched. There's no better time to have a brown thumb!
Silhouettes
Silhouettes are typically cut from black construction paper. It's an inexpensive way to give a little peek into your home – black cats, bats, haunted houses are all easy to make in minutes! You can learn how to make a silhouette here!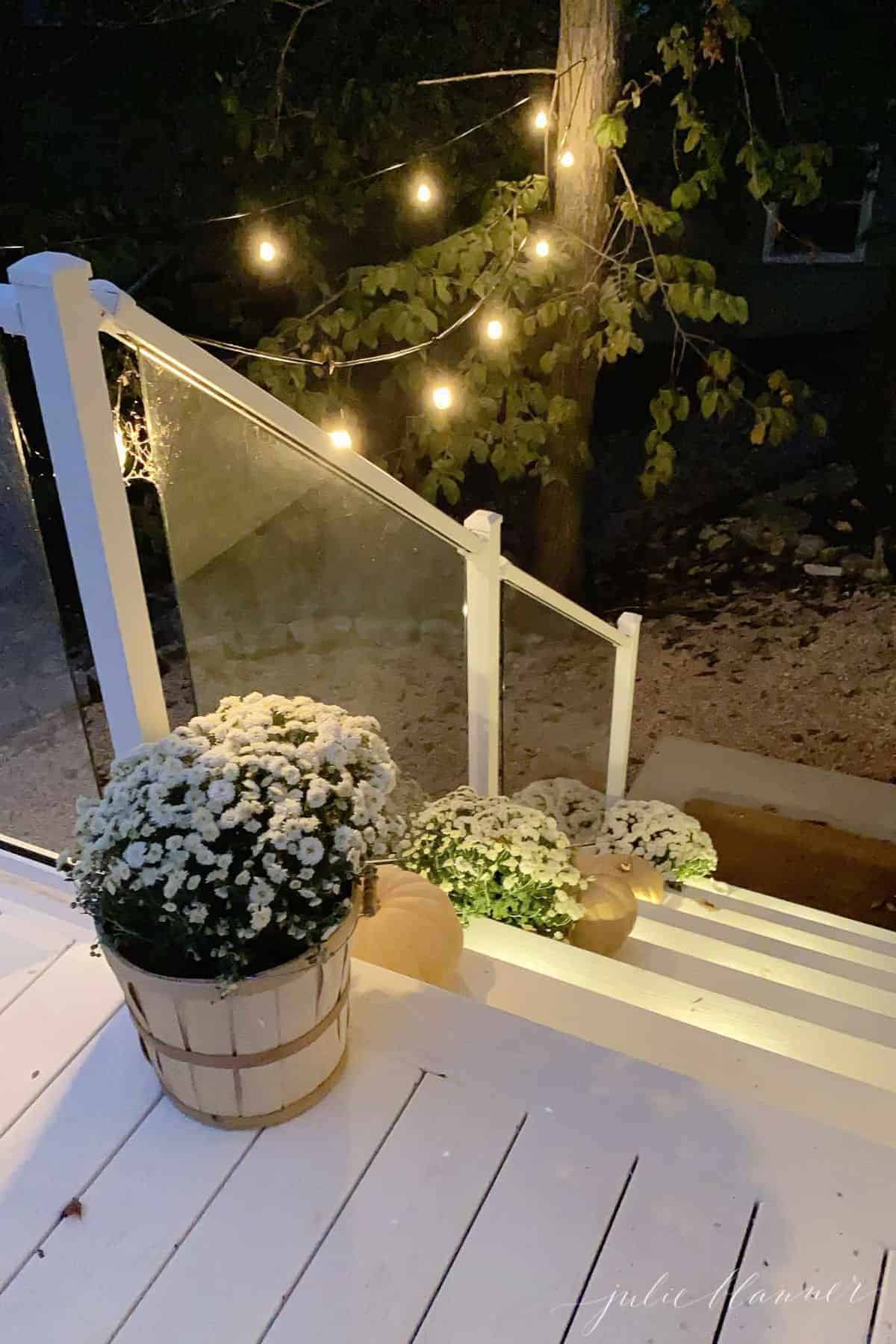 Candlelight
Illuminate using battery operated pillar candles to up the eek factor! The best part about these glowy pillar candles is that they are so easy to transition for holiday decor, too.
Check out how I used them for the holidays in this nighttime Christmas tour!
Cauldron of Bad Apples
This is another charming way to add a traditional, vintage flair to your Halloween porch decor. This cute cauldron is affordable and oh-so-cute for parties and decorating!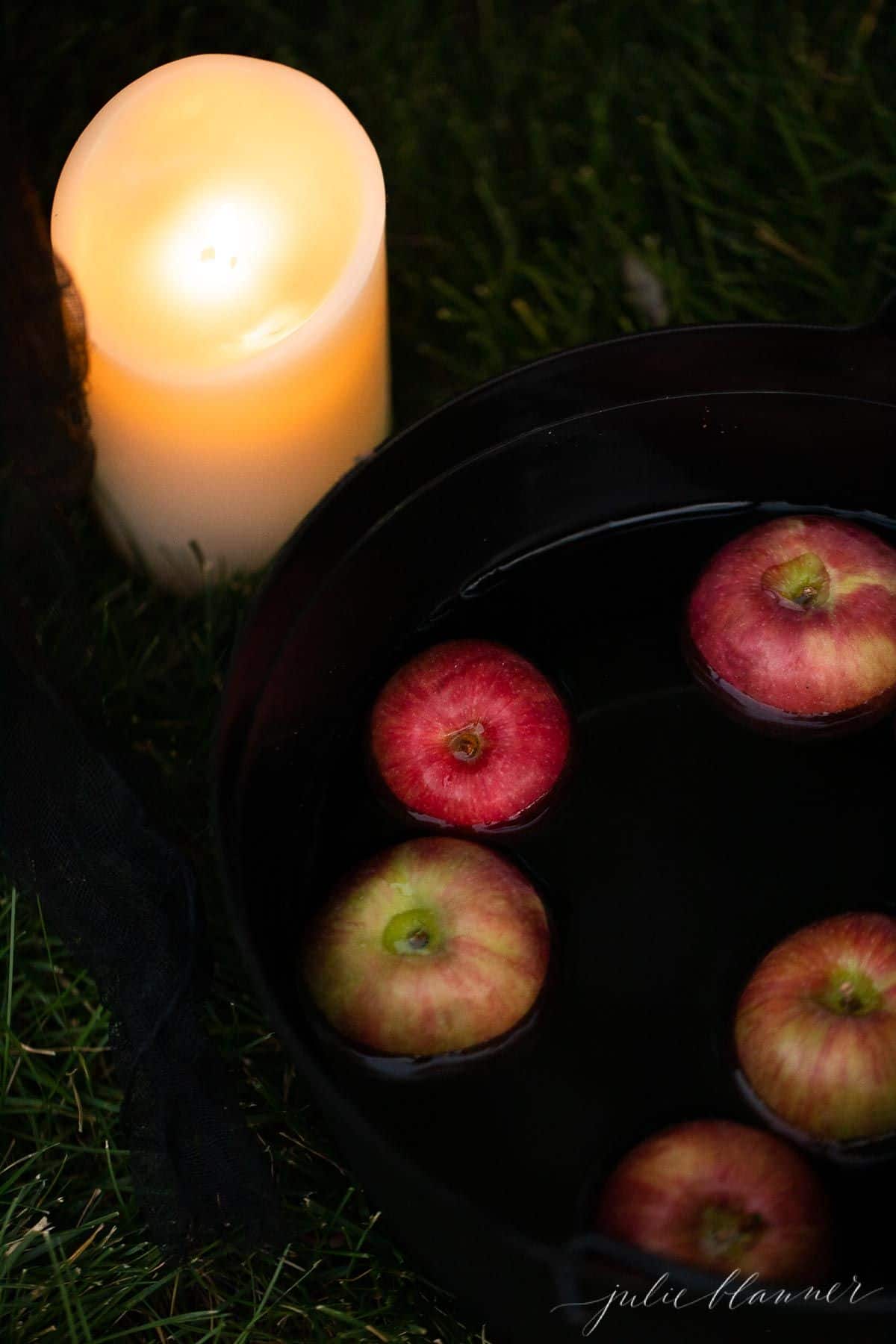 Witch's Hats
If you have a larger porch, you can hang witch hats using fishing line! It's bewitching! You can also hang them in your yard on trees!
Hang Ghosts
These hanging ghosts look so adorable when blowing in that chilly fall breeze. Hanging ghosts are easy to make yourself but such a cute addition to your fall porch.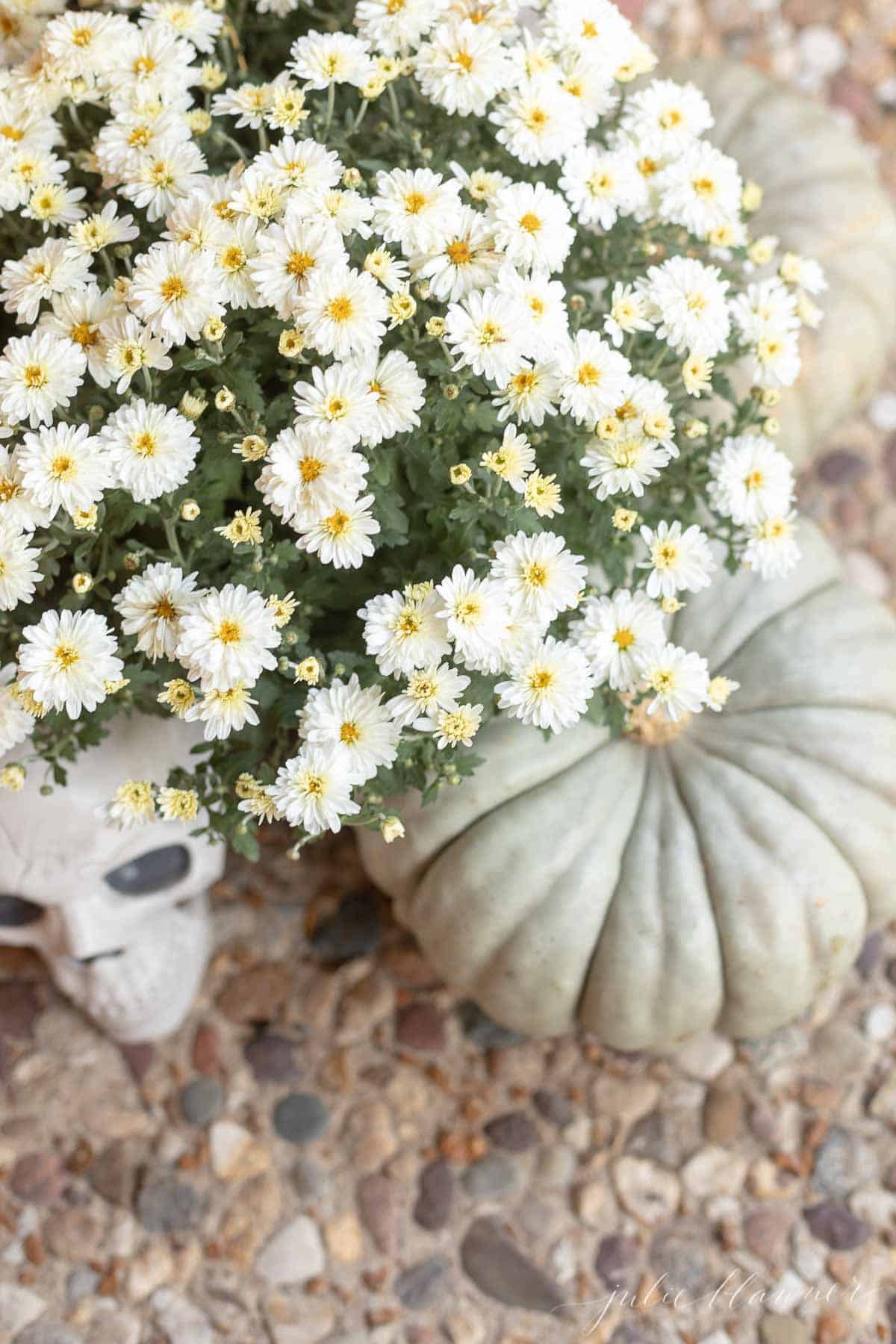 Don't Clean
Last but not least! Resist the temptation, consider it a blessing. I told you this would be easy!
It just so happens that I'm best at making a mess and I'll take Halloween and make it an excuse to leave our home a little aloof. Leaves, dead spiders and real webs add haunting appeal.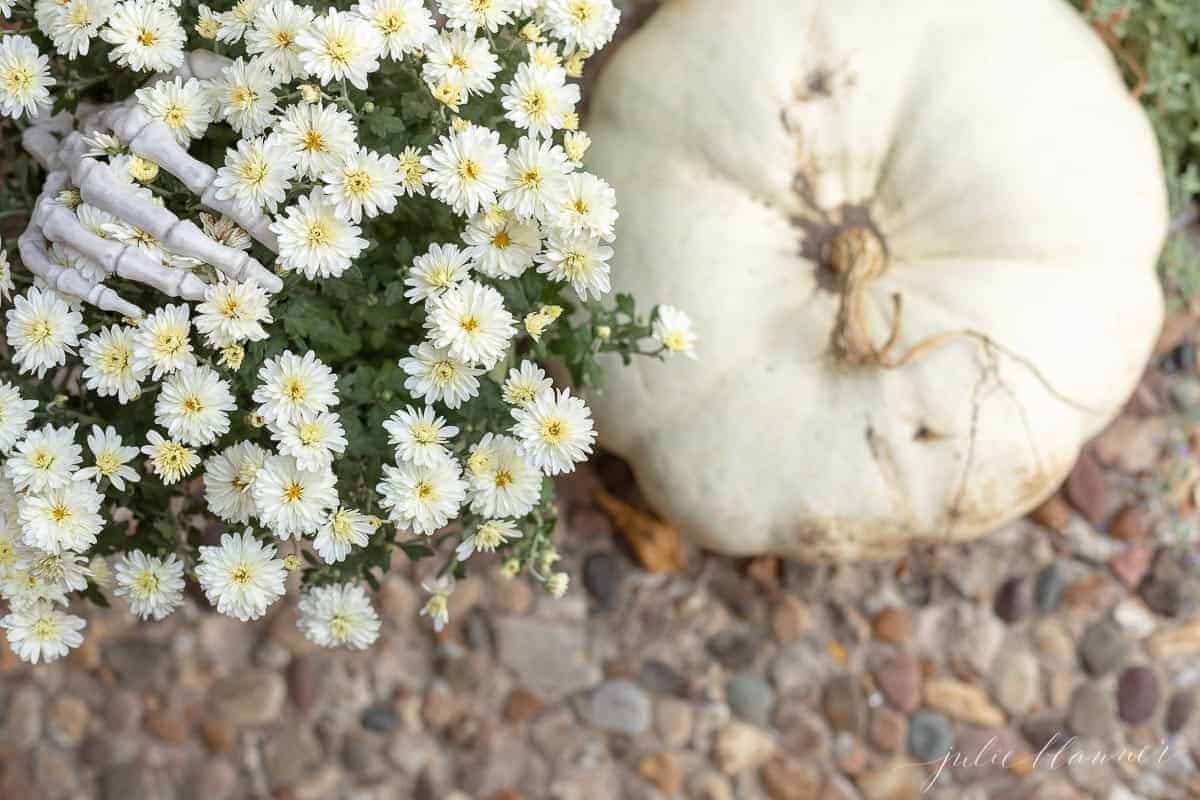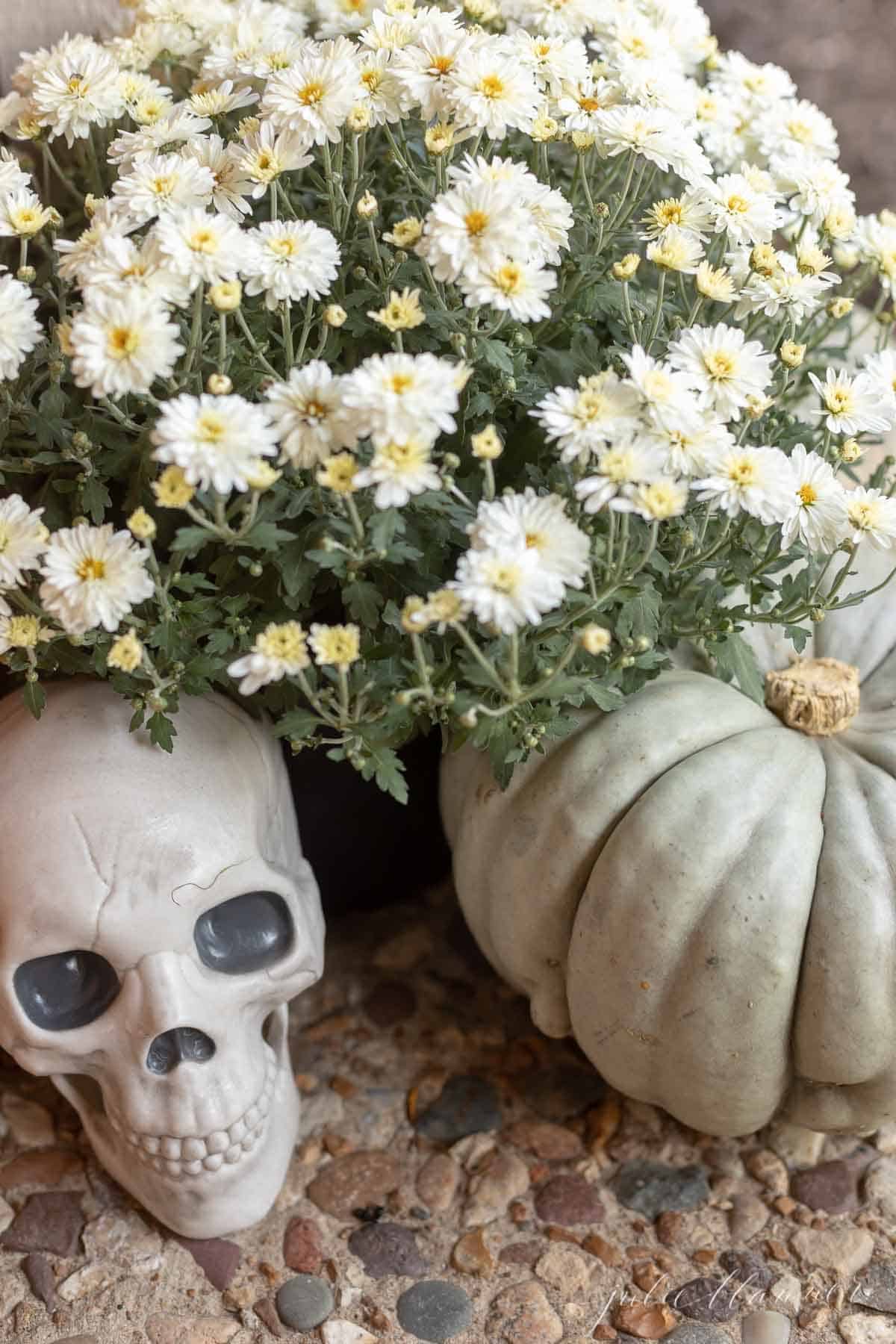 Let's keep in touch! Receive exclusive content, including never-seen-before photos, our favorite home decor DIYs and more!
More Halloween Inspiration