Indulge in sweet and salty banana cake, covered in luscious salted caramel icing!
This irresistible dessert is the perfect treat for any occasion – from lazy Sunday brunches to elegant dinner parties.
Moist, tender banana cake is generously frosted with creamy salted caramel icing, creating a sweet and salty flavor explosion in every bite.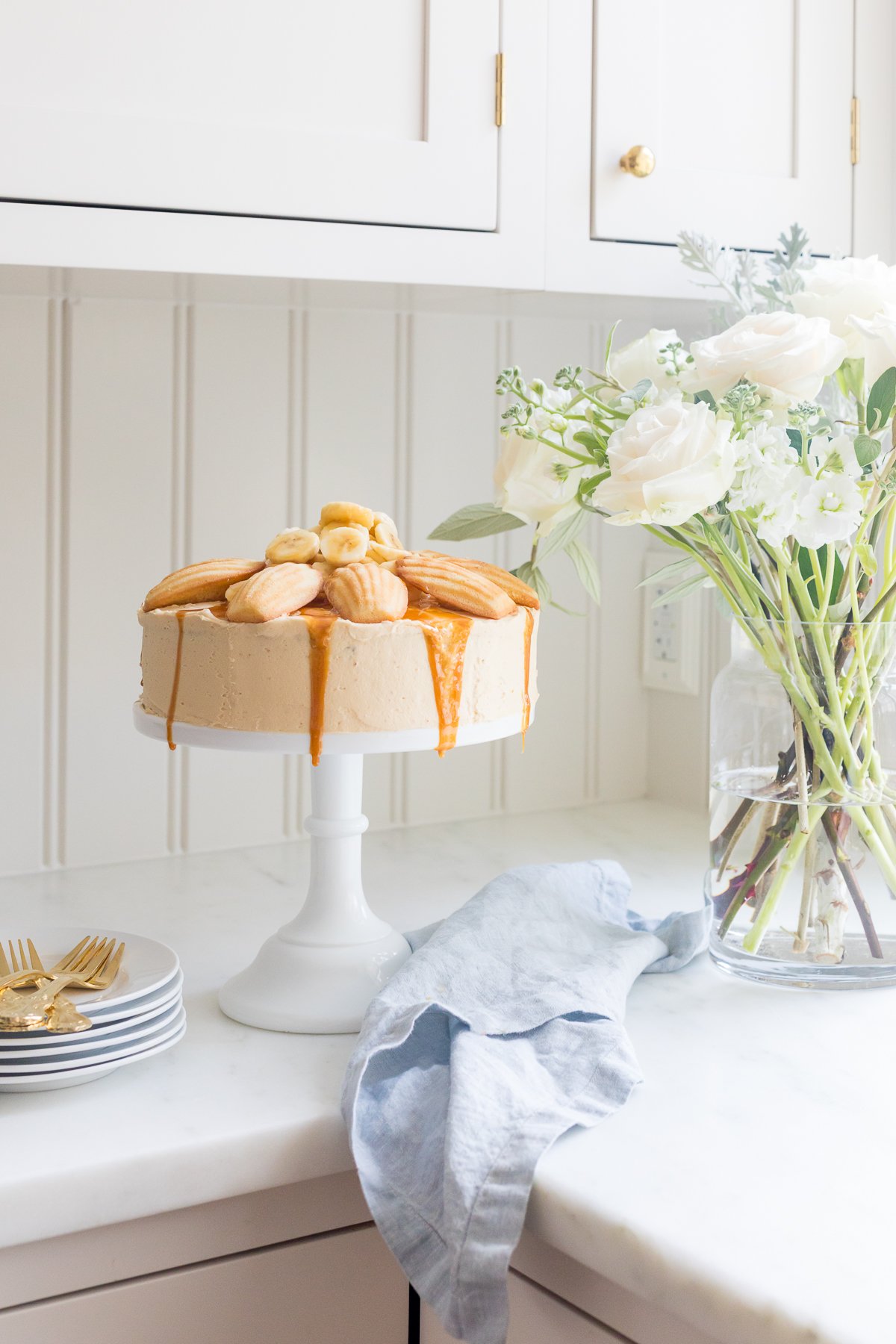 One thing I love more than a delicious dessert is a beautiful dessert – that is easy to make. Years ago while in college, I worked for a catering company whose philosophy was that food should look as good as it tastes.
It's that job that led me on the journey to both my business and how I entertain today! Through the years I've embraced that philosophy without any formal training. It's the little things!
This banana cake recipe is so amazing! It's rich in flavor with a fun twist: the addition of browned butter.
This gives it a more intense flavor and when topped with thick, creamy salted caramel frosting and madeleines, this cake stands out from the rest!
This is absolutely my new favorite cake! It was incredibly moist! I took it to work and everyone raved about it! The salted caramel icing was creamy and paired well with the banana! Sharing this recipe with friends!

– Cheryl –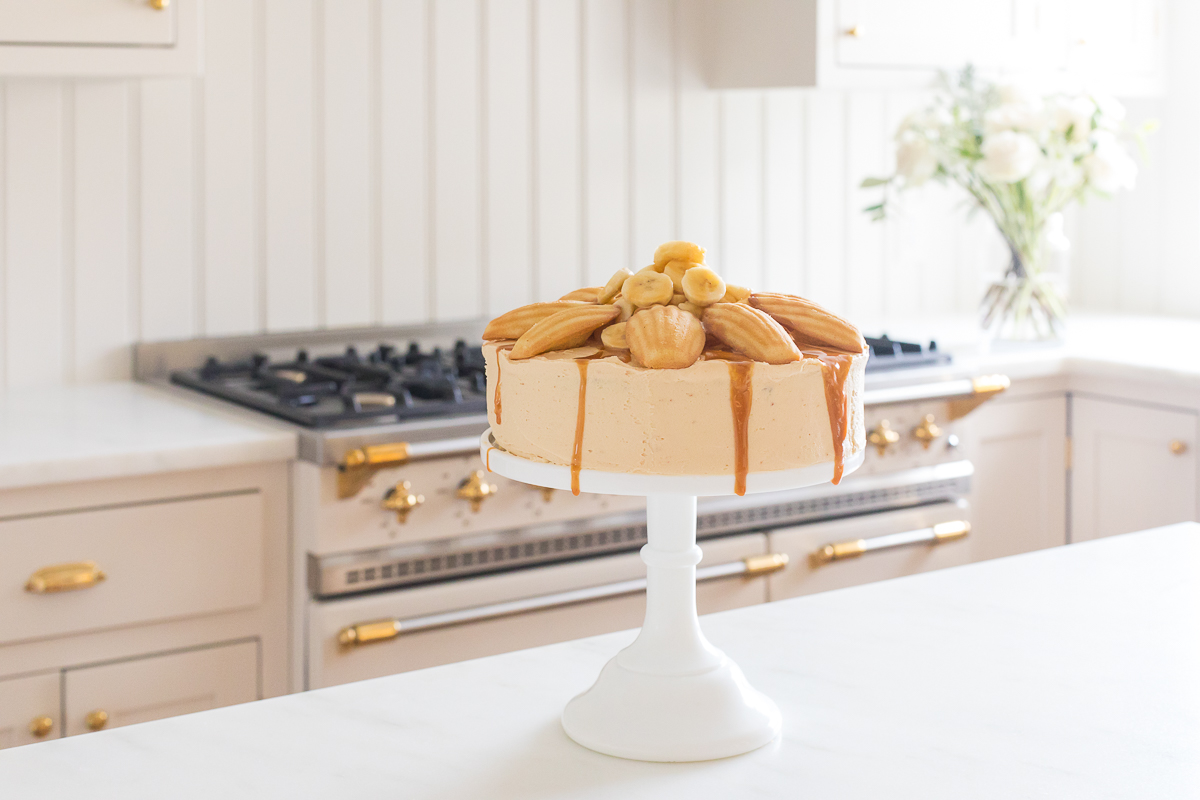 Banana Cake
It's so easy to make banana cake from scratch and it takes just 30 minutes hands-on time! Just like my Mandarin Orange Cake, you won't regret the effort.
Why You'll Love this Recipe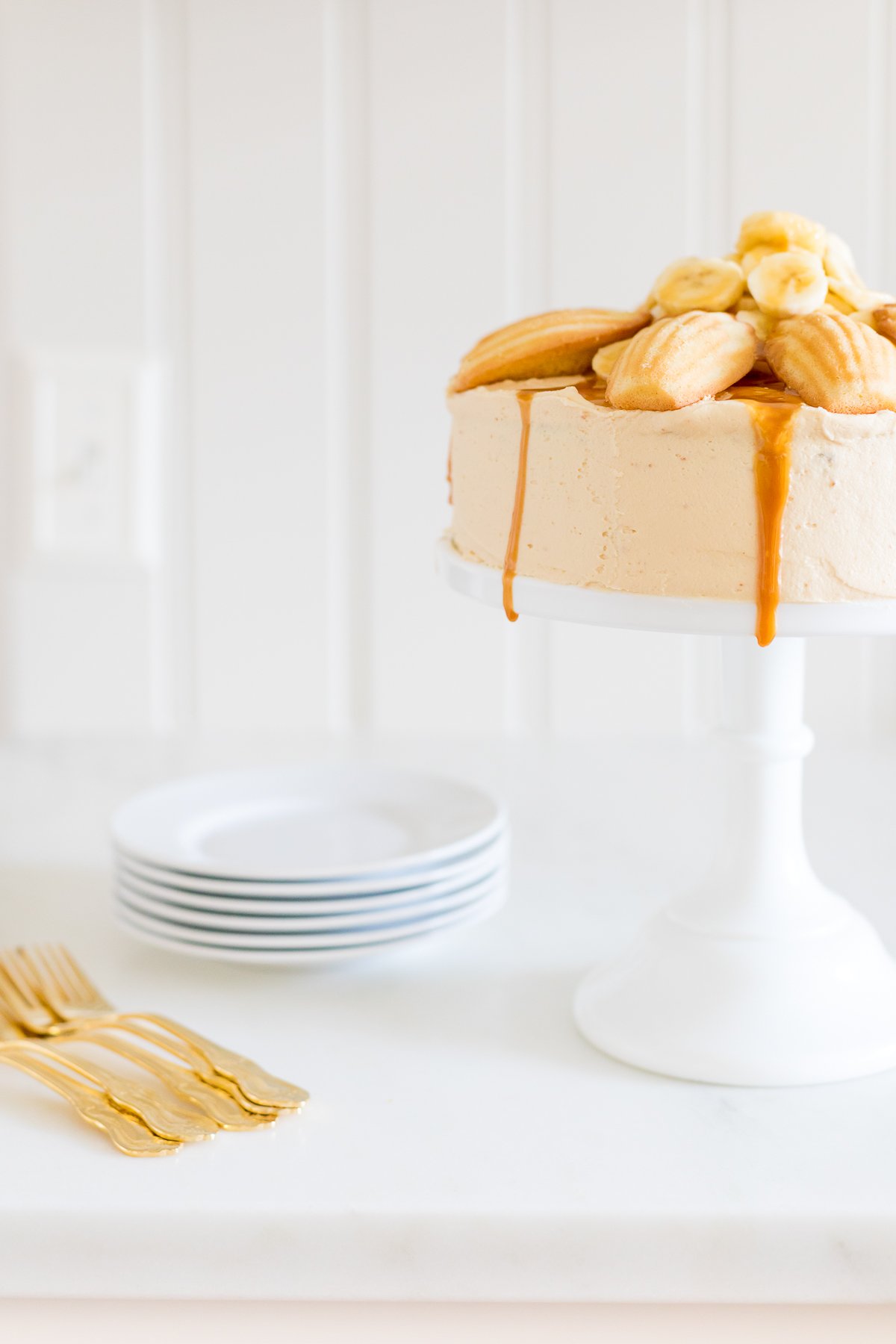 Ingredients and Substitutions
Butter – Unsalted butter allows you to control the amount of salt in the recipe. If you are using salted butter, eliminate salt. Learn how to soften butter quickly.
Bananas – Choose ripe bananas for a sweet, soft addition to this cake.
Lemon Juice – Fresh squeezed lemon juice is, but you can substitute 100% real lemon juice, if needed.
Flour – All purpose flour.
Baking Soda – Baking soda is the leavening agent to make this cake rise to perfection.
Salt – Salt brings out all the other flavors in baking. If you use salted butter, eliminate the salt.
Sugar – White granulated sugar sweetens the cake and when beat with the butter, adds to the rise.
Eggs – Large eggs bind the batter.
Buttermilk – Buttermilk creates a tender crumb. If you don't have buttermilk, you can learn how to make a buttermilk substitute here.
Powdered Sugar – Powdered sugar is extremely fine, giving frosting a luxurious texture. If you don't have powdered sugar (also known as confectioner's sugar) you can make powdered sugar using white granulated sugar.
Madeleines or Cookies – Madeleines are the prettiest French inspired shell shaped cookie that take this banana cake over the top, both in looks and texture!
Salted Caramel Sauce – Homemade or store-bought sauce adds flavor to the simple frosting.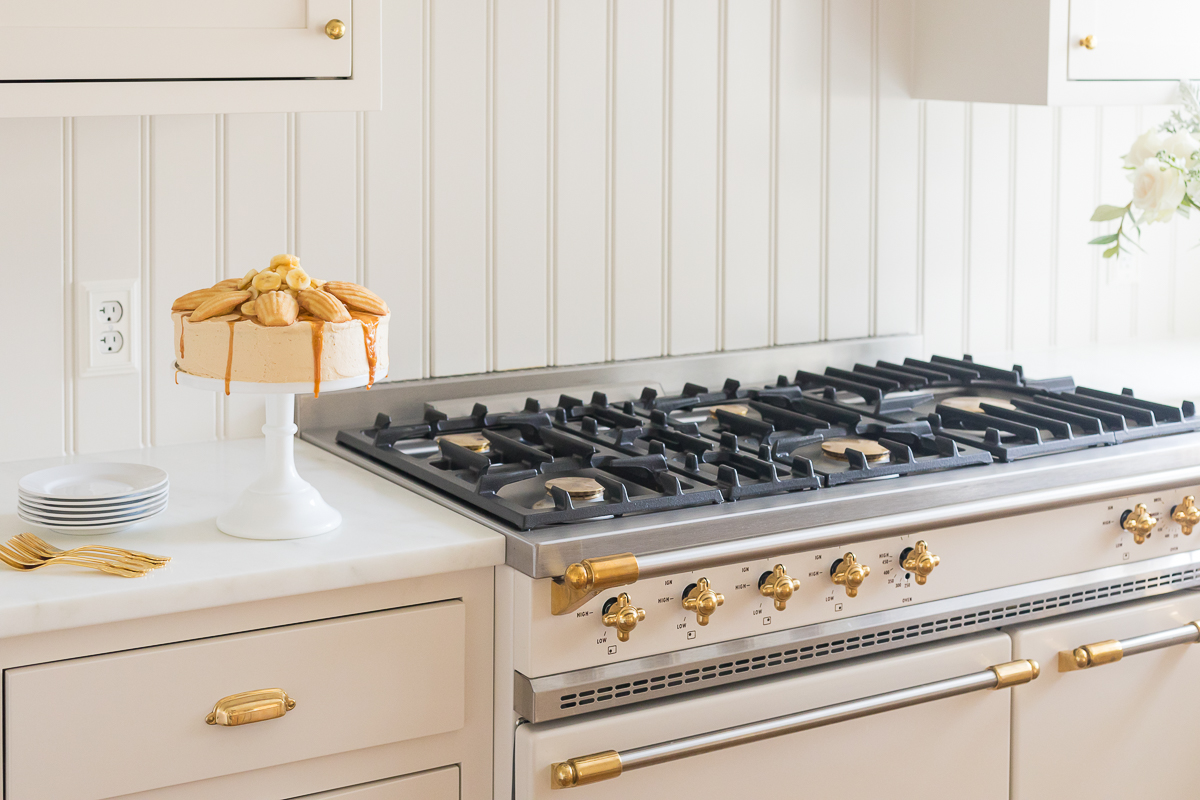 How to Make
Prep – Preheat oven and grease baking dish.
Brown Butter – In a large saucepan, melt butter over medium heat until it becomes brown in color as directed.
Make Batter – Mash banana and lemon juice in a small bowl. Set aside. Combine dry ingredients and wet ingredients in separate mixing bowls. Gradually combine,
Bake – Pour into greased cake pan as directed, or until a toothpick comes out clean.
Frost – Before frosting this cake, remove from oven and place cake in freezer for 45 minutes. Meanwhile, in a mixer or mixing bowl, whip butter until smooth. Gradually add powdered sugar. Blend in salted caramel sauce. Frost the cake.
Decorate this Cake
Place your cooled cake onto a cake pedestal.
Using an icing spatula and fresh salted caramel buttercream, smooth frosting onto cooled cake.
In the center of your cake, drop a cup of bananas that have been sliced and tossed in lemon juice and optional madeleines.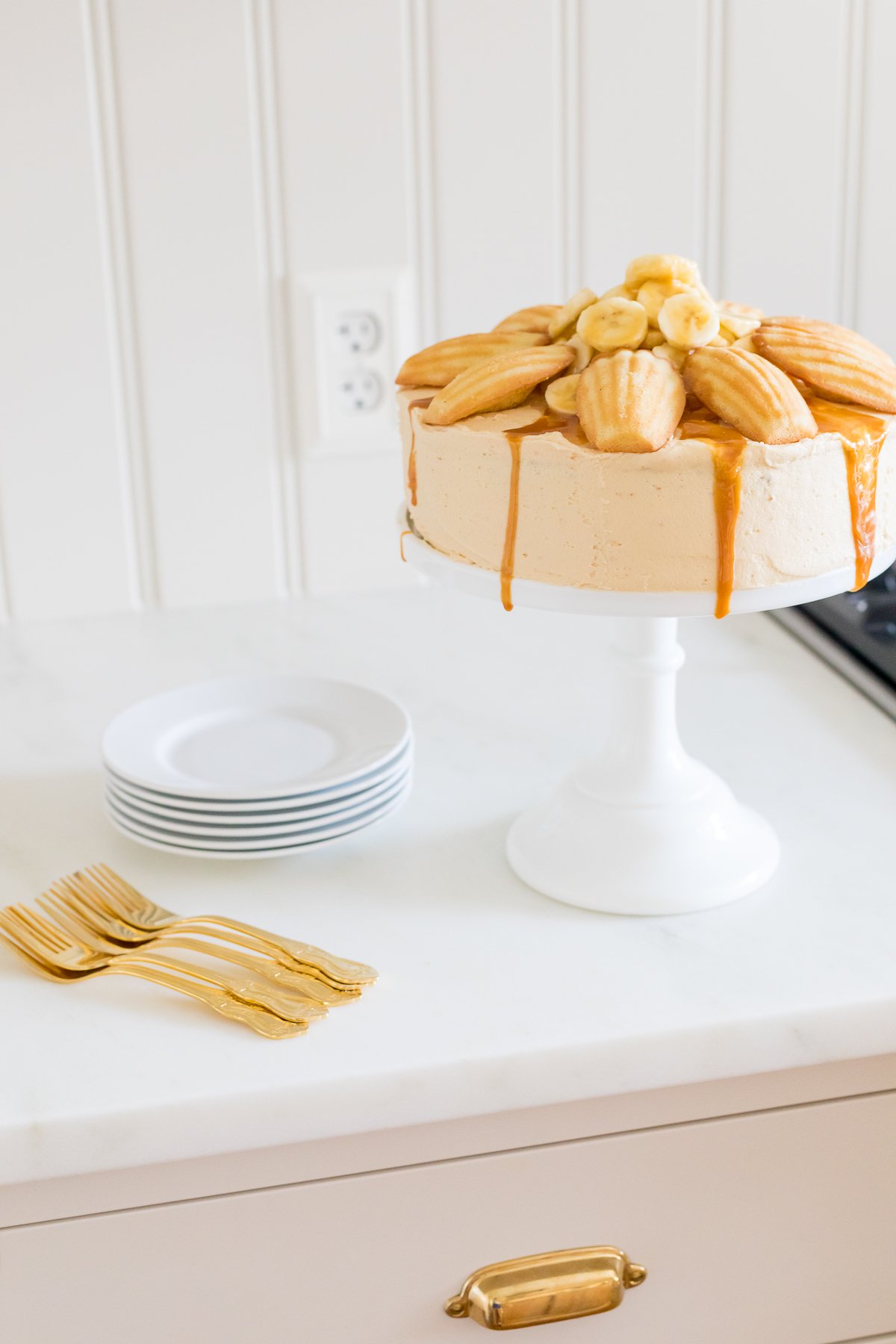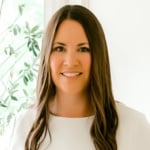 Tips
Don't Overfill Cake Pan – Fill 2/3 full to compensate for rise.
Use the Toothpick Test – Insert a toothpick in the center. When it comes out clean, it's done.
Bananas – 1 1/2 c of bananas mashed is the equivalent to 3-4 bananas.
Freeze First – Be sure to freeze the cake before decorating it to make it easy and crumb-free to frost.
Grease Well – Grease your cake pan and bake in a pre-heated oven for the best results.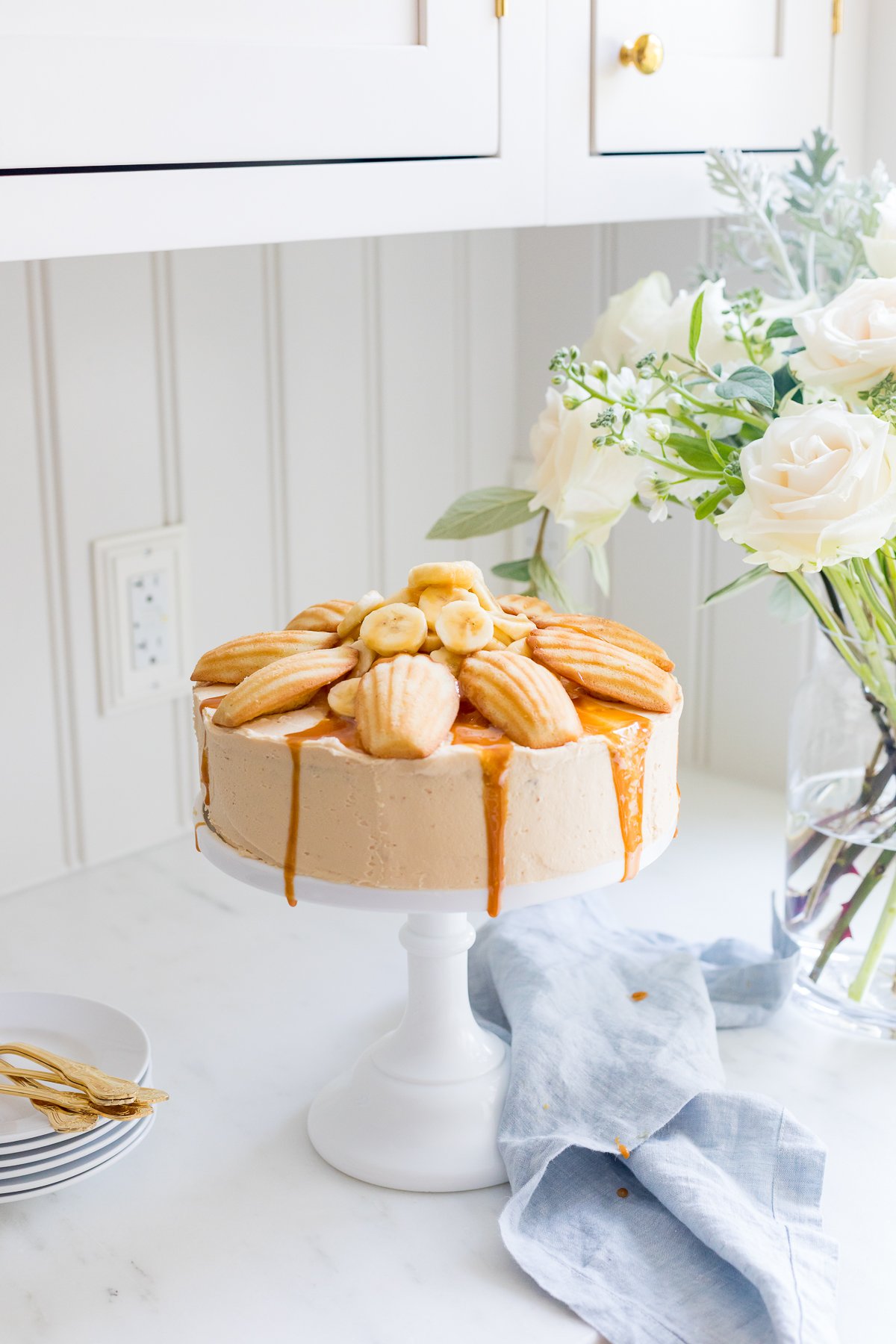 Frequently Asked Questions
How do you keep bananas from browning?
Dip or brush the banana slices in lemon, lime or pineapple juice to prevent browning.
What's the difference between banana bread and banana cake?
Banana bread and banana cake will taste somewhat similar, but the differences are significant. Banana bread is a quick bread that is traditionally baked in a loaf pan, while banana cake can be baked in larger, more shallow cake pans. Cake is also generally frosted, while banana bread is not.
How to Store
Room Temperature – Leave out up to 24 hours.
Refrigerate – Refrigerate in an airtight container.
Freeze – Banana Cake can be frozen, however, fresh is always best!
Dietary Considerations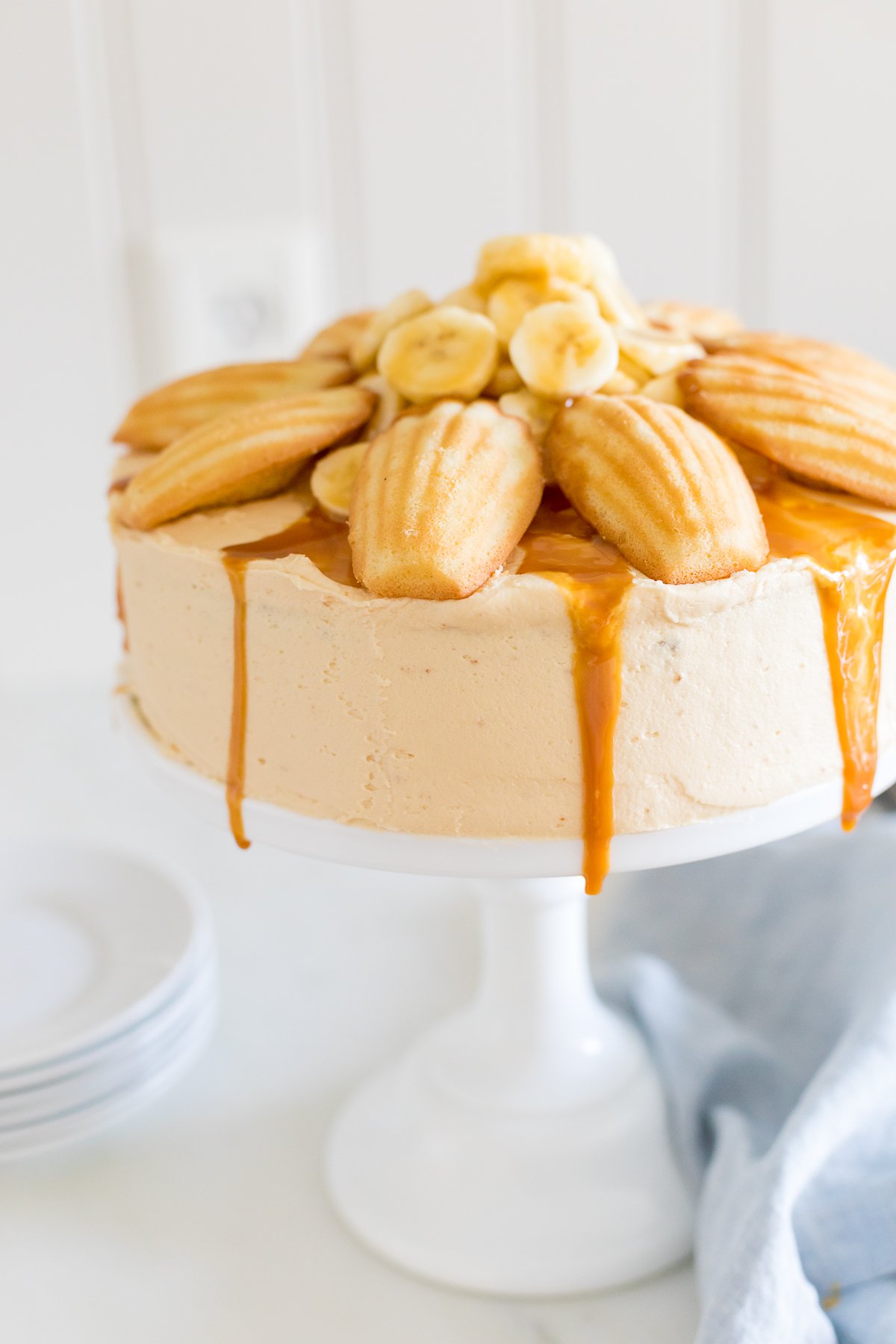 Cakes Cupcakes & Bars
50 mins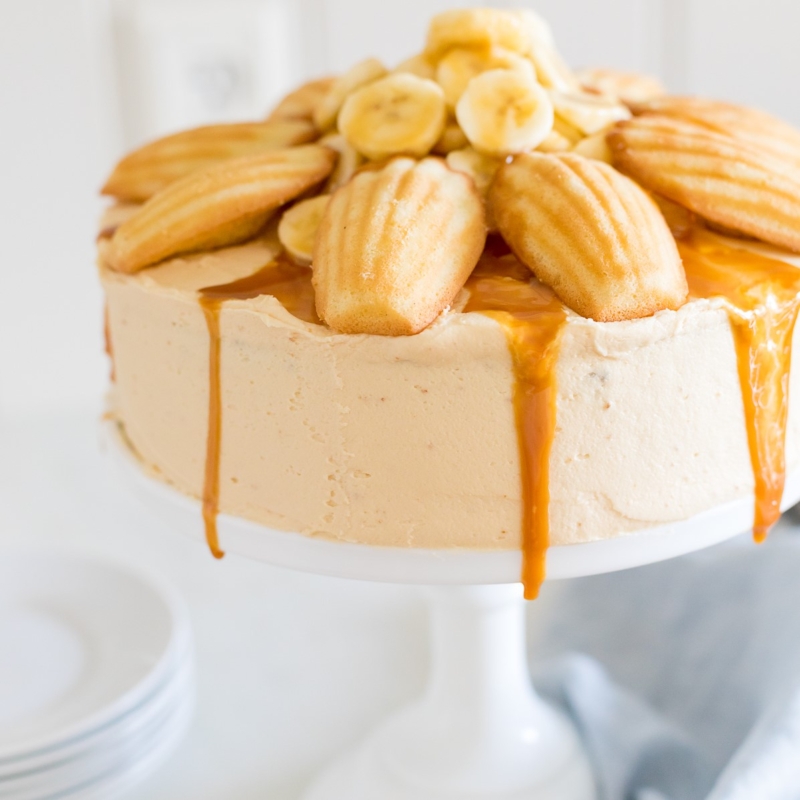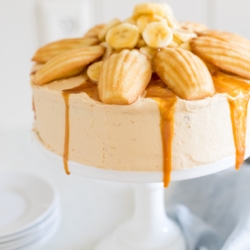 Banana Cake
Incredibly easy, incredibly good banana cake recipe with a few unique twists – with thick, creamy salted caramel frosting.
Ingredients
¾

cup

unsalted butter

softened to room temperature

1 ½

cups

bananas

mashed (about 3-4 bananas)

2

teaspoons

lemon juice

3

cups

all-purpose flour

1½

teaspoons

baking soda

¼

teaspoons

salt

2⅛

cups

white granulated sugar

1

tablespoon

vanilla

3

eggs

1½

cups

buttermilk
Topping
1

cup

bananas

sliced, coated in lemon juice

12

Donsuemor Madeleines
Instructions
In a large saucepan, melt butter over medium heat until it becomes nutty in flavor, brown in color and slightly foams. Remove from heat and allow to cool.

Meanwhile, in a small bowl, combine mashed banana and lemon juice. Set aside.

In a medium mixing bowl, combine flour, baking soda and salt. Set aside.

In a large in a mixing bowl or stand mixer, combine butter, sugar, and vanilla. Beat in eggs one at a time, until just combined.

Alternate adding flour mixture and buttermilk. Stir in banana mixture.

Pour batter into greased cake pan (reserving excess for an additional smaller cake or discarding).

Bake 1 hour 20 minutes or until a toothpick inserted into the center comes out clean. Remove from oven and place cake in freezer for 45 minutes.
Frosting
Meanwhile, in a stand mixer or medium mixing bowl, whip softened butter until smooth.

Gradually add powdered sugar. Blend in salted caramel sauce.

Remove cake from freezer and flip cake pan onto a cake platter. Frost cake. Top with bananas and cookies.
Calories:
620
kcal
|
Carbohydrates:
100
g
|
Protein:
5
g
|
Fat:
23
g
|
Saturated Fat:
14
g
|
Cholesterol:
92
mg
|
Sodium:
423
mg
|
Potassium:
174
mg
|
Fiber:
1
g
|
Sugar:
72
g
|
Vitamin A:
773
IU
|
Vitamin C:
2
mg
|
Calcium:
48
mg
|
Iron:
1
mg
Estimated nutrition information is provided as a courtesy and is not guaranteed.
Explore More