Poinsettias are a vibrant, welcoming Christmas tradition, and they are for more than just gifting to friends and neighbors. Did you know that you can make a spectacular poinsettia centerpiece with these charming plants?
Learn the simple trick that allows you to cut your poinsettia plants and enjoy the blooms in a more fresh and modern way – as a cut flower centerpiece!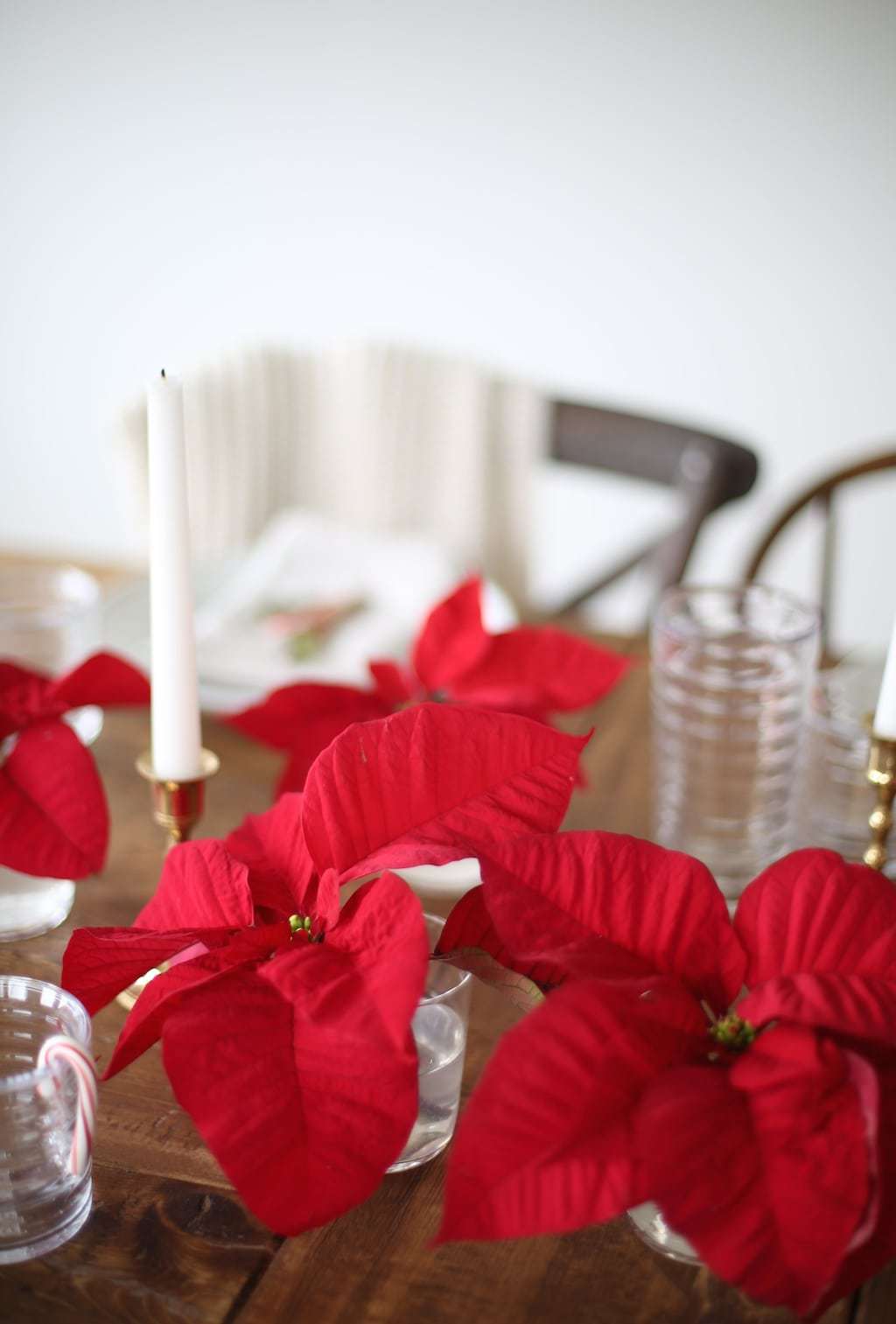 Earlier in my blogging career, I traveled to a gorgeous area in North Carolina and had the opportunity to visit a greenhouse that grows poinsettias. As I was enjoying dinner among the beautiful sea of red poinsettias, I started looking at them in a different light.
I began dreaming of how I could give the traditional flower a new look and incorporate it into our home. Once I got the idea in my head, nothing could stop me!
Of course, I came home and immediately created another one of my easy floral centerpieces from just one plant. They're bold, bright and beautiful, and when paired with my soft neutrals, wintery perfection!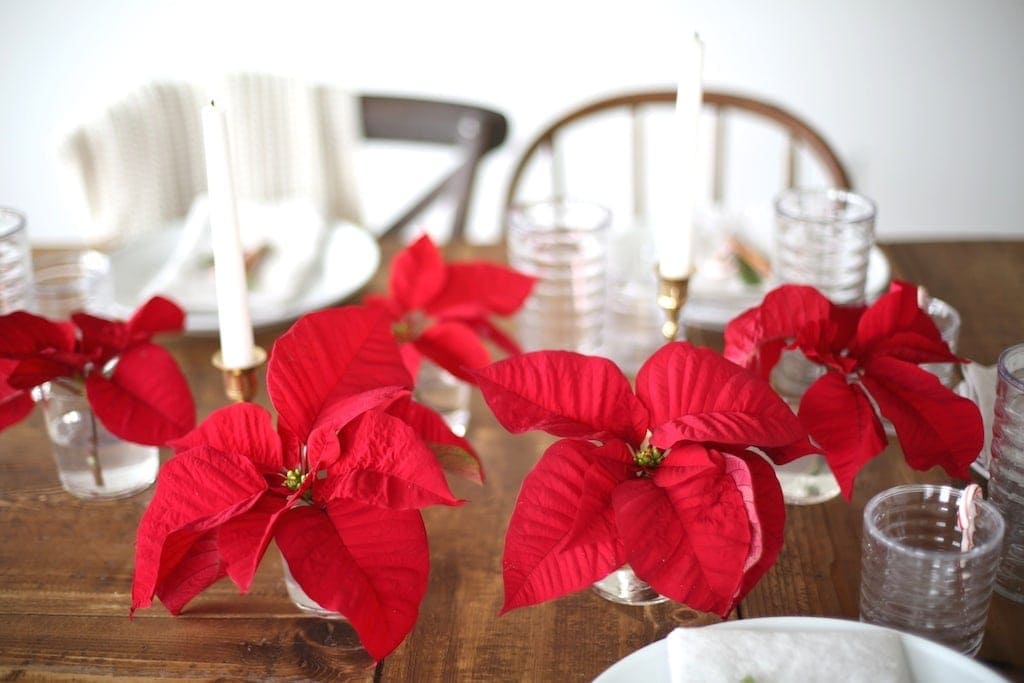 Poinsettia Centerpieces
Did you know that I spent nearly 12 years planning weddings and events, before blogging full time? One of the most difficult things I had to do was to try to make the most of a floral budget to make an impact because flowers are so costly!
A tip I've been sharing for years (but let's not look back at those photographs, alright) is to use plants versus fresh cut flowers. You'll save at least 50% by cutting those blooms yourself.
You never see fresh cut poinsettias though! Deconstructing them gives them an entirely different aesthetic and is quite stunning.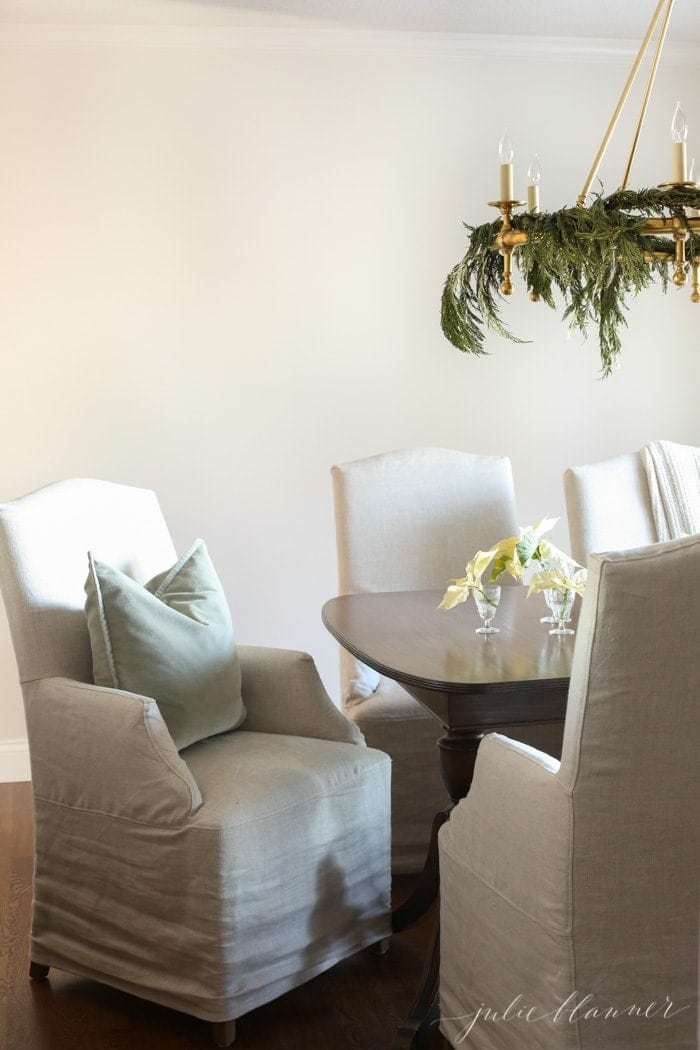 I love simple centerpieces, and I've created many beautiful holiday centerpieces over the years. Don't miss this complete guide to 15+ simple DIY Christmas centerpieces to make entertaining simpler this year!
What You'll Need
Here's the recipe for a deconstructed poinsettia centerpiece:
1 poinsettia plant (usually around $5)
How to Make a Poinsettia Centerpiece
Identify your best blooms – we're hoping for 5+ branches off of one plant! I do this in-store.
Cut the stem at the base of the plant, carefully considering the height of the vase to ensure the length of your stem is similar. Remove all green leaves, even when blended with the red.
Rinse your stems carefully, not to damage the red blooms. This will remove most of the white milky substance from cutting them.
Fill your "vases" with water. Cut your stems so that the blooms sit on top, straight up, but long enough it looks like the blooms are standing in the glassware.
Arrange them down the center of the table! Depending on how many guests you're expecting, you may want to make a table runner or group them together. I mixed them in with tapers as well!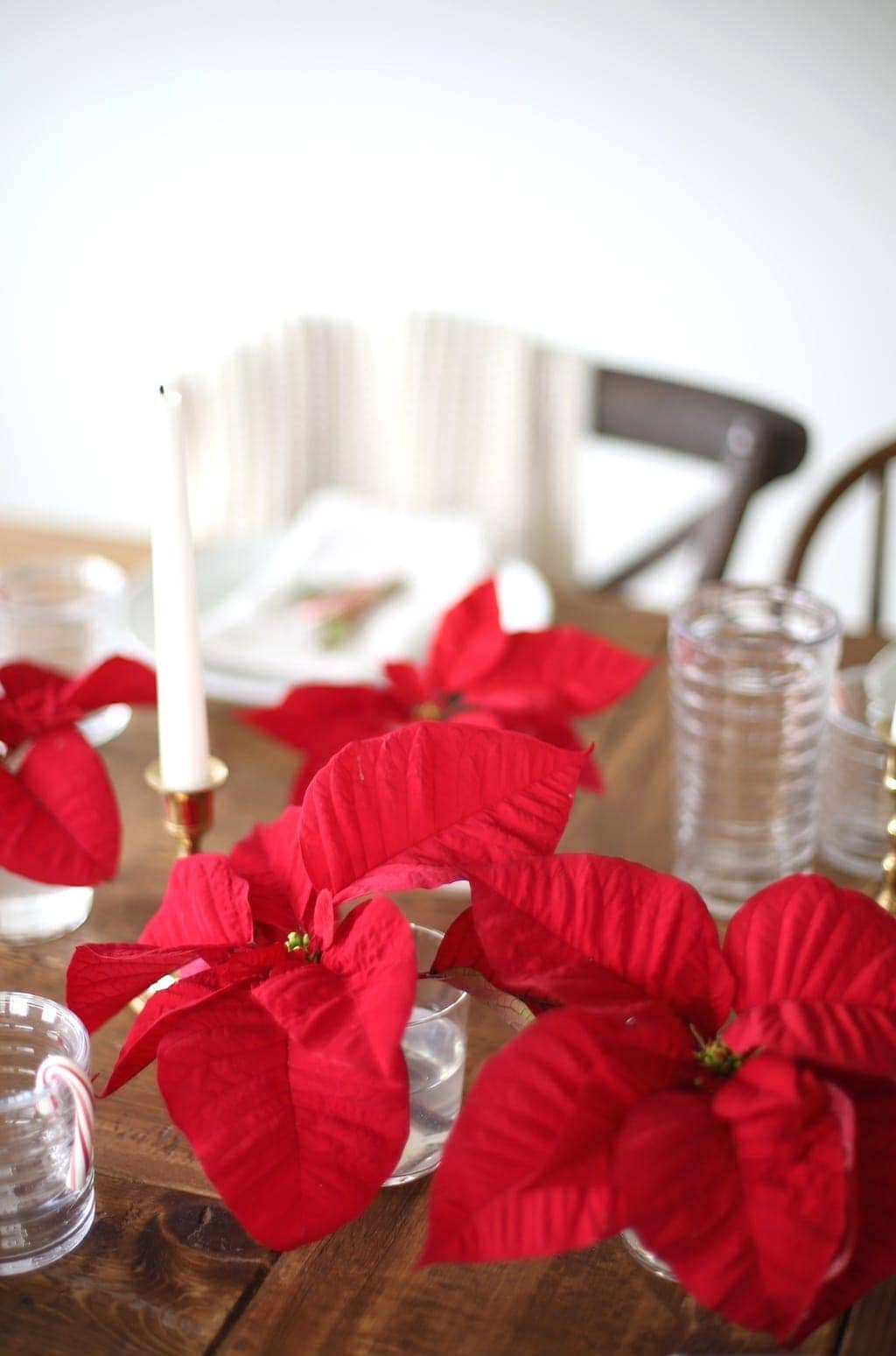 Tips
Did you know that poinsettias are naturally green and then forced red?
Did you know that poinsettias are not poisonous? Here is one of the many articles debunking the myth.
For an extra step that might help keep your cut poinsettias alive in the vase for longer, burn the end of the stem with a lighter for approximately 3-5 seconds. This might keep the milky sap within the stem itself, hence extending their life once cut.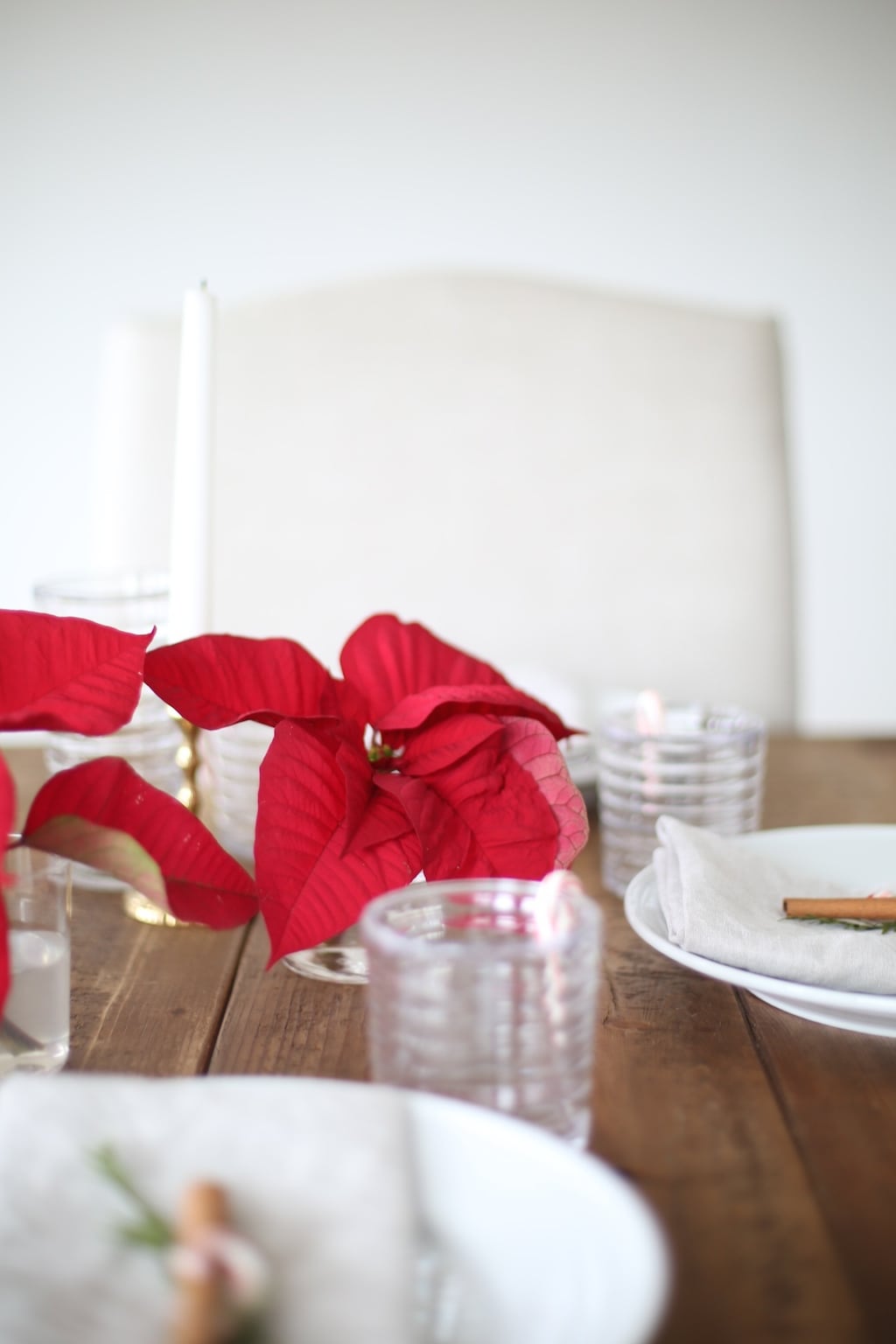 Frequently Asked Questions
Do poinsettias make good cut flowers?
Yes! While they are generally used as a holiday plant, they also make beautiful cut blooms and last surprisingly well in a vase.
What is the meaning of giving a poinsettia for Christmas?
Poinsettia plants tend to symbolize good will and good cheer at the holidays. Historically, the poinsettia might represent the Star of Bethlehem thanks to its leaf shape.
What do you do with poinsettias after Christmas?
If you'd like, you can keep your poinsettia alive just like any other houseplant all year long! They like bright, indirect sunlight.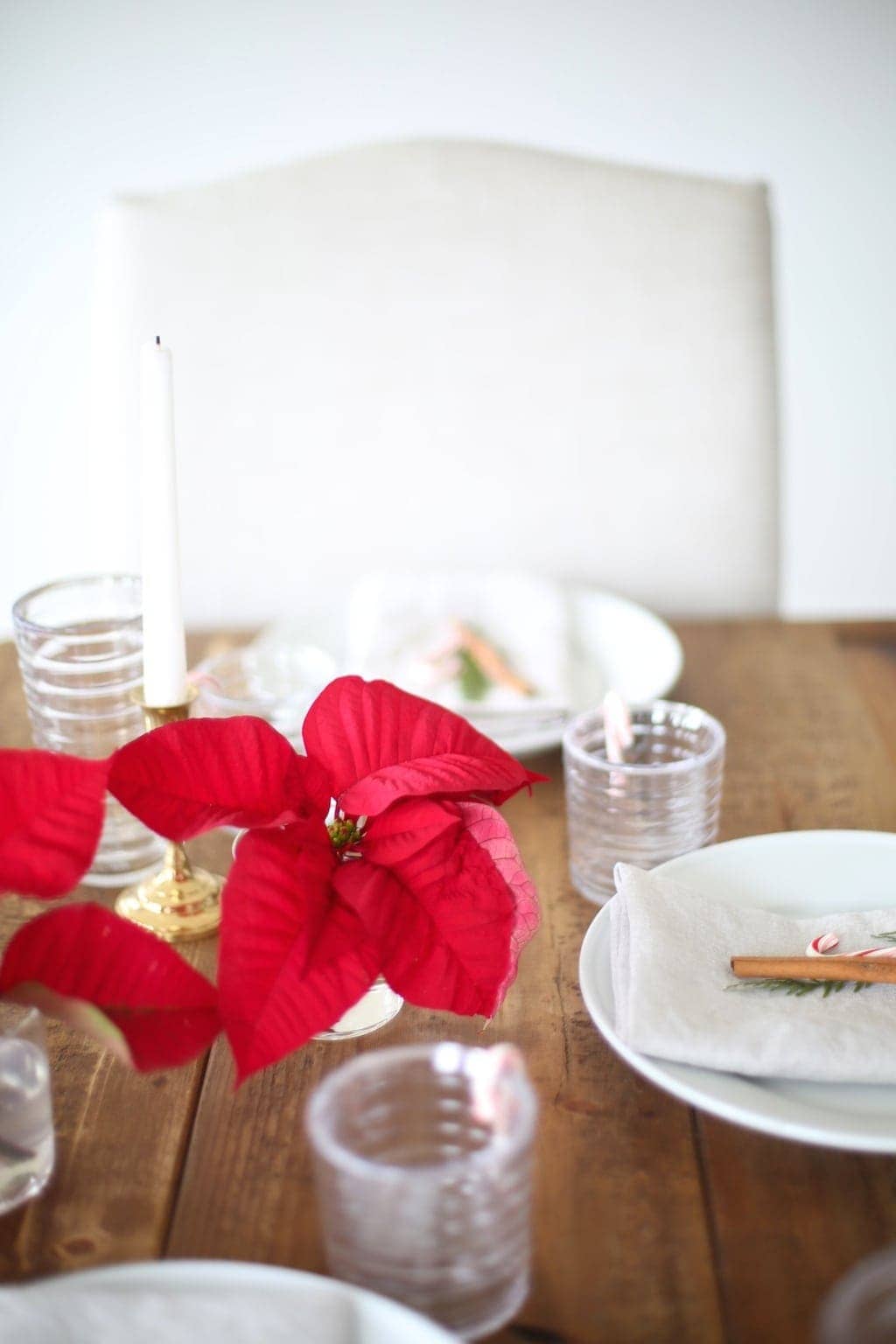 I'd love to hear from you! Are you a fan of simple centerpieces like I am?
Let's keep in touch! Receive exclusive content, including never-seen-before photos, our favorite home decor DIYs and more!