Simple patriotic 4th of July decorations with a touch of Americana. Entertain in style with these fourth of July decorations your guests won't forget.
4th of July Decorations to Add a Spark to Any Home
Our 4th of July decorations are just a subtle touch of Americana. One of the many things I adore about a "white" house is that it doesn't take much effort to adapt it for the holidays or special occasions.
Add Vintage Pieces for a Touch of Americana
I borrowed a friend's vintage flag, using the eyelets to hang it from our copper curtain rods. It immediately became the focal point of the room.
That's what I love about the American flag – it's so beautiful in both color and meaning, adding a lot of depth to the space. For that reason, I kept the rest of our 4th of July decorations on our outdoor dining room to a minimum.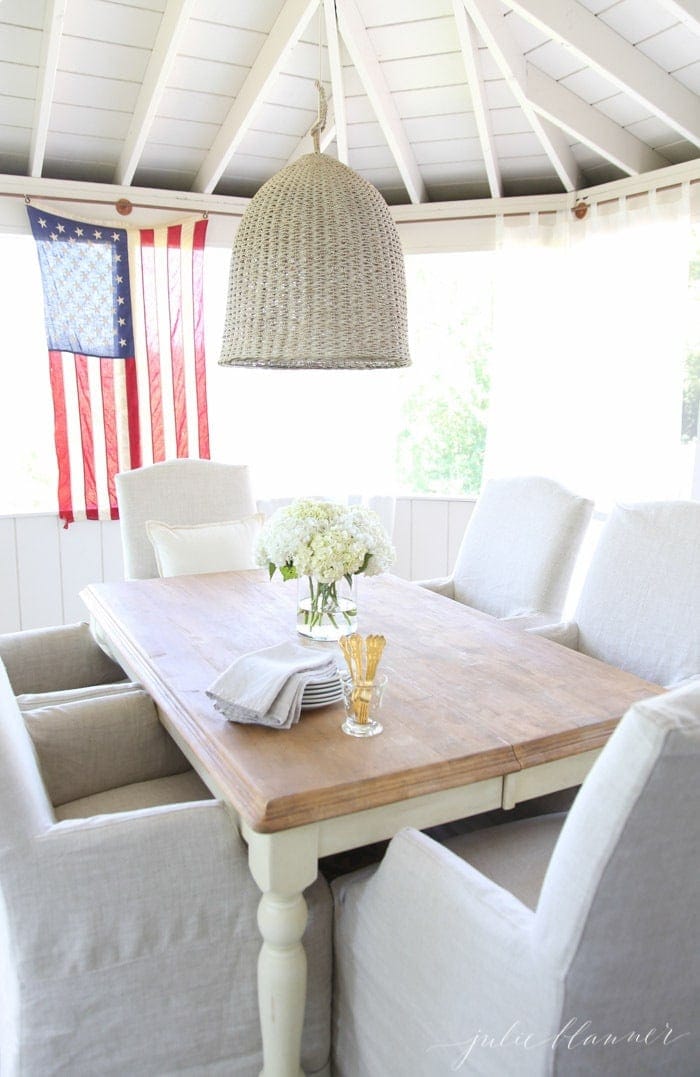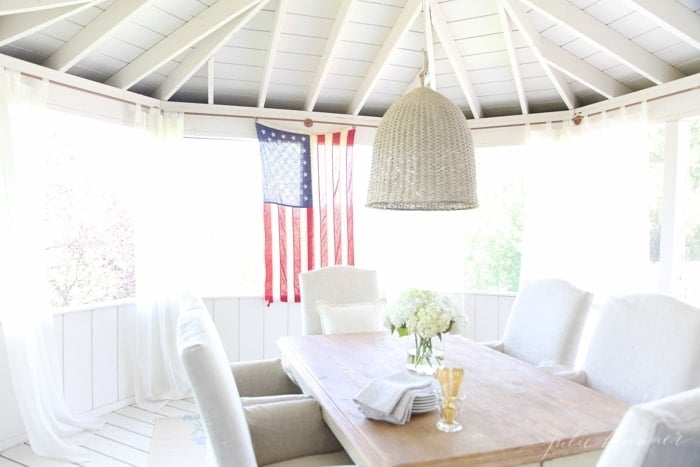 Balance the Americana Decor with Fresh Flowers
I love hydrangea because they're large and easily fill a vase. They're the perfect "basic", without being boring. I just remove the leaves that will fall below the top of the vase, cut to fit and voila! I have an arrangement. It doesn't get any easier.
They're even more beautiful in my nautical rope vase, which I hope to find as soon as I start unpacking. Yes, I have a lot of unpacking to do.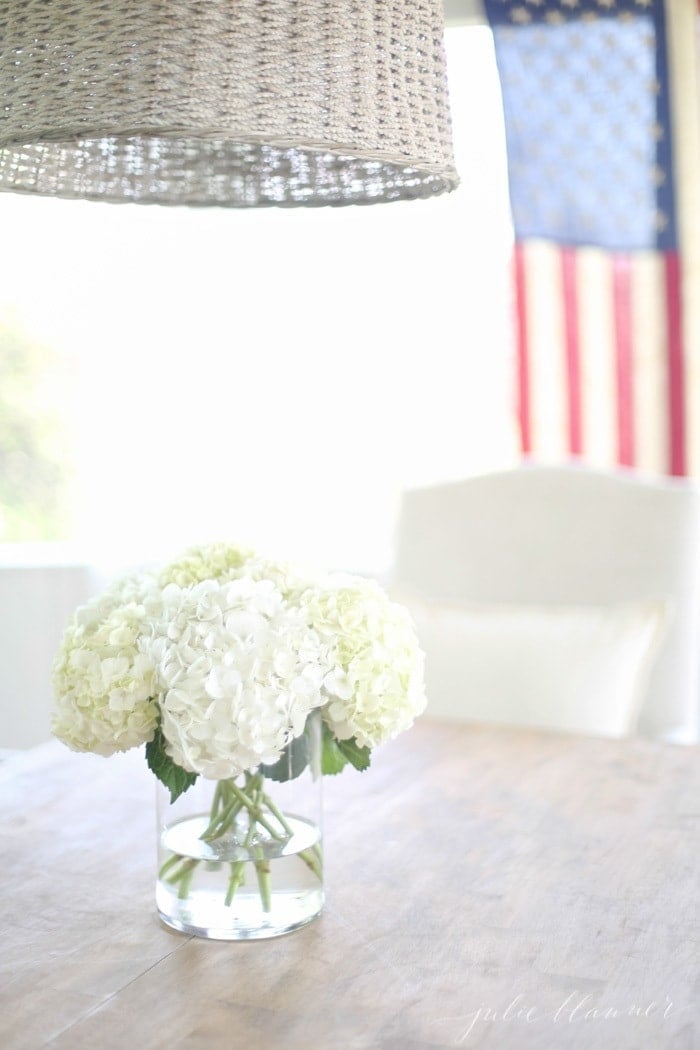 Fourth of July Decorations go Great with Wine
It just so happens that two of my favorite things also come in red and white, perfect for a patriotic party – wine! Paired with brass and a flag hand towel, I'm set for a 4th of July party.
I tend to keep our 4th of July decorations up from Memorial Day through the end of the 4th of July weekend, however, I think they're gorgeous all summer long!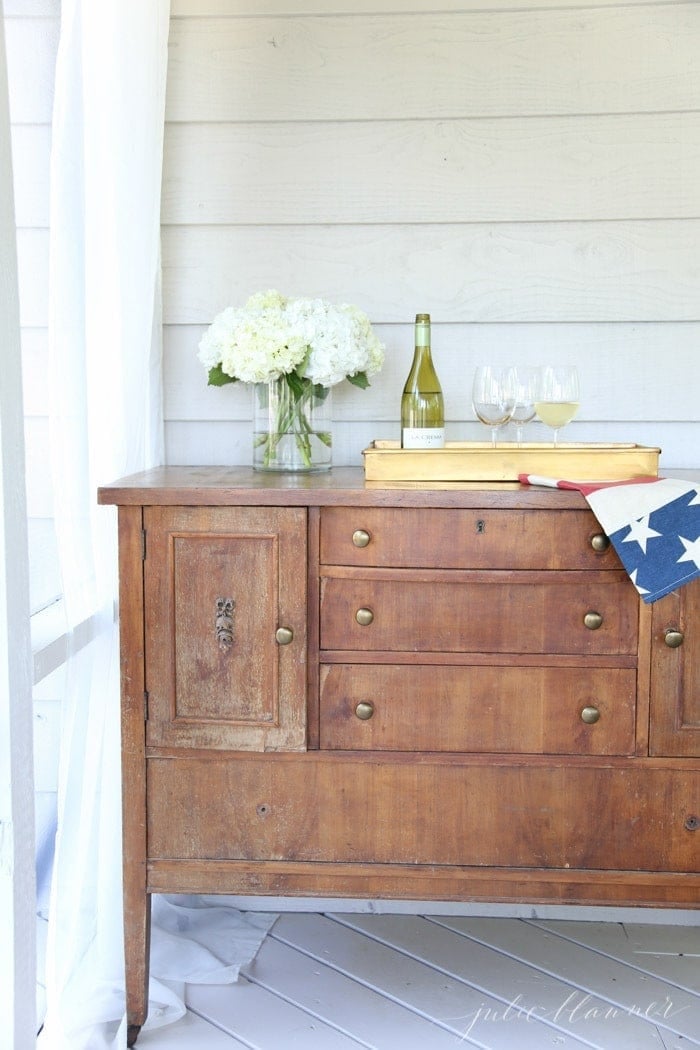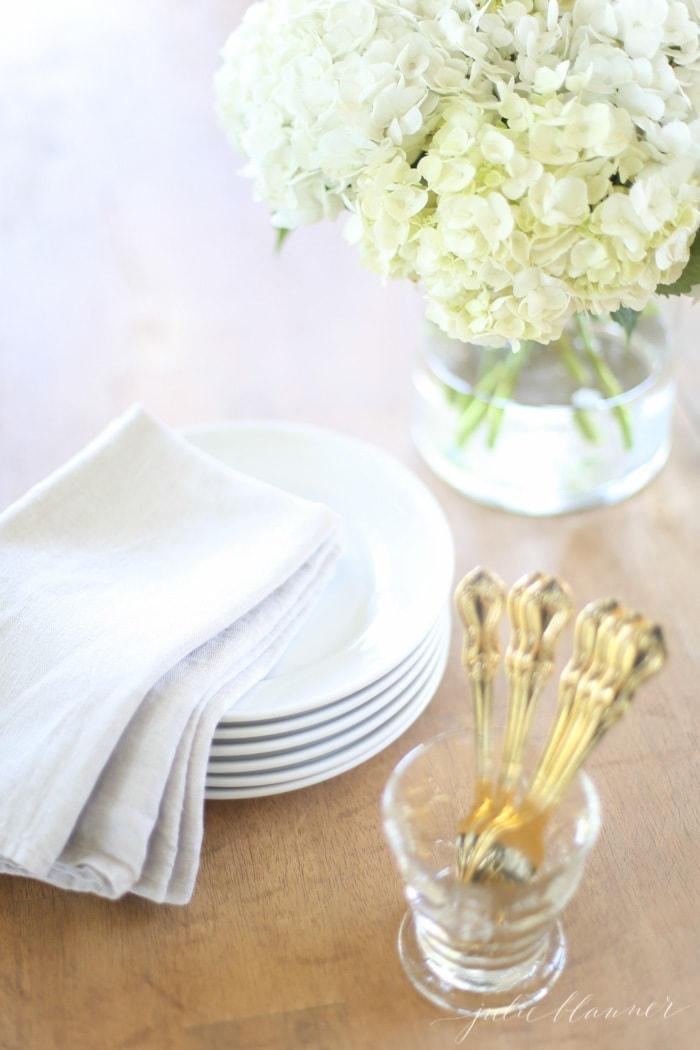 How Do you Celebrate 4th of July?
We look forward to the 4th of July parade and fireworks in our neighborhood. The girls are planning anxiously waiting to decorate their bikes and wagon. I just can't wait to celebrate with them. What are your 4th of July plans?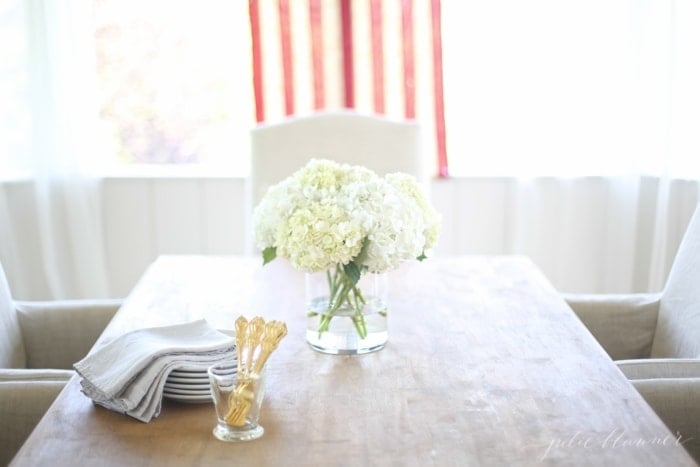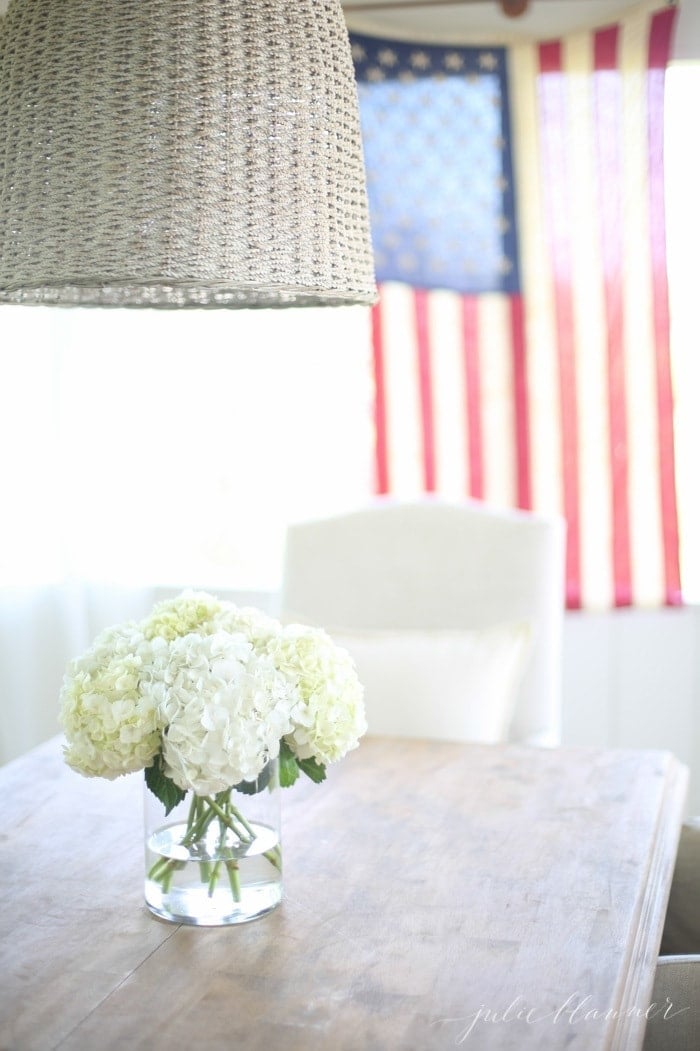 You can find all of my 4th of July recipes and decorating ideas here.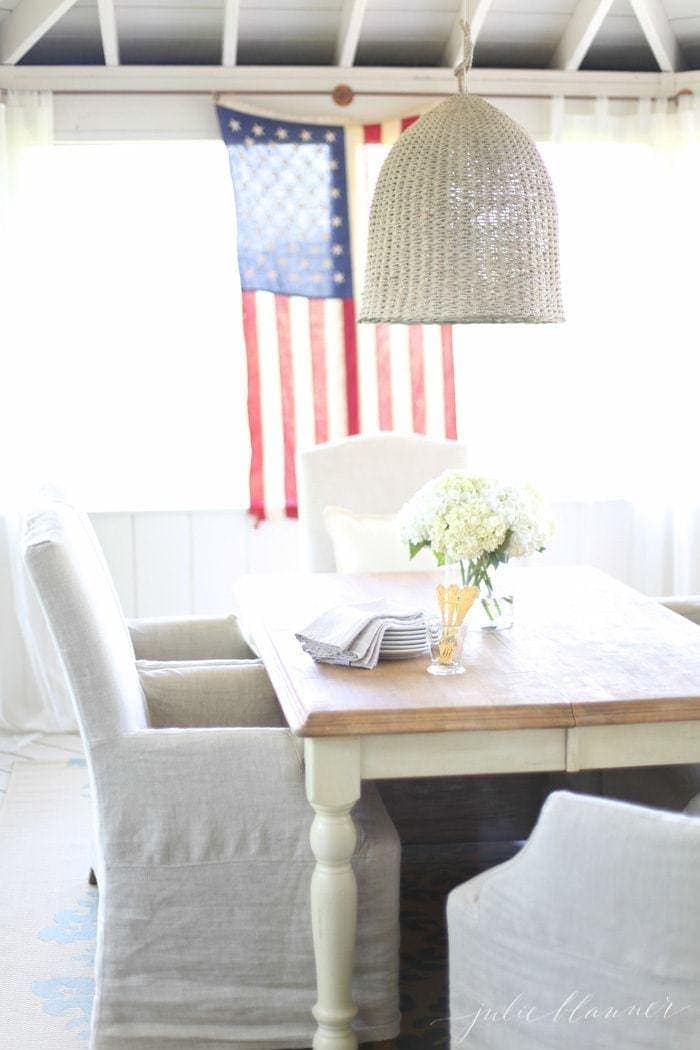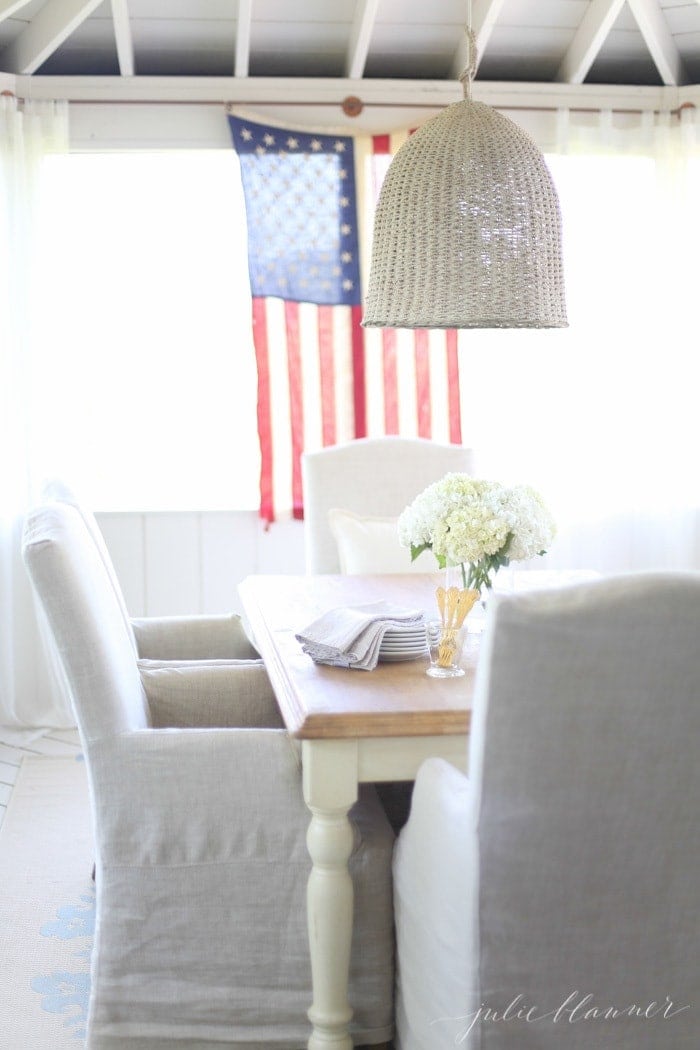 Happy 4th, friends!
SHOP THIS POST: