How to create a beautiful spring table with an easy tulip centerpiece.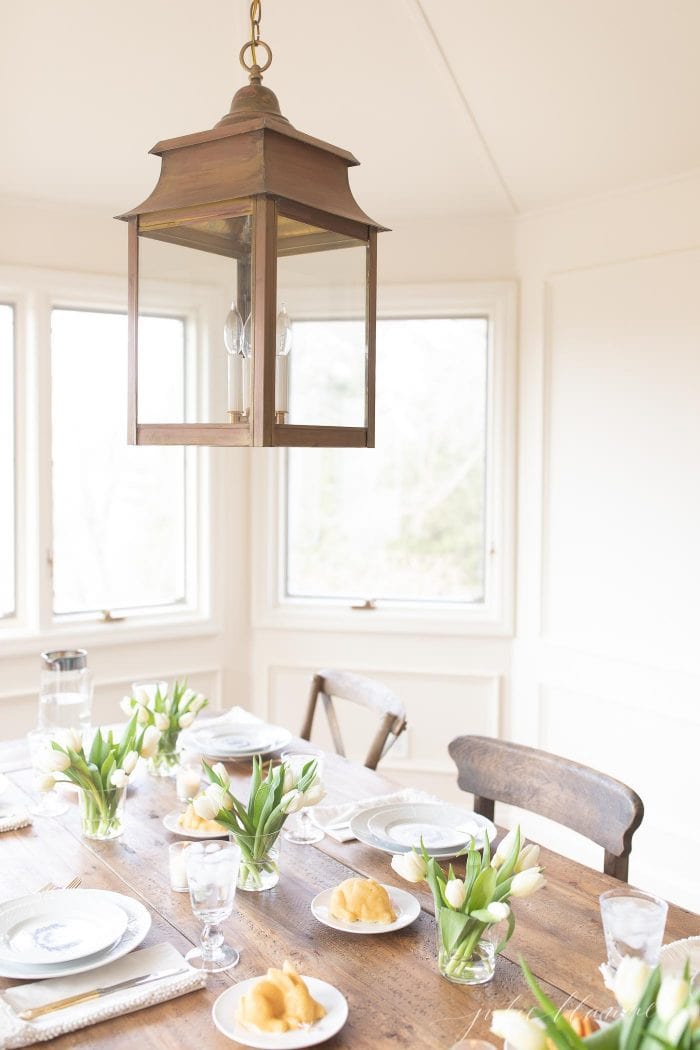 Spring is in the air, so I'm joining friends to share our favorite Easter decorating ideas. I'm sharing another simple table setting with you today that can be deconstructed to enjoy throughout your home.
This effortless spring table is comprised of a few of my favorite things – monogrammed china, tulips and pound cake! A tulip centerpiece is among the easiest to arrange.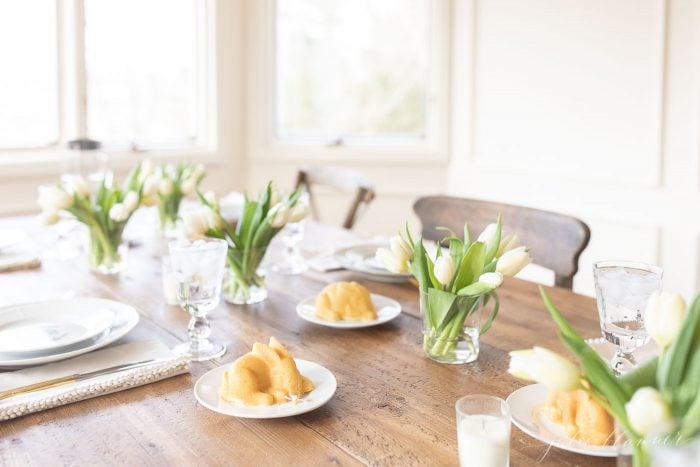 If you've read How to Arrange Tulips or have seen my Flower Basket of Yellow Tulips you know why they are my go to – especially in spring! Tulips are easily accessible at just about any grocery store or florist.
They are also inexpensive. These tulips were just $4.99/10 stems! You can read more about where to buy flowers here. To see just how easy it is, you can also watch my YouTube video below. Don't forget to click "subscribe"!
How to Make a Tulip Centerpiece
Grab a bunch of tulips.
Measure to your vase (I used a glass).
Cut at an angle and insert into your vase.
Adjust and add one to the center.
Fill with water.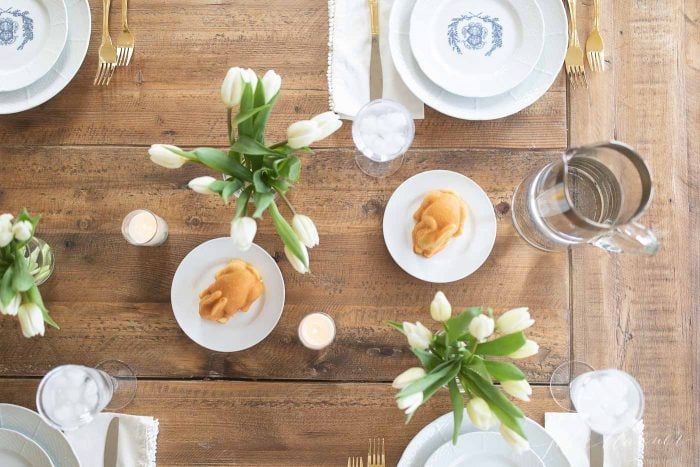 It's just that simple to create a tulip centerpiece (or a series of them!) Rather than creating one large centerpiece, I like creating a series of them to trail down the table. It allows for conversation and also makes our bunnies appear to be in a patch of them.
After your Easter or your spring get together you can place a tulip centerpiece on your coffee table, end table or bathroom and enjoy them for another week! To revive tulips, just add a copper penny.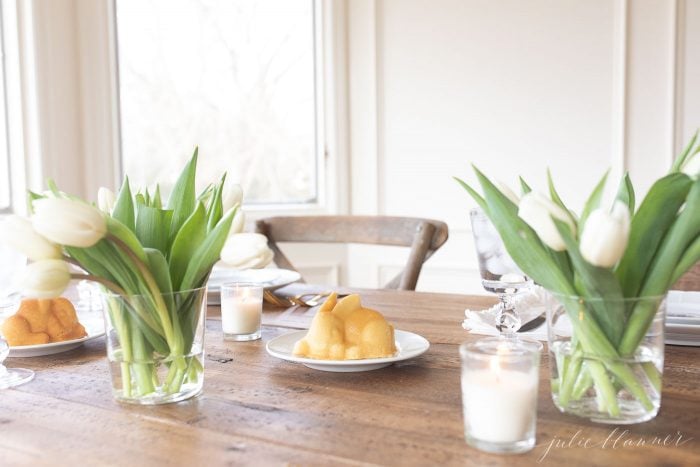 Pound Cake Bunnies
Pound Cake is not only delicious, but it's great for baking into shapes. As someone who embraces minimalist living, I tend to translate that into table settings as well. These adorably easy pound cake bunnies make the most adorable decor and double as a delicious dessert!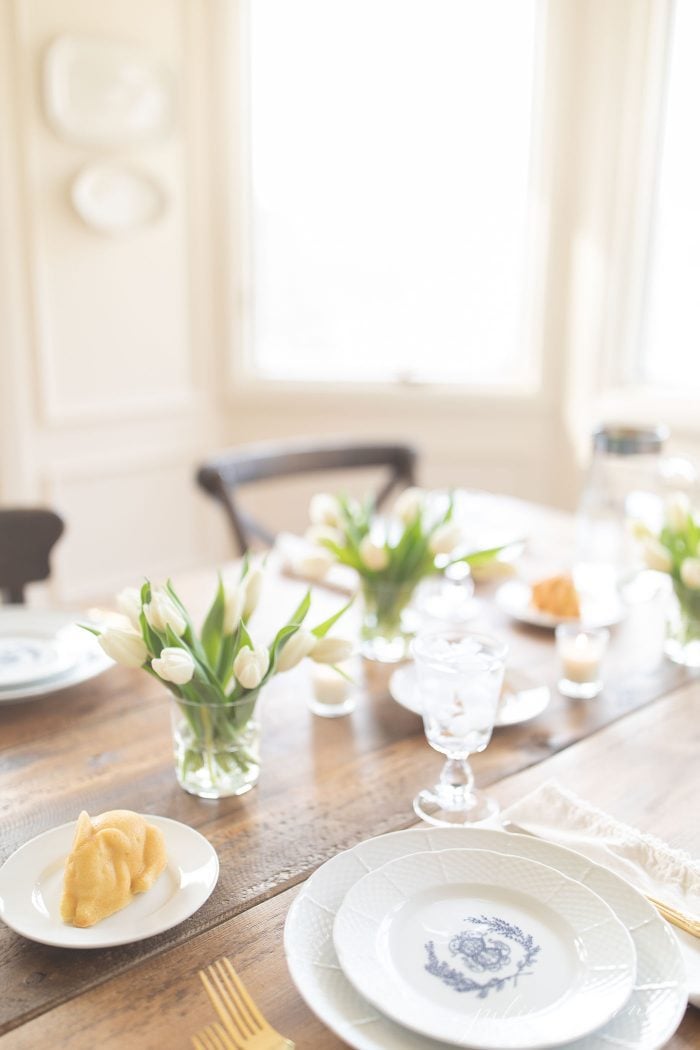 You can bake them up in this pretty little pan sprayed with my favorite baking spray for easy release. Fill 3/4 full and reduce baking time to 25 minutes or until a toothpick comes out clean. Allow to cool, remove and plate with a bloom.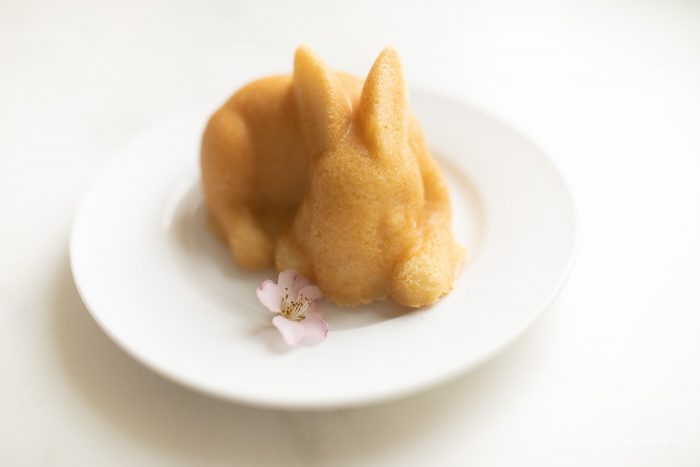 Monogrammed China
I love my blue and white dishes so much that I decided to have a set made. Monogrammed china is perfect for displaying and a beautiful way to personalize your table for any occasion.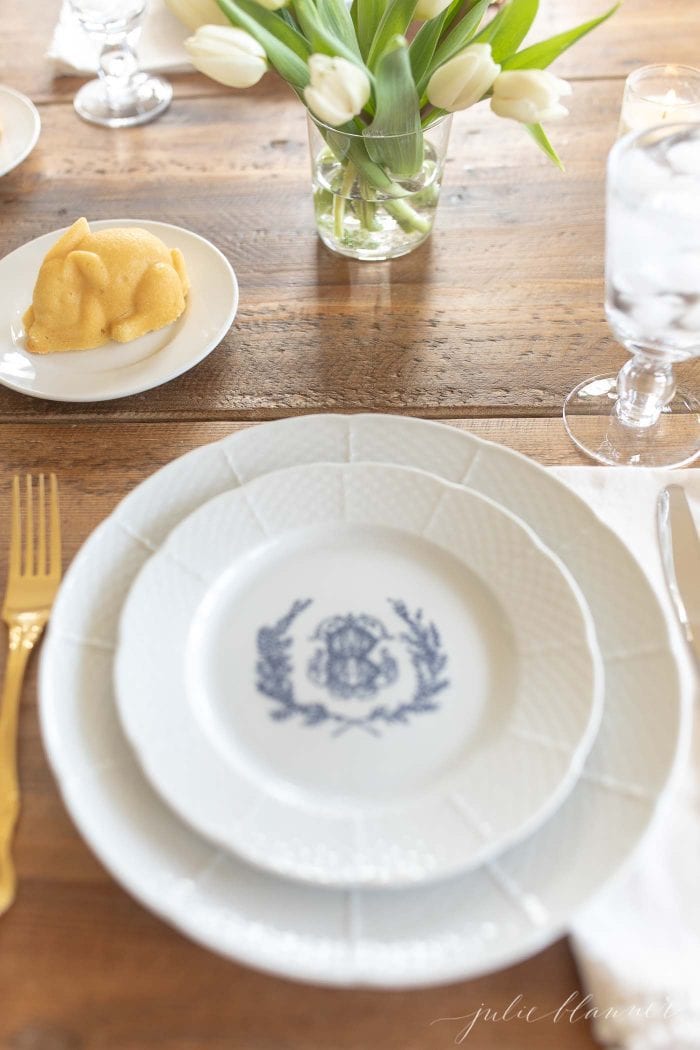 Set the Table
Stagger each tulip centerpiece to trail down the table.

Stagger plated bunnies.
Add your dinner plate and salad plate followed by napkins and flatware.

Add glassware, pre-filled with water.
Optional: add free printable Easter word searches at each place setting and add candlelight