Make Salt Dough Ornaments to decorate your tree and gifts this holiday season. This easy recipe is tried and true! I've been making it annually for the past 30 years – a holiday tradition I hope you enjoy, too!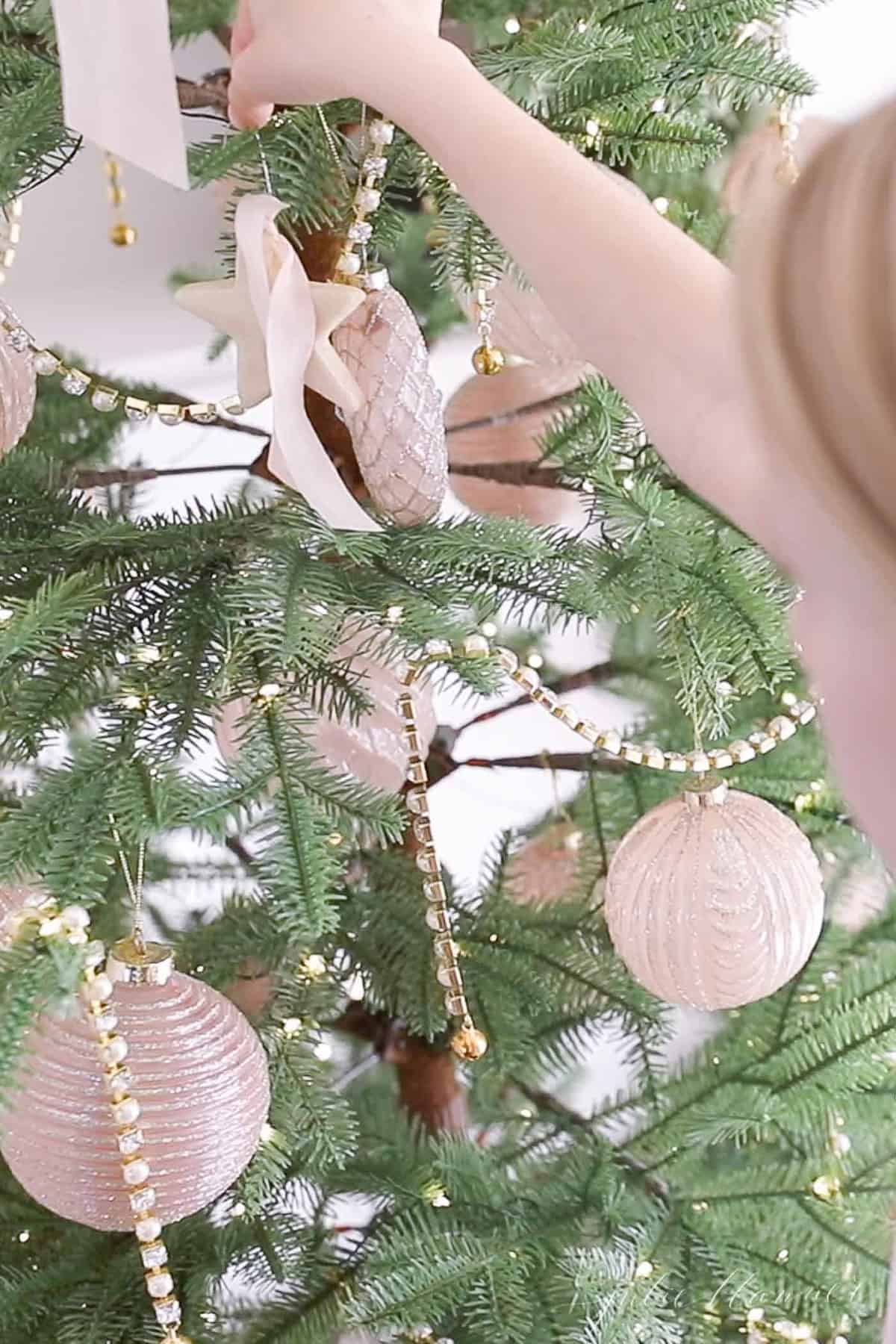 Originally published December 2013, updated with video December 2018, updated with additional notes and tips December 2019.
One of our favorite activities to do this time of year is to make homemade ornaments for our trees, including Color Salt Dough Ornaments and Applesauce Ornaments. We even include it in our advent calendar!
Growing up, I remember making these ornaments with my best friend Liz. They're so easy to make that her mom left us in their second kitchen unattended to finish mixing them and cut them out. Before you knew it, we grew tired of cutting ornaments and began cooking pizza.
We added an egg to the dough to make "pizza crust", and searched the refrigerator for ingredients. Ketchup seemed like a great idea for pizza sauce and parmesan would make a great substitute for traditional cheese. Of course we had to have someone taste test it – fortunately, her little sister Maria was there.
It wasn't edible, but it's one of my favorite childhood memories. We continued to make them each year – it has become one of our favorite holiday traditions! It's an excellent kids craft for the holidays!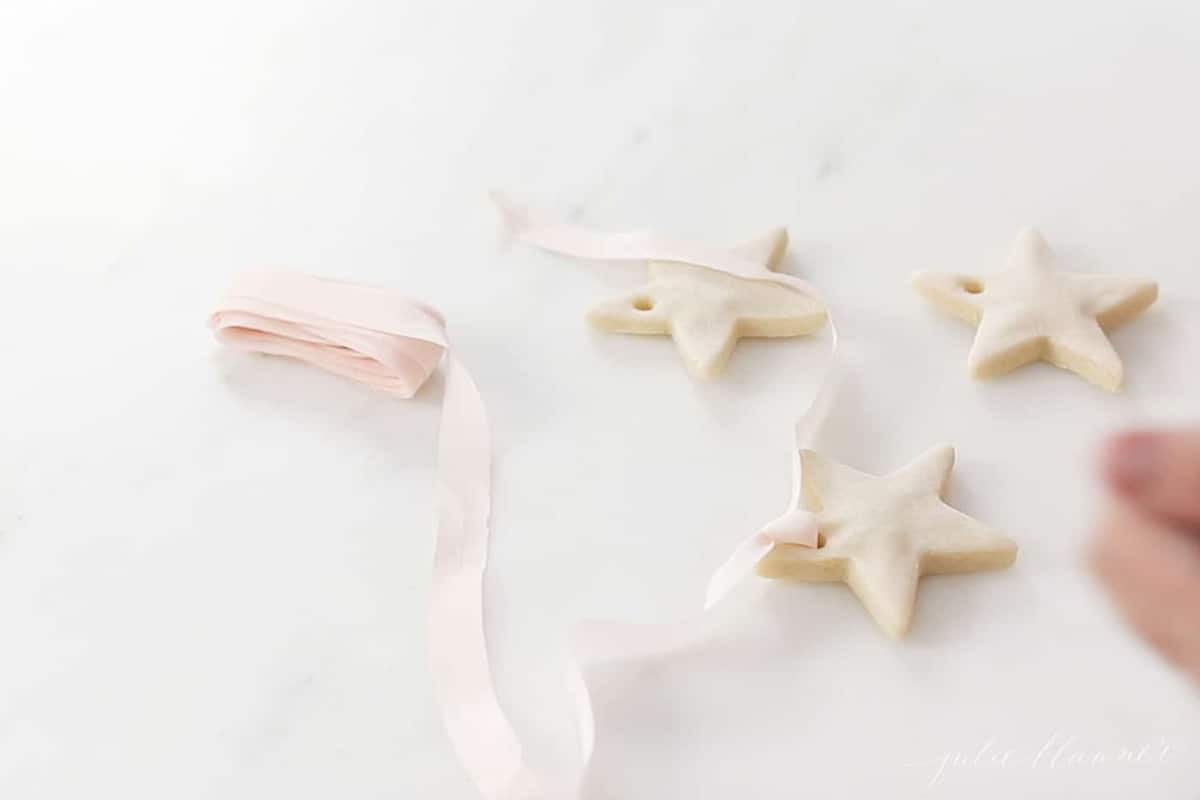 Why You'll Love this Project
I'm excited to share my classic salt dough ornaments recipe that has become so popular through the years! They're quick to make and fun for all ages. In fact, little hands can help from start to finish!
They're easily customizable – you can do as little or as much as you want with them. This is a traditional holiday project that can be made as simply or as complex as you'd like.
I'm a fan of warm and cozy holiday projects and I love to share with you. Don't miss this incredible list of 40 Creative Christmas Ideas to inspire your holidays!
I like to give a lot of detail in my recipe posts to guide readers through any questions. If you're just here for the printable recipe, feel free to click "jump to recipe" right under the title of this post and you'll head straight there!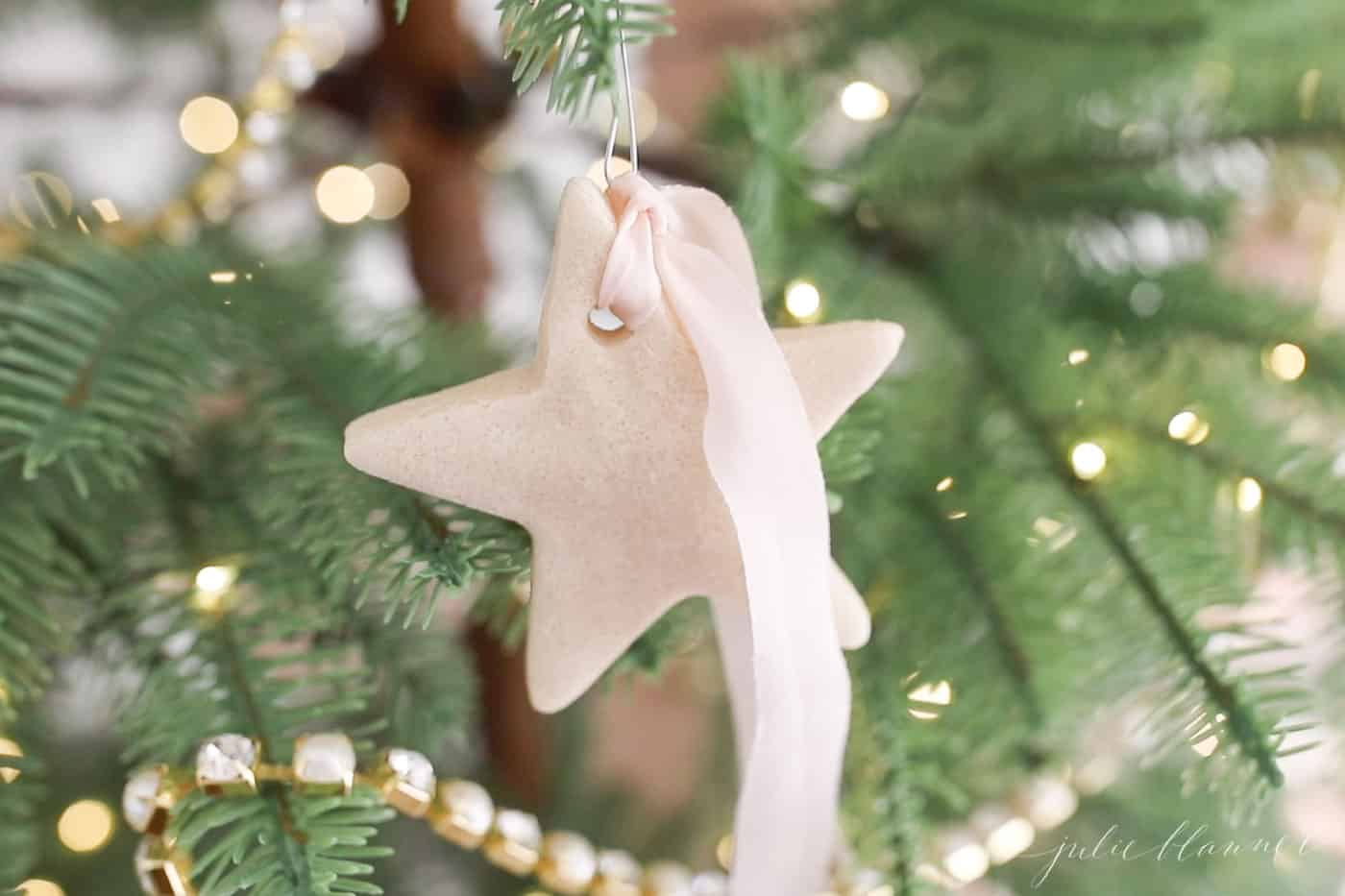 Salt Dough Ornaments Ingredients
This salt dough ornament recipe uses only a few staple ingredients, making it a great last minute project or gift idea!
Flour – all purpose flour works perfectly, no need to sift.
Salt – table salt works perfectly here. Did you know that the salt is what preserves these ornaments, allowing you to store them year after year?
Water – all you need to bind the salt and flour to make these easy ornaments.
Tools for this Ornament Recipe
None of these tools is a real requirement, but there are lots of ways to dress these ornaments up and have fun with them!
Mixing bowl
Large spoon
Straw or toothpick – this will allow you to poke a hole for hanging!
Parchment paper
Glitter – a little sparkle never hurt anyone! You can use mod podge plus traditional glitter or a spray glitter for an overall effect.
Paint – with brushes for the kids or even spray paint for a solid background color.
Mod Podge or Polyurethane spray (If you're hoping to keep these for years, and would like to preserve any added decorative elements.)
Ribbon—for hanging the ornaments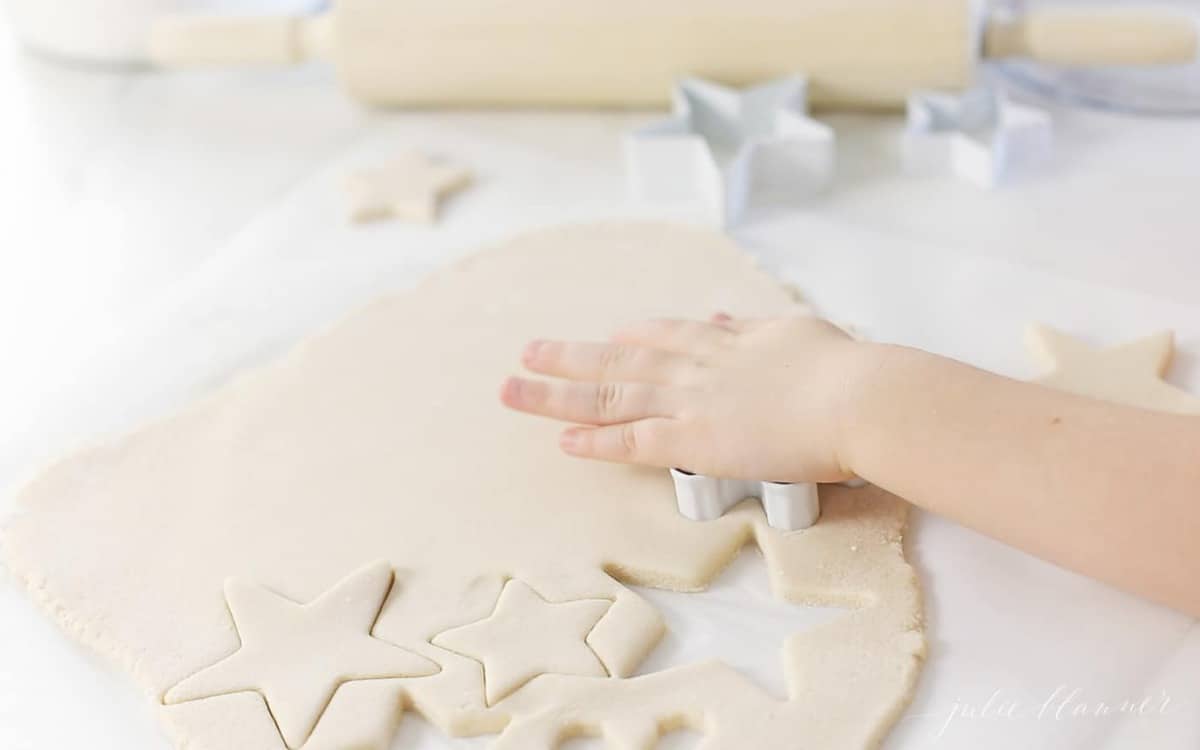 How to Make Salt Dough
You can see just how easy it is to make handmade ornaments by watching the video in this post, reading the printable recipe card, or following along with the step by step instructions below!
I keep this activity limited to a half hour from start to finish. The girls help make the dough, roll it out, and cut it!
Combine flour and salt, add water. If it's dry, you can add additional water.
Knead the dough. If you have a KitchenAid Mixer, you can use the dough hook to do the work for you! Otherwise, you can knead the dough with your hands…a perfect job for little hands. The more you knead the dough, the smoother it will be and therefore the smoother your ornaments will be.
Roll out the dough about 1/4 inch thick on parchment paper for easy cleanup.
Using cookie cutters, cut your shapes. You can remove them and place them on a cookie sheet or peel the excess dough around them and transfer your parchment paper to your baking sheet.
Optional: Press a finger or hand into your ornament for a beautiful keepsake or gift.
Using a straw, make a hole in the top for ornament hooks or ribbons. It's the perfect job for children of all ages.
Bake your ornaments until moisture has been eliminated.Allow to cool completely.
Enjoy! Hang them on the Christmas tree, add names and hang in front of each stocking or use as gift tags.
Customize your ornaments with finger prints, hand prints, stamps and more! You can even paint them after they have been baked. It's a fun activity for people of all ages!
Tips and Variations
Keep reading for all my best tips, suggestions and variations for these classic salt dough ornaments.
How to Make No Bake Salt Dough Ornaments
You don't have to bake them at all if you have a little patience!
Simply set them out to allow them to dry until they harden.
Just place in a warm, dry place 3-7 days!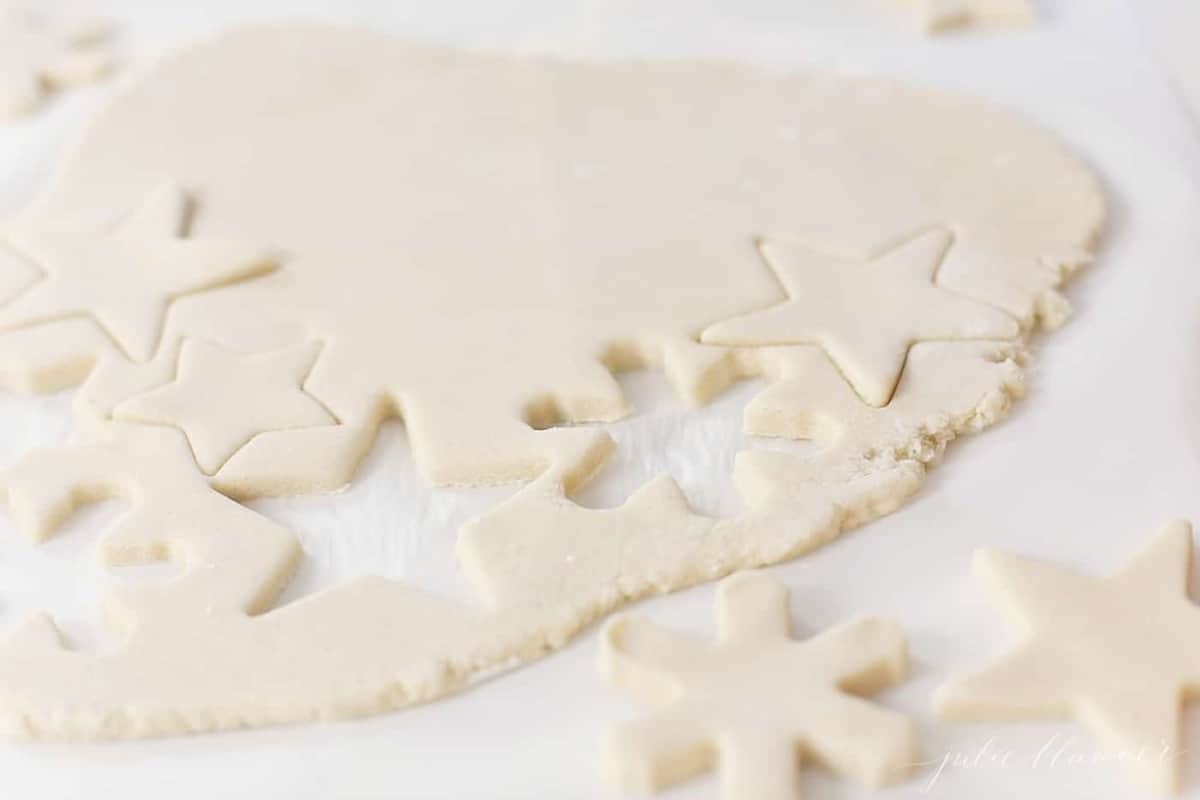 How Long Does it Take for Ornaments to Dry in the Oven?
Dry time depends on the size and thickness of your ornaments. They can take several minutes to several hours until they're completely dried. Baking them helps speed up the process, removing the moisture from the ornaments.
What to Do if Your Ornaments Get Puffy / Rise
Reduce the temperature and extend baking time.
Gradually add in water, only using as much as you need.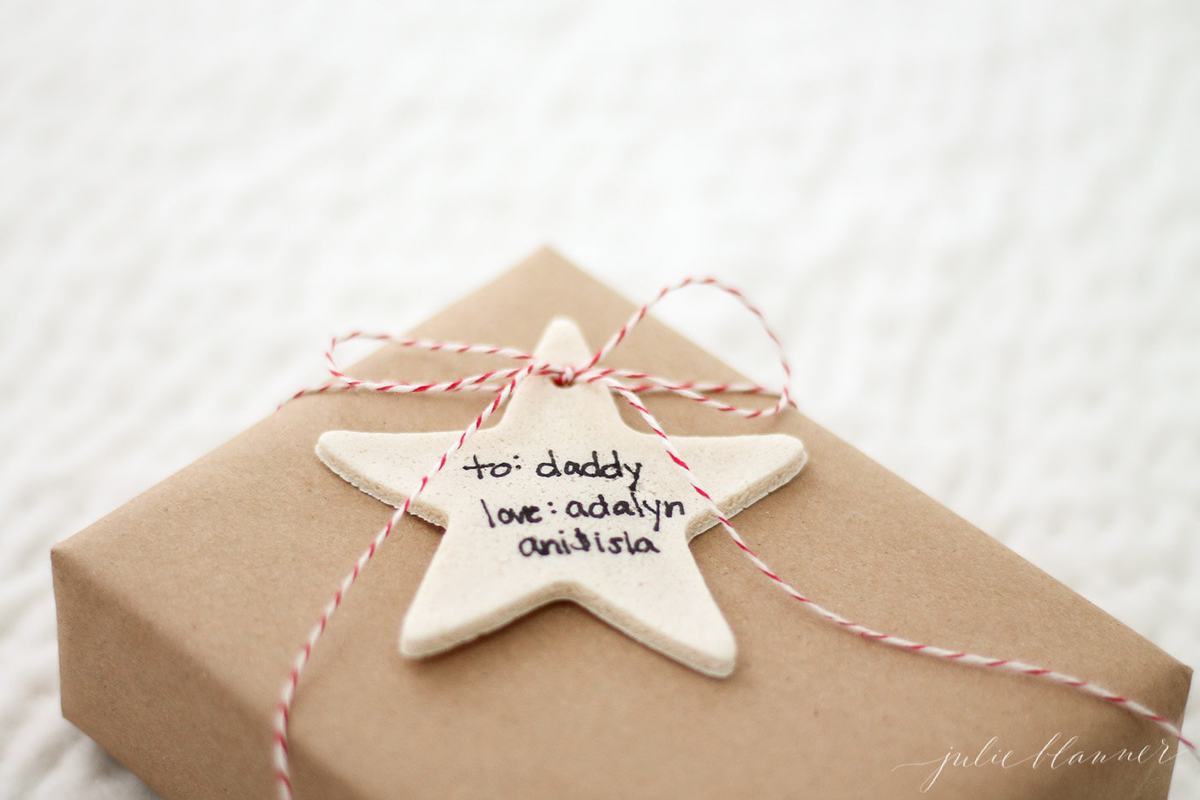 Variations
While I often keep them classic, there are so many ways you can customize this Christmas craft! Use your imagination to create a one-of-a-kind ornament perfect for your tree or gift-giving.
Make Color Salt Dough Ornaments – dye the dough with food coloring
Make them Sparkle – add glitter to the dough before you roll it out, or spray/decorate with glitter after they are set.
Paint Dried Ornaments
Stamp Ornaments (before baking)
Make Handprint Ornaments – press a finger, hand or paw to make a memorable print
Add a Photograph – decoupage onto the ornament
Make them Shiny – paint on glossy mod podge
Add Essential Oils – this makes them so fragrant. Just add drops of essential oil to your preference.
Use as Gift Tags – tie them on with baker's twine or a pretty ribbon for a handmade, heartfelt addition to any gift.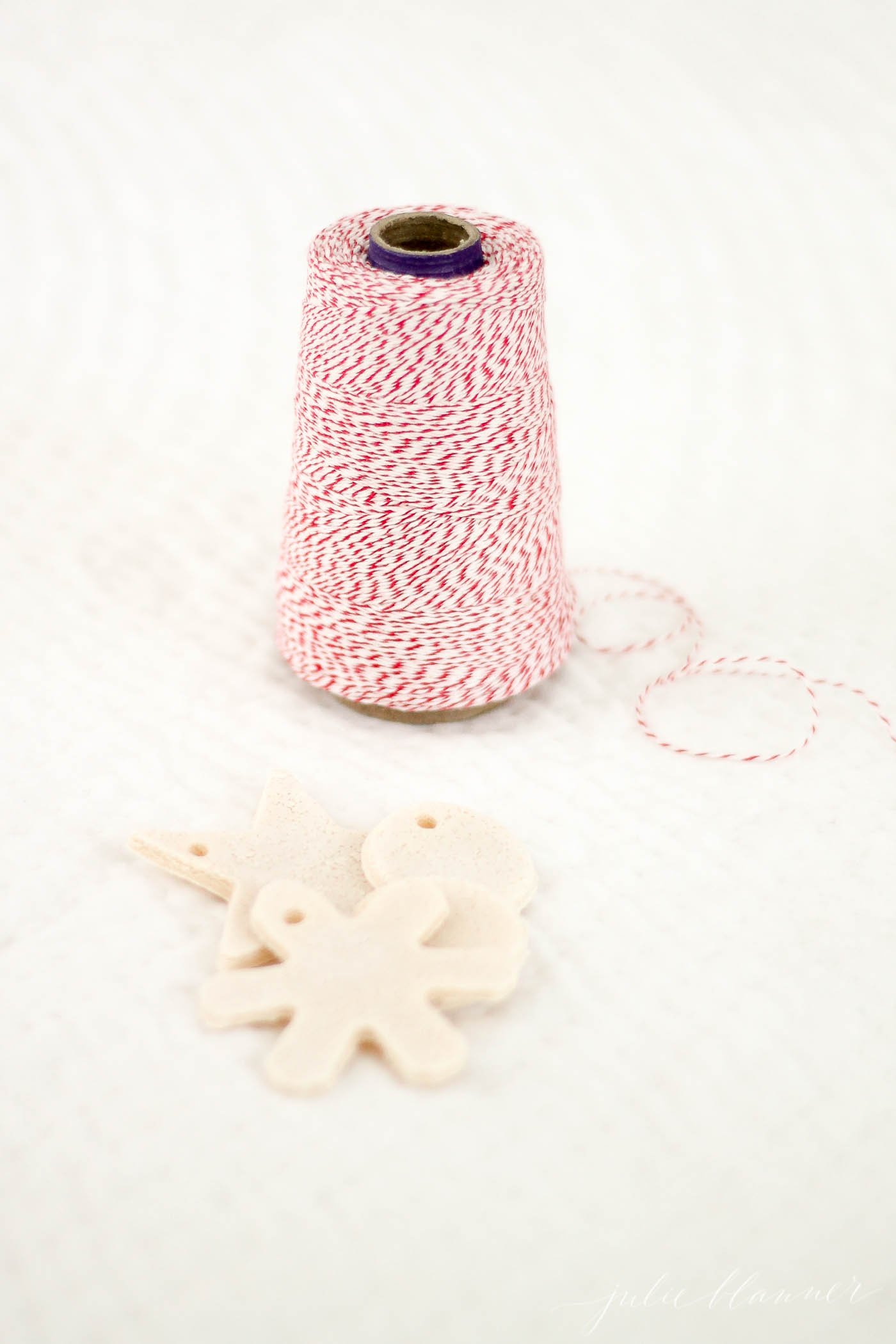 How to Make A Salt Dough Hand Print Or Foot Print Ornament
Such a precious way to capture those baby memories! It's so easy.
Simply follow the dough instructions above, rolling the dough out a little thicker than you would for the regular ornaments into a sheet under your rolling pin.
Press hand or foot into dough, making sure to apply even pressure.
Make multiples! These make the sweetest keepsake gifts for grandparents!
They're not just for Christmas! Make hearts for Valentine's Day, or eggs for an adorable Easter tree! The options are endless!
How to Make Ornaments Shiny or Add a Photograph
Brush on ModPodge to make them glossy. Add a photograph by placing the photo on top of the ornament and covering with ModPodge.
Alternatively, you can also seal them with polyurethane spray for a glossy look without a lot of effort.
Can you Make Dough in Advance?
It lasts up to a week when sealed in an airtight container (ziplock bags work well) and refrigerated.
You can make the dough and just have kids or grandkids help with cutting shapes and holes.
How Long Do Salt Dough Ornaments Keep?
Believe it or not, 30+ years! I have childhood ornaments that are still in incredible shape!
This recipe yields a lot of ornaments – the number will vary based on the cookie cutters you use.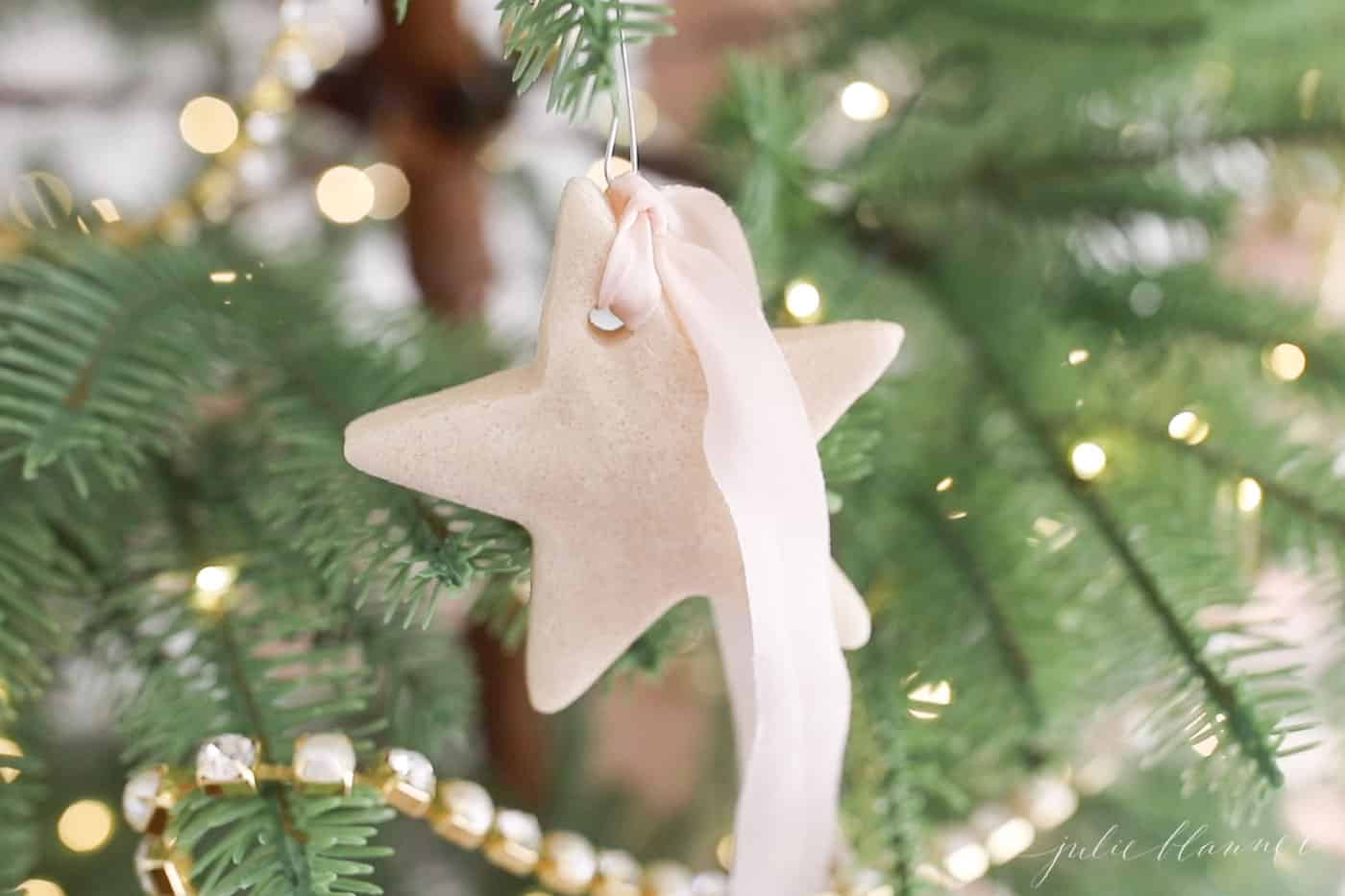 Make an ornament with a fingerprint or larger ornament with a baby's hand as a beautiful keepsake for grandma and grandpa! They also make beautiful gift tags. You can even make dog paw print ornaments! You can find this red and white twine here.
Want more? Receive the best ideas directly to your inbox and connect on Youtube, Instagram, Facebook, and Pinterest!
If you love these salt dough Christmas ornaments, check out my Cinnamon Applesauce Ornaments!
More Creative Holiday Project Ideas
Salt Dough Ornaments
Easy Salt Dough Ornaments made with just 3 staple ingredients! Easy enough for little hands this classic recipe is a fun family tradition! A tried and true recipe to decorate your tree and gifts!
Ingredients
2

cup

flour

1

cup

salt

3/4

cup

water

more if needed
Instructions
Preheat oven to 200 degrees.

Mix flour and salt together.

Gradually add in water and mix well.

If your mixture is still a little dry, add a little additional water until barely moist.

Knead until smooth.

Roll out dough to desired thickness.

Cut with cookie cutters.

Punch a hole to hang/tie with.

Bake 20 minutes on a cookie sheet – lined with parchment paper.

Flip over and bake 10 additional minutes.
Video
[adthrive-in-post-video-player video-id="PEzE8RLx" upload-date="2018-11-29T00:00:00.000Z" name="Salt Dough Ornament" description="A Salt Dough Ornament recipe to enjoy making with your friends and family. Salt Dough Ornaments are easy to make – and personalize using your fingerprint, cookie cutters and more! Learn how to make your own salt dough ornaments that make beautiful gifts, gift tags and tree decorations." player-type="default" override-embed="default"]
Notes
Baking time will vary based on your cookie cutter size. For smaller, more delicate ornaments, reduce baking time. For large ornaments, increase baking time.
Alternatively, leave them out for several days on a cooling rack or baking sheet to dry.
Salt dough can be made in advance and refrigerated covered in an airtight container or ziplock bag up to a week.
Ornaments last 30+ years!
Reduce the temperature and extend baking time.
Gradually add in water, only using as much as you need.
Variations
While I often keep them classic, there are so many ways you can customize this Christmas craft! Use your imagination to create a one-of-a-kind ornament perfect for your tree or gift-giving.
Dye the dough with food coloring to make Color Salt Dough Ornaments
Add glitter to the dough
Paint dried ornaments
Stamp ornaments before baking
Make a finger or paw print
Add a photograph
Make them shiny -Brush on ModPodge to make them glossy. Add a photograph by placing the photo on top of the ornament and covering with ModPodge.
Seal them with polyurethane spray for a glossy look without a lot of effort.
Add essential oils to make them fragrant.