Learn how to make the easiest, sweetest little handmade Cinnamon Applesauce Ornaments. Baking these two ingredient cinnamon ornaments will fill your home with the scent of Christmas, and your kids will love joining in the fun!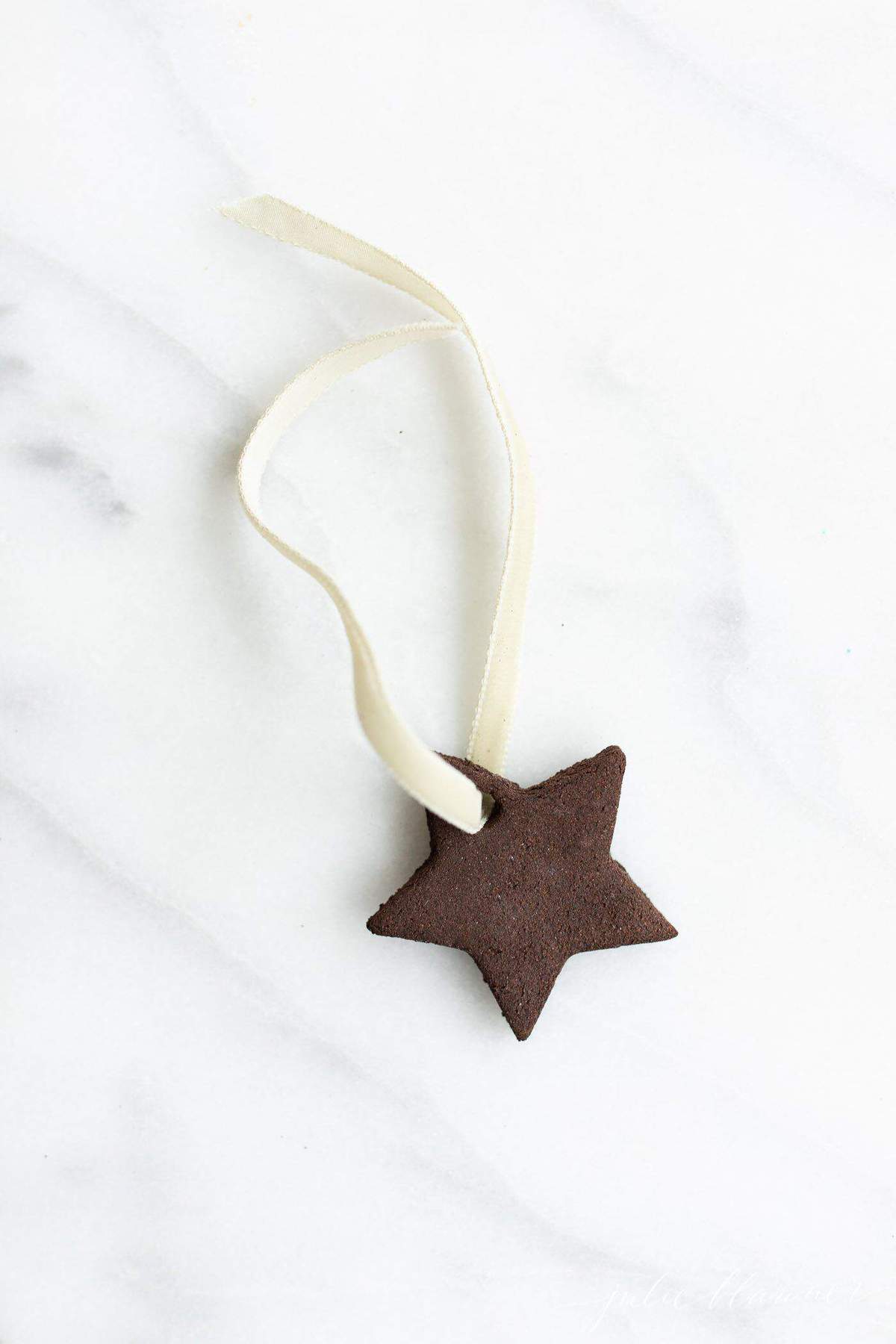 Homemade Cinnamon Applesauce Ornaments
In my quest for always simplifying my home and life during the holidays, I don't like (or need!) to add an abundance of decor.
I have realized that there is nothing I love more than the simple art of a handmade ornament. Over the years I've shared my favorite salt dough ornament recipe, along with my colored salt dough. Making the ornaments with the girls makes them so much more special, so simple and wholesome.
It's not just the look of a homemade ornament that I want to achieve, it's the actual act of making them that makes this project so appealing. These homemade cinnamon applesauce ornaments will fill your home with the fragrance of the holidays, and they are so cute, too!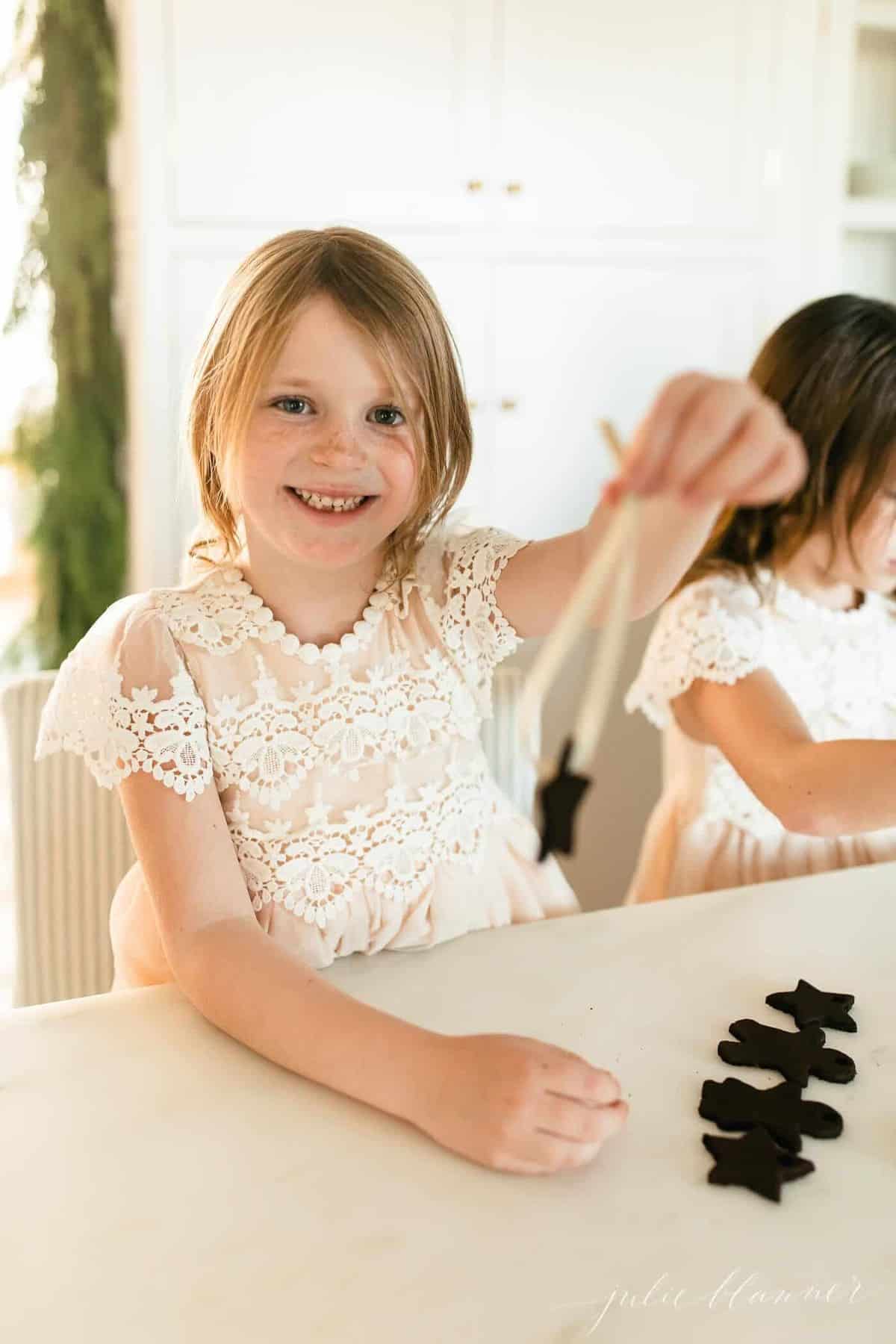 Fragrant Cinnamon Ornaments
Don't be disappointed in me, but in the interest of honesty… I need to confess something. I often get overwhelmed by decorating Christmas trees! It's not that I don't love them, because I absolutely do.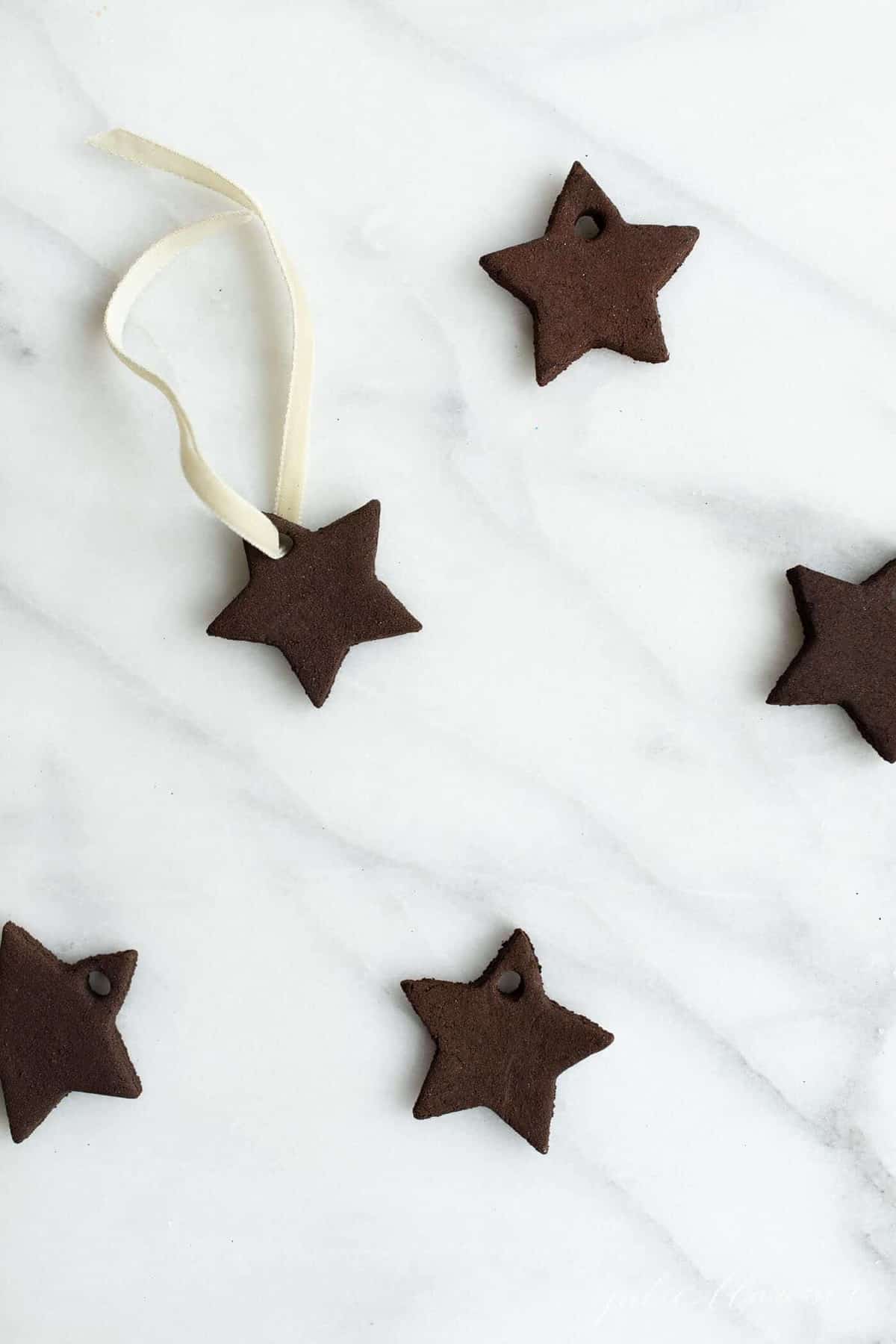 It just seems like there's so many things you're supposed to include, right? Garlands, ribbons, a fun variety of ornaments. Don't forget the lights, the topper, the skirt! How's a girl to decide? And who has time to plan all of that?
With all that in mind, these easy and fragrant ornaments are exactly what the doctor ordered. Is there anything sweeter than a handmade ornament? Nope! Not in this house, anyway! Let's make them – you're not going to believe how simple these are!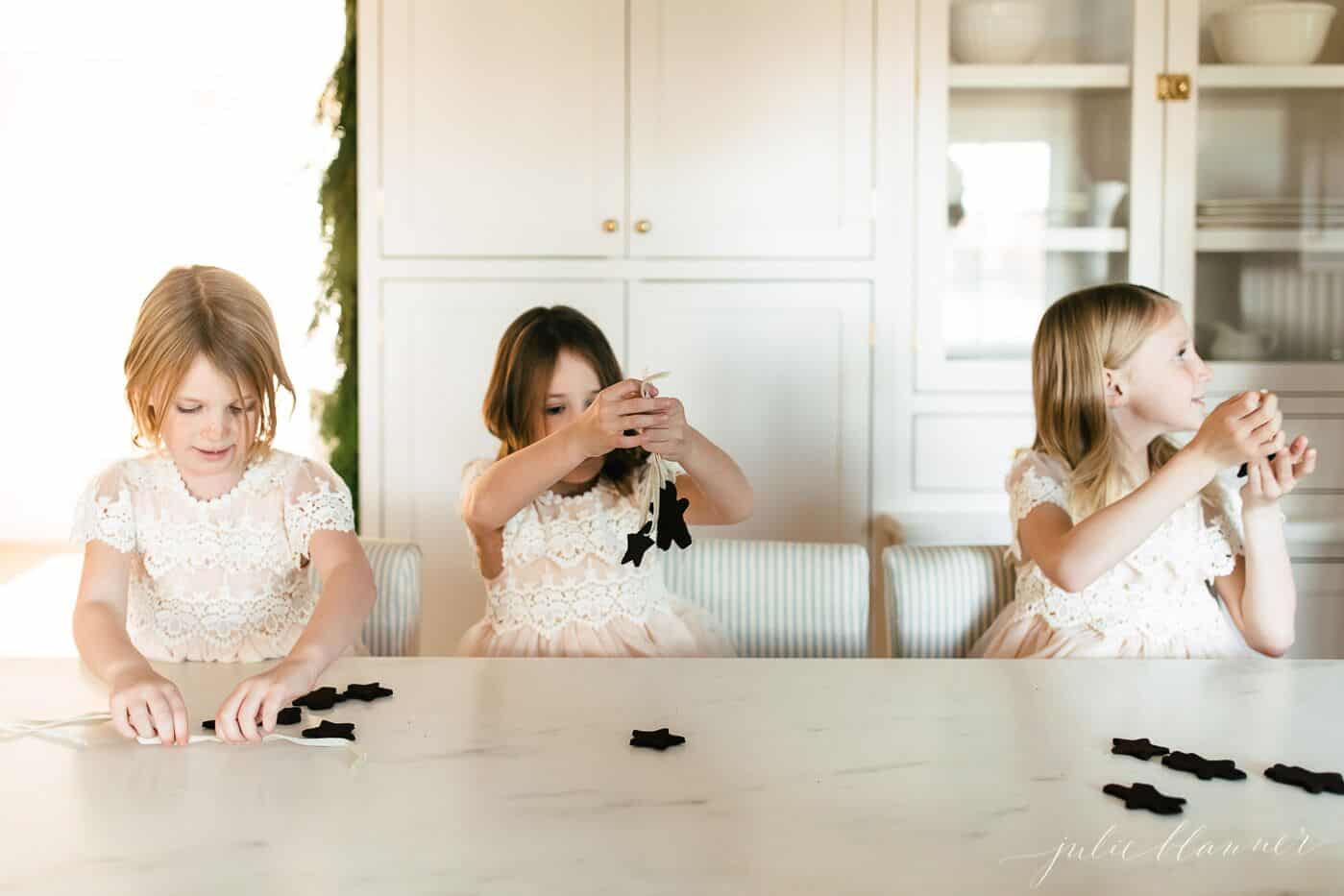 Applesauce Ornament Ingredients
These simple cinnamon ornaments take only two ingredients, but they create the most WOW fragrance you can imagine! Your home is filled with the scent of warm cinnamon – it's an experience you can't miss!
Applesauce – any kind. Use the cheap stuff if you have to buy some specifically for this project, but you can also use whatever you have on hand.
Cinnamon – any type of cinnamon will work for this recipe. Aldi has the best price on spices in our area, so it's worth a look!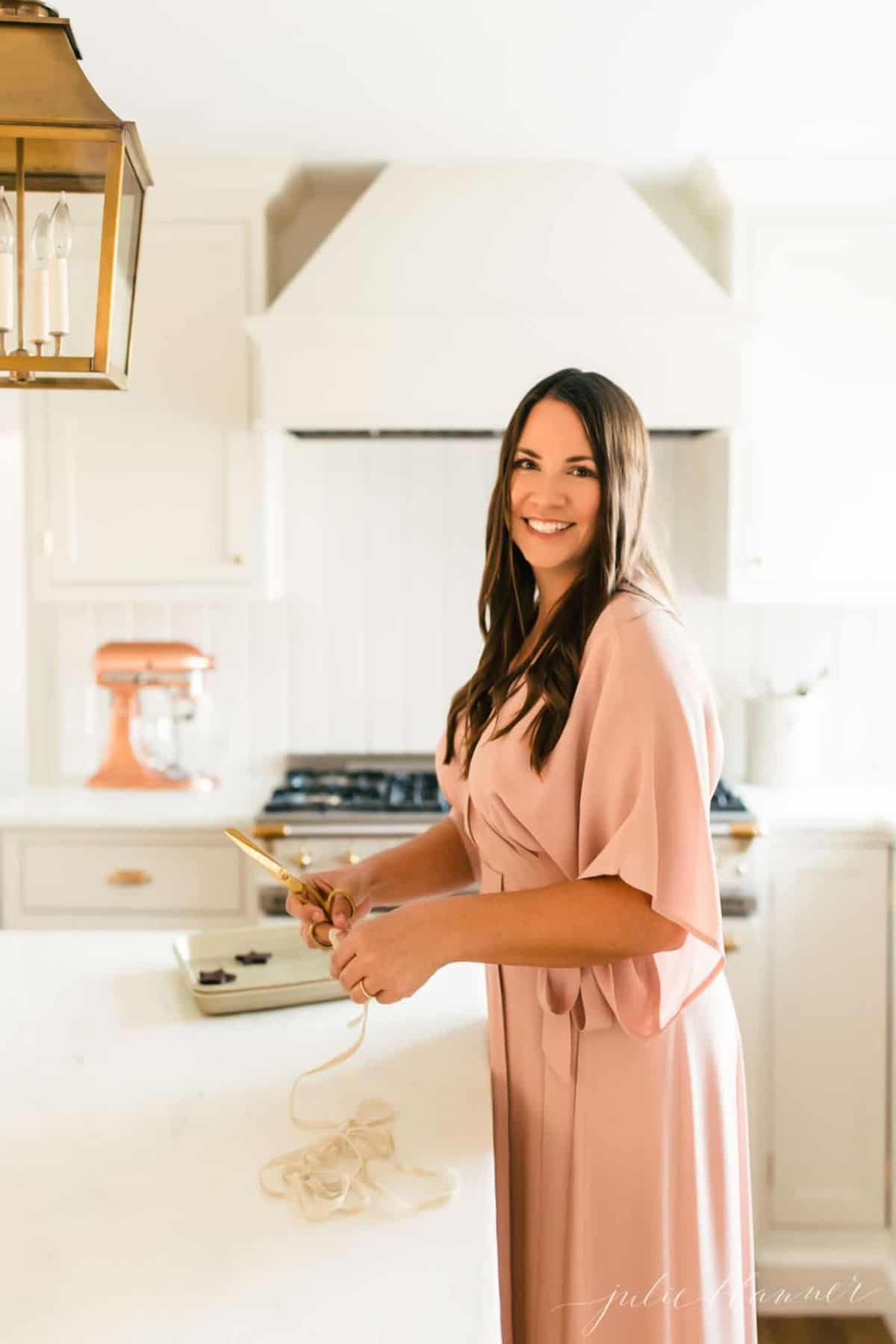 Yes, that's it. Crazy, right? While some recipes ask for the addition of glue to your dough mixture, I don't find that to be necessary or beneficial at all. So I kept it natural and glue free!
Keep reading for instructions and tips!
How to Make These Cinnamon Ornaments
This recipe (if you can even call it that) creates a deep, rich color and scent that can't be matched. You can do as little or as much with them as you'd like when it comes to shapes, too!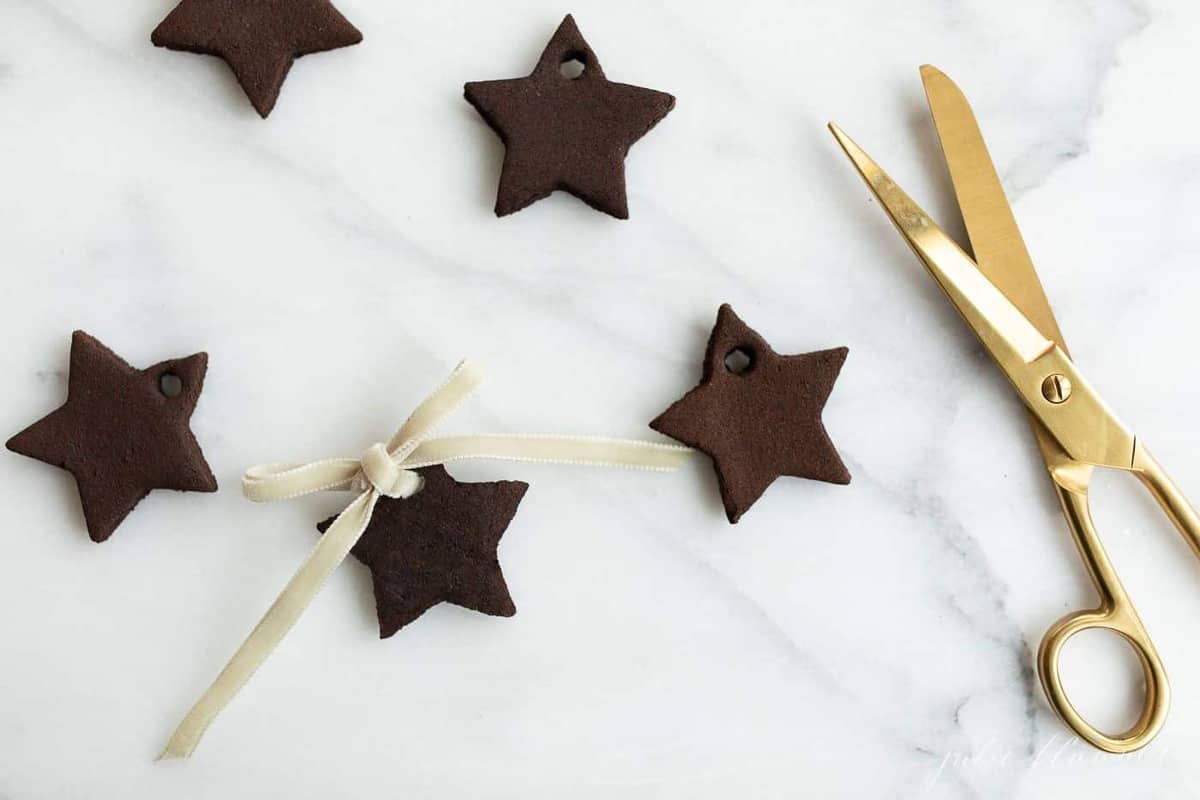 Combine ingredients.
Roll out on your counter tops. Use parchment paper for easy clean up!
Cut with cookie cutters. You can remove them and place them on a cookie sheet or peel the excess dough around them and transfer your parchment paper to your baking sheet.
Using a straw, make a hole for ornament hooks or ribbons. It's the perfect job for children of all ages.
Optional: Press a finger or hand into your ornament for a beautiful keepsake or gift. This probably works better in my traditional salt dough ornaments (simply because they are lighter in color and it's easier to see) but it's a sweet addition nonetheless.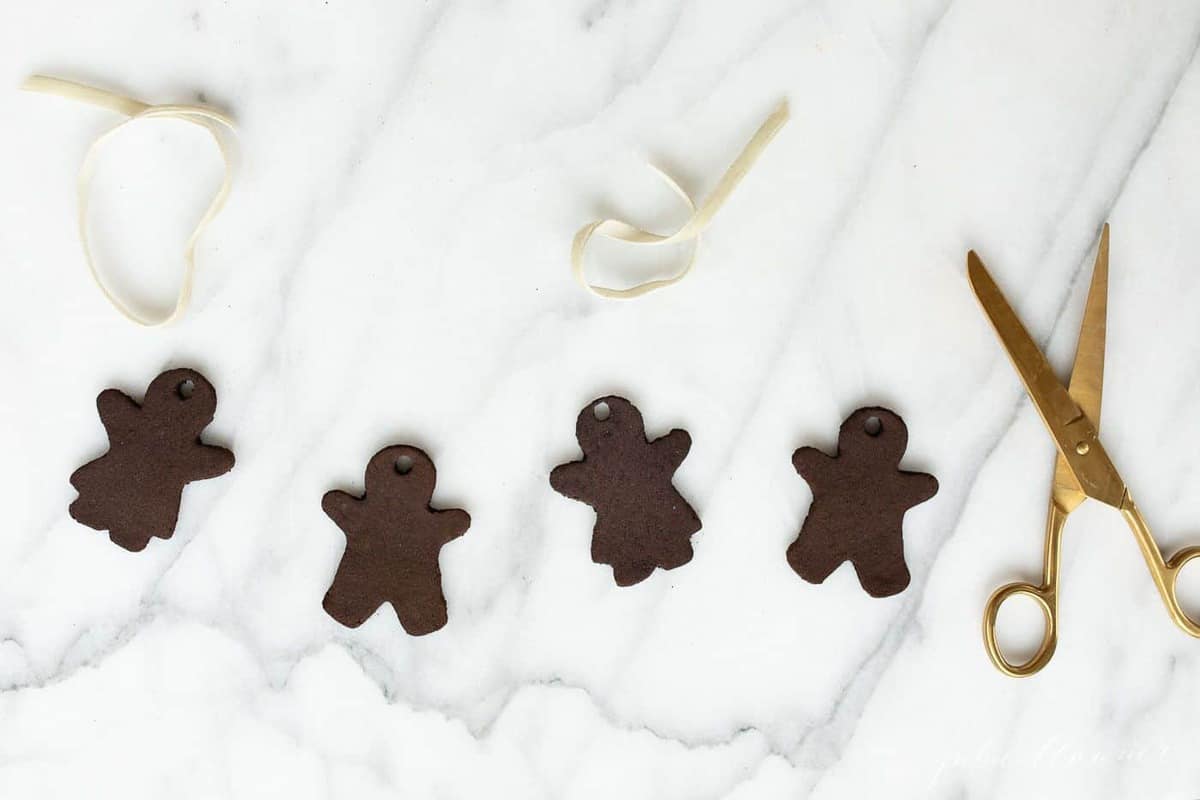 Applesauce Ornament Shapes
While it's tempting to do every fun Christmas shape in your cookie cutter line-up, there are certain shapes that I think hold up better when it comes to making ornaments.
A few ideas:
snowflakes
stars
gingerbread man/ woman
heart
candy cane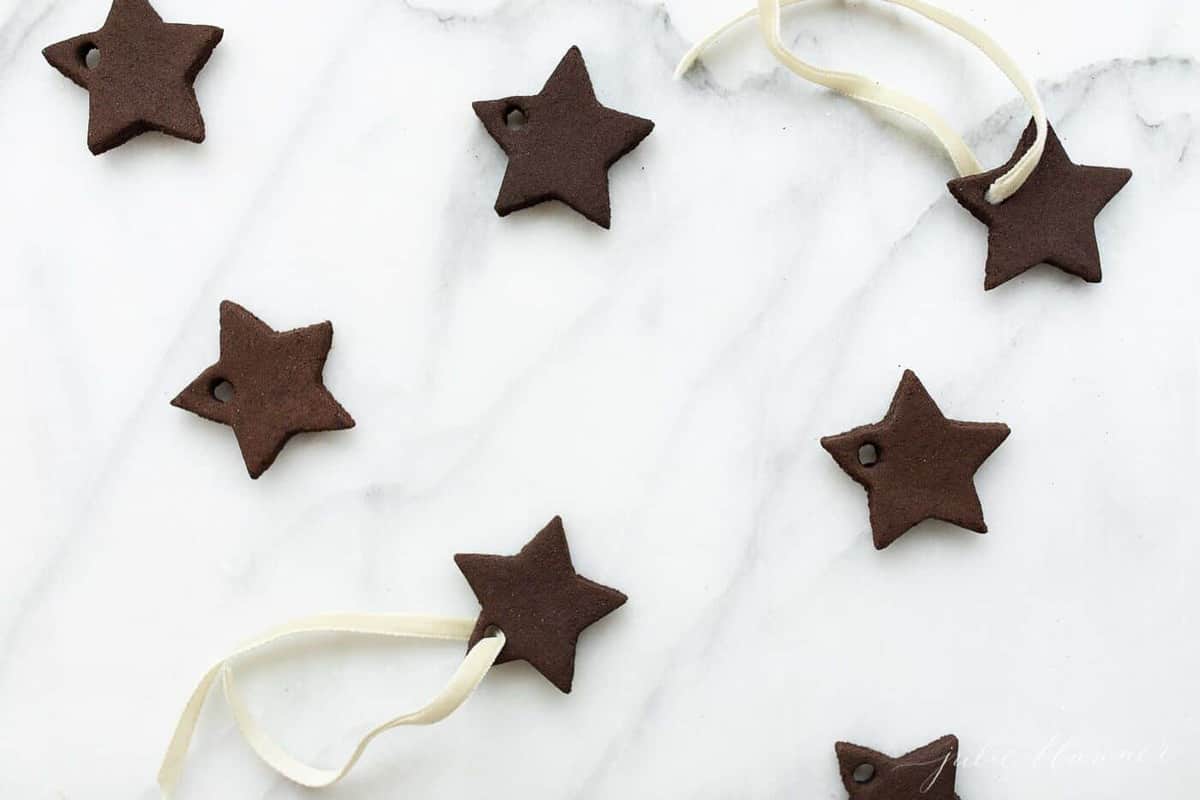 Not that other shapes won't be super cute too, but I truly think that for this project you'll want the simpler the better! Remember that the detail in some cookie shapes often comes from frosting a sugar cookie. In this case, you'll end up with a simple shape that needs to speak for itself!
Tips for Baking Your Cinnamon Ornaments
A couple quick tips for baking (or not baking) your cinnamon ornaments! First of all, be careful not to over bake. They do best in the oven at a low temperature for quite a long time, but you'll want to watch towards the end because the thickness of your ornaments can be a factor in bake time!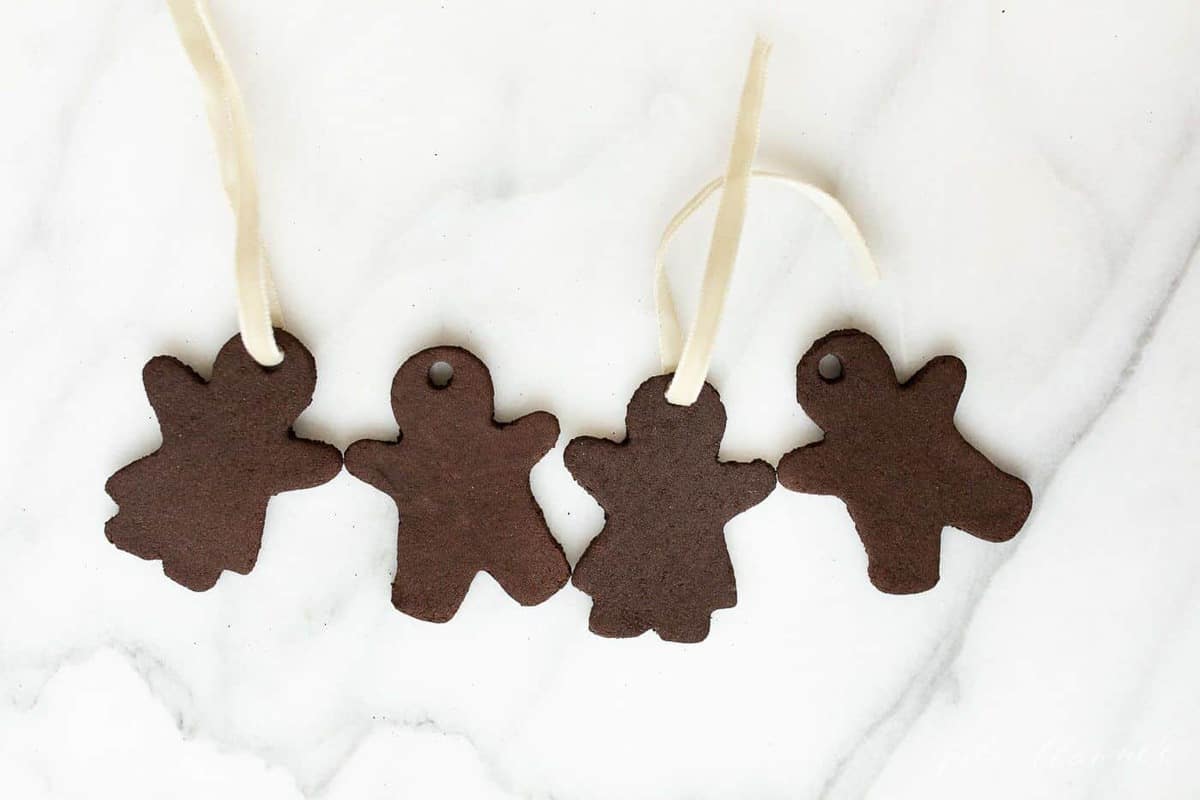 Another item of note: these do not actually need to be baked! You can simply leave them out on your counter and allow them to air dry. It will take longer, of course, but works just as well. However, you'll miss out on that delicious fragrance warming your kitchen!
QUICK TIP: This recipe doesn't create a large amount of dough. It makes just enough for 24 small ornaments, so if you're hosting a crowd you might want to double up with my easy printable measurement conversion chart!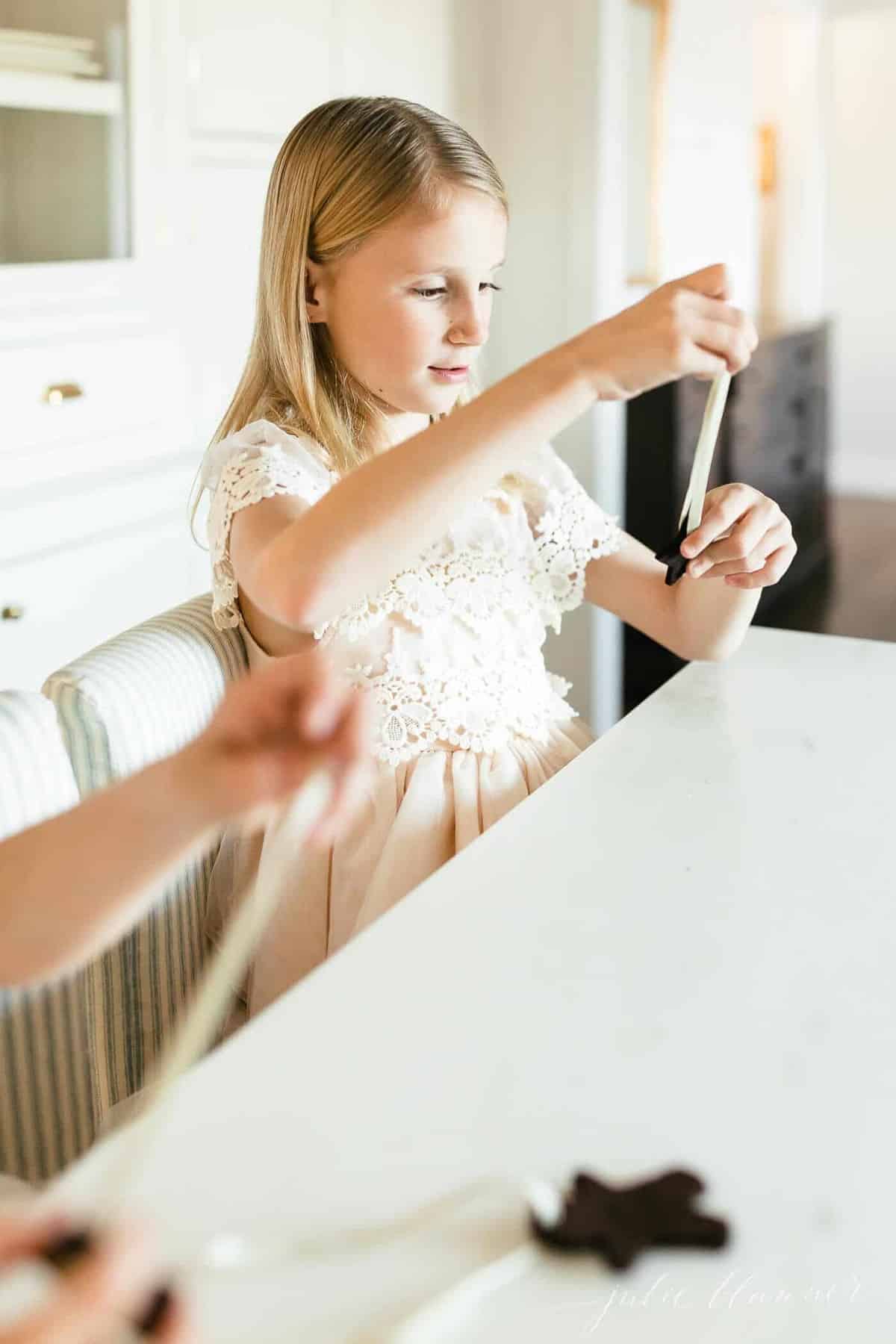 Ornament Variations
So many fun ideas to change these up and make them even more creative and unique!
Add glitter to the dough
Add a photograph of the kids or your family for gifting.
Make them shiny with a coating of ModPodge.
Use them as gift tags
Paint them! This is a fun (and messy) extra step that the kids will love.
You can tie it off with one of my printable gift tags to gift! These make a wonderful Advent gift – check out our charming Wooden Advent Calendar.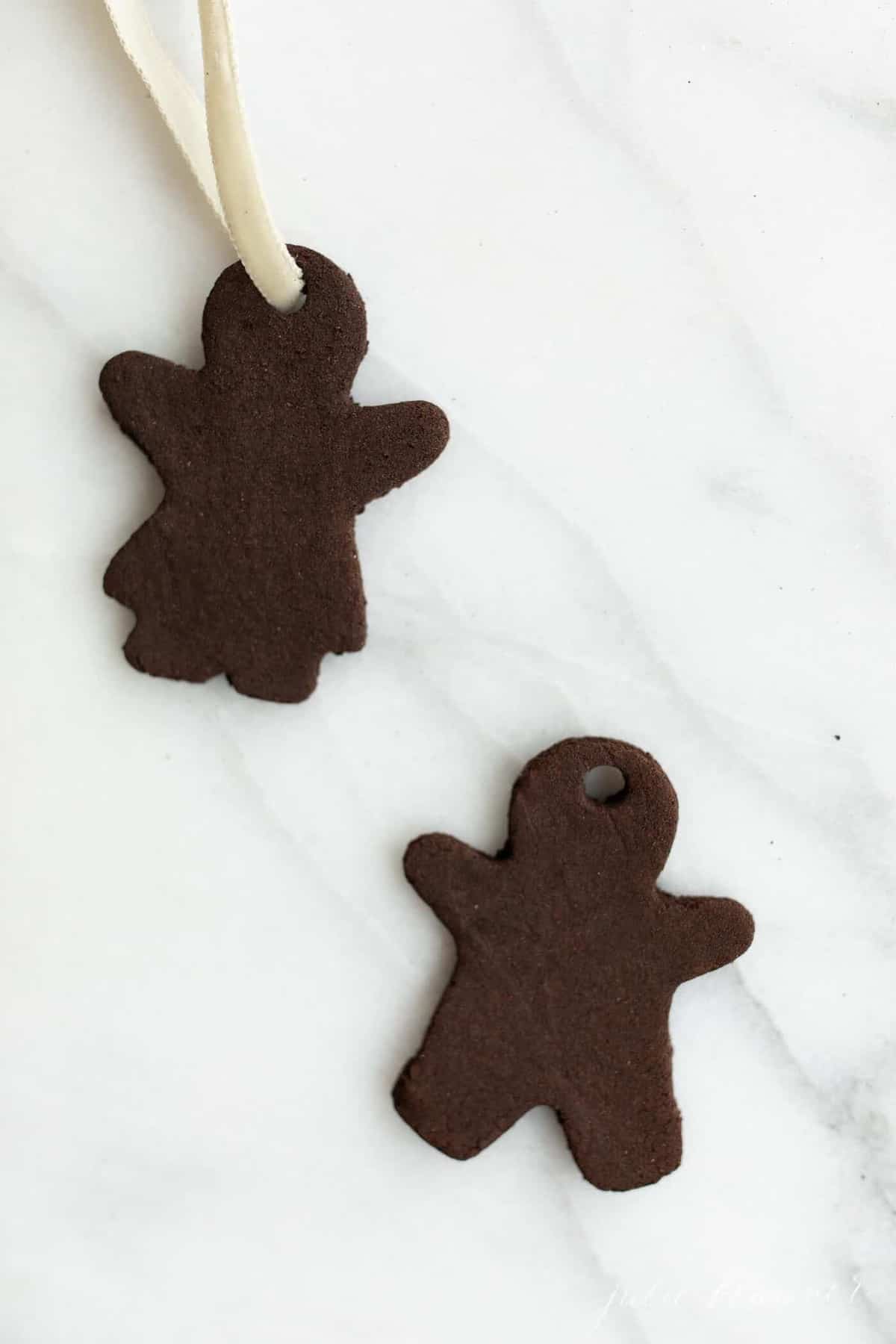 Well, what do you think? Are you ready to fill your home with the scent of the holidays? I think you'll love these charming, rustic cinnamon ornaments.
I hope you enjoy this Cinnamon Applesauce Ornament recipe as much as we do! Please leave a 5 star rating in the comments below!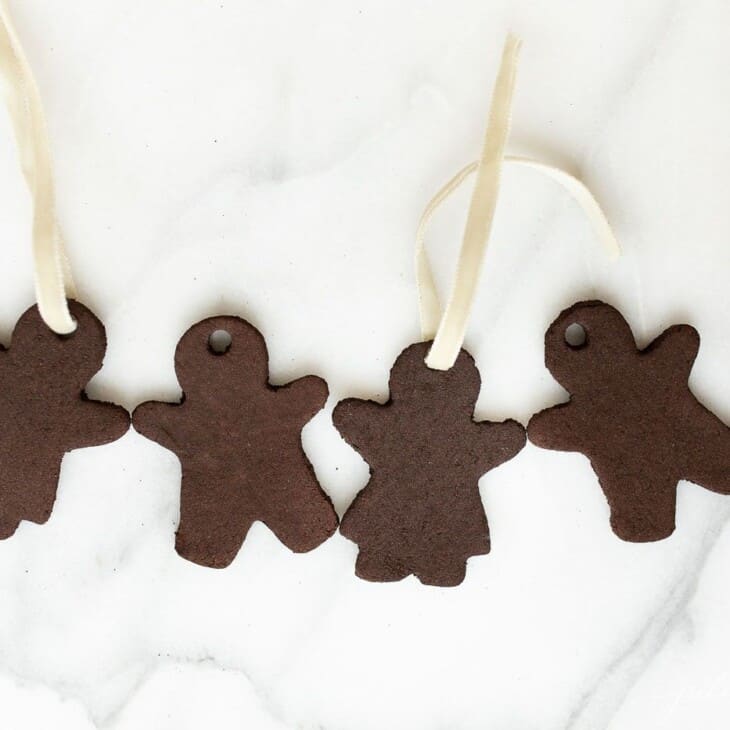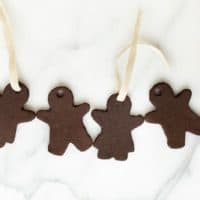 Cinnamon Applesauce Ornaments
Learn how to make the sweetest handmade Cinnamon Applesauce Ornaments. These two ingredient cinnamon ornaments fill your home with the scent of Christmas!
Ingredients
2

bottles

cinnamon

ground (2.37 ounce bottles)

¾

cup

applesauce
Instructions
Preheat oven to 200° F. Cut a piece of parchment to fit a large cookie sheet.

In a medium mixing bowl, combine cinnamon and applesauce.

Roll dough to ¼" thick on parchment paper.

Cut out with cookie cutters, peeling away excess dough.

Use a straw to create a hole at the top to hang. Transfer parchment to cookie sheet.

Bake for 1½ hours or allow to air dry over several days.
Tips
Careful not to over-bake, depending on how thin/thick you roll your dough, you'll want to watch the ornaments during the last half an hour of baking to make sure they don't burn.

Can dry at room temperature instead of in the oven.