I've been getting a little sneaky around here. I started mixing up our pasta replacing our usual homemade egg noodles with arugula pasta to sneak in a few extra greens.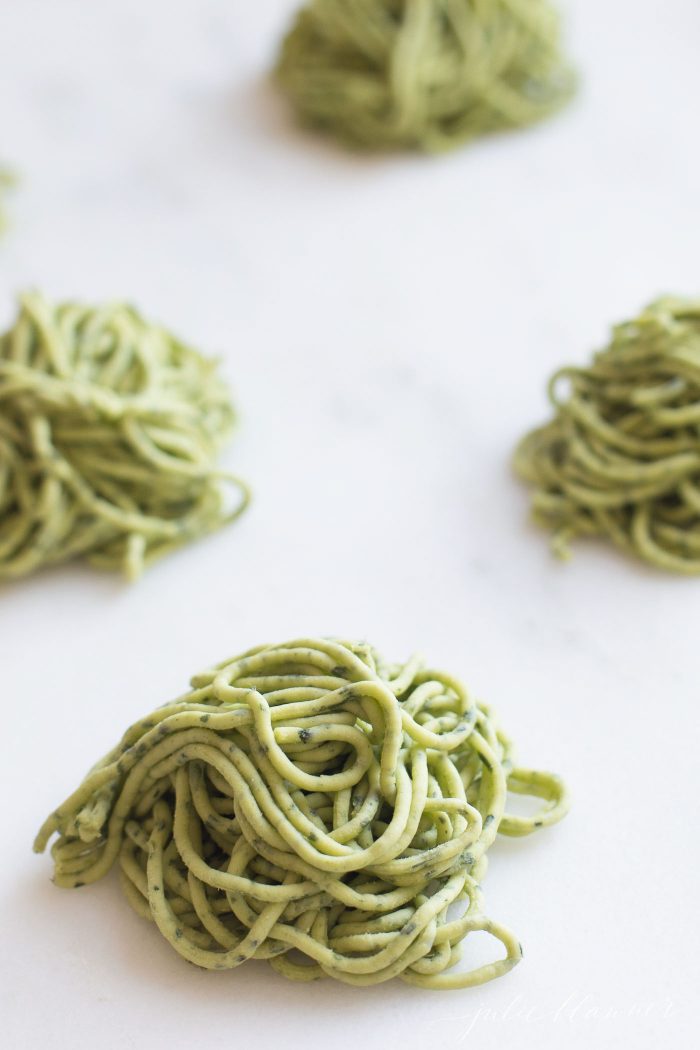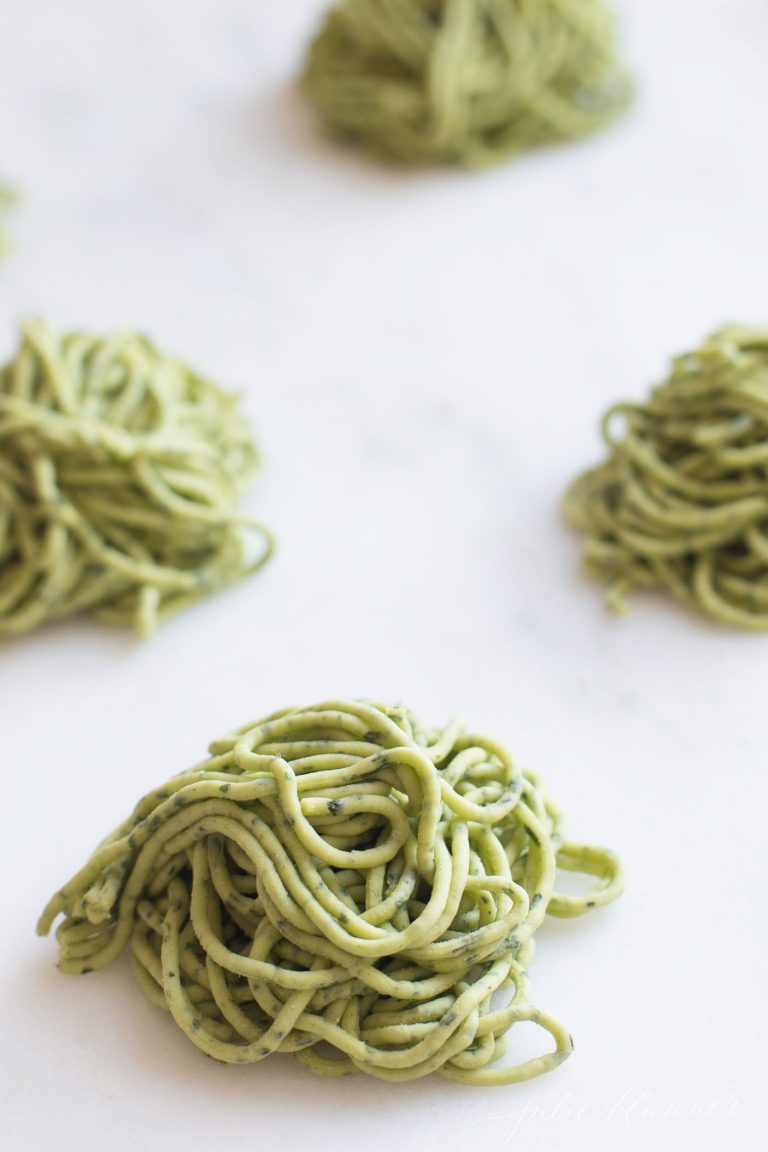 At first, the girls were skeptical, but then Adalyn asked "is it just like the green chips at Nachomama's" I quickly jumped on board with an emphatic "yes!" They loved them. In fact, they devoured them.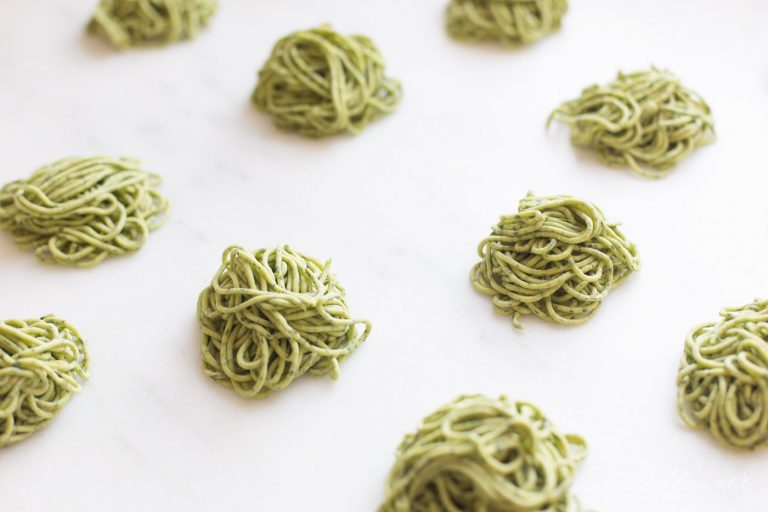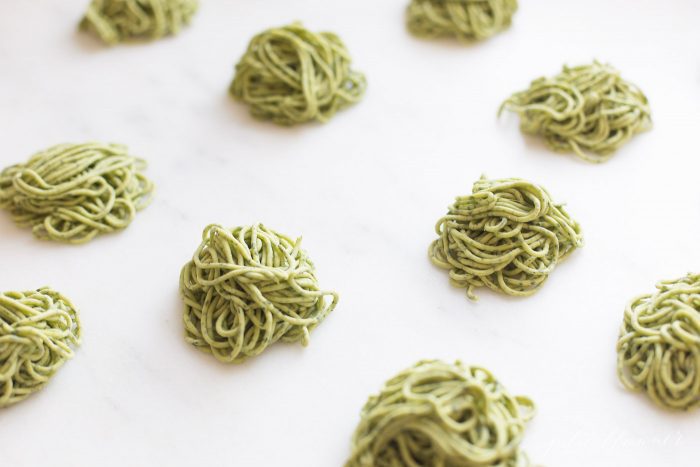 Arugula pasta is a nice way to sneak in a few extra greens with a little added flavor. They're easy to make, especially with a pasta maker attachment which you can find in my shop!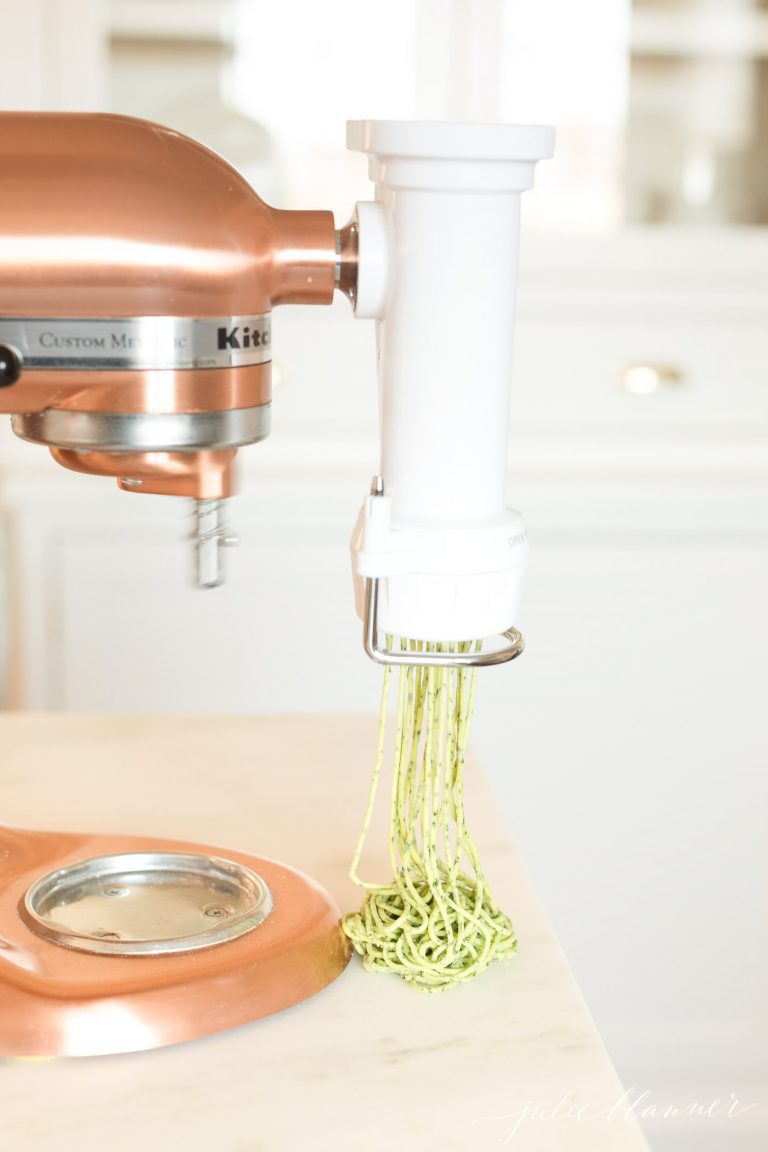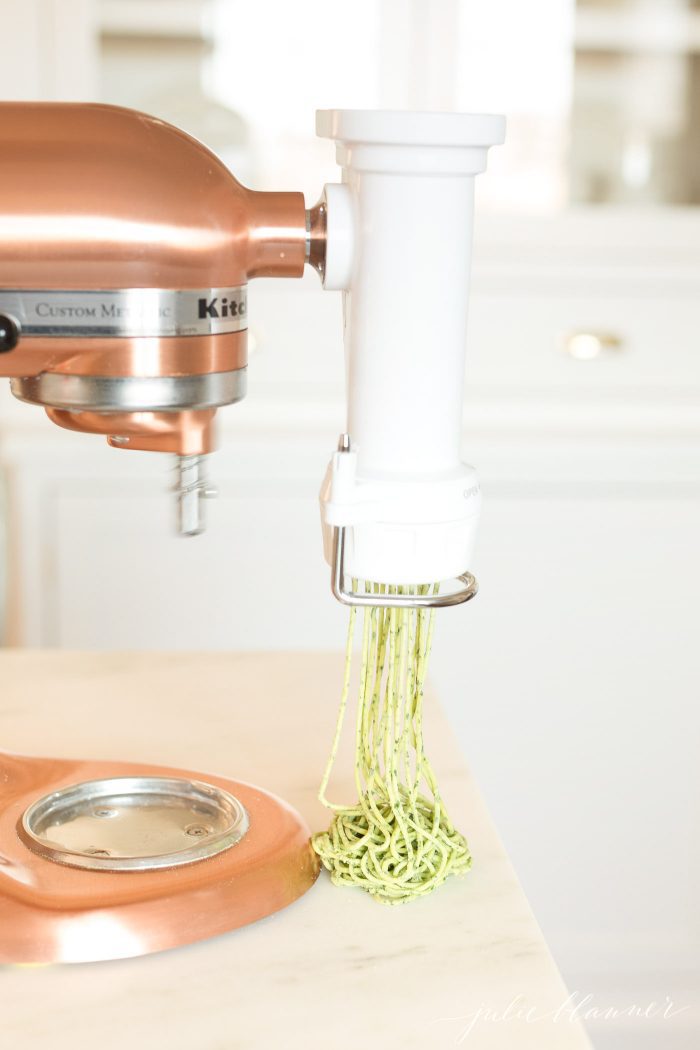 Bus first things first, just in case you have a few burning questions.
What is arugula?
Arugula is a leaf and a cruciferous vegetable.
Is there a difference between arugula and baby arugula?
Yes, age! Baby arugula is picked while young and tends to be slightly more tender than arugula and more mild in flavor.
Arugula nutrition details?
Arugula has a significant amount of nitrate, known to lower blood pressure, calcium, which can decrease the risk of osteoporosis and like all cruciferous vegetables, it is associated with a lower risk of cancer. Arugula also contains alpha-lipoic acid, an antioxidant that lowers glucose levels. So, the verdict is in, eat your greens, any way you can squeeze them in!
What should I pair Arugula Pasta with?
This pasta works well with a variety of sauces including my spicy pomodoro, browned butter and mizithra, cacio e pepe, and white wine sauce. For sake of simplicity, you can also just toss it in a warm pan with a little olive oil and garlic and garnish with parmesan, like I often do. If you have extra arugula, you can whip up this delicious arugula salad in just a few minutes as well!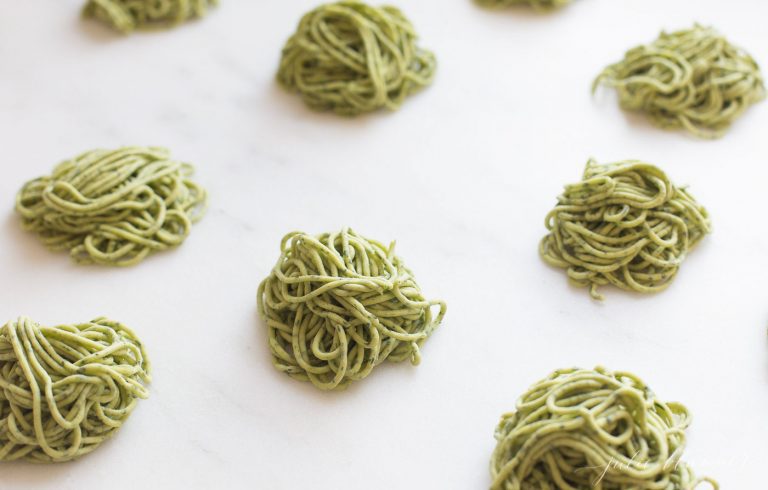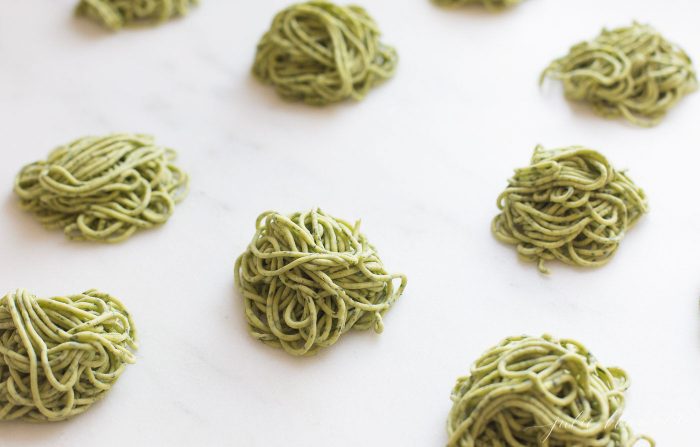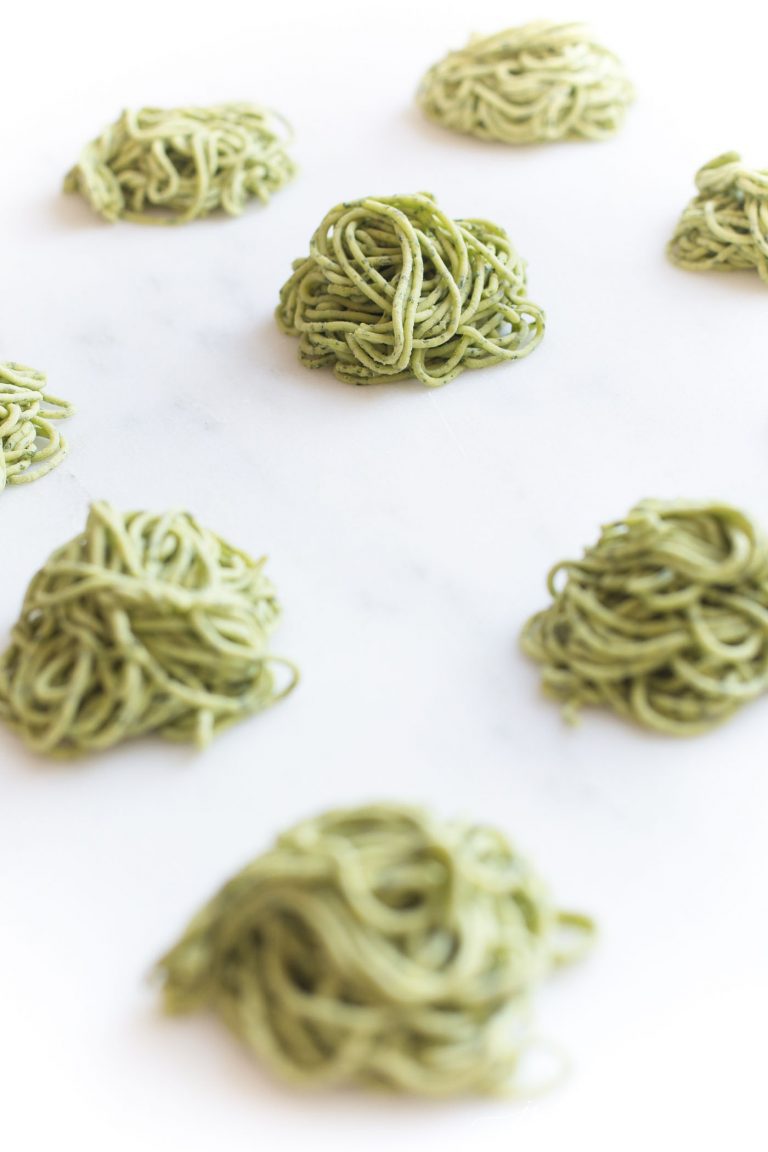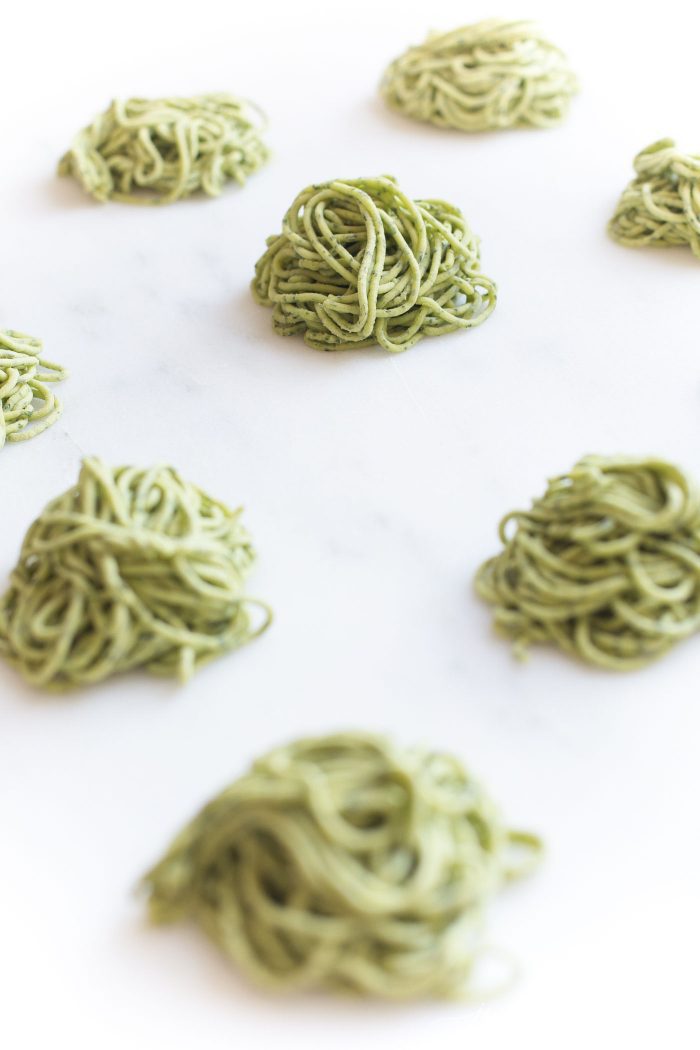 If this is your first time making homemade pasta, you might enjoy this video I made. Arugula pasta only has 1 added step, which is chopping the arugula in a food processor. It's not only simple, it's simply the best. For just a few minutes of added effort, you get a lot of added flavor and the best texture.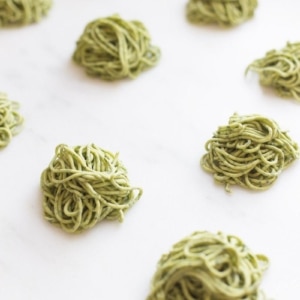 Arugula Pasta
Easy homemade arugula pasta to toss with your favorite sauce
Print
Pin
Rate
Servings (hover to scale):
6
Ingredients
1 5

oz

arugula

fresh

4

c

flour

1/2

c

water

4

eggs

pinch

salt
Instructions
Bring a pot of water to a boil.

Rinse arugula and place in a food processor. Chop.

In your mixing bowl, add flour, chopped arugula, water, eggs and salt. Mix on low until combined.

Switch to your dough hook and knead on 2 for 4 minutes*.

Using your pasta maker attachment or a pasta roller, cut noodles.

Toss noodles into boiling water for 3-4 minutes and toss with your favorite pasta sauce.
Video
Notes
*If a ball doesn't form, stop your mixer and form one with your hands. If it feels dry, you can add a little additional water. If it's too sticky add a touch of extra flour.
If you have any tips for sneaking in greens, I'd love to hear!